Sitting on the east coast of Mexico, Yucatan State is one of Mexico's 31 states and it's one my favourites. From world-famous Chitzen Itza to colonial cities like Valladolid and beautiful swimming holes (cenotes), there's every reason to visit this corner of Mexico.
In this guide I'll share everything you need to know about the state including maps, facts, things to do and the difference between Yucatan State and Yucatan Peninsula (a confusing question for many visitors). Let's start by finding out where it is.
Where is Yucatan in Mexico?
Yucatan State is located on the east coast of Mexico. It is part of what is known as the Yucatan Peninsula, a piece of land that pokes out into the surrounding ocean. Peninsulas tend to have a lot of coastline, which makes them popular tourist destinations.
The Yucatan Peninsula in Mexico is made up of three Mexican states: Yucatan, Campeche and Quintana Roo. As for Yucatan State, it is the most northern of the three states and sits within the Gulf of Mexico, an ocean basin within the Atlantic Ocean.
Map of Yucatan State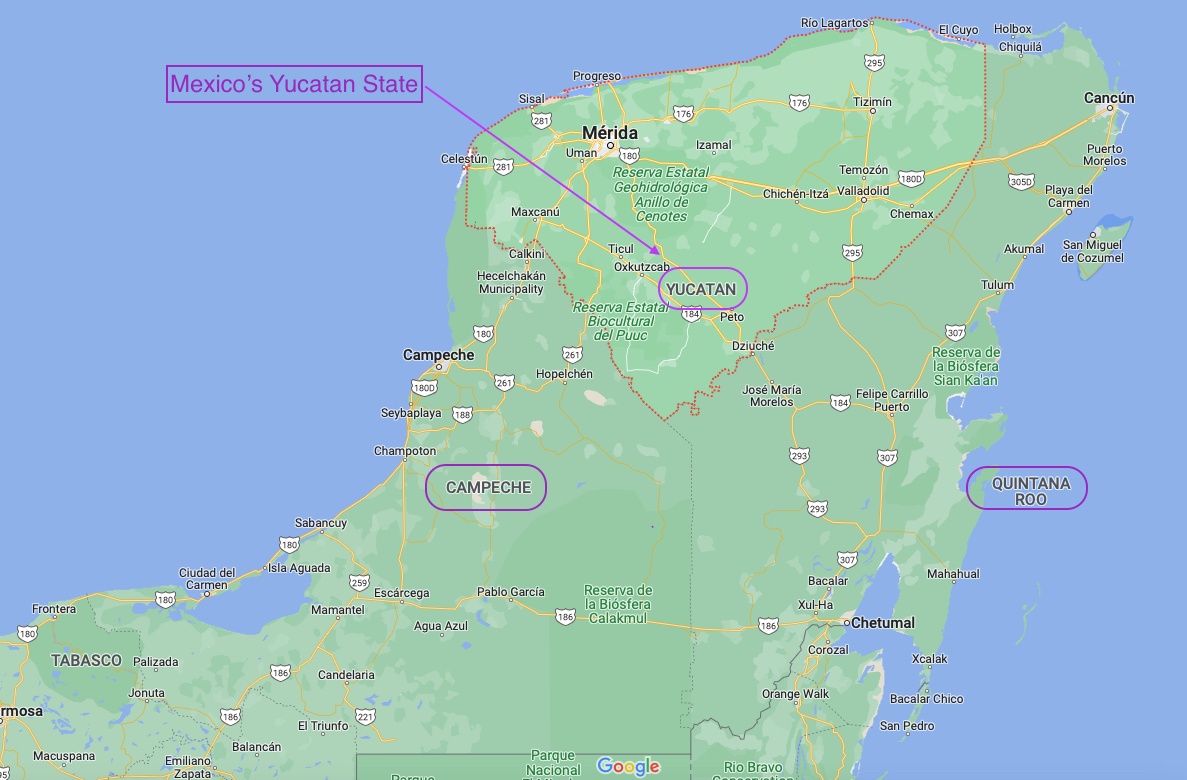 Looking at it on a map, you can see that Yucatan State sits to the north of the Yucatan Peninsula. Campeche is the neighbouring state to the southwest and the state of Quintana Roo sits to the southeast.
Map of Yucatan Peninsula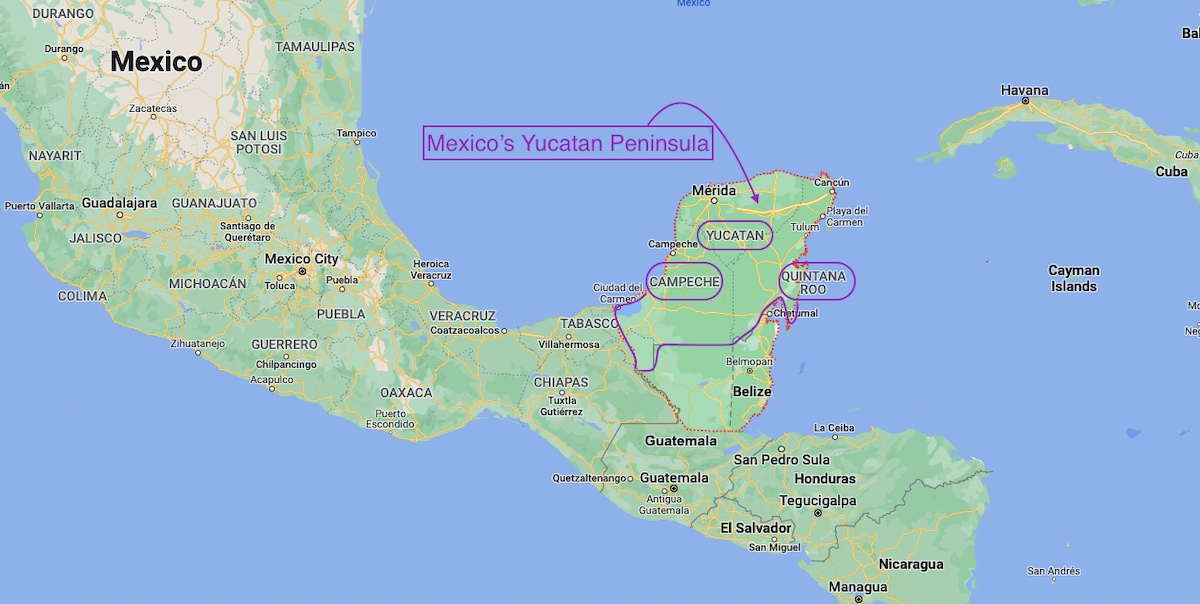 The Yucatan Peninsula (containing all three states) is located in the southeast of Mexico between the Caribbean Sea and the Gulf of Mexico. Nearby neighbouring countries and islands include the Cayman Islands, Cuba and Belize.
Yucatan State vs Yucatan Peninsula vs Riviera Maya
What's the difference between Yucatan State, Yucatan Peninsula and Riviera Maya? If you're planning a trip to Mexico's east coast, you've probably heard of all three and it can be confusing to know the difference. Mostly, it comes down to the local things to see there.
Many of the vacation destinations and cruise stops like Cancun, Playa del Carmen, Tulum, Isla Mujeres, Isla Holbox and Cozumel are located in Quintana Roo (Yucatan Peninsula, not Yucatan State).
Riviera Maya is simply a name used to describe the tourist resort area that typically stretches south from Cancun down to Tulum. There, you'll find a lot of all-inclusive resorts and beach-front hotels. There are plenty of things to do in Yucatan Peninsula and Riviera Maya, like the Tulum Maya ruins. Check out my more detailed guide to The Best Things to Do in Yucatan Peninsula, Mexico. In this guide, I'll focus on Yucatan State.
What is the state capital?
The capital city of Yucatan State is Merida. It's located 188 miles (303 km) from Cancun, and a staggering 815 miles (1,311 km) from Mexico's capital, Mexico City. It's only 490 miles (789 km) from Merida to Havana in Cuba.
Facts & Quick History
Spanish is the official language but the indigenous Mayan language is still spoken.
The region was known as Mayab (meaning flat) before the Spanish conquest;
The Maya people inhabited the region until the 16th century invasion by the Spanish Conquistadors.
Juan Ponce de León is the Spaniard who first discovered the Yucatan peninsula, off the coast of Cuba. He also discovered the Florida Keys and Key West.
It is believed that people lived in the area as far back as the ice age, around 10,000 to 12,000 years ago. (It probably wasn't a popular beach area back then!)
The first Maya people are thought to have arrived around the year 250. That's nearly 1,800 years ago!
Many of the ancient Maya cities like Chichén Itzá can still be visited today.
The large number of indigenous Maya people in Yucatan give the State a wonderfully different culture feel compared to the rest of Mexico.
In Spanish, the word Yucatan has an inflection over the last 'a', so you might see it written as Yucatán and Yucatán Peninsula.
Sisal rope comes from Yucatan State, named after the village of Sisal where it was produced.
Over 2 million people live in Yucatan State.
What does Yucatan mean?
Good question. Except, nobody knows the true answer to the etymology (origin) of the word Yucatan. There are three main theories. There are two suggestions that the name came about when the Spanish first tried to speak to the Maya people. It's possible that the Spanish adapted the phrase uh yu ka t'ann, which in Mayan means 'hear how they talk'. An alternative theory is that Yucatán stems from the Mayan phrase Ma'anaatik ka t'ann, meaning 'I don't understand you'. The third theory is that the name Yucatan is a reference to Yucatá. This means 'land of Yucas' – Yuca is a local plant grown for food in the region. I like the land of Yucas theory. How about you? Here you can read more about Yucatán etymology.
Things to Do In Yucatan
From the early Maya civilisation to the arrival of the Spanish and the joining of Mexico after independence, Yucatan has some fascinating historic sights. And, that's before you get to the natural wonders. You might want to check out my full guide to the best things to do in Yucatan Peninsula. But here's a quick guide to the top attractions in the state.
Take a tour of Chichen Itza
Named one of the New Seven Wonders of the World, Chichen Itza is a former Maya city and now archaelogical site. There are several temples at Chichen Itza but the most famous is the Temple of Kukulucán, known as El Castillo. Chichen Itza is a UNESCO World Heritage Site and is one of the most visited attractions in Mexico. I highly recommend a tour of Chichen Itza to learn the most about this fascinating former city. Most tours include a stop in Valladolid and at a cenote.
Swim in Yucatan's Cenotes
The Yucatan area of Mexican is famous for cenotes, natural swimming holes that formed from collapsed limestone. In short, sink holes. There are an estimated 10,000 sinkholes in the peninsula, many of which are located in the state. Seeing the cenotes here is a great idea because they're less busy than those around popular resort area of Tulum in Quintana Roo State. Really want an adventure? You can go scuba diving in some cenotes or try swimming with whale sharks in Mexico.
Explore Merida
Combining Mayan culture with Spanish Colonial architecture, Merida is a beautiful city to explore. And, as the capital of the state, you'll find excellent restaurants, lively plazas and plenty of museums. Start in the Centro Historico (historic centre) and Zocolo de Merida, main square, called Jardin Principal.
Visit Uxmal
I know Chichen Itza is world-famous, but I was just as impressed with the Mayan ruins of Uxmal (pronounced "Oosh-mal"). Despite also being a UNESCO World Heritage Site, Uxmal doesn't get nearly the same number of tourists as Chichen Itza but it should because the buildings, in the Puuc style, are very different with smoother, more rounded walls. A guided tour will help you appreciate Uxmal to its fullest. Want even more ruins? Check out Ek Balam.
Explore Valladolid
While Merida is a busy city with all the trappings of a state capital, Valladolid offers a quieter take on city life. Valladolid is packed with Spanish colonial 16th century buildings. Cenote Zaci is located just 10-minute walks from the centre making a visit to Valladolid a great way to tick off two things in one place.
Have a beach break in Progreso
Progresso is a city located on the northern tip of the State, facing the Gulf of Mexico. It's a functioning and busy port city that is featured on many Mexican cruise ship itineraries. With plenty of beaches, cute thatch-roofed restaurants, beach clubs and an ocean-side promenade (malecón), it makes a great base for a beach vacation away from the resorts in Riviera Maya.
Explore the yellow city of Izmal
Wander the streets of Izmal and you'll quickly understand why it is known as the yellow city. Izmal is a colonial city west of Merida and many of its old buildings are painted in a rich hue of yellow. It's a soothing place to take a wander. Close by is Kinich-KakMo, another Maya temple of significant size.
See Las Coloradas Pink Lakes
Also on the northern tip fronting the Mexican Gulf is the tourist attraction of Las Colorades (meaning the coloureds). These famous pink lakes are part of Río Lagartos Biosphere Reserve, a protective area of wetlands. The reserve is filled with sea birds, flamingos, sea turtles and crocodiles. However, the lake colour is what draws most visitors. Why is it pink? The lakes are salt lakes and attract red shrimp and algae that turn the lake a pink colour.
Map of Things to Do In Yucatan
I've created a map of Yucatan including all of the best things to do in Yucatan state as well as the Yucatan Peninsula.
Main cities in Yucatan State
There are several main cities in Yucatan. The three of most interest to vacationers are: Merida, Valladolid and Progreso.
How to get around
Car
Hiring a car will be the easiest way to travel around Yucatan because it offers the most flexibility. I usually book with RentalCars.com and do an airport pick-up when I arrive. However, if you don't want to hire a car or are not comfortable driving in Mexico, here are you alternative ways to get around.
ADO Bus
I utterly love the long-distance bus company ADO (Autobuses de Oriente) and its my choice for getting around Yucatan. Tickets are cheap and the coaches are large, safe, comfy and well air-conditioned. You book a dedicated seat so no 'cramming on'. The schedule is regular and usually runs on time.
Colectivo
Colectivo are local shuttle buses (minivans) that run between dedicated places. You'll need to check locally to find out where you can visit by colectivo. Booking is informal – there is typically a street where the vans wait and your hotel will be able to tell you where it is. Then you simply walk up, pay the driver and take a seat. Vans tend to depart when they are full. It can be a very 'local' experience so you might prefer ADO buses if they serve your route.
Guided tours
Pre-organised tours are a great idea for day trips, for example visiting Chichen Itza from Cancun. As well as transport, you get a guide and sometimes lunch is included or planned for a nice location.
What is Yucatan food?
Thanks to the high number of indigenous Maya people, there are several dishes that you will typically only find in Yucatan. A few of my favourites include:
Sopa de limon – a thin lime-flavoured soup that contains meat like beef or chicken and tortilla chips.
Cochinita Pibil – citrus marinated and slow roasted pork that is so tender it melts in the mouth. Eat it with corn tortillas, red onion and beans.
Pavo en relleno negro – turkey cooked in a local form of mole (sauce using lots of spices, but not chilli spice).
Salbutes – small corn tortillas fried until they puff up, topped with turkey, lettuce, avocado and tomato.
Related: Quick and Easy Guacamole Recipe From Mexico | How to Drink Tequila Like a Mexican | 8 Tequila Cocktails To Make At Home
What is the closest Airport?
Merida Airport is the closest airport for exploring. It's official name is Manuel Crescencio Rejón International Airport and it has the airport code MID. If you can't find a good flight deal, Cancun International Airport is your next best option.
Is Yucatan safe?
Safety is often a worry in Mexico. However, the country is huge and not every destination is a risk. In fact, Yucatan State has been named as the 'safest place in Mexico'. You'll see this phrase quoted a lot and while it is a little out of date (the statement was made in 2010), there is more recent data that confirms that Yucatan has one of the lowest crime rates in Mexico. If you are concerned, the best thing to do is book a tour online in advance with a company that gets lots of good reviews.
Worried about safety in Mexico? Check out my guides: The Safest Places in Mexico For Tourists To Visit | Is Mexico Safe? The Main Risks & How To Avoid Them | What To Do When You Get Dengue Fever When You Travel
---
Related Articles: