If you're not sure which Hawaiian Island to visit, in this article I'll help you decide. Having spent three months flitting between the islands, I crammed in as many sights and activities as I could and although I have my personal favourite (more on that below), each island offers different experiences depending on the kind of trip you're planning.
Understanding the Hawaiian Islands: An Overview
Prone to disorganisation, I didn't have clue about the detail of Hawaii when I boarded my last-minute flight. I picked up a guidebook in San Francisco during a 4-day layover and left it neatly unopened in my bag until I climbed onboard my flight to Oahu. But even when I started to read about the islands of Hawaii, I couldn't quite get a grasp on Hawaii in the same way I usually do with new destinations. Perhaps it was the number of islands and the differences (and similarities) between them or maybe I was having a mental block, but it took me more a bit more research online (and then 3 months in the islands) to truly figure things out.
So, with that in mind, let's start with the overview of the Hawaiian islands I wish I'd had before I arrived.
There are eight Hawaiian Islands in total but from a tourism perspective they can be categorised as follows.
The Main Hawaiian Islands: Oahu, Hawaii Island (Big Island), Kauai and Maui – these are the ones you're most likely to explore.
The Smaller Hawaiian Islands: Molokai and Lanai – you're most likely to visit these islands if you're looking for adventure away from the tourist hordes or are splashing some serious cash at one of the remote Four Seasons resorts.
The Islands Off-Limits to Tourists: Ni'iHau and Kaho'olawe are the remaining two islands and, for the reasons explained below, you're highly unlikely to step foot on them.
Which Hawaiian Island to Visit: The Highlights
There's one fact that impressed me the most about Hawaii and it's that the Hawaiian islands have 11 out of 13 of the world's climates. Beaches, jungles, snow-cloaked mountains, desert. That's a staggering amount of diversity packed into a relatively small area. With that in mind it's difficult to condense the variety of Hawaii into a small number of highlights…and necessarily, everyone will have a different list of what they're looking for. With as much objectivity as possible, and a small sprinkling of my personal favourites, below is a summary of each of the visitable island's highlights.
I'm not going to slap a label on each island (Best for Romance, Best for Hiking etc.) because – thanks to Hawaii's diversity – you can pretty much find what you want on each island. And, it's perfectly possible to find romance watching the surf or add a hike into a romantic star-gazing trip. That's the beaty of Hawaii.
The Main Hawaiian Islands
Oahu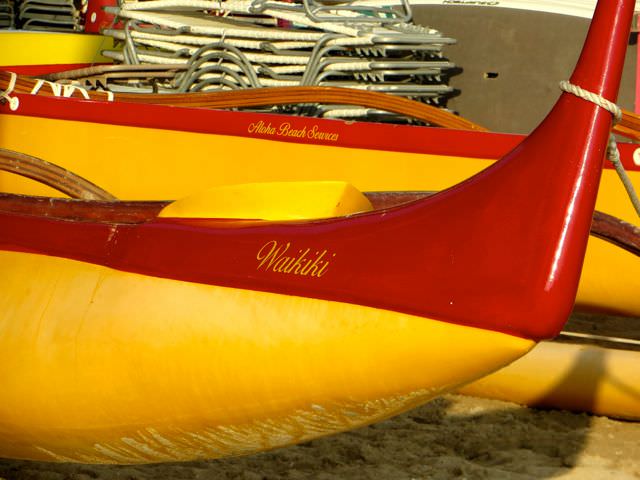 Which Hawaiian island to visit might be answered, in the first instant, according to your inbound flight. While O'ahu may not be the biggest island (Big Island takes that title, obviously), it does serve as the landing point for most visitors to Hawaii who touch down in Honolulu International Airport.
While it's perfectly possible to bounce in and out of Oahu without leaving the airport, it would be a shame not to spent at least a couple of nights exploring what the island has to offer.
What to see and do in Oahu
Waikiki Beach
If not THE most famous beach in the world, Waikiki is definitely in the running for the prize. I'll be honest, I've seen better looking beaches both within Hawaii and worldwide but that didn't stop me galloping like a small child to dig my toes into an (overcrowded) patch of this iconic beach's sand. Plus, there aren't many places in the world where the sunset is so fantastic that people look up from their cameras and phones and actually applaud nature's performance.
Pearl Harbor Memorial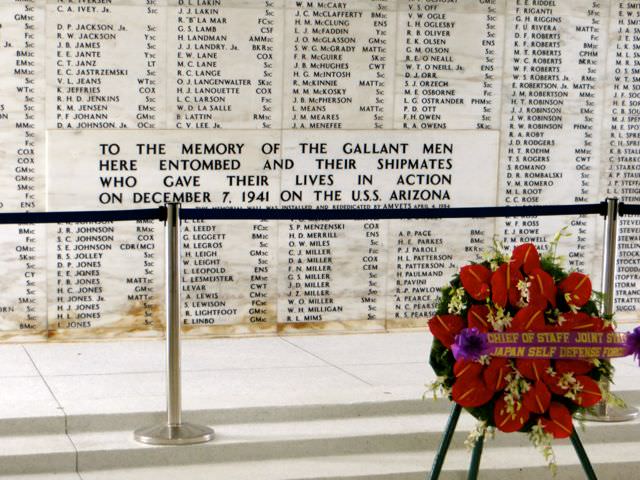 If you're in Hawaii on romantic business, then a trip to Pearl Harbor may not be top of your list, but the historical significance and poignancy of this memorial makes it worth dragging your sun-drenched butt from the beach for half a day.
See also: How to visiting Pearl Harbor for only $5.
Diamond Head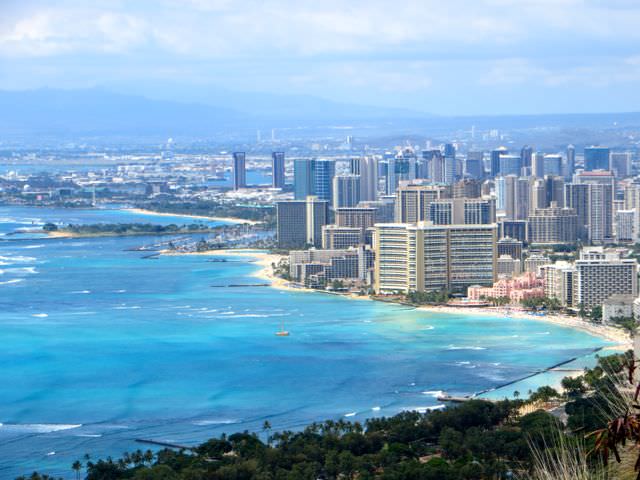 Dominating the right side of Waikiki beach (with your back to the waves), the volcanic tuff cone (technical term!) of Diamond Head is perfect for walking off too much loco moco and offers views that are unparalleled (absent the expense of a helicopter tour or adrenaline of a sky-dive).
See also: Oahu: Hiking Diamond Head
North Shore 
Wave sliding, as surfing was once known, was born in Hawaii and its popularity just never seems to grow old in the islands. North Shore with its big waves (especially during winter) is the place to be if you want to watch the experts at play. The waves here were bikini-stealing-aggressive so definitely not for amateurs like me, but I could sit and watch this wonderful sporty art-form all day long. Splash! It's also one of the best places to skydive and visit a shrimp shack (though these activities should not be performed at the same time).
Related Article: Skydiving in Hawaii
Hawaii Big Island
If you really forced me to answer the question, which Hawaiian Island to visit, it would be this Big Island. Why? Hawaii's Big Islands really does offer everything – nature operates at its most dramatic on Big Island (where else can you witness new land being spewed forth from the earth's core?), the beaches are not just pretty but also rare (Big Island has one of the few green sand beaches in the world). And that's not to get me started on the coffee plantations and local brewery.
Related article: Where to stay in Hawaii on a budget
Volcanoes National Park
Despite its beaches, jungle and agriculture, Hawaii is most simply a chain of volcanoes and that fact resonates nowhere more so than on Big Islands. Home to the world's biggest and newest volcanoes (yes the island boasts two of the beasts), walk through lava tubes, feel the heat underfoot when you descend into an inactive crater, try not to breathe in the steam vents (trust me on this) and toast marshmallows on fresh-flowing lava. I could play for days in this national park.
Related Article: Hawaii Volcanoes National Park
Mauna Kea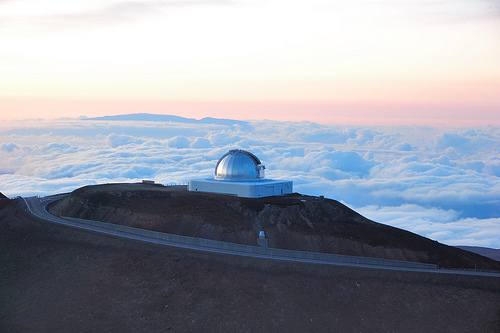 Holding another world record, Mauna Kea is the world's largest mountain (measured from the base, which sits under the Ocean), but that's not the only reason to wind to the top. So perfectly positioned for clarity that NASA has its telescopes up there, this is one of the world's best spots for star-gazing. Don't worry if you don't know Saturn from Uranus, there are patient guides who will stand with you until you can make out the cheese craters on the moon.
Travel tip: the combination of altitude and nightfall means it gets very cold very quickly – pack layers so you don't end up buying overpriced fleece jackets in the gift shop as I saw one honeymoon couple do.
Green Sands Beach
Just when you thought Big Island couldn't be any more impressive, you hit the south coast and discover Green Sands Beach. (Olive) green in colour, there are only a few places on earth where this unique sand is found (the other places are the Galapagos and Norway). There's a fun hike and down slope scramble to get there, making it a more rewarding visit all round.
Kona
Nature works its magic in Kona. Not only are there some pretty impressive beaches (and maybe the chance to swim with mantas), the earth's soil delivers up the raw ingredients responsible for two of the island's greatest tastes – Kona coffee (try Hula Daddy) and the range of beers from the Kona Brewery. Music to my taste buds – both the coffee plantations and the brewery can be toured and tasted.
Kona is also the place where the Iron Man World Championship is held – something I was lucky enough to see during my trip.
What's in a name? Big island's official name is "Hawaii" – confusing, given that it is just part of the larger state of Hawaii. With that in mind, the island has been answering to the nickname "Big Island" for years (for obvious reasons if you look at a map). But some locals are not happy with this nicknaming process and are returning to an amended version of the traditional name – "Hawaii Island". Got it? Good, beacause I'm not sure I have!
Kauai
Why Kauai? In short, adrenaline…and peace in equal proportions. The island may be a 5 million year old dormant volcano (what?) but its unique and diverse topography will find you scrabbling for your hiking boots, snorkelling mask or kayak paddle all in the same breath. If you're less keen on activity, you can still take a boat, 'copter or car to explore things more leisurely.
Napali Coast
I conquered my cliff-edge fears to take in the sight of the Napali coast and I don't regret it. This 17-mile stretch of green-cloaked cliffs and inversely dramatic valleys is one of the most photographed sights in the whole of Hawaii. Only the toughest trekkers tackle the entire trail but sea-level sailings at sunset are a popular alternative.
Waimea Canyon
It's been compared to the Grand Canyon in Arizona and although this Pacific-side gorge is not as vast, it's definitely more colourful, photogenic and, perhaps most importantly, thinner tourist crowds make it way more peaceful.
Wailua River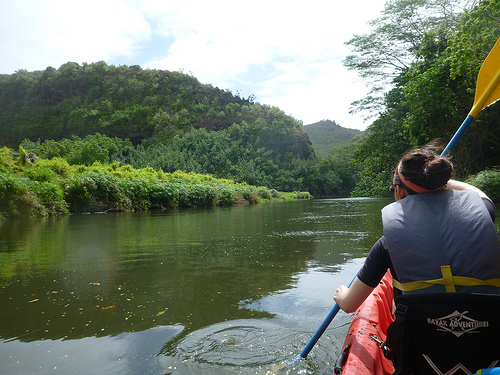 For all of the Ocean that surrounds Hawaii, there is very little by way of navigable inland water, which is part of what makes the Wailua River feel so special. That and the fact there is so much to explore – waterfalls, fern grottos and swimming holes to jump into. I was so keen to see them all that my arms ached for days after kayaking this patch of water.
Kauai's Hindu Monastery
While this Monastery isn't likely to feature on many lists of Kauai's highlights, a morning of meditation at this retreat up in the hills near Wailua was one my most memorable on the islands. If sitting and "ohmmm"-ing isn't enough for you, the Monastery also happens to be home to the world's largest six-pointed quartz crystal, which is over 50 million years old! Kinda impressive!?
Maui

Psychedelic rainbow eucalyptus trees, fresh-baked banana bread, moonscape volcanic craters and the opportunity to listen to the eerie sound of humpback whales singing, Maui definitely felt the most surreal of all the islands. Which is why it seems strange to me that so many people visit Maui for resort relaxation, missing much of what makes it so special. Do yourself a favour – if you do book a beach break, make an escape from the manicured boundary of your resort, even if only for a while.
Road to Hana
The most beautiful drive in the world. It's quite the claim and I'm confident it could be true. Waterfalls to swim in, Pacific panoramas at the end of tumbling coastal cliffs, those trippy rainbow eucalyptus trees and a distinct 60's vibe lingering around the organic banana bread and coconut shrimp shacks, its only travel sickness from the unrelenting hairpin bends that will stop you doing this drive again and again and again.
Haleakala National Park
Made most famous when Arnie (Schwarzenegger) rolled down the slope that represented Mars in the movie Total Recall, the day-long walk into the crater and back up the switchbacks of the volcano face of Haleakala is an experience you won't forget quickly…especially not after photographing the silver plants you'll see along the way. Being able to watch the sun set above the clouds after the hike is the kind of finale you come to expect on Maui.
Lahaina Whaling Town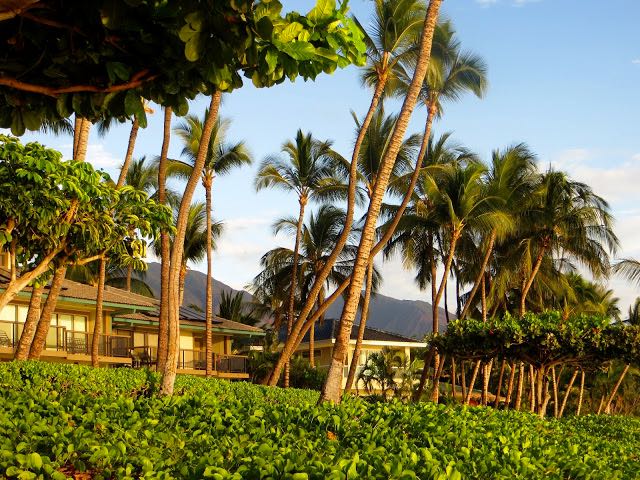 One of my biggest reasons for visiting Hawaii was the chance to see whales in their natural habitat as they migrate to the warm winter waters of paradise and I wasn't disappointed. Watching the mass of a whale under the water followed by the flick of a tail and water spouting into the air from a blow-hole, my trip was complete.
Windsurf Hookipa Beach
It's not an activity I've tried (yet) but the perfect combination of wind, waves and expert sportsmen (and women) make Hookipa more enthralling than your average beach spot.
The Smaller Hawaiian islands
If you have time, an adventurous spirit and/or the money, there are two more islands you may meet in Hawaii. Although I didn't make it to either of them during my stay in Hawaii, I definitely have plans to do so when I go back.
Molokai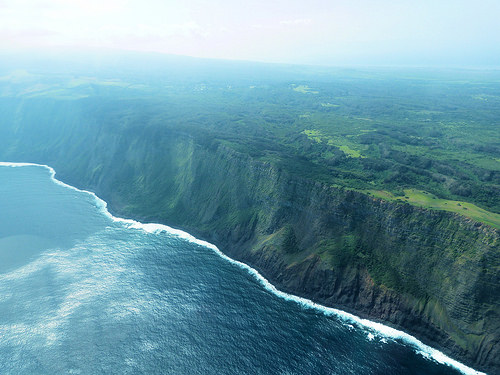 Regularly described as "Real Hawaii", Molokai is a place where Hawaiian time has stood still. Traffic and traffic lights have not yet infiltrated the island, no property is higher than a palm tree and the beaches are best explored with snorkel gear. In short, Molokai hasn't made it onto the tourist circuit, and the sights are all the better for it.
The main stumbling block you might find on Molokai is the lack of accommodation where beach houses, condos and villas are the main places to stay and hotels few and far between, but if you can make that work for you, you'll be in for a nice slice of seclusion.
Where to stay in Molokai: you can find a small selection of accommodation on TripAdvisor. Otherwise, try AirBnB.
Lanai
Lanai is another of Hawaii's less tourist-touched islands and the rugged Munro Trail, lined by Cook pines and offering views out to the Pacific, is one of the major highlights (though golf, untouched bays and plantation history are also prevalent). The fact that Four Seasons luxury resorts dominate the accommodation scene makes this a more upscale option and perfect if you're after an escape from it all trip.
Where to stay in Lanai: you can find a small selection of accommodation (3 hotels!) on TripAdvisor. Otherwise, try AirBnB.
The Islands Off-Limits to Tourists
And then, for the sake of completeness, there are those islands you're simply not going to step foot on – unless you're local or the recipient of an invitation.
Ni'ihau
Ni'ihau is a private island accessible only by native Hawaiians, the owners, the US Navy and guests – please, please, please can someone invite me? This is the place where the sacred Hawaiian culture apparently exists untouched. It's no surprise it's known locally as the "Forbidden Island". Sigh.
Kaho'olawe
Uninhabited (for spiritual reasons) and also presenting a risk of unexploded ordnance, Kaho'olawe is most definitely off-bounds.
Have you been to Hawaii? Any recommendations to share? Let me know in the comments below.
Want to read more travel planning tips for Hawaii? Click below.
Or if you want something to immediately drool over, have a look at an article I wrote about for TravelMag.com about Hawaiian food.