London is a big place, there's no denying that. So one of the toughest things when planning a trip to the British capital can be deciding where to stay.
There are plenty of amazing places to choose from, but the best area for each individual can vary depending on a range of different factors, including your personal budget and what exactly you plan to do in London.
By the way, here's my list of the 50 best things to do in London in case you were not sure what to do in London.
Where to Stay in London
It can be hard choosing your accommodation but I suggest you start by picking an area.
For those looking for ultimate indulgence without budget constraints, there are many beautiful luxury hotels in the central London neighbourhoods of Westminster and Mayfair, with on-site Michelin star restaurants and award-winning spas. While the West End is one of the top areas to stay in Central to be right in amongst the city's bustling restaurant scene and nightlife.
Or alternatively, if you're visiting London on a budget and are looking simply for an affordable base while out exploring the city, head further out to the likes of Shoreditch in the east or Earls Court in the west for some of the best cheap accommodation in London.
Below you'll find a more detailed rundown of the best places in London to stay, split by both areas of the city and by individual neighbourhood. I've also included some hotel recommendations in each area dependent on budget. And then, to be ultra helpful, I've plotted all these places on a map so you can really pick the best location.
A word on pricing: I decided against adding pricing. Not just because prices can get out of date pretty quickly but because you can usually score a deal on websites like Hotels.com. I've linked to that website for all of the hotels because its one of my favourite hotel booking websites.
Central London
London's Regent Street – historic buildings housing great shopping
Top things to do in Central London
Big Ben
Palace of Westminster (Houses of Parliament)
Westminster Abbey
Buckingham Palace
South Bank – home to the London Eye, London Aquarium & London Dungeons
Whitehall & 10 Downing Street
Trafalgar Square & the National Gallery
The West End (Theatre District) – Piccadilly Circus, Leicester Square & Covent Garden
Restaurants and nighttime entertainment in Soho
Shopping on Oxford Street and Regent Street
Where to stay in Central London
The area of Westminster lining the north bank of the River Thames is definitely one of the best places to stay in London, being the main hub of many of the capital's major tourist attractions. Staying in Westminster you'll be right in the heart of London's action and no more than a few minutes walk away from the likes of Big Ben, the Houses of Parliament and the London Eye.
If you want to stay in central London but would rather keep away from the crowds, head a little further north of the river to the affluent neighbourhood of Mayfair. As well as being home to some of the most upmarket (aka expensive) properties in Central London, it's also where you'll find many of London's top luxury hotels hidden away just a walking distance away from Buckingham Palace, the West End and more.
Or, if you're more of a night owl and want to stay as close as possible to a large selection of restaurants, bars, clubs and theatres, head into central London's bustling West End. Leicester Square, Covent Garden and Soho are all great areas to base yourself in one of London's most popular neighbourhoods.
Central London Hotels – Westminster
Luxury: Corinthia London
Without a doubt one of the top luxury hotels in London, the beautiful 5-star Corinthia London sits right in the heart of Westminster, just a few minutes walk from many of the city's top attractions and with views overlooking Trafalgar Square on one side and the River Thames on the other.
As well as its spacious and elegantly decorated rooms, the luxury hotel has three bars serving fine wines and cocktails and onsite restaurant Kerridge's Bar & Grill, the first London restaurant by renowned Michelin-starred chef Tom Kerridge. Corinthia is also home to London's largest spa which is the perfect spot for relaxing after a busy day exploring the capital.
(I've had a sneak peek in one of the penthouses and I can tell you it's the stuff that travel dreams are made of).
Mid-range: Park Plaza Westminster Bridge
While technically located in the Borough of Lambeth rather than Westminster, Park Plaza sits right on Westminster Bridge Road looking back over the river to Big Ben and the Houses of Parliament and just a couple of minutes walk to the many attractions of South Bank. With spacious modern rooms, a 24-hour gym, luxury spa, and several onsite restaurants and bars, the Park Plaza Westminster Bridge is definitely one of the best value hotels in Central London.
This hotel is my go-to for a decent priced stay in London and because of its size, it's great at accommodating groups as well as offering deals.
Central London Hotels – Mayfair
Luxury: The Connaught
From bespoke butler and concierge services from the moment you walk in the door to it's Michelin-Star French restaurant Hélène Darroze and two chic and stylish bars, The Connaught screams refined luxury in one of London's most exclusive neighbourhoods. Plus the hotel's Aman Spa is the ideal place to rejuvenate with healing therapies drawn from traditions from all across the world.
Mid-range: The Chesterfield Mayfair
Mixing traditional British charm with modern comforts, the Chesterfield Mayfair has the look and feel of a 5-star hotel but at the price of a 4-star. Located down a quiet street just off of Berkley Square, the hotel is just a few minutes walk from Oxford Street, Hyde Park, Buckingham Palace and more.
Central London Hotels – The West End
Luxury: The Ham Yard Hotel
Ham Yard Hotel is located in the heart of Soho just a few minutes walk from Piccadilly Circus and is definitely one of the best hotels in London's West End. Even though Ham Yard belongs to established Firmdale Hotels Group, the bright and individually decorated rooms really give it the feel of an independent boutique hotel which fits in seamlessly with the vibe of the local area. The quirky spot also has an amazing rooftop garden and terrace, plus its own theatre which is available for private hire.
Mid-range: The Resident Soho.
The Resident is conveniently located just a stone's throw from both the busy shopping area of Oxford Street and the many restaurants, bars and clubs of Soho. The modern and super stylish rooms all come with a spacious bathroom and their own compact kitchenette – just in case you don't feel like eating out for every meal.
Budget: Z Hotel Trafalgar/Soho/Piccadilly/Covent Garden
Z Hotels is a small chain of UK hotels with the majority of its properties in London's West End. Z offers clean, contemporary and very budget friendly accommodation in London's most popular neighbourhood.
While the rooms at all of their West End locations are pretty compact (think Japanese capsule room style), they still have everything you need including an en-suite shower room, HD TV, in-room tea and coffee making station and under-bed storage for your bags.
Hostel: SoHostel
Offering some of the cheapest accommodation in London's West End, SoHostel is a colourful and modern hostel in the heart of Soho, with both private and shared rooms, plus a cosy lounge area, on-site restaurant and social bar for evening drinks.
West London
Top things to do in West London
Hyde Park and Kensington Gardens
Kensington Palace
Notting Hill & Portobello Road Market
South Kensington Museums – Natural History, Science Museum & V&A
Knightsbridge & Harrods
Kew Gardens & Richmond Park (South West London)
Insider London tip: while you're in West London, make a stop at Peggy Porschen (famous pink cake shop pictured above) – the cakes are nothing short of sublime.
Where to stay in West London
Kensington is another of London's most affluent neighbourhoods, known for its rows of grand Victorian townhouses broken up by pretty little mewses. It is also one of the best areas to stay in London for tourists, with attractions such as the South Kensington's Museums and Kensington Gardens right on your doorstep.
The area around South Kensington and High Street Kensington can be a little pricier. If you want to stay in Kensington on a budget, head a little further west towards Earls Court for the more affordable chain hotels.
West London Hotels – Kensington
Luxury: The Gore
The Gore is a charming 5-star boutique hotel located in the heart of South Kensington, which will make you feel like you've taken a step back in time to an Old English Stately Home. Each room is individually decorated with lavish hand-picked pieces, including oak-carved four-poster beds, antique furniture, period pictures and other ornate features. Feel like British nobility for your stay at one of London's most unique hotels.
Mid-range: The Resident Kensington
Located in a cluster of large hotels between Earls Court and Glouster Road on the west edge of Kensington, the Resident sits inside a charming Victorian townhouse in fitting with the local area. While not as lavishly decorated as some of the others, The Resident does have everything you need including clean and spacious rooms, on-suite shower rooms and small kitchenettes to make your morning coffee before hitting the sites of London.
Budget/Hostel: MEININGER Hotel Hyde Park
Just a few minutes walk from South Kensington's Museum Mile, the Meininger is one of the top budget hotels in Kensington. With both private rooms which sleep up to 6 people, as well as shared dorms, the hotel is one of the best places to stay in London for groups and for solo travellers looking for great location over party vibes.
East London
Top things to do in East London
St Pauls Cathedral
City of London – iconic skyscrapers including the Gherkin, the Cheesegrater & the Walkie Talkie
Bank of England
Tower of London & Tower Bridge
Street Art in Shoreditch
Spitalfields Market
Columbia Road Flower Market
Queen Elizabeth Olympic Park
Greenwich (South East London)
If you're heading to the Tower of London, check out my guide on how to visit and what to see here.
Where to stay in East London
While the City of London is primarily the capital's central business district, home to the Stock Exchange, Bank of England and numerous large corporate companies, the area has plenty more going on, which makes this a great area to stay in London. Many of the iconic skyscrapers have restaurants and bars on their upper floors which have beautiful panoramic views across the city, while the medieval alleyways below are full of history and London of old.
A world away from the City of London (well, actually it's just around the corner but you get the gist) is the young and hip East London neighbourhood of Shoreditch. Filled with colourful street art, quirky rooftop bars and converted warehouses housing young tech start-ups, Shoreditch is also where you'll find some of the coolest and most budget-friendly accommodation in London.
East London Hotels – City of London
Luxury: The Ned
Set inside a Grade I-listed building which was formerly a bank, the Ned is the most luxurious hotel in the City of London. Each of the hotel's stunning rooms has vintage furnishings and period pieces from the 1920s and 1930s, but the real showstopper has to be the hotel's former 'Grand Banking Hall' which is now home to ten high-end restaurants serving cuisine from around the world.
Mid-range: Apex City Of London Hotel
Apex Hotel is a super contemporary hotel sitting conveniently between the City of London and the Tower of London. The 4-star hotel offers modern and spacious rooms with balconies overlooking the city, glamorous Lampery Bar and Restaurant, and its own on-site gym.
Budget: Z Hotel City
Z Hotel's City branch is located to the west of the City of London close to the impressive St Paul's Cathedral, making it an ideal location being walking distance to Westminster on one side and the City to the other. Much like its West End counterparts, the hotel offers small but efficient rooms which won't break your budget.
Hostel: Wombats Hostel City of London
Wombats is one of the best options for budget accommodation in the City of London, offering everything from budget-friendly double and twin rooms with private en-suite bathrooms to communal 10-bed mixed dorms. A lively, clean and modern hostel in a great location in London.
East London Hotels – Shoreditch
Luxury: The Curtain
The Curtain is a super-chic and modern hotel close to Hoxton Square. With its exposed brick walls, colourful contemporary furnishings and vintage features, the Curtain is just about as Shoreditch as you can get. But the highlight of the hotel has to be its outdoor pool and terrace area which is particularly stunning at night with twinkling fairy lights and panoramic views across the city.
Mid-range: Citizen M Shoreditch
Ultra-modern and filled with colourful artwork, Citizen M is a great option for staying right in the heart of Shoreditch. Many of the bright and spacious rooms have great views over the city, while there are plenty of cool communal areas where you can get some work done or simply enjoy a book with a hot cup of tea. Citizen M is a mid-range hotel chain to look out for across some of the world's major cities.
Budget: Z Hotel Shoreditch
Similar to those around the West End and the City, Z Hotel in Shoreditch offers clean, modern and compact budget friendly accommodation just a few minutes walk from the many restaurants, bars and colourful street art of central Shoreditch.
Hostel: The Dictionary Hostel
The Dictionary Hostel is one of the best places to stay in London for those who want to enjoy the eclectic mix of international restaurants, hip bars and independent shops in one of East London's coolest neighbourhoods. The hostel has both private rooms and larger dorm rooms with communal bathrooms, plus an on-site cafe with a discount for guests.
North London
Don't miss Camden when you're in North London
Top things to do in North London
Kings Cross St Pancras Station
Access to the Eurostar Terminal
Camden Market
The British Library
Regents Canal
Charles Dickens' Museum
Coal Drops Yard
To find out more things to do in North London, check out my post – 20 Things To Do Near Kings Cross St Pancras in London
North London Hotels
North London is the perfect location if you want access to Kings Cross St Pancras Station and the Eurostar. Once an area down on its heels, regeneration has gripped hold of North London and whipped it into something almost unrecognisable. This now ultra-trendy area has seen many excellent restaurants and hotels pop up, making this a great area to base yourself for your London stay.
Luxury: St. Pancras Renaissance Hotel
Originally the Midland Grand Hotel, opened in 1873, this impressive hotel forms the beautiful fascia of St Pancras Station and the interior is even more remarkable. Expect soaring ceilings and the plushest decor. If you're looking for something lavis, upgrade to one of the Chamber Suites for sumptuous, Victorian-styled luxury.
Mid-range: Eccleston Square Hotel
Just two doors down from where Winston Churchill used to live, this boutique hotel in a Grade II listed building will give you a sense of history before you even step through the door. Yet, once inside, this technology-driven, award winning hotel can meet your modern-day needs. As a bonus feature, the Eccleston Square hotel has a charming garden square where you can escape from the city bustle.
Budget: Crowne Plaza London Kings Cross
Edging out towards the east of the city but still accessible to Kings Cross, this solid, chain-hotel is an easy pick if you don't want to spend a lot but want a level of cleanliness and facilities you can trust. There are two restaurants in the hotel, including a Belgian restaurant stocked with a host of Belgian beer. A great base for enjoying all the sights London has to offer.
Hostel: Clink 78
I almost don't think Clink 78 should be categorised as a hostel. Sure, there are dorm rooms and a communal kitchen and all things social but the main attraction is the building's prior 'conviction' as the old court and jail. Skip the dorm and book a prison-cell room, complete with (sealed) loo in the corner and original prison cell door. Don't worry – there's a door release on the inside so you won't miss happy-hour in the basement bar, which serves some of the best priced drinks in London.
South London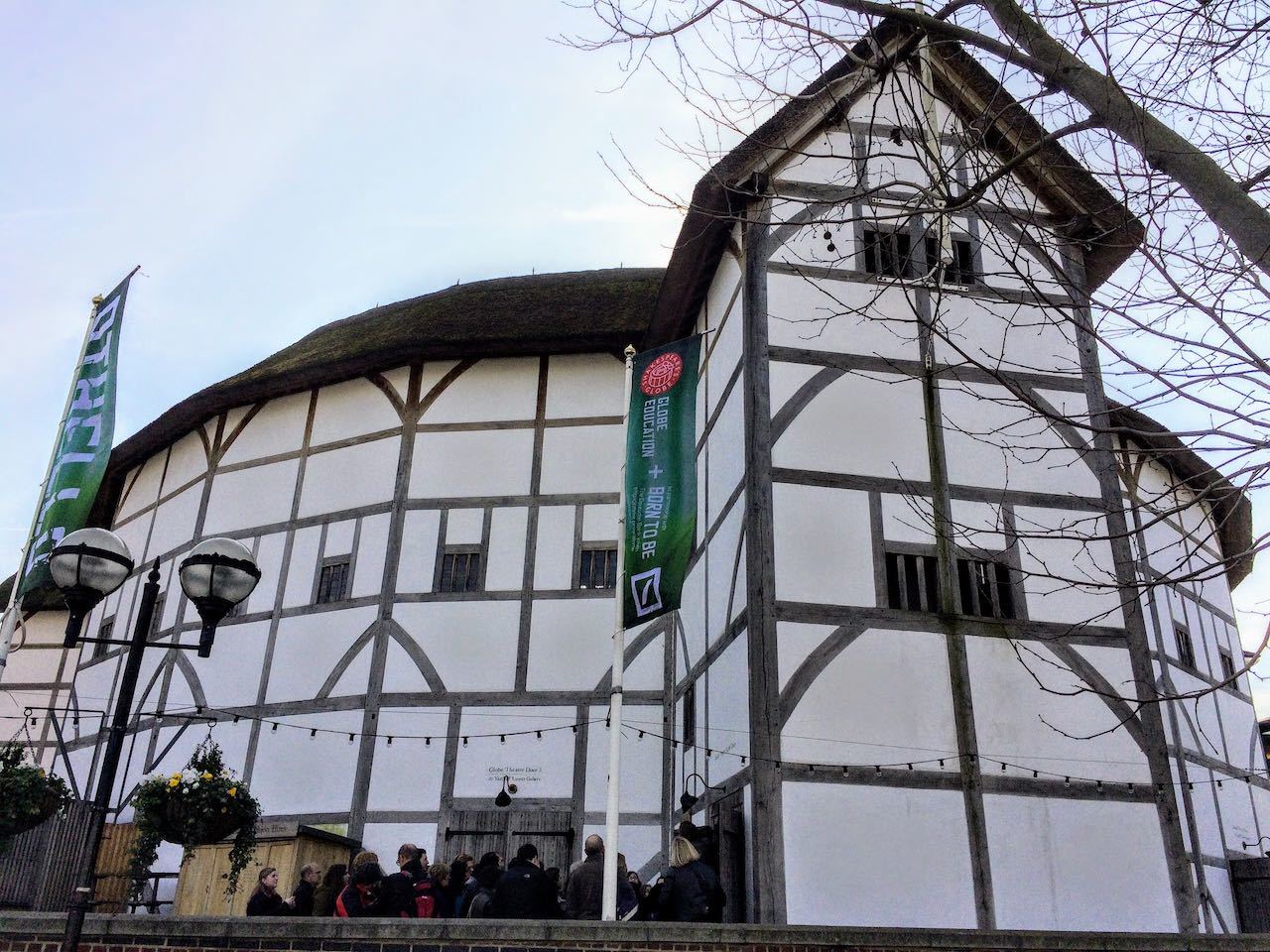 Top things to do in South London
Borough Market
Shakespeare's Globe
TATE Modern
The London Eye (it's a short walk over Westminster Bridge but is located on the south bank of the river)
South Bank walk along the Thames
London Dungeon
The Golden Hinde
OXO Tower
The Millennium Bridge
Interested in Shakespeare? Check out my guide to visiting Shakespeare's Birthplace: 17 Best Things To Do In Stratford-upon-Avon – England
South London Hotels
With so many bridges crossing the Thames River from south to north across this stretch of London, it's very easy to base yourself here and get around the many sights littering London's north and south banks. I like South London as an area to stay because it's often cheaper than other parts of London whilst offering the same access to the city's sights. You won't be short on bars, cafes and restaurants around here, either.
Luxury: Sea Containers London
Glamour mingles with brutalism in this quirky south London hotel that has been designed to be reminiscent of a 1920s transatlantic cruise liner. With a cocktail bar, a restaurant and a panoramic viewing bar, there's almost no need to leave the hotel. With a choice of lofts, river-view rooms, suites, apartments and patio garden rooms, you can have exactly the kind of stay you fancy.
Mid-range: Hilton London Bankside
Modern and well-equipped, especially if you are in London for business, this hotel makes a great base. Just five minutes' walk to Take Modern and Shakespeares Globe, you don't have to go far to find culture nearby. Bonus: there's an indoor heated pool to help you unwind after a long day pounding the pavements (or your laptop).
Budget: Premier Inn London County Hall Hotel
I'd be remiss not to include a Premier Inn on the list. If you're not familiar, this British budget hotel chains offers great prices for a simple stay in clean, modern rooms. With so many hotels dotted around, you'll often find a Premier Inn stay comes with the added bonus of being in an historic buildings; in this case, the former London County Hall. The buffet breakfast (costs extra) is usually a budget bargain.
Hostel: St Christopher's Inn
If you're looking for London accommodation that is cheap and historic, you've hit gold with St Christopher's Inn. The hostel is above an old coaching inn which still functions as a bar. By old, I mean from the 1500s. Located near London Bridge, this hostel is quintessential olde-London with cheap rooms. Warning (based on personal experience): if you partake in one too many ales in the old bar downstairs, you might struggle to find your room in the warren of corridors upstairs. Drop breadcrumbs (or beer mats).
If you want to find out more of what to do in this area, check out my post – What to see and do in London's South Bank.
Map of where to stay in London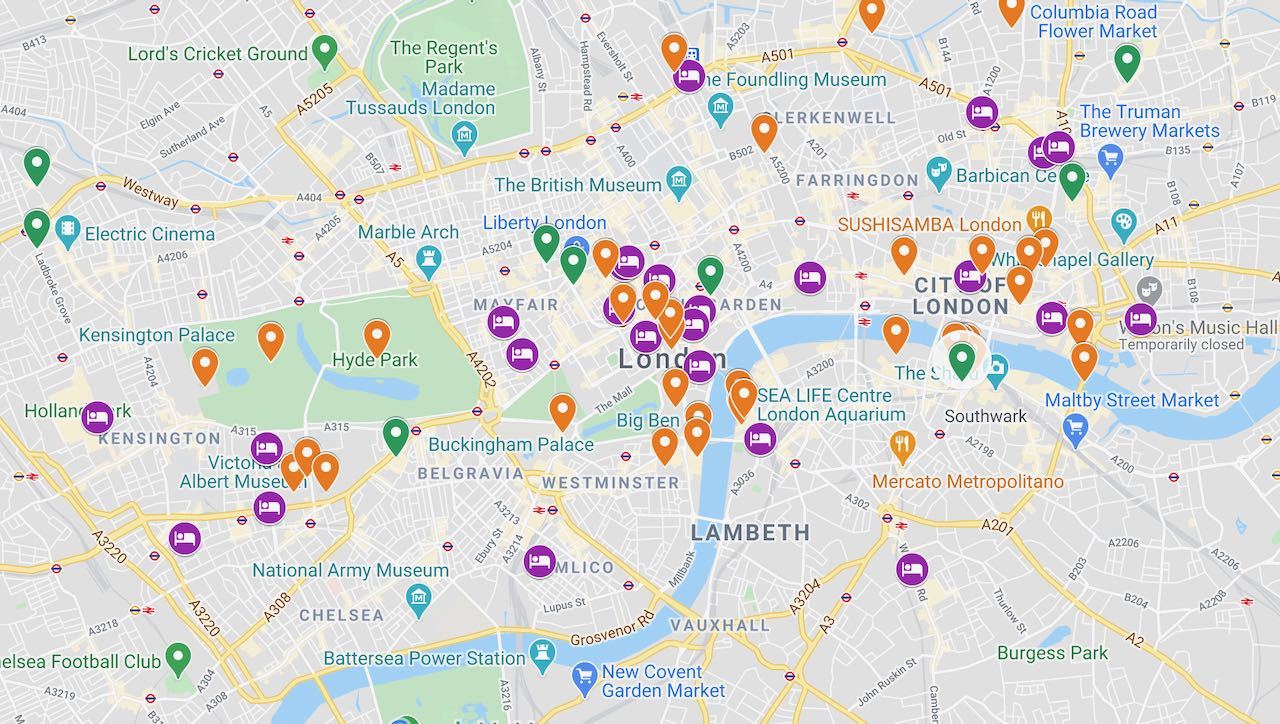 Click here to open the map in Google Maps.
Related Articles:
Like this? Share it on Pinterest…
Main image: The Chesterfield Mayfair © The Red Carnation Hotel Collection