I'd always thought Sardinia would be a beach-based trip for me – after all, isn't that why most people fly into what is Italy's largest island? However, there's not much you can do to talk me into sitting on a beach in November (even in Italy), so I ended up driving through the island instead.
From Cagliari in the south to Olbia in the north, I cut a path through the very interior of Sardinia and what I found there surprised me: a craggy topography dotted with hilltop settlements, ancient megaliths and all the suckling pig I could eat (which turns out to be a lot).
Sardinia isn't just about the beaches (though I have promised myself a return visit – ideally in the height of summer – which will be all about the beaches). Sardinia has more variety than most visitors can imagine. And in this self-drive itinerary, I'll guide you through the best things to do in Sardinia.
I've included a map at the end with all the places I went, restaurants I ate at and where I stayed in Sardinia.
1. See Bastione di Sant Remy at night – Cagliari
Cagliari is a popular entry point for Sardinia with its airport. I especially enjoyed wandering the streets at night when this Medieval city was lit up. Medieval il Castello and the 13th-century Cattedrale di Santa Maria are the two biggest highlights. Bastione di Sant Remy was one of my favourites.
2. Go cheese and wine tasting at Sapori di Sardega, Cagliari
Confession: I probably could have made it to the castle and cathedral but I was kind of distracted by a cheese and wine-tasting place. When in Sardinia, try the pecorino, so the famous saying goes. So, I did as well as trying the fiore sardo…and some cured meats…and some wine. If you also prioritise consumable items over, well, everything else, check out Sapori di Sardegna Cagliari.
3. Find the hidden hilltop town of Sardara
My first stop after Cagliari was Sardara. You'd be hard-pushed to find this tiny hilltop town in any guidebooks. To me, this made Sardara all the more appealing. The sights aren't many and you could easily whizz through them in one morning.
Often, it was the glimpses of everyday life in this Sardinian hilltop town that was most appealing.
4. Visit the Villa Albas Archaeological Museum, Sardara
Villa Abbas, the archaeological museum will fling you all the way back to 1900 to 750 B.C. (yep, 1900 B.C.) with its artefacts from the ancient Nuraghic civilisation. It's also a great introduction to the history of Sardinia.
5. Spot the Nurhaghe houses dotted around Sardinia
Speaking of the ancient Nuraghic civilisation, the hilltops of Sardinia are dotted with nuraghe houses, thousands of years old. The one above is a good example.
6. Enjoy the Thermal Baths of Santa Maria Acquas, Sardara
There are also a few churches to explore in Sardara, as you would expect: Italy. However, one of the major attractions is the nearby thermal baths (Santa Maria Acquas), which are reputed to have therapeutic properties.
Sadly, I was disappointed on two fronts – firstly, the baths, despite the grand exterior (above), have fallen into dilapidation and is no longer open. So, unless you stay at the nearby Hotel Therme di Sardara and make use of their spa (I didn't), the closest you'll get to the magical healing water is an open-air tap.
Cue: my second disappointment. I supped some of the water from the tap (after being assured it's safe to do so) and it didn't do a damn thing to speed along the healing of my knee. I'd have demanded my money back…if I'd paid for this free sight.
7. Have a long lunch in Laconi
I ate at Hotel Ristorante Sardegna. This family-run restaurant has been passed down for generations and there's every chance you'll meet Rita, the current owner who will welcome you in as if you are one of her own. Try the culurgiones and if you eat too many to move on, this restaurant is also a hotel.
Most of what I did in Laconi was eat (there's a theme here) so it was dusk by the time I got to do any real exploring. And then the skies opened and poured what seemed like all of Sardinia's surrounding waters onto my head, cutting my sightseeing short.
You can read all about my restaurant recommendations in Sardinia here.
8. See the Menhir Megaliths at Civico Museo Archelogico, Laconi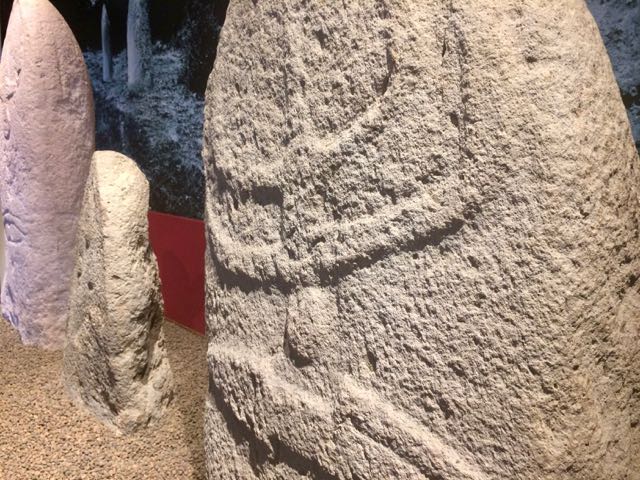 I did, however, get up close with some Menhir (megaliths) in the Civico Museo Archeologico – Laconi has the highest number of Menhir in Sardinia. If you're not sure what a megalith is, think Stonehenge.
9. Visit the tiny church of Casa Sant'Ignazio, Laconi
Casa Sant'Ignazio is also worth a visit if for no other reason than to meet the beautiful Sardinian who is the keeper of the keys at this tiny, local church. I won't guess her age but she was good evidence of the health benefits of living in one of the world's 'blue zones'.
10. Explore Laconi's Park – Parco Aymerich
Parco Aymerich is also, apparently worth a visit. However, it was at the gates to the park that the skies opened and I made a dash for shelter.
11. Stay in a room with a view of Italian-painted houses, Nuoro
I arrived in Nuoro late at night with a storm beating around me, so I was delighted to wake up to this view (even if the rain clouds were still lingering in the distance).
I stayed at the 3-star Hotel Sandalia where the staff was excellent, the view from my window was just as astounding (picture above) and there was a terrace where I wish I'd had time to have an aperitivo.
Nuoro was a jumping-off point for my trip so I didn't do much beyond having dinner here. But speaking of which…
12. Have a culinary adventure at Ristoriante Montiblu, Nuoro
Ristorante Monti Blu – by far the most adventurous meal during my time in Sardinia with brains, tongue and other animal parts on the menu. You can get pizza, too, if you're not up for challenging your tastebuds (or gag reflex).
13. Wander the pretty streets of Oliena
And then the sun came out and what a difference it made. Another hilltop town, Oliena offered up some fantastic vistas.
Walking the streets, crumbling is perhaps the best description for parts of the town but that made it all the more beautiful and photogenic. I understand there is a push for regeneration in the town. More specifically, the regeneration of the courtyards with the hope that the local people will come out of their disparate homes and start to socialise like they once did not too many generations ago.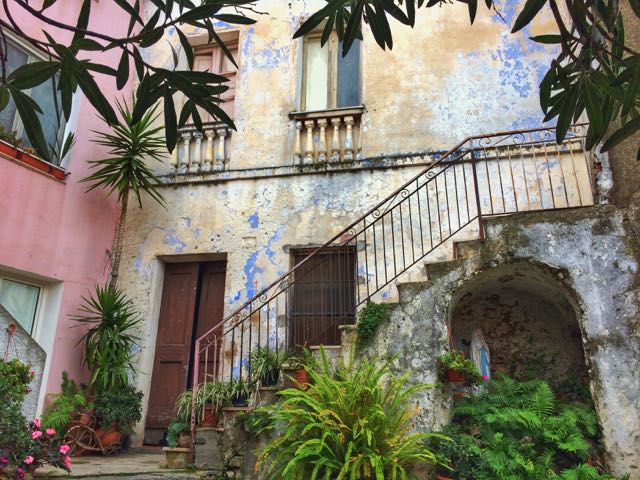 14. Go shopping for handicrafts, Oliena
Handicrafts are a big attraction in the city with silk shawls, filigree jewellery and leather shoes and belts being popular purchases.
15. Check out the street art in Oliena
There was this striking piece of street art in Oliena; except it's more than that. It's common in Oliena (and perhaps more widely in Italy?) to paint a mural of former residents. In this case, this feisty lady was best known for taking out her shotgun and, no, not killing people, but standing on her balcony and firing into the air on the day of the Easter procession. Go, grandma!
16. Take a sunset stroll in Galtellì
I arrived in Galtellí just before golden hour, that magical time when the light is softer and warmer and gives off an ethereal glow so the sights were impressive. Like many of the hilltop towns I visited in Sardinia, there isn't a dramatic amount of things to do beyond walking through the streets, visiting the church and taking in the view, but what more do you want (apart from good food and wine) in Italy?
17. Visit Cattedrale Romanica di San Pietro IX secolo, Galtellì
If you haven't visited the town's church, have you even visited that town in Italy?
Cattedrale romanica di San Pietro IX secolo was most spectacular for its location and the views over the valley below so it's worth a quick peek even if you're churched-out.
18. Learn about local agricultural life at Museo Etnografico, Galtellì
Meanwhile, the Museo Etnografico does a great job of casting you back in time and will give you a better understanding of local, agricultural life in Italy.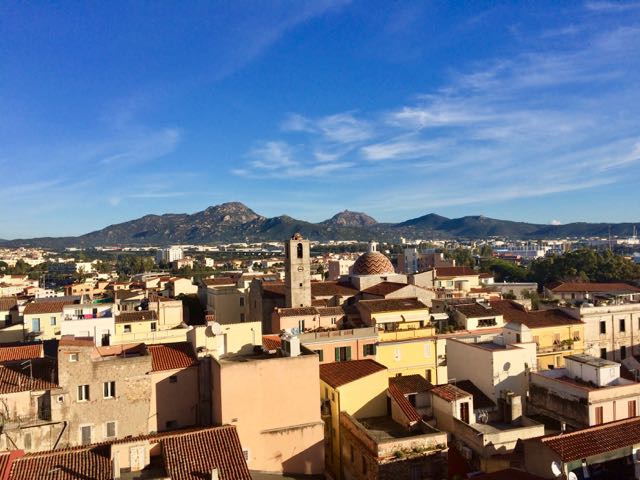 19. Go shopping and cafe hopping in Olbia
Olbia was another shortstop for me.
The upshot: besides wandering through the main shopping street and sipping a coffee by the port, I didn't get to see much of Olbia itself. One to explore better next time I'm in Sardinia.
20. Don't miss Elephant Rock
You should keep an eye out when you're en route from Olbia to Castelsardo – pull over and make sure you get a photo of this natural rock formation, elephant rock.
21. Stay in a hotel with panoramic rooftop views, Olbia
I stayed at Hotel Panorama. The clue is in the name – a rooftop terrace with one of the best panoramas you're going to find in Olbia.
22. Visit Castelsardo Castle
If I were asked by friends and family where to visit in Sardinia, the word Castelsardo would be first out of my mouth. With its enchanting castle hoisted on top of a giant rock, meandering streets that make up the historic centre, there's something very Game of Thrones about Castelsardo.
The one thing you must do is visit the castle, which has sweeping views from the ramparts over the bay below (and, on a clear day, you can see all the way to Corsica).
23. Check out the basket weaving museum, Castelsrado
There's a sweet basket-weaving museum (Museo dell'Intreccio Mediterraneo), which is worth a quick look, especially if you're looking for some souvenir shopping inspiration.
24. Stop at the Diocesan Museum of Sacred Art, Castelsardo
The cathedral of Castelsardo is another great thing to do in Sardinia and is notable for its Diocesan Museum of Sacred Art.
25. Don't miss sunset over Castelsardo
However, the best thing of all is the views of Castelsardo itself, which are best seen at sunset. To see it, you need to leave Castelsardo, following the road away from the town. That offers the best views.
Where to Stay In Sardinia
Castelsardo: I spent the night at Hotel Riviera. All I'm going to say is this view (picture above) from my balcony.
Cagliari: I stayed at Hotel Italia, a three-star hotel with a modern interior that was perfectly located in the old Marine Quarter. The hotel is within walking distance of shops, restaurants, bars and sights. Note to self for future visits: Cagliari is hilly so take a map. If you get lost getting back to your hotel, you're going to have to walk back up that mammoth hill you just strolled down.
Where to eat in Sardinia: you can read about what and where to eat in Sardinia here. You'll find a list of traditional Sardinia food as well as details of all the restaurants I tried on the island.
Sardinia Travel Information
Map of Sardinia
More of my Italy blog posts
Planning a longer trip to Italy? You might be interested in some of my other posts:
My trip was courtesy of the Sardinian Tourist Board and was arranged in conjunction with Borghi Italia Tour Network.