Ever had one of those trips where sightseeing takes a back seat and you end up spending close to eight hours a day languishing over super long lunches and dinners that stretch on to midnight? No, well, I can highly recommend it. Spending time lingering over one of the best diets in the world (Sardinia is in one of the famous Blue Zones), has surely got to be integral to the longevity of the people of Sardinia.
In this post, I'll share with you the many restaurants I visited on my trip to Sardinia. I took a road trip from south to north, dining both on the fresh fish and seafood at the coast and, being surprised at the prevalence of meat dishes in the island's interior and many hilltop towns. Hire a car, explore the island and put these Sardinian restaurants on your list of places to eat in Sardinia.
Ristorante Flora – Cagliari
Ristorante Flora is a beautiful, traditional tavern with an art deco style. In fact, I was torn between wanting to inspect the set up and wanting to eat. In the end, the scent of the food coming out of the kitchen rooted me to my seat. This is the kind of place where locals eat.
What to eat there: Try the su porcheddu. What is it? It's suckling pig that's only one month old so you might need to let your conscience lapse for the night but if you do, you'll be rewarded with some of the most tender pork you'll ever eat.
Sarpori di Sardegna, Cagliari
Sarpori di Sardegna is a little wine shop and delicatessen within Cagliari that should not be missed. If you're staying in a rental apartment or want some pre-dinner snacks with a glass of wine in your hotel room, this is the place to shop.
What to eat there: you can often sample the produce before purchasing. Try the pecorino cheese, any of the cured meats and, of course, a bottle of Sardinian wine to wash it down.
Ristorante Sardegna, Laconi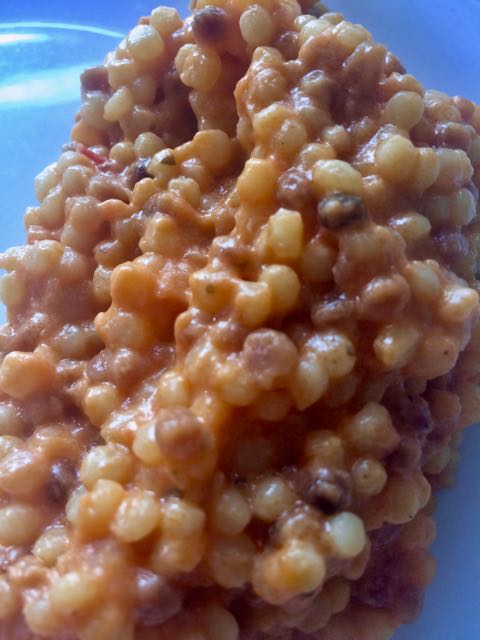 I stopped for lunch in Laconi and this was the spot that was recommended. It's a family-run business that's been going for generations and has great views.
What to eat there: Try the culurgiones or fregola (being a piggy, I tried both). For the uninitiated, culurgiones are divine, Sardinian ravioli stuffed with potatoes and pecorino cheese. You're welcome.
Fregola is hard to describe. I'd go with soft pasta pearls. Some people call it cous cous but I don't think it's anything like it. It's usually served with seafood or with a simple tomato sauce and, you guessed it, pecorino.
Monti Blu, Nuoro
A quirky restaurant that feels a bit like a curiosity shop that has a shop and cafe on the ground floor. Monti Blu is just as inventive with its menu so prepare for an adventure.
What to eat there: If you've ever had the urge to try brain, tongue, tripe and other animals innards, this is a good place to do it (and I'd highly recommend having these items breaded and deep fried). But don't fear, there are more mainstream options on the menu.
Ristorantino Masiloghi, Oliena
With rustic decor, the focus in Masiloghi is simple, fresh flavours and, boy, they they do them well. I stopped in for another of those long lunches that were becoming ever so common while I was in Sardinia (perfect if it rains).
What to eat there: Try the malloreddus alla campidanese for a pasta course and sebadas for dessert. Malloreddus alla campidanese are gnocchetti that are usually served with local sausage and tomato sauce.
As for sebadas (picture above), I request your trust once again. I was dubious too but these pecorino fritters, served with honey, defied my expectations.
Ristorante L'Essenza Bistrot, Olbia
If you're in the mood for a modern bistro that serves up fresh seafood and fish, L'Essenza is a great choice. In fact, it was good enough that I'd go back. The food was beautiful both on the plate and in the stomach (not something that's always guaranteed). While it's still a bistro, I'd recommend this place if you have something to celebrate.
What to eat there: Fish and seafood are the specialties on the menu and, diving into another four course dinner, I can honestly say that everything I ate was top-notch. I was especially impressed with the seafood risotto which had coffee beans grated on top (curious but worked). However, risotto isn't especially photogenic hence the picture of dessert (which was also heavenly).
Ristorante Da Ugo, Castelsardo
Ristorante Da Ugo has too many photos of A-Listers and the glitterati dining here that it can't get them all up on the wall. Seafood and fish abound. Don't be put off by the somewhat basic decor and unattractive frontage (honestly, I'd have walked past had it not been recommended). The food makes up for it. You are going to want to carve out some time for this restaurant as every dish seems to come with a story and the staff are very happy to chat with you about what is on your plate.
What to eat there: Seafood, all the way.
---
How to order food in Italy
A word on Italian dining: If you're not familiar with the Italian way of doing dinner, it generally goes:
Antipasto – small tasting plates or platters of meat, fish, seafood, cheese and vegetables – nibbles, if you like, though fiercely proud Italian chefs would probably beat me to death with a leg of ham for such a vulgar description
Primo – first course (or starter) – be prepared – this is usually something stodgy like pasta or rice and you will want to pace yourself as there's a lot more food to come
secondo – entree (or main course) usually comprising fish or meat together with potatoes or vegetables
dolce – dessert
caffe – always an espresso. Never anything long or frothy – you can read more about the complex etiquette of ordering coffee in Italy in my post here.
It's important to remember the length of a full Italian meal so you don't stuff your gills by the end of the primo course (as I have done more than once). Think of it as a marathon, not a sprint.
Sardinian food
I have written a separate post on the Sardinian diet together with a list of the many Sardinian foods to try – you can read that here. If you want some highlights, here are a few of my favourite, Sardinian dishes:
Pecorino cheese
Culurgiones – ravioli stuffed with potatoes and pecorino
Sardines
Mullet
Su Porcheddu – suckling pig
Sebadas – pecorino fritters in honey (trust me, it works)
And what about one NOT to eat? How about Casu Marzu.
I'm all in for a food adventure and there's not a cheese on the planet I won't try…apart from this one. Infested with maggots, Sardinia's casu marzu is a 'special' kind of cheese. But not one you're going to see me eating any time soon. Actually, let's make that EVER.
If you do want to try this (why, why, why?), you'll have to do a deal on the black market because its now banned: for health and safety reasons. Obviously. You can find a video of casu marzu here.
Sardinian food – the blue zone
Did you know that Sardinia is one of the world's Blue Zones – where the locals have unusual longevity. Some people attribute this to the food as well as the lifestyle. You can read more about it in my post about the Sardinian diet and what to eat in Sardinia.
So, that's my guide to where to eat in Sardinia. Got any other recommendations? Let me know in the comments below.
Related Articles: