I hate the cold, which is why so many of my friends and family were surprised to hear that I was going to Lapland. When I explained that I'd agreed to the trip at a New Year's Eve party, AFTER midnight and a barrel-full of wine, my decision made more sense. But in the cold light of New Year's Day, I got nervous about what I'd said yes to.
One of my biggest worries: I didn't own winter wear.
My wardrobe is made up of summer dresses and cut-off denim shorts. Every time I feel the need to buy sub-zero clothing (I live in England, after all), I find myself booking flights to somewhere sunny instead. I've dodged the worst of winter for near on 10 years straight. And I was very comfortable (lying on a beach) with that decision.
But then the invite came: an opportunity to go to Lapland. With friends so close I consider them family. Complete with my Godson who was just on the brink of becoming a non-believer. The timing was right, I had a year's notice and, almost best of all, for once I had to do sweet F.A. in terms of planning. Just pay money. Pack winter wear. Go. I couldn't refuse. And I didn't.
Eleven months later, it was time to turn my mind to the unavoidable matter of how to dress for snow. I knew my floaty frocks wouldn't pass muster. But I didn't want to throw down a stack of cash either.
Fortunately, looking more closely at what I already owned, I knew I wouldn't have to make too many additional purchases despite my initial panic. I did have some 'technical clothing' from my various around-the-world jaunts – altitude at the top of a volcano or nights sleeping on a frigid-with-a/c bus has made me invest in a good base layer and windproof jacket.
And my Victorian, single-glazed apartment in the UK meant I had more than my fair share of thermal socks and long-sleeved tops.
Digging more deeply, amidst the cobwebs under my stairs, I found some remnants from a skiing trip I'd taken a decade earlier. Ok, one pair of snow boots – but it was better than nothing.
Between what I already owned and a few additional purchases, I was able to pull together the right snow wear without going broke.
What follows is my recommended Finland packing list. I'll cover everything from what to wear on the plane to what you will and won't need to pack for your snow trip to what to wear in the evening.
Lapland clothing supplied by tour operators
Before I jump into what to pack for Lapland, the first thing to consider is whether you have booked a package trip. My friend did extensive research beforehand and although we typically don't go on package holidays, it was a lot cheaper to book a package to Lapland. There was an unexpected saving, too – basic snow wear was provided, and not just any snow gear, but proper Arctic clothing.
The main advantages of being supplied with the right clothing (as disgusting as it is to me stepping into something I know someone else has sweated in, even if it has been cleaned) are:
You'll save a lot of money not having to buy snow clothing – even with cheap ski wear, you're going to push hundred(s) of pounds/dollars buying boots and jackets;
You'll save a lot of space in your case. Snow wear is bulky – big, grippy boots, padded snow pants, and puffy jackets. And that's before you've packed any basics.
Saving space in your case, you won't run the risk of paying excess baggage fees.
You won't have to haul all that gear from home to Lapland. Pick it up when you're there and drop it off when you're done. Simple.
You don't need to worry whether your own clothes will be warm enough or your boots grippy enough – the clothing provided is designed for Lapland's weather.
You'll save space at home, too – unless you ski often (and, let's face it, if you do, you're unlikely to be on the web searching for a Lapland packing list), you'll end up with a lot of bulky gear to store at home.
If you do take a package holiday to Lapland, here's what you'll typically be supplied (though do check with your tour operator):
snow boots – the grip was far superior to my own snow boots that I'd previously taken skiing;
snow suit (all in one) – very unattractive but you'll look just as stupid as everyone else around you -it seemed to be the most popular Finland clothing where we stayed :);
thick socks – I'm talking light duvet thickness;
snow gloves – mittens, because they are better at keeping your hands warm.
If you travel independently, you have two choices – you can pack these items yourself or you can hire them locally. Personally, if I didn't own ski wear already, I'd hire them. In Levi, one of the main towns (and where I stayed), there are several rental stores and prices are around €30 a day or €60 a week. This rental store is right in the centre and has good prices and reviews. I'm pretty sure you'll have the same options in Rovaniemi (the other main Lapland resort town).
Either way, I've included these items in the packing list below in case you are travelling to Lapland independently, don't want to hire them…or can't bare the idea of stepping into worn clothes.
The list below is based on a three-night trip. I would suggest the same list even if you're going for a week or longer. You can launder items like base layers and underwear while you're there. In fact, our cabin came complete with a washing machine and dryer (as you'd expect in a country where every trip outside means you get wet from the snow).
Lapland Packing List – Snow Wear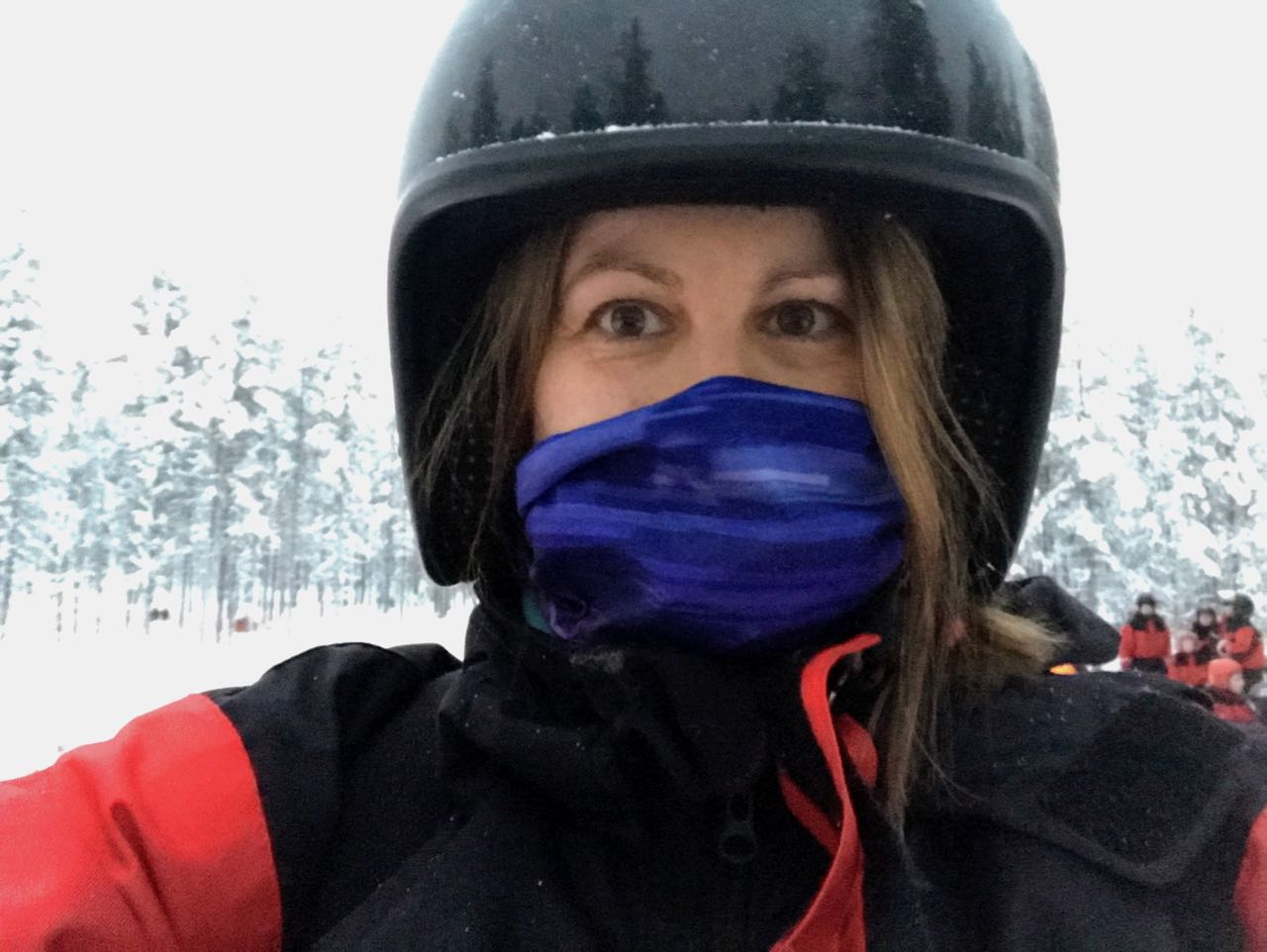 Snow boots
If they're included with your Lapland package trip, use those boots. I took my own that I'd bought for a previous ski trip. They were cheap (under £100/$130) when I bought them and compared to the locally supplied boots, they were slippy and didn't keep my feet warm. Also, they took up a lot of space when I packed.
Buying tips:
Focus on grip over style. Yes, those fur-collar cream boots look cute but is the sole rubber and grippy?
Buy at least one size bigger to accommodate bulky socks.
Wear them in before you go. Or pack blister plasters – snow boots can be rigid to protect ankles and rigid rubs.
Snow pants and ski jacket
If you're not with a tour operator who will supply an all-in-one snowsuit, you'll need both snow pants and a snow jacket. You can get these items pretty cheaply in stores and online.
Buying tips:
Cheaper pants and jackets typically won't have high technical specifications but if you're not going skiing, you can probably live without the extras (that cost more) like snow skirts and breathable openings.
If the cheaper snow clothes are on the thin/less-warm side, you can make up for this by doubling up on (cheaper) base layers.
You can cheaply add extra waterproofing (that keeps snow from soaking through) by adding Nikwax waterproofing spray. I have since used this spray on a footstool at home that my friends seem compelled to throw wine over. One bottle of Nikwax has many applications.
Ski wear is highly fashionable and driven by brands. Buy last season's somewhere like TK Maxx (TJ Maxx in the USA), on sites like Sports Direct or in shops like Uni Qlo. Second-hand is also an option, but in that case, you may as well consider hiring clothes in Finland.
Socks
Layering is key. I packed two pairs for each day – one pair of sports socks to wear as a base layer and a thicker pair of socks which I planned to wear over the top. What I actually ended up wearing was my thicker pair as a base layer coupled with the socks I'd been supplied with by the tour operator. Compared to a ski trip where you're kept warm by activity, you'll end up doing a lot of standing around in the snow, which can quickly lead to frozen toes.
Buying tips:
I'm usually a fan of pure wool for warmth, ideally merino, but for socks and layering, you'll want a mix of wool and elastane so one pair can stretch over another.
I picked up a few extra pairs in the Aldi winter ski event (a couple of £/$ for each pair). In fact, I'm wearing a pair in my draughty apartment right now.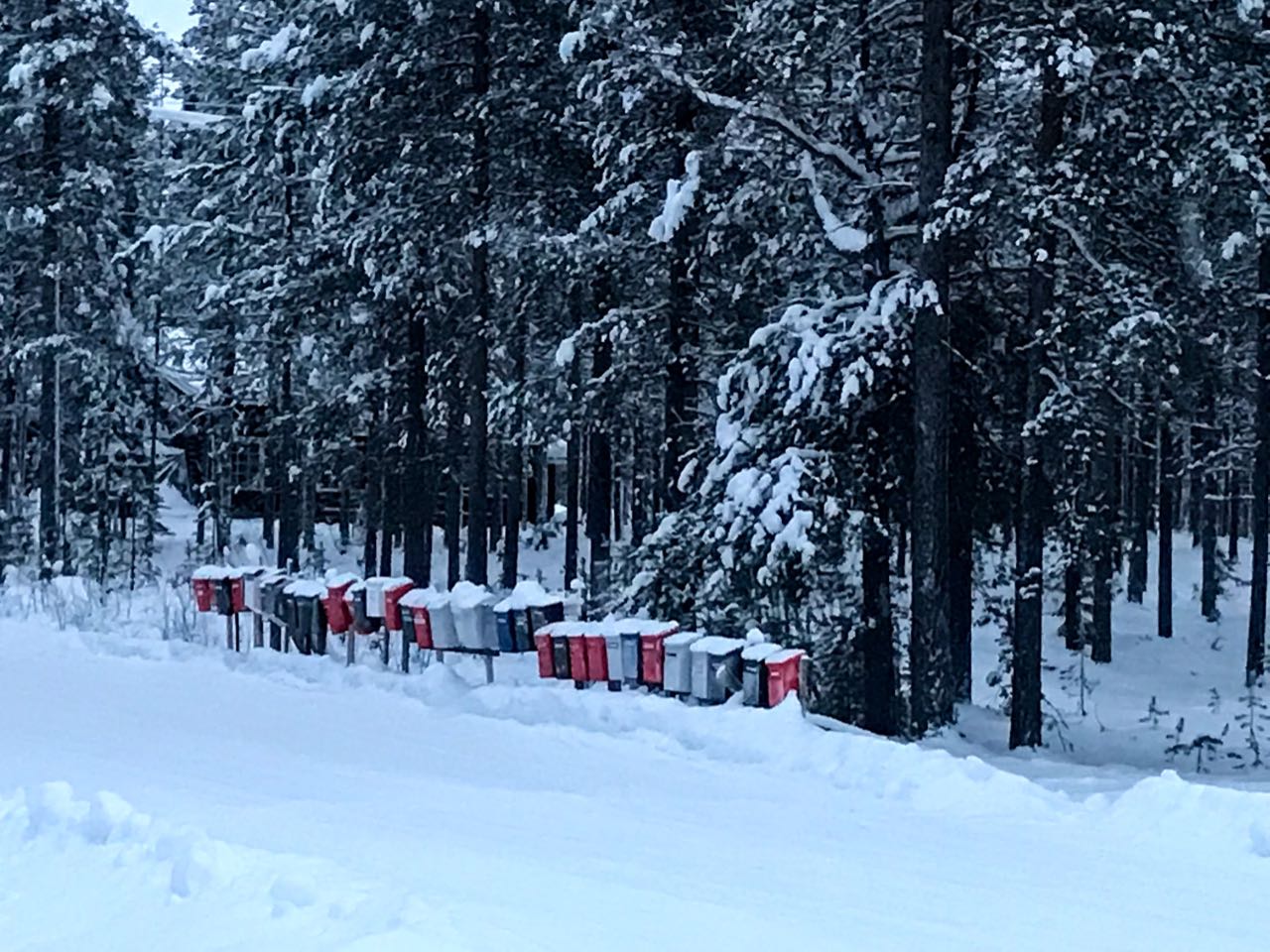 Base layers (a.k.a. thermals)
If visiting Lapland is the only snow trip on your horizon, I'd just get cheap thermals – 2 tops and 2 bottoms. That way you can alternate wearing them and, as you're not skiing (and therefore not sweating), you can probably get away with 2 days' wear for each base layer. Otherwise, they should wash and dry overnight.
As I regularly pack a base layer on my travels, I tend to invest in Merino wool. It's a lot more expensive but has the upside of keeping me a lot warmer, feels nicer on my skin, and is more breathable than cheaper synthetic equivalents.
Buying tips:
Places like Decathlon sell very affordable thermals. Otherwise, Uni Qlo and Marks and Spencer sell thermals in the UK.
If you want to invest in better quality, try buying during the sale season or at the end of a winter season when prices reduce. Otherwise, good old TK (TJ) Maxx has a selection.
With Merino wool, you get what you pay for. I got two new sets of Merino wool thermals in the Aldi winter ski event for £80 (total). They were half the price of what I already own, but they were also about half the softness.
Gloves
Again, I'd recommend doubling up – an outer mitten will keep you warm and dry. But let's not forget that you want to be able to take pictures on your phone without losing a finger to frostbite. In that case, I recommend a base layer of touchscreen gloves which have finger pads that can be used on smartphones.
Neck gaiters
Not only will a neck gaiter up your street cred, especially if you buy a funky looking one (scary skeleton, anyone?), you'll save your face, lips and lungs from suffering. Although Lapland has crisp, cold air, rather than the damp cold I'm used to in England, keeping your mouth covered, stops the cold from getting to your chest. It also helps stop your lips from chapping while keeping your mouth covered and has the added benefit of doubling as a scarf. You can buy neck gaiters on Amazon.
Buying tips:
I picked up two (wear one while the other dries) from Decathlon for under £10 each. If I ever get back to winter running, these will come in very handy.
I'll also be packing mine on long-haul flights from now on – a tip from a cabin crew friend is to cover your mouth on a flight to ward off any airborne bugs. Good tip. (You can find my long-haul packing list here – 15 essentials to take onboard.)
So, that covers the essentials. But what else should you be packing for Lapland?
Hat
Just your average wooly hat will do. This was one of the few opportunities (decked out in a very unflattering, second-hand ski suit), that I had to add some 'style' to my outfit. Here, you can go wild with your cute cream, furry option.
Buying tips:
If you're going to do some skiing, pack a bobble-free hat so your helmet will fit better.
If you're travelling with kids, pack distinctive hats for them – in a resort filled with people wearing the same clothes, it can be hard to keep track of 'which one is yours' when they're sledging by in a blur.
Packing for skiing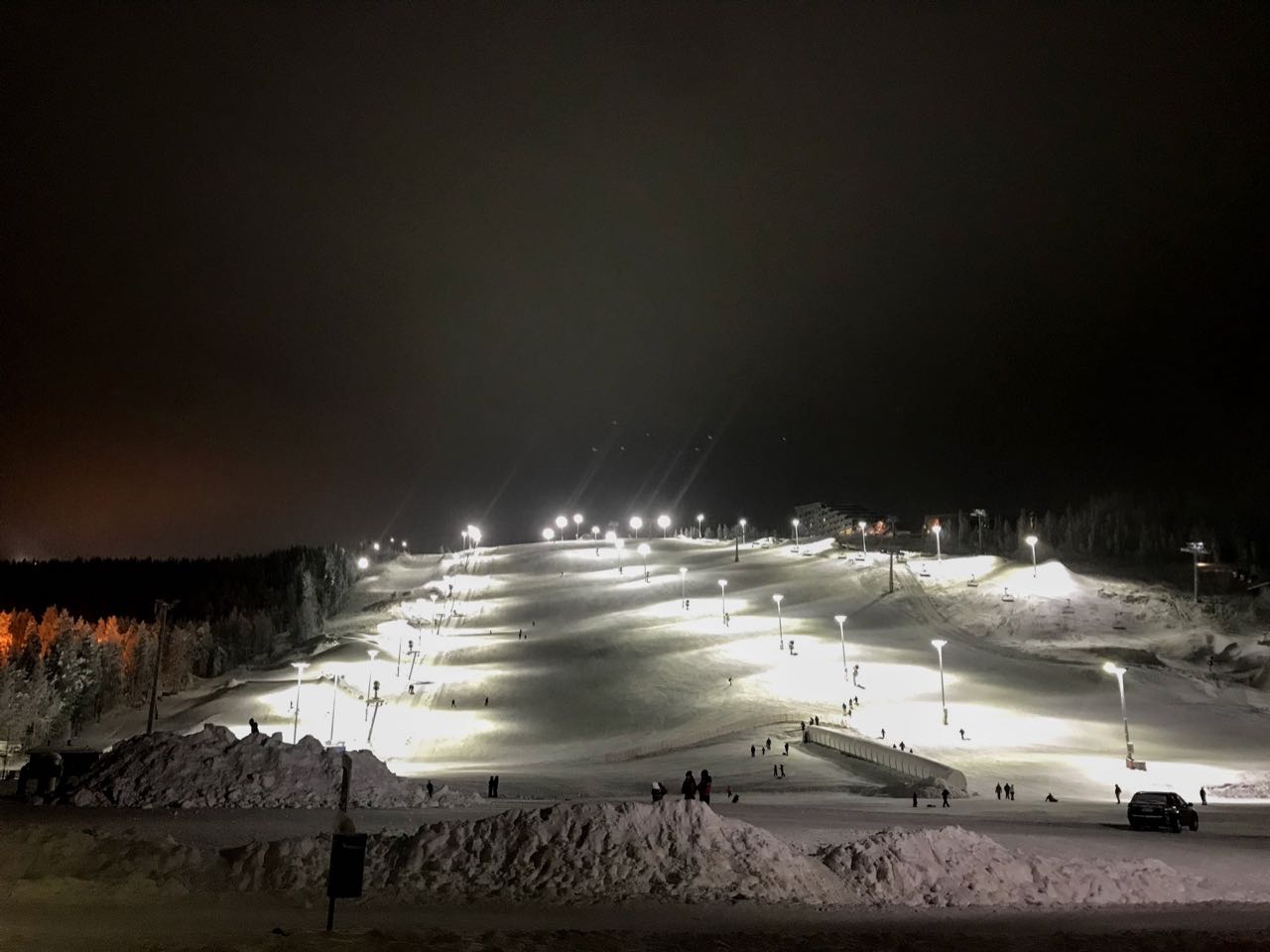 I stayed in Levi and there was a beautiful, crowd-free slope that almost could have tempted me back onto skis (if I hadn't had ACL surgery a few years ago). Affordable ski passes made me realise that Finland is a very underrated ski destination.
If you do decide to tack on a few days skiing, you don't need an extensive ski trip packing list. In fact, the only thing you'd need to add to your Lapland packing list is goggles – skis, ski boots and helmets can all be hired in Levi.
What to wear under your snow clothing
Personally, I just wore my base layer. On the first day, I wore that plus a pair of jeans and I felt way too restricted for all the hooning around in the snow that I wanted to do. On the second day, I was down to just my base layer (and underwear, obviously) and that did me just fine.
I should caveat that it was unseasonably warm when I went to Lapland, despite it being December. Therefore, one base layer might not be enough. Solution: double up either with an extra base layer or, my favourite trick for ladies, a pair of 80+ denier tights. You won't add bulk but you'll keep warm. Alternative: a pair of leggings over your base layer and an extra, long-sleeve top over your base-layer top.
Other Useful Items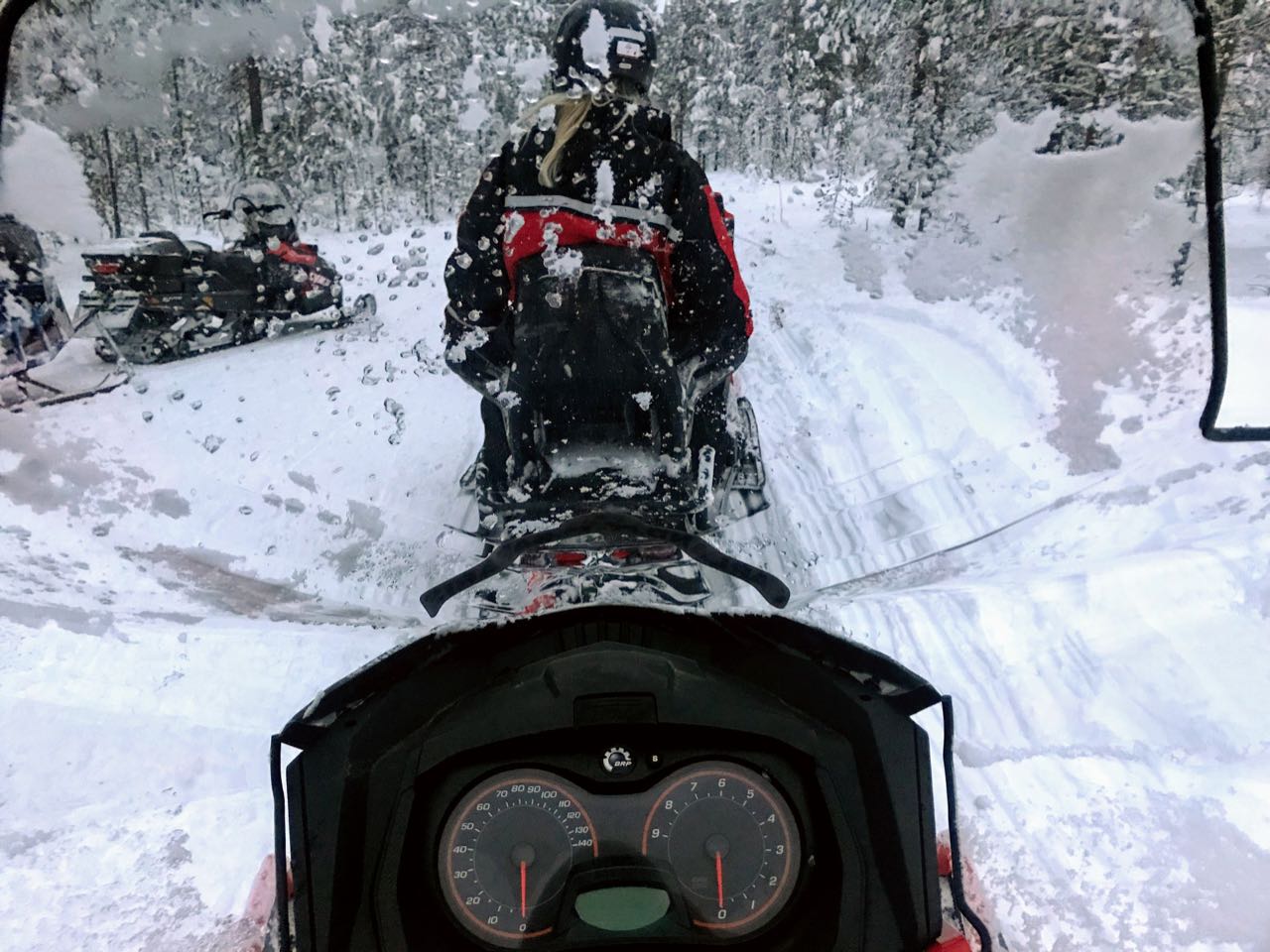 You know you have to take underwear and a toothbrush, right? If you do need a bit of general help on what to pack, I have a handy 'ultimate packing list' with a printable list here.
Here are some other items I found helpful to have with me in Lapland.
Swimsuit
Did you know Finland is a sauna country and it's very likely that your cabin or hotel will have a sauna you can use? And what's better after coming in from the cold than to dive into a sauna? I appreciate that there is a lot of naked sauna use in Finland but that's not for me. Not even alone. And certainly not with friends.
Sports bra
If you wear a sports bra for running, I'd pack one for Lapland, especially if you're taking any kind of 'transport' that moves i.e. snowmobiles, huskies, sledges or reindeer.
Slippers
Is it just me or is stepping in a puddle of water in your socks one of the worst feelings? When you have a slew of adults and kids trying to bundle inside all at once while someone shouts 'Don't let the heat out', you're inevitably going to end up with puddles of water on your cabin or hotel room floor. My slippers were my biggest saving grace for exactly these moments. Out of snow boots, into slippers, wet sock fiasco avoided.
Kindle
I can mobilise from bed to outside in a very short space of time. If you're the same, you might want to pack some reading material while everyone else trudges around trying to figure out if they're 'my' gloves or someone else's.
Small backpack
I need a constant supply of snacks and water so I rarely leave the house (or cabin) without a backpack. As well as snacks and water, I also packed tissues, lip balm, travel-size hand cream and an extra layer just in case. For evenings and lunches, I also packed a lightweight dress – more on that below. I love my Kipling backpack – it's compact, has lots of pockets in the right places and, best of all, is waterproof. But, if you have a cheaper backpack – use your Nikwax.
Collapsible water bottle
All the advantages of being able to carry water around but without the bulk of a bottle – you can fold this collapsible water bottle when it's empty and by filling it from your cabin, you avoid the expense of buying water. In case you were wondering, tap water is not just drinkable in Finland, it tastes divine.
Want to know what is the best luggage to use? For Lapland, I actually took a normal wheeled suitcase and it was fine. My roller backpack would have been better except the one I have was too small for winter wear (did I mention I'm a beach-wear kind of girl?). If you do take a backpack, put a rain cover on it so it won't get soaked through when it inevitably gets placed on the snow. You can buy rain covers separately if your backpack doesn't have one included.
Camera
If you're going all that way, you're going to want to take some photos. I travel with my iPhone these days but if you're in Lapland and hoping to shoot the Northern Lights, you might want something more technical (I have a Sony Mirrorless that I would have packed if I'd been trying to photograph the aurora). If you want more Northern Lights photography tips, check out this blog.
What to wear on the plane
There's every chance you're travelling to Lapland from a (relatively) warmer destination and don't want to sit on the flight in your thermals. So, what do you wear on the plane to Lapland?
I wore my normal clothes and had a 'grab bag' of items inside my carry-on backpack. As someone who's used to going through myriad temperatures in one day (airports can rove from hot to cold just by moving between terminals), I tend to dress in layers.
For the flight to Lapland, I wore:
jeans
vest-top
long-sleeve top
cardigan
leather boots
windproof jacket (mine is by The North Face. It's very thin but also very warm)
In my 'grab bag' I packed a warm layer that I changed into in the airport loos. This included:
base layer bottoms and top
extra pair of socks
fleece top to add an extra layer under my jacket
base layer gloves
By 'grab bag' I mean my smallest cube from my set of packing cube. I absolutely love these things because they squash the contents down to half their size. I have the cubes bt eagle Creek but you can get cheaper ones.
In reality, you'll spend very little time outside on arrival, especially if you're on a Lapland package holiday. You'll transfer from the plane to the terminal (under 5 minutes) and then from the terminal to a bus (or taxi if you're travelling independently). From there, you'll go to get your snow wear, from which point you can get suited up against the warm. Or, if going it alone, you'll transfer to your cabin/accommodation where you can change into your own snow clothing.
What to wear in the evening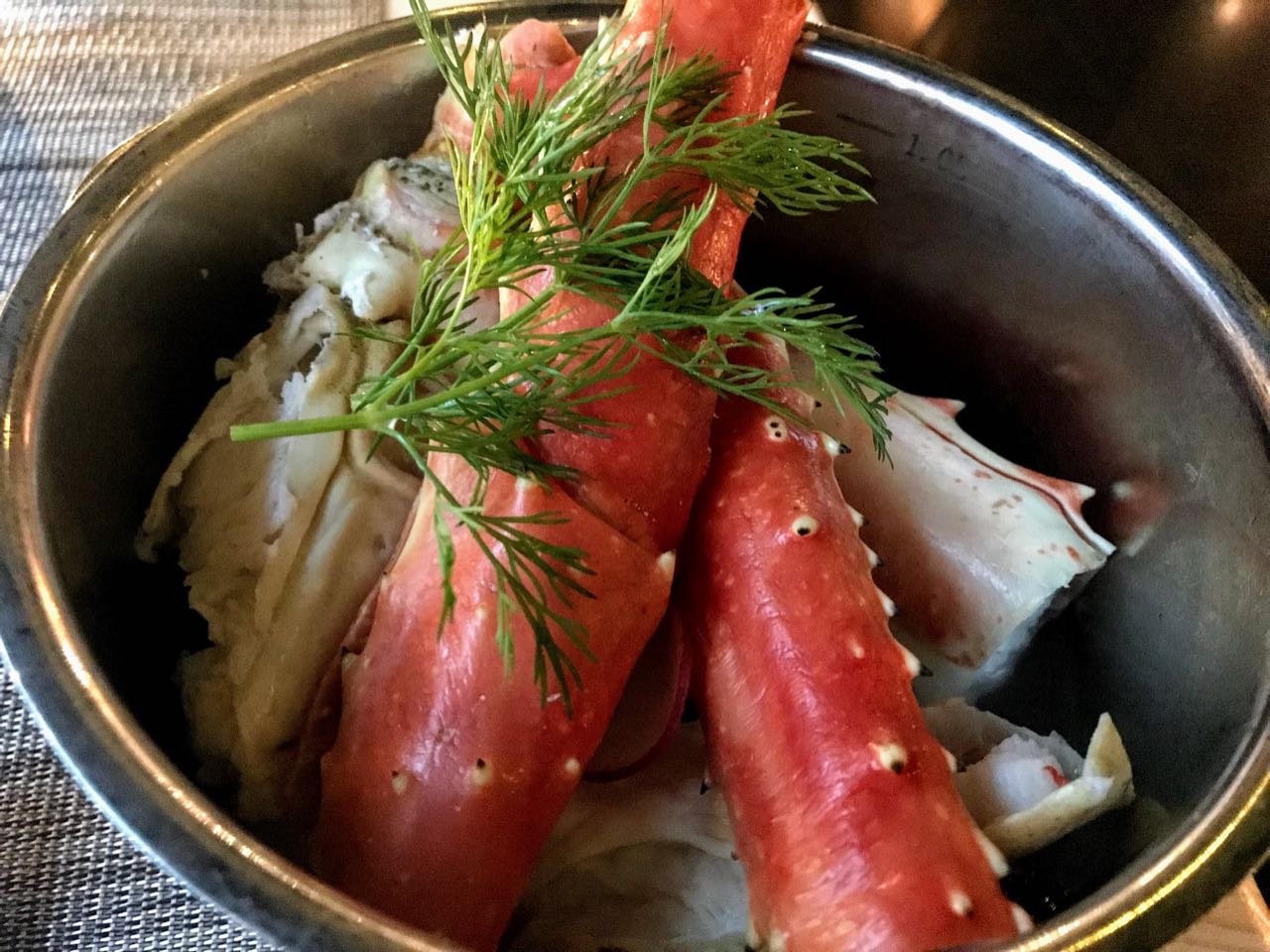 You have two main choices depending on how cold it is when you're away. As I've mentioned, it was unseasonably warm when I visited. Therefore, most of the time, I went out in the evening with just my normal clothes on. Yep, that's right – jeans, boots, a couple of layers of tops, a fleece, my lightweight North Face jacket, hat and gloves.
Am I insane? Not really. We mostly travelled by taxi from our cabin to a restaurant/the resort centre and back again by taxi. Therefore, the time outside was under 10 minutes. And, once inside, I didn't spend the evening feeling like I was dining in a sauna.
If it's very cold, the alternative is to wear your normal clothes and pop your snowsuit over the top together with your snow boots. All of the restaurants have a changing section where you can strip out of your snowsuit and hang it up until you're ready to re-robe after dinner.
For a couple of daytime lunches and coffees, I would wear my snowsuit inside and take the top half down, wearing my base layer top as though it was a normal top. This is a pretty common practice in snow resorts.
On the one occasion I went for a nice lunch in a fancy seafood restaurant, I packed a dress. We walked to the restaurant from the cabin (about 45 mins), which required full snow wear with thermals underneath. When we arrived, I stripped down to my black thermals and popped my favourite long, black, jersey travel dress over the top. I had my own snow boots on that day so it didn't look too bad. Otherwise, I had my folding ballerina-style pumps in my bag if I wanted to up my smartness. After a glass of white wine, I didn't care either way.
I hope that's given you enough of an idea of what to pack. If you've got any questions, let me know in the comments below. 
Related Articles: