Vietnam holds a very special place in my heart. Not only was it one of the first countries I ever visited as a solo traveller , it's the country that triggered my desire to quit law and travel the world. In fact, I adore Vietnam so much that when I hit an all-time travel low last year, I bolted there to re-charge my travel batteries and fall back in love with life on the road.
With all of that in mind, it's about bloody time I wrote a thing or two about this long stretch of land in Southeast Asia.
Starting out and choosing a direction
Due to the long, thin shape of Vietnam, the country lends itself very well to a north-south or south-north route. Even better, there are major airport in both the south (Ho Chi Minh City, HCMC) and north (Hanoi) to use as a natural starting point. On both visits, I took a south-north route because I flew into HCMC. This seems to be the direction of travel that most people take so keep that in mind if you're looking to make friends along the way.
What to See in Vietnam in 2 Weeks
This article isn't intended to be an all-out detailed guide to the country, more of a taster of what to see in Vietnam during a first visit . This is a fairly long list and although there is much more to see, these are the places that are likely to be on your first-trip hit-list. You won't be able to cram them all in during such a short visit (not in any sensible way, at least) so I have suggested some itineraries at the end for what to see in Vietnam in 2 weeks depending on your interests.
Prefer a tour?

If all this planning sounds a bit much, you might want to join a tour. My first trip to Vietnam was entirely guided by Intrepid Travel . I really like this company – they guide small groups only and generally have a nice combination of people – of all ages from singles to couples to families. You tend to do more local and socially responsible trips and there isn't an umbrella wielding guide in sight!

I combined their 10-day Vietnam Express Northbound Trip with their 3-day Secrets of Ankor trip through Siem Reap. Together, both tours were a perfect combination for a two-week break in Vietnam.

Of course, it just got me hooked and I later returned to Vietnam for a month-long sojourn, exploring the country independently.
Ho Chi Minh City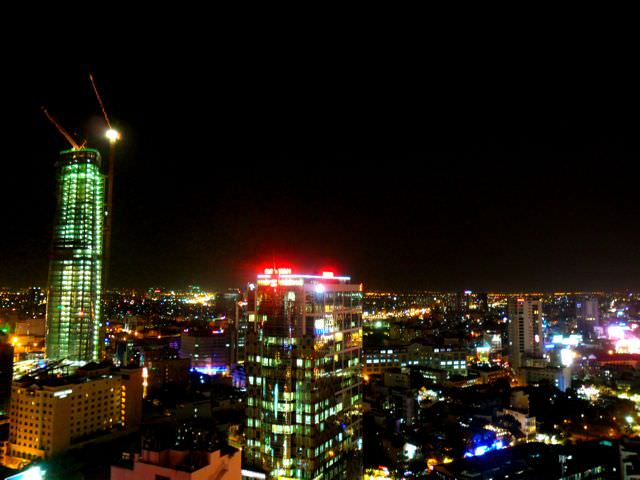 Want to know what to see in Vietnam in 2 weeks? Read on…
As cities go, HCMC is quite unlike any other city in the world and that is one of the reasons I love it so much. A place where chaos prevails, the roads defy grid systems in every way they can and a (pleasant) surprise waits around every corner, you could literally spend months exploring this vast city and still not get fully under its skin. Although it can quickly get under yours.
What to do
There are plenty of top sights in HCMC. You'll find a good list of them here.
For a blend of cultural immersion as well as some sightseeing, here are my favourite things to do in HCMC.
Learn to cross the road
My first emotion on arrival HCMC was fear. Not because the country is full of thieves and rapists – on the contrary, I felt very safe amongst the people, but on account of the roads. Having spent a fair amount of time in HCMC, I can confidently say that if you can cross the roads there, you can cross them anywhere in the world.
For an entire day in HCMC when I arrived, I had to limit exploration to one side of the road because I was simply too scared to cross. Unlike most other countries around the world, the traffic simply doesn't stop in Vietnam which means that there is only one things to do when it comes to roads and that's step straight out into the streaming traffic.
It's advice that flies in the face of every road safety rule you've ever been taught, but it is the only way (there is a slow introduction of traffic lights but they are not common). And when that streaming traffic is comprises of hundreds (literally on occasions) of motorbikes, that's a pretty scary prospect.
Here is the road crossing advice I was given by a local:

– step calmly (?!) into the traffic.

– walk at a steady pace – no running!

– have confidence that the drivers will go around you.
I confess I had a few cocktails before crossing my first road (not the most sensible approach but an effective one for raising my fear levels). I took the advice and (touch wood for superstition) I've not been mowed down yet. In fact, I knew I had graduated from Vietnamese Road-Crossing School when, on my second visit, a group of westerners followed me (practically holding onto me) as I crossed the road.
As the rule should go in Vietnam: if in doubt, step out!
Visit the War Remnants Museum
Of all the sights I saw in HCMC, the War Remnants Museum was the one that stuck in my mind the most. I've visited a few war memorials around the world including Pearl Harbour and Hiroshima and HCMC's museum is another that will stay with me for a long time. There is a fair bit of propaganda material within the museum but there is no escaping the harsh realities and imagery of what went on during the Vietnam War. Don't expect to come out of this museum skipping with joy, but it is a valuable experience nonetheless.
Related articles
How to visit Pearl Harbor for only $5
Hiroshima: A City Living in Hope of Lasting World Peace
Have sunset cocktails at a rooftop bar
If you want to shake off the remnants of the War Remnants Museum, then pick one of the city's rooftop cocktail bars at sunset. I went to the Sheraton and sipped on some delicious pink berry yumminess. But that wasn't the best part – watching the expanse of city lights come on as the sun goes down is a pretty spectacular sight – I took the skyline picture above from the top of the Sheraton. On my next visit I'd like to check out the rooftop at The Rex where all the journalists and correspondents holed up during the war – the picture above of The Rex was taken from the top of the Sheraton.
Drink Vietnamese coffee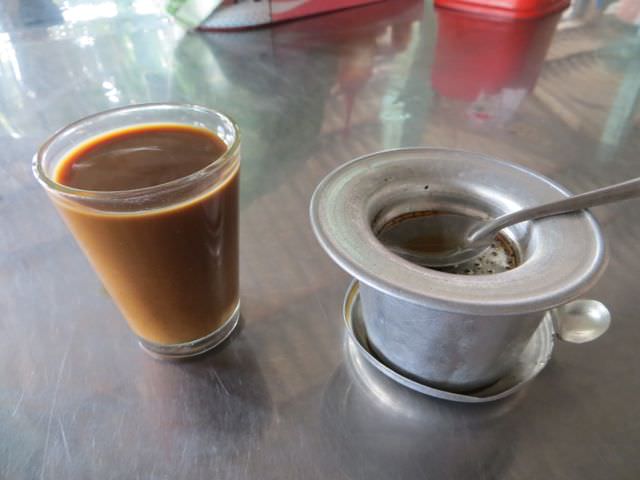 I have a coffee addiction, no two ways about it, so I was in coffee Heaven when I was in HCMC. At first, I assumed that the Trun Nguyen chain of coffee houses seemed was the local version of Starbucks – they were, after all, on every street corner, and so I avoided them. However, when I asked a local where she went for coffee, she pointed to Trun Nguyen and told me they served the best coffee in Vietnam. I visited the next day and couldn't agree more. Never have I tasted such velvety smooth, rich and bold yet creamy coffee. The prices are western but the taste is out of this world. Visiting Trun Nguyen fast became my guilty pleasure in Vietnam. For the record, I didn't try the local equivalent of Kopi Luwak that had come out of a Weasles bottom.
Visit the Ben Than market
If you're looking for a knock-off copy of just about any brand, you'll find it in the Ben Than market. But that isn't why I like it there. The market is also home to an amazing array of fruit, vegetables and, best of all, stalls serving up food.
Bag some rambutan (above – similar to lychee) and mangosteen but be careful if you're going to try the infamous durian fruit as most hotels won't let you bring it onto their premises because of the stench. From the food stalls, try an avocado smoothie (seriously good) and some fresh spring rolls (pictured above).
Seek out some street-side Bia Hoi
Speaking of consuming things, one of my favourite discoveries on my second trip to Vietnam was bia hoi. Locally brewed draft beer that has a high turn-over meaning you get fresh beer each day, this drink is served from small bars where the patrons huddle on sidewalks sat on child-sized plastic chair and around similarly minuscule tables while motorbikes whizz on by. Find the right places (they are dotted all over) and there's no better way to do as the locals.
Take a day trip to the Cu Chi Tunnels
As if the War Remnants museum wasn't enough, it's possible to day trip from HCMC out to the Cu Chi Tunnels, a large warren of tunnels built by the Vietnames during the war. Not only did thousands of Vietnamese live in the tunnels during the war, a lot of the combat went on down there (hence the phrase "Tunnel Rats" to refer to western soldiers who entered the tunnels on search and destroy missions). The place is pretty spooky but also fascinating, and can be reached in less than an hour from HCMC.
Day trip to the Mekong Delta
I was in two minds whether to include this. I took a day trip from the city to visit the floating markets of the Mekong Delta but was honestly very disappointed by the experience. I booked a tour through my hotel and it wasn't great. Not only was the market over by the time we got to the river (I suspect you need to stay near the river to see it in full swing because it's a morning market and it takes hours to get to the river from the city), the rest of the day involved going from one tourist selling stop to another. The Mekong Delta held promise, just do more research than I did, ideally visiting for longer than a day, and try not to take one of the popular package tours offered from HCMC.
A note on Saigon: many of the locals still refer to HCMC as Sigon and won't be offended if you do too.
Where to stay in Ho Chi Minh City

On a budget: I stayed at Phan Am Backpackers Hostel which was clean and well located (the street sushi stall was a short walk away).

For hotels: Here's a list of the 10 best hotels in Ho Chi Minh City (according to Trip Advisor). On my bucket list are Rex Hotel and the Sheraton, both mentioned above
Nha Trang
I had high expectations for Nha Trang, ever since I read about it as a place that was used for R&R during the war. It sounded like the perfect retreat from the city and I had a somewhat romanticised view about this stretch of coastline. What I got felt like a slap in the face.
What to do
Party with other foreigners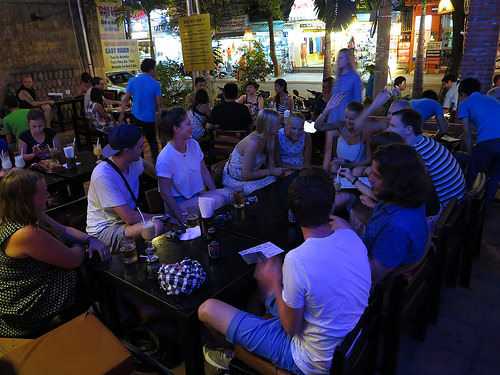 Nha Trang in two words: party central. Not only that, I couldn't help feel that Nha Trang represented an unhealthy blend of tourist/local integration. Backpackers (and a large number of Russian package tourists!?) flock to Nha Trang to get wasted on cheap booze and the locals seem to dedicate their every waking hour to helping the travellers achieve that hedonistic goal. To me, it felt like the Koh Phangan of Vietnam. Don't get me wrong, I like to party as much as the next person but I'm not a huge fan of party places where the ratio of those partying is 95% backpackers and package holiday makers. I can party with that many English people in England.
Soak up the sun
Beyond the party scene, the beach was nice enough though there are definitely nicer spots in Southeast Asia (the beach in Nha Trang is met by a main road). It also pays to go in high or shoulder season.
I visited in low season and not only was the beach closer to grey looking and headed by cloud, the monsoon rains were punishing.
Related article: The Highs and Lows of Low Season Travel
Visit Vin Pearland
The unexpected highlight in Nha Trang was a day out at Vin Pearland, a theme park on an island just off the coast. As amusement parks go, Vin Pearland is kinda retro – think wooden roller coasters, dodgem cars and a big ship rather than the high-octane rides found in the USA. For me, that was part of the place's charm – good old-fashioned fun!
The water park was also a hoot though borderline dangerous (take care – the rides are fast and I don't think any health and safety rules have been adhered to as I found out as I nearly slid over the edge of the slide). But perhaps the best part that makes Vin Pearland worth every Dong (I'm not being rude – it's the local currency) is the beaches which are traffic, pollution and hawker free zones – bliss!
There is a light show at night, which is good enough to stay for, though I'd highly recommend leaving 10 minutes before the end to avoid the massive queues that form when everyone tries to get off the island at the same time.
You can reach Vin Pearland by taking a local bus to the ferry/cable-car dock and from there you can choose which way (boat or cable car) to get to the island. I'd recommend the cable car for fantastic views.
Take an Easy Rider tour up the coast
Easy Rider is a company that offer the opportunity to hop on the back of a motorbike (which is driven by a guide) and take off up the coast. This stretch of Vietnam is so beautiful that it's worth exploring on the back of a bike by day (otherwise you'll likely be travelling in the dark on a night bus or train).
I didn't take the bike from Nha Trang, I took one from Hue, but based on the touring information I've looked at and feedback from other travellers, this looks like it might be a better place to take an Easy Rider from. Note: We were a large group but you can arrange tours with just one or two people.
Where to stay in Nha Trang

On a budget: I stayed at Mojzo Inn, which is in the heart of the action, just a few blocks from the beach and is great for meeting other people if you want to party. If you're looking to be a bit further away from the hustle of the main drag, check out the sister property, Mojzo Dorm which is still well-located but in a slightly quieter spot.

For hotels: Here's a list of the 10 best hotels in Nha Trang (according to Trip Advisor) with Mia Resort Nha Trang and Intercontinental Nha Trang both winning the Travelers' Choice Award.
Hoi An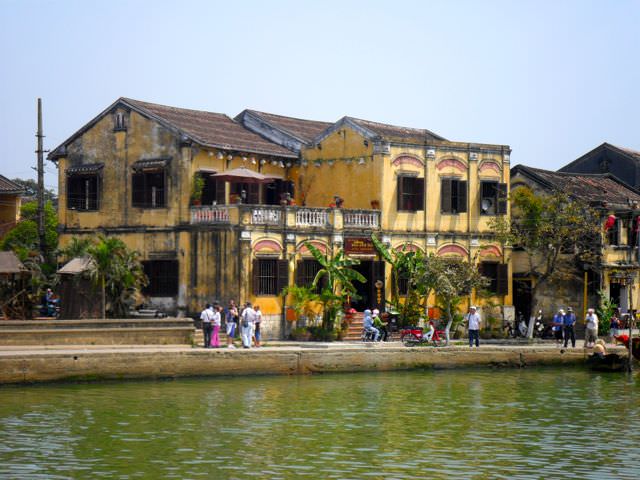 Hoi An is by far my favourite place in all of Vietnam…and probably Southeast Asia.
What to do
Wander around the Old Town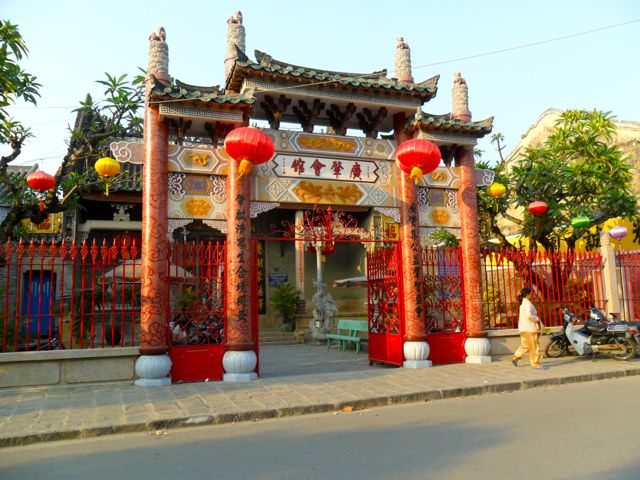 A curious combination of colonial French and Vietnamese, Hoi An is a UNESCO World Heritage Site that has certainly earned those stripes. Wander through the streets, which are lit by an array of Chinese lanterns at night, and its easy to pretend you're in an exotic eastern fairytale. Don't miss the Japanese bridge and make sure you spend some time exploring the temples – there are plenty of them.
Planning your trip : I used the Vietnam Lonely Planet Guidebook. Although it's not filled with pictures, it's got all the details you need including train and bus routes and times as well as local maps. If you prefer something more visual, check out the DK Eyewitness Guide for Vietnam which has great their images and 3D guides to major sites.

If you're taking a more substantial trip through Asia, the Lonely Planet Southeast Asia on a Shoestring will be invaluable.
Shop for silk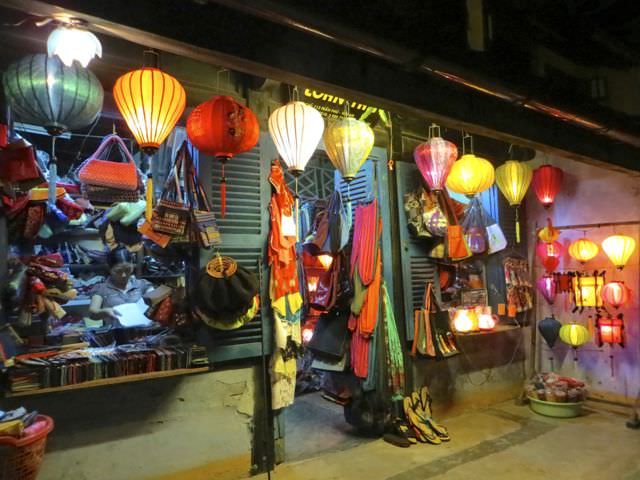 As an old trading port for silk, Hoi An has literally hundreds of shops selling made to measure…everything. It's an attraction that pulls in people from around the world. Each time I've visited, I've had beautiful clothes made. If you want more information about shopping for silk in Hoi An, check out my article complete with shopping tips.
Related article: How to Make the Most of the Tailors in Hoi An
Visit the beach
Around 10 minutes by motorbike or taxi from the Old Town, you can reach a beautiful beach dotted with circular fishing boats. There are a growing number of hawkers trying to relieve you of your Dong (again, I'm not being rude – it's the name of the currency), but nothing compared to what you'll experience in Nha Trang, which is what makes this a good beach choice in Vietnam. Arguably more so than Nha Trang.
Take a boat trip on the river
Carving up the centre of Hoi An is a winding river and if you're able to gather some people together to share the cost (and fun), head down to the dock and hire a boat for an hour. Try to go at sunset. Kick back, pop open a beer and watch the fishermen at work as your skipper steers the way.
Take a day trip to My Son
My Son is an ancient Cham religious site from the 4th century. Although the temples at My Son are largely in ruins, some of them remain pretty intact and if you're unable to make it to Cambodia, this is going to be your best alternative to Angkor Wat (though don't expect My Son to be anywhere near as staggering).
The two things that raised my eyebrows – i) the temples have stood for centuries without using any form of mortar and even to this day scientists can't figure out how the temples have stayed standing without it; and ii) the site was very heavily bombed during the Vietnam War and there is extensive crater evidence still at the site.
Hoi An Warning: in just a couple of years between my first and second visits to Hoi An the hassle-factor has increased exponentially. That upset me a lot as much of the Old Town's charm lay in it's peacefulness. Be prepared to be hassled and shouted at a lot (I used to put my headphones in – that cut the hassle down a lot).
Also, the Nha Trang crowd inevitably passes through Hoi An so the nightlife is growing and westernisation comes with it. If nothing else, visit now before this place becomes over popular (if that tipping point hasn't been passed already).
Where to stay in Hoi An

On a budget: Sunflower Hotel Hoi An is a popular choice located between the old town and the beach and most of the city's backpackers tend to congregate there. Otherwise, there is a wealth of choice on Hostelworld including both hostels, guest houses and hotels if you want to locate yourself in the city centre.

For hotels: Here's a list of the 10 best hotels in Hoi An (according to Trip Advisor) with Nam Hai Hoi An and Essence Hoi An Hotel and Spa both winning the Travelers' Choice Award.
Hue
Hue (pronounced 'Way') is an ancient walled city that has a lot of historical significance from Nguyen Emperors through to fighting during the Vietnam war. If you're after temples, a citadel, pagodas and palaces, Hue is for you. I certainly had a pleasant time in Hue but not enough that I felt the need to revisit when I went back to Vietnam a second time. If you're on a tight schedule and you're not a huge history buff, I'd honestly say there are better places to see in Vietnam in 2 weeks.
Where to stay in Hue

On a budget: Hue Backpackers Hostel is the most popular choice amongst Backpackers in Hue but you can also find a range of budget guest houses and hotels with private rooms – here's a good selection.

For hotels: Here's a list of the 10 best hotels in Hue (according to Trip Advisor) with Hue Serene Palace Hotel and Pilgrimage Village both winning the Travelers' Choice Award.
Hanoi
A friend recently asked me whether I thought Hanoi or HCMC was the better city to spend time in. Personally, I prefer the city of the south, HCMC, but to help her make up her mind I described Hanoi as similar to HCMC but smaller and with fewer sights. For that reason, I'd recommend picking one or the other for your city-fix in Vietnam (my recommendation being HCMC) and giving the other (Hanoi in my view) a cursory night or two only. In fact, during my first stop in Vietnam I've only really used Hanoi as a jumping off point for Halong Bay. During my second visit I had a close focus on food (an excellent use of time in my book).
If you are looking to spend some time in Hanoi, I recommend checking out this travel guide by Nomadic Notes, which has a mix of accommodation recommendation, blogs to read, food to explore and, my favourite – some photo galleries to dive into.
Where to stay in Hanoi

On a budget: I stayed at Little Hanoi Hostel, which has a great location and amazing staff. However, if you're looking for a big party scene, check out Hanoi Party Backpackers Hostel. Otherwise, you'll find a full selection go budget hotels, guesthouses and hostels here.

For hotels: Here's a list of the 10 best hotels in Hanoi (according to Trip Advisor) with the Oriental Central Hotel and the Essence Hanoi Hotel and Spa both winning the Travelers' Choice Award.
Halong Bay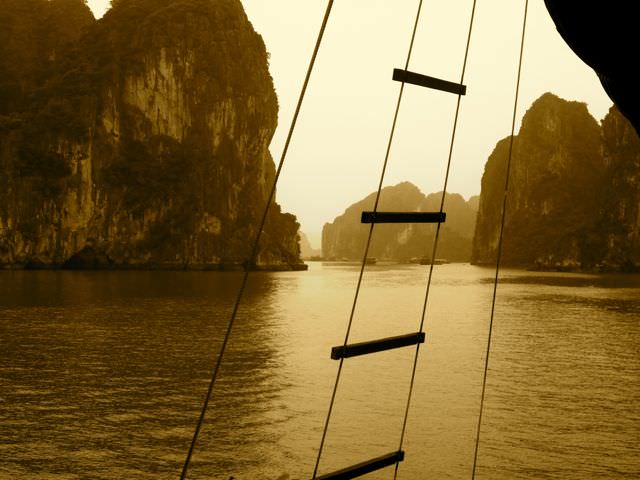 Saving the best for last, Halong Bay is without a doubt one of the biggest highlights of any trip to Vietnam and my visit didn't disappoint. Even though the sky was grey and the water unseasonably cold, those two days and one night I spent amongst the limestone karsts of Halong Bay will stay with me until I die. For hours as the light dimmed, I sat with my camera staring out at the eerie shapes that nature had taken and felt a huge wave of calm. After one day of kayaking and swimming and another visiting caves, watching the water rippling around the rocks just completed the scene. I've only been to Halong Bay once and was lucky enough to have an excellent group of people on my boat. We swam, dined on fish and drank beer into the night. However, not all tours of Halong Bay are created equally and you'd be wise to do some research before you book.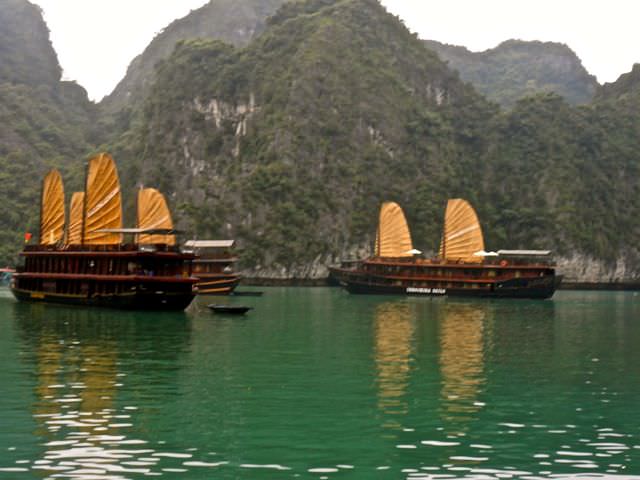 Decide whether you're looking for a party boat, something completely tame or something in the middle. Also consider cost – there is a reason there are huge price gaps between the different tours, most notably explained by the size, style and comfort of the boat facilities, the activities included in your trip and the food served. You can pay as little as $50 for a day cruise to over $1,000 for a luxury stay on the water. Although a day tour may be tempting for cost reasons, I'd really recommend stretching to stay at least one night to see the sun set and rise over the scenery.
I took my trip with Intrepid Travel, which currently costs £160/$240 for a two-night trip. The accommodation was top-notch (I had my own bunk) and the food was some of the best I'd eaten in Vietnam – cooked by the crew onboard. Best of all, it was a brand I trusted and knew I wouldn't be gambling with my trip. You can find details of Intrepid's Halong Bay Junk Cruise here.
Where to stay in Ha Long

On a budget: If you're looking stay in Ha Long, you'll find a good range of budget accommodation here.

For hotels: Here's a list of the 10 best hotels in Ha Long (according to Trip Advisor) with the Ha Long Paradise Suites Hotel winning the Travelers' Choice Award.
A note on Sapa
Despite two visits to Vietnam, I've still not made it to Sapa, which is a shame because I really enjoyed my rice terraces time in Banaue in the Philippines. For that reason, I can't provide any first-hand information about visiting Sapa, though I appreciate it will be on many visitor's wish lists. For that reason, I have included Sapa in my suggested itineraries below but please keep in mind that I can't speak directly about the practicalities of including this in an itinerary.
Where to stay in Sapa

On a budget: If you're looking stay in Ha Long, you'll find a good range of budget accommodation here.

For hotels: Here's a list of the 10 best hotels in Sapa (according to Trip Advisor).
Related article: Visiting the Batad Rice Terraces in the Philippines
What to see in Vietnam in two weeks: Suggested itineraries
It's really tricky to suggest itineraries because everyone's interests, travel speeds and budget will be different. But I know how helpful suggested itineraries are, especially if you've never visited to a place and don't know the distances or desirability of each place. So, I'll give it a go – feedback is most definitely welcome.
Getting around: I cover transport in more detail below but there are trains that cover the length of the country (buses too but I strongly advise you to avoid them). I've assumed you will be travelling my night transport, which is the most popular way to get around.
However, it's also possible to get fairly cheap internal flights and this might be a good idea if you're heading from HCMC direct to Hoi An (fly into Danang, which is about 40 minutes away from Hoi An and is pretty affordable by taxi). Although you will gain back some of your nights, just factor in that you largely lose 3/4 of a day when you travel by air.
A note on Halong Bay: as the tours to the bay start early, it's pretty difficult without your own transport to travel to Halong Bay over night and take a tour that day because you'll get in too late. This makes an overnight stay in Hanoi kind of unavoidable so just keep this in mind when planning your itinerary.
For Beach Bums: HCMC (2 nights + 1 night transport) – Nha Trang (3 nights + 1 night transport) – Hoi An (3 nights + 1 night transport) – Halong Bay (1 night in Hanoi pre-trip, 1 night in Halong Bay) – Hanoi (1 night)
For City Slickers and History Fans: HCMC (3 nights + 1 night transport) – Hue (2 nights + 1 night transport) – Hoi An (3 nights + 1 night transport) – Halong Bay (1 night in Hanoi pre-trip, 1 night in Halong Bay) – Hanoi (1 night)
For Nature Lovers: HCMC (1 nights) – Mekong Delta (2 nights + 1 night transport) – Hoi An (3 nights + 1 night transport) – Halong Bay (1 night in Hanoi pre-trip, 1 night in Halong Bay + 1 night transport to Sapa) – Sapa (2 nights + 1 night transport back to Hanoi for a late departure)
Useful information
Visas
With a small handful of exceptions, Vietnam is one of those countries where you need a visa to enter.
There are two ways you can get a visa

i) The traditional slow and expensive way (sending your passport off to the embassy); and

ii) and the fast and cheaper way (applying online for a visa approval or eVisa).
I'm not surprised that so many people still use the traditional method of visa application to get their stamp into Vietnam because the online application process doesn't inspire a whole heap of confidence. In fact, travel forums are full of questions about whether the Visa on Arrival system is legit and people are genuinely worried they will land in Vietnam and be promptly turned back.
I understand – I had the same fears.
The first time I visited Vietnam, I travelled from London, booked my trip enough in advance and only had the traditional application process as an option, so that's how I acquired my visa.
For my most recent trip, however, the online application process had been implemented. With a lot of research and hesitation, I decided to give it a try and I can confirm that it worked.
How it works: part of the concern with the online approach is that you don't actually apply for a visa online, you apply for an Visa Approval Letter. Doesn't sound too official, does it? However, it works and the process is completed on arrival when the visa is placed in you passport.
In payment terms, the visa on arrival system is cheaper. Working from memory (which can be sketchy), the visa fee for a one-month, single-entry visa getting it from the embassy was around £60/$100 plus a fee to post my passport to the embassy and have it returned.
The Visa on Arrival comes in much cheaper at around $10 for the approval letter and a $45 stamping fee on arrival.
I used Vietnam Visa Pro and found them efficient, hassle free and fast. They did submit a bulk application so my name, date of birth and passport number appeared publicly on a letter they sent out to around 10 other applicants, but otherwise, I would recommend the company.
Lonely Planet recommends: www.vietnam-visa.com .
It's also worth knowing that you need to submit your exact travel dates and that you cannot extend them (absent a quest for a rubber stamp and handing over a fee).
Whatever you do, don't turn up without either a visa or Visa Approval Letter. I met an English guy who did this and although there is very little in Vietnam that can't be solved by handing over some dollars, fixing his non-visa issue ran to the tune of $200. Ouch!
I've written a more details article about applying for a Vietnam visa here – this is up to date to include the new e-visa application that came into effect in February 2017.
Planes, Trains and Automobiles
The good news is that Vietnam has great transport connections. The terrible news is that the cheapest and most convenient of these (the buses) are death traps. Tourist buses run regularly and usually overnight between most of the places that visitors are likely to frequent. They are very affordable and, unlike the trains, often depart from the centre of the town/city, making them incredibly appealing for travellers.I took a bunch of these buses and if I can ask you to do one thing in Vietnam, it's to steer well clear of the buses.
Not easily frightened, the night buses in Vietnam scared the holy crap out of me and not without reason. In a country where there is a death on the road every minute (scary statistic) and buses commonly dive over cliffs, there is a real safety risk that comes with this mode of transport in Vietnam. Drivers are young, inexperienced (one driver had huge difficulty shifting up through the gears and kept stalling the bus going uphill) and they drive recklessly (there was at least one near head-on collision on a bus I was on and the buses are driven so erratically, they constantly wobble and threaten to topple).
Add to that the more minor but not insignificant points that the beds/seats are crammed in (I'm 5ft and couldn't fit properly and on one bus 5 of us shared the same bed space), there are locals lying all over the floor (picture above), the horn beeps all night (that's how drivers indicate anything on the roads in Vietnam), the drivers are abusively rude and you may not be allowed off the bus to use the bathroom, and the question is: why would you want to use the buses?
Ok, they are faster and cheaper and more convenient than the trains, but the train is a much better alternative…even if the stations are out of town and may require a taxi to get to.
As mentioned above, internal flights can be pretty affordable and motorbikes are another great way to get around but do make sure you're proficient because of the risks of being on Vietnam's roads.
Eating out tips
What to eat merits a whole post of its own. In the meantime, check out CNN's list of 40 delicious Vietnamese Dishes. As for some eating out tips:
– don't be afraid of the street food and small food shacks – it's one of the best ways to eat in Vietnam and also one of the cleanest. Did you know that the chefs in Vietnam shop twice a day to serve the freshest herbs and spices.

– if a plastic wrapped napkin is brought to your table, don't assume it's free . Most of the time there will be a small charge. It's only around 25 cents, but still.. (and think of the environment). Instead, pack your own small bottle of hand sanitiser.

– food is another item that might mysteriously appears on your table and again is not free. If you want to try it, check the price before you bite into it. Also check what it is. After dipping some pastries into my ice-cream, I was surprised to learn that they contained spicy beef, not apple like I'd assumed! Not a winning combo!

– take your own chopsticks – you'll be using a chopsticks a lot in Vietnam so it's worth carrying your own to avoid wasting dozens of sets of wooden disposable ones. I have a set that comes with a small carrying case, making for clean carrying.
Going on a longer trip through Asia and the Pacific?
You'll find more of my posts here:
Have you been to Vietnam? Anything to add/any other tips? Let me know in the comments below.