I've met a lot of travellers who apply the land and leave style of travel to Kuala Lumpur, seeing it as nothing more than a convenient travel hub in Southeast Asia. Well having visited the city myself on two different occasions I can safely tell you that this is certainly not the case, with enough impressive skyscrapers, interesting architecture, historic landmarks and exciting activities to warrant it's very own trip.
So if you do find yourself landing in the Malaysian capital, don't dismiss it after a quick glimpse of the Petronas Towers. Instead, take some time to explore this culturally rich city where India, China and Malaysia meet.
To help you plan your visit, here are my recommendations on the top places to visit in Kuala Lumpur:
1. Petronas Towers
Known locally at the Twin-Towers (Petronas is the name of the oil and gas company the towers are named after), there is no doubt that the Petronas Towers are Kuala Lumpur's most iconic sight, appearing number one on any list of places to visit in Kuala Lumpur.
Cesar Pelli is the genius behind this masterpiece, which is the world's tallest twin-tower structure. Be prepared to get a stiff neck staring up these 88 storeys.
(If you're interested, here is a list of the world's tallest buildings – There is some debate over definitions, but the Petronas Towers definitely make it onto the list.)
It is possible to travel up the towers to the Skybridge on floors 41/42 and the Observation Deck on floor 86. Some same-day tickets are available to buy at the towers, but you have to get up early to catch one of the limited tickets. You can also buy Petronas Towers tickets online in advance.
2. KL Tower
Alternatively, consider ascending KL Tower, which also gives city panoramas that, more importantly, include sights of the Petronas Towers – something you don't get to see from the tower's skywalk (for obvious reasons!). KL Tower, in my opinion, is largely only worth visiting for the panoramas and views it offers of it's bigger, bolder cousin, the Petronas Towers. Book your KL Tower ticket in advance here.
Ideally, visit the towers by day and night to see the contrast but if you have time for only one visit, by night is much more spectacular (I always think the towers look like they are out of a Batman movie when they shine silver against the black night).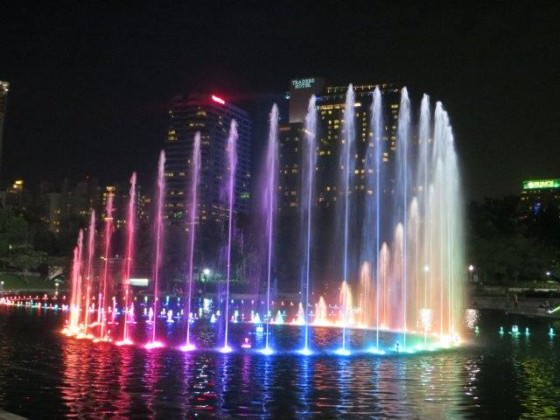 To get there: Take the Kelana Jaya Line to KLCC Station.
Tip: You will arrive from the station inside the towers, which includes a beautifully air-conditioned mall, so you need to exit the building to see the towers. Pop back into the mall for coffee once you've sweated your eyebrows off taking pictures.
3. Kuala Lumpur Central Market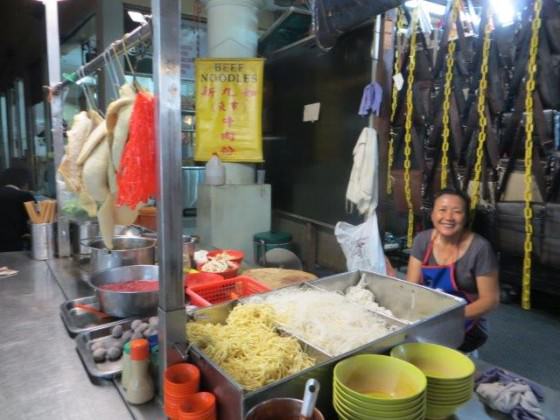 Even if you're not looking for handicrafts, Kuala Lumpur Central Market is interesting for its age (it was built in 1888) and is a nice place to stroll around day or night.
To get there: Take the Kelana Jaya Line to Pasar Senai.
4. Petaling Street (China Town)
Stay until evening and Petaling Street (China Town), just around the corner from Central Market, comes to life.
If there's a designer brand in existence, there will be a rip-off of it in Petaling Street, but if that's not your thing (my intellectual property lawyer friends would vomit at the idea), turn up hungry and eat your way through the streets, with roasted chestnuts, fruit, noodles, Chinese restaurants, I always manage to stretch my appetite during a trip here.
5. Jamek Mosque
Try as I might, I've still not managed to make it inside the Jamek Mosque. The first time I got lost and confess I gave up after a long day of sight-seeing (which is stupid, because it is actually very easy to find) and the second time it was closed for renovation. Nevertheless, Jamek Mosque is worth a visit (if it's open/you can find it), being the oldest mosque in the city (it was built in 1907).
6. The National Mosque
On the subject of mosques, the National Mosque of Malaysia offers an interesting photograph. Although more modern, the design is based on the Grand Mosque in Mecca and features a domed roof that has 18 points to represent Malaysia's 13 states and the 5 pillars of Islam. Plus, there is a 75 metre high minaret.
The National Mosque of Malaysia is open and free for guests to visit, but make sure to check times before you go as the mosque is closed during prayer times. Visitors are also given a robe to wear if their clothes are not appropriate religious wear.
7. Dataran Merdeka (Merdeka Square)
Perhaps this space, which is the main square in Kuala Lumpur, is of interest to my British nationality as the place that marked the end of colonial rule in 1957 when the Union Jack was lowered and the Malaysian flag raised for the first time, signifying Malaysian Independence.
If nothing else, this area is a pretty place to stroll (the green used to be a cricket green – the sport we invented but fail to excel at) and the Tudor-style houses reminded me of home. Perhaps unsurprisingly, amongst the flags flanking the Malaysian flag in the middle of the square, the Union Jack is notably absent!
8. Little India
Having spent time in India, I was impressed by the ability of Little India in Kuala Lumpur to transport me to another country with its sights, scents and tastes. Little India (Jalan Masjid India) is a good place to wander through stalls catering to the Indian locals in the city while the streets from Jamek Mosque to Little India have plenty of Indian restaurants and stalls serving typical Indian treats… food heaven! Try the Thali and don't forget to dispense with the cutlery – get stuck in with your fingers.
9. Old Kuala Lumpur Railway Station
A cross between a Moorish-style mosque and a Victorian-era British train station in style, the Old Kuala Lumpur Railway Station is as beautiful as it is functional.
One of the quickest ways to view the station is on a train between KL Sentral and Pasar Senai stations when you will briefly sail past the station that sits below, but be quick with your camera or you'll miss it.
10. Thean Hou Temple
I confess to not having made it to this site (I really should spend less time at the street food stalls), but it is on my list of spots to see when I return to KL next time (third time lucky). The Thean Hou Temple is a recommended sight because it is a good place to catch a glimpse of a temple with a beautiful Chinese design without having to procure a visa for China! The Buddhist pagoda is open for the public to visit and is sat on top of a hill with great views over the city.
11. Batu Caves
Before you leave KL, leave the city just a little bit and visit the Batu Caves. Sitting 13 kilometres out of town, the caves are a major tourist attraction and, in my opinion, one of the best things to do in Kuala Lumpur. A series of limestone caves that have been adopted by and used as a significant site for Hindu worship, the shrines and statues combined with the natural beauty of the caves are collectively staggering.
Cathedral Cave, the main one out of a series of three, is 180 metres long and 100 metres high. Take good shoes as there are 272 steps to get to the cave (I got this information from the internet – I didn't count them between my panting breath), but the sight of light filtering through openings in the chamber ceiling, makes the climb worthwhile.
Walk through to the cave that lies beyond and it feels like you've been dropped down a well in the middle of the jungle -skylight is a long tunnel upwards and fury greenery plants adorn the cliff walls.
And yet the caves themselves are not (in my humble view) the most impressive part of the Batu Caves. Standing at the entrance is a 42 metre high statue of Lord Murugan. The gold painted statue was revealed in 2006 after 3 year's construction and is currently the world's tallest Lord Murugan statue, adding another impressive element to what was already one of the most popular Kuala Lumpur attractions.
Getting to the Batu Caves: Take the bus (U6 or U10) or the Port Klang Line from KL Sentral to Batu Caves.
Note: if you take the bus, you'll get dropped off on a busy roundabout. Ask where to get the bus back otherwise the train station is located at the exit of the caves and makes for an easier return journey.
Tips: Beware of the monkeys – they may look cute but they can be vicious. Don't be a naive tourist – this is a temple. Dress respectfully (knees, shoulders and chest covered).
12. Perdana Botanical Gardens
The Perdana Botanical Garden, which is also known to locals as the Lake Gardens, is a beautiful green space in the centre of Kuala Lumpur, perfect for escaping the chaos of the busy city. The Perdana Botanical Gardens cover an impressive 91.6 hectares, with collections of tropical plants, well-manicured gardens, waterfalls, a boating lake, deer park, hibiscus garden and orchid garden. Fellow Brits will probably also enjoy the small-scale model of England's Stonehenge within the park.
13. Planetarium Negara
Sitting on top of a hill in the Lake Gardens you will spot the Planetarium Negara. You would be forgiven for mistaking the blue-domed structure as a Mosque at first sight, however it is in fact the national Planetarium of Malaysia.
Guests can wander around the permanent exhibits, including a mock-up of the interior of the International Space Station, and watch films and documentaries in the large IMAX space theatre. Entry is free so the planetarium is worth a quick visit if you're already wandering around the gardens.
14. National Museum
One of the best places to visit in Kuala Lumpur for history buffs, The National Museum has exhibitions on Malaysia's history and culture from prehistoric times right up until the present day. Try to time your visit to the National Museum to attend one of the tours with a local guide, it's a great way to see the entire museum and learn loads about the country in 1-2 hours (plus if you're not enjoying it you can just tail off on your own).
15.
Sri Mahamariamman Temple
The colourful Sri Mahamariamman is a Hindu temple close to Kuala Lumpur Central Market and Chinatown. The Temple was built in 1873, the oldest of its kind in Kuala Lumpur, and was an important place of worship for early Indian immigrants in Malaysia. Now, the temple's tall and elaborate facade covered in colourful statues of the Hindu deities is not only popular with worshipers but also with visitors keen to get a snap of the beautiful building.
16. Aquaria KLCC
Located within the Kuala Lumpur Convention Centre Complex, Aquaria KLCC is said to be one of the largest aquariums in South East Asia and is home to over 5,000 freshwater and marine creatures. The aquarium has many different landscapes to explore and see the variety of creatures that live within them, including the highlands, the Amazon basin, coral reefs and the open ocean.
17. Bukit Bintang
Bukit Bintang is the shopping and entertainment district of Kuala Lumpur which many would describe as the real heart of the city. As well as being home to luxury shopping centres and 5-star hotels, Bukit Bintang comes alive at night with its many restaurants, bars and nightclubs. Plus when you're done hitting the bars of an evening, head to the famous street of Jalan Alor for its numerous 24 hour street food stalls and late night seafood restaurants.
18. Taman Connaught Night Market
Another one for the night owls, Taman Connaught Night Market takes place every Wednesday evening from 5:30 to midnight. With over 700 stalls selling everything from clothing to household items at extremely affordable prices, as well as a huge street food offering, the market is very popular with both locals and visitors. The night market has to be one of the best places to visit in Kuala Lumpur for those looking to pick up a bargain.
---
Getting around Kuala Lumpur
There are a number of train lines that serve the city (and KL International Airport) including the KL Monorail, Light Rail Transit (LRT) and KTM Komuter Train Network. For practical purposes, the lines interconnect.
Pick up a free Map of Kuala Lumpur at the airport and around the city (this is also useful for pointing out the top Kuala Lumpur attractions) and there is a train map on the back. I've found the best way to understand the buses is simply ask the locals on a journey by journey basis.
Prices are very cheap on public transport costing on average 1 to 2 RM per ride (around 50-75 US cents). The biggest inconvenience is trying to get the machine to accept the Ringitt notes. Be patient and expect some machines simply to refuse or reject your money. Move on, and don't hold a technical grudge.
Getting to Kuala Lumpur from the Airport
KLIA: Unless you're on a really tight budget, the KLIA Express is by far the best way into the city (it spits you out at KL Sentral Station). Costing 32 RM (around US$10) one-way, the journey takes 28 minutes (not 29 or 30!) and runs around every 20 to 30 minutes).
LCT: If you're going to the Low Cost Terminal where airlines like Air Asia and Zest Air fly from, you can also take the KLIA Express from KL Sentral station, but you get off one stop early at Salak Tinggi. From there, a shuttle bus meets the train and takes you the additional 20 minutes to the terminal. Best of all, a combined train bus ticket is only 12.50 RM – less than half the price of the journey to KLIA.
Where to stay in Kuala Lumpur
For a little slice of luxury try Le Meridien Kuala Lumpur, a 5* hotel located right next to KL Sentral Station, making moving around the city and to and from the airport extremely easy. As well as being conveniently located with great views over the city, Le Meridien has a beautiful outdoor pool and relaxation area for taking a break from the busy metropolis.
Element Kuala Lumpur is a modern and stylish hotel located within the Ilham Building (one of the city's towering skyscrapers). It is the tallest eco-friendly hotel in Malaysia and boasts breathtaking views across the city skyline which includes the extremely close Petronas Twin Towers. The hotel also has its own on-site fitness centre, swimming pool and bar.
As well as being one of the most affordable options for accommodation in Kuala Lumpur, BackHome Hostel prides itself on its cleanliness, lively atmosphere and central location close to many of the most popular places to visit in Kuala Lumpur. There are both private double rooms for those wanting a little more privacy, and different sized dorm rooms with spacious beds and secure lockers for those happy to share. They also offer additional activities such as a pub crawl, cooking classes and city tours which are a great way to meet other travellers.
Of course, there are many more places to visit in Kuala Lumpur than just those I've listed above, but these are some of my top recommendations. Do feel free to share with me if you have any other recommendations because, unlike many visitors, for me, Kuala Lumpur deserves more than the land and leave style of travel.
Going on a longer trip through Asia and the Pacific?
You'll find more of my posts here: