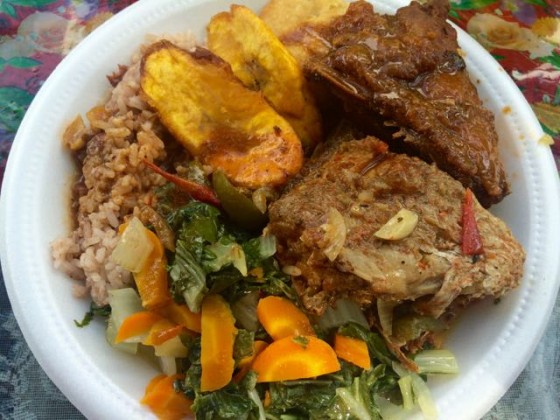 Eating the traditional food of a country is one of the best parts of travel for me. In fact, if I don't enjoy the local food, I've been know to get food depression. Fortunately, Jamaica has some fantastic flavours to try. Whether you're about to visit Jamaica or are looking to pull together a tropical feast for the family at home, here's my guide to traditional Jamaican food.
Jerk chicken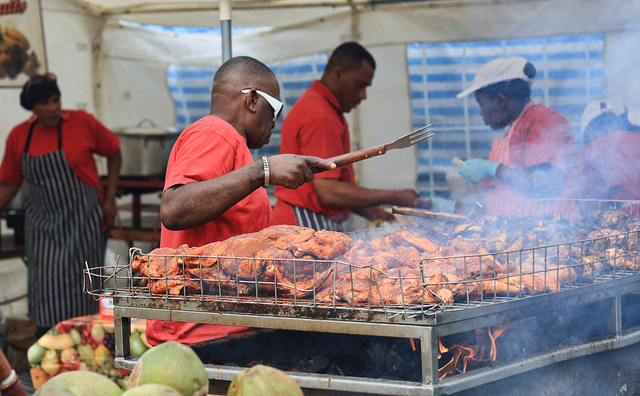 Ask someone to name a traditional Jamaican food and they'll most likely mention jerk chicken. Ubiquitous throughout Jamaica from roadside shacks to fancy restaurant twists, jerk chicken is, without doubt, a Jamaican institution. If you don't know what it is, think pieces of chicken rubbed and marinated in a blend of hot spices before being smoked, traditionally over pimento wood.
Curry goat
Probably the next most popular dish in Jamaica (or at least next most commonly served) is curry goat. Exactly as it sounds, it's goat – curried. The curry has a fair kick to it, but should be tolerable by most, and the goat is usually so tender it falls off the bone.
Oh, and if you're wandering whether I meant to title this 'curried goat', curry goat is how the locals refer to this dish and you'll get an off look if you try to call it anything else.
Bones in Jamaican food: many of the meat dishes in Jamaica come on the bone and in the case of goat or chicken curry, the meat has been chopped into small pieces, bones and all. It's a good way of keeping the meat succulent while cooking it to the point of supreme tenderness. However, it can take a little more effort to eat, separating the meat from the bone, as well as a bit of attitude adaptation given most of Europe and North America rarely serves boned meat within a sauce these days. Don't let it put you off – just be careful when you bite!
Ackee and saltfish
I both loved and hated this traditional Jamaican dish in equal measures – I loved the saltfish (cod) but I couldn't quite get my head around the squidgy consistency of the ackee.
Ackee is a Jamaican fruit (fruit in the same way that tomato and avocado are fruits) that arrived in Jamaica from Ghana in the early 1700s. The fruit grows in abundance and the locals love it. In fact, I think most tourists like it, too. I seemed to be a bit of an exception and the chances are you'll love it. Ackee and saltfish is cooked up in one pot with tomatoes, onions and, of course, chilli and spices; and there's as much chance that you'll find this dish served at breakfast as you'll find it at dinner.
Run down
Yep, I thought someone was telling me they were getting sick when I heard the words run down but in Jamaica it's a popular one-pot dish that usually includes fish and vegetables (yam, tomatoes, onions) cooked in coconut milk until the fish is run down i.e. breaks into pieces. It's nicer than it looks or sounds. Promise.
Solomon Grundy
You may know Solomon Grundy best from the nursery rhyme (Solomon Grundy, born on Monday, Christened on Tuesday…) but in Jamaica, Solomon Grundy is an appetiser of pickled fish pâté. Served with crackers, this bite size dish with its compliments of salt and vinegar is very moreish – back away after a few crackers if you plan on making it all the way to dessert.
Callaloo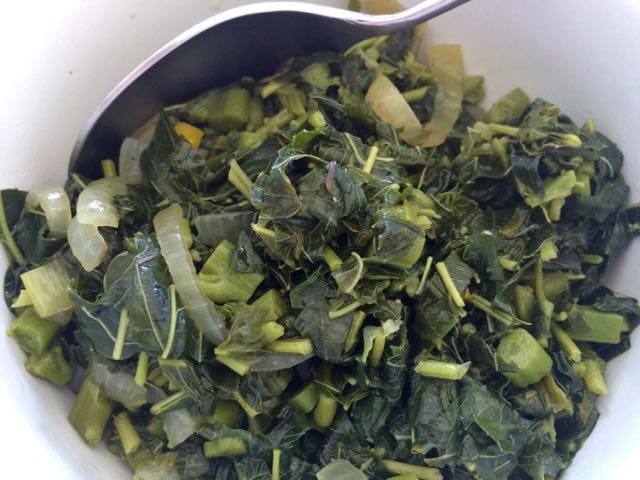 Very traditional in the Caribbean, callaloo is a dish made from cooking leaf vegetables (commonly amaranth, taro or xanthosomo). Don't worry if you haven't heard of those veggies before, I can assure you they taste just fine. In fact, callaloo turned out to be one of my favourite dishes in Jamaica – probably because of its similarity to cooked spinach.
Rice and peas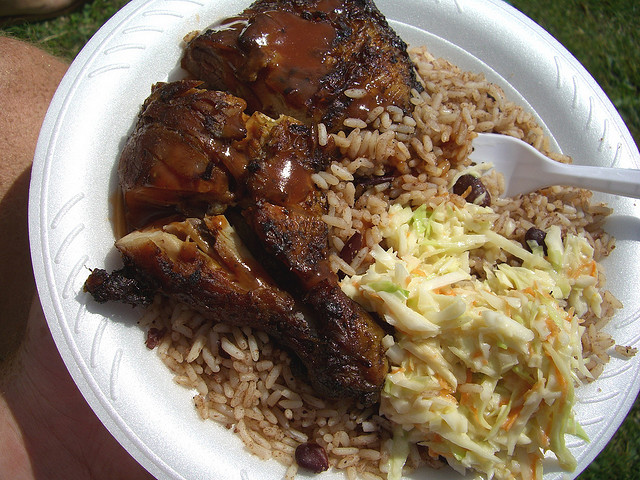 Jamaica still retains a traditional protein and rice approach to its meals with rice and peas being one of the most common side dishes you'll be served. Don't be confused by the word peas – that's a Jamaican name for beans similar to kidney beans. All in, this dish is very similar to the red beans and rice you'll find in Louisiana with the key difference being that the Jamaican version is cooked with coconut milk for a very tropical taste. 
Bammy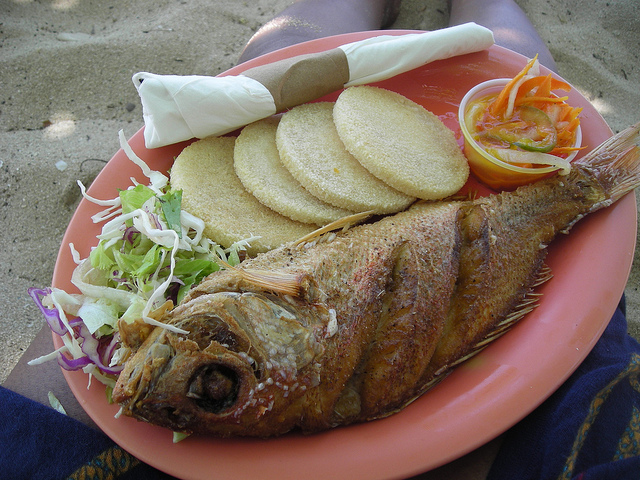 Bammy is nothing short of divine. A very simple but delicious flat bread that's made from cassava (yuca), you'll probably end up craving it when it doesn't appear on your plate. But don't indulge too much if you want to take care of your waistline – the reason bammy tastes so delicious is because the cassava is soaked in coconut milk and fried.
Dumplings
While we're on the topic of deep-fried sides, if I didn't find bammy on my plate, I could most certainly locate a dumpling or two. Made from flour, dumplings are usually boiled or fried (or boiled and then fried) and are often served with fish dishes. And those dumplings that are made from white flour and are fried without being boiled are known as Johnny cakes. There are two types of dumplings (top left and centre) in the picture above.
Jamaican Patties
Look, I never said you were going to get thin eating traditional Jamaican food and with patties on the table, there's every chance you're going to eat more than one during your stay. Akin to a meat pie, Jamaican patties are made up of a pastry outer that can be stuffed with all manner of meat, vegetables or fish. However, unlike British pies, you're going to have a lot more flavour and spice in Jamaican patties. Try a few flavours to find your favourite.
Plantain: chipped, fried, fresh
Of course, plantain, like several of the dishes in Jamaica, is not exclusive to this Caribbean island, but that doesn't make it any less delicious. Whether you're having it as chips served as a snack (great with a beer), deep-fried or boiled, plantain is a welcome addition to pretty much every Jamaican plate.
Pepperpot soup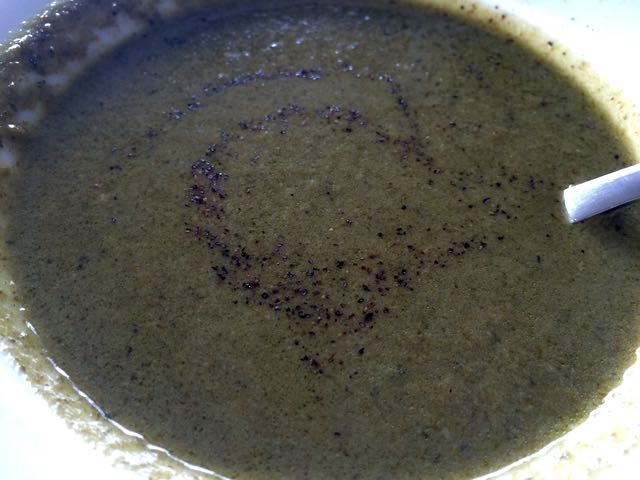 I'm a soup demon so I was thrilled to find out that Jamaica cuisine involves a lot of soups. My favourite was Jamaican pepperpot soup which is made from callaloo, yam and Scotch Bonnet.
Be aware that some recipes include pig's tail, which may not be to your liking (it doesn't appeal to me too much). I had the veggie version when I was in Jamaica. Whichever version you try, expect some heat. If you want something milder, try good old pumpkin soup.
Scotch Bonnet Chilli Peppers
It might seem strange to add an ingredient to the list of foods but I'm mentioning this fiery chilli because it can be difficult to avoid it in Jamaica. I have an especially high tolerance for spicy food and I'm not going to lie – some of the foods I tried in Jamaica will flat-out blow your lid if you don't regularly eat hot food. Scotch bonnet, one of the hottest chilli peppers on the planet, is liberally added to many dishes in Jamaica. To give you some context of its power, Scotch Bonnet peppers have a 100,000 to 350,000 rating on the Scoville (heat) scale while jalapeños have 2,500 to 8,000 on the same scale.
If you want to prepare yourself for Jamaican cuisine, it's possible to slowly up your chilli tolerance by eating increasingly spicy food before you arrive. Trust me, you'll be grateful for it.
---
Jamaican Desserts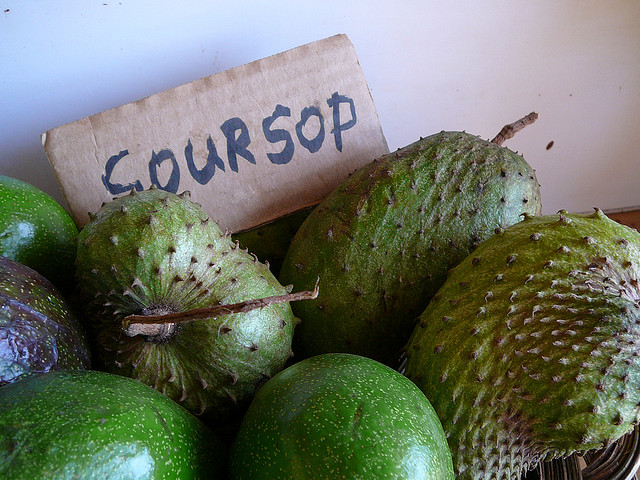 I was going through a rare phase where I lost my sweet tooth in Jamaica – don't worry, I have found it again. It did mean I wasn't the usual glutton on with the sweet treats but these desserts did the trick.
Soursop
A thin amount of fruit flesh around a hard, inedible pip makes for some mouth work, but the soft, gently sweet flavour of soursop makes it worth the effort. Think lychee without the strong perfumed taste and you wont be far off the mark.
Coconut Drops
Think peanut brittle but with the wonderful flavour of coconut and you have coconut drops. Be careful, these treats are easy to come by – grab them in any shop. Before you know it, your purse will be packed with their sticky goodness.
Gizzada
With a strange nickname – pinch me round – and an equally strange local name, Gizzada are worth a try just for the fun of it. The taste is very good, too. Gizzada are small tarts that are not too dissimilar to natas, Portuguese tarts but with a coconut flavour. Like all tarts, they're best served with a hot drink. I highly suggest some Blue Mountain coffee. In case you're wondering, the name pinch me round comes from the simple fact that you pinch around the crust round when you make them.
Banana Bread
Think you've eaten enough banana bread to last a life time? Maybe give it one last try with this Jamaican version. Of course, you can expect it to have coconut added (I'm not sure there's a Jamaican dessert that doesn't have it). But that's not all – Jamaican banana bread is laced with rum. You're welcome.
---
What to drink in Jamaica
There are plenty of local drinks to complement the food in Jamaica. Here are some of the most popular.
Blue Mountain Coffee
After oxygen and water, coffee is perhaps my third most necessary life item and, if it were considered acceptable, I'd consume it by the bucket load. Thanks to my caffeine urge, I've built up a bit of coffee knowledge over the years and I declare the coffee from the Blue Mountains in Jamaica to be some of the best I've tasted. In fact, if you have the chance, get up into the blue mountains so that you can taste the coffee at source.
Red Stripe
I almost didn't add this drink to the list because Red Stripe is commonly available in many countries around the world and it's not one of my favourite beers. However, I have to give Jamaica credit because its home-grown brew does taste much better when consumed in the country of origin. Maybe it's the sunshine?
Rum
And this article wouldn't be complete without mentioning rum. Here are a couple of local rums to try that were recommended to me by people in Jamaica.
J. Wray & Nephew White Overproof Rum – owned by the bunch behind Appleton, legend has it that this was the original Jamaican rum, so it's worth a taste for that reason alone. However, drinkers are urged to take caution. This spirit comes in at a hefty 63% alcohol so it's going to hit you in the head as well as in the back of the throat. You'll probably just want to try this just once. Or with lots of coke.
Appleton VX – if you aren't in the mood for throat burn, try to get your hands on some Appleton VX. Sugar, spice and all things nice. That is what this rum is made of.
That's my guide to Jamaican food. Have you been to Jamaica? Any favourite foods I've missed? Let me know in the comments below. 
---
Related posts
Photos: Jerk Chicken (Sean Hickin); Run Down (Dane Brian); Solomon Grundy (e_hmm); Rice & Peas (simthom); Bammy (Purple Globetrotter); Patties (mesohungry); Soursop (taramarie). My stay in Jamaica was courtesy of Hotel Mockingbird Hill.