It's not very often that I visit somewhere that defies my expectations. Having seen a fair chunk of the world, I've gotten pretty good at guessing the vibe of a place long before I land. Beaches, cities, tiny towns – most often my presumptions are pretty spot on.
And then I went to Detroit.
If you believe the media, Detroit is one hot burning mess. The chances of getting shot are close to inevitable and there's not a single building with its guts still intact. Okay, there's a slow churning momentum of revival stories but they're not at the top of the tree. To read those positive pieces, you have to wade through a tar pit of doomsday matter first.
But, still I went. I put my faith in the word of a few travel writers I trusted and I added Detroit to my plans.
I'll admit, I was anxious when I arrived in the city. I didn't quite expect to be shot (even in a city with high crime stats, the chance of becoming part of that data is pretty low if you're smart and stick to the right areas), but I did expect to see the destruction I'd read so much about.
And that's how Detroit surprised me the most.
Yes, there were pockets where neglect was apparent but on the whole, the city looked no different to the other cities I'd traipsed though on this and previous trips to the USA – smart downtown sights and cute, creative hubs.
I didn't go looking for the ugly sights of Detroit. I didn't take an abandoned building tour of the city. I didn't want to. I've seen enough of that bad PR online. And, generally, I prefer to see pretty things on my travels. So, I decided to focus on Detroit's prettier parts so I can share with you a side of Detroit you've probably never seen either.
Related article: Is Detroit Safe? The Answer from Someone Who's Been
Where to stay in Detroit

On a budget: Hostel Detroit: Click here to read reviews and check prices on HostelWorld.

Hotels in the centre of downtown:

Aloft Detroit at the David Whitney. Read reviews and check prices on TripAdvisor.

The Westin Book Cadillac Detroit. Read reviews and check prices on TripAdvisor.

MGM Grand Detroit. Read reviews and check prices on TripAdvisor.

Hotels within downtown but close to the Riverfront:

Detroit Marriott at the Renaissance Centre. Read reviews and check prices on TripAdvisor.

Crowne Plaza Detroit Downtown Riverside. Read reviews and check prices on TripAdvisor.
What to do in Detroit
I stayed in Detroit for two days and three nights, arriving pretty late on a Sunday night. With two full days to explore, I spent day one on a self-guided walking tour of downtown. On the second day I visited the Henry Ford Museum – I was in Motor City, after all.
Here are the highlights of what to do in Detroit.
Check out "mile zero" – Detroit's Point of Origin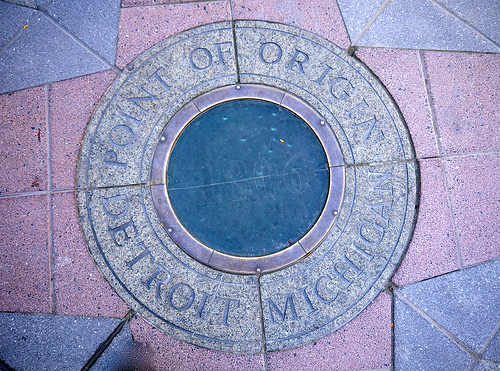 Remember Eminem's movie, 8 Mile, which was set in Detroit? Did you ever wonder what 8 Mile was a reference to? As well as being a multi-lane road that runs for several miles through Detroit, this infamous part of Detroit is located 8 miles from Detroit's 'centre' or Point of Origin…which I guess you could call Mile-0.
The point of origin, which you can see on the pavement in downtown, was determined when the city was rebuilt after a raging fire in 1805.
Travel tip: there really is no good reason for you to go searching for 8 mile. It's long been a dividing line in the city between poorer and richer neighbourhoods and although there is work being done to clean up the area, the more destitute parts are still dangerous. Plus, on a more fundamental level, ogling and taking photographic delight in a city's more difficult parts, where good, honest people own businesses and homes – just plain rude.
Step inside the Guardian Building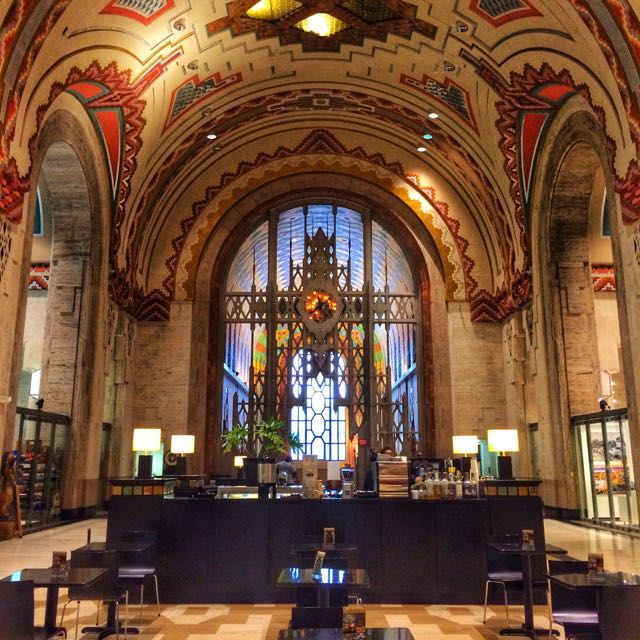 Why people don't scream about the beauty in Detroit is beyond me. Stepping into the medley of Aztec and Art Deco designs inside the Guardian Building, which was built in 1929, I couldn't fathom why people would go out of their way for photo opps of abandoned buildings when there is real exquisiteness slap bang in the centre of downtown.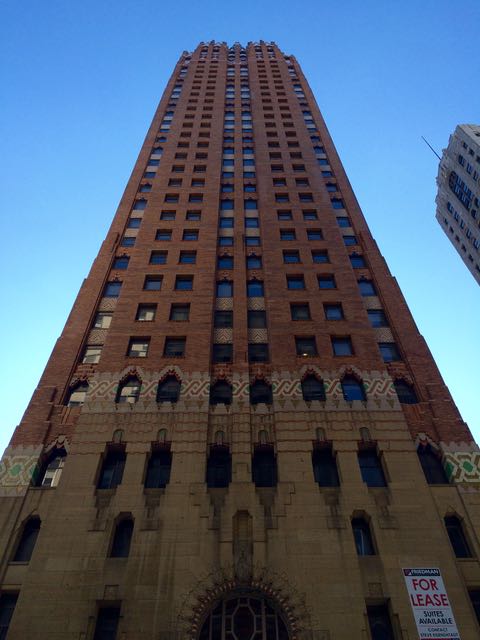 And the Guardian Building's exterior is pretty damn impressive, too.
See the Spirit of Detroit
There's something particularly poignant about standing in front of this statue. Although it was dedicated in 1958 "to express the spirit of man through the deity and the family," its importance seems just as relevant in 2015 where the spirit of Detroit continues to be tested and continues to hold strong.
Fun fact: the statue is regularly dressed up – he's worn a football jersey when the Detroit Red Wings made it into the playoffs and he's even donned a tuxedo when the Three Tenors were in town.
Stand in Hart Plaza and ponder the Transcending sculpture
Hart Plaza can hold over 40,000 people. Today, that makes it an ideal location for music festivals but once upon a time Martin Luther King came to the city and, at nearby Cabo Hall, gave the first iteration of his "I have a dream" speech (which he later delivered to worldwide acclaim in Washington DC).
The large steel arch in Hart Plaza, called Transcending, is an impressive 65 feet tall and is a tribute to Michigan's contributions to labour movement. You can read more about the sculpture and its significance here.
Stroll along the riverfront
Perhaps one of my favourite places in Detroit was the riverfront. With some dry weather, blue sky and views of Canada just across (picture below), I was happy to stroll up and down the riverfront long enough to catch a chill (I did visit in October). And with this paddle boat as a backdrop, I had to keep reminding myself I wasn't back in New Orleans.
Prefer to take a tour of Detroit?

If you'd prefer to have a local show you around, there are plenty of tours to choose from. Here are a few to check out:

Detroit Urban Adventures: visit the landmarks and find out about the city's rise, fall and renewal. Click here to read reviews on TripAdvisor

Detroit Segways: a sightseeing tour on two wheels. Taking a Segway is some of the most fun you can have anywhere IMO! Click here to read reviews on TripAdvisor.

Looking for a Guidebook for Detroit? Check out this one by Moon Guides
Dine out in Greek Town
After spending a few weeks in Greece this summer, it was nice to see some of my favourite foods on the menu in Greektown. Saganaki, basically cheese that's fried in a pan, is a real staple here but you're not going to struggle to get your hands on some gyros either.
If you can make yourself wait, save Greektown until the evening when the bar, restaurant and even casino combo (if that's your thing) will keep you entertained well into the night.
Tuck into a Coney Island hotdog (or two)
Speaking of food, and assuming you've decided to hold out until dinner for a trip to Greektown, a coney dog (a hotdog loaded with mustard, chilli and onions) is the dish to try in Detroit.
Completely confusing if you've been to New York and Coney Island, all you need to know is that there is no connection between the hotdog and the fun fair island. What's more important to know is that there are two rival restaurants to choose between for your hotdog – Lafayette Coney Island and American Coney Island, owned by warring brothers.
Fortunately, they've done you the great service of opening up shop next door to each other (as all good rivals should) so pop your nose in and see which one might tickle your taste buds or, if you're really dedicated, try one of each for the ultimate comparison.
I wasn't able to chomp through two but word on the street is that Lafayette is the better place, so I ate there. Verdict: delicious, even if it was scornful to, and I therefore resisted, dolloping ketchup on top.
Spot some street art at Z Lot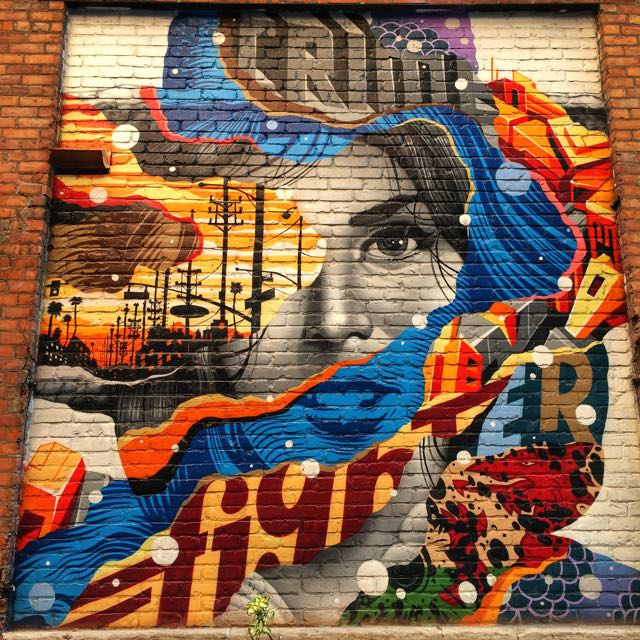 You don't need to traipse into derelict buildings in Detroit to find spectacular street art. Right in the centre of downtown is Z Lot where the alleyway or 'Belt' between two parts of the Z Garage showcases the work of local artists.
Check out the Theatre District
Whether you're there to see a show or a gig (Paul McCartney was playing while I was in town), or you're just there to check out the divine Art Deco buildings, the Theatre District has some amazing photo potential.
Catch a baseball game at Comerica Park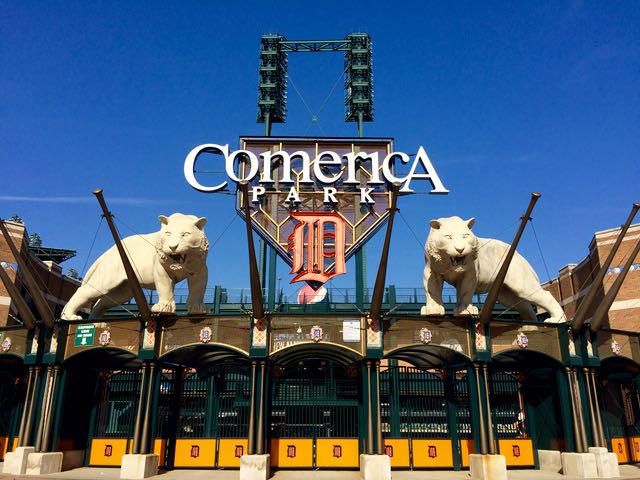 Sport can be a tricky topic in a city when the local team isn't doing so well, and that's definitely the case in Detroit – raise the subject and the locals often reply with a shrug or resigned sigh. Nevertheless, Comerica Park, which is home of the Detroit Tigers, is right in downtown and no doubt a good place to catch a game if one happens to be playing while you're in town.
Visit the Henry Ford Museum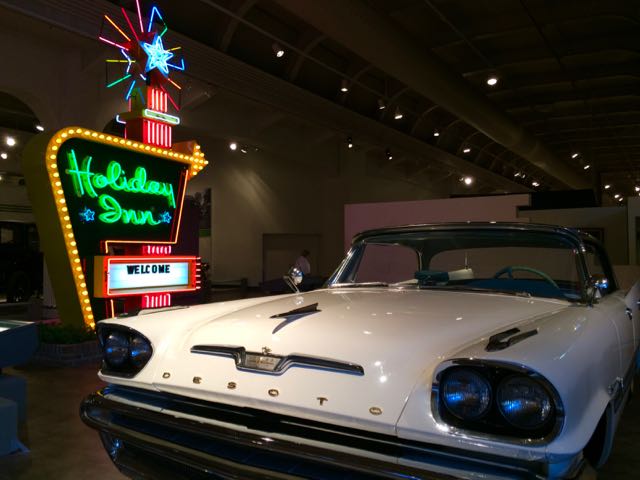 A short (20ish minute) drive or Uber ride from downtown, you'll find the Henry Ford Museum – and given Mr Ford bought so much business to Detroit, it would be a shame to visit the city and miss the museum.
Vast and packed with more automobile history than you can imagine, the museum is compelling even if you're not a petrol head (I'm certainly not). As well as being expansive – you could easily spend a day there if you visit the iMax and shopping village – the displays are beautifully put together making for a fully immersive and visually stimulating visit.
Highlights (although a bit morbid) include: the car JFK was in when he was shot, the chair Abraham Lincoln was in when he was shot and, Edison's (apparent) last breath sealed in a tube!
Oh, there's also a cutesy exhibition about roadside America and the birth of motels complete with a replica of a 1960s Holiday Inn…that looks strangely like a 2015 Holiday Inn minus the shag pile carpet. IMO.
See where Motown was born at Hitsville U.S.A.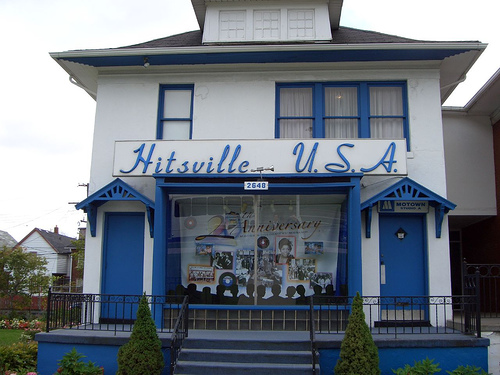 Motown's first headquarters was based in Detroit in the tiny house now known as Hitsville U.S.A. Previously a photography studio, it was turned into a recording studio and the creative foundations for Motown music were laid. Today, the building has been turned into a museum. You can check out the studio, learn about the history of Motown and see Michael Jackson's famous black Fedora hat and white studded glove.
Sadly the museum was closed for renovations while I was in Detroit but is now open again.
Tip: Detroit is still ramping up its tourism activities so most guided walks are only available on Saturdays. I didn't know this until I arrived, but it doesn't mean you need to curtail your sightseeing if you're visiting outside the weekend. With a bit of research, I came across this self-guided walking tour, which includes many of the places above. With a coffee break and lunch in between, this walk took about half a day.
Where to stay in Detroit
On a budget: Hostel Detroit: Detroit has one hostel but the fact it had any hostel at all was inspiring. I stayed here and as well as well as having all the wonderful facilities of a hostel (kitchen and cool people to chat to), the hostel is run by a group of people who love Detroit and know their city inside out.
If you're looking for the local scoop on where to get the best food, which bar has Mystery Monday (everything costs a dollar and you get whatever comes out the fridge) and where the go/don't go areas are, you're in the best place to find out.
Tip: the hostel is based in Corktown (a place where I felt safe) and it was within walking distance of local shops and restaurants.
Click here to read reviews and check prices on HostelWorld.
Hotels in the centre of downtown:
The following hotels are perfectly situated for Greektown and the Theatre District:
Aloft Detroit at the David Whitney. Read reviews and check prices on TripAdvisor.
The Westin Book Cadillac Detroit. Read reviews and check prices on TripAdvisor.
MGM Grand Detroit. Read reviews and check prices on TripAdvisor.
Hotels within downtown but close to the Riverfront:
Detroit Marriott at the Renaissance Centre. Read reviews and check prices on TripAdvisor.
Crowne Plaza Detroit Downtown Riverside. Read reviews and check prices on TripAdvisor.
Getting to Detroit: Did you know you can now fly direct from London to Detroit with Virgin Atlantic?
Where to Eat and Drink
If you're worried about getting around Downtown at night, simply take a taxi or Uber.
As well as Greektown and Lafayette Coney Island, I also ate at Slow's BBQ in Corktown and had an impressive head-sized meat sandwich from Rubbed (since closed).
And then, last but not least, the place that offered me the warmest welcome, the best memories and the biggest hangover during my time in Detroit, Nancy Whisky. Be sure to mention that you're from out of town and it's your first time in the bar – a free shot of whisky will be coming your way. And I accept zero responsibility for any sore head you suffer the next day.
Have you been to Detroit? Any other top sights to add to the list? Let me know in the comments below.
Like this? Share it on Pinterest…
Want more? Here are some of my popular posts if you're planning a trip to the USA
3 Days in San Diego – What To See and Do
3 Days in Washington DC – What To See and Do
How To Spend One Day At The Grand Canyon
What and Where To Eat in New Orleans
How To Visit The Statue of Liberty – Ultimate Guide
From Buffalo to Niagara Falls for Only $5
How To Visit Pearl Harbour for only $5
Which Hawaiian Island To Visit
75 Things To Do In Key West Florida
Where Is The Best Chicago Deep Dish in Chicago?