What does travel insurance actually cover? It's a good question that many people don't ask; a fact that's surprising when you think about the cost and importance of buying travel insurance. As a former-lawyer, I'll guide you through what is covered by travel insurance, what is not covered, what level of cover is typically good enough and how to check whether your valuables are properly protected.
"What do you mean I'm not covered?"
It's a dark moment if ever you find yourself having that conversation with your travel insurance company. But sadly it happens.
My view of travel insurance used to be simple – I'd book a trip, I'd purchase a policy based either on price (cheaper the better) or from a (random) brand I trusted, and I'd take my trip living in a bubble of assumed-insured protection. Everything was wonderful and the world was good until one day I had the misfortune of making a claim. My bag had disappeared while in left luggage at a charter yacht company.
Surely that was precisely what travel insurance would cover me for?
Apparently not, my insurance company told me – the bag was left out of sight and wasn't lost by an airline. Upshot: I wasn't covered.
Although I don't pack a lot of valuables and the few I had (laptop and phone), I'd kept on me. Still, totting it all up from the cost of my suitcase to my clothes to my running shoes to my make-up and my contact lenses, it still amounted to $2000 of possessions. The good news is that my case eventually materialised. But the stress and outrage at not being covered, taught me a valuable lesson: always find out what's covered.
I've read a lot of small print since then. And I've also come to understand why one insurance policy can be twice the price of another policy for the exact same dates and destination. Mostly, it's to do with the level of cover – something you might expect – but what level of cover do you really need? Whilst I have no desire to pay for a platinum plated policy when bronze cover will do, if the difference means getting my toe sewn back on if a camel decides to bite it off versus being given a pair of crutches…or a hacksaw, I'd happily pay the extra.
After reading too many policies, here's a run down of what travel insurance typically covers.
Blah, blah, blah, disclaimer: Every policy is different and the level of cover will change depending on where you're from and where you're going. This is just a summary of the most common terms you'll find in insurance cover. I'm not giving legal or financial advice. And most vital of all, you need to read the small print yourself if you want to guarantee you'll get your toe sewn back on if you get bitten by a camel.
Is travel insurance cover the same in all countries?
In other words, is it worth reading this article if you're not from the UK (my home land)?
To answer the first question – no, travel insurance is not the same in all countries. For example, the level of medical cover you're typically offered on a non-US policy will be way higher than you'd get if you're from the USA (£5-10 million cover versus $100,000 cover). I guess that's mainly because the rest of the world needs to be insured against the incredible fees we face if we get sick in the States. People from the USA have other options (good or bad, I won't get into) for US health care.
However, this feeds into the second question – is this article any use if you're not from the UK. I'd say yes because, mostly, travel insurance covers the same areas – medical expenses, baggage, cancelling your trip, etc. And, as well as looking at the small print of UK policies, I've checked out the details of what's covered by World Nomads' travel insurance. I've received quotes from World Nomads pretending I was from the USA, Canada and Australia (to name a few).
World Nomads is one of the most trusted travel insurance companies on the market, catering to many different nationalities and their policies are largely the same with some local variations. Usually those variations are added bonuses. For example, if you're Australian, you'll get cover for a compassionate trip home and if you're from Canada you'll get bag tracking assistance. You don't get either of those if you're from the UK or the USA. But treat those as extras – look at the main areas mentioned below, make sure your insurance policy covers those and you should be good to go forth and take all sorts of unnecessary risks on your trip, regardless of which country you're from.
Here's the essentials to focus on when you're looking at travel insurance cover.
Medical expenses
I know from my own travels that something as simple as a sore throat can cost $500 in medical expenses in the USA and boy was I glad I had good medical cover when I got sick overseas. If you get injured or become ill while you're away, you'll be relying on the medical system of the country you're in to get you better and it's guaranteed to cost you money. How much money will depend where you are but step foot in the US of A, infamous for some of the world's most expensive medical care, and you're going to want full protection.
But what does that mean? I've seen policies offering from £2 million to £20 million worth of cover and where you want to be on that spectrum is going to depend on where you go and what you do. Which?, a highly regarded UK consumer advice company, recommends travellers buy a policy that offers a minimum of £2 million cover in Europe and a minimum of £5 million cover worldwide. With that level of protection you should be more than adequately protected. That said, any level of cover is going to be better than nothing.
As mentioned above, your cover level if you're from the USA is likely to be lower. If you're planning on getting sick (?!), this is probably due to an existing condition or risk and you need to disclose this to your insurance company anyway – see below.
Here are a couple of extra things to look out for:
skiing accidents account for the largest value of claims made each year. Consequently, most companies insist that you buy additional cover if you're off skiing.
pre-existing conditions are automatically excluded and that list of conditions might be broader that you think (e.g. varicose veins and asthma). You can usually add cover for a pre-existing condition and it may not even cost you – adding my ACL knee injury to my insurance didn't cost me a penny extra. Woo-hoo.
Repatriation
If you do get injured while you're away, your next stop (after emergency treatment) is likely to be home and if you're unable to cram your head to toe body cast into economy class, the price of getting back is going to cost you way more than a standard flight.
The UK Foreign and Commonwealth Office quote the following indicative costs for repatriation:
£35,000-£45,000 for an air ambulance from the USA East Coast.
£12,000-£16,000 for the same deal from the Spanish Canary Islands.
£15,000-£20,000 for a standard flight but with a stretcher and doctor escort from Australia.
In a word: expensive, so keep these figures in mind when you look at policies. (Note: some policies bundle repatriation into medical expenses so make sure your level of cover is enough for both. World Nomads tends to offer separate levels of cover for medical expenses and repatriation, which is good news.
Personal liability
This was an aspect of cover I'd never given much thought to despite being an accident prone idiot.
Personal liability insurance isn't about you – it covers you if you injure someone else while you're away. Whether you're cantering over your horse riding instructor or knocking a granny under a bus while you're on a Segway, you're going to be liable for the damage you cause and the associated financial fall out.
How much cover do you need? In high-claim countries where medical expenses and other losses like salary can be significant (ahem, USA), your exposure is higher and you'll want your cover to match it accordingly. Think worst case scenario: severely incapacitating a CEO who is the breadwinner for him, his wife and seven children who have expectations of a new yacht each Christmas. Yep, expensive. £1 million should be enough in most countries but consider upping your cover to £2 million if you're off to the USA.
Beware:
Personal liability protection shouldn't be confused with personal accident protection. The latter is paid to you if you get injured and is commonly just a nominal amount between £5,000 and £25,000. Hardly seems fair if you lose a leg, but the policies I looked at were very similar with their low levels of pay-out.
Legal expenses
If you find yourself in the middle of a personal liability claim (aforementioned CEO) or you get into other legal strife while you're away, you'll want your legal expenses to be covered, especially if you're in a place that has pricey lawyers…USA, again! Even outside the US, lawyers in Europe, Australia and New Zealand are going to cost you – I know a fair bunch of legal advisors who charge over £500 for just one hour's advice. £5,000 will probably get you what you need in developing nations while closer to £20,000 or £30,000 is more realistic for (legally) expensive countries.
Activities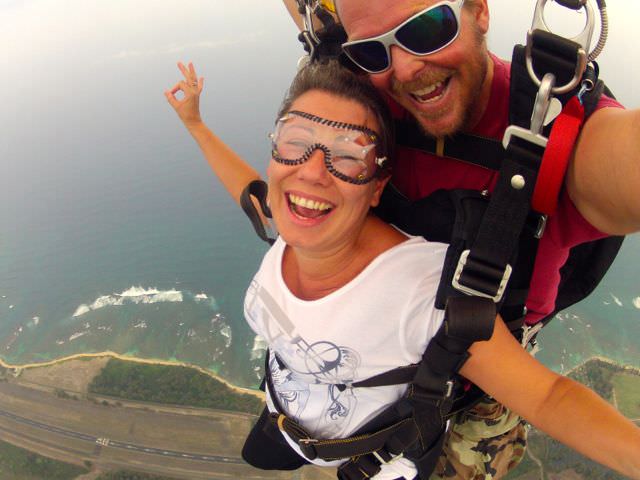 Insurance companies are very diligent at listing what activities are and are not included in your policy and that list may not be what you expect. For example, one policy I looked at included white water rafting as part of its standard list of included activities but horse riding, something I'm much more likely to get involved with, was excluded. Overall, I found that the policies varied quite broadly in terms of what they included so shop around to find one that suits your trip. Once again, you can usually add excluded activities but… again, it's gonna cost ya.
Again, I'm a fan of World Nomads because they include a long list of activities (around 150) as standard with extra 'explorer' cover available in case you get a chance to go wingsuit flying. Yes – they will cover you for that!
Cancellation and curtailment
When I flew to Ecuador in 2010 I'd bought an expensive around the world ticket and booked a tour that included my trek permit for Macchu Pichu. If something caused me to cancel my plans or come home early, it would have cost me a lot…which is where cancellation and curtailment cover becomes useful.
These days I tend to buy the cheapest one-way ticket I can find, don't pre-book expensive accommodation or tours and if I'm off to Europe, my upfront costs are usually under £50. In those circumstances I'm less concerned about cancellation cover.
Most policies include at least some level of cancellation and curtailment cover but the level of protection can vary. Tot up what you've paid out for your trip and choose accordingly.
Having recently been struck down by dengue fever a week before I was about to bounce around the Caribbean, I was very happy I had travel insurance to cover the rejigging of my trip.
Documents and cash
I've met a surprising number of travellers who have misplaced their passports and without wanting to curse myself, I'm astonished I've made it this far without doing the same. Money doesn't seem much easier to keep hold of.
Although losing your passport or some cash is unlikely to send you broke (unless you're carrying ALL of your travel funds in your money belt – please don't), but passports are not cheap documents and loosing a good chunk of cash just hurts.
Fortunately most policies (USA generally excluded) provide enough protection to replace your passport as well as a nominal level of cover for cash. Note the word nominal: a few hundred pounds.
Baggage cover – or not
If there is one part of your insurance policy that's going to surprise you, it's likely to be the baggage section.
When I used to compare insurance policies, I would look at the headline level of cover and, because I travel with a lot of electrical items, pick the highest one – around £2,000. It was a sum that would go a long way in replacing my Macbook, camera and iPhone if I got robbed. Or so I thought, until I read the small print.
It turns out that all travel insurance policy have a series of exclusions that significantly restrict the level of payout if you part company with your valuables.
First off, you'll find there is a cap on what you can claim per item – this is usually as little as 10% of the overall baggage cover. So, on a £2,000 baggage cover policy, the most you can claim if you lose your Tiffany diamond earrings (or iPhone) is around £200.
Not cool.
And it gets worse…
As well as the single item cap, there is usually an overall cap for all valuables, i.e. if you lose your bag containing your Tiffany earrings, necklace and bracelet (or iPhone, laptop and camera). Shockingly, this upper limit is not the amount of your entire baggage cover (£2,000 in my example) but often between £250 and £500.
Not what I expected when I read that my policy covered me for £2,000 worth of baggage.
And yet still it gets worse…because let's not forget about excess.
Most policies have a requirement that the first amount of your claim is covered by you. This is often around £50 but can be as high as £200.
So where does that leave you when you take your valuables overseas? Not in a good position is the answer.
The worst (but not uncommon) policy that I looked at quoted £1,000 of baggage cover. On the face of it, that should have been enough to cover replacement of a smart phone and everyday consumer camera. However, looking closer at the exceptions, the policy had a single article limit of £150 and a total valuable limit of £150. And let's not forget the excess, which on this policy was £50. The result? Lose your bag with your iPhone and camera in it you're only getting £100 back – hardly enough to replace your loss. Ouch.
So, who would benefit from policies that offer £2,000 worth of baggage cover? The answer – people who pack expensive clothes and shoes in expensive luggage; i.e., not me.
The upshot: If you are travelling with valuables, you will need to try and find cover elsewhere.
Other insurance options for valuables
I'm pleased to say that options are getting better for covering your valuables and some insurance policies are now promoting their coverage of gadgets. If the policy you're looking at doesn't cover you adequately, here are a few alternatives:
Home insurance – If you have home insurance, you may get better protection for your valuables than on a travel insurance policy. However, check whether your policy excludes things like mobile phones. And also check the length of overseas cover, especially if you're off on a long trip.
Gadget cover – I've looked into gadget cover and sadly it looks more attractive on the packaging than it is in reality Not only is there usually a maximum time you will be covered overseas (1-3 months, which isn't great if you're off on a round the world trip), your gadgets need to be close to new (under 18 months old). These policies aren't cheap and are charged on a per gadget basis, so do study the small print before you buy.
Mobile phone insurance -Many networks offer mobile phone insurance. It's rarely the cheapest option but from the policies I've looked at, they tend to provide good cover and in some cases come with minimum exclusions. Yay! The catch is that you need to be have bought your phone from the network and you usually need to have bought the cover at the same time that you bought your phone.
Photography insurance – If your main valuable is a camera and camera equipment, consider professional photographer's insurance. Some policies will include cover for your laptop too.
Excess
I've talked about this under baggage but most policies won't pay out for the first portion of your claim. This amount can be fairly nominal (£50) or can be higher (£200). If that amount is deducted off a baggage claim, that might be fine, but if you're expected to hand over the first £200 of a medical bill, you will want to make sure you can afford it. Some policies offer a lower premium in exchange for higher excess charges. Weigh up the costs and risks before you buy.
The 'basic requirements'
Probably one of the easiest parts to overlook in your policy is what lawyers call "boiler plate" clauses – essentially the boring list of requirements at the beginning and end of your policy. However, as boring as these details might seem, they can make the different between your policy being valid (and claims paid out) or not.
These beginning clauses often list a string of requirements that you must comply with for your policy to be valid and can range from basics like your age (lower and upper limits), to something more obscure like being registered with a doctor in your home country.
Don't skip past this detail because if there is even the slightest opportunity to void your policy and not pay out your £1 million medical, personal liability and legal expenses, your insurance company will take it.
Destinations and Government Travel Guidelines
When you book your insurance you most likely tick a box that has a rather vague description of your destination – Europe, Worldwide excluding the USA and Worldwide including the USA. I generally like broad categories with simple descriptions, because they are east on my tiny brain, but you should still double-check the small print to see exactly which destinations are covered.
On a good note, I was pleasantly surprised to see that my policy for Europe included a whole bunch of places that are not strictly 'Europe'. However, there are some countries that will be excluded despite falling into the broad destination categories simply because they are deemed too risky.
Although most of those excluded countries/areas might be easy to identify (Darien Gap springs to mind), it's worth noting that many polices automatically exclude cover for countries that feature on the Foreign and Commonwealth Office's 'don't travel' list. As that list is subject to change (a few months ago it included Egypt, now it doesn't), make sure you check before you book and fly.
Length of cover
I get excellent, free travel insurance with my bank. It used to cover me for 90 days outside the UK, worldwide. And did I mention it was free? Oh, how I miss life before the economic crisis. These days the same free policy only covers me for a 31 day trip. Great if I'm off on holiday for a week or two but not, obviously, for longer trips – check the details of any off-the shelf policies or free bank cover if you plan to rely on them.
Annual travel insurance policies can also be a bit confusing – they usually cover you for an entire year but have a limit to how long each trip can be – often 1-3 months.
Ability to extend
If you're in the slightest bit prone to changing your plans, make sure that your policy can be extended while you're away. I found this out the hard way when I was 12 months and 1 day into my one-year policy and tried to pay to extend my insurance on the eve of flying into the Middle East…while the Arab Spring was in full swing.
The simple answer from my insurance company was that I couldn't extend my existing policy. This left me with little choice but to i) fly home to buy a new policy (most insurance companies require that you be in your home country when you buy a new policy) or ii) spend the next couple of months without cover. I took route ii), something that played on my mind for the rest of my trip. Fortunately my worries didn't become reality but it was a risky decision that could have been avoided if I'd bough a policy that permitted me to extend while I was away.
---
Tips for buying travel insurance
Ultimately, the kind of policy and level of cover you need is going to depend on the kind of trip you take. Two weeks on a beach is likely to offer a different level of risk compared to crossing the Darien Gap (one day…just one day I'll do this). Understanding what's covered is the first step to picking the right policy but here are a few more tips.
Price isn't always an indicator of better quality or cover – In almost all other buying scenarios price is usually directly linked to quality – the more you pay, the better you get. But that isn't always true when you're buying travel insurance. When I was doing my research I saw two policies that had the same headline levels of cover (medical insurance, personal liability and baggage) yet there was a £300 price difference between them.
It seems that some insurance companies are simply more expensive than others for the same level of cover.
Okay, it may be that the more expensive policy has a significantly superior level of service if something goes wrong. In my (fairly limited) experience, my bank insurance was much easier to claim on than a cheaper policy I'd bought elsewhere. The problem is you can't compare this aspect of your policy before you buy…which means you need to look at other factors beyond price.
check reviews and check those reviews are from people who have actually claimed
get recommendations from friends and family
make a list of the cover you'd like to be insured for and match that against the policy
read the small print – yes, those documents are horrible but focus on the areas you specifically want cover for
Remember: what doesn't kill you could still ruin you (financially) – Make sure you have cover for personal liability as well as legal expenses and that your baggage is going to cover your camera that you remortgaged your house so you can start your new photography business.
Hope for the best, insure for the worst – I've met many travellers who don't have travel insurance on the basis that their belongings have such little value…but that isn't the main reason to buy a policy. The thing that is most likely to lead to financial ruin faster than a New York minute, isn't theft, it's injury – to you or to somebody else, caused by you. So, by all means hope for the best but as every traveller who has ever made a policy claim knows, you should always insure for the worst.
In the UK we have a lot of great travel insurance options and I usually start with a search on an insurance comparison site. However, checking the small print, the cover isn't always as good as the headline cover may suggest. If you're not in the UK or if you're looking for a policy by a company that's highly regarded by travellers, check out World Nomads. Created by travellers for travellers, you can buy their insurance even if you've already set off or you've run out of insurance while you're away.
Related Articles:
How to Make A Travel Insurance Claim
10 Times You'll Realise the Importance of Travel Insurance
What To Do When You Get Dengue Fever When You Travel
Dynamic Pricing – Flight Pricing's Biggest Scam
12 Tips For When You Miss Your Flight