From fine dining complete with 25¢ martinis (yep, you heard me right) to the best breakfast in New Orleans (hint: beignets) – brunches, lunches, dinners and cocktails, I spent a week expanding my waistline in the Big Easy and in this New Orleans food blog, I'll bring you my list of he best local foods and where to eat them New Orleans. Bonus: I've included a few suggestions for what and where to drink, too.
You might also want to check out my list of the 21 best things to do in New Orleans.
Ready? Let's dig in…
Beignets and Café au Lait at Café du Monde
Beignets are an institution in New Orleans. Giving a nod to the city's French colonial past, these deep-fried donuts buried in snow-white icing sugar absolutely have to be on your eating list in NOLA.
As for where to try them, ask anyone in New Orleans and you'll get the same answer: Café du Monde. Opposite Jackson Square and St Louis Cathedral, the café opened its doors in 1862 in the French Market and has been serving beignets ever since.
Foolishly, as I stood in line I remembered that I'd once eaten so many deep-fried donuts at a fairground that I'd developed a near aversion to them. So, as I sat at my sugar dusted table, I was a bit nervous that I wasn't going to manage to eat what I'd come for.
Fortunately, my concerns were completely unnecessary.
I don't know how they do it, but Café du Monde manages to serve beignets that are completely absent any sickly taste of oil – and the air generally smells fresh (not fried). The coffee was just how I like it – strong and long – and was the perfect accompaniment.
For under $7 for 3 beignets and a large café au lait, I don't think you can get a cheaper, tastier breakfast in New Orleans. And I'm (almost) prepared to take a bet on that.
Pro dining tips:
try to go with friends: the beignets come in an order of 3 and I can attest to the fact that 3 is too many for one person.
if you do go alone, the waiters carry little brown bags for you to handily take one or two of your beignets away for another time. But do eat your take-away beignets within 24 hours. These babies don't keep.
the length of the queue is temperamental. It was long when I joined it but non-existent when I left. So, I'd recommend doing a quick bit of sightseeing if the queue is too long, and come back when it is shorter. All that said, things move along quickly and I was sat within 15 minutes.
don't put your new copy of William Faulkner's Intruder in the Dust down on the table. As hard as the waiters work to mop up the snow storm of icing sugar that diners leave behind, this place is sticky-city.
More info: Café du Monde
Gumbo at Dooky Chase Restaurant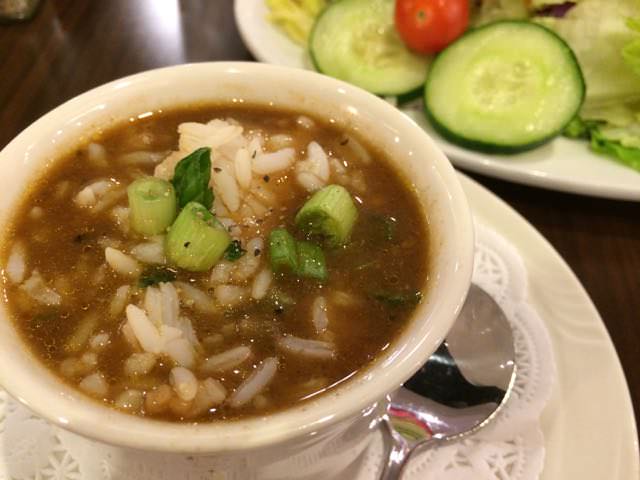 I imagine you could start a fight in New Orleans off the back of the topic of where's the best place to eat gumbo. It seems everyone has their favourite haunt.
I tried gumbo at Dooky Chase Restaurant and it was the perfect introduction to creole cuisine. Filling without being stodgy and able to deliver a strong and complex flavour of meats, shellfish, stock and seasoning in one bite without being too rich, I was really impressed with this dish.
I believe the best Dooky Chase Restaurant is on Orleans Avenue. I tried the restaurant at the airport (I had skimped on breakfast in Houston so I could maximise my mealtimes in New Orleans…and consequently felt faint when I arrived). The service, I have to say, was bad enough to contemplate complaining. I sat for a long time before I was even offered a menu and the theme continued through my meal. It didn't detract from the food, but if you do get a chance to go to the main restaurant, I'd suggest you try your luck there – and let me know how you get on.
Note: if the portion above looks small, it's because I only ordered a half bowl. Full size bowls are absolutely available.
More info: Dooky Chase Restaurant
Alligator Burger at Bayou Burger
After a day spent exploring the swamps of Louisiana and getting up close to alligators, I had one lingering thought: I wonder what alligator tastes like? Fortunately, in New Orleans, it's not so difficult to find out.
I conducted a bit of research on the best place to try alligator and the same name kept popping up: Bayou Burger on Bourbon Street.
Verdict: the reviews were not wrong – Bayou served up an excellent alligator burger. In terms of taste, it's hard to say exactly what alligator tastes like as the meat was very heavily seasoned, but the burger had a nice flavour overall and the alligator meat was lean and soft. The burger was mixed with a little bit of pork meat to give it some fat and consistency, and was served with tasty fries and homemade coleslaw. The burger bun was a bit soggy for my liking (sauce dripping from the coleslaw), but I wasn't there for the bun.
More info: Bayou Burger
25¢ martinis and fine dining at Commander's Palace
You didn't believe me when I talked about 25¢ martinis, did you? I wouldn't blame you. I didn't believe it either…until I proved that this particular unicorn (of the dining world) exists at the wonderful, up-scale restaurant, Commander's Palace.
I won't say much more. I'd rather take you on a visual version of my visit.
First up…because every good lunch starts with a dirty martini…
This is turtle soup. I believe it contains veal rather that turtle. Either way, it tasted delicious. Better still, the waiter added a dash of Amontillado sherry at the table, which enhanced the flavours.
My kind of salad – covered in delicious toppings. The salad was huge, so I only ate half of it (because, clearly, salad is the most filling food).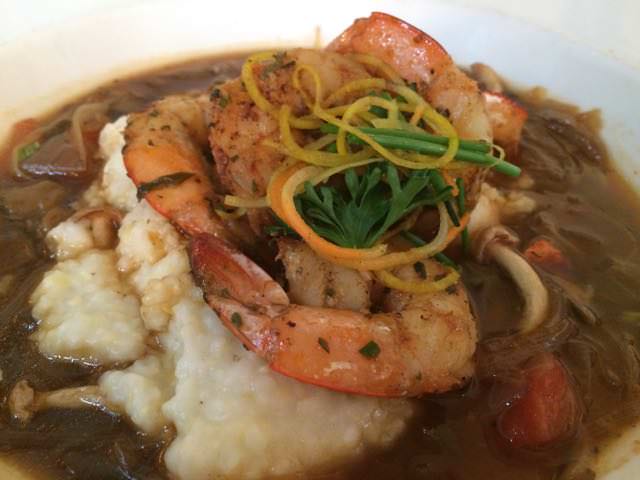 I don't think you can get more Southern than grits and it turns out I'm a huge fan. Even more so when they are topped with shrimps and covered in gravy. This was so good I could eat it over and over. In fact, I'm craving it right now.
My appetite was at the point of waiving a white flag in surrender when the waiter read the desert menu. Soufflé. With bread and butter pudding inside. It was a novel concept and one I felt duty bound to try. And I'm glad I did because it was divine. Soft, fluffy and perfectly sweet, and stuffed with sticky and comforting pudding inside, I could only manage half of it, but I was glad I stretched my appetite to give it a go.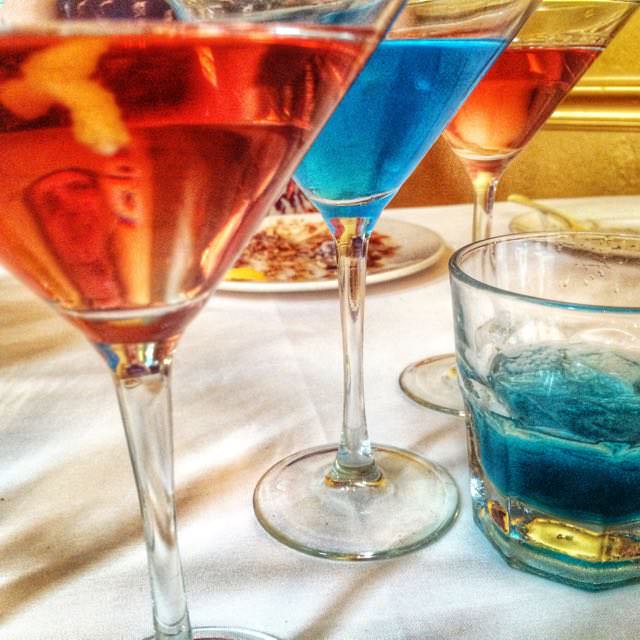 Of course, 25¢ cocktails were consumed the entire time.
Pro dining tips:
The 25¢ martinis are only available during the lunch time service: 11-30am to 2pm Monday to Friday.
There is a limit of 3 martinis per person. However, in the restaurant's own words "'cause that's enough."
Although the restaurant promoted it's 25¢ martinis, the drinks on offer are broader and include cosmopolitans and a melon-based cocktail.
Although the cocktails are extremely well priced, the food bill can mount quickly, especially if you add in desert and turtle soup. However, there is an excellent two or three-course lunch deal, which is great value and means you can eat for as little as $18 (plus tax and tip).
If you want to sample the turtle soup, it's possible to order a small $3 taster. About the size of a small ramekin dish, I found that the sample size soup was just enough.
The restaurant has a strict dress code. No shorts or flip-flops. Jeans are discouraged and jackets are encouraged. I saw people wearing smart jeans while I was there but if you do that, put on your finest pair.
You really should book ahead. I turned up on a Monday at 1pm and no tables were available, so I had to book for the following day.
And if you're after proof that the 25¢ martinis are real, here's the bill. We were three people and had three cocktails each coming to a grand total of $2.25 or 75¢ each!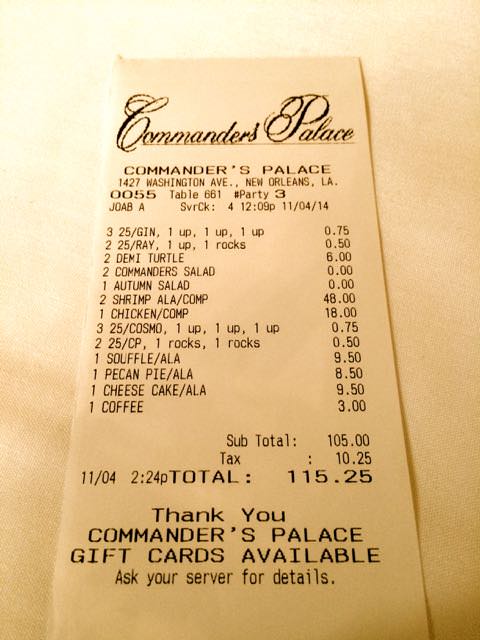 Commander's Palace was absolutely one of my best food experiences in New Orleans. From the seriously good food to the quirky cocktail prices, I'd go again in a flash. However, I still feel the need to mention the maître d' who was unwelcoming bordering on rude. Shame – she's missed her spot on my Christmas card list. But the good news is that as soon as we passed into the restaurant, the rest of the staff earned top marks and then some.
More info: Commander's Palace
Italian Pizza at Domenica at the Roosevelt Hotel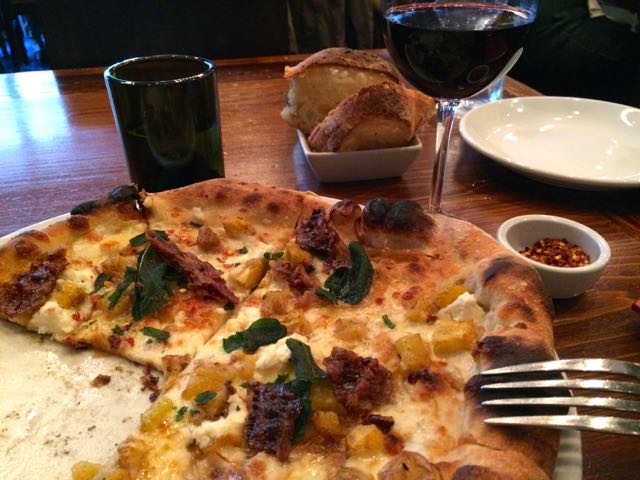 Pizza? In New Orleans? Why would I recommend pizza?
Well, several reasons.
First of all, after days of full-on Southern eating, you might be due a cuisine change.
Second, this is arguably the best pizza you'll find in the whole of New Orleans.
Third, this pizzeria is located in the beautiful Roosevelt Hotel (a Waldorf Astoria Hotel).
And fourth (as if you needed an additional reason), if you go during happy hour, all pizzas and drinks are half price! So, for just $12 (including tax), I dined on an Italian-style thin-crust pizza that was better than many I'd tasted in Italy * and came with a big, bold glass of Malbec.
The pizza I ordered was the seasonal pumpkin pizza complete with ricotta, caramelised onions, candied pancetta and sage. The picture above does not do it justice. Not even close.
* and I have tasted a lot of pizza in Italy – I even have a separate blog dedicated to Italy's Prosecco region.
Pro dining tips
Happy hour is 7 days per week from 2pm to 5pm. Half price drinks include wine, well cocktails and beer. ("Well cocktails" are cocktails made with local brands).
The restaurant is large and they were able to accommodate me easily, so I doubt a reservation is necessary during the week.
If you don't have a huge appetite, the pizza can easily be shared between two people (I managed three meals out of mine).
More info: Domenica at the Roosevelt Hotel
Jambalaya at Mother's Restaurant
If you thought coming to a consensus about the best gumbo might land you in trouble (or at least a hot debate), don't even dare to bring up the subject of jambalaya. After extensive research I opted to try this dish at a place called Mother's. Although Mother's isn't voted amongst the best place to eat Jambalaya (though it does get a good write-up), it has a cool canteen vibe that tempted me in with its nice change of scene.
It's a counter-order service, the Bloody Mary is served from a dispensing machine as though it were orange juice and the place definitely feels homely.
Pro dining tips:
Mother's is situated just across the road from Lowes Hotel (see below).
If you have too late a lunch at Domenica, the good news is that Mother's serves half portions so you don't need to stuff yourself twice in one day. That said, you might want to eat something hearty to line your stomach ready for the night's festivities.
More Info: Mother's Restaurant
Po' Boy Sandwich at Guy's Po Boys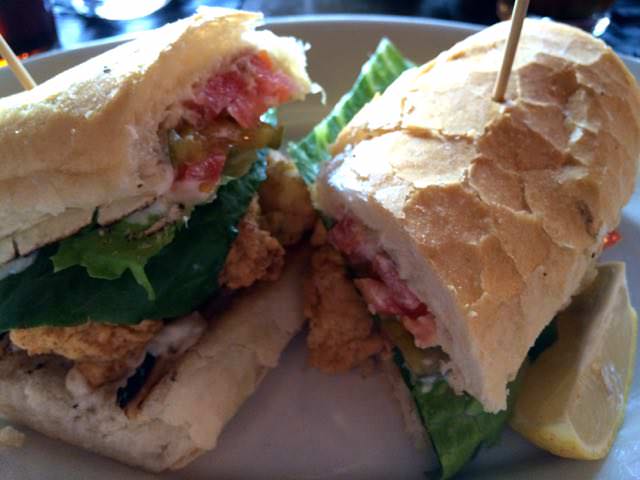 This was another food-fail on my part. After being turned away at Commander's Palace for not having a booking, hunger took over and I ended up in a random bistro. Determined not to skip a New Orleans' classic, I ordered a po' boy sandwich (shrimp), because surely it's not possible to get a bad one in the city?
It turned out to be true – I didn't get a bad po' boy, but it was a pretty average one. If I were to do it again, I'd choose one of the places on this list from Serious Eats. Guy's was especially recommended to me. If you try any of them, let me know.
Sunday Brunch at The Ruby Slipper Café
If you're anything like me, your Saturday evening will have ended up on Frenchmen Street…which paves the way nicely for another of New Orleans' best food traditions: having Sunday Brunch the morning after the night before.
The queues outside The Ruby Slipper Café had already put me onto the scent that this might be a good brunch place and after a bit of research, my suspicion was confirmed – this relaxed diner-style place was, indeed, award winning.
One of the things that cemented my decision to try this café was the description they have about their name:
"The Ruby Slipper Café was inspired by an incredible sense of homecoming when we returned to New Orleans after Katrina. To be back with family and friends again in the city we love, well, Dorothy said it best: There's no place like home. We feel that gratitude every day for our own home."
Turning up around 11am, I expected a wait and I got one. What I didn't expect was the harassed maître d' to be so curt to the point of actually suggesting I go eat elsewhere (even when I made no protest at the wait). Undeterred, I pressed to be added to the list and received something just short of an eye-roll when I gave her my not too easy to spell surname. Still, I persisted and after a fair wait, I sat down.
Although the waiter inside was much more cheerful, he clearly had a lot on his plate…which meant it took a good while to get something on my plate. However, the wait was worthwhile.
The food in itself cannot be faulted for flavour, portion size (if you're feeding a hangover) and price. However, it was another of those dishes that came to me just that bit too cold.
Over ravenous, I wasn't prepared to part with my poached eggs, corned beef hash and biscuits on the hope that it would come out hotter, 20 minutes later, so I tucked in. In fairness, when I mentioned the cold plate, the waiter instantly offered to fix things. What didn't help was the front door being permanently open – not ideal in October.
All of that said, the breakfast biscuit was divine and the hollandaise equally delicious. The coffee was hot and plentiful and the atmosphere was the perfect buzz. Would I go back? Definitely – because if the food was that tasty when cold, I can't imagine how good it could if it were served hot.
A Great Alternative? The Sunday Brunch I really wanted to go to was the House of Blues Gospel Brunch – a combination of brunch and, as you can probably guess, Gospel music. Unfortunately, I visited around Halloween and all the tickets were booked. Get your space secured early if you want to go…and let me know how it is.
More info: The Ruby Slipper Cafe
Red Beans and Rice at Joey K's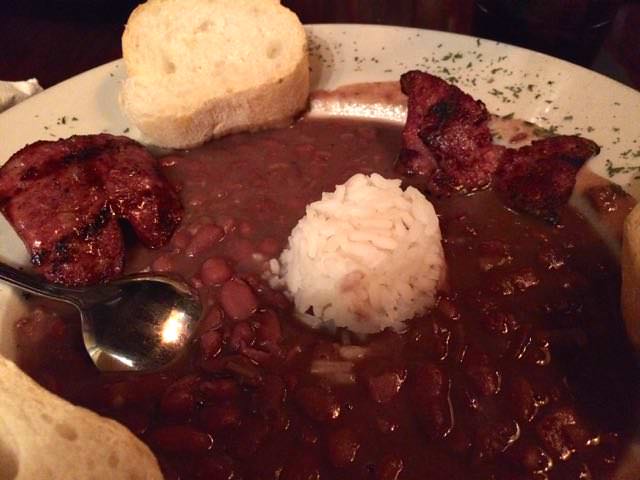 Monday is officially red beans rice and rice day in New Orleans. It's a local tradition that goes back to the time when Monday was wash day. To manage both laundry chores and preparation of that night's meal, housewives would put on a pan of low-maintenance beans that would practically cook themselves. Sounds dull? It's absolutely not. The beans were cooked along with the ham bone from the previous day's Sunday dinner before being served up with rice. These days, pork or a chop is usually served on the side.
As for where to eat red beans and rice, I'd like to say that I found THE perfect place to eat this iconic dish but the truth is that I didn't. The place I tried was a small corner spot that showed promise but served up a gelatinous dish that bordered on cold (whats with the cool food NOLA?). It was adequate enough that I chomped it all down…but was it good enough to recommend? No.
Where did I go wrong? I completely forgot about the red beans and rice tradition until Monday evening. Hunger had already struck and it was close to 9pm when I ate so I jumped into the first place I saw that was promoting the traditional dish. If I were to do it again, I'd pick one of the places from this list of the best places to eat red rice and beans in New Orleans. I'd probably opt for Joey K's since it features on most of the best red beans and rice lists.
If you've eaten at any good red beans and rice places, let me know.
Jazz Dinner Cruise on Steamboat Natchez
The one activity I was 120% committed to in New Orleans was an amble down the muddy-brown, wonderfully majestic Mississippi River. And being able to combine food with the experience seemed like the perfect option. So, I booked onto an evening Dinner and Jazz Cruise aboard Steamboat Natchez.
I took the second sitting for dinner, at 7:45pm, which allowed time to board and listen to some jazz before dining. The resident band (and Grammy Nominees), Dukes of Dixieland, were both excellent and entertaining. Meanwhile, the dinner wasn't bad considering it was a buffet (one of my least favourite modes of dining…probably because I'm prone to laziness).
The beef was beautifully cooked and tender, the bread pudding was sweet and stodgy, as it should be, and the waitress was so good I did something very un-British: tipped more than 20%. A few items were served a bit cooler than I'd like, but that could have been a combination of good air conditioning and me taking pictures.
What to drink in New Orleans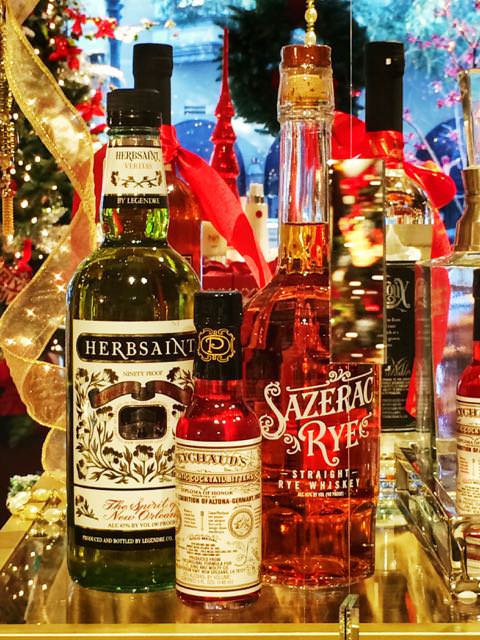 The hurricane
The hurricane is a popular fix in New Orleans and I tried one…ok, two. And a huge headache resulted. It used to be a complex blend of rum and fruit juice. These days it basically comprises a tonne of rum mixed with a powdery package of luminous chemicals. I knew I was due a stack of pain killers the next day as soon as I saw the drink being mixed. My advice: steer clear. But you're grown-ups able to make your own decisions, right. (* Whispers * steer clear!)
Side note: the hurricane cocktail was in existence long before Katrina blew through town, so don't worry that you're being insensitive by ordering one up.
The hand grenade
Vodka, rum, gin and melon liquor form the basis of this unique New Orleans cocktail and I have to confess I wasn't brave enough to try one. In large part that's because I had a mishap with too much melon liqueur in my 20s and have since sworn off green drinks (handy when someone tries to make me drink kale). Is it as bad as I imagine or did I miss out?
The Sazerac
More than a classic New Orleans drink, the Sazerac is reputed to be the first drink invented in the USA! Still, you need to be of a particular palette to enjoy it. A blend of Sazerac dry whisky, herbal tasting Herbsaint and bitters, this cocktail is a dry and dark drink that isn't to everyone's (or my) taste. That said, I'd say this one is definitely worth a try – you may surprise yourself.
Where to drink in New Orleans
Pat O'Briens – For a hurricane cocktail on Bourbon Street or to see 500 beer steins hanging from the ceiling.
Tropical Isle – Home of the hand grenade cocktail – you're braver than I am if you try one.
Bar Tonique – You absolutely have to try the bacon bloody mary (just get there before 5 p.m. because they sell out). There is a nice happy hour if you do get there after five.
Bar Peters at Lowes Hotel) – This bar was recommended to me by my friend's father and it was a good choice. It's a nice bar and, as he pointed out, the drinks are no more expensive than you'll find in most other places. Ideally located opposite Mother's it's a good place to start a night out.
Sazerac Bar at the Roosevelt Hotel I did wander into the Sazerac Bar after I'd dined at Domenica but I promptly left. Despite surviving for 10 years as a woman in a man's (legal) world, there was way too much testosterone in that oak panelled bar for my liking. But if that's your jazz, have a drink and let me know if I was too quick to judge.
And that concludes my week of eating and drinking in the Big Easy. Have you been to New Orleans? Any other restaurants, bars or sights to recommend?
On my list for next time… I missed Blue Crab – I really wanted to try their fried oysters. What else should I put on my list for next time?
Don't forget to check out my list of the 21 best things to do in New Orleans.
If you're looking for more information for planning your trip in New Orleans, you can download the FREE official visitor's guidebook here.
Related Articles