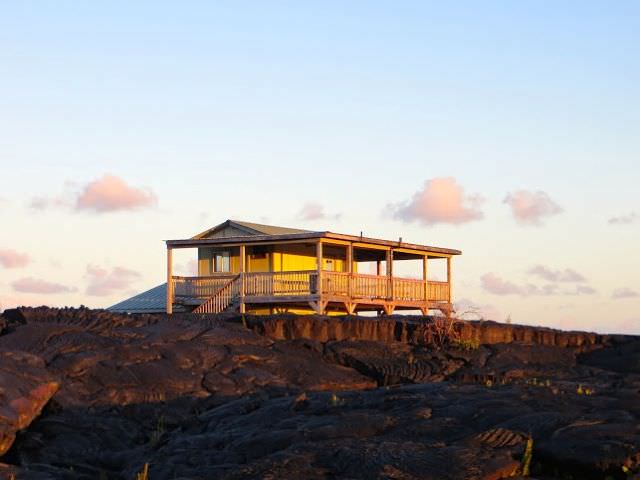 I get asked on a regular basis where is the best place I've visited. It's a hard question to answer because over the years I've fallen in love with so many destinations and all for different reasons. However, someone asked me a slightly different version of this travel question the other day: where is the weirdest place I've been.
It got me thinking.  After visiting over 50 countries around the world, there wasn't just one location that I'd nominate as the weirdest, I have a pretty long shortlist. So, here it is.  In no particular order, here's the 10 weirdest places I've been.
1. The Bird Hospital, Delhi, India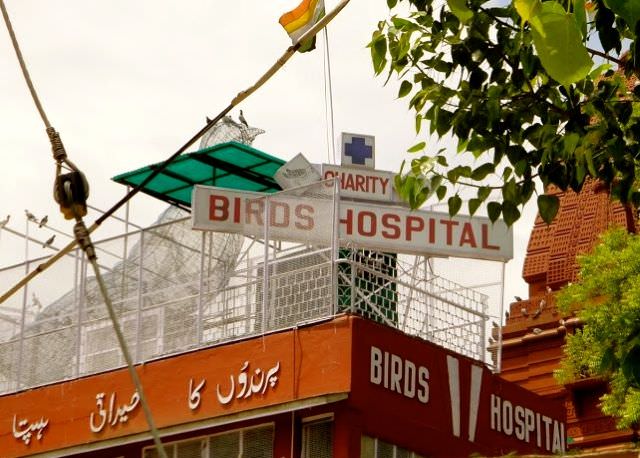 Bird Hospital Charity in India
A travel friend I met in China put me on the trail of this, er,…quirky place. Attached to the Digambara Jain Temple in Delhi, the Bird Hospital is a serious venture. In keeping with the Jainism belief that all life is sacred, including the lives of our feathered friends, shelter and care is given to sick birds. Without wanting to stray insensitively into the territory of religion, I felt sad walking around the hospital seeing birds stuck in cages, wings set in slings and bandages, the aroma or bird "waste" filling the air. There is no doubt the intention behind the hospital is good. As for whether the place is achieving its goal, I'm not so sure.
2. Women's Prison (for a Massage), Chiang Mai, Thailand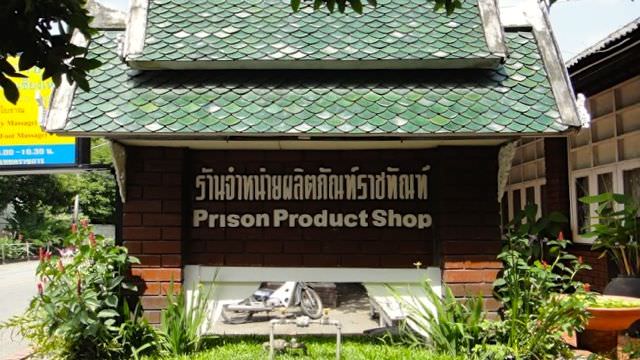 I've had many massages on my travels (one of the largest upsides of leaving behind cubicle life) and there have been some pretty interesting experiences. From the woman in Africa who spent an hour rubbing my big toe while she sat texting her friends to the Vietnamese woman who used rigging gear on the ceiling to support her as she jumped around on my back to the sleazy place in Shanghai where a male masseuse offered me a happy ending (true story and, for the record, I not so politely declined!). However, the weirdest of them all was the time I took a trip to the women's prison in Chiang Mai for a massage. The project is set up by the prison as part of the rehabilitating process to help soon to be released prisoners ease back into society. Working as a masseuse, the prisoners gain a good skill as well as earning a small income. Despite spending the entire hour wondering what my masseuse was in prison for, it was one of the best massages I've ever had.
3. Salar de Uyuni – The Salt Flats, Bolivia
The salt flats were hard to believe.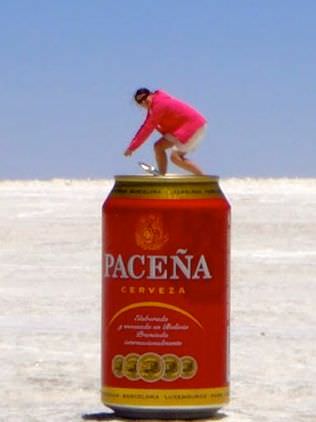 That's me standing on a can of beer.
I knew the Bolivian salt flats were going to be weird long before I visited – it was kind of why I wanted to go, and I'm pleased to say I wasn't disappointed. Three days of exploration by jeep took me past lagoons in green and red, staggering numbers of flamingos, salt houses, forests of cacti, crazy rock formations, steaming geysers, thermal pools, a train graveyard and all of this at crazy altitude. But the weirdest thing of all? The complete lack of perspective thanks to the endless span of salt. The result: photos like the one above of me opening a beer can while stood on top of it.
4. Tierra Santa – Religious Theme Park, Buenos Aires, Argentina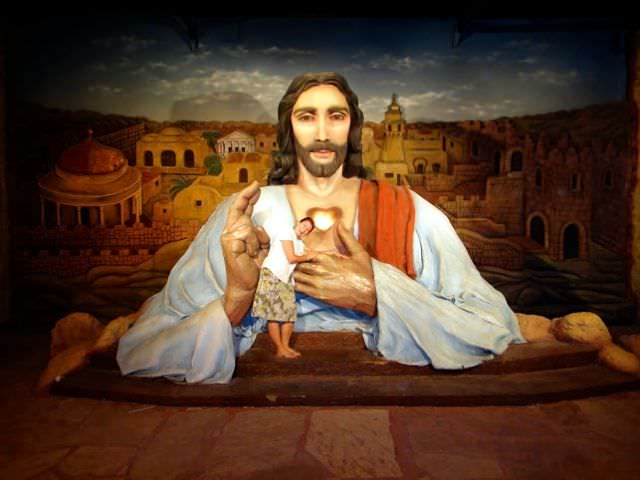 I may have tried to delicately dance around the topic of religion in relation to the bird hospital, but there's simply no way to avoid the subject with this one.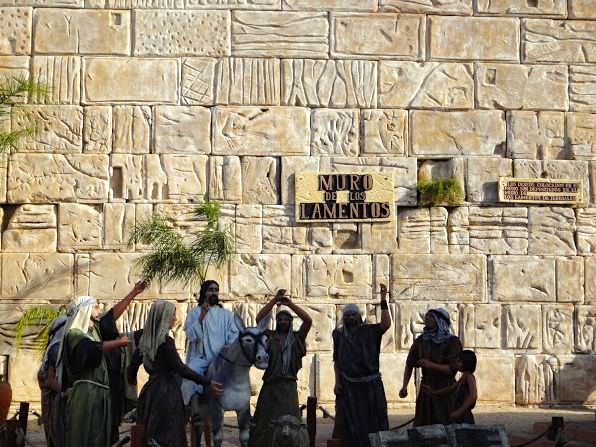 Yes, in Buenos Aires there exists a Religious "Theme Park", Tierra Santa. Yes, I visited. Yes, it was out-of-this-world-weird. And, yes, I had an amazing day.
Think an animatronic re-creation of The Creation, a mountain-sized Jesus rising out of a mountain, a replica of the Wailing Wall and groups of nuns hanging out, taking it all in. As a non-religious person, I found this place fascinating but kinda weird. Most of the other visitors were treating the experience with a fair deal of seriousness, so be warned – this is no Disney Land.
5. Green Sands Beach, Big Island, Hawaii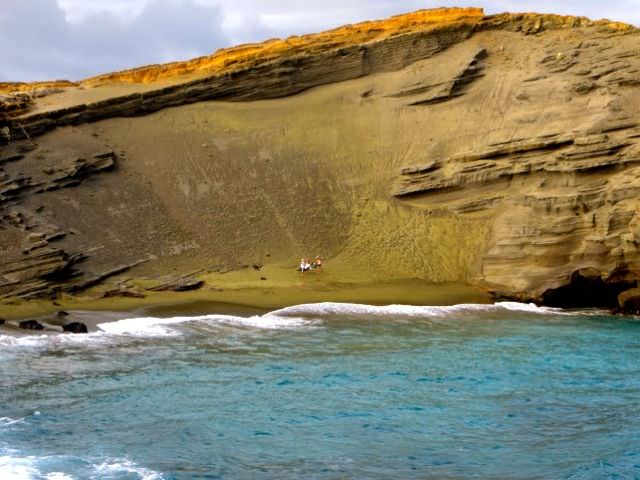 Golden sands, white sands, brown sands (England) and even black sands have all squished under-foot during my travels, but never have I come across something so weird, wonderful and rare as the green sand beach (Papakōlea Beach) on Big Island, Hawaii.
The adventure to get there involves a coastal hike for around 45 minutes getting whipped and wind burned by the ferocious gales at south point. And, when you think you've reached your destination, you realise there is a pretty hard-core non-existent rock climb to get onto the sand. I could see people on the beach, so knew it could be done, but without an obvious path down (just an intimidating and steep rock face), it took some deep breaths to brave the journey.
Finally conquering my fears, I landed on the tiny beach, where the sand was the colour of olives. Shimmery and comprised of rare olivine crystals, I was mesmerised. When I visited the beach I was under the impression there were only two in the world (the other one being in the Galapagos), but someone has since advised me that there is also a green sand beach in Norway. Still, they are pretty rare.
6. A Bar With Pay-Per-View adult content, Bocas del Toro, Panama
Visiting bars is a common activity on my travels (hey, I don't travel with a TV so have to fill my evenings somehow). The result is that one bar can often seem to blend into another in my memories. But then there are those that really stand out – like the bar in Bocas del Toro in Panama.
This small island is one in an archipelago off the coast of Panama and has a rather hedonistic vibe. Backpackers and locals tend to blend well together, and usually in the salsa bars at night after long days at the beach, enjoying the surf. Setting out to find somewhere to salsa with a few travel friends, we followed the music to a very local bar. At first we were excited that we were the only non-locals but as I took the first sip of my beer, I stared at a guy who was mesmerised with a TV screen on the wall. Stepping closer, I realised the box, which I had assumed was a juke box, was streaming pornography straight into his dilated pupils. Right in plain view. We drank our beers quickly and left.
7. The Dead Sea, Israel
Another of those places I expected to be weird before I got there is the Dead Sea. Complete buoyancy in water is a phenomenal concept and one that is stranger in reality than it sounds. I've seen plenty of people reclining, broadsheet newspaper in hands as they soaked in the dead sea.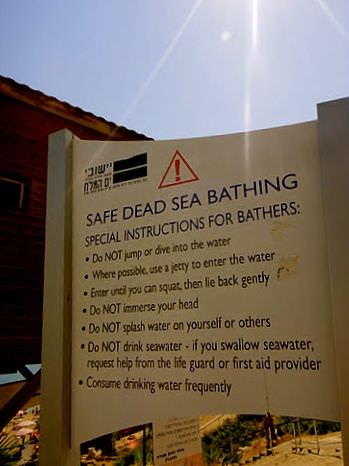 And I'm sure it's possible. But what most of these descriptions don't tell you about this ever contracting stretch of sea is that the process of getting into and out of such salty water is both riddled with danger and a recipe for embarrassment. Not only is the bottom of the Dead Sea a mass of mud and sharp rocks – a woman with blood spurting from her leg is the first thing I saw as I approached – trying to get out of the water is near impossible. Unable to put your feet down due to the buoyancy, you have to use a combination of shallow swimming, walking with your hands on the bottom of the sea and ultimately flipping, like a beached whale onto the shore. Still, this weird wonder is definitely one to visit. Just don't go in if you have any nicks or scratches (ouch!).
8. Clink Hostel, London, England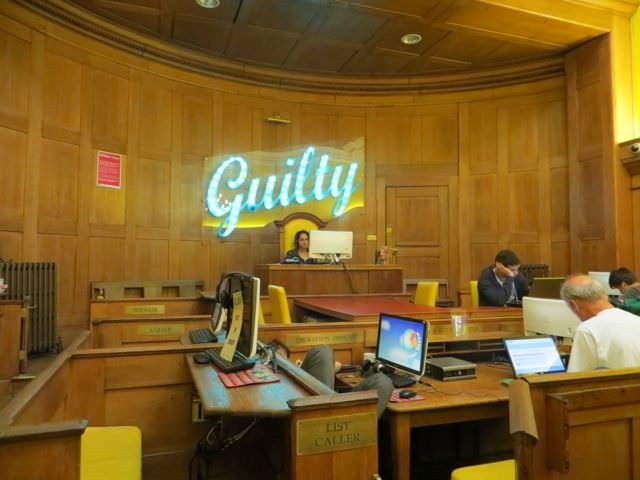 My ex-room mate from university has an irrational fear of being locked up for a crime she didn't commit (she read too many crime dramas while we were studying law together). So, when we planned a night out in London, I booked us into a cell room at the Clink78 Hostel (yes, I have a dark sense of humour).
The hostel building used to be a Magistrates' Court and still has the dock and holding cells intact. Sleeping in a cell, with bunk beds, no handle on the inside (you put your faith in a "release door" button), a grill in the door, and a prison standard toilet in the corner of the small space (thankfully covered over in perspex), it was definitely one of the weirdest places I've ever slept. I won't say I didn't sigh with relief when I left the next day.
9. Evita "Eurovision" Bar, Tel Aviv, Israel
"This is for you, Great Britain, 1982", the performer said as he took centre stage, looked into my eyes and lip-synced with perfection every word of Britain's Eurovision Song Contest entry for 1982. Sadly, it wasn't Bucks Fizz – 1981 and the only entry I know, and I willed the unknown song to end as I tried to pretend to sing along to my country's entry. Evita is a charming bar in Tel Aviv that once a week rehashes decades worth of the Eurovision Song Contest through a cabaret of characters who possess varying miming skills using everything from hair brushes to mobile phones in place of mics. Some of the best fun you can have in Tel Aviv by far!
10. Haleakala National Park, Maui, Hawaii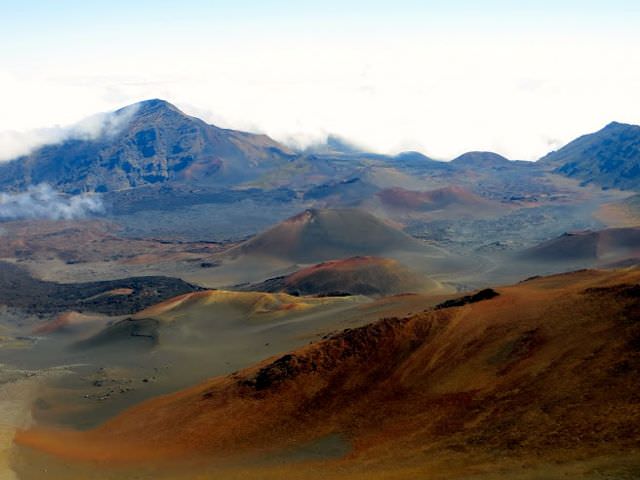 There is a reason the location spotter picked Haleakala National Park in Maui, Hawaii as the place to shoot the Mars scene in the famous Arnold Schwarzenegger movie, Total Recall. I've never seen such a broad range of landscapes in one spot from arid desert, towering volcano sides, broad swathes of greenery and…of course…silver plants. My photos didn't and couldn't do the sights justice. It took 9 hours to hike into and back out of the dormant crater (I feel intense pity for the poor guide who does that hike every week).
As if that wasn't enough, hit the summit at dusk and you'll get to watch the sun set above the earth's clouds. Weird and wonderful in the same breath.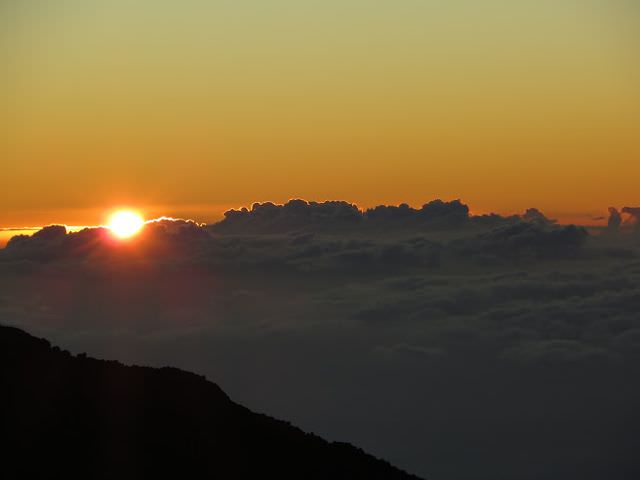 A final note about the first picture at the top of the article, which I think merits a mention – I took this while I was searching for lava on Big Island, a place where the earth is still literally being born, with new lava spewing from the core and creating fresh land each year. This house has taken up a not so prime spot on freshly created earth. Given that the crust takes a very long time to harden to a level of complete safety, I'm not sure I'd be that brave.
So, they are my contenders for the weirdest places on earth. What about you – where's the weirdest place you've ever been?
Related:
101 Travel Themed Things To Do When You're Bored At Home
10 Travel Experiences Everyone Should have in their Lifetime
My 50 Biggest Culture Shock Experiences