Sitting just 20 miles (32 kilometres) south of San Diego, it's hard to believe that a few steps can alter your surroundings so dramatically. Yet, step over the border from the USA into Mexico and turn your ear to the air: the car horns have stopped, tacos sizzle on road side carts and Spanish floats by on the breeze.
"Bienvenido a Mexico!" you'll hear from the locals and they mean every word – welcome to Mexico!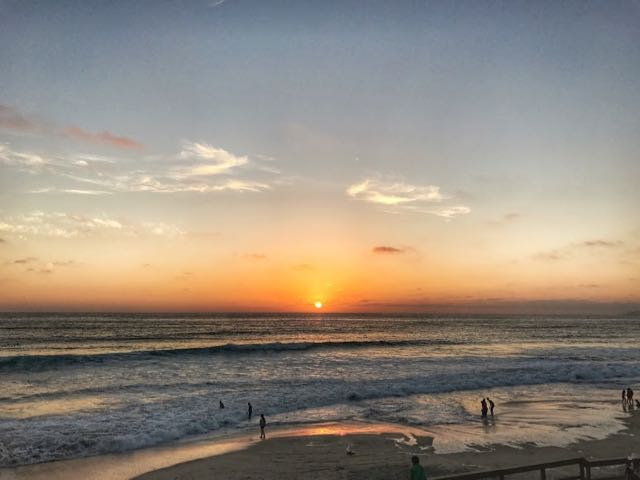 Around 35 million people visit San Diego annually but less than a third of those tourists take the short trip from San Diego to Tijuana. For many they are concerned about safety. For some, they feel like San Diego is enough. For others, it feels complicated to tackle the Tijuana Mexico border crossing.
For me: I can't think of a better way to spend a few days. And in this guide I hope to convince you of the same, offering details of how to get from San Diego to Mexico's fun city of Tijuana (it's really very easy).
And if you're looking for what to do in Tijuana, check out my post about 20 Fun Things To Do In Tijuana.
How far is Tijuana from San Diego
Tijuana is just 20 miles (32 kilometres) from San Diego and it takes about 45 minutes to get from Fifth Avenue in downtown San Diego to the San Ysidro border crossing. BTW, San Ysidro is the name of the area just north of the San Diego Tijuana border, on the US side hence the name: San Ysidro border.
How to take the San Diego Trolley to San Ysidro from Gaslamp Quarter
The easiest way to get from to Tijuana is via the San Diego Trolley, a tram that runs from downtown San Diego all the way to the San Ysidro border.
You need to take the UC San Diego Blue Line, which starts at the American Plaza Transit Centre, near Fifth Avenue in San Diego's Gaslamp District, a popular tourist area.
The blue line will take you directly to San Ysidro from Gaslamp and says Tijuana on the front. If you want to connect to the tram from another part of San Diego or from another line, you can find the trolley map here.
The trolley costs $2.50 and tickets can be bought from one of the trolley ticket machines using cash or credit card. The trolley is part of the San Diego MTS.
The trolley takes around 45 minutes.
How to take the San Diego Trolley to San Ysidro from San Diego Airport
To get to the border from San Diego International Airport by public transport, take the MTS airport bus (number 992), which will take you directly to Broadway and Kettner. From there you simply cross the street to the American Plaza Transit Centre and catch the blue line trolley.
The airport bus costs $2.25 and you must have the exact change or you won't be able to ride.
Should you do the Tijuana border crossing by car?
If you're just crossing from San Diego to Tijuana, I would advise that you travel by foot because it is so easy.
If you do have a rental car or your own car with you, there are reasonably priced car parks near the border on the US side, where I've left a car before and it was completely fine upon my return.
If you do plan to take a car from the US to Mexico – which might be helpful if you're heading down Baja California's route 1 – make sure it's covered for insurance and also that taking it across the border is within the terms of any rental agreement (quite often it's not). Alternatively, opt to hire your car in Tijuana. I did this on my last trip and the rates were much cheaper.
I booked with Rentalcars.com, which is a car rental comparison site and makes life a lot easier than checking prices on individual sites. You can find out more about taking a car to Mexico here.
And if you want an insight into life at the border, you can read more in this fascinating post about the vendors working the bordert.
How to cross the Tijuana border into Mexico by walking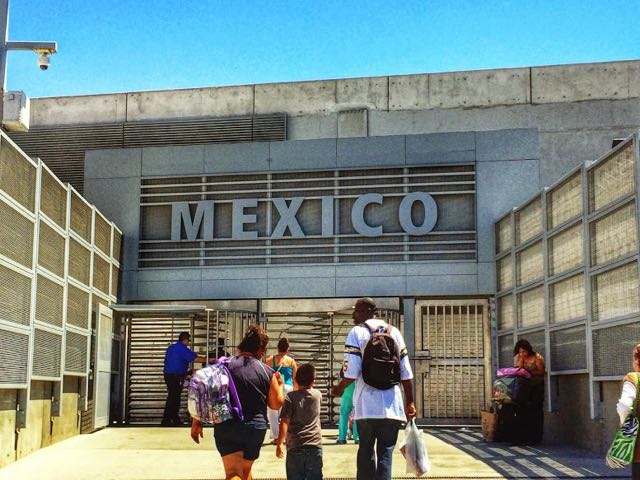 Crossing the border into Mexico couldn't be simpler. Follow the signs, go through the turnstile and you're in. You generally will not have to queue to cross the border to go to Tijuana. However, you'll notice a dramatically different experience coming back into the US if you use the same border crossing. But more on that below.
Do you need a passport to go to Tijuana (Mexico entry, visas and fees)?
The official position is that all visitors to Mexico require an FMM Tourist Card which can be obtained online or, in theory, at the border.
In order to obtain an FMM Tourist Card, you need a passport.
So, that's the official position. In reality, I have never been asked to show a passport or fill in an FMM form when passing from San Ysidro to Tijuana.
This unofficial position can be both great and greatly unhelpful. If you want to chance your arm and cross the border without a passport, you've probably got a fair chance of success (though I'm making no promises) and you will require the necessary identification to return to the US. If you're not from the US or Canada, this will be a passport in any case.
Where the unofficial position becomes unhelpful is when you actually need an FMM because you're exiting Mexico from a border with more controls than in Tijuana or from an airport.
The first time I entered via Tijuana, not having a stamp in my passport made no difference because I crossed back into the US a few days later by the same route. This time, however, my lack of stamp was a problem because I left from the airport in Mexico City. Cue: 500 pesos, a strict talking to and a whole heap of bother finding an immigration office where I could fix the issue.
As for paying a fee, a few years ago an entry fee was implemented for tourists entering Mexico at the Tijuana border. At the time of writing, that fee is 500 pesos per person and is payable if you're staying for more than seven days. However, as mentioned above, finding an official to pay the money to at the border is another matter. I ended up paying the fee at Mexico City airport.
You can find full, helpful and up-to-date details about crossing the border on this website. In my guide to La Paz in Baja Sur, I have more details on Mexican visas and the FMM card.
How to get from the Tijuana border into downtown Tijuana
The first time I crossed into Tijuana by land, I managed to make my way to downtown no problem. This time, I didn't find it so straightforward.
If you have data in Mexico, get on Google Maps. Otherwise, download maps.me app and follow the directions from this off-line map service (just make sure you have downloaded the Baja California portion of the map while you are online). Alternatively, ask someone. Most of the locals near the border speak English if you don't have great/any Spanish and although the taxi drivers will try to sell you a fare, they will still help you with directions if you refuse a ride.
Otherwise, check out my Google Maps below where I have marked the border and the main tourist avenue – Avenida Revolucion. It a several minute walk between the two.
Tijuana border crossing times
The San Ysidro border is a 24/7 operation. However, as I would advise in any country, it's best not to hang out around the border, drunk in the middle of the night because that's just asking for trouble.
What is the time difference between Tijuana and San Diego?
There is no time difference between Tijuana and San Diego.
How to travel from Tijuana to San Diego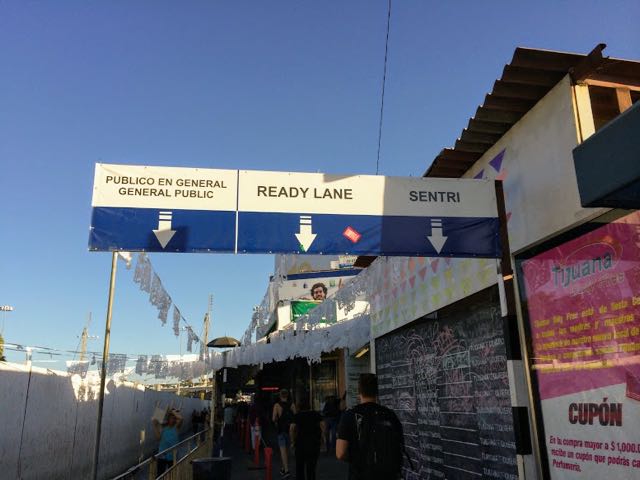 Let's start with this fact: the Tijuana San Ysidro border crossing is the busiest in the world with around 50 million people crossing a year. Many of those people are Mexican commuters heading into the USA for work. So, it's understandable that crossing back from Mexico into the US, coupled with America's painful security checks and general paranoia about Mexico, promises a long wait.
There are a few fast lanes you can try if you have the right documents and passes (which you may have as US or Canadian citizen) but for the rest of us, it's likely you're just going to have to stand in line, which can take hours. And that is no exaggeration – it can literally take hours
You can find out more about the fast lanes here. The most important thing is to make sure you don't get into one of the fast lanes when you don't have the right documents. I know this from experience because I was incorrectly advised that the RFID in my passport would work when, in fact, it didn't. This resulted in me having to go to the back of the line and queue a second time. Total waiting time: 4 hours.
You can get an estimate of border wait times from this website.
Should you fly into Tijuana airport?
Tijuana airport is located about 20 minutes by car from Avenida Revolucion. It's a great option if you are arriving from elsewhere in the US or overseas. However, due to the proximity of San Diego to Tijuana, it makes little sense to fly between the two cities.
Should you take a day trip to Tijuana or stay overnight?
Apart from all of the wonderful things to do in Tijuana, the return border crossing back into the US alone makes a day trip less of an attractive prospect. If you've already gone to the effort of arriving in Tijuana and particularly if you're looking to experience the nightlife, I'd highly recommend spending at least one night in the city.
Considering a Baja California Road trip? Here are my related guides:
Where to stay in Tijuana
If you do decide to stay overnight in Tijuana, here's a quick list of hotels in Tijuana. I've got more details about each place and tips for choosing a good and safe hotel in Tijuana over on my post about the best fun things to do in Tijuana here.
Aqua Rio Hotel – A budget hotel in a good location with very friendly management.
Tijuana Marriott – if you want somewhere more upmarket, there is a Marriott near the business district.
Hotel Ticuan – a good mid-range option in a good location in Zona Centro, this hotel is popular.
Is Tijuana safe for tourists?
I've written a detailed post about whether Mexico is safe and in there I cover the topic is Tijuana safe for tourists.
But let's touch on the subject here, too.
Search online for safety in Tijuana and it will take you less than three minutes to decide to cancel your trip. Why? In my view it's a combination of two things: sure, there has been some drug-related trouble in Tijuana and, courtesy of the number of drunk tourists, there will be some opportunist crimes too. But that's only half of the reason behind the bad press – there seems to be nothing the US media sites love more than sensationalising every single unsavoury instance that happens in Mexico. Speak to anyone in the USA and they will have some anecdote about how unsafe Mexico and Tijuana is.
However, before you cancel your trip, do your research. Check the official travel advisory websites and do this for more than one country. America's official view of Mexico is, sadly unsurprisingly, more fear inducing than the official view you'll read from somewhere like the UK.
Next, check the local news in Mexico. And then check the local news in your home country. I bet you'll find violent deaths have been reported for both places. Yes, crime has increased in recent years in Mexico and in Baja California but, personally, at the time of writing, I would still feel comfortable travelling there.
You might also like: Is Mexico Safe? The Main Risks & How To Avoid Them
Tijuana tours from San Diego
If you're still unsure about the San Diego to Tijuana Border crossing, consider taking a tour from San Diego where you'll be in a group with a guide that takes you across the border:
San Diego is more than just a jumping off point for Mexico. It's a popular tourist destination that many people choose to call home. If you are planning a move to San Diego, Move Central's San Diego Movers can help the process run smoothly.
And if you're looking for things to do in California, check out my posts: Things to Do in San Diego | 19 Best Things To Do In Downtown LA
So, that's my guide to visiting Tijuana from San Diego. If you have any questions or more suggestions, let me know in the comments below.
My other Mexico Blog Posts
Save it on Pinterest