My visa for the Philippines expires in two days so I was determined to take a trip to the north of Luzon and the Cordillera mountains to visit the Batad rice terraces. The terraces are dubbed the 'eighth wonder of the world' and although I have come across many self-proclaimed 'eighth wonders' on my travels, I'd say that the stunning emerald-green rice terraces could well take the title.
If you find yourself in the Philippines, this journey is definitely worth the effort (and it can feel like an effort with a minimum 18-hour round trip on broken roads from Manila). Here's my guide to visiting the Batad rice terraces.
Getting to the Batad rice terraces from Manila
There are several ways to reach the rice terraces from Manila by connecting buses in various towns on the way, but the most direct and time-efficient method is to take the night bus from Manila to Banaue.
There are two buses that leave per day run by a company called Ohayami – one at 9 p.m. and another at 10 p.m. and costs 450 pesos one way (around $10).
The slight hitch is that tickets can't be booked online (unless you pay Western Union) or by phone as preference is given to walk-in customers. This leaves you with two options – turn up an hour or so before your bus and cross your fingers there will be a ticket (with only two direct buses a day, they are very popular with tourists and locals – the website recommends you buy at 6 p.m.). Otherwise, you could go to the bus station and buy your ticket in person the day before. The downside to this is that the bus terminal is around an hour from the city in traffic and costs around 170 pesos by taxi each way (taking a white cab and insisting on the meter as a fixed fare will never be in your favour).
What I did: called the bus station at 7 p.m. to see if they had tickets available (they did, but not many). I then took a taxi straight away and managed to get one of the last seats. As a backup, I would have bought a ticket for the 10 p.m. bus or the next day.
When you arrive in Banaue, it is a good idea to book your seat back if you intend to make the return trip via the same route.
On the bus, don't forget to pack several sweaters as the air-conditioning is like British winter. Also, pop some anti-sickness pills if you suffer from motion sickness as a fair part of the journey travels on s-bends.
Banaue or Batad?
Not only because both names start with B, I had a mental block with the difference between the two towns and what they offer, so here is what I've discovered:
Banaue is a relatively busy town (a couple of streets and a market) that also has a (tiny) long-distance bus terminal.
Largely because of the bus terminal, but also its location and access to guesthouses, most people stay in Banaue, at least initially.
Around an hour away by motorbike (tricycle or jeepney may take a little longer) and deep into the valley, lies Batad.
Batad is the picture pin-up town for the rice terraces. However, both towns have stunning terraces to see.
Batad also has plenty of guesthouses but they are more remote from each other and more rudimentary (basic beds, cold water showers and no internet/mobile connection).
Getting from Banaue to Batad
Whether you choose to visit Batad by day trip or stay there, here are some tips for getting to Batad from Banaue.
There are three points of importance on this journey – the junction, the Saddle and the village.
Most tricycles will only take you to the junction. From there, it is a shattering 45-minute uphill walk to the Saddle. From Banaue to Batad expect to pay 700 pesos to the junction.
Motorbikes will take you to either the junction or the Saddle but expect to pay 700 to the junction and a further 200 (900 total) to the Saddle. If you're doing a day's hike/trip around Batad, I would suggest paying the extra 200 and going by motorbike, saving your energy to hike where there are nicer things to see (the walk from the junction to the Saddle is just road).
There is a public jeepney that leaves once a day at 3.30 p.m. from Banaue to Batad, that will also take you to the Saddle, but it only leaves when full.
When choosing your transport, be sure to ask about the Banaue-Batad road – major construction is going on and diggers regularly block the road, sometimes for an hour or more. Motorbikes are better able to squeeze through, tricycles less so and jeepneys usually find it impossible. We had to wait for about 30 minutes to pass by motorbike.
Unlike Banaue, the only way to visit Batad is by foot. From the Saddle there is a fairly challenging 45-minutes downhill hike covering many steps and rocky paths. If you start your walk from the junction, double that journey.
Consequently, if you plan to stay in Batad, my advice is to take no more than your essentials and definitely no more than 10kg in your bag. You may handle the journey on the way down, but the return journey is going to be long and painful if you are packing a full rucksack. And don't forget there is some altitude to add to the challenge (around 1,500 above sea).
Where to stay in Banaue
The town has a good handful of guesthouses, almost none of which can be booked online, so it is mainly a case of turn up and see. I don't believe there are any hostels in the town of Banaue. I can't comment on Batad as I didn't stay there.
Still sleepy from the night bus, you are almost immediately set upon by tricycle drivers willing to take you to see the guesthouses (in the hope of converting your custom into a tour during your stay). Be clear with them what you are looking for – cheapest room, nicest view of the terraces etc.
I looked at two places: Greenview Lodge and Banaue Homestay. I opted for the former, but wish in hindsight I had sprung the extra pesos for the latter.
Price was the big differentiator – 250 pesos per night versus 800 (bargained down to 600 for low season). Yes, the price of Greenview was appealing and it is by far the most popular place in town amongst backpackers, so the closest you'll get to a hostel feel if you're looking to meet other travellers. And, for the price, the room wasn't half bad. However, when it comes to price, there is a difference between cheap & cheerful, and cheap & nasty, and I'm afraid I was left with an overall impression veering towards the latter.
A bit like booking a flight with Ryanair, everything at Greenview was extra, meaning that the 250 peso room wasn't quite as cheap as it might at first seem – hot shower 50 pesos, electricity outlet use 40 pesos for laptops, 20 for mobiles and cameras, towels and additional blankets were also extra. Add to that the absence of smiles from the owner (an unsmiling Filipino is a rarity) and I didn't feel entirely welcome during my stay. Although the guesthouse had beautiful views of the rice terraces, my room was a bit dungeonesque, not exactly spotless, the window opened onto a mouldy wall of the next building and my blanket wouldn't have smelt out of place in a fromagerie (I'm guessing it was last washed during a different decade). All in, for the sake of two nights, I wish I'd paid the extra to stay at Banaue Homestay and if there are two of you staying in the same room, it's a no-brainer (two people in one room at Greenview still pay 250 pesos each!).
What to see in Banaue
As it is also surrounded by rice terraces, there is plenty of sightseeing to be done from Banaue itself.
There are four main viewpoints at various locations along an uphill road. It is possible to walk the 3 km to the viewpoints but dazed, confused, hot and lazy after my night bus, I paid 200 pesos to have a tricycle take me up. It turned out to be a good option because it meant I had more time to see other things. For another 200 pesos I took the same tricycle to Hiwang village where I got to step into a traditional house.
Pleased with the guide who was both knowledgeable and, more importantly, honest with his pricing (no last-minute additions for undisclosed extras), I decided to hire him for a day trip to Batad.
What to see in Batad
The rice terraces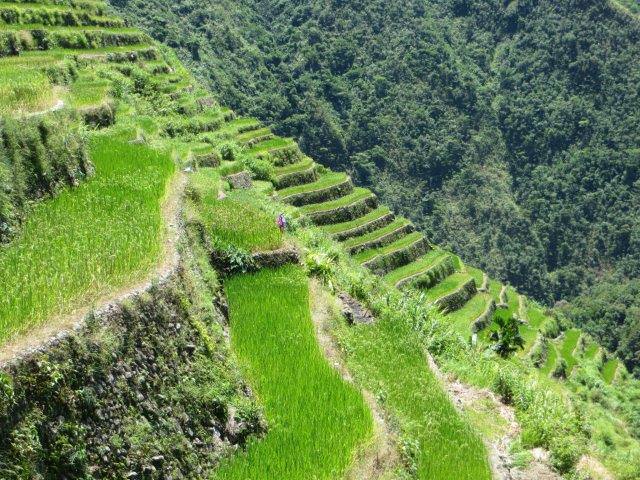 Of course, the main attraction in Batad is the rice terraces, and what an attraction they are. Unlike those in Banaue, the rice terraces here have stone sides that were dragged up from the river bed around 2,000 years ago. Impressive! It's not only possible to view the terraces from the Saddle, if you are good at plotting a route or have a guide, you can wander through the terraces themselves – be prepared for a lot of steps and watch your balance or you'll find yourself face down in paddy mud or, worse, toppling off the side of the terrace (they are several feet high!).
The waterfall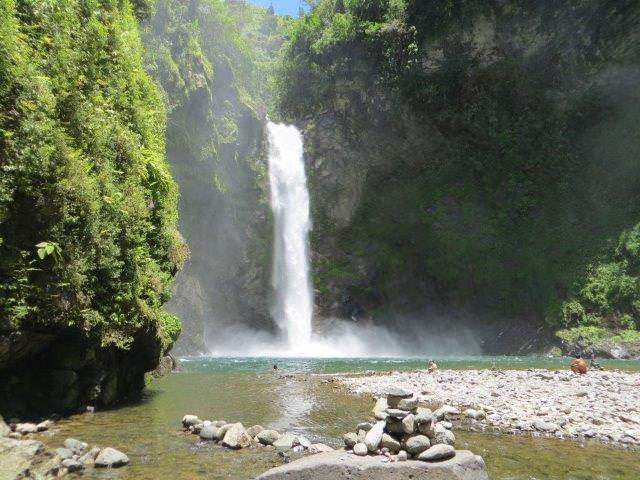 Hidden behind the folds of the Cordillera mountains and the rice terraces is a small taste of paradise – a 50 ft plummeting waterfall. There is a fair walk to get to it, especially after hiking down to Batad and up and down the rice terraces, but swimming in the pristine, fresh water felt like a re-birth that gave me the umph to get up and go (slowly) back up to the Saddle.
I didn't anticipate a waterfall so didn't have my bikini with me, but I dove in fully clothed, as did others. In fact, as well as freshening up, the wet clothes kept me cool on the hike back.
If you stay in Batad, you can no doubt experience more of the area over a longer period. However, if, like me, time is short, it is perfectly possible to see Batad in one day.
Starting at 7.30 a.m. I took a motorbike from Banaue to Batad (expect a sore backside thanks to the rocky roads), hiked from the Saddle into and through the rice terraces, across to the other side, up to the access point for the waterfall and down. Doing the same in reverse with a short stop for food, I was back in Banaue by 5.30 p.m. thoroughly exhausted and completely blown away by an amazing day.
Should you take a guide?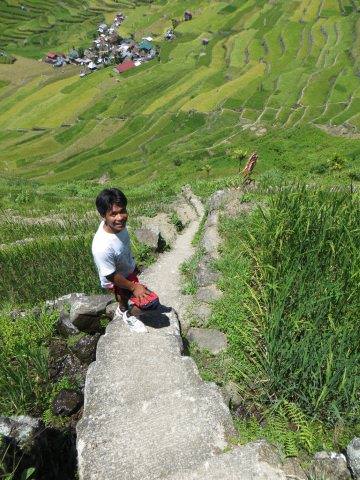 Ultimately, budget is likely to be a deciding factor for whether you take a guide or not because the price difference of taking transport only versus transport and a guide is quite large. Transport costs are above. For a guide (including transport by bike to the Saddle), the cost is 1,900 pesos. It sounds like a lot but I would highly recommend it because:
It's very easy to get lost. Although getting into Batad is fairly simple, cutting a path through the rice terraces is not and many lone wanderers get lost or, worse, trample on the terraces, obliterating months of hard work by the local people.

Finding the waterfall is even more difficult than plotting a route through the terraces – you can't see it from the Saddle or any of the vantage points from the terraces meaning you really need to know where it is.
You can tap into the guide's knowledge: I found out a lot about rice, planting, harvesting and general life in the villages. Over a long day, I also spoke to my guide about local and national matters such as education, politics, culture, wealth, poverty, corruption and travel in the Philippines. This is the stuff that you rarely find in guidebooks and made my day all the more fascinating.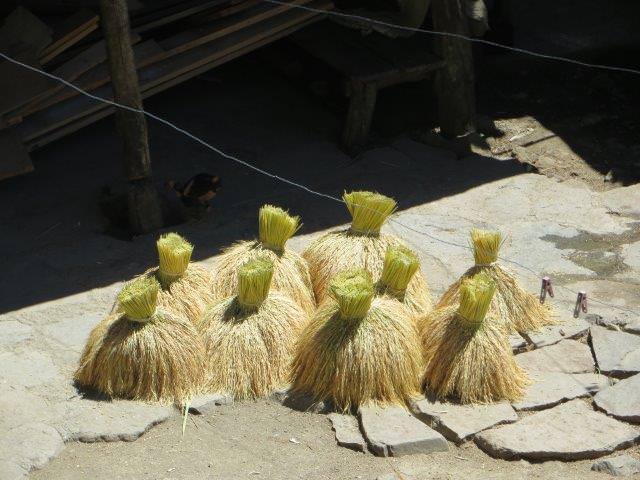 You can share with your guide details about life in your own country. As much as I gathered information about the way of life in the Philippines, I got to explain the highs and lows of life in the UK to someone who may never get the chance to experience my home country first-hand.

Your money goes to a local – it's ingrained in budget travellers to penny pinch and paid guiding can be one of the first things to get slashed from your travel budget, but where 100% of the profits go into the hands of the guide, you have an opportunity to make a slight, but a positive difference to a local family's life.
Free beer – my guide thoughtfully packed a beer for each of us to enjoy at the waterfall. Nice touch!
My guide was called Abner and I would highly recommend him. You can contact him on+639268645814 or via his website Ab's Banaue Tours, which includes a link to his Facebook page.
Where to eat and drink in Banaue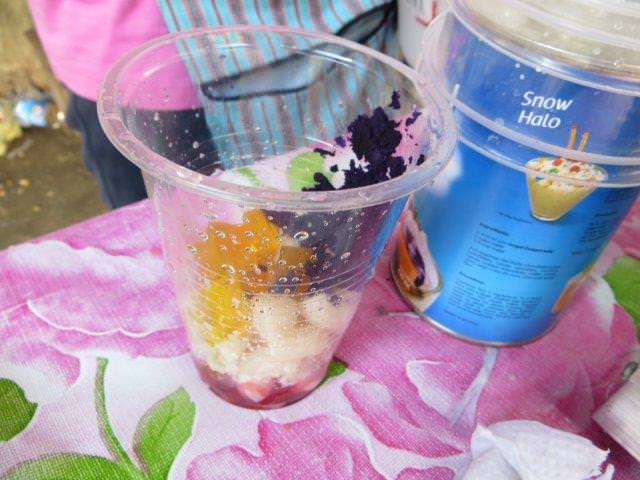 Greenview Lodge: edible but a little over-priced compared to other places (cheaper breakfast can be found elsewhere). However, not bad-priced brewed coffee (35 pesos).
People's Lodge and Restaurant: much friendlier staff than Greenview, which makes it harder to give a harsh review, but not only did they deliver the wrong order (it happens) the non-ordered chicken sandwich was sweeter than many desserts I've sampled.
Las Vegas: I'd say the best food in town, well priced, friendly staff and (for cat lovers) a cute mum and kitten combo that stalk the dining area. The mango shakes are especially good as is the curry rice.
Dreamer's Bakery: This is a very cute bakery. The coffee may be 3-in-1 instant, but the baked goods are fresh. Plus, I got a chance to meet the lovely rice terrace workers who, after a good chat, invited me back to their village to learn how to make rice wine. Sadly, the process takes 5 days and I didn't have enough time…but maybe one day.
Street Stall Halo Halo: perhaps the weirdest thing I've eaten in the Philippines, but halo-halo defies your expectations. I ordered it because of its crazy-looking content and was pleasantly surprised. Comprising jelly cubes, macaroni pasta (yes, you read that right), mashed sweet potato, fruit chunks, shaved ice and evaporated cream, this drink (that you eat with a spoon) shouldn't work but strangely does.
Friends: this is no party town and the main bar in town kicks out early, and your guesthouse is likely to close before 10 a.m. so you're unlikely to be partying all night, but if you do want a post-hike beer, this is a good alternative to your guesthouse.
Well, I've just finished my last supper in Banaue. Next for me is the long, cold (over-air-conditioned) bus back to Manila. From there I bounce through Kuala Lumpur for a couple of days before returning to the country that I first visited as a solo traveller and that inspired me to quit my day job and live my dream. Vietnam, I'm coming home!
Read more of my Philipines posts.