I originally wrote this post in 2014 and have recently updated it to give you the current pricing for visiting Pearl Habor. Since 2014, the bus price has gone up a whole 50 cents so apologies that the title is technically now inaccurate. But it's still a whole heap cheaper to take the bus than a tour so I'm hoping you'll forgive me.
UPDATE until end of March 2019 – Please note that the USS Arizona Memorial is closed for repairs until the end of March 2019. Pearl Harbor is still visitable but you will not be able to go out to the memorial. Instead, the website says that "visitors will be taken on a 30-minute narrated harbor tour of Battleship Row and the area around the USS Arizona Memorial".

In my view, a visit is still worthwhile given the boat trip (they are repairing the dock for the memorial, hence you can't go on it). You can find out more information here.
The day after my steroid-fuelled hike up Diamond Head I decided to visit Pearl Harbor.
History was never my favourite subject at school. As one dull teacher after another tried to download an encyclopaedic dossier of British history into my brain, I'd long tuned out before we even got to the matter of World history, my teenage thoughts more consumed with finding the next acid rave (hey, it was the 90s). But I did remember Pearl Harbor. How could I not? The surprise attack by Japan on this naval base on 7 December 1941 that dragged the USA into World War II?
Over 2,000 people died that day including 1,177 men aboard USS Arizona. The crew had an average age of 19 and their fate was sealed in under 9 minutes – the time it took the boat to sink after it received a direct hit. Nearly 350 planes were annihilated and 20 ships were sunk within a mere two hours during the attack.
It really was "a day which will live in infamy," President Franklin D Roosevelt.
Visiting Pearl Harbor: To Tour or Not to Tour
Due to its historical significance, visiting Pearl Harbor was very high on my travel itinerary while I was on Oahu. I knew it wouldn't be the cheeriest day out but I, like the 1.5 million others who visit the memorial each year, felt a compelling need to go. Unlike many of those 1.5 million others, I wasn't keen on taking a guided tour.
Of course, booking a tour is the easiest way to visit Pearl Harbor but that option didn't interest me for a number of reasons:
Cost: a tour costs around $40-$100 depending on the package you choose and what's included when you get to Pearl Harbor. After a little research I knew I could visit the parts I wanted to see for just $5.50 – that's the kind of saving I breathe for and feel compelled to shout about to every traveller I ever meet.
I don't like coach-load group travel at the best of times; at a memorial, even less-so. They can get noisy and disrespectful pretty quickly.
I like to take my own time to reflect or leave on a whim without following someone else's schedule.
The tours on offer included additional stops that either I didn't want to see or knew I could arrange on my own for a snip of the price e.g. getting to downtown Honolulu.
For those reasons I started looking into alternative options and, given I didn't have a car, that meant public transport.
Taking The Bus to Pearl Harbor
The good news is that it's perfectly possible to get to Pearl Harbor on your own steam (in a manner of speaking). In fact, there is not one but two public buses that will drop you at the Visitor Centre. The Number 42 ('Ewa Beach) travels direct from Waikiki and Number 20 (Airport-Pearlridge) also visits the memorial via the airport. The journey takes around one to one and a quarter hours.
The wonderful company that provides this service is called The Bus and you can find details and timetables here. Even more wonderfully, the cost of getting from Waikiki to Pearl Harbor is only $2.75 each way, making for a $5.50 round-trip.
It's worth noting that you won't find Waikiki on the bus schedule – you're looking for Kalakaua/Montsarrat. Equally, you won't find Pearl Harbor – you're looking for Arizona Memorial. This route map should clear things up.
Although the buses are cheap and direct, they are not exactly frequent – about every half hour (hey, I'm used to London buses that arrive every few minutes) so check out the bus schedule and do some planning.
It's also important to note that the buses stop after 3pm. So, even if you're not a morning person (I'm certainly not), it pays to prise yourself out of bed for this particular visit.
What to see at Pearl Harbor
Once at the memorial, the various sights and the admission costs and packages are a bit confusing…at least they were for my tiny brain. There are up to 14 different price packages to choose from across four sights and none of them very clearly highlighting the main, FREE admission option.
Inside info

We got really lucky and a reader also happens to volunteer at Pearl Harbor has stopped by and left some inside info. You can read Rob's tips for visiting Pearl Harbor here (if you're on a small screen, you can see Rob's original comment in the reader comments at the end):

Thanks Rob – feel free to stop by any time and share more of your pearls of wisdom.
Here's what to see (below I set out a boring but useful sum-up of the packages and costs).
The main sight and memorial to the attacks that took place in 1941. (More details below.)
Known as the "Pearl Harbor Avenger", this WWII submarine was launched a year after the attack on Pearl Harbor and played an important role in the war. Today, you can enter the submarine and take a self-guided tour. Bowfin Park is next to the USS Arizona site but it's a seamless stroll – so much so that I didn't realise I'd passed from one area to the other.
Known as "Mighty Mo", USS Missouri was a WWII battleship and is the place where General Douglas MacArthur accepted surrender from the Japanese at the end of the war. Together with USS Arizona, and USS Bowfin, the three are commonly considered to represent the beginning, middle and end of the war. Mighty Mo is situated on Ford Island. Tickets are available at Bowfin Park and access to Ford Island is via a compulsory shuttle service (guess they don't want us common folk wandering freely around their Naval base – fair enough).
Also located on Ford Island, this museum covers the period post WWII and on to the Vietnam War. Buying tickets and getting to the museum follows the same process as for Battleship Missouri.
When you're doing your trip research (IF you're doing your trip research!), you sadly won't find one neat 'Pearl Harbor' website with all of the visitor information together because the four sights are run by separate bodies. However, links for each of the four is above.
If that's not confusing enough, USS Arizona is one of 9 sights in the US (across 3 states) that make up the "World War II Valor in the Pacific National Monument". For that reason, you will see USS Arizona under that title on the US National Park Service website.
Phew, glad we got that cleared up.
Due to interest and cost, I only visited the USS Arizona Memorial.
Planning your trip: I used the Hawaii Lonely Planet Guidebook. Although it's not filled with pictures, it's got all the details you need including train and bus routes and times as well as local maps.

If you're a more visual person, check out the DK Eyewitness Guide to Hawaii complete with images and 3D guides to major sites.
Visiting USS Arizona Memorial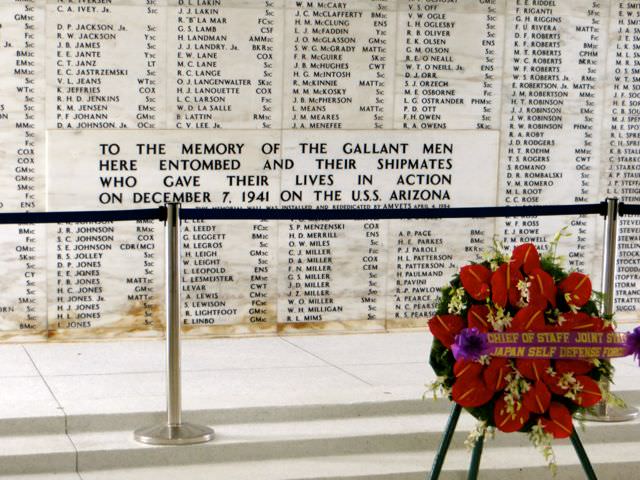 USS Arizona Memorial is the most significant sight at Pearl Harbor and likely to be top of your visit list.
The memorial is offshore and features a platform that has been built over the spot where USS Arizona (the boat that sunk in under 9 minutes) lies. The boat remains at the bottom of the water and the shrine is kept in honour of the fallen military members, whose names are engraved in marble on the shrine's far wall.
The memorial is reached by boat which leaves every quarter of an hour from the visitor centre complex (map of the visitor centre is here). Before boarding the boat you will pass through a small theatre where you will see a short film about the attack on Pearl Harbor (it lasts about 20 minutes). The documentary features some video footage, photos and newspaper clips from the time of the event, providing excellent immersion before taking the journey out to the shrine. The entire trip (video, boat and visit) takes around one and a quarter hours.
Parts of the sunken ship can be spotted from the platform and even to this day oil continues to seep from the wreckage, floating to the surface and presenting an oil slick of rainbow colours that belie the sadness of the site.
I was really surprised to learn that the remains of some of the crew members are still inside the ship. I stared over the edge of the memorial thinking about that for a long time, imagining what that day must have been like for everyone involved. I suspect even my most harrowing thoughts came nowhere close.
It was pure coincidence that the next memorial I visited after Hawaii was a few months later when I travelled to Japan. Prompted by the attack on Pearl Harbor, the US retaliated on 6 August 1945 by dropping the world's first nuclear bomb on Hiroshima. It felt poignant to see both sides of this battle and left me feeling selfishly relieved that I grew up in a different time.
I appreciate that as years pass the significance of the World War memorials depreciate in the minds of some people who see the events as so long ago they are an alien concept but I was offended to see a fair handful of tourists laughing, joking and posing for photos at Pearl Harbor like they were in front of the Eiffel Tower. Have some respect. (Sorry, lecture over.)
Back on land, within the visitor centre complex, there are exhibits, galleries, a remembrance circle as well as more practical facilities such as toilets and a cloakroom.
Admission Prices and Packages
If, like me, you're only interested in visiting the main memorial at Pearl Harbor, and keeping costs low, the good news is that USS Arizona Memorial is FREE. Together with your return ticket on the bus, the cost of your visit to Pearl Harbor can be as low as $5.50!
However, beware the hidden costs of a visit if:
you want to book a ticket in advance – there is a fee of $1.50 per ticket (you can book up to 2 months in advance);
you take an audio guide – $7.50 (thanks to the free video, I personally didn't feel the need for the guide…even if it is narrated by Jamie Lee Curtis).
you can't pack light – remember that $5 bag storage fee.
There are four ticket prices for seeing USS Arizona Memorial.
USS Arizona Memorial: free admission but $1.50 if you book online.
USS Arizona Memorial with Narrated Tour: this bundles the free admission to the memorial with the audio guide ($7.50). The booking fee applies on top.
Passport to Pearl Harbor: This includes access to all four sights as well as providing the audio tour for USS Arizona and costs $72 (adults) and $35 (children 4-12 years). The online booking fee is in addition. For an extra $10 ($5 for a child ticket) you can extend the pass to allow admission over two days.
One of the few sites that has simple pricing:
Adult $15
Child (4-12 years) $7
Includes an audio guide.
That's all, folks.
Mighty Mo Pass $29 (adult) $13 (child). This pass includes a choice of three guides:
Mighty Mo Guided – a tour by a real, human-being (Retro!) and lasts 35 minutes.
Acoustiguide – a 45-90 minute audio guide.
GuideToGoiPod Tour – a 60-90 minute video tour presented on an iPod Touch.
Alternatively, you could choose to explore on your own. If you like to adventure on your own, you're welcome to take a map and follow the informational signs around the ship at your own pace. Tour guides and staff are around the ship and available to answer questions or point you in the right direction.
Heart of the Missouri Tour and Mighty Mo Pass $54 (adult) $25 (child) – the Heart of the Missouri Tour is a strenuous look at the workings of the battleship that involves climbing up 10 sets of ladders. This pass also includes the Mighty Mo Pass.
Note that for this ticket the child age is 10-12 years. There does not appear to be any booking fees.
General Admission (self-guided tour)
$20 (adult), $10 (child)
The Aviator's Tour (docent-guided tour plus visit to restoration shop)
$30 (adult), $20 (child)
A $1.80 service fee is applied to each ticket.
Where to stay in Waikiki

On a budget: During my three months in Hawaii, I tried out a lot of accommodation in Waikiki and I can happily recommend any of the following hostels (private rooms available as well as dorms):

The Beach Waikiki Boutique Hostel (unbeatable location minutes from the beach)

Hokondao Waikiki Beachside Hostel (best if you like to party)

Hostelling International Waikiki (great for couples and families)

Seaside Hawaiian Hostel
 Waikiki (also a decent location)

Hotels: if you're looking for something a bit more upmarket, here are the top 10 hotels in Waikiki (according to Tripadvisor). For beach lovers, check out the 10 best Oceanfront Hotels and if you really want to splash out or if it's a special occasion, try one of these luxury hotels – The Moana Surfrider would be my choice…closely followed by the Outrigger Reef Resort and Trump International Hotel.
Tips for visiting Pearl Harbor
There is a maximum number of tickets available each day for USS Arizona Memorial (4,500) so if you're visiting in peak season, you're advised to book in advance (remember that $1.50 fee) or get there early to secure a 'walk-in' ticket. I walked in around 12pm in October and had no issues getting a ticket…which is a good thing because I wasn't aware of the ticket restriction before I visited. You can collect your free ticket from the ticket booth.
The tickets for USS Arizona are for an allotted time and even in low season I had to wait around 45 minutes before the next visiting time. This can stretch for hours in peak season for 'walk-in' tickets.
The last visit time for the memorial is 3pm. Visiting times for the other sights vary. If you plan to see a few of the sights, make sure you have time to get around them before you buy the bigger bundled tickets.
Bags: You are not permitted to take into the sights any items that allow concealment so keep this in mind when you pack for the day. You are allowed to take a camera/phone, wallet and water, but it must be carried by hand (or pocket). Backpacks, purses and even camera bags must be stored at the cost of $5 per bag, regardless of size.
Dress: it seems sad that there needs to be a dress-code reminder, but the National Park Service website reminds visitors that sandals are ok but bathing suits and profane t-shirts are not.
If you are in Hawaii in December, keep the date of the anniversary of the attack on Pearl Harbor in mind. Not only does it draw extra visitors, it happens to fall during the peak winter season and the Honolulu marathon occurs around the same time. All of that means low availability for accommodation and therefore increased prices. No need to avoid the date, just book in advance.
It's worth knowing that the harbour is still home to an active US Military base, so take your best behaviours with you…or face the consequences.
Free parking is available if you choose to drive. You can find out more here.
Have you ever been to Pearl Harbor – any more tips for visiting? Have you ever taken a trip that is a fraction of the tour cost?
Want more? Here are some of my popular posts if you're planning a trip to the USA
3 Days in San Diego – What To See and Do
3 Days in Washington DC – What To See and Do
How To Spend One Day At The Grand Canyon
What and Where To Eat in New Orleans
How To Visit The Statue of Liberty – Ultimate Guide
From Buffalo to Niagara Falls for Only $5
75 Things To Do In Key West Florida
Which Hawaiian Island To Visit
What To Do In Detroit – The City's Pretty Parts
Where Is The Best Chicago Deep Dish in Chicago?
Want to read more travel planning tips for Hawaii? Click below.