I've recently become a little obsessed with a different kind of travel: space travel.
As a child and teenager, science used to bore me. I thought it was a subject for boys (feminism came to me a bit later) and I just didn't get it. However, in the past year, I've come to re-assess that view as science has shot way up my interest list.
It started at the beginning of this year, when I installed a little app called Rescue Time. It's a handy plug-in that works in the background on your laptop recording and logging how much time you spend online and what you do while you're there.
Looking at my first scrape of data with its beautiful graphs and charts I was confronted a harsh truth – I was wasting way too much time on ridiculous cr@p online (I'm looking at you and your irrelevant quizzes, BuzzFeed). Worse, I strongly suspected that my brain was becoming all the smaller for it.
As a lawyer, I regularly took my brain out for a 10 mile run. And although travel has its puzzles and complexities to work on, I decided it was time to to give my brain more of a challenge.
Enter: quantum physics.
Science seemed like the obvious challenge for my mind given I've always struggled with the subject, so I dared myself to watch…and try to understand… a couple of documentaries on quantum physics. Within minutes…actually, probably seconds, I realised that I do not and probably never will get quantum physics. It's a very complex subject for people way smarter than me. However, my little brain experiment did spark an interest in matter beyond our own world.
After all, as travellers, isn't exploration what it's all about? And isn't space the ultimate travel destination?
A Space Odyssey in the USA…and around the world
I can't imagine what it must have been like to live during the 1960s when the Space Race was well and truly on. Who will land the first man on the moon? What is actually out there? Can we even do it?
(If you're in the "we never landed on the moon" camp, check out this article).
These days, at least in popular culture, space is a subject that pops up on the news every now and again but is otherwise very quickly forgotten by most.
However, intergalactic exploration is on the move.
Only 547 People Have Been To Space. Virgin Galactic Is Opening Space To The Rest Of Us.
As I write, Interstellar, which stars Matthew McConaughey as a NASA pilot who travels through a wormhole to explore our galaxy for the sake of humanity's ongoing existence, has already taken over $120 million at the box office; Sir Richard Branson's Only 20547 People Have Been To Space. Virgin Galactic Is Opening Space To The Rest Of Us." Virgin Galactic is a long stretch into a project to become the first commercial spaceline; and, thanks to the Google Lunar XPRIZE (a $30 million competition to land a privately funded robot on the moon) it's hoped that we are, indeed, going back to the moon. For good.
Meanwhile, NASA, king of space exploration, has even grander dreams via its Orion programme. Not only does NASA plan to take humans farther than they've ever gone before, it is aiming to reach the ultimate destination: Mars.
The euphoria surrounding these projects may not be up there with the Space Race of the 1960s, but we live in exciting times where space exploration is still firmly on the agenda. And, although there isn't a space shuttle I could handily hop on to explore the furthest reaches of our galaxy (yet), during my time in the USA, I did the next best thing.
I planted space firmly on my travel itinerary.
First up…
The Sixth Floor Museum, Dealy Plaza, Dallas
My first stop in the USA after Colombia was Dallas, Texas, and although I didn't realise it when I turned up at the Sixth Floor Museum at Dealy Plaza, it turned out to be the perfect prelude for the space-related stops on my trip.
Peering from the window of the Texas School Book Depository where Lee Harvey Oswald took aim and shot the 35th President of the United States, it wasn't just the tragedy of the assassination of John F Kennedy that struck me. It was his courage and passion for space exploration.
"But why, some say, the moon? Why choose this as our goal? And they may well ask why climb the highest mountain? Why, 35 years ago, fly the Atlantic? […]
We choose to go to the moon. We choose to go to the moon in this decade and do the other things, not because they are easy, but because they are hard, because that goal will serve to organize and measure the best of our energies and skills, because that challenge is one that we are willing to accept, one we are unwilling to postpone, and one which we intend to win, and the others, too."
JFK delivered this speech at Rice University in Houston, Texas on 12 September 1962. It was just months before he was assassinated but they are words I came to read time and again as I ventured on my space journey through the USA.
Johnson Space Centre, Houston (Home of NASA)
I only had one real item on my wish list when I arrived in Houston and that was to visit NASA and Space Centre Houston.
As well as having a range of visitor activities at the space centre, NASA is still actively run from the site, so it's possible to look both into the past and towards the future of space exploration in the same place.
I only had an afternoon to visit NASA and Space Centre Houston, but if you have more time, I'd highly recommend you spend a whole day there. In pictures, here are the highlights.
Starship Gallery
I was advised to get straight on the tram tour of the NASA facilities when I arrived, but having been to Space Centre Houston, I'm going to make a different suggestion – go to the Starship Gallery first. Not only are you treated to a movie and overview of the Space Race, you get to see many of the amazing artefacts from space history including the Lunar Roving Vehicle Trainer and a piece of moon rock…which you can touch.
Tram Tour of the NASA Facility (Johnson Space Centre) with stops at Mission Control and Building 9
After getting a good pinch of history, I'd recommend taking the tram tour next and if you're at the Johnson Space Centre specifically to visit NASA, this is the best part. As well as being driven around the facilities, you get to make a couple of stops including at Mission Control – the place where the smart boys and girls stood all those decades ago when Neil Armstrong famously spoke from the moon.
That's one small step for a man, one giant leap for mankind.
I always wonder whether he rehearsed that line in his head for months or whether it just came to him on the spot?
The tram tour will also take you to Building 9 where you can see what astronaut training looks like.
Saturn V Complex
The tram tour will drop you off at the Saturn V complex, which is literally littered with rockets. So many, it's easy to get distracted and ignore the large warehouse facility that sits silently to the side.
Stepping into the warehouse I came nose to nose (well, if I'd been taller) with Saturn V – the most powerful rocket ever to be built and operated. Lying down and at 36 stories tall and taking 2 minutes to walk from end to end, it was physically impossible to take a picture of the entire rocket but trust me when I say that it was a staggering sight.
There are only three such rockets in the world…and I was lucky enough to see a second one just a few weeks later (below).
Living In Space
After the Starship Gallery and the Tram tour, which took a few hours together, I didn't have a great deal of additional time left, which was a shame. I did, however, manage to watch a talk about living in space.
From the icky looking items they call food to the all important matter of how to go to the bathroom in a space where gravity doesn't exit (think: a vacuum cleaning kind of device) and how wee is recycled for…drinking water (mmmm), it was a very worthwhile additional part of my visit.
I also got the chance to have a sniff of what the moon smells like. It's pretty hard to describe other than sulphurous, but let me put it this way, I don't think it's an aroma that will be launching a line of scented candles and room fresheners any time soon!
If I'd had more time during my visit, there were many more things I would have done, including Blast Off! – experiencing the sensation of a blastoff, but with time for only one final activity, I had to do it: I had to try the space food.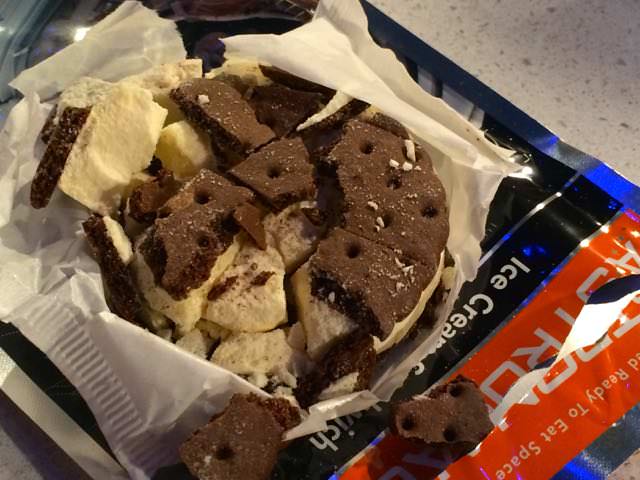 Buying a bag of Astronaut Ice Cream Sandwich, I popped the entirely dry, thoroughly over-sweetened cardboard textured "ice cream" in my mouth and almost cried. If my dreams of going to space are going to be realised, they are going to have to work on the food!
U.S. Space & Rocket Centre, Huntsville, Alabama
My trip to NASA served only to fuel my interest in space travel so, when I passed through Alabama a few weeks later, I took an intentional detour to visit the U.S. Space & Rocket Centre in Huntsville.
Here are the highlights:
Saturn V Hall at the Davidson Center for Space Exploration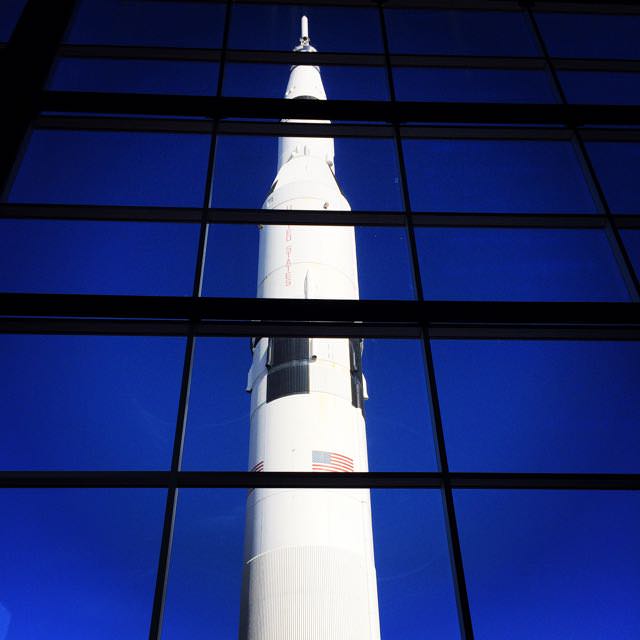 By far the biggest highlight (literally!) at the U.S. Space & Rocket Centre was Saturn V. It was my second such rocket on my trip and I was beside myself with excitement to get another look…although again, the rocket was too large to photograph.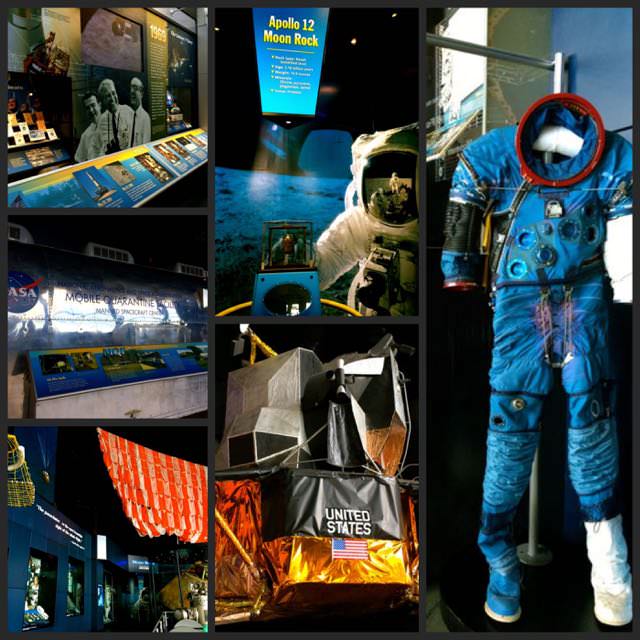 Unlike the rocket in Houston, the Saturn V Hall in Huntsville is surrounded with additional space mission artefacts including the original quarantine bus, another opportunity to touch a piece of the moon and a very excellent display that walks you through the history and significant events in the Space Race.
Rocket and Shuttle Parks
In the unlikely event that Saturn V isn't enough, Rocket park and Shuttle park at Huntsville's U.S Space & Rocket Centre are packed full with rockets and other space and military items.
Space Camp
As well as the formal exhibits, Huntsville is home to Space Camp, one of the most famous in the world, having drawn over 600,000 trainees since its inception – something that pleases me immensely as it is these fresh, young minds that might one day help put space travel into the hands of the masses (and me).
But if you don't have time (or are too old!) for the Space Camp Program, you can still play at being an astronaut with the various simulators around the centre.
Back to the Moon (hopefully) for Good
The final stop on my space tour in the USA was the Space and Science Museum in Richmond, Virginia.
Despite being wowed and inspired by the idea of space travel, I had all but resigned the idea to the "beyond my lifetime" recycling bin… until I stepped into the iMax theatre in Richmond, Virginia.
Space exploration and space history are new subjects to me and as the world's governments turn their attention to Mars – something that really is going to be beyond my lifetime, I wasn't aware that the space race was back on.
Sat in the iMAX in Richmond, I felt a tingle of excitement as I watched "Back to the Moon…for Good".
Thanks to Google Xplore's $30 million prize, teams are currently competing to land on the moon. The prize money is incredibly healthy, but more than that, the competition has reinvigorated interest in space travel and, better still, has put the research into the hands of the commercial world.
We'll have to wait to see what the outcome of this fresh space race will be, but in the meantime, I will sit on the sidelines, fingers crossed and waiting for the day that space travel may become commercially available and affordable to us all.
Plan your space itinerary
To visit NASA and Johnson Space Centre, Houston, you can plan your trip here.
Pro travel tip: if you don't have a car in Houston (I didn't), you can take a tour with Houston City Tours that includes a sightseeing trip around Houston, drop-off and pick-up at Johnson Space Centre and your admission fee.
Visitor information for U.S. Space and Rocket Centre, Huntsville.
Visitor information for Virginia Science Museum.
Visitor information for the Sixth Floor Museum at Dealy Plaza.
Where to stay
There are myriad hotels in all of the locations I visited. Here's where I stayed – I would highly recommend them all.
Dallas: The Sheraton Dallas – right in the financial district and within walking distance (about 20 minutes) from the Sixth Floor Museum and opposite a DART (tram) stop, the Sheraton had a great location.
Huntsville: Courtyard by Marriott – about 10 minutes away from the U.S. Space & Rocket Centre by taxi, I was very happy with this hotel although there's little apart from fast food in the local area. If you want to be within walking distance to the Space & Rocket Centre, there is a sister Marriott hotel literally next door, though there didn't look to be any dining options nearby. Just to confuse you, there is a third Marriott in the city, a Resident's Inn (because two Marriotts in Huntsville is clearly not enough) – make sure you go to the right one (unlike me).
Richmond: Linden Row Inn – big chain hotels can feel a little soul-less but this historic inn in Richmond was everything but. Split across a row of old houses (I'd call them cottages) contained in a courtyard, Linden Row felt both homely and historic. A great breakfast is included and you also have access to a free shuttle which will take you (on demand) to most places in Richmond.
Space: Just kidding. I didn't get there yet, but as soon as they open up the first space hotel, I'll let you know how it is!
Would you go to Space if you had the opportunity? Do you have any other recommended space stops I should put on my travel itinerary (Cape Canaveral is already on the list).
With thanks to Visit Houston, Huntsville Bureau and Visit Richmond for helping me plan my trip, providing me with complimentary entry to the sights and assisting me on my journey into space.
If you liked this, you might also like:
Hawaii Volcanoes National Park
How to Spend One Day at the Grand Canyon
Taking a Braking Bad Tour in Albuquerque