On the one hand, you really want to see Venice, but on the other, you've heard some horror stories about crowds and prices and flooding. Which leaves you wondering – is it possible to experience Venice without the disappointment? The answer, fortunately, is yes. In this guide I'll share my Venice travel tips which will help you get the most out of your visit.
You should also check out my other Venice Guides:
If I've not covered something in this guide, drop a note in the comments and I'll get back to you.
---
How long do you need in Venice?
Having been to Venice several times, I'd suggest at least 3 days in the city. Firstly, it's a crowded city which means it can be slow to get around. Then there are the canals carving up the city, making it even harder to rush through the sights (think boats not taxis). Lastly, there's a lot to see and do in Venice and to do this city justice, you don't want to bounce in and straight out.
---
How to see Venice in one day
Despite recommending at least 3 days in Venice, I understand that Venice might just be one stop on a longer Italy itinerary. So, what if you only have one day to spend in Venice? It may not seem like enough time, but with a good strategy and an early start, you can hit all the high marks of Venice in just one day with this itinerary.
---
General tips for visiting Venice
---
Budget tips for visiting Venice
---
Best tours of Venice
If you want to find out the best tours in the city, I share my favourites in my guide to the 45 Best Things To Do In Venice. If you book only one tour, make it the Doge Palace. Not only will you get skip-the-line access to St Marks' Basillica and Doge Palace, you get rare access to the Basilica Terrance and a chance to go inside the Bridge of Sighs.
Want to experience Venice carnival but not visiting in spring? There are some great activities on year round from a carnival themed walking tour, a carnival pub crawl to carnival mask making.
If the tours above don't tickle your fancy, check out Get Your Guide. You'll find a whole host of full and half day tours in Venice and the beauty is you can compare prices and read reviews before you commit.
Looking for a tour of Italy? If you're looking for a more planned trip aroundItaly, my favourite tour company is Intrepid Travel. Above all else, they'll take you places where you're going to get those photo moments you won't get on most other tours.
---
Best Day Trip From Venice – The Prosecco Wine Region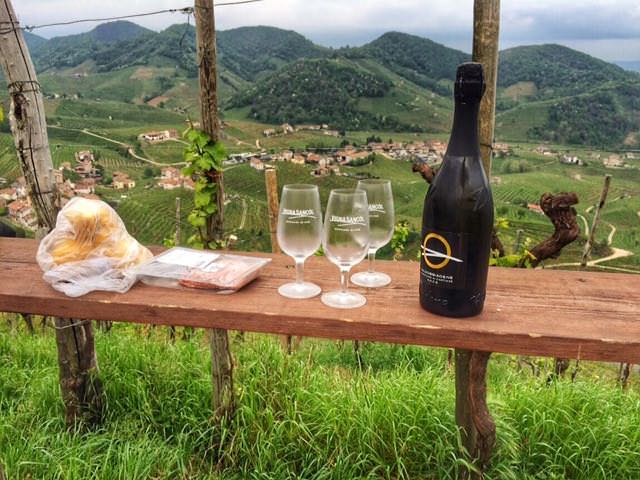 I'd definitely recommend adding in time for some day trips from Venice. The city is really well situated and connected for exploring nearby. Also, with all the crowds, a day trip from Venice is the perfect tonic. If you only have time for one day trip, I recommend visiting Italy's Prosecco Wine Region. Most people are familiar with Italy's famous sparkling wine but most people don't realise that Prosecco is produced just an hour away from Venice by train from the central train station. Hop on a 9 a.m. train from Venice, have a guide pick you up at the local train station, take a wine-tasting tour, and be back in Venice by dinner. That's my kind of day trip! Book with Visit Prosecco Italy (from €250 per couple).
Did you know there is a Prosecco vending machine nestled in the Prosecco hills?
---
The best restaurants in Venice
Eating is one of my favourite things in Venice – in any place I visit for that matter – but wow is it difficult to find a good place to eat in Venice. Unlike most of the rest of Italy where you can walk into any eatery and almost always leave delighted, Venice has a lot of bad food. But don't worry, I've worked hard over several trip (and eaten far too much bad food) to find the food gems in Venice. You'll find them in my guide to the best restaurants in Venice. I've got a good selection of bars in there, too.
---
The best areas to stay in Venice
San Marco is the best area to stay in Venice if you want to be right in the heart of things but expect high prices. I tend to stay in Cannareggio because I love the location – old Venice, away from the crowds but still walkable to San Marco. My next favourite suggestion is Giudecca Island, also away from the bustle. A few minutes away by Vaparetto, with a good handful of restaurants to feed you at night and excellent views across towards San Marco, the island had everything you need plus a more peaceful feel.
---
The best hotels in Venice
Best 5-Star Hotel: The Gritti Palace – Centrally located, this 5-star hotel has views over the grand canal if you want a beautiful luxury stay. Ok, prices are around €800 a night but that's Venice for you.
Best Boutique Hotel: Canal Grande – in a restored 18th-century palace, this beautiful boutique hotel is everything you hope your Venice hotel might be. Oh, and it overlooks the Grand Canal (of course it does). At around €200 per night, this is a fantastic price for a great hotel.
Trip Advisor's Travellers' Choice: Hotel Antiche Figure – Based on the reviews of other travellers, Hotel Antiche Figure has been voted the best hotel in Venice. It's a boutique hotel complete with four poster beds in my favourite area of Venice, near Canareggio. With prices around €175 a night, I can see why this is a winner. This is on my list for my next trip.
Best chain hotel: Hilton Molino Stucky Far removed from the boxy airport Hilton hotels you might otherwise be imagining, the building was once a flour mill and was integral to the city's pasta production. Today, the building has been converted into a luxury space and the rooftop terrace is reason enough to stay. Prices are around €300 per night.
Best Hostel: Generator Hostel – Perfect if you're on a budget in Venice. It's very clean and has a great value happy hour (Apreol Spritz for only €2.50). Dorms and private rooms are available. Prices are around €15 for a dorm bed and around €65 for a private room.
There are lots of nice little fairy tale style Hotels in Venice to rest your head at night although if you feel like spending a little extra then the Palazzo Guardi situated in the old part of Venice offers a stay in a fifteenth-century residence for around €200 a night.
If you want more details on where to stay in Venice, I've written a more detailed hotel guide setting out the various areas in Venice together with more hotel recommendations.
---
How to get to Venice from Venice airport
The important thing to note about Venice is it's a city of water and once you're within the islands of Venice, your main mode of transport is going to be a boat. The main choices are private water taxis (just like regular taxis but on water) and water buses known as the vaporetto (just like regular buses…ok, you get it).
Private water taxi: On my first trip to Venice, I treated myself to the private boat transfer. It was relatively expensive at €200 for the transfer but I was celebrating my birthday and it was a memorable treat (how to feel like the glitterati in one fell swoop). It's actually a good deal if there are 4 – 6 of you. The major bonus – no waiting for other people or having to share your transfer. The journey takes around 50 minutes depending on where your hotel is. The transfer will take you as close as it physically can. You can book a private boat transfer.
Shared water taxi: The next best way into Venice is using a shared water taxi. That way, your first experience of Venice can be the magical, majestic arrival you've imagined (rather than taking the crammed tourist bus or public vaporetto ride along with the rest of the tourists). The price is around €30 and the trip takes about 50 mins with some waiting time if your fellow passengers take a while collecting luggage. You can book a shared water taxi.
Public vaporetto: The cheapest water transfer is the public Vaporetto at just €8 per person one-way. Do keep in mind that the Vaporetto, just like a subway system, has different lines and you might have to change. You'll need to figure out the nearest stop to your hotel (usually mentioned on the hotel website). You can buy Vaporetto tickets in advance online.
By road: You can take a bus or hire a private car. Check a map, though because wheels can only go as far as Piazzale Roma. You might need a Vaporetto or to walk from there. 
I have a more detailed guide for how to get to Venice from the airport.
---
The best guidebooks for Venice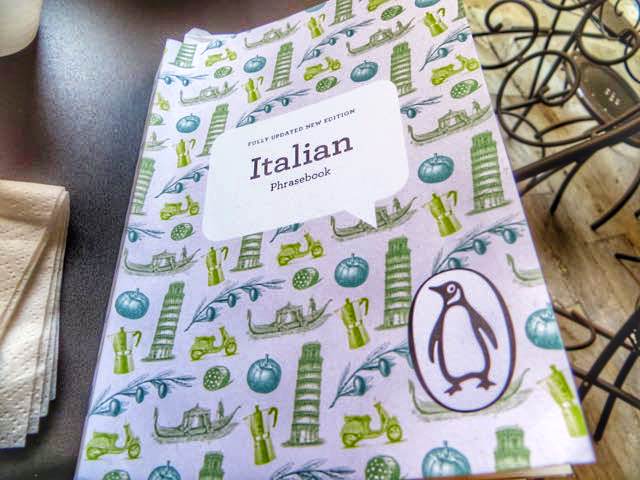 Any excuse to buy a book and I'll take it. Even though the web is filled with Venice travel blog posts (like this one), I always double up on my research with a good old, print travel guide. My favourites are:
---
The best time to go to Venice?
Venice, like most cities, is a year-round destination so don't worry. If you can only get time off work at a particular time of year, go to Venice and enjoy. There are, however, a few times of year where you experience will be a little…different.
Visiting Venice during Acqua Alta (Oct-Dec): A lot of first time visitors don't realise but Venice floods once a year. It's called the acqua alta meaning high water. It's a natural phenomenon based on tides and atmospheric pressure and winds (rather than the common assumption that it's because Venice is sinking). When does it happen? Well, it can happen any time of year if the natural factors combine. You're most likely to experience it between late September and early April but more realistically, in November, December and October – in that order of likelihood. Does it mean you can't or shouldn't visit. Absolutely not. It's a normal part of life in Venice and the city is prepared with elevated boardwalks and, of course, there are street vendors galore flogging elegant (?!) plastic booties. My suggestion, expect it, embrace it and get set for a pretty amazing lifetime travel adventure you're not going to get in many other places. Just think of the photos!
Visiting Venice during peak summer season (Jul-Aug): honestly, I'd rather spend time in Venice during acqua alta than in July or August when the largest throngs of people descend upon the city. However, you can still enjoy the city at its peak months – just be prepared to go slow, book hotels and tours in advance and get out at night when the temperature cools and the crowds decrease.
Easter and Christmas: I've visited Venice over Easter Sunday and everything was open and the city was very festive with a huge easter egg smashed up for breakfast (now that's my kind of breakfast). I did book ahead and there were more people but it was otherwise manageable. Over Christmas, many shops and restaurants will close on Christmas Day (25 December). Not a problem if you plan ahead but something to keep in mind.
Best time to visit Venice (Mar-May and September)? I would vote for the shoulder seasons – spring and autumn (fall) – as the best time to go to Venice. This will help you avoid the summer crowds as well as acqua alta. I've visited in both shoulder seasons and enjoyed these trips to Venice most.
That's my guide and tips for visiting Venice – got any questions or comments, leave a note below.
Related:
Articles to help you plan your trip