I love eating. On a good day, I can manage six meals – and I'm not talking about six small meals, either. In fact, if I could drop everything and eat professionally, I happily would…I'd perhaps need to work on my cutlery ability because, despite more than 30 years of practice with knives, forks and spoons, I have the eating skills of a four-year old…for the same reason I also confess to having an "eating" top – a black vest I sometimes carry in my bag for impromptu dining occasions when I know things will get messy (anything beyond a plain ham sandwich)…but I digress.
Where was I? Oh, yes. I love eating.
So, if nothing else can explain my three separate, unplanned trips to Italy this year, then I guess I can safely blame it on the food. After all, Italy is one of my ideas of food heaven (India and Mexico also make the short list – please don't make me choose).
With this personal weakness in mind, food was naturally high on my agenda during my recent visit to Urbino.
Putting Urbino on the Food Map
It's a common stereotype that Italy subsists on pizza and pasta. One for lunch, the other for dinner. Rinse (plates), repeat. It's certainly how I've spent much of my time in the country because these staples are often the cheapest eats to be found, especially in the more touristy cities. But the reality is that Italy offers a much more complex menu, with subtle yet substantive variations throughout the country. And it is these regional differences that make Italy so pleasing for the palette.
Forming part of Central Italy, Urbino possesses a prime food location. With Tuscany and Umbria to the west, and Emilia-Romagna to the north, Urbino is perfectly placed to blend the simple, peasant foods (tomatoes, olive oil, beans and cured meats) of its western neighbours with the richer, creamier, offerings that come from rubbing shudders with its northern neighbour. And let's not forget truffles, which are popular in the region; a fact that gave me mental strength as I worked my way through a gnarled lump of lunch which was identifiable only by its label on my Ryanair flight.
Rolling my Sleeves up in Urbino
If there is only one thing I love more than eating food, it is learning how to make it.
Give Indiana Jo food and she will be happy for the day. Give her the recipe and she will be happy for a lifetime.
So, I was beside myself with excitement when two of the restaurants I visited during my stay in Urbino invited me into their kitchen to learn how to make two of the city's local dishes – passatelli and crescia.
Passatelli
I'll be honest, I'd never heard of passatelli until I got to Urbino and I assumed it was simply another way of shaping pasta.
Wrong!
Passatelli is a creation that I can't believe I haven't discovered before. It is similar to pasta in notion, but with one significant difference. Instead of flour, the recipe uses half breadcrumbs and half Parmesan cheese. Yes, you heard me. Fifty percent cheese!!! I nearly had to sit down with excitement when I heard that news.
But, recovering quickly, I gathered my focus, scratched down the details and, at risk of being revealed for stealing the restaurant's secret formula, here's how passatelli is made.
Ingredients
Serves 8 people
500g breadcrumbs
500g Parmesan cheese, grated
8 eggs
Zest from half a lemon
1 teaspoon of fresh grated nutmeg
Salt
Chicken broth
Method
Step 1: Combine the dry ingredients (breadcrumbs, cheese and salt). Make a well in the middle and crack the eggs into it. Like so…
Step 2: working from the centre outwards, start to combine the dry ingredients with the egg.
Step 3: Add the grated lemon zest and nutmeg and combine until you have a dough.
Step 4: Knead the dough to ensure all the ingredients are combined. Then, roll it into a sausage shape and cut into small sections ready to be put into the passatelli contraption (I'm sure there is a more technical term).
Step 5: Squeeze the dough through the passatelli contraption, which looks a bit like a garlic press. I got involved at this stage and have to say the chef made this look much simpler than it was – the dough is pretty firm and you need some muscle strength to get it through.
Step 6: With your passatelli complete, sprinkle liberally with flour and let it rest in a cool place for about 20 minutes (enough time to open a bottle of wine).
Step 7: There are different ways you can serve passatelli. Cooked and eaten like normal pasta is one method but I tried it in brodo (chicken stock).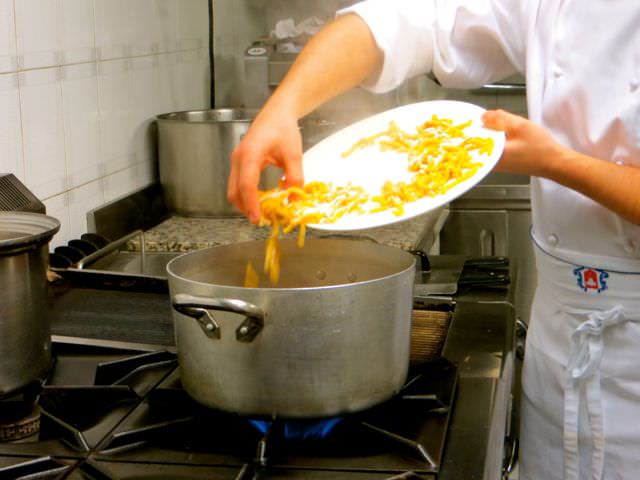 Step 8: Once the passatelli is cooked in the broth, the pasta and stock are served in a bowl. Trust me, like truffle, it tastes way better than it looks.
And, in case fifty percent cheese doesn't seem enough, there is another opportunity to increase the cheese content at this stage with a liberal sprinkling of Parmesan on top.
I helped it all down with a lovely glass of Verdicchio, a white wine the region is famous for.
Crescia
Still reeling from my passatelli cheese dreams (in which I visited the planet Mars only to find that my camera had broken – Sod's Law), I woke the next day for cooking instruction number two – crescia.
Brave soul I (sometimes) am, I stuck my hand up and confessed I also didn't know what crescia was. Similar to Italian piadina came the explanation – a flatbread often stuffed with cheese, cold meats and vegetables and served as a snack or street food.
"Oh, great." I faked excitement. I'd tasted piadina a lot the month before and concluded I wasn't a fan. It wasn't that I didn't like the ingredients, I did. It's just that I'd spent so long in lovely Mexico that it felt like a poor relation to the quesadilla, but not quite so well executed.
I apologise if I offend, but my inner piglet loves greasy lard, which the Mexican version delivered aplenty…the piadina didn't. It just tasted that bit too…healthy. So, crescia would be the same?
Once again, I was (happily) wrong.
I turned up for the crescia class packing my enthusiasm. And I was rewarded richly. Crescia wasn't padina in disguise. It was a whole different delight that left me licking my lips long after the last flake had been consumed.
You see, there is one substantive difference between piadina and crescia that happens during the preparation stage – the addition of lard. Yes, actual lard. After the bread dough is rolled out, a layer of lard is slathered onto the dough before it is promptly re-rolled and repeated. My heart pounded in protest but my tastebuds piqued with interest.
After the crescia was rolled (and in this particular restaurant stamped to let customers know they were eating crescia from one of the best places in Urbino), it was cooked next to an open fire. This magical crescia making process has the effect of producing a bread that is closer to a pastry with flaky, oily crumbs and a scent that reminded me of freshly baked crepes.
I would have liked to have tucked into the pork and roasted chestnuts that were on the fire, too, but they were not cooked yet.
Next time, I promised myself, making for the perfect excuse to return to Urbino.
Antico Osteria "da la Stella" Ristorante introduced me to the magic of passatelli.
Il Girarrosto served up crescia and restored my faith in Italian flatbread.
Related Articles:
My visit to Urbino was courtesy of Regione Marche but I fell in love with the city all on my own.