Amsterdam wasn't on my travel wish list this year but when I realised I had 30,000 bonus air mile points that were due to expire (that will teach me to read the small print more carefully), I was faced with a "use 'em or lose 'em" dilemma.
Of course, it wasn't much of a dilemma – I'd be crazy to let a (nearly) free flight opportunity pass me by.
What ensued was a flurry of phone calls to a friend, a quick flight search with British Airways (the holder of my points) and a quick vote on my Indiana Jo Facebook page.
Amsterdam won and I couldn't have been more delighted because it was the perfect time of year in Holland. I was finally going to get to see the tulips in Amsterdam. In fact, I was going to see 32 hectares of tulips and other flowers.
Where to see Tulips in Amsterdam
I loved my sightseeing time in Amsterdam – I visited the Van Gogh museum, the Anne Frank House, a (half covering my eyes) wander through the red-light district, and local brews in the brown cafes (traditional pubs to you and I), but it was a mere appetiser for the main course on my travel menu – tulips.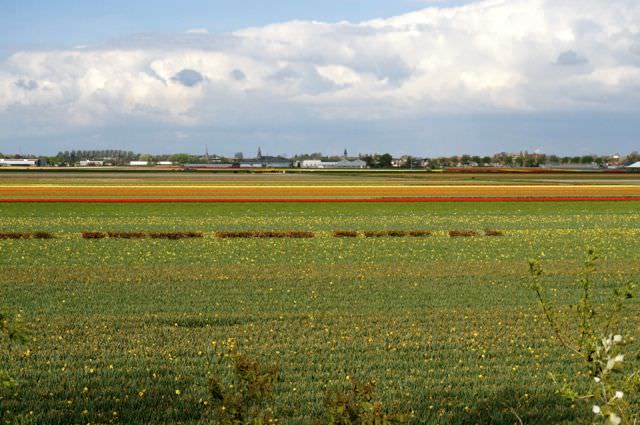 With a little bit of research online, I found out where to see the tulips. There are two main ways if you are basing your stay in the city. You can – i) visit the Amsterdam tulip fields around the city or ii) visit Keukenhof, Holland's largest flower gardens.
Which is best? That will come down to personal choice. The major difference between the two experiences is that the tulip fields represent huge expanses of flowers that are being grown ready for harvest and sale around the world while Keukenhof flower gardens offers the chance to walk around large tended gardens with over 7 million flower, seeing many different varieties of tulips cleverly planted in visually gratifying patches. Keukenhof gardens isn't just about flower – there are sculptures and art installations. It's an immersive flower exhibition that has rightly earned its title as the Garden of Europe.
On an ideal trip, you'd probably want to experience both. I chose Keukenhof gardens and I was bowled over at the vast array and beauty of the tulips there. In short, I was very pleased with my decision.
Seeing the Tulips at Keukenhof Gardens
The tulips epitomise the saying that a picture is worth a thousand words so, instead of my usual prose, here's a summary of my visit in pictures. I just wish I could have somehow captured the thick, heady scent of flowers that clouded the air and made me want to inhale a dozen times more regularly than normal.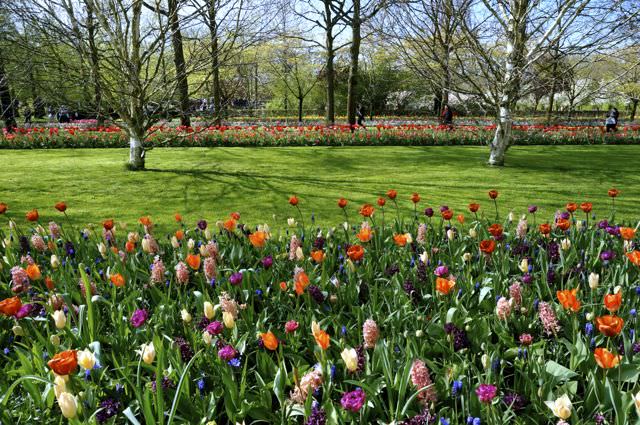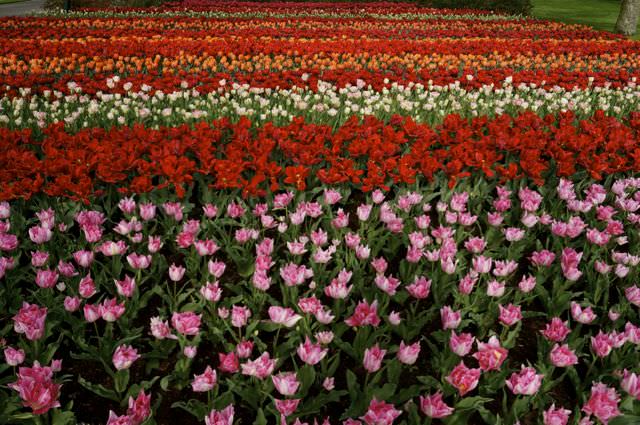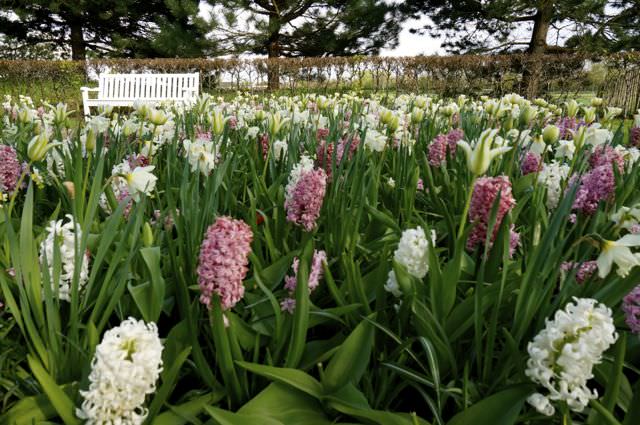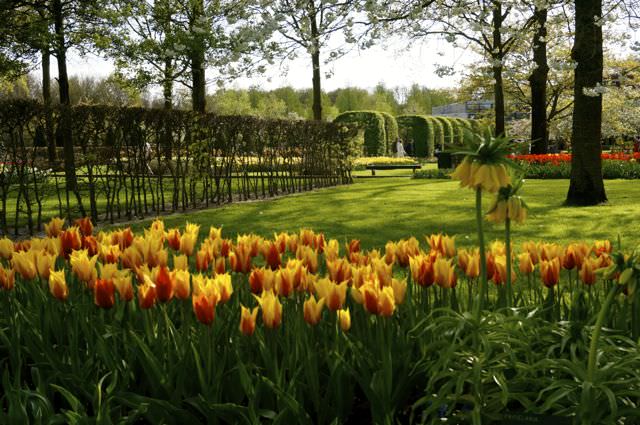 When do tulips bloom?
Amsterdam tulip season, like the rest of Holland, runs from the end of March to mid May. The flowers are usually at their best in mid-April, meaning this is the best time to visit Keukenhof flower gardens.
Getting from Amsterdam to the gardens
Where are the tulips? Geographically, Keukenhof (along with some of the tulip fields) sits about 30 minutes by bus beyond Schiphol Airport in the town of Lisse, southwest of Amsterdam and the airport. With my flight departing for London at 8pm, it made perfect sense to see the tulips on my final day in Amsterdam.
The easiest way to get from Amsterdam to Keukenhof gardens is by taking the bus from Schiphol airport to Keukenhof – conveniently named the Keukenhof Express. The bus is brightly coloured, adorned in pictured of tulips and leaves from Schiphol Plaza (near "Arrivals 4").
Even if you want to visit on a day trip from Amsterdam city centre, you still need to go via the airport to catch the Keukenhof Express. To get to the airport you can take bus number 197 from Museumplein or Leidseplein or a train from the central station.
There are lockers available at the airport for storing your bag (€6) or suitcase (€9) if you plan to return to the Schiphol for your flight.
The bus is run by a company called Arriva and there are 4 to 12 buses per hour depending on the time of day.
The bus goes direct to the gardens and takes around 30 minutes each way.
Sit on the driver's side on the way from Amsterdam to Keukenhof and have your camera ready – as you get near the gardens you may be able to catch a picture of the tulip fields.
Tours to Keukenhof
In the next section, I'll talk you through how to visit Keukenhof Gardens independently. If you prefer to take a tour, here are the top-rated tours on Get Your Guide (my go-to tour site when I book tours – download their app, it's a dream). Most of the options don't include a guide to take you round the garden (you don't need one and there is an educations section you can view if you do want to know more) but they do include transport and, in some cases, additional sightseeing.
Skip the line entry with a bus direct from Amsterdam centre – This is a great, low-cost (€35) combo ticket that includes transport from Amsterdam centre as well as skip the line tickets. The gardens get jam-packed so not wasting your day in a line is a huge bonus.
Skip the line entry plus a canal cruise – a very similar offering to the tour above except you get a ticket to take a canal cruise at your lesiure. This one is through Viator and is one of their best-sellers.
Entry to Keukenhof Gardens and a windmill sightseeing cruise – if you want to make a day of it, this €50 tour will take you on a cruise past some of Amsterdam's famous windmills (you even get to go inside one), you then sail past the tulip fields (camera ready). The tour is topped off with skip the line entry.
Visiting the Gardens without a tour
The dates are specific and change each year. Typically from March to May which is the best time to see the tulips.
The park is open from 8am to 7.30pm.
Entry to Keukenhof Gardens costs: €18 (adults), €8 (children 4-11), free (children under 4).
You can buy a combined bus and gardens ticket from a booth next to the information desk within the airport (€24.50 adults). You can also buy a combined ticket from various points within central Amsterdam (via airport €29.50).
How many hours to spend in Kuekenhof gardens? I had two hours at the gardens and that felt just right.
The gardens can get very busy. I visited towards the end of the day (between 3.30pm and 5.30pm) which seemed perfect as the crowds had thinned. As I arrived, the queue for the return bus looked like it required a two-bus wait to get back. It wasn't nearly as busy when I left at 5.50pm though I still had to stand for the entire return journey. Keep that in mind if you have a flight to catch.
Tip: Make sure you have plenty of space on your camera/phone – there's a lot to prompt photographs.
There are plenty of facilities at the gardens – toilets, cafes, restaurants and food carts. For more information about visiting go to Keukenhof Gardens official website.
Related articles:
7 Secret Spots in Amsterdam Noord
45 Amazing Things To Do In Venice – Italy
29 Best Things To Do in Porto, Portugal
30 Best Things To Do In Malaga
Where To Eat And Drink in Brussels
3 Days In Florence – The Itinerary I give My Friends