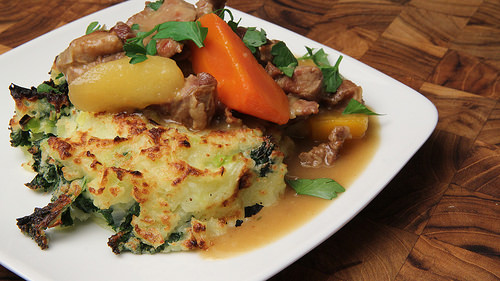 I spent four years at university with a wonderful Irish lad (hello, Barry) and during that time was introduced to traditional Irish food as eaten by an Irishman. So, I was very excited to find myself planning an unexpected trip to Ireland at the end of this month..and it made me think of my favourite Irish dishes.
Ireland, much like my home country, England, exists on a meat and two veg kind of diet where one of those 'veg' will inevitably be potatoes and cabbage most probably the other.
On the protein front, pork is favoured, whether it be in the form of sausage, bacon or gammon, while mutton and lamb offer a good second best.
But Ireland isn't just about the potato. Breads are a popular carb alternative and, being an island, there is plenty of fresh fish and seafood crying out to be consumed.
1. Coddle
Photo by: By Kari Haley, via Wikimedia Commons
It's been years since I indulged in the comfort food of coddle and it's the perfect season for it. With temperatures dropping, this one-pot dish has everything you (or, at least, I) need – sausage, bacon, potatoes and onions all cooked together in the meat juices. I'm salivating at the thought.
2. Colcannon
King of the Irish comfort foods, I'm confident I could survive winter subsisting on colcannon alone. Just two simple ingredients – kale (cabbage's greener cousin) and potatoes form the foundation of this dish but when you combine the fluffiness of Ireland's mashed potatoes with a touch of milk or cream and the texture of the kale (which happens to be in season right now – autumn), this dish is simple pleasure. Of course, it's only a side-dish – boiled ham or bacon are the natural accompaniments.
3. Irish Stew
It may sound like coddle on paper but Irish stew cooked up from potatoes, onions and mutton is a very different tasting dish. Another one-pot meal that increasingly includes carrots in the mix, Irish stew is definitely one of my favourites.
4. Corned Beef
If you've never tasted or heard of corned beef, it's worth clearing up the misnomer – corned beef has nothing to do with corn. The product because popular when salt was introduced as a method of curing meat (the Japanese used a similar technique with their fish and sushi was born). The word corn was used to describe the hard grains or 'corns' of salt in the beef. It's commonly eaten in sandwiches with mustard or cooked with…you guessed it: mashed potatoes, to make corned beef hash. That's the prize dish I always seek out in Ireland.
5. Oysters
I'll be honest, the first time I ever tasted oysters was in Dublin and I nearly vomited. I attribute the reaction to the fact I was pretty young and spent the previous day in a bar consuming my body weight in Guinness – which happened to be what I was washing my first oyster down with, as is common practice in Ireland. I've not exactly become a fan of raw oysters since my first try in Ireland (though I am very partial to the barbecued oysters I got expensively addicted to in Japan), but for the sake of giving this a second go, I'm going to try the fresh oysters and Guinness on my next trip to Ireland. Update: I am now completely off oysters since getting sick from them in Scotland.
6. Soda Bread
Not like your average bread, soda bread is made using bicarbonate of soda and buttermilk (or live yogurt) and it is the chemical reaction between these ingredients that causes air bubbles to form in the bread to provide the amazing texture. I'm a big fan of the wheaten soda bread, which uses wholemeal flour and is slightly sweetened but, to be honest, any kind with do…slathered with Irish butter, preferably.
7. Barmbrack
Photo (and bakery!) by: Fordmadoxfraud
Seeing as we're on the topic of bread, barmbrack is ideal for afternoon tea… though if no-one was watching or judging, I'd happily consume barmbrack for breakfast. In short, barmbrack is sweetened bread that is packed with plump, juicy sultanas and raisins and is best eaten toasted and buttered – accompanied with a cup of Irish tea, obviously.
Did you know: during Halloween, barmbrack is often filled with a number of items that determine the next year's fate for whoever finds them in their slice:
A stick signifies an unhappy marriage or arguments;
A rag (tasty!) indicates bad luck or poverty;
A coin means good fortune or riches (assuming you don't break your teeth and have to hand aforementioned riches over to a dentist); and
A ring apparently means you're going to be wed within the year.
With all those extra ingredients, it's hard to imagine there is any room left for the raisins!
8. Cashel Blue
Photo by: By AchilleT, via Wikimedia Commons
I used to turn my nose up at any cheese stronger than a cheddar, but as my taste buds have developed, I've acquired a firm love of blue cheese, particularly as the weather chills. Cashel blue is one of my favourites and one I can come across readily in England. However, eating the cheese in its native country, before export is the best way to eat it.
Ireland has many local cheeses so cheese fans will be able to sample more than just Cashel Blue.
9.
Gunniess and stout
I drank Guinness a lot at university – it was cheap (at the time) and thick enough to serve the function of dinner (hey, I never said it was a healthy lifestyle). So, I thought I knew Guinness…until I went to Ireland. It is true to say that there is Guinness and then there is Guinness served in Ireland. Even if you've dismissed this creamy stout in your home country I'd recommend giving it a second try in its native land because the taste is far superior.
What many people overlook is the fact that Guinness is just one brand name for the many excellent stouts on offer in Ireland. Ok, Guinness may serve 1.5 billion pints per year (!), but there is a much broader variety on offer – Murphy's Irish Stout is a personal favourite, as is Kilkenny's and Porterhouse (the product of Ireland's largest indie brewery).
10. Irish Whiskey
When your stomach is as full as a beer barrel from the indulgence of potatoes, bacon and stout, Irish whiskey serves as an excellent digestive. There are literally dozens of local blends and single malts to try so make a list of the ones you want to try or just get your bar man to recommend a whiskey or two.
Have you been to Ireland? What's your favourite traditional Irish food? Any to add to the list? Let me know in the comments below.
Related Articles:
Main image: Jay del Corro