Visiting Topes de Collantes, a nature reserve in the southwest of the Escambray Mountains, was never in my original travel itinerary for Cuba. However, for each day that I lingered at the beach in La Boca, staring out at the ominous peaks and troughs of the distant range, I became increasingly drawn to the mountains, until I reached a point of no return and I knew without a doubt that I had to visit Topes de Collantes.
Why visit Topes de Collantes and the Escambray Mountains
After nearly two weeks in Cuba bouncing between cities and beaches, fighting against the heat, I was ready for a change of scenery and Topes de Collantes offered that in spades. The nature reserve is well known for its hiking, thick jungle interior, ribbons of waterfalls, coffee plantations and an appealingly cooler climate.
However, the landscape isn't the only attraction.
The Escambrey mountains in Cuba may not be the highest range, but they are probably the most well known, courtesy of Che "Ernesto" Gueverao, who famously took to the mountains during the revolution. From there he plotted a route taking one city at a time all the way to Santa Clara.
With a highly romanticised view of the excitement and adventure that had once lay in the Escambray Mountains and with the promise of some of Cuba's most beautiful natural scenery, deciding to go hiking in Topes de Collantes was an easy decision.
Should you take a tour?
If you can see the Escambrey mountains from wherever you're based then it's most likely you can take a day-trip there. But therein lay my problem with the locally guided tours into the mountains – the lasted only for the day.
Having to steal time from my otherwise tight Cuba travel itinerary, I didn't have long to spend in the mountains but I knew for sure that I wanted to be there for at least one cycle of sunlight. I wanted to witness the mountains by day, but more so I wanted to see how this dramatic landscape might shift with the arrival of the night. Boarding an early bus, hiking and retreating to sea level before sunset was not enough for me. And so, I decided I was going to engage in an independent adventure into the mountains.
Getting to Topes de Collantes
Doing some research on the mountain range, my initial conclusion was that absent a tour or a rental car, there was no real budget option for getting up the mountain…until I spoke to the owner of my casa particular in La Boca one night over some rum.
"I'd love to go to the mountains," I explained as I bobbed back and fore on the porch rocker. "But it don't have a car," I sighed, staring at the dark silhouette of the mountains beckoning in the distance.
"Take a taxi. I know someone who will take you for a good price," my casa particular owner replied and I smiled. How had I forgotten I was living in the land of fixers?
The next morning the taxi driver arrived. We agreed a price of $40CUC/USD for him to drive me and my Travel Amiga into the mountains and return to collect us the following day. I didn't bargain hard. I wanted to get to the mountains and with a price per person cost of $10CUC each way, I felt like I'd gotten a deal.
The mirador on ascent to Topes de Collantes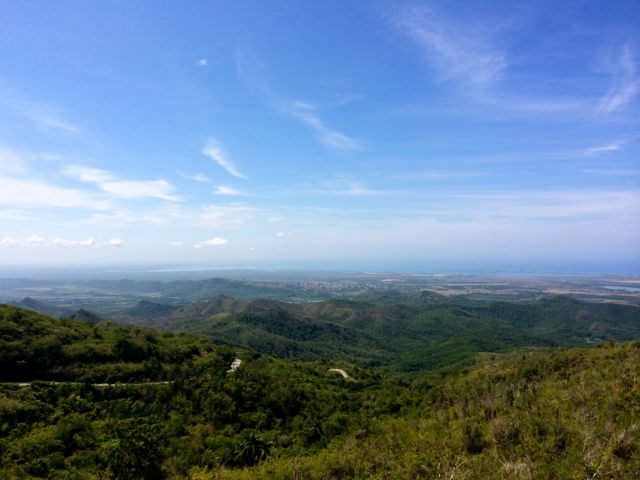 The drive up the mountains was ideally slow and wonderfully cumbersome as the car struggled up and down the gears against the gradient. With natural air conditioning breezing in from the wide open windows and reggae music blaring out of the same space, I sat back for the 40-minute journey to the top.
About three-quarters of the way up the mountain (or so I estimated), after uncountable twists, turns and switchbacks, the taxi driver pulled to a stop. The travelling cynic in me prepared for a row – was this the point where we renegotiate the price? But I was gladly wrong. The driver had stopped at a mirador and with my camera slung around my neck I took to the steps at pace.
Panting at the top (I did say I took to the steps at pace) I realised I'd been admiring the mountains from a singular view – looking down from at the shimmering blue of the Caribbean wasn't too shabby a vision either. But, even better, with a taxi driver allowing me to take my own sweet time and absent 15 other tourists to block my view, I was pleased I'd decided to pass on the tour.
Accommodation at an ex-Tuberculosis hospital?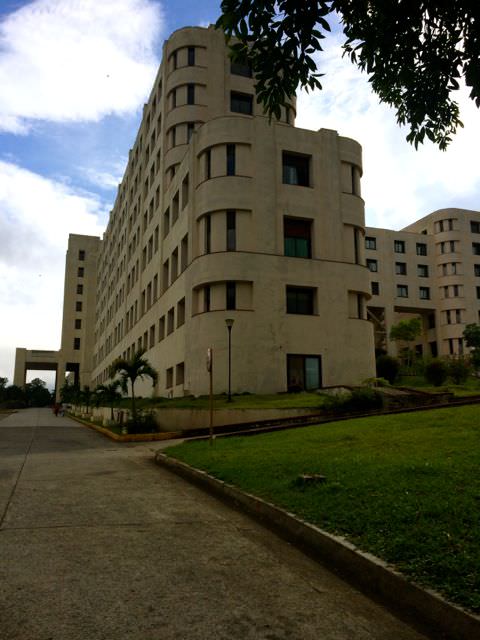 Time was marching on by the time I reached Topes de Collantes and I was keen to head into the jungle. However, there was the small matter of finding accommodation and stashing my bags before heading to the mountain trails.
How can I best describe the accommodation situation? Lacking is definitely true but strange would equally be accurate.
To best illustrate the point, it's worth knowing that the biggest hotel in the nature reserve, Kurhotel, was once a tuberculosis hospital and now serves as a place for health and medical tourism.
It was such a curious transition from death house to health house that I was game for staying the night (confident that I was vaccinated against TB when I was a teenager). However, I wasn't permitted to enter (perhaps because I looked too well, or perhaps because I was a foreign tourist), and equal parts disappointed and relieved, I headed to the next nearest option – a mountain cabin camp.
Villa Caburni – highly unrecommended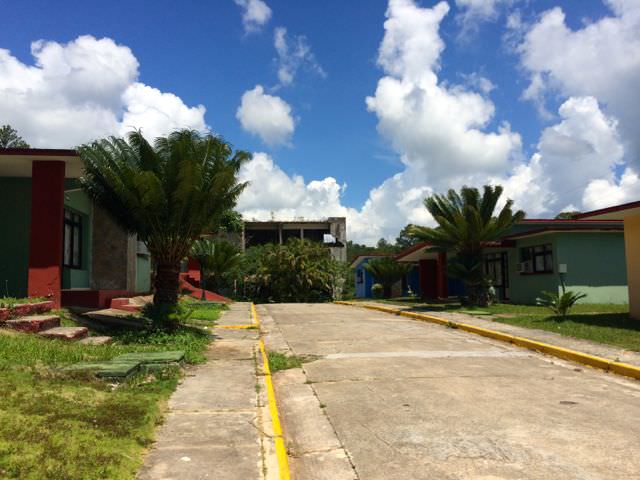 Ordinarily, I love the opportunity to stay amongst nature and the idea of a cabin or lodge at the mouth of the jungle sounds like the perfect travel adventure. However, that wasn't entirely how things turned out at Villa Caburni.
Fresh from the 50s and having been cleaned and updated around the same era, it took four attempts to find a useable room at this hotel and that's not because I was being picky – the first three lodges were (quite rightly) vetoed by the receptionist…
Leaving my bag with my ever so patient taxi driver, I popped into the hotel to see if they had a room available. Within seconds of stepping into the reception, I knew that the place most likely hadn't seen full occupancy for decades. The reception desk was deserted and as I searched around for someone to ask, a woman in jeans and t-shirt hurried over, slinging a jacket over her t-shirt and smoothing back her hair as she went. All smiles, she confirmed that she had one (and probably well more than one), room available.
"I'll take it," I confirmed with a lot more trepidation than I'd felt as I'd tried to infiltrate the ex-tuberculosis hotel.
Seemingly me and my Travel Amiga were the most interesting things to breeze into the hotel in the last decade and within minutes we'd acquired an entourage of the receptionist and a barely sober hombre who had getting his pre-lunch rum fix at the bar (and was apparently an employee of the hotel). Bundling us into the hombre's car, I spend the next hour scouting out a passable place (within Villa Caburni!) to rest my head.
The first lodge was pleasant enough and, I got the distinct impression, was the one lodge that the hotel kept clean and ready for guests. However, as the receptionist and the hombre made to leave, they discovered a problem – the lodge door wouldn't lock. After several attempts and a lot of jiggery-pokery, it was decided that we would have to move.
Lodge number two was so bad that the receptionist wouldn't permit me to enter, which I concluded was only a good thing given the porch area was littered with the detritus that suggested a drunk had set up home in the cabin.
It seemed that we had struck lucky on our third attempt, despite the lack of electricity, which the receptionist confirmed she would look into, and I was in the process of getting into my hiking gear when my Travel Amiga called me into her room.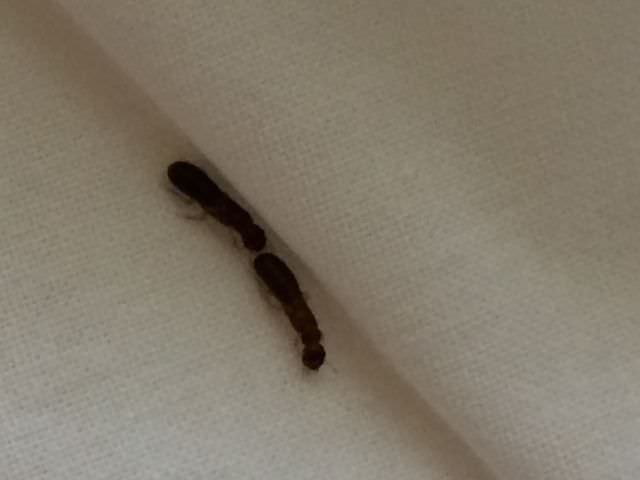 "Are they bed bugs?" she asked. Having become an unintended expert on the subject, I stepped closer to the mattress that was writhing with black bugs. Not bed bugs, I confirmed, but certainly an infestation of some sort – large ants, it turned out. It was time for room number four.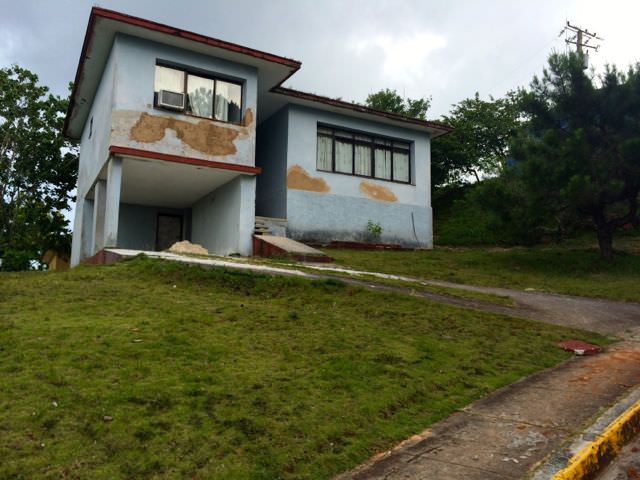 Fast running out of habitable habitations (and deeply aware of the distinct lack of gringo crash pads), I agreed to sleep in the fourth room regardless. Overlooking the decaying cockroaches on the floor and the mass of writing ants that were devouring the carcass, I got into my hiking gear and headed for the great outdoors.
Hiking in Topes de Collantes
There are a number of trails of varying length and hiking intensity in Topes de Collantes. However, with the afternoon well underway, I had little option but to take the Salto de Caburni hike otherwise known as the Blue Riband hike.
Covering around 5km over hilly terrain, the hike takes around 1 hour descent and 1.5 hours ascent for a round trip. Absent any real information about the hike and no map to guide me, I set off for the trail using the wooden trail posts to plot the route.
Leaving from the back of Villa Caburni (and therein missing the entrance gate and fee of ¢6.50CUC/USD – bonus!) the hike offered a fun trail that quickly progresses into the jungle and gets you amidst the undergrowth. Humid and buzzing with the sounds of nature, the descent passed over uneven and often slippery surfaces but is easily manageable.
Waterfalls
With the sound of a waterfall growing closer and my desire to plunge into some fresh water getting greater, I was relieved to finally reach this small but perfectly formed trickle that can be classed as a waterfall.
Getting into the water took a bit of care thanks to the mossy and slippery rocks and the uneven waterbed but once I was able to swim free towards the waterfall, the relief of the cold water after a sweating hike was bliss.
I lingered at the waterfall for around 30-minutes as a small number of travellers came and went (about six in total). Drying off on the rocks after my swim, I dipped into my rucksack and found the ham and cheese (of course – what else is there in Cuba) sandwich that the hotel had prepared for my ahead of the hike.
Famished, I chomping into rubbery, sweaty blocks of salt that were attempting to pass as cheese, but bite after bite the moisture sucking thick, dry white bread began to clog in my mouth. Less than half way through I admitted defeat and accepted that my evening would involve a another trek – this one to find half way edible food (and which might include breaking into the ex-tuberculosis hospital).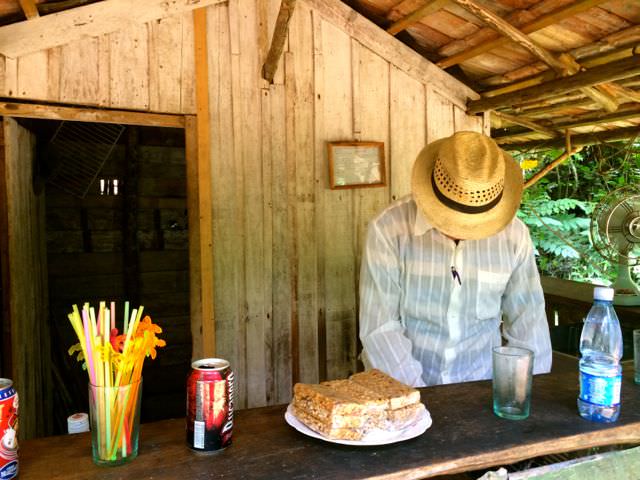 The hike back up through the mountains was hard going in the thick heat with each step feeling more challenging than the last. Knowing that there was a shin-splitting gradient to overcome during the last leg of the hike, I was delighted to find a small stall selling fresh pineapple juice before the greatest incline of the trail. Breaking for long enough to chance the incoming storm, refuse a rum and down a juice, I felt refreshed enough to make it back to the hotel at pace.
All in all, skanky sandwich aside (seriously, how is it possible to make a bad sandwich?), it had been a successful hike…or so I thought…
Postscript: ever had one of those moments where you think your trip has been an outstanding success only to find out you completely failed? Well, that happened when I got back online and did some research about the Salto de Caburni trail. The water that I heard as I approached the cute little waterfall wasn't coming from that tiny flow of water. It was coming from a 62ft waterfall that was so close I probably could have touched it…had I known it was there. Instead, I passed it by – I hiked all that way and missed the most amazing site. That definitely counts as a travel fail in my books. Please go and tell me what it's like!
The Coffee
Back at the cabin after the hike I was keen not to linger too long and with an ever enhancing hunger, I showered quickly and headed out in search of someone who had chef skills beyond killing a basic ham and cheese sandwich. You might think this would be an easy task, but it's not as easy as you might assume.
Without a car, the search for food was time consuming with every single person I asked recommending Villa Caburni. Trying to pull off a "thanks for the recommendation" smile as I continued to head in the opposite direction of the recommendation, my hopes were growing dim until I hit the Casa Museo Café.
With more than one day at my disposal, I would have liked to have explored the coffee plantations round area. However, being able to sit and sip one of the mountain brews was good enough…and also fundamental to my evening. Just about to relent and head back to Villa Caburni for whatever food hell might lie there, I tried one more time – was there anywhere else (not even necessarily anywhere good) to eat?
It turns out there was somewhere else and it wasn't just good, it was perhaps the best food I ate in all of Cuba.
Restaurant Gran Nena – Best food in Cuba
The restaurant that was recommended to me, Restaurant Gran Nena, happened to be a spit's distance from Villa Caburni and I headed straight there. The location was ideal with tables overlooking a deep crevice of jungle that was perfect for sipping some sunset beers and watching as the fireflies slowly zinged into life.
As the only two gringos in the place (most of the other visitors having already headed back to where they came from with their tour groups), it didn't take long for the manager to find us.
Did we have what we needed? Did we understand the menu? Did we know that there was a fresh fish barbecue that night?
The perfect balance of helpful without being intrusive, it was the first of many conversations I would have with the owner over the course of the night. He hadn't been in business long, starting with just the terrace and a few tables. However, as customers poured in, so he poured the spoils of his work back into his restaurant. Next came an extension, the installation of the barbecue, more tables, a better bar area. By the time a year had passed, this savvy business man and exemplary chef had become a shining example of what can be in Cuba if only talent and ambition is fed a little bit of opportunity.
The owner was proud of his work, his business and his food, and so he should be. For nearly two weeks in Cuba I'd suffered ever increasing food depression as the same flavours rolled their way onto my plate. But not in Restaurant Gran Nena. I ordered the chicken and rice expecting the same old stuff, but I couldn't have been more pleasantly surprised. Cooked until golden, the chicken had a crisp exterior yet perfectly juicy flesh while the rice was something else. Flavoured to creole perfection with a slight hint of curry and tossed with a sprinkling of sautéed vegetables, every bite made me want to sent this man across Cuba, cook-book in hand, teaching his culinary ways to the masses.
I knew that the cabin that awaited at the end of the night wouldn't bear the best night's sleep of my life but my happily full stomach was compensation enough.
Visiting Topes de Collantes was a highlight of my time in Cuba (travel fail and cabin problems aside), not just because of the hiking but because I got the chance to eat some of the best food I had in all of Cuba. And for that reason alone I'm glad I decided to explore on my own.
Useful information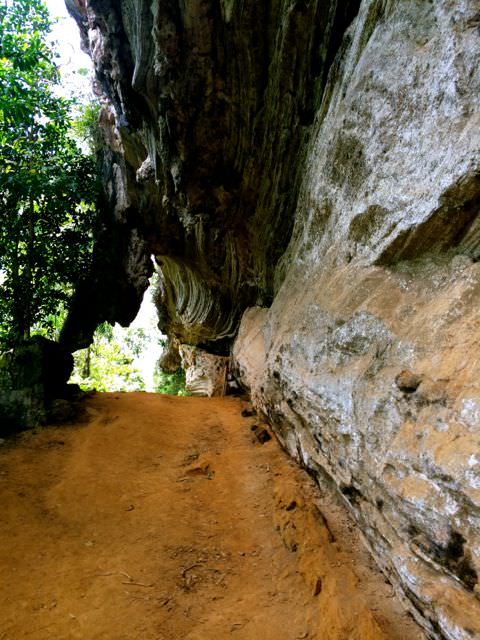 Taking a taxi is the best way to get to there without a tour or hire car. Ask your casa particular owner to recommend a driver and be sure to get a modern car with suspension for the ride. I paid $40CUC/USD for a return trip that permitted an overnight stay.
I would highly recommend you steer clear of Villa Cuburni ($35CUC/USD per night). Hotel Los Helechos (same price) is the other alternatives that will let foreign tourists in and I can't imagine it would be a worse option…but let me know what you think if you've stayed there.
If you're going to do some hiking, try the Salto de Caburni hike (a.k.a Blue Riband hike), which takes around 3hr to complete on a 5km round-trip including time for swimming. Don't be an idiot like me and miss the exceptionally close 62ft waterfall #fail.
Casa Museo Café has an excellent coffee menu (including a good few options sauced with rum if you're in the mood) and also offers coffee plantation tours (which I didn't have time to try).
Don't leave the mountains without stopping at Restaurant Gran Nena for dinner – best food in Cuba.
Find more travel tips and details about Cuba.