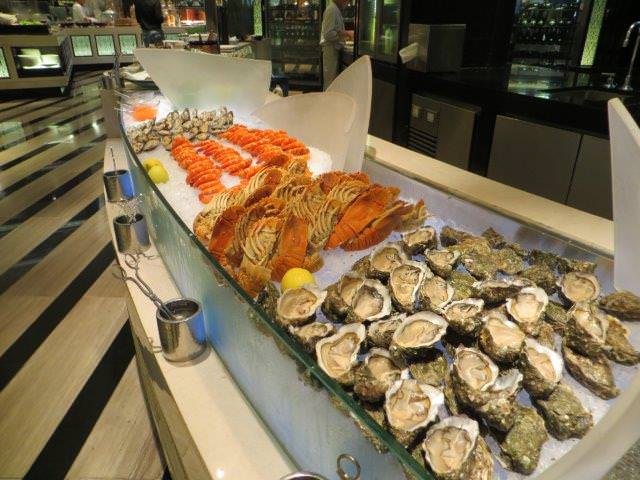 Buffets can be a blessing and a curse in the same bite, depending how you approach the multitude of food on offer. The price is most often the most enticing aspect of a buffet, allowing you the chance to eat a wide range of cuisines in the same meal, but somewhere between low quality food and bad choices, so many times, I've left a buffet feeling overly full or unsatisfied or, worse, both. Over the years, I've developed certain tactics for buffet dining aimed at giving maximum value for money and the same level of satisfaction I get with à la carte dining. Here they are:
1. Know the dining times and arrive early
I've realised that with buffets, it is about playing the long game. So, arriving early isn't so that you can eat more, but so you have sufficient time between courses to enjoy a long feast without the rapid face-filling that leaves you feeling uncomfortable.
2. Take an appetite
It may sound like an obvious point, but I'm sure I'm not alone in having eaten at a buffet when I didn't have a huge appetite. While there is no prize for stuffing your stomach to bursting point, it's not financially sensible to pay for a buffet when you could satisfy your hunger with a lower priced appetiser in a restaurant.
3. Understand what is (and isn't) included
Buffets are usually a good idea because of the relative value, but if extras push the costs up, you can quickly see that financial benefit evaporate. So, before you commit to the buffet, make sure you know what is included from alcohol and water to special dishes, desserts, tax and service charges.
4. Plan your meal
One of the main causes of a dissatisfying buffet meal is piling your plate on impulse without much thought to what you want to eat. The result is a plate laden with pasta, stew, cooked potatoes, salad, cold meats, pizza and curry. It simply doesn't work and flies in the face of how you would usually eat. Instead, plan your meal like you would if you were ordering from a menu.
Before you do anything, walk around the buffet (without a plate!) and check out what is and isn't available as well as understanding what needs to be cooked (and therefore planned for), what is popular (and likely to run out) and, generally, what interests your appetite.
Then, I suggest dining by courses as you would if you were ordering off a menu, using separate plates for each course. For example, if you have a good appetite, try:
Appetizer: soup, salad, antipasti or fish
Pasta with a light sauce or
Meat or fish course with potatoes or vegetables
Cheese course
Dessert
Coffee
5. Skip the bread and don't fill up on fizzy drink
As nice as the scent of freshly cooked bread might be, paying upwards of $50 to stuff your stomach with dough is financially crazy and can be done at any good bakery for a fraction of the cost. Of course, a bit of bread might be nice with some cheese or soup, but keep the portion size small.
Along with skipping the bread course, it is also a good idea to minimise your intake of fizzy drinks that will fill you up fast. Premium Champagne may be the exception to this rule if there is bottomless bubbly included in the buffet, but otherwise filling your stomach with sparkling water or sodas is not a great financial option.
6. Strike a balance between experimenting and eating what you enjoy
It's good to try new foods, but there is equally nothing wrong with sticking to what you know and like. Do one or the other to the extreme and you're more likely to come away dissatisfied. I always have diners remorse if I sail past unfamiliar foods but equally eating entirely new dishes can leave me craving that one item that is my favourite (usually beef or cheese).
7. Choose small portions to enjoy more courses
This may sound crazy advice for an all you can eat buffet, but one of the advantages is the breadth of food on offer. By keeping portion sizes small, you get to eat more courses and enjoy a broader range of foods.
8. Stop when you're full
When the lasting memory of your meal is sickness, you have gone too far. Yes, you want to maximise your value for money, but if you are doing so at the cost of your comfort, this is hardly a good deal. Try stopping just before you are comfortably full and wait a while – fullness usually increases for at least half an hour after we stop eating. That way, you will leave feeling satisfied instead of sick.
9. Do some research: not all buffets are created equally
I'm not a huge fan of all-you-can-eat Chinese buffets. I usually find the food quality sub-par, look warm and often feel I can get a better meal for around the same price by ordering off a menu. However, during my recent visit to the Sofitel Manila Sunday brunch buffet, I dined like a King. Yes, the price wasn't cheap, but the same meal à la carte would have cost several times what I paid. The point is, not all buffets are created equally. The good news is that with sites like Trip Advisor and Four Square, it is possible to check before you dine and root out the best of the buffets available in your location. You need never have a bad buffet again.
10. Consider whether it is real value for money
Buffets can undoubtedly offer a value meal, especially if you have a big appetite. However, it is always worth doing a quick value check keeping the above points in mind. Is there a lot on the menu that you will eat (often not the case for fussy eaters)? Does the buffet supply the quality you want? Are you really that hungry? Do you have enough time to take full advantage of the food? Is everything you want included in the price? How much would it cost to eat the same meal à la carte?
Related Articles: