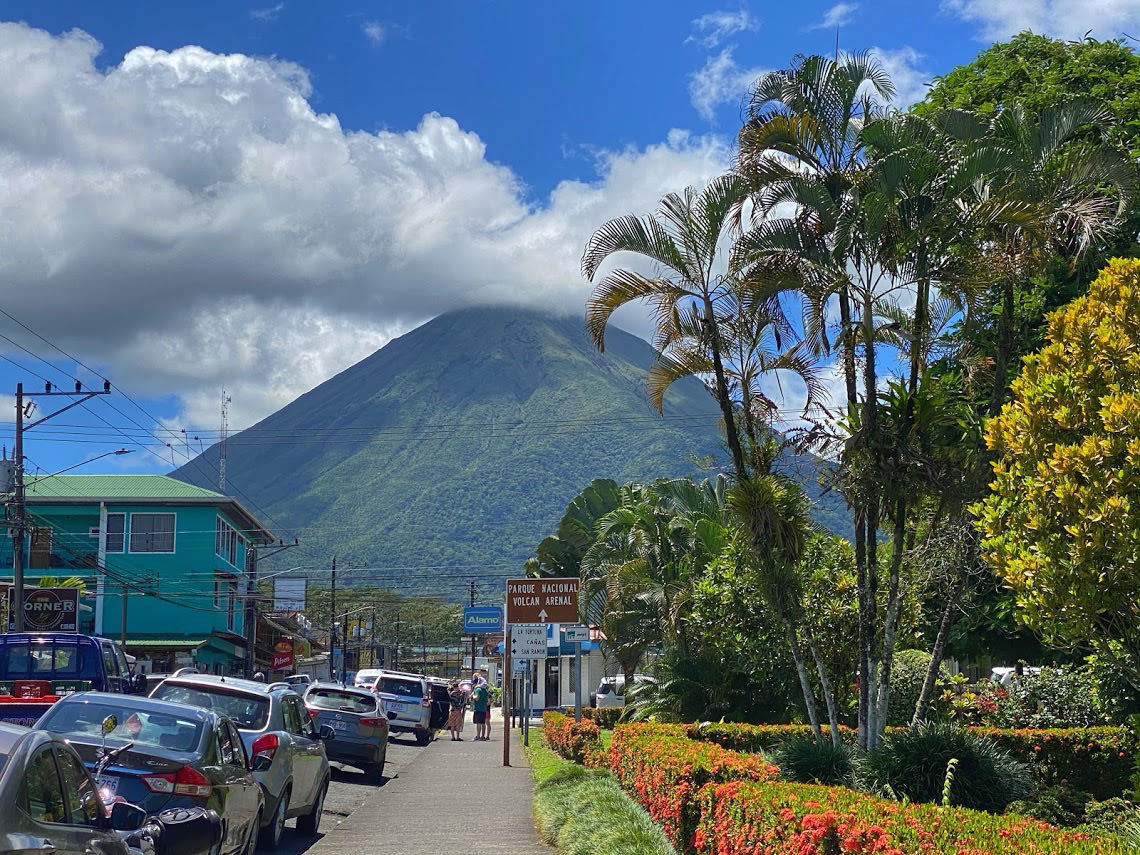 I can't believe I skipped La Fortuna the first time I visited Costa Rica. I suppose I was on a hedonistic, one-year around the world trip (that took me six years, oops); and I was chasing to sun along the world's coastal spots.
It took me a few years of circling the globe to circle back to Costa Rica and finally wind up in La Fortuna. Instead of kicking myself for stissing it before then, I did something better – I visited La Fortuna twice; you know, by way of a proper apology to this beautiful area.
In this post I'll share the top 10 things to do in La Fortuna Costa Rica.
A quick note – is it La Fortuna or Arenal? While there are no doubt geographical differences between La Fortuna and Arenal, for most visitors, it's kind of the same place. La Fortuna is the name of the cutesy town which most people use as a base. Arenal is the name of the volcano and some of the surrounding nature areas e.g Lake Arenal. You'll find tourists throwing both words around interchangeably. In this post, I'll generally refer to La Fortuna.
La Fortuna comprises a small town that has enough eateries and nightlife to fuel the tourists but the real beauty is the accessibility of the nearby natural wonders. The main attraction is Arenal volcano, which you can see from the town. However, there's a lot more on offer.
A quick word on booking tours: there are many tour combinations on offer in La Fortuna so you'd do well to pick your favourite activities in advance and then pack them into one of two tours. This works well since most of the activities don't require a full day.
You might also like: The Best Places To Visit in Costa Rica | Your Ultimate Guide to Travel in Costa Rica | A Simple Costa Rica Packing List (with Printable checklist)
1. Visit Mistico Arenal Hanging Brides Park
Walking across a network of bridges hanging high about the rainforest is one of the most iconic things to do in all of Costa Rica and La Fortuna is one of the best places to do it.
I visited Mistico Park where you take a wonderful 2-3 hour wander through rainforest, walking over 16 bridges (6 of them hanging over the forest), passing waterfalls and spotting wildlife on the way. While you can go to the bridges alone, I took a guided tour, which I'd highly recommend because without a guide I wouldn't have see the toucans, sloths, spider monkeys, tarantulas, bats and crystal butterflies. There is an alternative park, Sky Adventures Park, but it has fewer bridges.
2. Take a hike in Arenal Volcano National Park
Arenal volcano is imposing and visible from right within the town (it's stunning at sunset) but you can also take a hike on the volcano. I went with a guide, which is probably for the best since I did once end up walking down a volcano barefoot in Nicaragua.
It is possible to hike the volcano without a guide – go to the park entrance visitor centre, pay your fee and pick up a map. As someone who likes to summit volcanoes, it's worth noting that you can only hike on the lower reaches of the volcano. It's illegal to go to the top. The full view of the volcano isn't always visible, which doesn't make much difference when you're hiking on it but do try to spend a few days in La Fortuna to increase your chances of seeing it without cloud cover.
3. Visit La Fortuna Waterfall
La Fortuna waterfall is one a beautiful 70 meter drop (230 foot) of water close to La Fortuna centre. You can drive or take a taxi to the entrance, which is just outside the town. You have to pay an entrance fee and then be prepared for a few hundred steps down to the waterfall. Most importantly, remember that what goes down must come back up again. La Fortuna Waterfall is great combined with the hot springs and Arenal volcano.
4. Chill out in the Arenal Hot Springs
Speaking of the hot springs, this is another of the popular activity and after a day (or probably several days elsewhere in Costa Rica), it's nice to dip your body into some natural, thermal waters.
The important thing to know about how to visit the hot springs in Arenal is that there are many ways. Since Arenal volcano erupted, creating this new attraction in La Fortuna, plenty of hot springs options to choose from ranging from free to enter to 'you can bring my cocktail and canapés to my lounger' style luxury.
One of the most luxurious options is Tabacón hot springs, which is attached to a 5-star hotel of the same name. You can buy a one-day pass to the springs if you aren't a hotel guest. The free option – just a bit up the road from the Tabacon hotel, you can find thermal pools. As at your accommodation and they'll be able to direct you.
Looking to add some beach time to your trip? Check out Puerto Viejo, Cahuita and Santa Teresa.
5. Day trip to Caña Negro
Taking a trip to Caña Negro is definitely one of the most overlooked activities near La Fortuna. Although it requires a day trip, I saw more wildlife in its natural habitat during my this guided boat trip that I did during the rest of my time in Costa Rica. Probably because it seemed there were fewer tourists here. My favourite was watching the monkeys fooling around, completely naturally (not something you see so much in places like Manuel Antonio where they're largely hanging around hoping the tourists will feed them). Also spotted: kingfisher, Jesus Christ lizards, caiman and turtles. You can easily book a Caño Negro tour in the town. Another great option for seeing 'wild' wildlife is in Bocas del Toro on Isla Bastimentos in Panama if you're travelling south.
6. Go whitewater rafting at Rio Balsa
The closest to La Fortuna and some of the best whitewater rafting in Costa Rica, Rio Balsa is one of the best day trips. A popular alternative for those with time constraints is to go rafting at Sarapiqui. It's just a short detour from many of the main tourist routes meaning you can usually add it on if you're travelling by bus to La Fortuna. One of the most popular options is to add it as a stop when you're travelling from San Jose to La Fortuna.
If anyone is ever wondering why hire a guide in Costa Rica, I offer this picture – a close up of a snake with the photo taken by the guide using my iPhone and his telescope.
7. Day trip to Rio Celeste
A beautiful, natural and sometimes challenging half day hike away from the mass of tourists, it's worth taking a day trip to Rio Celeste and Tenorio Volcano National Park from La Fortuna.
If you have your own transport, you can do this hike alone. If you want an easy transport option that includes the keen eye of a guide (and lunch), book a guided tour.
8. Search for Sloths on the Bogarin Trail
Reputed to be one of the best places to see sloths in all of Costa Rica, of course, I missed this trail (see earlier reference to the fact I was too busy being a sloth in a hammock). But in all seriousness, I had already seen a lot of sloths so I was pretty chilled out about tracking down more. However, if you haven't seen sloths yet, get to the Bogarin trail.
As ever in Costa Rica, if you really are determined to see the most amount of wildlife, take a guide. They know which trees to look at, which spots the wildlife hides in. Generally, you'll see more in less time. If you're on a budget, you can find the trail and go on a self-guided tour just 5-10 minutes from La Fortuna.
Like wildlife? Consider adding Tortuguero National Park and Manuel Antonio National Park to your itinerary.
9. Eat and drink with volcano views in La Fortuna Town
I can't believe I've saved La Fortuna town for now since chilling out in this ever so cutesy town was, despite all the natural wonders on offer, one of my favourite things to do. I say chilling out, I mean eating and drinking, of course.
La Fortuna has a main square with some very dramatic views of Arenal volcano so do make sure you have an evening or two to relax – go at sunset to see the drama setting behind the volcano.
Where to eat in La Fortuna (and drink)? My favourite spots were:
Chocolate Fusion – if there were a time to scrimp, it's not here but when you taste hand crafted chocolates this good, you won't mind handing over a fistful of dollars for them. Coffee's pretty damn good too.
Snappers – despite being inland, this restaurant served up food that was good on the eye and the pallet. As you've guessed, the speciality is fish but you'll find meat and veggie options too.
Lava Rocks Cafe was a large, lively restaurant with surprisingly good food. I didn't indulge but the sunset cocktails looked large and cold.
Plan B – if you've got a day trip or an early start and need to bring food, get one of the yummy sandwiches from Plan B. Tell the lady it's for tomorrow and she'll skip the things that go soggy.
La Fortuna Pub is great if you want to sink some social beers (or sodas).
10. Take the scenic route to Monteverde via Lake Arenal
One of the things that makes Arenal volcano so stunning is the expanse of Lake Arenal stretching below. It's hard to be in La Fortuna and not want to get out onto the lake but I'd recommend holding out. The vast majority of visitors will go from La Fortuna to Monteverde and by far the best (and fastest) way to go is by boat across Lake Arenal.
---
Where to stay in La Fortuna & Arenal
Tabacon Thermal Resort and Spa – if you want 5-star luxury with access to thermal pools, stay here.
Lost Iguana Resort & Spa – another great options where you can immerse yourself in nature is Lost Iguana Resort & Spa. With views over Arenal Volcano and a spa to enjoy, you're in the right place to relax after a day of exploring. You can walk to the Hanging Bridges from here.
Hotel Villa Fortuna – a good, clean budget option with close proximity to La Fortuna town and beautiful gardens to relax in.
La Fortuna Backpackers Resort – if you're not a dorm dweller, don't be put off. I had a wonderful, large, modern and clean private room in this 'resort' which was a perfectly short stroll into La Fortuna stroll. Those hammocks I got sloth-like in were here. Be aware there are lots of similarly named places in La Fortuna so don't book the wrong one.
Find more articles here in my Central America Guides and South America Guides
Like this? Share it on Pinterest.