No matter which way I slice it, the beginning of 2010 was a monumentally shit time for me. My personal life had fallen apart and I couldn't stop crying. My sleeping pattern was in tatters and in the darkest parts of the night I lay in my bed, straining my eyes against the dim bedside light, flipping through travel brochures. I didn't know how to fix my life (God knows I'd tried) but I found a tremendous dose of comfort in an alternative solution:
Run.
As far and as fast as I could.
I'd never travelled alone before. Not really. Sure, I'd boarded a plane on my own and met friends at the other end. But I'd never been alone, alone. You know?
Vietnam was the place that had captivated me. I'd read a book years ago that was set in the country and I'd never been able to shake it loose. However, it was the advice of a friend that made me add Siem Reap to my trip. I'd never seen Tomb Raider (still haven't) but a bit of Googling convinced me I wanted to add the temples of Cambodia into my plans.
I still wasn't brave enough to travel alone at that point. I was barely on the edge of coping as it was. I didn't have the capacity (mental or emotional) to take on another life challenge, so I booked a tour. Four days in Cambodia followed by ten days in Vietnam. I chose Intrepid travel. They promised local travel in small groups that was highly likely to include fellow solo travellers. I didn't know then how to take myself to a new country without the aid of a tour. But not only that. In my weakest, tiredest moments of travel, even now, it's nice to have someone else take control of my trip.
And March 2010 was, bar none, the weakest, tiredest moment of my life.
Of course, life seldom goes to plan.
The Vietnam portion of my trip has left me with memories and a set of new friends that will last a lifetime.
The Cambodia part was entirely different. By a rare quirk of fate, I turned out to be the only person on my tour. This left me alone at a point in my life when I really couldn't bear to spend any more time with nothing more than my own thoughts.
That I was going to be travelling solo became apparent when I got to my hotel in Siem Reap when my guide asked me what time I wanted to start my sightseeing the next day.
"Whatever times suits everybody else," I said.
"There is nobody else," he replied.
Despair.
I thought about going straight back to the airport and repeating my journey in reverse. Except that option would take me home. The very place I was trying to escape. Instead, I slunk into my hotel room (two double beds, one person), crawled under the covers and, just like I had every night for the preceding months, I cried myself to sleep.
If you're reading this, feeling sorry for me: don't. My trip was about to get vastly better. My life was about to get…slowly…over the following few months, vastly better.
I've come to realise that there's very little in life that can't be solved with a good stint of sleep, a stomach full of food and a desire to point your attitude in a positive direction, even when everything (and I mean EVERYTHING) seems smothered in doom.
That first night in Siem Reap, I had the best sleep I'd had since the preceding summer. I woke to a buffet of foreign foods and under the sweltering humidity, the cold that had crept into my life and into my bones began to thaw. Rejuvenated from rest, I suddenly didn't care that I was eating alone. I was in Cambodia. I wasn't at home.
For two days I toured the temples of Angkok Wat.
At the time it was a liberating joy. But I look back at the photos now and see how small and unsettled I looked. I know my stance. I know my smile. I know I'm not the person who hides her eyes under an awkward fitting, 'pulled down too far' hat. I look at these photos and I see the pain I was feeling inside. But with every step I took on that trip (literally and metaphorically), I grew. I didn't know it at the time, but this was the journey that was set to change my life. And the exact turning point came on my last day in Cambodia, when I visited the Tonle Sap river.
There's no way I could convey now, 7 years on, exactly how I felt that day, but I had my journal with me and I wrote about it at the time. I'm going to share it with you. I was just beginning to write back then and I turned my journaled notes into a piece for a local travel writing competition. I didn't win and I'm not surprised – the prose is flowery and sends my stomach through a squirming loop of embarrassment when I read it. But I refuse to alter it. I refuse to betray the efforts of my younger self.
Plus, it captured the essence of that moment when I looked out at the life of people who seemed to have so little (if you're measuring things against a test of materialism) and was surprised to see – in their smiles and their casual happiness – that they had so, so very much.
I didn't know it at the time but that thought, on that day, in that spot changed me.
Here's what I wrote. Please read it with a side-order of compassion if you can.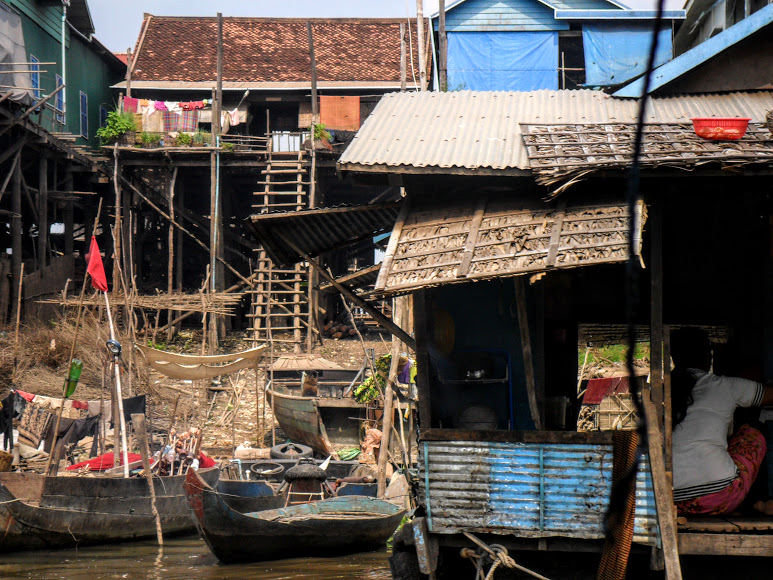 The smell was so pungent I could taste it. Fish smouldering in the thirty-eight degree heat accompanied by an undercurrent of aromas I could only describe as suspicious. Stood on the banks of the Tonle Sap in Cambodia, a mass of brown water extended as far as I could see, a mass that was the lifeblood of those who lived on, in and existed from its expanse.
I boarded a rickety junk boat, smiled at the crew and pulled down my large, designer sunglasses. I was hiding a hangover and the dense smell, unfamiliar to my western nostrils, wasn't helping.
Stealing time away from my haute couture culture, I had powered down my Blackberry and ventured out to explore another way of life. Cambodia. My last tall, skinny mocha-chocca-latte was a distant memory as was drinkable tap water and toilets that didn't give my thigh muscles a work-out. I had checked my usual luxuries at the departure gate and paid handsomely for the privilege.
The boat spluttered into action, lurching and chugging, spraying brown, muddy slush into its wake. The sudden motion stirred the odour, refreshing the sting in my nostrils.
Through the smeared lenses of my glasses I looked back, taking in the sights from a fresh angle. Rising up from the dusty ground, impossibly thin, spidery bamboo legs supported gravity defying bodies. Houses on stilts, every design different but each a testament to stability and strength providing shelter to whole families: grandparents, parents, children, a couple of chickens and a handful of dogs (food or pets I wasn't sure).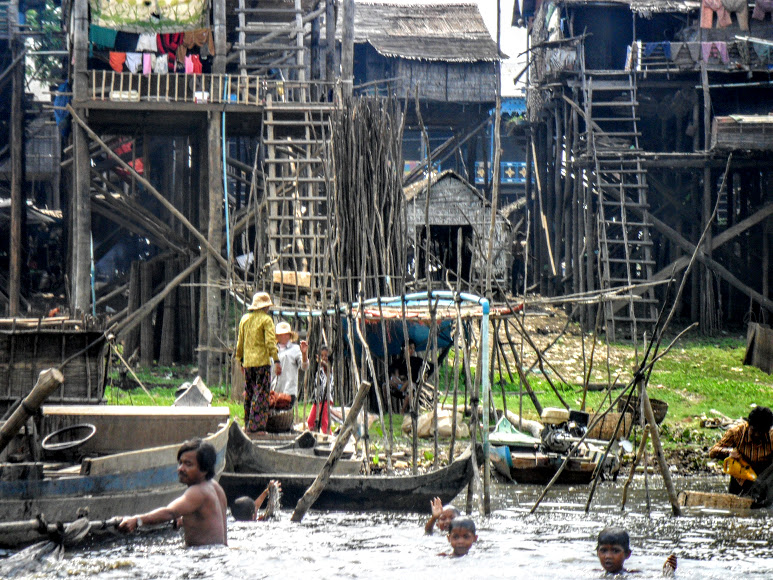 In the middle of the lake, I watched two boys dive expertly from a fishing boat. Their heads disappeared under the water, bobbed back to the surface then went under again, each time taking in giant mouthfuls of lake. Cheeks puffed out, the children spewed fountains of water into the air. I consulted my nose and winced.
Further on we travelled with the momentum of the tide, passing fishermen searching for the day's catch, their wives scooping pans of water from the lake to cook lunch, grandfathers tending small patches of land on the banks, farming with wooden contraptions that belonged in a museum. Fascinated, I watched from behind the anonymity of my dark sunglasses. All around, muscles flexed, tendons worked, faces soaked up the sun, the assault on my sense apparently lost to them.
As the boat ambled slowly, I peered closer, the detail of the stilted houses drawing my attention, a collage of colour and resource, a life of make do and mend. Hand woven rugs lay outside entrances in welcome. Corrugated iron leaned where walls might be. Effervescent pink flowers grew abundantly in old tin pots, hooked over ledges where, at home, UPVC windows would have been. Ladders that had never met a straight line ascended staggering heights letting neighbours call by. Cards were shuffled, tea served and Khmer gossip exchanged fervently. I studied the scene, unable to recall my own neighbours' names.
Cruising now, we passed into the widest part of the lake. Another tourist boat sailed by, crossing our stream, sending a hefty splash of water over my skirt and legs. I'm okay, I reassured the local guide, quashing the impulse to apply sanitiser gel.
The boat stopped, affording me time to take in the horizon. Stillness. Quiet. Simplicity. Beauty. I sighed.
A large floating construction intrigued me. Using the optical zoom on my camera I intruded secretively. The Love Thy Neighbour School. Neatly organised into rows, children sat upright at desks, faces swelling with pride, hands shooting into the air, eager to participate, keen to learn. The lake's potent scent started to lose its power over me. I removed my sunglasses.
We sat for a while allowing the lake's swell to bump us around as I drank in the scene. I was a lifetime away from my own world and relaxation started to wash over my knotted shoulders. I breathed freely.
Too soon, after several energetic attempts, the boast roared back to life. Returning to the dock we passed the children swimming again. This time my senses only detected laughter coming from deep within their bellies – bellies full of smoked fish, rice and happiness. Their parents sat in a boat, feet dangling over the side. She leaned on him. He slung an arm around her. Sunlight caught the satisfaction on their faces. The children waved at me, genuine delight. Surprised by the gesture, I hesitated for a split-second before waving back with vigour.
My thoughts turned to my own life and, watching the local people, I wondered which of us had the better deal. I could no longer smell the lake. I was no longer sure.
Less than six months after I returned from my trip to the Tonle Sap in Cambodia, I quit my job, sold my house and bought a round the world ticket. Life hasn't been the same since.
Stepping away – running away, if you prefer – gave me more than just a temporary escape. It gave me a change of perspective that ultimately changed my life. I can't claim to be that brave person who took a wonderfully happy set of life circumstances and decided to throw them away on a whim. I had a life I no longer liked and I decided to rebuild it from the ground up, pointing my toes in the direction that made me happy. That's easier because it doesn't involve risk.
Did you know? Tonlé Sap is the largest freshwater lake in Southeast Asia.
A few weeks ago, I returned to the temples of Angkor Wat and to the Tonle Sap in Cambodia. It was a trip that fell off the back of another challenging year but that didn't matter because the foundation of my life feels firmer and I feel taller. My stance is bold. My smile is broad.
And for giving me that, the Tonle Sap in Cambodia will forever own a piece of my heart.
Tonle Sap in Cambodia: How to visit
I took a tour with Intrepid Travel. Don't worry, I think it's rare to find yourself alone on one of these.
I combined their 10-day Vietnam Express Trip with their 3-day Secrets of Ankor trip through Siem Reap. Together, both tours were a perfect combination for a two-week break in Vietnam.
If you want to go it alone, it's very easy to turn up in Siem Reap and book a tour with any hotel, hostel or travel agency. However, if you prefer to book in advance, here are a couple of options:
Tonlé Sap tours with Get Your Guide
Tonle Sap Tours featured on TripAdvisor
Warning: Tourism has grown substantially on the Tonle Sap in Cambodia since I visited and I was worried about the sustainability of the lake as I watched boats spit diesel into the water and fumes into the air. There are more tour boats than there are tourists and children have started to beg. I spoke to my guide and he assured me that the local community have started to recognise the problem and boat building has halted. I hope a better balance of tourism and sustainability can be found. If anyone is aware of a legitimate charity working in the area, let me know and I'll include a link here.
Where to stay in Siem Reap
The Tonle Sap in Cambodia is best reached from Siem Reap (it's under an hour away by car). The city has expanded a lot since I visited in 2009 with a lot of superior hotels opening up. This time I opted for a private room with an en-suite in the Siem Reap Hostel, which has a perfect location a few minutes walk from the night markets, bars and restaurants.
Check prices and read reviews:
Siem Reap Hostel or Hotels in Siem Reap
Is there a particular place that has had a big impact on your life? Let me know in the comments below.
Related Articles:
Like this? Share it on Pinterest…