If you asked me which is the best Hawaiian Island to visit, I'd say Big Island. Why? Hawaii's Big Islands offers everything – nature operates at its most dramatic – where else can you witness new land being spewed forth from the earth's core; the beaches are not just pretty but also rare (Big Island has one of the few green sand beaches in the world). And that's not to get me started on the coffee plantations and local brewery.
Related: want to understand the islands, check out my Guide to The Hawaiian Islands – Maps, Names & Facts
But what do you do if you're on your first visit to Big Island? Where do you even start, working your way through the many things to do? In this guide, I'll give you a list of the highlights from beaches to volcanoes to luaus to culture, hikes and waterfalls. Here's my list of the top 15 things to do in Big Island.
1. Visit Hawaii Volcanoes National Park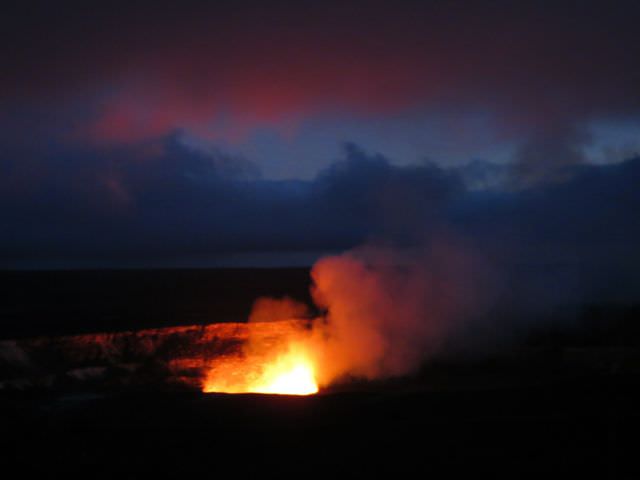 Despite its beaches, jungle and agriculture, Hawaii is most simply a chain of volcanoes, and that fact resonates nowhere more so than on Big Island. The island is home to two of the world's largest and newest volcanoes – Kilauea and Mauna Loa. From lava tubes to steam vents to the orange glow of lava, you can play for days in this national park.
The thing to know about Volcanoes National Park is it's one of the most actively changing parks since pesky Kilauea (last eruption in 2018) is regularly keeping us on our toes with their activities. Mauna Loa last erupted in 1984. You can read about my visit to Hawaii Volcanoes National Park. You should also check out the latest information about visiting the park, which you can do on the official National Park Service website.
Want to visit but don't want to risk getting it wrong? Take a tour. This Volcanoes National Park Tour includes a guided trip to the National Park, Waipio Valley waterfalls and Punalu'u Black Sand Beach.
Fascinated by volcanoes? Why not take a hike up Diamond Head in Waikiki on Oahu?
2. Enjoy a Luau
Experiencing a luau is such a popular thing to do in Hawaii that you'll see it mentioned on every one of my island guides. And this is my reminder to seek out a luau when you're on Big Island (like you need a reminder!) As for which one is the best luau? For me, it's the one that fits your budget, location on the island and timing, because they're all going to be good. It also depends on the style of luau that interests you. Want to learn to hula? That's possible. Or prefer to focus on the plentiful food and drink (definitely try some Hawaiian fruits)? You can have that too. More conscious about learning some culture – also an option. And if you're staying somewhere like the Hilton or Marriott, your hotel will probably be running one, which you can't beat for ease.
Tip: Finding the hotels in Hawaii painfully expensive? Consider booking a private room in a hostel in Hawaii. They're usually much cheaper. There are great choices in both Hilo and Kona on Big Island.
Some of the most popular luau on Big Island are:
3. Gaze at the stars atop Mauna Kea
Holding another world record, Mauna Kea is the world's largest mountain (measured from the base, which sits under the Ocean), but that's not the only reason to wind to the top. So perfectly positioned for clarity that NASA has its telescopes up there, this is one of the world's best spots for star-gazing. Don't worry if you don't know Saturn from Uranus. There are patient guides who will stand with you until you can make out the cheese craters on the moon.
In recent years there have been disputes between the telescope people and the indigenous people about using Mauna Kea, sacred land. For a while, the summit was closed. It's open again, but it's worth checking before you go. You can keep up to date on the opening of Mauna Kea here.
The easiest way for most people to visit Mauna Kea is to travel to the Onizuka Center for International Astronomy Visitor Information Station via Saddle Road. You can take a standard car up there, but you need a proper off-road vehicle to drive to the summit.
Volunteers run the star-gazing program at the visitor's centre, and Covid has impacted the program. All is not lost. Some tour companies are still taking small groups up the volcano via alternative routes and operating private star-gazing evenings. Bonus: they'll take you up in a vehicle that is fit for the road, and they'll handle the altitude change/rest times to get you up there fit and well. This star-gazing tour includes a stop at Rainbow falls and some caves before heading to Mauna Kea for evening star-gazing. They will also provide you with a warm jacket to wear, which, trust me, you'll need.
Travel tip: the combination of altitude and nightfall means it gets cold very quickly – pack layers, so you don't end up buying overpriced fleece jackets in the gift shop as I saw one poor honeymoon couple do. If you're looking for packing tips, here's my ultimate packing list and my list of 15 things to take on board a long-haul flight.
4. Go ziplining with Kohala Zipline
I did my first zipline in Costa Rica and have become hooked on it. Sadly, I visited Big Island before I visited Costa Rica, so I hadn't yet found my new addiction. Next time I'm on Big Island, I fully intend to fix that. Kohala Zipline regularly comes out as the most popular ziplining company in Big Island, with nine zip lines and five sky bridges, and is on my bucket list. Kohala Zipline is near Kona, on the island's west side, where most visitors stay.
Want the ultimate adrenaline rush? Consider doing a skydive in Hawaii. I did it over the north shore of Oahu.
5. Visit Akaka Falls, Rainbow Falls & Wai'pio Falls
Is it me, or is there something magical about ribbons of water tumbling down rock faces? Add in the potential for rainbows, and you have everything set for a spectacular adventure, a romantic hike, or a bit of photography. Whatever kind of trip you're having on Big Island, I highly recommend adding waterfalls to your itinerary. Big Island's waterfalls are mainly on the wetter northern and eastern sides. Two of my favourites are Akaka Falls (80 feet tall) and Rainbow Falls (over 400 feet tall). Both are located near Hilo and can be visited together, but if you only have time for one, I'd choose Akaka Falls. This magnificently tall waterfall tumbles through forest scenery. Forming part of the Akaka Falls State Park, there's a short, easy hike (under half a mile) to get to the falls through stunning greenery. However, Rainbow Falls is located within Hilo Town if you want easy viewing. Morning is the best time to try and catch a rainbow at the falls.
If you make it to Wai'pio overlook, you should also fit in Wai'pio waterfalls. It's one of the tallest on Big Island. It was very hazy when I visited so didn't lend itself to good photographs but it was a stunning sight nonetheless.
6. Hit Big Island's best beaches
Big Island is an Island in Hawaii. So, guess what – there's an entire coastline scattered with beaches. But not just any old beaches. Thanks to the highly active volcanoes, Big Island is home to some spectacular black sand beaches and an ultra-rare green sand beach. But more on those below. What if you're just after a regular beach? Here are some of the best beaches on the island. Choose your closest or pack up the car and try and explore them all.
Hapuna Beach is regularly touted as the best beach on Big Island, this beach is part of the state park and is a long, wide stretch of golden sand with safe swimming.
Mauna Kea beach (also known as Kaunuoa) comes a close second in the race for best beach and, in my opinion, it's more beautiful thanks to it's lovely crescent shaped white sands.
Waialea Beach (locally known as Beach 69) is popular for a reason, with soft white sand and gentle swimming conditions (summer swimming only).
Kamakahonu Beach is a small, sheltered cove dotted with palm trees. It's also known as kids' beach and you can probably guess why.
Makalawena Beach – possibly saving the best until last, this is one of the best secluded beaches on the island. You'll need to hike across untamed lava terrain for about 20 minutes to get there but then it will be only you and the other adventurous souls basking in the beauty of your efforts.
7. Visit a black sand beach
If you've never seen a black sand beach, you really should put this ahead of all other beaches on Big Island. It's such an other-world experience. Even though I've now seen several black sand beaches worldwide, I still find them wild and exotic and captivating. How do black sand beaches occur? It's down to all that volcanic material. Wikipedia puts it quite beautifully, "When lava contacts water, it cools rapidly and shatters into sand." You can find a complete description and list of the world's black sand beaches. Impressively, Big Island has six black sand beaches. There are two black sand beaches on Maui and none on the other Hawaiian Islands. Here's a list of Big Island's black sand beaches.
Punalu'u Black Sand Beach is not only one of the most impressive, and accessible, there's a chance you'll see green turtles on the sand.
Waipi'o Beach near Waipo Valley lookout is a wild black sand beach that's only fit for the adventurous because it requires a steep hike or 4×4 to get there.
Poho'iki Isaac Hale Beach Park is fascinating, having been newly expanded in 2018 (where else on earth does that happen?) after a new volcanic eruption. A new road was added (by the state of Hawaii, not the volcano – that would be impressive) and now you have a perfect black sand sunbathing beach. So, thanks, nature. Beware, swimming and surfing is for the experienced only at Poho'iki beach.
Kaimū Beach is evidence that mother nature both giveth and taketh away. Once a white sand beach, volcanic activity covered this beach a couple of decades ago replacing it with a black sand beach. Nature's costume change?
Kehena Beach is known as dolphin beach because of the dolphins regularly spotted off the coast. It's also one of the oldest black sand beaches on Big Island.
Richardson Beach is great for snorkelling and if you look closely enough, you'll see some of those rare olive coloured grains of sand – a nice option if you can't make it to Green Sands Beach. Speaking of…
8. Scramble down to Green Sands Beach (Papakolea)
Just when you thought Big Island couldn't be any more impressive, you hit the south coast and discover Green Sands Beach. Olive green in colour, you can only find this unique sand in a few places on earth (the other sites are the Galapagos and Norway). There's a fun hike and downslope scramble to get there, making it a more rewarding visit all around.
Without wanting to put you off, most people will not get to Green Sand Beach. You either require a 4×4 or the legs to carry you 2.5 miles from the parking area to the beach. I did the hike. Then you need to have the head and legs for the steep scramble down and back up again. There aren't any tours that take you there, but it's worth it if you manage to squeeze this into your time on Big Island because how often do you get to step on a stretch of sand so rare? Please be responsible and don't take any sand from the beach.
Read my full guide: How to Get to Green Sand Beach, Hawaii
9. Take a hike
I love a long day hike with a dedicated trail that doesn't necessarily lead anywhere in particular – the journey is the destination. But I'd suggest something different in Big Island – the volcanic land and lush greenery mean you can combine hiking and sightseeing in one activity. From easy and accessible to more challenging, here are some of the best hikes on Big Island. They all come with stunning scenery.
Akaka Falls State Park – an easy trail with the reward of Akaka waterfall at the end of it.
Hike to Makalawena Beach – accessing this secluded beach requires a 20-minute hike over lava fields. Watch where you put those feet.
Hike to Papakolea Beach – one of the most rewarding hikes and downhill scrambles I did on the Big Island, with the magnificent opportunity to step on an extremely rare green sand beach when you get there.
Hike to Wai'pio Beach – this really does require planning (or a camping permit) but if you're up for a big hike, head to Wai'pio Beach. You should only attempt this as a day hike if you're super fit and start early.
Hike through volcanoes national park – there are several trails in the park that will take you across lava fields, through lava tubes and to viewing points. Since the volcano keeps shape-shifting, check the trail details on the National Park website. Here's my guide from when I visited.
Hike up Mauna Kea – if you're going to take a big hike, why not make it to Mauna Kea, the highest point in all of Hawaii? It's a 10 km (6-mile) trail. Find out more on the Mauna Kea Visitor Website.
Captain Cook Monument Trail – a two-and-a-half-hour hike to reach an otherwise hard to get to the monument of Captain Cook (read more on that below).
Don't fancy a hike but want great views? Go to Wai'pio Lookout for dramatic cliff-face panoramas and a view of Wai'pio black sand beach. And if dramatic views are on your Hawaiian itinerary, check out my guide to things to do in Kauai.
10. Go night snorkelling with manta rays
There's something special about the Kona coast – it is rich in the plankton that manta rays eat. A plankton buffet, if you like. And that's made it ideal for snorkelling or diving with manta rays. Taking place at night time, when the manta rays feed, this is considered one of the most magical activities. Sadly, I didn't get myself organized enough to do it. If you have, I'd love to know how it went. You'll need a guided tour for this activity – this is the manta ray snorkelling tour I'd choose.
Prefer to go regular snorkelling? Kealakekua Bay is one of the best snorkelling spots. Otherwise, you can take a day-snorkelling tour – this one includes views of ancient lava flows and the Captain Cook monument.
11. Take a Kona coffee tour
Nature works its magic in Kona. Not only are there some pretty impressive beaches, but the earth's soil also delivers up the raw ingredients responsible for world-famous Kona coffee. You can sample the coffee in the island's cafes – Hawaii is a place where you can upgrade from Starbucks. I did a coffee tour and tasting at Hula Daddy. Otherwise, this small-group coffee tour includes the sights around Kona and a coffee tour.
Did you know? Kona is also where the Iron Man World Championship takes place – something I was lucky enough to see during my trip to Hawaii.
12. Visit the Kona Island Brewery
Whet your tastebuds and wanting more? What about some beer tasting? You're almost certainly going to bump into Kona Brewery's range of beers while you're in Hawaii, and on Big Island, you can visit the Kona brewery. You can walk to Kona Brewery from the town and take a brewery tour, or just hit the restaurant and enjoy a tasting flight of beer. I took the brewpub tasting flight and enjoyed it with a juicy burger. Yum.
13. Visit the Captain Cook Monument
"Seriously?" I muttered these words out loud when I first read the ludicrous, almost unbelievable story of how there happens to be a bit of British turf in memory of Captain Cook on Big Island. Let's start with the fact that, although he was an extraordinary explorer, mapping many previously uncharted lands, James Cook was an utter ar$ehole. Not only did he commit atrocities towards the indigenous people of the places he explored, but he also introduced STIs to Hawaii. Nice. Perhaps unsurprisingly, Cook met a grisly end when he picked a fight with the locals, but finding himself outnumbered, he was stabbed and stoned to death in Kealakekua Bay. Today, there's a giant white obelisk in the bay as a monument to him. The memorial is controversial in Hawaii, so I encourage you to visit only for the hike or snorkelling in the bay. Who wants to celebrate someone so bad anyway?
14. Learn Hawaiian culture at Pu'uhonua o Honaunau National Historical Park
If you want to dig deeper into ancient Hawaiian culture while you're on Big Island, visit Pu'uhonua o Honaunau National Historical Park. The parkland is spread across 180 acres and was once Royal Grounds. It was also a place of refuge for people who'd broken the kapu laws. Within the park, the lawbreakers could participate in an absolution ceremony. Today, the park remains a sacred space and a place to learn about Hawaiian traditions. You'll leave the islands all the richer for visiting.
Want to learn more about Hawaiian culture? Check out my guides to Things To Do In Pearl Harbor and How To Visit Pearl Harbor – Tickets, Tours & Tips.
15. Take a circle tour
Are you exhausted after reading this list? Wondering how to see the sights, read the 12 thrillers on your Kindle, and catch up on messages while having a massage? The solution: take a one-day tour of the island. This Big Island in a day tour focuses on the highlights, including Volcanoes National Park, Akaka Falls, Rainbow Falls and Black Sands Beach. Then you can flop back on your sunlounger and engage in the relaxation you came to Big Island to enjoy.
Related Articles: