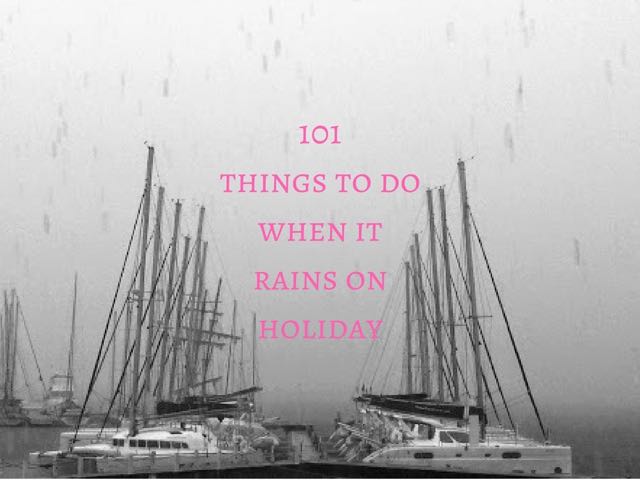 I travelled thousands of miles to escape England's winter weather, yet the rain followed me. When you arrive in a country expecting sun (and the contents of your suitcase reflect exactly that), it can throw you off course.
My intended itinerary had been a few weeks travelling up South Africa's coastline along the famous Garden Route, hitting as many beaches as possible. And in January, all my weather apps predicted it was peak sunshine season. The real weather – the one that exists outside my phone – however, had other ideas.
For days I chased the sun up the coast, only to have the rain biting at my heels every time I moved town. I was fed up with my rotten luck, forever looking out the window, constantly waiting for the tap in the sky to turn off, wondering how to spend my days since life had thrown me a curve ball best enjoyed under an umbrella.
So, I made this list of 101 things to do when it's raining on holiday, with every intention of ticking them off one by one. But, as Sod's Law would have it, by the time I'd finished writing, the sun had appeared. I guess that's what happens when you're no longer willing the rain away.
Here's the list anyway because I'm sure I'll have plenty more rainy days on my travels. In no particular order…
Like this? You might like my related post: 101 Travel Things To Do When You're Bored At Home
1. Read a book. If you're an avid reader like me, this will be the top of your list. If you're not, maybe it's time to start a reading habit. Check out my list of the 50 best travel books of all time.
2. Send some postcards. From experience, finding postcards, writing postcards, remembering addresses, finding stamps and locating a postbox is easily half a day's work. And it's a wonderful surprise for the people at home. Tell them it's raining as you write, and they'll love you even more.
3. Go on a coffee crawl. Check out the local coffee shops. Even the smallest locations have a few choices. You can compare cakes, coffee, seats, bathrooms and wi-fi speed. If you drink slowly (or a lot), this can take a whole day.
4. Go for a run. If you're in a warm country, chances are it's been too hot to run – the rain fixes that. It's also a good way to see the sights…at speed. Check out Map My Run for local routes.
5. Catch up on your messaging. No, I'm not talking about emails or work. I'm talking about that message you keep meaning to reply to from your aunty or the group chat about the next social with your friends at home.
6. Have sex. Travelling with a significant other? Can you think of anything more fun on a rainy day?
7. Get day-drunk. Yes, this isn't going to win me any sensible points, but when was the last time you had a bottomless mimosa brunch? (If the answer's yesterday, maybe skip on to the next one.)
8. Do some yoga. If you're a yogi, this will already be on your list. If you're not, when was the last time you really stretched your limbs (number 6 excluded). Find a local class or use a class on an app. My favourites are – Do You Yoga and Yoga Studio.
9. Do your laundry. Admittedly this is yawnsville but you won't be thinking that when you put your freshly laundered clothes on the next day. This is especially rewarding if you're on a longer trip.
10. Sort your photos into albums. Be honest; you've been saying this since day one of your trip. Actually, probably since your last trip. Delete the blurry ones and get them sorted into albums. Now you're just one step away from creating a slideshow for all your friends.
11. Take some photos. I like to look at blue sky, but a moody cover of clouds makes for a much more interesting picture. Get snapping.
12. Have a mani-pedi. Whether you do it yourself or find a salon, go for a bright polish and it might encourage the weather to follow. Guys: when was the last time your feet felt smooth? Polish: optional, but give your feet a treat.
13. Call home. Once again, there's nothing more joyous than being back home in the cold and hearing that someone else's tropical island holiday is a washout. It's nothing personal, it's just human nature. Spread some joy. It will also force you to think about all the good things from your trip you have to boast about.
14. Listen to an audiobook. Having finally accepted that I won't have time in my life to read ALL of the books in the world, I've added audiobooks to my 'reading' habit so I can get through a few more. And, I have to say, I'm a convert. Get a 30-day free trial with Audible here.
15. Have a boxset binge. Ordinarily, sitting indoors watching TV isn't something I'd recommend, but if the weather is against you, it's time for a rainy day activity. In my experience, Netflix functions much better outside your home country than Amazon Video.
16. Go to the cinema. As well as being dry and selling popcorn (two factors that win all on their own), why not catch the latest blockbuster? If you're not in a big town or city, look out for small, independent cinemas or bars and cafes with movie nights.
17. Take a nap. With zero guilt and nothing else pressing to do, why not drift off for an afternoon nap. Don't forget to set an alarm – this is a nap, not an exercise in messing up your body clock.
18. Learn a new language. Maybe you want to learn to say a few words in the local language or perhaps you're on a lifelong quest to become fluent in another language (for me: Spanish). Duolingo is my go-to app. It's both free and fun.
19. Cook something. Apartment rentals make it easier to have access to a kitchen while you travel and when it's raining, comfort food goes down a treat. If you don't have access to a kitchen, look for a local cooking course.
20. Visit a museum. Even the smallest, one-horse towns tend to have a museum and it's a great activity which also leaves you feeling like you've explored something of your destination. For better immersion, try to find a guide to walk you through the museum.
21. Make some new friends. Those people hanging around in the lobby – they're bored and frustrated too. Strike up a conversation. You never know, they could become friends for life or at least have some more rainy day suggestions.
22. Charge all your electronic devices. Laptop, tablet, phone, camera, external battery. When was the last time they all had a full battery at the same time? Get everything charged so you're ready to go exploring when the rain does stop.
23. Organise your luggage. Where did you put that sunblock when you shoved it in your bag in a hurry and why is your hand sanitiser at the bottom of your dirty laundry when it should be in your handbag. Get your stuff together so you spend less time looking for things and more time adventuring when the weather turns for the better.
24. Dance in the rain. Kind of. Take a dance class, or just pop your favourite tunes on in your room and have a boogie. Did you know that dancing is actually good for your mental health as well as your physical health.
25. Do some trip planning. If you're on a multi-location trip, plan where you're going next. It's surprising how much of a time suck this is, making it an ideal thing to do when it rains. Got everything planned? What about your next trip? You can find my +100 favourite websites for trip planning here.
26. Dream big. I do all my best thinking at the beach, and with a lot of downtime, I've had a lot of thinking time. When do we ever take time to think about our dreams and make plans for how to get there. In the last few days, I've concluded I want to live closer to the beach. I now need to come up with a plan for how to do it.
27. Draw something. It doesn't matter if you have the drawing skills of a 5-year-old (like me). It's another activity that's surprisingly good for your brain. I find drawing gives me a visceral memory of the moment and place, too.
28. Learn how to juggle. No, it's not a skill that's going to help you save lives or the planet, but you'll be pretty impressive at the next party when you pick up three canapes and fling them around in the air. Tip: start with soft, break-proof items.
29. Go shopping. Personally, I'd rather eat my toenails than spend a day shopping in big malls but wandering around local craft shops can be fun and I love poking around local supermarkets to see what people buy for dinner.
30. Journal. Yes, another rainy day activity that is good for your health. From increasing your IQ, promoting mindfulness and inspiring creativity, a little bit of writing every day (even if it's just every day on holiday), has big benefits.
31. Start a blog. Think private journaling is pointless? Feel free to share your thoughts with the world while mastering the skill of blogging. You can find my tips for starting a travel blog here.
32. Make something wearable. Knitting and crochet have had a huge resurgence in popularity in recent years. Why not pick up some needles (or a hook) and learn a new skill. Want something smaller? Try macrame.
33. Meditate. Whether it's something you already do daily or you've never tried, it's a great rainy day activity considering most meditation apps allow you to play the soothing sounds of rain in the background. Not sure where to start, I love the Calm app.
34. Listen to music. Music is so often a background noise in my life, and it's only when I travel (sitting on buses or planes) that I truly listen to music without doing anything else. Take some time to listen to some tunes.
35. Find some new music. A quick shout-out to friends on social media will usually help you find some new music, and it's very likely that music will come to remind you of your trip, so it's new memories in the making.
36. Look for live music. An outdoor concert might not be ideal but is there a basement bar somewhere where the local talent is trying out their latest songs? Guess what – listening to live music will also brighten your rainy day spirits.
37. Volunteer. This can be a little tricky to organise off the cuff, but you don't know unless you try. Is there a pet rescue you could go to and show some love? A place where you could teach local children English for a few hours?
38. Workout. Buffet breakfasts are good for the waistline (expanding it). Don't wait until you get home to tackle the bulge. Even some two-litre water bottles can provide a good workout, or check out this 20-minute hotel workout from Nerd Fitness.
39. Go down the YouTube rabbit hole. Rainy days were meant for watching stupid videos on YouTube. Ideally, featuring animals. This should get you started – a squirrel trying to hide a nut in a dog.
40. Listen to some podcasts. I keep meaning to find some fun and informative podcasts to listen to. Rainy days are ideal for trying a few out. Got any to recommend? Let me know in the comments below.
41. Try out Blinkist. Did you skip past the 'read a book' recommendation? If you're not ready for a full-length book, try Blinkist. This app summarises over 2000 popular non-fiction books, so you can devour the highlights of a book in under 15 minutes. It's a paid app, but there is a free trial.
42. Write some reviews. Stayed somewhere good? Eaten the best pasta outside Italy? Share your experience online. Tripadvisor is the most popular place for leaving reviews, and you'll help other visitors make a good decision.
43. Go for a long lunch. Speaking of restaurants – go hole up in one. One of my favourite days from my last trip to Florence was getting 'stuck' in a restaurant in the rain. Lunch morphed to afternoon coffee and into dinner as the rain poured down…and the wine poured freely.
44. Catch up on your Instagramming. It may feel like it, but it hasn't always been raining, and even if it has, those moody shots have got Instagram stamped all over them. You'll find me on Instagram here.
45. Do some home admin. It might be up there with doing your laundry, but tackling one or two of those niggling chores that you've packed on your trip will take a load off your shoulders. For me: sending a copy of my tax return to someone I need to send it to is always a few thoughts away.
46. Do your internet banking. Checking the exchange rate, moving money, paying off the credit card or just making sure your finances are in order is a dull but sensible thing to do when you have some downtime. You might be pleasantly surprised and find you have underspent…allowing for a rainy day treat like…
47. Go for a massage. I defy you to come out of a massage and not feel better than when you went in. Also great for working out any kinks you might have acquired trying to sleep on the plane.
48. Make a life list. Places you want to visit? Bucket list experiences? Foods you want to try? A life list of things you shouldn't do again: drink snake whiskey. A smaller version of dreaming big. I love Trello for organising things.
49. Back up your photos. Having had both an iPhone and a camera data card fail on me, I know first-hand the pain of losing your holiday photos. Back them up. I use Google Photos. It syncs easily on your phone, and you get a lot of free storage before you have to pay.
50. Make some music. If you're staying in a hostel or you're near a cafe with creative folk around, you won't have to search hard to find some sort of musical instrument. Try to learn at least one basic tune.
51. Read some blogs. From travel tips to personal stories and life journeys to anecdotes and recipes, the internet is filled with brilliant blogs to follow. (Thanks for reading mine – here are some others to check out).
52. Do some puzzles. Exercise your brain with some puzzles – crosswords, sudoku, maths challenges (not for me, thanks), give your brain something to chew on and get a bit smarter in the process. Can be combined with day drinking, but your success rate will decrease over time.
53. Take a long shower. Assuming you're not in a water-scarce area, treat your body to a long, hot shower. I've been used to quick showering thanks to travelling in many countries with scarce water, and spending the time to properly wash my long hair under hot flowing water is always a pleasant experience.
54. Go to the hairdresser. As well as being a treat having someone else deal with my long locks, seeing how hairdressers work in different countries can be fascinating. Having my hair cut short in Japan without sharing a word of English was quite an experience and resulted in one of the best haircuts of my life. Just pack an umbrella to save your new hairdo from the rain.
55. Book a homestay. Sitting in a hotel in the rain can be soulless. Book a homestay (or a room in a host-present AirBnB) will show you how the locals tackle rainy days and give you the opportunity to find out more about everyday life in the country you're visiting.
56. Walk in the rain. 'There's no such thing as bad weather, only the wrong clothing.' So, put your rain jacket on and get ready to explore. Rain doesn't mean you need to stay indoors all day. And think how rewarding the hot shower will be when you peel off your wet clothes.
57. Watch the rain. That water that falls from the sky is life-providing and too rare a sight in many countries. Appreciate its presence, power and beauty before you curse it too much.
58. Take a tour. A guided tour in transport can help minimise the time you spend in the rain while letting you explore your local sights. Check out local tours on Get Your Guide.
59. Take the hop-on hop-off city sightseeing bus. If you're in a city that has one, sitting on the bus (without hopping off) will let you see the sights while staying dry. The accompanying audio guides are usually peppered with history and have a good dose of local tunes. Just don't sit on the open-top deck. You can find City Sightseeing buses here.
60. Listen to your thoughts. How often do we sit and listen to the commentary that goes on in our own head? What are you saying to yourself? What thoughts come up. You might glean some deep and meaningful insights about your life. At the very least, you might discover that you're in the mood for a burger for lunch.
61. Leave town. It is possible to outrun the rain if you really are stuck in rainy day hell. An impromptu change of plans always adds an element of adventure to your holiday.
62. Learn some fun facts. I suck at pub quizzes, and I could certainly benefit from expanding my general knowledge. Check out these 101 Amazing Facts Everyone Should Know. For example, did you know prairie dogs say hello with kisses?
63. Play games online. From Scrabble to Trivial Pursuit to the old classic, solitaire, and the modern classic, Candy Crush, it's easy to lose hours at a time, face down in your phone.
64. Play cards. Want to play something more social? Pick up a deck of cards. Can't remember any good card games? Here are some ideas to get you started.
65. Reach out to old contacts. Ever wonder whatever happened to Barbara Beeswax, who you used to work with or Carly Curlyhair from school? The chances of finding these old contacts online is pretty high. Why not try to track them down?
66. Organise your phone apps. My iPhone is a mess. It's a dull job, but on my next rain day, I think I need to get organised and do some deleting (I no longer need that Japan train app).
67. Go wine or beer tasting. If you're in a wine or brewing location, go find out about the local drink. This does not need to fall into the get drunk category of activities….though that's entirely your choice.
68. Do a DIY wine or beer tasting. Not got a brewery or winery near you? Hit the supermarket and buy a few different bottles. Taste and compare. Take notes. Have an in-depth discussion about notes of fruit or just enjoy the taste.
69. Go to the gym. Rain can leave you with restlessness and unexpended energy. If you don't fancy a room workout or running in the rain (wet running shoes – urgh), find a local gym.
70. Find an indoor or heated swimming pool. You can still have the holiday feel of warm water by finding a covered or heated swimming pool.
71. Luxuriate in a sauna. If the rain really has chilled your bones, why not try to find a sauna? There are few things that will heat you up quicker.
72. Don't forget to put your mosquito repellent on (or be grateful you don't have to). Steamy hot and wet weather brings the mosquitoes out in droves. Take the time to apply repellent to every inch of your body. Here's my guide to the best mosquito repellents.
73. Educate yourself with some documentaries. Can't bear the idea of spending your TV watching boxsets? How about taking the time to learn something new. Here's a list of the best documentaries on Netflix.
74. Find a daytime 'night' club. It's 3 am and dry inside a nightclub at any time of day. If you're in a big city, you may find yourself in luck.
75. Spend some time with TED. Still not sure about watching Netflix while you're away? What about a TED Talk or two. Usually, in shorter, bite-sized bursts, learn from some of the smartest brains on earth. Check out the most popular TED talks of all time.
76. Take a course. Learn something new with an online course. I like Udemy for a quick way to pick up new skills. From photo editing to ethical hacking to healing energy to cryptocurrency, be careful you don't get so sucked in that you don't go out when the sun reappears.
77. Search for something local. Give 'What's on in [insert the name of your location]' a quick search on Google. Who knows? Perhaps your favourite band is playing, or there's a comedy night to check out.
78. Help out. Got a skill you can use to help someone locally? Something broke you can fix? If nothing else, keep your hotel room nice to give the staff a break. You'll get some good travel karma, promise.
79. Swim in the sea. Assuming the temperature isn't Arctic cold, go splash about in the water – you're getting wet from the rain anyway.
80. Throw a room party. Ever wondered what an epic hotel room party was like? Why not throw one. Obviously, don't throw the TV out of the window or trash the place but invite a (safe) bunch of your hotel neighbours along to help you drink your minibar dry.
81. Visit the local religious establishment. Regardless of whether you're religious or not, the local religious building can provide refuge from the rain, and most of these structures are usually impressive. Do be careful of local customs.
82. Hire a driver for the day. 'Show me your city/town' is a great way to get some inside knowledge. You can usually hire a driver through your accommodation.
83. Write a book. Ok, so you might not quite complete it before the rain stops (unless it's a book for 2-year-olds), but if you've ever felt like you have a book in you, why not give it a try?
84. Treat your immune system. If you've been caught in the rain, make sure you don't catch the sniffles. Try some fresh fruit juice, healthy teas or ginger to keep yourself in top health for when the rain comes out.
85. Check-in online for your return journey. Of course, you don't want to think about going home but getting this bit of admin out of the way when it's raining means you don't have to do it when the sun shines. Sort out your boarding card, figure out the route back to the airport and relax for the rest of your trip.
86. Try a local cocktail. Fruit, mixers and spirits change in popularity right around the world. Find out what the popular local cocktail is and go try it, ideally in the place where it was first created.
87. Make a video of your trip. With GoPro's free app (Quik), you can throw all your video clips and photos together to make a quick video of your trip. It's super easy to get the hang of and fun to watch the finished video.
88. Try the local delicacies. Swap the safe pasta lunch for something a little more adventurous. Research the top 10 local delicacies and make a point to try at least one of them. If it rains for a while, see if you can get through them all.
89. Get some new books. Reading is only part of the fun. Why not search for some new books? You can usually find a book store close by or do it from the comfort of your dry room if you have a Kindle or other eReader. You can find Kindle books here.
90. Learn some local history. Guide books are a good source of information otherwise, hit the Internet. Knowing the history of a country can really help you understand the local people, their cultures and their ways. It can also help avoid some social faux pas.
91. Check out a new social media platform. Never quite grasped TikTok? Or figured out the point of Twitter? Sign up for a new account. If nothing else, it will suck a reasonable portion of your time and you might discover something fun.
92. Learn a magic trick. Much more impressive than juggling, pick a magic trick (making coins disappear, sawing your partner in half…maybe) and perfect it. Rebel Magic will get you started.
93. Clean out your purse/wallet. If you're anything like me, every spare receipt and bit of paper gets shoved into your purse or wallet until it's fit to bust. Have a clear-out. Your load will be lighter because of it. Literally.
94. Count your coins and spend them. Coins can be the hardest part of a new currency. Empty your pockets, count up your coins and go spend them. Vending machines are a good place to trade them for something more useful/edible/drinkable.
95. Find a local charity to donate to. Do some research – what local causes could you contribute to? Especially if you're travelling through a country that isn't as wealthy as at home or where there aren't the rights you take for granted, find a local cause and donate some of the money you're not spending because you're inside escaping the rain.
96. Make up silly limericks. Skills (or not) aside, trying to make up some limericks is likely to make you laugh. Here are 5 tips for writing limericks.
97. Enter some travel competitions. Try to win your next trip for free. Travel Dave has some suggestions on how to win.
98. Lie in. Remember all those time you were at home, when the alarm went off at o'dark-thirty, then you heard the rain and wanted to roll over and go back to sleep? Now's your chance.
99. Look for underground activities. Salt mines. Caves. Catacombs. What's near you? Perhaps one of these top underground tourist attractions.
100. Play on Pinterest. As well as being a world of pretty things, Pinterest is an endless source of inspiration from craft projects and books to read and games to play to places to go. If you can't find it on Pinterest, it probably isn't worth doing. You'll find all my travel inspiration on Pinterest here and my Prosecco-related Pinterest Profile.
101. Still bored? Check out this awesome list by Fevered Mutterings of things to do when you're bored.
So, that's my list of 101 things to do when it's raining on vacation. With any luck, the rain has already cleared by the time you get to the end of this list. If not, I hope you've got some ideas for how to spend the rest of your rainy day. Any suggestions to add? Let me know in the comments below…
Related Articles:
Like this guide to 101 things to do when it's raining on holiday? Share it on Pinterest…