In this article you will find out the best things to do in Yangon, Myanmar, together with recommendations for where to eat and sleep. I've also created a map with Google maps showing all of the majors sights mentioned here. You'll find that at the end.
For many visitors, Yangon will be the first interaction they'll have with Myanmar and it's a fantastic starting point. Mandalay, while perhaps more familiar thanks to creatives like Kipling, just doesn't possess the same number of sights – and dare I say buzz – as it's southern sister, Yangon.
Times change: Since writing this guide, the political situation has changed in Myanmar. Some adventurous travellers are still visiting, so I'm keeping these guides online. Also, in the hope Myanmar will open once more. If you do visit, check your government's travel advice (it can impact your travel insurance) as well as local advice.
After several weeks in Southeast Asia, listening to other travellers liken Yangon to what Bangkok must have been like 20 years ago, I had a few pre-conceptions about the city before I touched down. But it took less than an hour in Yangon for me to reach a verdict: those people were wrong. Yangon felt a world apart from the rest of Southeast Asia.
Not unsurprisingly when you look at a map, it shares many more similarities with it's western neighbour, India: the way it looks, the streets, the noise, the people, even the scent in the air. And there's one thing I learned about my time in India – it may be packed and crumbling in parts, but it's also brimming with some glorious, superlative, not to be seen anywhere else in the world sights.
And Yangon, my travel friends, is no different.
1. Shwedagon Pagoda at sunset
Shwedagon pagoda is one of the most famous places in Yangon and, admit it, this is probably one of the few (if not the only) tourist attractions you're aware of in the city.
As well as being one of the most ostentatious sights (up there with the Grand Palace in Bangkok and, frankly, all of Rome), this golden spectacle is very tall (99-metres/325 foot), fantastically old (over 2,500 years, which would make it the oldest Buddhist stupa in the world) and is the most sacred Buddhist spot in all of Myanmar.
Why? It's thought to contain various relics from Buddha, including strands of his hair.
The pagoda is best visited at sunset when the fading sunlight glints off the golden stupa to give a wonderfully ethereal glow. Stay through dusk until darkness when you can see the pagoda lit up and shining against the midnight blue sky.
The entrance fee was pretty steep in my opinion at $8.
2. Sule Pagoda
Sule pagoda was very close to my accommodation so it was the first pagoda I saw in Yangon – and, indeed, Myanmar, so that's probably why iI found it to be the most impressive. Like Shwedagon, it's stupa that gilded in gold and it's perhaps a hundred years or so younger than the main tourist draw.
Particularly fascinating is Sule's location – in 21st century Yangon, it serves as a roundabout thanks to the roads that have been built around it.
I'd recommend going to all of the smaller pagodas, including Sule, before going to Shwedagon because otherwise they'll seem tiny in comparison. I visited first thing in the morning but it also looks impressive lit up at night.
There was a $2 entrance fee.
3. Botataung Pagoda
The presence of not one but two pagodas in Yangon housing strands of Buddha's hair is kind of a big thing in the city. Botatung pagoda is the second place you can see (not see) them. Located by the river, this pagoda is another smaller, golden stupa. Noticing a theme? Get accustomed to it: this is Myanmar.
At just $2 to enter – the same price as getting into Sule pagoda – I'd say you're getting a bargain for being that close to some of Buddha's relics.
Once again, you can book a tour but it's going to be combined as part of a city-wide Yangon tour.
4. Chaukhtatgyi Pagoda Reclining Buddha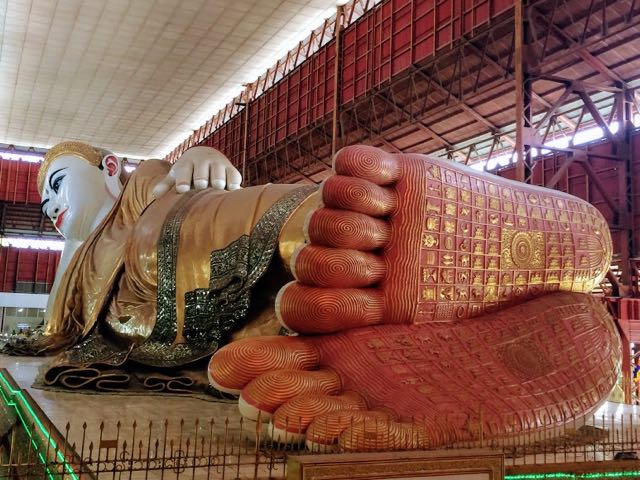 One of my all-time favourite sights in Bangkok is the reclining Buddha in Wat Pho but at a mere 46 metres (150 feet), it's almost tiny in comparison to the similarly reclining Buddha in Yangon. Stretching 66 metres (216 feet), it really is a task to get this Buddha into one shot. Thankfully, some thoughtful soul has constructed a viewing platform to make the process that bit easier.
For some reason, this pagoda isn't on so many tourist's lists so you can pop in any time of day and you should have a decent view.
Other good news? It's completely free.
Most sightseeing tours skip this spot but it's very easy to get there on your own – see the map below.
Plan your day because this reclining Buddha is just a short stroll from the next on my list.
5. Nga Gyi Pagoda 45 ft tall Buddha
Ok, ok, so this Buddha is 40.5 feet tall (including his pedestal) and goodness knows I get vexed enough when someone shaves half an inch off my height. However, I'm only 5 foot to start with and at over 40 feet, I think this Buddha can afford a bit of simple rounding.
Anyway, the point is: he one imposing sight. And, like the reclining Buddha, somehow doesn't seem to have captured the crowds. Reason: unknown.
Like the reclining Buddha, this doesn't seem to be on any of the city sightseeing tour itineraries. However, check out the map below – the seated Buddha and the reclining Buddha are just a short walk from each other and easy to see independently.
There was also no entrance fee.
6. Bogyoke Park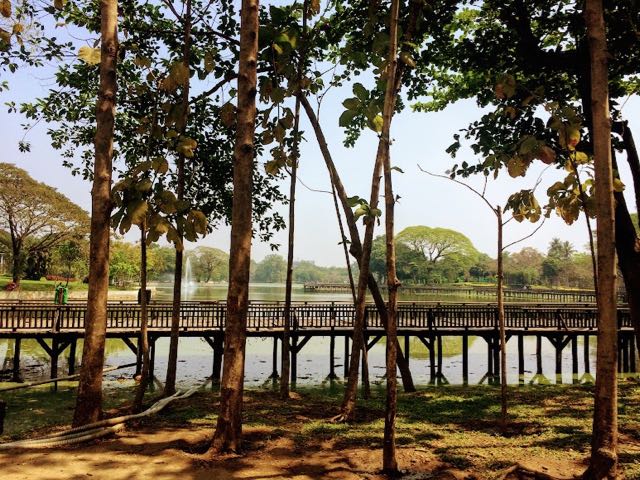 Besides the religious sights, Bogyoke Park was by far one of my days out in the city. There's something about green space in fume-filled cities that pulls me in and keeps me there. Hence, I lingered in this park longer than I needed to. I stopped for lunch at an overpriced restaurant; chilled out on the baldy grass with a cold drink and a book; I may even have had a small nap (it was a big lunch, ok?!).
The highlight – feeling very much like Indiana Jo walking this boardwalk. Not a single board was fully nailed down or intact and in most countries there would be hazard tape around the whole thing. But in Yangon, couples, friends and families all strolled over the boards and around the lake.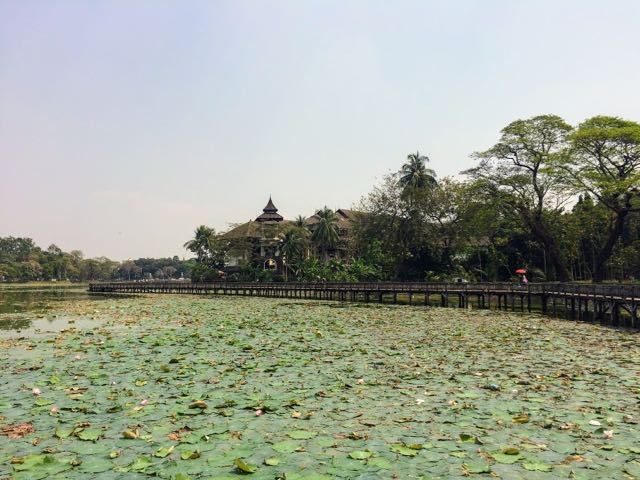 The park is reasonably close to Shwedagon pagoda and makes a nice contrast if you've had a day (or days) crammed with pagodas and Buddhas.
7. Inye lake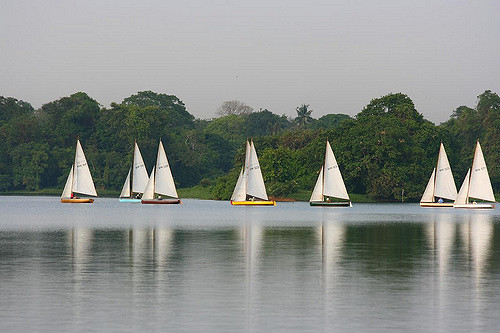 Seeing as we're talking about nature spots, Inya lake is the biggest lake in Yangon. Created artificially by the Brits to offer a water supply to the city, it's function has transformed over the years and it's now used for sailing and rowing.
Located north of Shwedagon pagoda and en route to the airport, you're going to want some wheels to get there. If you're able to do a deal with your taxi driver and it fits with flight times, why not stop by for half an hour or more on your way to or from the airport.
8. Bogyoke Aung San Market
I've mentioned more than once that shopping isn't my favourite activity and Bogyoke Aung San Market wasn't much different. In fact, unless you're shopping for a longyi (native long skirt worn by both men and women) or you're after souvenirs, you won't need much time to scoot through this place.
Usually, I'm happy to sit and grab a bite or drink in a local market and just soak up the local life but it wasn't that kind of market and I ended up having a disappointing ('I'm so hungry that I have to eat right now') meal around the corner.
Be aware that the market is expensive and haggling is hard here so you might be better keeping your souvenir buying to another time and place. But stop by for a wander because, if nothing else, all the fabrics make for an interesting sight and this was the most interesting part of the market for me.
Most sightseeing tours in Yangon include a trip to the market. This might be a shrewd move as a local tour guide is going to be a good companion for agreeing prices.
9. Colonial Buildings
Not since I was in Cuba have I seen such crumbling beauty and one of my favourite ways to pass the time was simply to wander the streets and look up. Some buildings are better restored than others, some have colonial grandeur but most of them tell a tale of time gone by.
Wander the streets. Get lost. Have your camera at the ready.
But if you prefer to have more guidance that that, you can take an Architectural Heritage Walking Tour. There are free walking tour in the city, which take in the architecture and give a brief introduction to Yangon
10. Yangon Circle Line train
Running a loop around the city that takes about 3 hours, the train gets crammed with locals transporting their wares – largely fresh fruit, vegetables and herbs – from one side of the city to the other.
It really does need to be seen to be believed. The train costs just 20 cents – yep, that's right – making it one of the cheapest experiences in the city. The train journey covers 46 kilometres (26 miles) across 39 stations and takes around 3 hours (see my point about the speed of the local transport in Yangon?).
You can also take a dedicated circle line tour if you'd rather have a guide with you to make sure you get on the right train without having to change. A tour also includes getting off to see a local market that most tourists wouldn't get to.
11. Go to a Tea Shop
Tea time is an institution in Myanmar and, unlike the UK tradition of sitting for afternoon tea around 3 p.m., tea time is enjoyed in Myanmar all day and night long.
A time and place where people meet and catch up over a cuppa, you should have tea like the locals at least once and Yangon is a great place to try it.
Tea 'houses' are dotted around the city and are often simple outdoor areas that have a selection of seats and tables.
It can feel intimidating at first, especially if you're alone, but when you see one, just walk up, take a seat (on one of the tiny, knees up to your chin seats) and order tea.
In some fancier establishments you might be given a menu like the one above but it's pretty easy to cut through the list because it's all the same same tea just with different ratios of tea to milk to sugar.
12. Yangon National Museum
I didn't make it to the museum so I can't comment personally but I believe there are's a whole heap of grandeur to go along with the historical and cultural exhibits.
The museum is about 20 minutes by foot from Shwedagon pagoda and has three floors of exhibits. The entrance fee is around $4. If you're a museum and history buff, you can take a guided tour of the art galleries and museums of Yangon
13. Try the local food
I'm in two minds about recommending the local food because, IMO, Myanmar's food is up there with the food of the Philippines as being one of the worst cuisines I've tasted in the world. Still, when in Rome and all that…
You can read more about the food of Myanmar in my Myanmar Travel Guide.
There are a lot of curries in the city but for the most part, they are bland and lacking the flavours of curries from other parts of the globe. However, if you have that expectation in mind, you'll be less disappointed.
Even the Indian curries in Myanmar were bland compared to what I've tasted in India.
But this deep-fried chocolate samosa: ten out of ten!
Walking past and sniffing the air is always going to be one of the best ways of finding a good place to eat, which is how I ate most of the time in the city. If you're after more of a sit down affair, I had a good experience at both:
Signature Fine Dining & The Garden Bistro – absolutely overpriced but that's largely due to the location inside Bogyoke Park. The food was a highlight, the service was excellent and the views over the lake were the icing on the cake.
Rangoon Tea House – this place was impressive enough that I ate there twice. Dark teak inside, there's almost an air of mystery about this place and that samosa I mentioned – created here.
China Town – Going to China Town is a fun and culturally immersive things to do at night. It is also where I ate some of the best food in the city. With barbecue on offer, you just pick a table, pick out the food you want and sit back with a nice cold beer in hand. If people watching is your thing, you're going to be in your element here. It's also one of the few areas in the city where 'late night' (after 9 p.m.) drinking takes place.
If you want to experience the city's night markets under the guidance of a local, you can take a Burmese Market Tour on Yangon at night – the tour includes trying the street food as recommended by a local.
14. Golden Rock Pagoda Day Trip
Yangon is a great 'jumping off' point for other sights in the area. Popular day trips (or overnight trips if you prefer) include:
A gold gilded rock hanging off a cliff edge that's also a major pilgrimage site – need I say more?
If you want to take a day trip on your own in one day, you can read how to do it using public transport.
15. Bago Day Trip
More pagodas and an impressive reclining Buddha await in Bago – as well as a wine monastery (yes, I thought that might spark interest).
Bago is only a couple of hours away from Yangon, making it an easy day trip. You can find out how to get there via public transport and you can read about the sights of Bago here.
---
How to get around Yangon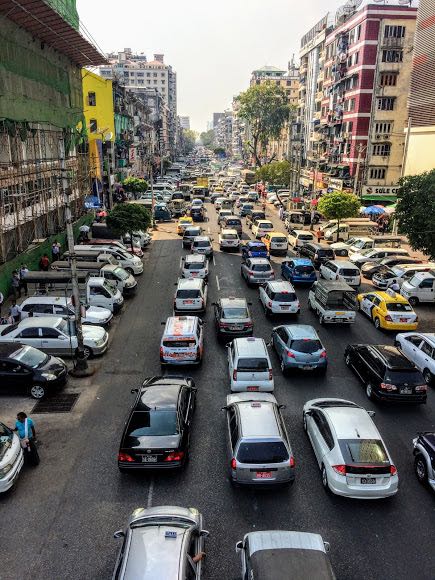 I wish there was a nice way to say this but Yangon's transport system sucks.
The roads are snarled up with more traffic than I've seen anywhere in the world (and I've visited over 60 countries now).
So, what is the best way to get around?
I walked. And it was a LONG walk. To get from my accommodation by Sule Pagoda up to Shwedagon and via a few other sights, I clocked up close to 20 km.
A city tour might be a good option because a) the taxi driver rates are likely to be more expensive for a one-way ride than the entire cost of your tour; b) you won't have to haggle; and c) you get the bonus of a guide.
If you don't want to take a tour, taxis will be your main other option but know the going rate before you get in because I didn't meet one driver in Yangon who didn't try to rip me off with a 100% uplift.
Sadly there isn't much by way of public transport in the city. Of course, there are public buses and a train but neither are going to be good methods of seeing the sights as they are often slower than walking.
How long do you need to visit Yangon?
Most people I met spent 3 days in Yangon. I had planned 4 days in the city but I got struck down by a bacterial infection called shigella (do yourself a favour and don't Google that), which wiped out my last day of sightseeing. The upshot: it is possible to fit everything in if you only have 3 days.
Where to stay in Yangon
Most of Yangon's sights are either in or close to downtown, an area that's in the south of the city where the river bends into a 'u'. So, if you don't want to spend all your time in traffic and would like the option of walking to some of the sights, choosing a downtown location is your best bet. If you don't have much time, place yourself between the airport and Shwedagon pagoda (the spot that's likely highest on your to-see list).
Little Yangon Hostel: I stayed at Little Yangon Hostel and would highly recommend it for the clean rooms, friendly common area and spot-on location. If you want to see what it's like to live in an old Yangon house, this is a good option. Just don't book your bus tickets here – they are marked up by an extra $10!
Pickled Tea Hostel – I doubt you could get a hostel closer to Shwedagon pagoda than the Pickled Tea Hostel. Complete with rave reviews and a range of rooms from dorms to privates, if you're in the city on a budget and don't want to throw down for too many taxis, stay here.
Jasmine Palace Hotel – Close to Inya Lake, the Jasmine Palace is on the right side of the city for the airport, making it ideal if you have a flying visit, yet is still only a few kilometres from Shwedagon pagoda. But best of all? There's a rooftop poor and bar, which are ideal for escaping the stress of the city's streets.
Hotel Grand United (21st Century Downtown) – A modern hotel in downtown Yangon, you can breakfast on the rooftop while you plan your day. One of the best things about this hotel it's value for money – shop around because there are deals to be had.
Sule Shangri-La – There's a reason this hotel was named one of TripAdvisor's Traveller's Choice hotels. As you'd expect from a Shangri-La, the location is excellent and the decor grand.
Savoy Hotel Yangon – A short walk to Shwedagon pagoda (around 15 minutes), the Savoy wins for location alone. And then it offers more – with a charming, luxury feel that seems more exclusive than other luxury hotels in the city.
Myanmar Travel Guide Book
Yes, the internet is full of useful things but the Internet isn't so hot in Myanmar and anyway, I love the weight of a guidebook in my hand. Scrawled notes from people I've met, tea stains on the front. A solid memory to take home. I used the Mynamar Lonely Planet Guidebook
What's the difference between a pagoda, a temple and a stupa?
I was confused by this distinction too, so I asked my guide. Here's what she told me:
Pagoda is a generic term for a stupa or a temple.
Stupas are pagodas that you can go around but you generally can't go into – because there is no entrance. Shwedagon Pagoda in Yangon is a good example of a stupa.
Temples are pagodas that you can go inside and typically they have four entrances and exits located north, south, east and west with a Buddha at each entrance.
Is it Yangon or Rangoon? Myanmar or Burma?
Get the short answer here: Myanmar or Burma.
Map of Yangon
I've created a map of things to do in Yangon including each of the locations in this article.
Related Articles:
Like this? Share it on Pinterest…