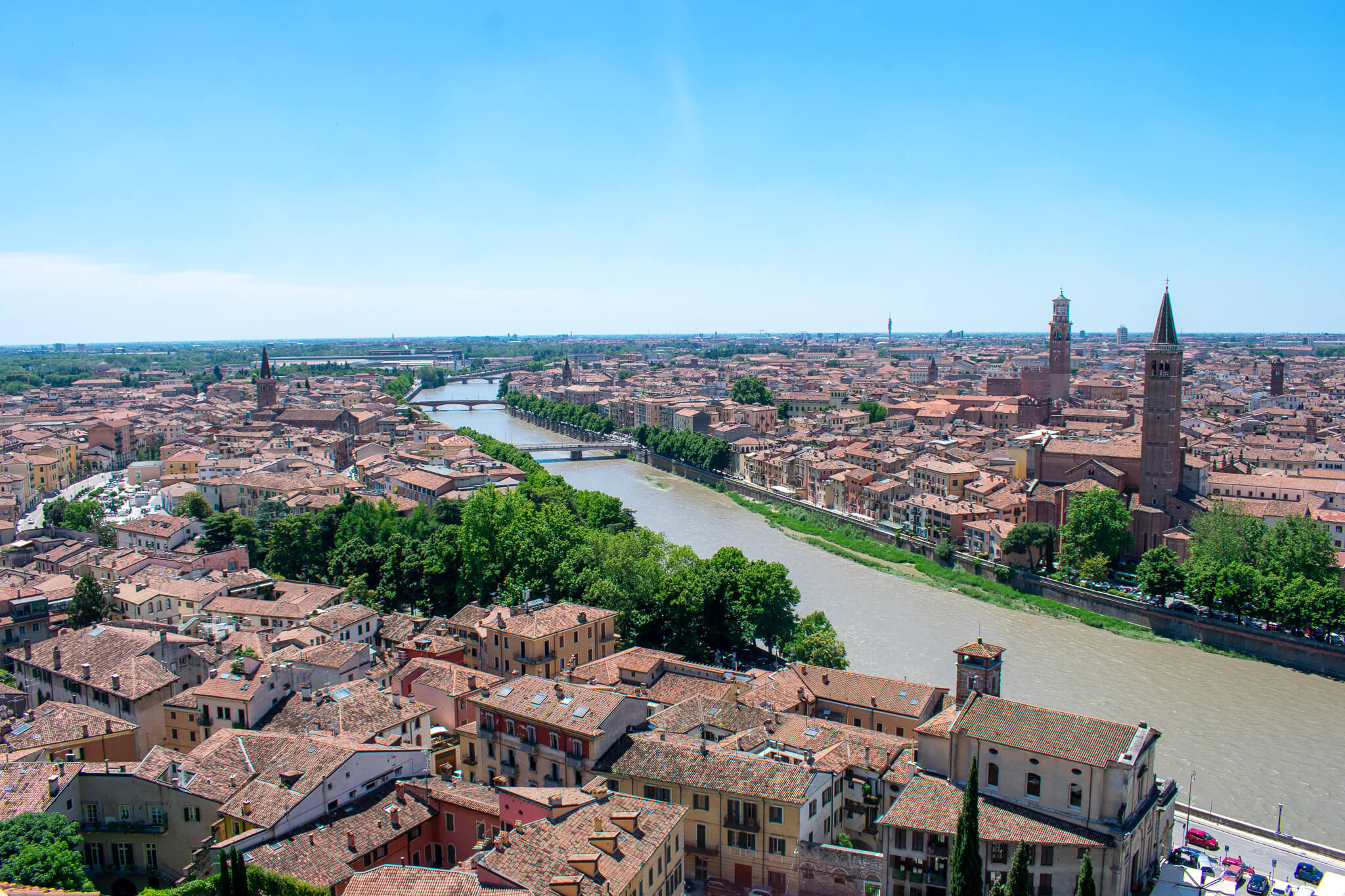 The historic city of Verona is one of the most interesting and beautiful places in Italy's Veneto region, and despite often being overshadowed by nearby Venice, it is somewhere which should certainly be added to any northern Italy itinerary.
Dating back to 89 BC, Verona is filled with impressive historical architecture, beautiful ancient churches and an Arena which is even older and arguably better preserved than Rome's Colosseum. The city is also known for its connection to Shakespeare's tragic love story of Romeo and Juliet.
Verona isn't the largest city and all of the main attractions are easily walkable from each other. One or two days is probably enough to see everything you need to see. Verona is also ideal (and cheaper than nearby Venice) for using as a base for day trips in the Veneto region. I've got a section on day trips from Verona later in this post.
If you are planning to visit Venice, you might like my related posts:
45 Amazing Things To Do In Venice – Italy
Best Restaurants In Venice (Tried & Tested)
But back to Verona – to help you plan your trip, here are 10 of the best things to do in Verona.
1. Walk in the footsteps of Romeo and Juliet
"Two households, both alike in dignity, In fair Verona, where we lay our scene, From ancient grudge break to new mutiny, Where civil blood makes civil hands unclean."
Any Shakespeare fans will probably already know that Verona is the setting of his famous romantic tragedy Romeo and Juliet, giving Verona the nickname 'Italy's city of love'.
Although no one is quite sure if the two star-crossed lovers existed in real life, it is more certain that their families, the Montagues and the Capulets, did and there is evidence of this across Verona.
The most famous of the Romeo and Juliet locations in Verona is Juliet's House (Casa de Giulietta). And it's very likely that this will be on the top of your list.
The gothic 13th-century building was once occupied by the Capello family and has a balcony overlooking the courtyard much like the one Shakespeare wrote about in his play, which is the reason many believe it to be the place where Juliet once lived.
Now the house is one of Verona's most popular tourist attractions, with the option to take photos on Juliet's balcony. The courtyard below also has a bronze statue of Juliet which legend says if you rub her breast it will bring good luck in love (strange I know but worth a try right!?), while the courtyard's walls are covered in colourful love letters and notes left by couples wanting their relationship to be blessed or others asking for relationship advice.
Want more Romeo and Juliet? Other Romeo and Juliet sites in Verona include Romeo's House, just around the corner from Juliet's, and Juliet's Tomb which can be visited as part of the Museum of the Frescos of Giovanni Battista Cavalcaselle.
2. Watch Verona opera at Verona Arena
Verona Arena, or Arena di Verona in Italian, is a Roman amphitheatre in the centre of the city which dates all the way back to 30 AD – which makes it older than the better-known Colosseum in Rome. And I'd say the Verona amphitheatre is just as impressive.
Over its long history, the arena has been used for everything from bloody gladiator tournaments to circuses and equestrian games. Today the arena is still in regular use as a music venue, making it one of the best-preserved ancient structures in the world.
The open-air arena is currently best known as Verona's opera venue, with a series of live operas taking place throughout the summer months. Over the years, shows at the arena have featured many of the world's most notable opera singers.
As well as its classic operas, Verona Arena also plays host to live concerts by large international artists, including the likes of Bruce Springsteen, Pink Floyd, Sting, Whitney Houston, Mumford & Sons, Adele, One Direction, 5 Seconds of Summer and many more. In fact, the photo above was taken the day after Elton John played at the arena (hence the elaborate set up).
The arena seats an impressive 15,000 people per performance, and tickets can be brought from the box office or online in advance. If you want to guarantee being to able to see a performance it's best to book in advance. Floor seats can get up to €200+, however, if you're on a budget you can get seats on the stone steps for under €20.
Can hear the opera from the Piazza outside Verona arena? Verona arena is surrounded by a beautiful piazza but don't be fooled into thinking you can sit in the piazza and get a free Verona opera recital as you sip a drink in a bar. You can't – the opera is often sung without strong audio enhancement so is usually contained within the arena, even though it's open air. Probably a different matter if there's a huge pop concert going on.
Can get tickets for a performance? Take a tour of Verona Arena: Even if you don't happen to be visiting when a show is on, you can still visit and take a tour of the 2,000-year-old amphitheatre. Being one of the most popular activities, the queue for visiting the Arena can get long so be prepared to wait a little bit or arrive early in the day. Entrance to the Arena is included in the Verona Card (more details about the card below).
3. Explore historic Castelvecchio
Castelvecchio is a large medieval castle built-in Verona in the 14th century. While the castle was originally intended to be used as a royal palace, due to a change in the control of Verona at the time it quickly became used primarily as a fortress.
Castelvecchio is now home to Museo di Castelvecchio which houses an important collection of mediaeval, renaissance and modern art (up to the 18th century). The collections include paintings, frescoes, sculptures, jewellery, furniture, ancient weapons and more.
By visiting the museum you can also explore much of the castle and its charming Gothic architecture. The museum has also become particularly noteworthy because of the unique restorations done to much of the building by architect Carlo Scarpa during the mid-1900s.
A full-price ticket for Museo di Castelvecchio is just €6 and can be brought at the entrance. Admission is free with the Verona card.
Visiting Verona on a budget?
While entrance to Museo di Castelvecchio and the main building requires a paid ticket, you can see the outside of the building and visit the equally majestic Castelvecchio Bridge for free. The historic red brick bridge was built as a safe way to escape the castle across the Adige River and was fully fortified with cannons to defend the castle.
4. Enjoy an aperitif in one of Verona's Piazzas
Verona is a city known for its large bustling piazzas, filled with historic buildings, market stalls, shops, restaurants and bars. It's hard to miss the piazzas when exploring the city, but to help guide you here's a quick rundown of Verona's main piazzas.
Piazza Bra – Stop giggling, that's it's name. It's also where you'll find the grand Verona Arena and therefore has become the tourist hotspot of the city. While a stroll around the magnificent buildings of Piazza Bra is a must-do, try to avoid the restaurants and bars here if you can – a lot of them are overpriced tourist traps.
Piazza delle Erbe – A more traditional piazza where you're likely to find the locals eating an al fresco lunch or enjoying an Aperol spritz of an evening. With a name which translates as 'Market's square', this is also where you'll find Verona's daily open-air market selling a range of clothes, tourist souvenirs and traditional Venetian masks, as well as flowers and fresh fruit and veg.
Piazza dei Signori – Located right next door to Piazza delle Erbe, this square is arguably the most beautiful in the whole of Verona, filled with several important historic buildings of the former city government.
5. Climb to the top of Torre dei Lamberti
Climbing the Torre dei Lamberti is another one of the most popular activities in the city. The 84m high tower was built in the late 1100s and is still to this day the tallest building in Verona.
You can either climb to the top of the tower via the 368 steps of the central staircase or use the buildings transparent elevator. From the viewing area at the top you get amazing panoramic views across the city, making it one of the best places to see Verona from above.
Torre dei Lamberti is located in Piazza delle Erbe, however, the entrance to climb the tower can be found down a side street called Via della Costa. A full-price ticket to the tower is €8 (or reduced rate of €5 on Mondays) which can be purchased at the entrance.
6. Visit Verona Cathedral and the city's other churches
Like much of Italy, Verona is a city with a strong Christian heritage and many impressive historic churches which are still functioning today. Some of the churches can be visited either by yourself or on a guided tour for a small fee.
Four of the most important churches worth visiting in Verona are:
Individual entrance to each church costs €3, however, you can also purchase a ticket for €6 which gets you access to Verona Duomo, Sant'Anastasia, San Zeno and San Fermo. Entrance to the majority of churches is free with the Verona Card.
7. Take the funicular railway up to Castel San Pietro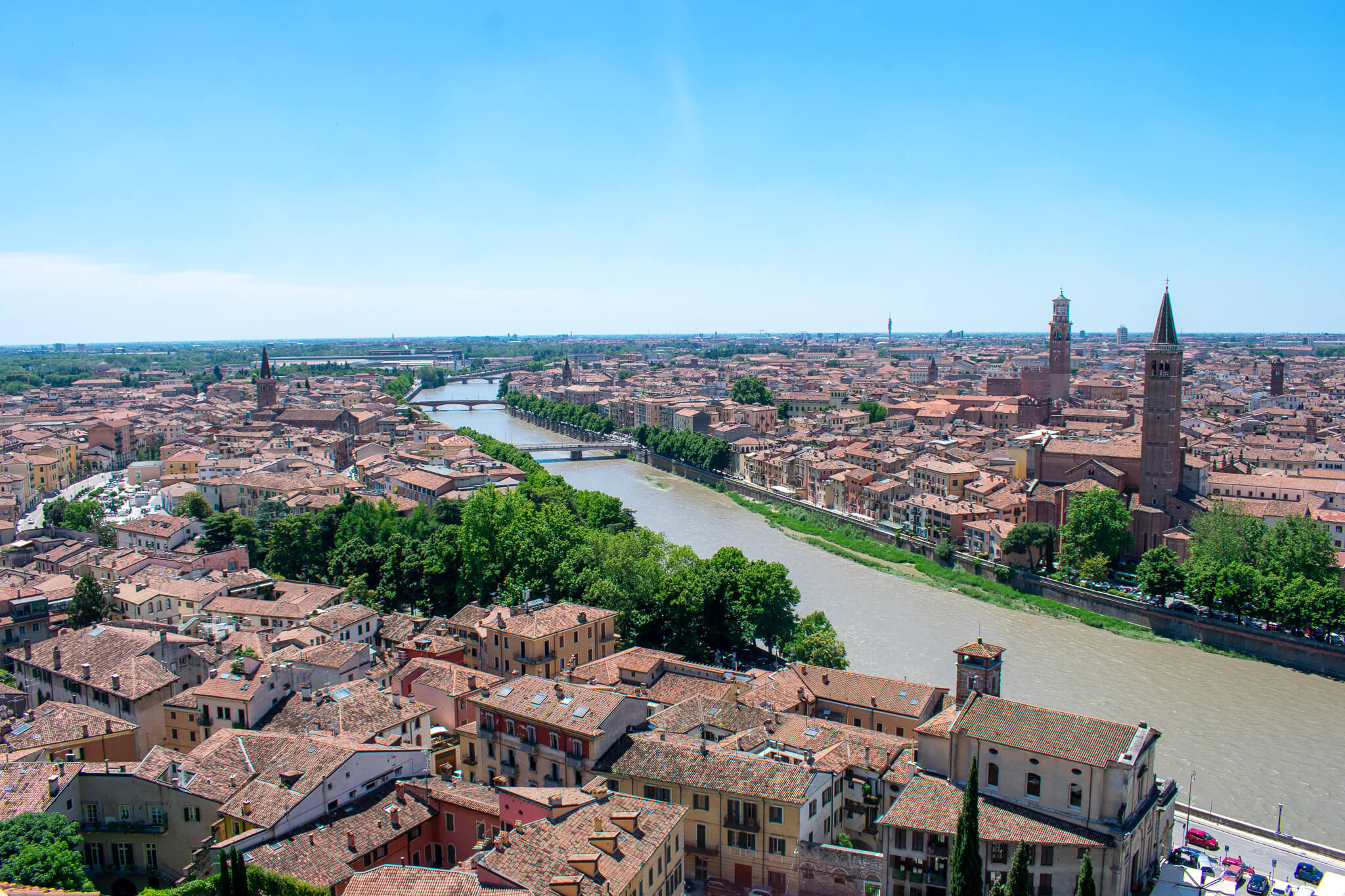 On the north bank of the Adige river which circles much of Verona, you'll find the Funicolare di Castel San Pietro, a funicular railway which runs up to Castel San Pietro, a medieval fortress was built in 1398.
Castel San Pietro is sat on top of a hill strategically overlooking the rest of the city, and while you can't go inside the castle itself, the climb to the castle has become very popular due to it being where you can find the highest panoramic views over the city.
Return tickets for the funicular can be purchased on arrival at the bottom of the hill and costs €2 per adult and €1 per child. The 159-metre journey takes around 90 seconds.
Need to burn off some of the pasta and aperol spritz?
If you fancy burning a few extra calories you can also walk up to Castel San Pietro for free.
8. Try some traditional Veronese cuisine
Much like the rest of Italy, the Veneto region is home to some of the most delicious food you'll find in the world. The food of Verona consists of a lot of warming, hearty dishes such as risottos and stews, using fresh ingredients and wines sourced from the surrounding region.
One of the most popular Veronese dishes you have to try is the Risotto all'Amarone, a delicious and unique risotto dish made with local wine Amarone della Valpolicella DOCG creamed with Monte Veronese cheese.
Some of the best restaurants in Verona I've discovered to try a tasty Risotto all'Amarone are Osteria Caffè Monte Baldo, just off of Piazza Delle Erbe, and Trattoria Pane e Vino.
9. Take a day trip to Lake Garda
It may sound strange saying leave Verona, however, there are so many amazing places close to the city that it makes a great base for a northern Italy adventure.
One of the best days trips is from Verona to Lake Garda, one of the largest and most popular lakes in the whole of Italy known for its beautiful crystal clear waters and charming lakeside towns.
There's plenty to do in Lake Garda on a day trip from Verona, from exploring local markets to renting a boat for the day and heading out on the lake itself.
How to get from Verona to Lake Garda:
The best way to travel to Lake Garda from Verona is to take the train from Verona's Porta Nuova station to either Peschiera del Garda or Desenzano on the south of Lake Garda. The journey takes as little as 15-20 minutes. From Desenzano you can also catch a 30 minute bus to Sirmione, one of the most popular towns on Lake Garda.
10. Take a day trip to Italy's Prosecco region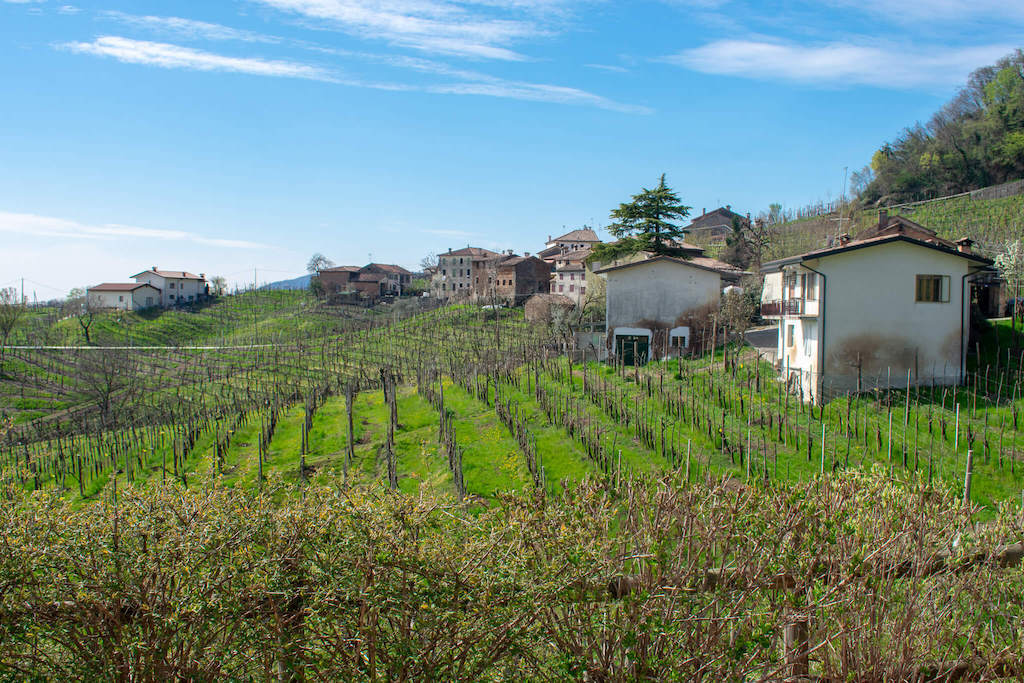 Another great but lesser-known day trip from Verona is to the gorgeous prosecco wine region of Veneto.
Nestled between the towns of Conegliano and Valdobbiadene there is a small geographic area filled with vineyards, known as the prosecco hills. This is where Prosecco Superior DOCG, Italy's highest quality prosecco is produced.
The prosecco region is still a relatively hidden gem in Italy so makes for an amazing place to enjoy a peaceful day out sampling top quality prosecco while admiring the area's natural beauty, charming farm towns and delicious, locally-produced food.
How to get from Verona to the prosecco region?
To visit the prosecco region from Verona you can take the train from Verona Porta Nuova to the town of Conegliano. The Trenitalia Frecce service between the two takes 1hr 45 and travels via Venice Mestre and Treviso en route.
How to go wine tasting in the Prosecco region: Once you arrive in the Prosecco region, you can hire a driver who will take you around several of the region's wineries for tours and tastings before dropping you back at the station at the end of the day (no need for a designated driver!). Prices start at just €250 for your whole group (up to 8 people). You can find out everything you need to know and book a Prosecco driver on my other travel blog, Visit Prosecco Italy, which is dedicated to all things Prosecco. Pop!
---
My favourite Italy Guide books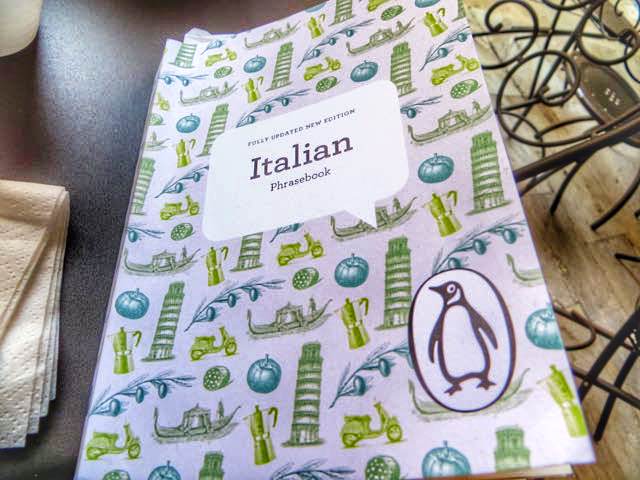 Yeah, I know I write a blog but I still love having an old-school printed guidebook in my bag. Verona is usually a section in broader Italy guidebooks. Here are my favourites.
Is the Verona Card worth it?
The Verona Card is the official city pass for Verona which allows access to the city's top museums and monuments. You can buy the 24 hour card for €20 and 48 hours for €25. The pass includes access to Juliets House and balcony, Verona Arena, Torre dei Lamberti, Museo di Castelvecchio and much more, so if you're planning to visit several of these attractions and only have a day or two in the city then the card is certainly worth purchasing.
Where to stay in Verona
There are plenty of gorgeous hotels in Verona, but here are a few of my favourite to get you started…
Due Torri Hotel – Without a doubt, one of the most beautiful and elegant places to stay in the historical centre, Due Torri is a 5* hotel with large tasteful rooms, an Art-Nouveau restaurant and lounge bar and romantic panoramic terrace.
Hotel Milano & SPA – Hotel right in the city centre with luxury modern rooms and a unique rooftop terrace with bar and jacuzzi overlooking Verona Arena.
Hotel Marco Polo – A charming boutique hotel set in a former convent, with its own wellness centre with a sauna and hot tub.
How to get from Verona to Venice
Getting from Verona to Venice is very simple. Here are your best options:
By car: Just 120km between the two cities, it takes just over an hour (1hr 15mins) to drive from Verona to Venice. Take note, however – Venice is a city of water and most of the sights you want to see (St Mark's Square, for example) can't be reached by car. The closest you can get in Piazzale Roma. From there, you're going to have to go by water bus (like public buses but on water), private water taxi or foot. For that reason, I recommend you go from Verona to Venice by train.
By train: It's takes the same time by train as it does by road and costs just short of €10 per person each way. The train from Verona to Venice is direct and the train station is located within the centre of each city.I suggest taking the Frecciarossa which is the fast train. You can find out more and book tickets with Trainline.
Verona train station: Verona Porta Nuova
Venice train station: Venezia Santa Lucia (Venice)
Related Articles:
Planning a longer trip to Italy? You might be interested some of my other posts:
Like this guide to things to do in Verona Italy? Share it on Pinterest…