Known affectionately as the limestone citadel, the Vercors Massif in the French Prealps has wide alpine pastures surrounded by craggy cliffs that give rise to plenty of winding balcony roads. All of this rocky scenery means that the Vercors has some of the best cycling in France as well as day hikes, long-distance hiking trails, rock climbing and mountain climbing areas in its mountains.
Set in the departments of Isère and Drome in southeastern France, just over an hour from Lyon, the areas of the Vercors in Isère include Quatre Montagnes in the north (Autrans, Méaudre, Lans-en-Vercors, and Villard-de-Lans), Royans, Coulmes, the Hauts Plateaux and Trièves. My visit covered the Quatre Montagnes and Royans regions.
Did you know? In 1970, eight regions in both the departments of Isère and neighbouring Drôme joined together to become France's first regional natural park, the Vercors Regional Natural Park. Within its boundaries, the park protects its biodiversity and promotes the local economy by encouraging sustainable development and tourism, and low-carbon footprint pursuits. If you're looking for a green holiday with human-powered outdoor things to do in France, then look no further than the Vercors in Isère.
Here are a selection of 10 top things to do in the Vercors in Isère during the summer.
1. Hike through pine forests in the Hauts Plateaux Natural Reserve
Get up early and set off in the direction of the Hauts Plateaux Natural Reserve along part of the long-distance GR-91 Traversée du Vercors hiking trail from Corrençon-en-Vercors and you might just get a chance to spot mountain animals such as ibex, chamois and marmots, or rare birds such as black grouse – emblem of Vercors – and griffon or bearded vultures. The Hauts Plateaux Natural Reserve, within the Vercors Regional National Park, is France's largest mainland nature reserve with 17,000 hectares (65 sq miles).
With no houses (only unmanned mountain huts) and no roads, this vast forested park is reserved for hikers. Gaël, our guide, gave us an interesting lesson in the unique landscape, showing us limestone pavements, walking alongside escarpments and through the mountain pine forests spotting Norway spruce and European silver fir and rare alpine flora such as gentian and lilac-coloured scabiosa columbaria 'Vercors'. Sadly, despite hearing whistling marmots we didn't get to see any mountain fauna – maybe next time.
How to do it? Walk from the car park at the end of the valley in Corrençon-en-Vercors. To make the most of your day hike, book with local guide Gaël Ferrari. Call +33 06 76 13 80 49 for more information.
2. Swing from the trees at Vercors Aventure in Autrans
Despite the rain, dangling from a wire in the forest turned out to be more fun than I had anticipated. Sheltered by the tall trees, the adventure courses of Vercors Aventure in the forest near Autrans tested my agility. The five treetop routes range from kids' courses for 4 years and up, to green, blue, red and black difficulty levels for the most adventurous with wobbly footbridges, a total of 15 ziplines, nets and rope-swinging, all while securely fastened in a safety harness and clipped to wires with carabinier.
Tip: If you plan on climbing the Trois Pucelles peaks during your trip and have never been climbing, come here first – it's a great warm up helping you familiarise yourself with basic equipment.
How to do it: Helmets and safety equipment provided. Two-hour session: €12 for kids (3-9 yrs), 15 children 10 yrs+, €20 adults. Full details here.
3. Climb the Trois Pucelles, Saint Nizier du Moucherotte
If you fancy trying out mountain climbing in France for the first time, then look no further than the Vercors. Mountain peaks dot the landscape. And to truly experience the limestone citadel, you have to at least consider getting up close. Having never climbed before, our small group needed a lot of reassurance before we set off, but before we knew it, we were abseiling, stretching our arms and legs up rockfaces of the Trois Pucelles, and pulling ourselves across a zipline with the vast expanse of the city of Grenoble below us. The views were spectacular as far as Mont Blanc and resulted in a teary-eyed moment for me. Challenging but doable for anyone who keeps a little fit, the climb was made so simple with our inspirational guide Jean-Jean who encouraged every small movement.
How to do it: I can now say this is one of my best mountain experiences ever and it's all thanks to Jean-Jean, our inspirational mountain guide. From €50/ £43pp for anyone 10 years and up. Book with Jehan Roland of Alpidyllik.
Did you know? In 1968, Grenoble was home to the Winter Olympics. Walking up to the Trois Pucelles, notice the abandoned, graffitied ski jump that was the focal point of the Games. Imagine what it felt like to be 120 metres up ready to jump with incredible views over Grenoble.
Stay here: For a unique, one-of-a-kind overnight experience, spend the night dangling in a portaledge hanging tent above Grenoble or just enjoy a sunset aperitif above the city lights. For both the climb and portaledge, contact Jehan.
4. Go e-mountain biking on the ViaVercors with Velectrip
Tackling the 200m climb up the road to the Col de Croix Perrin at 1,218 m from Autrans-Méaudre valley in the Vercors turned out to be a doddle with an e-mtb (electric mountain bike) in turbo boost although you'll still need to pedal. With e-bikes hired from Velectrip in Villard-de-Lans and our guide Olivier, we set out along part of the 55-km ViaVercors to discover the Quatre Montagnes area and its people.
Following wide gravel tracks, boardwalks and mostly quiet country roads, our low-carbon outing took us across protected wetlands, through hamlets with stepped gable houses and on vast plateaux filled with grazing cattle and sheep. Stopping to meet locals, we visited Hélène Rochas, a ski instructor-turned-potter who creates personalised pottery inspired by the scenery of the Vercors and runs pottery workshops, had lunch in La Bohème, a mountain restaurant at the bottom of the slopes in Méaudre, and petted mountain goats at the Ferme du Pic Saint Michel near Lans-en-Vercors before trying out goat's cheeses.
Did you know? Fresh goat's cheese is really mild and creamy. The strong flavour and smell only come with aged goat's cheese.
How to do it: Hire e-mountain bikes and book an English-speaking guide with Velectrip – La Glisse above Villard-de-Lans. For the ViaVercors, pick up a map with a list of farms and artisans in any of the tourist offices in the Quatre Montagnes. You can contact Hélène Rochas on +33 06 71 00 57 50.
5. Train for the biathlon with rifle shooting & rollerskiing at Espace Biathlon de Vercors
Known as the land of champions, Vercors is the home of Nordic skiing and has created numerous Olympic champions in the sport, not least in biathlon. And I never imagined I would be holding a rifle while being trained by an ex-French biathlete. Here in Correncon-en-Vercors, the training space for biathlon is unique in France, yet you don't have to be an athlete to have a go. Espace Vercors combines two rifle ranges – 10 m (for us beginners) and 50 m. Despite a dodgy right eye, I managed to hit a few targets while holding the rifle left handed. Roller-skiing (or ski roue) proved a little bit easier for me, and thankfully with knee and elbow pads, gloves and a helmet, I could worry less about falling. The 5.5 km roller ski track links up with the Zecamp hotel and ski hire shop to the rifle zone. It's no wonder some of the top biathletes in the world come from this part of France.
How to do it: Biathlon roller-ski initiation at Espace Biathlon Ski Roue de Vercors for €14.50/ £12.39pp for a half day track pass with equipment hire (includes boots, pads, gloves, poles and rollerskis)
Stay here: Developed by 3 French ex-biathletes (Loïs, his wife Olympic gold-winning Marie, and Robin Duvillard) with direct access to the Espace Biathlon, a gym, cold bath to relieve aching muscles and personalised healthy meals, the modern Zecamp hotel in Corrençon was built with the environment in mind, and offers room-only accommodation from €88 per night, per room for two people sharing. Book Zecamp hotel here.
6. Feast on raclette by candlelight at Le Clariant
If, like me, you love cheese and mountain food, then this has to be one of the main reasons for heading to the mountains, even in summer. And the magical setting of Le Clariant didn't disappoint. This remote wooden hut with no running water or electricity is a half hour walk from Corrençon-en-Vercors, where you're transported to an idyllic spot in the trees illuminated with braziers. Inside the candlelit log cabin, chef Nico treated us to raclette and local Bleu du Vercors-Sassenage cheese that we gently melted on a personal grill, accompanied by steaming bowls of purple and sweet potatoes and a selection of dried and cured meats. The delightful evening continued with seasonal tarte aux myrtilles (bilberry tart), a digestif of Chartreuse liqueur and toasting marshmallows. You'll struggle to leave this mountain wonderland.
How to do it: By reservation only, the candlelit raclette meal is served on Thursday, Friday and Saturday from 7 pm. Price: €39 adults/€19 children without wine. Book Le Clariant here.
Did you know? Chartreuse is a herbal, naturally green liqueur. Created and still made at the Grande Chartreuse Monastery in Isère, the drink is made from a secret recipe of more than 130 herbs and plants. Find out more here.
7. Find your zen & practise yoga in the mountains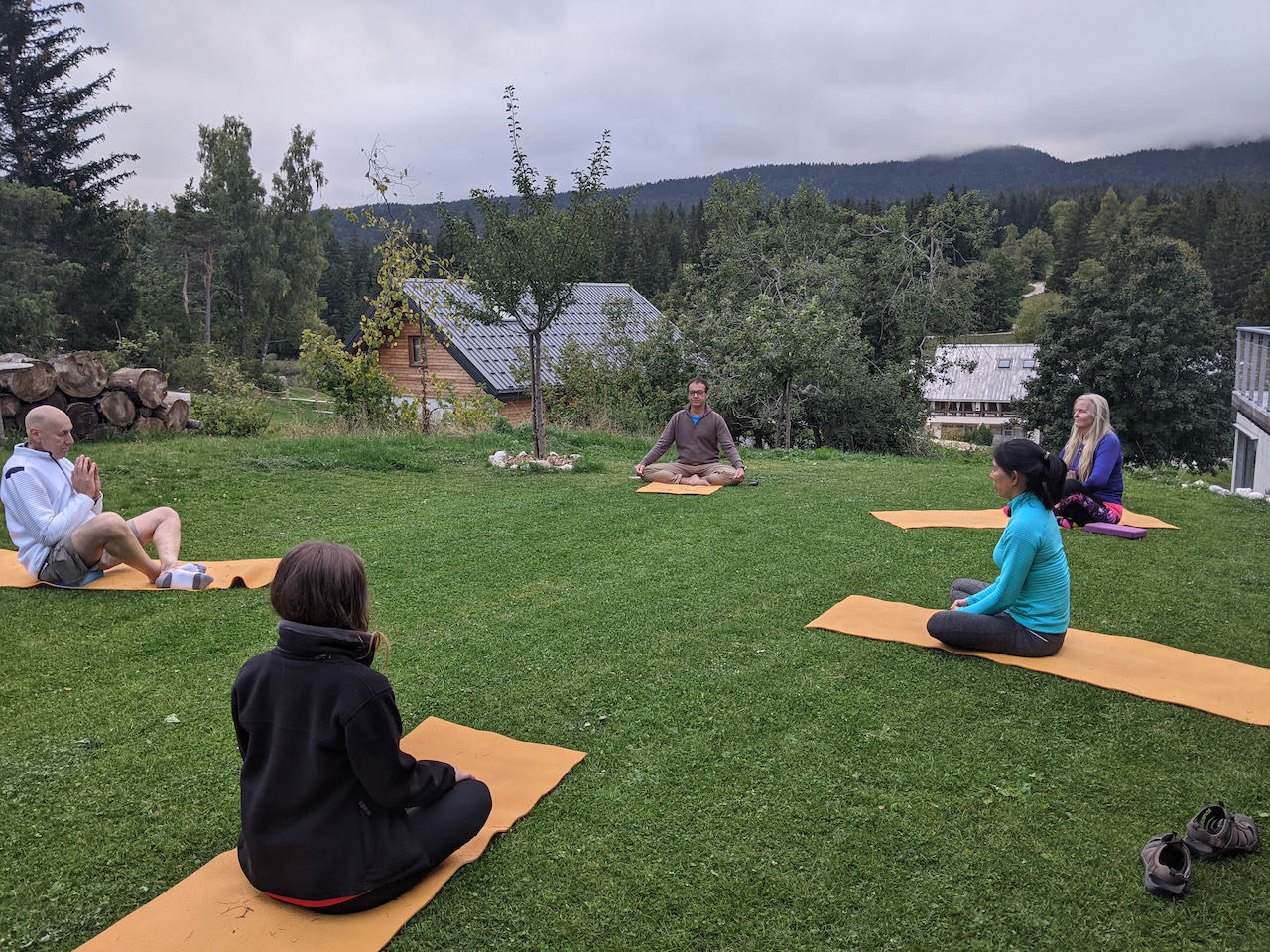 An active holiday needs to be counteracted with relaxation. If all that hiking, climbing and cycling takes its toll on your body, treat yourself to a mindful mountain activity. English-speaking François Quérini, yoga teacher, mountain guide and Nordic ski instructor guides you to a peaceful state of being with a calming and stretching yoga session as the sun goes down behind the mountains. It gives a new meaning to tadasana, mountain pose.
How to do it: Yoga mat and stunning backdrop supplied. Book yoga with François Quérini.
8. Drive or cycle the balcony road of Gorges de la Bourne
Driving slowly down the winding gorge road looking up at high cliffs literally makes your jaw drop. One of the more spectacular balcony roads in France is the Gorges de la Bourne road constructed in 1872 to connect Pont-en-Royans in the Royans region to Villard-de-Lans in the Quatre Montagnes. The 24-km road follows the deep, narrow river canyon carved out by the Bourne River in the Vercors and took 10 years to complete creating a twisting obstacle course that has to be up there with one of the best cycling routes in France for the scenery. In summer, you'll also be following plenty of cars and motorbikes – but beware the low-hanging rocks if you're planning on taking your campervan.
How to do it: Follow the RD531 road from Villard-de-Lans to Pont-en-Royans.
9. Discover 17th-century suspended houses in Pont-en-Royans
Dating back to 1630, the pretty perched houses in Pont-en-Royans make the town one of the most picturesque villages in France. Built into the rockface below the mountains, the tall homes with their wooden balconies were constructed to aid the trade in timber which floated along the river Bourne below. Stroll along the riverside and across the bridge for some of the best pictures of these houses that have stood the test of time. And if you haven't yet worked it out, try to guess what the little huts overhanging the river are for.
How to do it: At certain times of the year, you can book guided visits and torchlit walks (Mon & Wed in July & Aug at 9 pm) with the St-Marcellin tourist office.
10. See rare straw stalactites at the Grottes de Choranche caves
Hidden beneath the limestone cliffs, the vast cavities of the privately owned Choranche Caves are home to crystal-clear waters, underground rivers and a magical world of hollow stalactites that look like extravagant chandeliers created by water dripping through the cracks in the limestone. Even during the hot days of summer, this subterranean universe is cool and, when the lights are turned out, absolutely pitch black. Kids will love the albino cave-dwelling olms – or proteus, an amphibian closely related to the salamander that lives for nearly 90 years in the dark. For me, the best part is the hauntingly beautiful sound-and-light show in the immense Cathedral Cave telling the story of evolution.
How to do it: A one-hour tour costs €12 pp with a printed guide in English. Take warm clothing as the temperature never gets higher than 9 degrees C all year.  Find out more about the caves here.
How to get to the Vercors in Isère
The journey from Lyon Airport to the Quatre Montagnes region of Vercors in Isère takes about 1.5 hours by car.
Flights : At the time of writing, there were direct flights with easyJet to Lyon from London Gatwick airport costing from £23pp one-way (Economy Light fare only includes hand luggage).
Car Hire: From Lyon Airport (and returning to Lyon Airport) costs from £40 per day
For more information: Isere Tourism, Vercors.fr & Office de tourisme Saint-Marcellin Vercors Isère
That was my guide to the best things to do in the Vercors, Isere, France in summer. Got any questions, let me know in the comments below.
Related Articles
This post was written for Indiana Jo by Fiona Quinn in partnership with Isere Tourism: Fiona's passion for travel started at school, when she fell in love with the French language. Her travels have taken her across the world from being a student in Paris to working as a ski rep in France and Switzerland, then as an overseas rep and tour escort for Kuoni in Egypt, Maldives, Mexico, China and Hong Kong, back to France where she lived in the Charente, and more recently hanging out in the Google offices in New York and California. She's been a travel writer and editor for years, working in house for Popout Maps and Frommer's, and creating more than 100 guides from Bristol to Ibiza, Dubai to San Francisco, before working at Google across numerous content projects from maps to hotels. For more see quinntessentiallycontent
All images Credit: @Fiona Quinn