Verbier is a Swiss mountain town and modern hub that sits high up in the Alps. It has grown out of strong sporting roots and still now an active lifestyle is embedded in the culture. Many-a pro athlete choose Verbier as home base, the great outdoors a playground for activity and extreme sport both in winter and summer. But it is most famous as a ski resort, one with jaw dropping scenery, a glamorous resort life, legendary après and world-class ski terrain.
Over the years it has diversified and is now very much a winter-break destination (skiing not essential) where you can get stuck in to an endless list of activities or simply soak up the beauty of the Swiss Alps in this cosmopolitan alpine resort. For every ski run and cliff drop there's something else to relax, restore or indulge in, both on and off the snow. Here are 20 ideas for things to do in Verbier in Winter.
1. Have dinner at a Verbier favourite, the hidden-away Chez Dany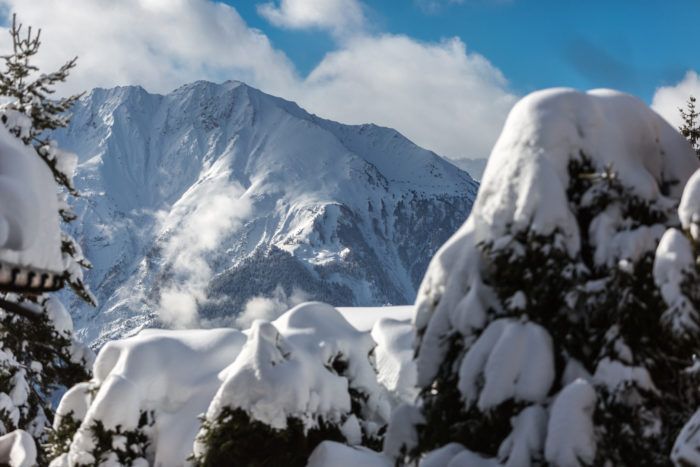 Credit: verbier.ch / Melody Sky
Verbier has a lively restaurant scene, both on the mountain and down in the town. Chez Dany is a slope-side restaurant tucked away in the wooded hamlet of Clambin. It's one of Verbier's best with a cosy lodge interior that's brimming with atmosphere most every night of the week. The menu is traditional mountain fare and based on fresh, locally sourced ingredients – perfect for an authentic Swiss meal away from the hubbub of Verbier central.
How to do it: Walk the 15 minutes from the centre of town to Clambin, where the Chez Dany snow cat will collect you from the foot of the slope to bring you to its nighttime-secluded location. Bring a head torch and toboggan (which you can rent from any ski hire shop in town) and make your descent from the restaurant with an exhilarating ride back into Verbier. Make sure to book ahead at Chez Dany; it really is a Verbier favourite.
2. Spend the night in a mountain hut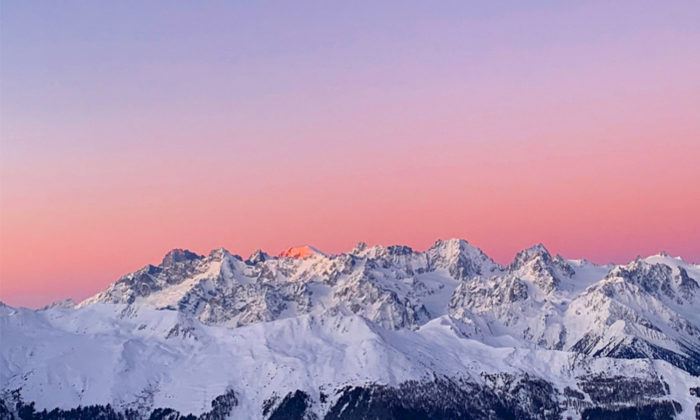 Climbing up to and staying at a secluded mountain refuge has become quite the skier's trophy. Verbier's iconic Cabane Mont-Forte, sitting at a mighty 2,457m, offers a little more luxury than other traditional mountain huts (showers, private rooms), but on the whole gives its guests a pretty rustic experience. It's also not one reserved for the extreme skier, with relatively easy access just above La Chaux ski area. Arrive for a sun-downer on the large deck before settling in to a simple alpine dinner – whatever the host is cooking up that evening, expect the likes of fondue or croute – alongside your fellow lodgers. Wake up to a mountain sunrise that makes the snow covered peaks glow pink and sees Mont Blanc wake up rosy (pictured above). It is quite possibly the best spot anywhere in the world to spend the night: It's simple accommodation that lets nature and the views do the talking.
How to do it: Cabane Mont Fort sits beneath the Bec des Rosses and can be accessed from both the Verbier or Nendaz ski lifts and the La Chaux-Gentiannes gondola. Take the last lift and ski down to the cabin, or reach by ski touring / snowshoeing. The 100-year-old cabin stay is a 'hotel' experience that is a lot more affordable than you might think, usually under 90CHF (around £75/€85/$100) a night.
3. Enjoy Verbier Village
Credit: verbier.ch / Melody Sky
Verbier is situated up on an alpine shelf at 1,500m. It's seriously good looking and, what's more, is south facing, meaning it gets the sun pretty much all day long. The famous Mont Fort peak rises tall behind the picturesque village, which looks directly across the valley at the snowy Grand Combin massif.
The one-way main street of Verbier, Rue de Médran, is lined with luxury boutiques, bars and restaurants. You'll spot many-a hardcore sportsperson wandering the bustling streets geared up for adventure, as well as a fair few rich and famous looking for a piece of it. It makes for great people watching and there are plenty of decks and terraces from which to do just this.
Although Verbier is on the more expensive end of the ski resort spectrum (it's Switzerland after all) its sporting spirit and residents keep it grounded and relaxed in attitude. It's a favourite spot for ski bums and celebs alike, and offers up the best of the lively ski resort experience.
If you're in Switzerland and love the architecture, take a trip to Lucerne. You can read about the best things to do in Lucerne here.
4. Ski or snowboard the huge 4 Valleys ski area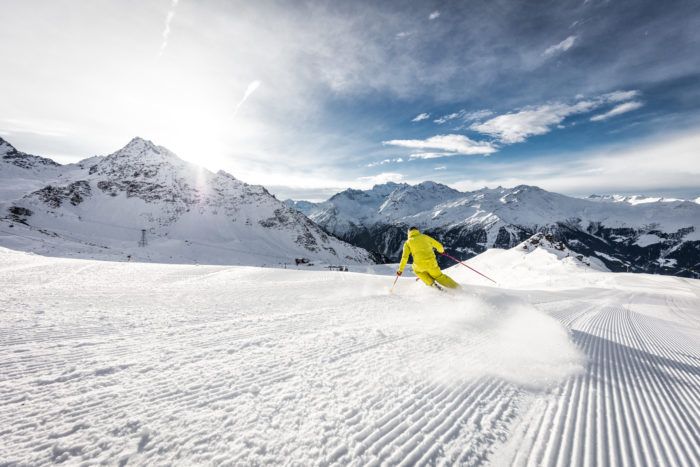 Credit: verbier.ch / Pascal Gertschen
The supreme reason Verbier is one of the world's hottest ski resorts is because of the terrain. So if you're keen on snowsports, Verbier has you covered. It's part of Switzerland's connected 4 Vallées that links six resorts on just one pass, opening up over 400kms of ski runs. Verbier, Bruson, La Tzoumaz, Nendaz, Veysonnaz and Thyon make up the largest ski area in Switzerland.
It's worth noting that Verbier isn't the ideal resort to learn how to ski or snowboard. The slopes are on the whole better suited to intermediates or above, and the beginners' area Les Esserts isn't connected to the main part of the ski area so newbies can feel a little disconnected from the ski scene.
How to do it: A 6-day adult lift pass for Verbier Valley is priced from 348 CHF (£276); a 6-day adult lift pass for 4 Vallées is priced from 355 CHF (£282). A full price list for lift passes can be found here.
Related post: if you are new to snowboarding, check out my guide here – Snowboarding For Beginners: A Complete Guide
5. Eat at Le Rouge
Credit: (c) Alpimages
Located at the foot of Le Rouge ski run, the same-named restaurant is open from midday through to midnight. The terrace has stellar views and is a great spot for sunny lunches al fresco. Inside it is luxurious modern lodge decor with roaring fires, leather furniture and lots of chunky wood. The menu is diverse, with everything from fondue to steak, to risotto, scallops and fish. There's also pumping après on the terrace most days and it's a slightly more refined après option than elsewhere in Verbier.
How to do it: Book here for Le Rouge Verbier.
6. Ski off-piste
Credit: verbier.ch
The terrain around Verbier is a playground for big mountain skiers. It hosts Xtreme Verbier, the final of the Freeride World Tour and perhaps the world's most extreme sport and gnarliest sporting event. It figures, then, that Verbier is known for challenging alpine faces and freeriding, though of course your 'off piste' doesn't have to be as hardcore. Verbier is also famed for its high altitude, which makes for great for snow. The Mont-Fort cable car brings skiers and snowboarders up to a massive 3,300m with challenging descents between glaciers.
For somewhere between groomed pistes and wild backcountry, Verbier has an excellent selection of marked 'itinerary' routes which provide a great intro to the world of off-piste skiing. Famous itinerary routes such as Tortin, Gentianes and the Vallon D'Arby offer off-piste skiing in a relatively safe environment – that is, avalanche controlled but full of natural features: steeps, moguls, traverses, narrow ways and exposed areas. Make sure you're prepared.
How to do it:
Pick up a piste map or ask at the tourist office for more info on these suggested itineraries:
– Mont Gele skiing is a classic, with the gondola taking you to 3,022m.
– Col des Mines – a traverse over the top of Vallon D'Arby and a good chance of skiing through a 3-metre wide, 2- high snow tunnel.
– Over to La Tzoumaz – from the top of the Col des Mines pass you enter the Vallon D'Arby known for moguls and a hella good powder experience after snowfall.
7. Take a guided ski tour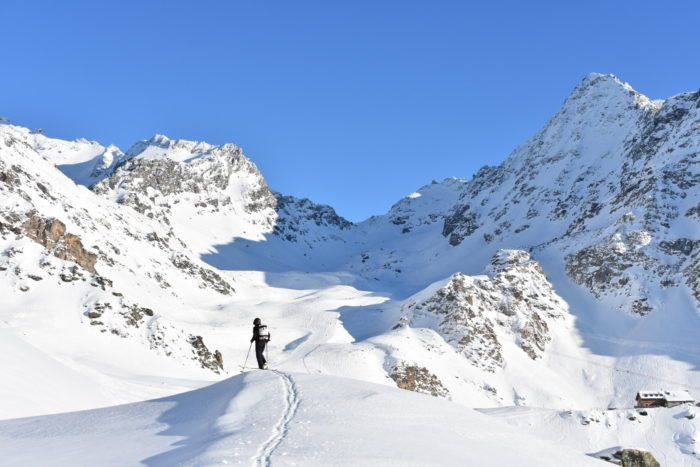 If cruising the pistes or skiing the lift-accessed side country isn't enough, head out of the resort with a mountain guide and into the Swiss backcountry for a piece of the world class ski-pie. They'll find you – in the safest way – Verbier's best hidden spots and untouched snow where you can make your own tracks deep in the Swiss Alps.
How to do it: Stay safe, take an expert. Hook up with a guide at Guide Verbier.
8. Drink at the heart of Verbier's local scene at Fer a Cheval
Credit: verbier.ch / Melody Sky
It's a cheaper option in Verbier, and always jammed with locals. It is the centre of Verbier's local social scene. A chalk board menu featuring Swiss mountain favourites in the village's most popular bar-pub makes for a perfect low-key but lively evening.
How to do it: Head to or book early in order to get a table at Fer a Chevel.
9. Take a long (rosé-filled) lunch at Le Mouton Noir
… and watch your afternoon descend into après. An on-mountain restaurant, Le Mouton Noir is at the top of the Medran gondola and is one of Verbier's best decks. You'll find an upbeat atmosphere and a modern menu featuring entrecôte, poke bowls, tuna tataki, charcuterie boards and burgers, all to excellent quality. Think magnums of rosé, DJs and dancing during an afternoon session here.
How to do it: Le Mouton Noir is easily accessed and can be reached by foot passengers with a lift ticket and an easy lift ride up to Les Ruinettes station for a scenic lunch.
10. Paraglide over the Swiss Alps
This surely has to be one of the best things to do in Verbier in winter. Take in Verbier from a different perspective. Take a flight lifting off from 2,200m for a birds eye view of the resort, slopes and what feels like the entire Alps range. It's a unique and exhilarating experience, and is an activity for anyone and everyone.
How to do it: For a tandem paraglide ride, book with Verbier Summits.
11. Take a Brewery Tour and Taste Local Beers on Main Street
V Bier – Vie Montagne
The V Bier Brewery Tour is a chance to visit Verbier's only microbrewery. Before tasting the full range of pale ales, pilsner, IPA and white beers, learn how the beers are made and brewed on site at the artisanal Vie Montagne using fresh mountain water.
How to do it: Book in for a V Bier Brewery Tour and tasting session.
12. Stretch with yoga in the mountains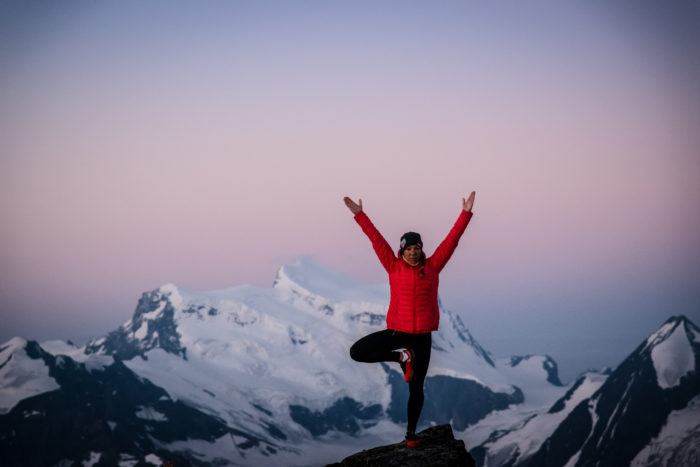 D.CARLIER / davidcarlierphotography.com
Wellness and good health is about balance. Yoga is becoming pretty synonymous with every sport and skiing is no exception – a much needed and perfect foil to stretch the body out and limber it up. And there's no better place to practice than up in the mountains, away from the stresses of the world below. Recharge, rebalance and calm the mind.
How to do it: WholeyCow yoga has scheduled yoga classes at its central studio on Rue de la Poste. The centre offers timetabled yoga as well as private sessions and energising pilates classes for those on holiday looking to keep strong and active. You can also book treatments: sports massage, deep tissue massage, energy balancing treatments, reflexology, aromatherapy massage and acupressure.
13. Go on a snowshoeing adventure
Snowshoeing is an alternative on-snow activity to skiing and one everyone must try, whether you're a keen skier or new to the snow. Snowshoeing started thousands of years ago as a mode of transport but has had a recent hit in popularity. It's low impact, aerobic work that can be taken as easy or hard as you like. Snowshoe out to serene spots, slow it all down and take in the views.
How to do it: Verbier has a handful of marked trails, but you can always take a guide to get further off the beaten track. Get in touch with Adrenaline ski school for snowshoeing excursions.
14. Get stuck in to the famous après-ski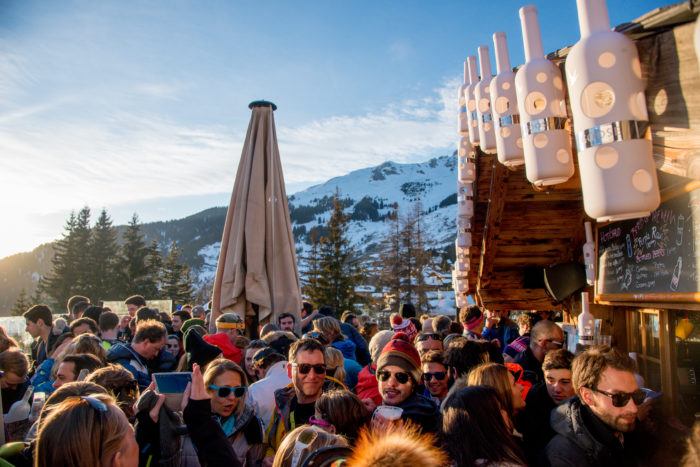 Le Rouge, restaurant, lounge, après-ski, nightlife (c) Alpimages
Live it up in Verbier. It's possibly the Swiss Alps' best party scene. But beware of how much it costs. With an intoxicating mix of sophisticated bars, live music joints, sun decks and clubs, it's very easy to get carried away. It is a Verbier winter rite of passage.
How to do it: Try the Farinet for a high energy, feel good party. You won't miss if from the street and it draws in many-a-punter this way. Live music, crowds and an indoor-outdoor dance floor means après every night of the season.
Bar 1936 is an on-mountain après spot. Ski down from Les Ruinettes lift to Verbier village and you won't miss it. It's a relaxed yurt bar with a BBQ and live bands at 1,740m altitude, so watch your alcohol intake. I've heard rumours about an après-ski train from Geneva. More info is to be released as the winter season approaches so keep an eye out for this gem if you're city-based looking for a mountain jaunt.
15. Extend the celebrations into Verbier's nightlife scene
Après Ski au Farinet, live music
Everyone has a story about the Farm Club, a Verbier institution and nightclub famous through the Alps, no, the (ski) world… It's been going since 1971 and is expensive, but a must when visiting Verbier. Pub MontFort has a busy and inclusive après scene, a favourite among all ages, with a more chilled (in Verbier terms) atmosphere and a happy hour between 4pm and 5pm. Ski pub Fer A Cheval is an all-evening watering hole that's friendly, lively and relaxed. As mentioned above, it's also the locals' favourite.
16. Enjoy some winter hiking
If you can get out of bed in the morning after experiencing Verbier's late night wild side, a winter hike might be just the ticket. Leave the hub of Verbier behind and hike on foot to the ruins of Le Chateau along a winter trail through the woods with stellar views of Valais and the Rhone Valley. The views alone make this one of the best things to do in Verbier in winter.
How to do it: Click here for hiking routes.
17. Lunch at a mountain hut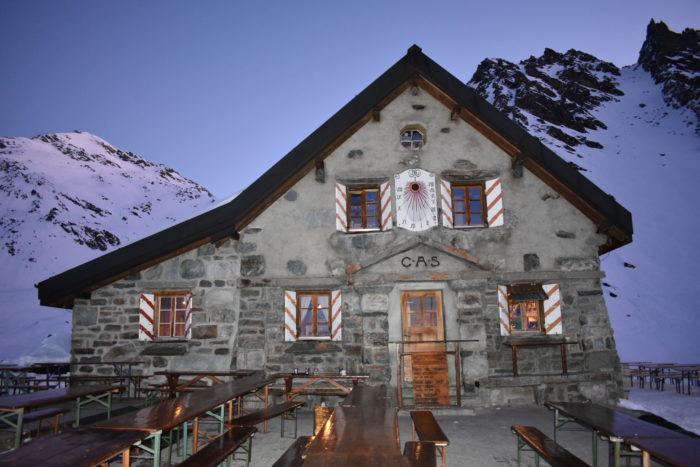 For an authentic alpine eating experience try the on-mountain hidden-away Cabane Mont Fort where you'll find the likes of crôute, fondue, rosti, tartiflette and veal sausages on the daily menu: hot, hearty and traditional Swiss dishes with views of Mont Blanc to boot. There's an enormous decking with an incredible vista overlooking the La Chaux ski area and beyond. It's exactly what you want, and expect, from a remote and working mountain refuge at altitude: A rustic lunch that's very much not VIP and can only be reached by skis or board.
How to do it: Use FATMAP to locate the Cabane Mont Fort on the mountain.
18. Discover local flavours and delicacies
You can easily spend a whole day, if not more, enjoying the artisanal delights of Verbier's food scene with a multitude of different cheese and charcuterie counters to visit, as well as the mouth watering treats in La Galerie du Chocolat.
La Chaumière is a must for cheese lovers with the resort's best selection of local mountain cheeses and preserves.
19. Taste the local wine
For generations Valais winemakers have been sculpting their "terroir" and cherished vineyards, and fine-tuning their wines.
How to do it: To discover the wines of this mountainous region head to Macbirch, the oldest wine cellar in Verbier, to find mountain wines from this southern Swiss region as well as the finest vintages from all over the world. Like wine? Did you know the Prosecco region is just one hour from Venice. Find out how to take a tour of the region here.
20. Try Heli Tours Heli Skiing in Switzerland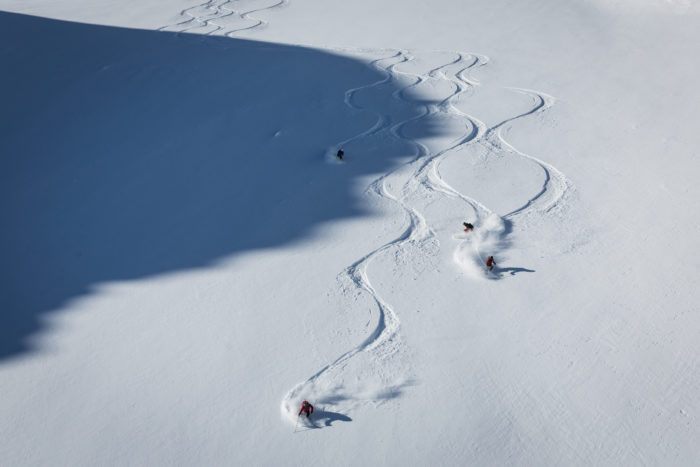 Credit: verbier.ch / Melody Sky
It's a luxurious way to sightsee and an unbeatable experience, discovering the Alps from above with endless vistas on a helicopter tour over Verbier. Fly above the famous summits of Mont- Blanc, the Matterhorn, Les Dents Blanches. If you're a competent off-piste skier, a few heliskiing rides could be on your bucket list. Only certain countries and regions allow it so it's a rare treat, but one you can dine out on for ever. Take on descents of over 3,000m through some of the most majestic glacial and mountain terrain the Alps has to offer. Ski the Petit-Combin, the Aiguilles du Tour, the Rosablanche or the Pigne d'Arolla.
How to do it: Hit up Adrenaline for private or open group heliski tours around Verbier.
How to get to Verbier
Verbier takes 2 hours to reach from Geneva by car, 3 hrs by public transport.
From Geneva airport to Verbier – take an InterRegio train, direction Brig, changing at Martigny for the regional train to Le Chable, 9km from Verbier. Then follow signs to the Post Bus station for the 25 minutes bus ride from Le Chable (821m) up the mountain to Verbier (1,500m). Journey time approximately 3 hours and two changes.
Flights can be booked with Swiss Airlines. SWISS operates more than 170 weekly flights to Switzerland from London Heathrow, London City, Manchester, Birmingham, Edinburgh (seasonal during summer) and Dublin from as little as £55 oneway (Economy Light fare only includes hand luggage). The all-inclusive fares start from £71 oneway, including all airport taxes, one piece hold luggage and hand luggage, meals and drinks. You can search for flights using Skyscanner here.
Transfers by train: The Swiss Transfer Ticket covers a round-trip between the airport/Swiss border and destination. Prices are £125.50 in second class and £201.50 in first class.
Credit: verbier.ch / Melody Sky
So, that's my guide to the 20 best things to do in Verbier in winter. Verbier has long been considered one of the Alps' best ski hideouts. Visit for Verbier's party appeal, for its big-mountain skiing. Go for the vibrant restaurant scene – from the Michelin starred to traditional alpine lodges to the urbane cuisine, and everything in between. Head to the sun decks for a winter hit of Vitamin D, long, al-fresco lunches and lively atmosphere. Step into the action, breathe in fresh mountain air, get stuck in to wellness pursuits, soak up the town's spirit in spectacular surroundings. Got any questions or things to add? Let me know in the comments below.
Related: Things To Do In Verbier in Summer
Love Verbier? Have you ever visited in Summer? I have an it's just as impressive but in a wholly different way.
Check out my blog post about 20 Things to Do in Verbier in Summer.
More of my winter travel blog posts
Love winter travel? You might be interested some of my other posts:
11 Best Things to do in Austria in Winter (Besides Skiing)
Snowboarding For Beginners: A Complete Guide
Blog posts to help you plan your trip
The Only Packing List You'll Ever Need (with printable checklist)
15 Long Haul Flight Essentials: What to Take Onboard
Travel Insurance: Don't Get Screwed by the Small Print
Like this guide to things to do in Verbier in Winter? Share it on Pinterest…
This guide to the best things to do in winter in Verbier was written for Indiana Jo by Katie Bamber. Katie is a freelance adventure sports and travel writer. Check out her profile and site here. Happiest on the water, snow or on a bike her pieces bring an element of action as well as enthusiasm for new places and cultures.