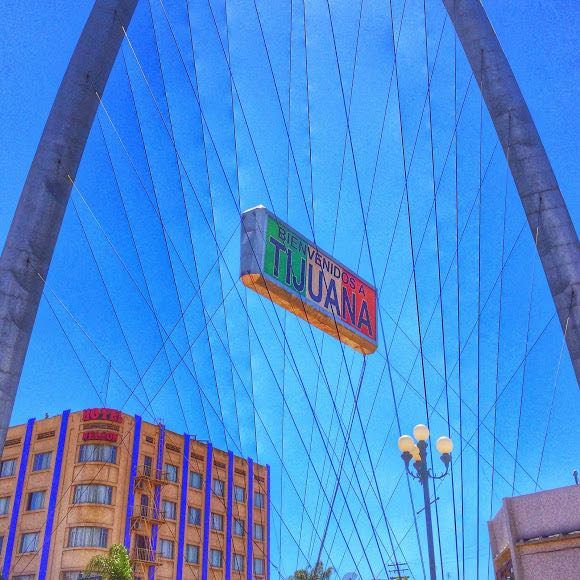 Tijuana is always a good idea. Whether you're heading south of the border to cut loose or it's the starting point of your epic Baja California road trip, in this post I'll share with you 20 fun things to do in Tijuana Mexico.
I've visited a few times and I've never had anything other than a good time. If you are worried about safety, I have written about that in a separate post, which also covers how to get to Tijuana from San Diego.
I've included a google map of all the places I've mentioned in this post.
1. Take a picture of Tijuana's Monumental Arch
You should take a picture of Tijuana's Monumental Arch (main image) because it is monumental – so much so you can see it before you cross the border. it's quite the introduction to the city and is one of the fun free activities in the city. I would say it's a Tijuana must see but really I think you'd find it hard NOT to see it.
Related: 19 Best Things To Do In Downtown LA
2. Get some culture at Centro Cultural Tijuana (CECUT)
Most people don't think of Tijuana as a cultural centre but it is stuffed with cultural activities and has a centre dedicated to exactly that. As well as an IMAX and a full performance program, there is an exhibit of the history of Baja California – ideal if you're heading down the Baja Peninsula. Find out more on the CECUT website here.
Planning a Baja Road trip? You might like my related guides:
3. Visit Catedral de Nuestra Señora de Guadalupe
Being a tourist means you're duty bound to see the local cathedral, doesn't it? If you hold that opinion, you can get your fix at Catedral de Nuestra Señora de Guadalupe.
4. Try to get a picture of the Mexican flag in the breeze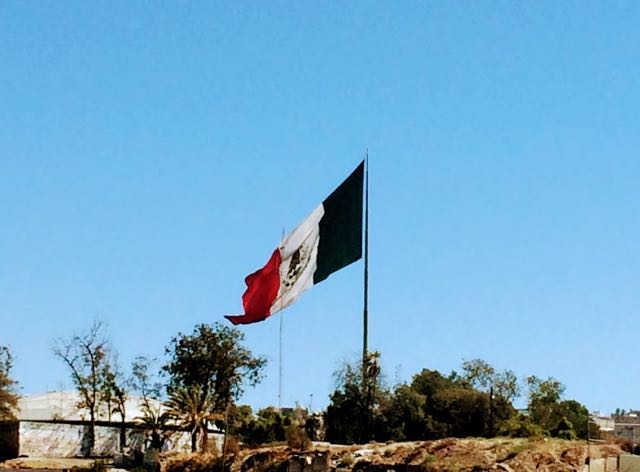 The flag in Tijuana is not only highly visible courtesy of its size, it's one of the banderas monumentales – a program of large flags in Mexico marking locations of significant Mexican events. I can't find the exact dimensions of the flag online so if anyone wants to shimmy up the pole and measure it for me, that would be great.
5. Explore the Tijuana shopping scene
Tijuana has amazing shopping so if you're after a souvenir to take home, here are some of the best places to spend your pesos (just make sure you've packed light):
Plaza Rio Tijuana – your classic outdoor mall
Sanborns – if you're after a department store
Mercado Hidalgo – more on this fresh produce market below
Mercado El Popo – another fresh produce market
Plaza Agua Caliente – if you're looking for designer brands
6. Visit a Mexican market at Mercado Hidalgo
This shopping activity merits a separate mention because it's the perfect place to immerse yourself in Mexican daily life. Brimming with fresh local produce, crafts and eateries, Mercado Hidalgo has every Mexican food or souvenir that you could want all in one place.
7. Track down some street art in Tijuana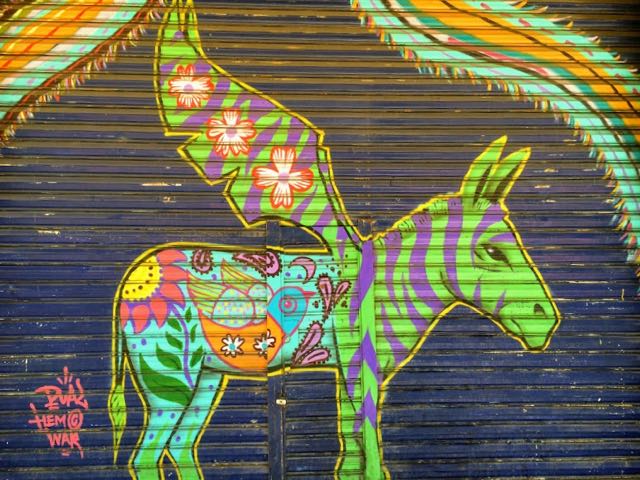 Pasaje Rodriguez is well know for street art in Tijuana but it's not the only place you'll find it. Get some Tijuana Street Art inspiration from Pinterest and I'll be posting my Tijuana street art pictures on Pinterest here.
8. Go and see some Lucha Libre
Lucha Libre is Mexico's version of professional wrestling but it's more than a sport, it's become a form of entertainment with bright, Mexican masks, and almost circus like flying moves. When you're in Tijuana, you should definitely take time to check out a Lucha Libre match in the flesh.
9. Enjoy the park life at Parque Morelos
Looking for some green space in an otherwise building oriented city? Head to Parque Morales. A blend of woodland and traditional park, there is also a lake and a train for getting around (probably aimed at kids but I'm sure your inner child can hop aboard). You can find out more about the facilities and what's on here.
10. Go to the beach in Tijuana (Playas de Tijuana)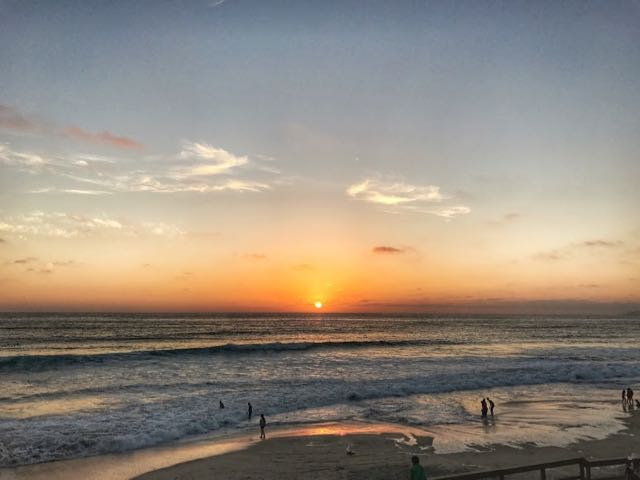 Wait? What? There's a beach in Tijuana. Yep, I know, right! And, if you are in TJ to party, the country is really well set up for taking a six pack to the beach with cool boxes and ice available in 7-Eleven and OXXO. If nothing else, go there for the sunsets. If you're wondering what is there to do in Tijuana for a day, I say enjoy Mexican beach life. It really is a completely different experience compared to San Diego; beach snacks from carts and beers, for one.
11. Go tequila tasting in Tijuana
Ok, so there isn't exactly a lot of organised tequila tasting opportunities in Tijuana, which, frankly, is missing a trick as far as I'm concerned, but you're in Mexico, so all you really need to do is step into a bar – any bar will do – and try a few brands you've not tried before. Not sure where to start? Check out my guide to how to drink Tequila like a Mexican. My current favourite is an unfortunately rather pricey tequila called Adictivo, which does exactly what the name suggests. I'd aim for something cheaper if all you plan to do is put it into a tequila cocktail.
12. Eat all the Tijuana tacos you can
As if you were going to go to Tijuana and not try the local food! As far as I'm concerned, you'll be hard pushed to find a bad taco in Tijuana and the more substantive plates are just as good. However, if you're the kind of person who wants the kind of food that comes 'highly recommended', I've got a list of where to eat in Tijuana below.
Related: Quick and Easy Guacamole Recipe From Mexico
13. Check out the malecón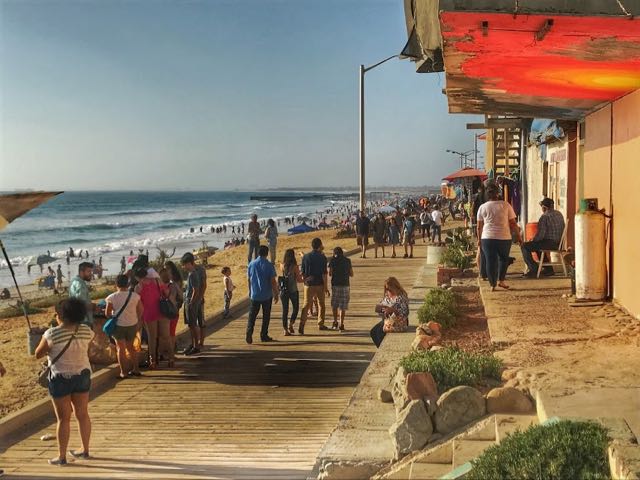 The sand and sea isn't all that's on offer at the beach in Tijuana. There's a lively malécon featuring streetfood vendors, local crafts, restaurants and bars. Personally, if you're not sure where to start your adventures, I'd swerve downtown Tijuana and start here.
14. Drink Mexican coffee
Did you know that Mexico is one of the largest coffee producing countries in the world? If you didn't, you do now and what better place to drink it than in Mexico itself. Make sure you're buying local. You can find out more about Mexican coffee here. My favourite Mexican coffee comes from Chiapas. My other favourite coffee destinations are Maui and Jamaica.
15. Gamble your pesos away at a casino
Who needs Vegas when you can gamble in Mexico? Here's a guide to casinos in Tijuana – Casino Caliente is a popular choice. Just make sure you know the conversion rate before you throw down hundreds of pesos.
16. Enjoy Tijuana's craft beer scene
Like many places around the world, craft beer has arrived on the scene in Tijuana and I have to say it's good.
BCB Tasting Room is a popular place to taste Tijuana craft beers. Otherwise, you can find a longer list of suggested supping spots here.
17. Check out the Tijuana nightlife – on Avenida Revolucion and Calle Sexta
Whether the Tijuana nightlife is the beginning, middle and end of your plans for the city or whether you just want to see what the fuss is all about, here is a list of some of the best places to go. Otherwise, hitting downtown Tijuana is a good place to start.
18. Go wine tasting at L.A. Cetto
My most recent trip to Tijuana was part of a larger trip down Baja California, which included a visit to one of Mexico's most famous wineries – L.A. Cetto in Ensenada. But if you can't make it to Ensenada, you can still go tasting at the L.A. Cetto cava in Tijuana.
19. Try the fish tacos at La Mojarrita
Yes, I know I said I'd give you a list of the best restaurants in Tijuana below – and I will, I promise – but the fish tacos at this restaurant by the beach deserve a special mention (picture below if you want proof).
Prefer to swim with the sea life? How To Swim with Whale Sharks in Mexico
20. Treat your hangover to a Michelada
I'm not going to win any prizes for being a healthy lifestyle role model with this one but, you know what, you're fresh off the back of a night out, you have a major hangover you want to cure and you have more party plans coming up. At least by trying a michelada, you're mixing your 'hair of the dog' remedy (beer) with all the goodness of tomato, clam juice, lemon and chilli. I know it sounds vile but, trust me, it works, and tastes good too. Don't forget to eat some good hangover foods, too.
Best Restaurants in Tijuana
What follows is a short list of the most famous/ best restaurants in Tijuana together with a few of my favourites and a couple of recommendations from local friends.
You'll start a hot debate if you try to get a firm view on the best tacos in Tijuana but here are a few places to start:
Tacos el Franc – wins the popular vote
Tacos Kokopelli – upmarket tacos, recommended to me by a local
Telefonica gastro park – taco trucks galore
La Mojaritta – my favourite for fresh, fantastic fish tacos
Some of the best restaurants in Tijuana include
Caesar's Restaurant – another place that the internet collectively waxs lyrical about
Mision 19 – for modern Mexican
Tras/Horizonte – restaurant from the people behind Kokopelli
Los Panchos Pollos Rostizados – simple but succulent chicken by the beach (and one of my favourites)
And a few extra mentions
Cafe Acai – for chilled out sunset beers
Costa Tosta – another road side favourite of mine for morning coffee and sweet treats
Where to Stay in Tijuana
I'm not going to sugarcoat it, you do need to be a little bit more careful picking where to stay in Tijuana. Why? Firstly, you don't want to stay in an unsavoury area. Secondly, there have been instances of possessions being stolen from rooms.
The good news is that both of these risks can be countered: first by sticking to the safer tourist area for your accommodation; second, reading reviews to make sure that past guests checked out with all of their luggage. I have previously stayed in these places, which were in good locations and nothing went missing.
Aqua Rio Hotel – A budget hotel in a good location with very friendly management. Book ahead because this hotel is popular (probably for the same reasons I like it). Trying to book a few days in advance in August over the weekend, it was fully booked out.
Lifestyle Hostel – This is my favourite place to stay in Tijuana. Yes, its budget and a hostel but they have a private room and you absolutely cannot beat the location, which is just across the road from the beach. You'll also, you'll be surrounded by like-minded travellers who are more than happy to share tips about where to go and what to do in Tijuana.
Tijuana Marriott – if you want somewhere more upmarket, there is a Marriott near the business district, which gets great reviews and delivers everything you'd expect from this hotel chain. This is also probably the most luxurious option you'll find in Tijuana.
Hotel Ticuan – a good mid-range option in a good location in Zona Centro, this hotel is popular.
I found the Wikipedia travel page for Tijuana helpful when researching where to stay.
Related: Is Mexico Safe? The Main Risks & How To Avoid Them
Map of Things To Do In Tijuana Mexico
Click here to view this map in Google Maps.
So, that's my guide to Tijuana Mexico. Got any questions or thoughts, let me know in the comments below.
You can find all my North America posts here and all my Mexico blog posts here.