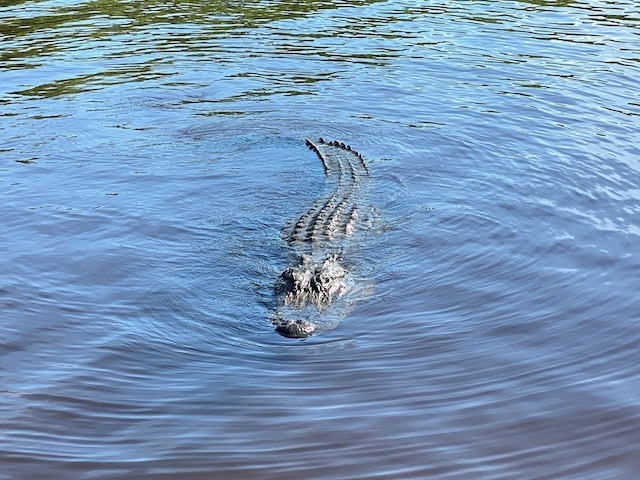 The Everglades is the only place in the world where you can see both crocodiles and alligators. Under an hour's drive from Miami, the question shouldn't be 'is it worth visiting the Everglades', but 'when'?
Admittedly, it took me a while to shift my butt off Miami beach and out into the heat and humidity of Everglades National Park. Then, prone to a touch of craziness, I ended up visiting Everglades National Park twice in the same year. That was good because it let me refine my itinerary for visiting the Everglades.
Here's what I'm going to share with you. All in, it should give you a complete guide for planning a trip to the Everglades.
There are enough things to do in the Florida Everglades to fill at least two or three days. But it can also be visited as a day trip from Miami.
Geographically, Everglades National Park sprawls south and north (strictly northwest but I'll say north) using Homestead as a reference and entry point. I've therefore separated the list into north and south. This becomes useful if you do a day trip to the Everglades from Miami. You'll probably just want to explore one section (north or south).
I've put both lists in the order that you will reach them when driving from Miami to the Everglades.
Things to do in Everglades North.
Without snubbing the south section, I'd recommend this part of the Everglades if you only have one day to visit the Everglades from Miami. Take highway 41 from the city and just keep going.
1. Drive the Tamiami Trail
How to see the Everglades from Miami? Very simply! Not long after leaving Miami, driving west, you hit the Tamiami Trail. Technically, it's just Highway 41 but you'll know you've reached the Everglades when you see the water and sawgrass popping up on the side of the road.
Fun Everglades fact: Highway 41 starts in downtown Miami and cuts through trendy Brickell and Calle Ocho in Little Havana. Question: does anyone know how to properly pronounce Tamiami – I'm torn between tammy-army and tar-miami. Probably neither, right?
2. Hang out in Shark Valley
Shark Valley is the first major spot you'll hit on the Tamiami trail. It's a 15 mile (24 kilometre) flat, paved trail through the Everglades. There's a tram tour, a series of boardwalks, an observation tower and wildlife galore.
I've got more details on each of these below but first I'll answer the obvious question – will you see sharks in Shark Valley? The answer is no. Boo, I know. So, why the name? Well, a little further out, where two estuaries meet, sharks do swim. However, they don't swim in to the area that has the paved trail running through it.
3. Take the Shark Valley Tram Tour
It was the tram tour that sent me in the opposite direction, south, on my first trip to the Everglades National Park. Why? The idea that you could drive around the Everglades and take a tram to see the wildlife, didn't seem right. It was wetlands, it required a boat, right? Wrong.
I tried the Shark Valley Tram Tour on my second visit to the Everglades and I saw more alligators (or were they crocodiles?) basking in the sun than I did anywhere else in Everglades National Park. The picture above I took just a five minute walk on foot from the ticket shop, waiting for the tram.
We didn't see a whole heap of wildlife from the actual tram but the narrative about the park was informative and the breeze was a relief.
You can find out more and book tickets here. I booked when I turned up. It's useful to know that the tours run on the hour, every hour and take two hours. I'd suggest turning up 30 minutes early to make sure you get on the next tour, or just book ahead.
Prefer to cycle the trail? You can hire bikes from the small shop. The trail is flat and relatively short. It doesn't come with any commentary like you get on the tram (or shade) but it's a fun way to explore, stopping if and when you do see the alligators/crocodiles (harbouring some deep shame I still can't spot the difference).
4. Walk the Bobcat Boardwalk Trail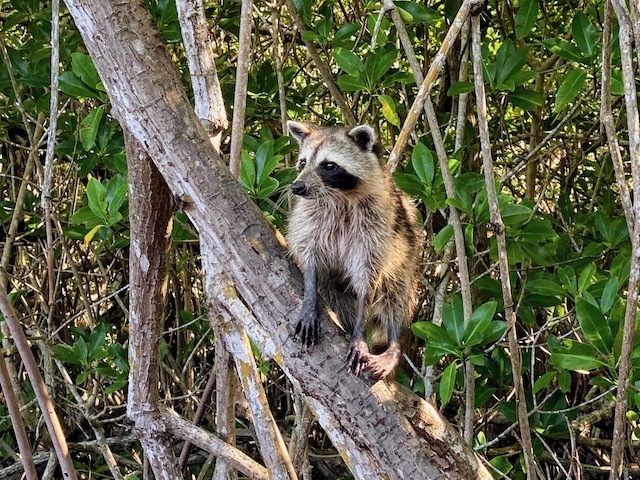 It shouldn't take you very long to walk this short, half a mile trail but it's the perfect place for a wander while you wait for your Shark Valley Tram Tour. What's nice is it's a wooden, flat boardwalk in the middle of nature. It's especially good if you're travelling with anyone who isn't great on their feet but wants to walk a trail.
The trail is to the left of the ticket shop. If you want to tack on a bit more of a walk, the neighbouring Otter Cave Trail adds an extra quarter of a mile.
5. Get views from the Shark Valley Observation Tower
About half way through the tram tour, you reach the observation tower. It's a short, winding walk to the top where you get sprawling views across the Everglades landscape. Personally, I found the curve of the observation tower more visually interesting that the flat, sprawling grassland. Still, it's nice to stretch your legs. This is included on your Shark Valley Tram Tour.
6. Big Cypress Oasis Visitor's Centre
A stop at Big Cyprus Oasis Visitor's Centre will barely take half an hour but it's a cute stop comprising an art gallery filled with the work of local artists depicting Everglades National Park, a garden trail that's worth a quick meander and one of those fun directional signs that's always worth a photo. Oh, and loos – they have nice, clean toilets if you need a bathroom break.
7. Rest in Everglades City
If you're staying overnight in the Everglades, I'd highly recommend spending it in Everglades City. Homestead might seem like a practical option, closer to Miami and thus easier to shoot down to the Keys afterwards (a popular itinerary, to combine the three) but in Everglades City you'll get the peace and calm you came to the Everglades for. The population is around only 400 people, there are only a handful of hotels and restaurants and, apparently, Everglades City has the smallest post office in the USA, which I know you've just been dying to see. See the accommodation section below for where I stayed in Everglades City.
Tip: one of the best parts about staying in Everglades City is that many of the tours, including the best Everglades airboat tours are right there and they are far less frequented than the ones you see driving in from Miami. More on choosing Everglades City airboat tours below.
8. Take Captain Jack's Airboat Tour
I was really conflicted about taking an airboat tour for environmental/responsible travel reasons. It's thought that the airboats churn up the wetlands and many of the guides interact with the wildlife (this happened on my swamp tour in New Orleans, the guide enticing the wildlife with sweets).
Consequently, I avoided the Everglades airboat tours from Miami. However, on my last trip, with a morning to spare, I decided to give it a try, first doing my research to find a respectable company. I was very pleasantly surprised. In fact, whizzing over the water was by far the most fun I had in the Everglades.
Captain Jack's Airboat tour, running out of Everglades City, was recommended to me and it was the perfect choice. Not only did Captain Jack have full respect for the wildlife, his tours were small group, meaning lower churn.
You can book here.There are lots of different options. I went for the Everglades mangroves airboat tour. Everglades airboat prices can vary a bit. This one cost $41.99 (plus tax). If you're looking for an alternative, this is a very popular Airboat Tour.
Same as all the other Everglades airboat tours, it does includes free entry to an alligator wrestling show. I didn't go to that as it's exactly the kind of unnatural interaction I'm talking about and I'd urge you to do your research before deciding whether to go.
9. Head out to Naples City
When I next visit Everglades National Park, I'm going to make the extra effort to get out to Naples City (nope, not to be confused with Naples in Italy). Not only does it look like the perfect blend between nature and city, it's the jumping off point for the Ten Thousand Islands. It's just an extra 30 minutes on from Everglades City.
10. Visit Florida's Ten Thousand Islands
First of all, there are hundreds not 10,000 islands but you're not going to visit them all anyway so the inaccurate name shouldn't make any difference. This part of the Everglades is a slice of paradise. If solitude and nature and the Everglades without the tourists is what you're after, you'll find it here. Everglades kayak tours and night adventures are especially popular. And don't forget to watch the epic sunsets (and pack mosquito repellent).
You can find out more about planning a visit here. If you prefer a guided tour of the ten thousand islands, you can book a half-day tour here. 
Things to do in the Everglades (south)
Although I suggest you go north if you only have one day to visit Everglades National Park, the south is absolutely worth a visit. If you don't mind a long day, you might even be able to see both north and south (see my itineraries below). Here's what you can see if you head south from Homestead. From Miami, take Highway 41, connect to the 997 south to Homestead. Follow the signposts from there.
11. Pop into the Ernest Coe Visitor Centre
If you're a fan of doing things 'the right way', stop at the Earnest Coe Visitor Centre for a quick intro to the Everglades. It's the first Everglades visitor centre you'll see as you enter the National Park. I'd spent too long trying to track down coffee in Homestead (not as easy as it sounds) and had a quick visit before zipping on down to Flamingo for my booked boat trip.
12. Wade through the slough slog
You'll have to be a die-hard nature lover and explorer to walk the Slough Slog. Normally I fill those boots but, on this occasion, wearing just my Bikenstocks, I didn't have the boots for this wet trail.
The ranger tours leave from the Ernest E. Coe visitor centre. You can find out more here. Be prepared, you'll be wading through the water, up to your calves. Perfect if you want to add adventure to your list.
There are several Everglades National Park tours on offer. I've mentioned the most popular ones in this post but have a look on the park website in case there is some other Everglades nature tours that takes your fancy.
13. Park at the Royal Palm Visitor Centre
Why have one Everglades visitor centre, when you can confusingly have a handful of them? In fairness, they all offer something a little different. The Royal Palm Visitor Centre is where you can access the Anhinga and Gumbo Limbo Trails.
14. Walk the Anhinga Trail
A similar deal to the Bobcat Boardwalk Trail, the Anhinga Trail is a boardwalk that meanders through the Everglades. It's a short walk, just under a mile and you'll want some sunscreen because most of it is without shade. That's a good thing because those crocodiles and alligators do like to bask in the sun. Make sure you pack properly for the Everglades with my ultimate printable packing list.
Heading south of Homestead, this is where I saw the most wildlife.
You can read more about the Anhinga Trail and the Royal Palm Visitor's Centre here.
15. Add on the Gumbo Limbo Trail
A second trail at the Royal Palm Visitor Centre, the Gumbo Limbo Trail's main attraction is the gumbo limbo tree. It's colloquially known as the 'tourist tree' because it has peeling bark that makes it look like a tourist…some say, like a British tourist. (Rude, says the Brit ;p).
16. Stop at Flamingo Visitor Centre
Yep, another visitor centre. This one is also worth a stop because from here, you can take an alternative type of Everglades boat tours. If you're a bit tired of tiny visitor centres, head straight to Flamingo Marina (inside a mom and pop-type store) where the activities begin.
17. Take the Flamingo Adventures Boat Tour
This is the boat tour I did on my first trip to Everglades National Park. No, it doesn't compete with taking an airboat tour – the boat was bigger and slower and didn't whizz across the water. However, the guide gave a very good overview of the Everglades and who doesn't like a trip out on the sleepy backwaters? You can book your tickets here.
Want to go kayaking or canoeing? If you're comfortable taking a canoe or kayak out on your own, the marina has Everglades kayak rental options. You can find out more here.
Tip: there is very little lunch choice in the south section of the Everglades. Although the convenience store doesn't stock the most appetising range of food, it's a whole heap better than nothing. Plus, there are picnic tables outside.
Another tip: the toilets here are a bit…rustic. Check for cockroaches before you hover, lest you might have your bottom tickled by a tentacle, as happened to my unfortunate friend. I can still hear her screams in my ears.
18. Hang around Flamingo Marina to see the manatees
Marina's aren't the usual place you'd find manatees but there is a family of Everglades manatees that hang out at this one. Look for the other groups of tourists pointing and oo-ing. It didn't take much standing around before I saw mamma and her baby twirling gracelessly in the water.
19. See the smaller sights of the southern Everglades
Just before leaving Flamingo Marina, I asked for suggestions for the rest of the afternoon (before driving on down to Key West). The lady kindly pointed out a host of options. I've put them together under this one heading because I didn't want to give the impression they were major activities. Most of them only merited a quick look followed by a 'was that it?'. Keep your expectations low for these ones and you'll enjoy them more.
Pa-hay-Okee Lookout Tower – a platform you can climb to get views over the snaking river grass.
Mahogany Hammock Trail – another short trail, similar to the Anhinga trail but with fewer Everglades animals. Good if you want more steps on your fitness tracker.
---
Suggested Everglades itineraries
On my first tour of the Everglades, I got up early (thanks, jet-lag), decided to explore south of Homestead during the day before driving all the way down to Key West where I stayed overnight. Don't do this. It's too far, too crammed an itinerary and, to be honest, the south isn't the most interesting part of the Everglades National Park.
On my second visit, I tweaked the itinerary and had a much better experience. I left from Miami in the morning, picked up the car from the airport, drove north of Homestead, explored the park, stayed overnight in Everglades City, did an air boat tour the next morning then took a road trip through the Florida Keys. This was overall a much better itinerary.
Here's my suggested one and two day itineraries from Miami:
One day Everglades itinerary (north)
First, drive all the way west to Everglades City for an early airboat tour with Captain Jack's Airboat Boat tours, slowly work your way back to Miami along the Tamiami Trail stopping at Big Cypress Oasis Visitor's Centre then on to Shark Valley for a Tram Tour in the afternoon. This itinerary should get you back to Miami by early evening for a night in the city or head to the Florida Keys, as I did.
Tips: Book your Airboat Tour and Tram Tours ahead of time so you don't waste time waiting around. I'd also recommend packing a picnic breakfast and lunch.
And check out my guide to 40 cheap things to do in Miami.
One day Everglades itinerary (south)
Similar to the itinerary above, except this time head south to Flamingo to start the day with the early boat tour. From there, work your way back stopping at the Royal Palm Visitor's centre to walk the Anhinga Trail and Gumbo Limbo Trail. Spend the rest of the day adding in the smaller sights before heading back to Miami for the evening or, as I did, driving on down to the Florida Keys.
One day Everglades itinerary (north and south)
If you really want to cram it in and don't mind an early start and late finish, you can combine north and south Everglades. Make sure you have your car very early or the day before, pack a picnic and head straight out to Everglades City for the first Captain Jack Airboat tour of the day (9 a.m.). The boat tour is one hour. If you don't linger, you can then head over to Shark Valley (50 minute drive) for the 11 a.m. tram tour. That is very tight but gives you a fighting chance of taking the last backwater Everglades boat ride from Flamingo at 3 p.m, a 2 hour drive from Shark Valley.
If you don't want to stress, take the mid-day tram tour, have a leisurely drive south to see the manatees in Flamingo or hire a canoe/kayak then slowly work your way back to the Anhinga trail. Otherwise, you could just go south only as far as the Anhinga trail before heading back to Miami or on the the Florida Keys.
Tip: The park closes at 5.p.m. The highways will still be open but you won't be able to access any of the sights or hiking trails from the visitor centres.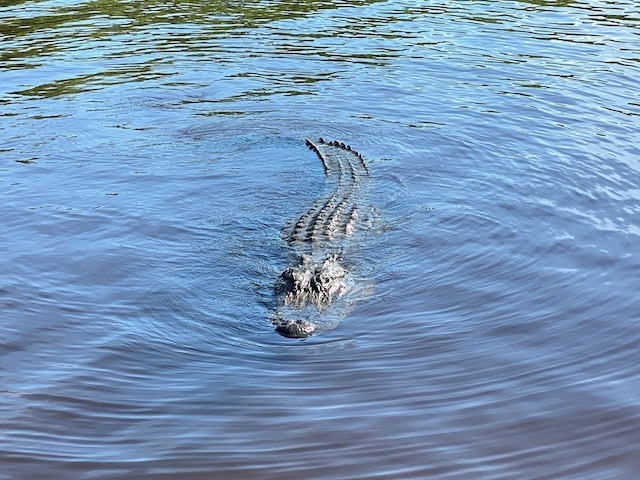 Two day Everglades itinerary
The laid back itinerary (north only): Day one: Casually make your way along the Tamiami trail, stopping at Big Cypress Oasis Visitor's Centre then on to Shark Valley for a tram tour in the afternoon. Get to Everglades City for sunset and a relaxed dinner. Spend the night in Everglades City.
Day two – after breakfast, you're in the exact right spot to take the first Captain Jack's airboat tour. When that's done, make your way down to the Florida Keys, stopping along the way and enjoying the views in daylight. Realistically, you could get down to Key West. I stopped on Isla Morada for the night.
On this itinerary you could alternatively push on through to Naples and the Ten Thousand Islands on day one.
The fuller itinerary (north and south Everglades): Spend day one exploring north Everglades – drive the Tamiami Trail, take the tram tour of Shark Valley but plan it so you're out in Everglades City for the last airboat tour at 3:45 p.m. Stay overnight in Everglades City.
On day two, get up early and head south for the boat tour from Flamingo. I'd suggest the 1 p.m. tour, which will give you a little bit of time to explore the Anhinga Trail in the afternoon before driving down to the Florida Keys. You could get up early and head out for the 9 a.m. tour. The drive is about 2hrs 40 but ideal if you're already up for the sunrise.
You could also add Naples and the Ten Thousand Islands to this itinerary, driving there at the end of day one and exploring there on day two instead of heading south.
If you are heading down through the Keys as part of your trip, check out my posts: 21 Best Things To Do in The Florida Keys | Best Things To Do in Key West | 15 Famous Bars In Key West | 25 Best Places To Eat In Key West
---
Where to stay in the Everglades
So many people choose to stay in Homestead because they look on the map, see it is central and decide to use it as a base. Honestly, don't do it to yourself. Homestead may have hotels and facilities but it's a city of strip malls where function definitely presides over form.
It's only 1hr 40 drive from Homestead to Everglades City and it's at the tail end of Everglades National Park making is a perfect spot to end your tour of the Everglades.
Where to stay in Everglades City
These hotels/motels are right next door to each other in the middle of tiny Everglades City:
Ivey House – I chose Ivey House mainly because the place was a bit cheaper and both motels otherwise looked broadly equal. A decent breakfast was included, the staff were friendly, and I'd stay again if I went back.
Everglades City Motel – the motel next door is a great alternative if Ivey House is full (or you just prefer the look and feel of this one).
If you want another option in Everglades City, check out Captain's Table Resort.
Where to stay in Naples Florida
I didn't stay in Naples, but these hotels were on my shortlist when I was doing my research:
The Ritz-Carlton Golf Resort – a bit of luxury in North Naples.
Hotel Escalante – great reviews in a great location.
Where to eat in the Everglades
Surprisingly, food can be hard to come by in Everglades National Park. I completely screwed this up on my first trip. Skipping breakfast in favour of collecting the car early, I ended up eating at a weird, near-empty mall in Homestead because I couldn't find anything else open (save for a McDonald's and I was determined I could find something – anything – else).
Not taking this as a cautionary warning, I drove into the park only to find that south of Homestead there isn't a single restaurant. I ended up eating a pre-packed sandwich from the marina store in Flamingo. Thankfully my boat tour guide told me there were no other options or I would have been sharpening my Swiss Army knife and preparing to wrestle a crocodile for meat.
Even north there wasn't an abundance of restaurants in the park. I'd suggest packing a picnic from Miami. Rosetta Bakery near south beach has the best deli rolls, focaccia and sandwiches. Buy them the night before (they should keep if you skip the fresh tomato).
Everglades City restaurants were hardly abundant but definitely more than within the rest of the park. The restaurant recommended by my hotel – Camellia Street Grill – is best summed up as: nice location, average food. I wish I'd tried City Seafood just up the road instead.
Where to stay in Miami
I've stayed in a lot of places in Miami, these are my favourite options:
Tips for Visiting the Everglades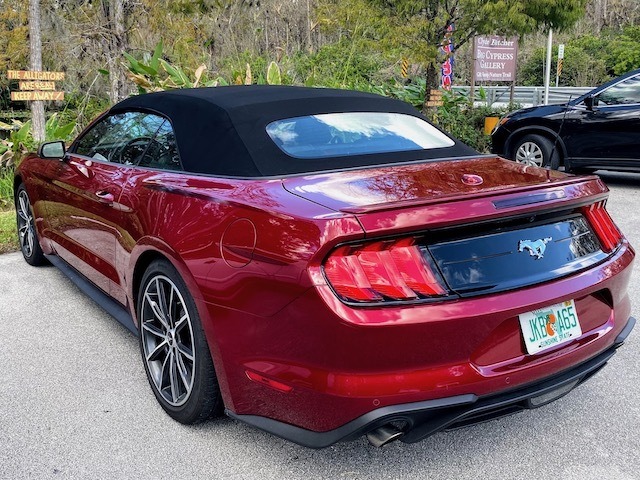 I've put together answers to some of the most frequently asked questions about planning a trip to the Everglades. If you have any more questions, let me know in the comments below.
Where are the Everglades?
The Everglades are really close to Miami – less than an hour west of the city. Everglades National Park sprawls both north, west and south of Miami across the souther tip of the state of Florida.
What are the Everglades?
Most people assume the Everglades is a swamp but really it is a grassy wetlands. Definition aside, it's an area booming in nature and wildlife with both crocodiles and alligators and makes for the perfect getaway from Miami either as a day trip or as part of a longer itinerary through the Florida keys.
How far is the Everglades from Miami?
It will depend where you want to go but you can reach the Everglades in under an hour driving from Miami downtown (depending on traffic). It's around 40-45 miles away.
Can you drive through Everglades National Park?
How do people travel through the Everglades? Honestly, I thought that the park would be bogs and swamp (like in New Orleans) and wetland and you'd need a boat or a boat tour from Miami to get there. However, there are a couple of neat highways laid through the area, meaning you can drive through Everglades National park on your own.
Best car hire at Miami airport
I have become a regular customer with Sixt at Miami airport. I usually book direct. There are no forced insurance extras, the pick up is quick, the cars always brilliant and there's no dodgy dude trying to remove $1,000 from my credit card for an invisible scratch when you take it back. On my last two trips I hired a VW Beetle convertible and then a classic Mustang convertible. Both highly recommended. Vroooom.
When to visit the Everglades
You know the drill, the best weather attracts the most people and comes with the highest prices. I visited in April and also in November and both months were perfect with no rain and low mosquito levels. Given the Everglades weather is hot and humid, I'd avoid the middle of the wet season (later summer). If you do go for it, pack mosquito repellent. Here's my guide to the best mosquito repellents.
November to March: Dry season but also peak season.
April to October: Wet season but also low season.
Admission cost into Everglades National Park
It will cost you $30 to take your car into the park. (Slightly lower fees if you're on two wheels). The entry fee is good for 7 days. You can buy your pass in advance here.
Like National Parks? Check out: How to Spend One Day at the Grand Canyon | Must-See Sights in Hawaii Volcanoes National Park
Everglades National Park Hours
The park is open 8am to 5pm in dry season and 9am to 5pm in wet season.
So, that's my guide to how to do your own Everglades tour from Miami. If you've to any questions or recommendations, let me know in the comments below.
Everglades fun facts – Why you should visit the Everglades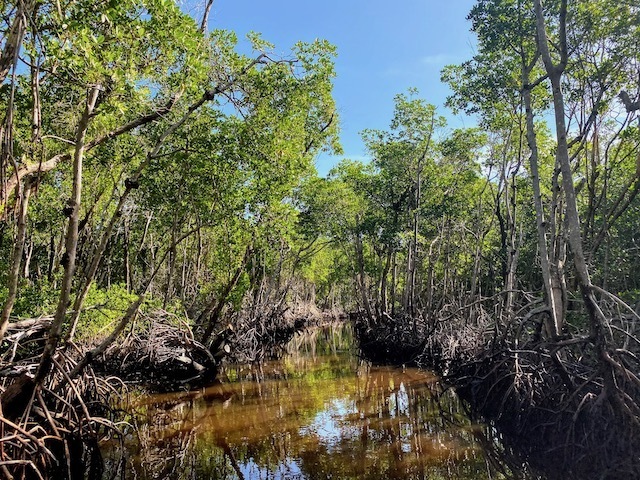 Let's start with a few fun Everglades facts that will help you understand how special Everglades National Park.
Everglades National Park is a World Heritage Site.
It's the only place in the world where you can see alligators and crocodiles.
The Florida Everglades panther is native to the area. They are endangered and you probably won't see one but what if…
The Everglades has a tropical climate with only

two seasons – dry season in winter and wet season in summer.

Most people refer to the Everglades as wetlands but really it's a very slow moving river.
Native Americans called it Pahayokee (pronounced pah-high-oh-geh), meaning grassy waters.

The water is mostly fresh and supplies over 20 million people in Florida.

The sawgrass can grow up to 6-feet tall and has blades sharp enough to cut through clothes (don't worry, you won't go into the sawgrass).
How big is the Everglades? Everglades National Park is over 1.5 million acres in size and is home to over 350 species of birds and 300 species of fish.
The river is only 4 to 5 feet deep on average and up to only 9 feet at its deepest. Still, I wouldn't take a swim in it – reference my earlier point about the alligators and crocs.
Advantages of doing you own Everglades Tour
Taking a tour of the Everglades can be an efficient way to see things and a local guide is usually a good option. However, after a lot of research, I decided to do a self-drive. Here's why:
your don't have to choose between the activities e.g. Everglades airboat tours, kayaking, shark valley – you can do them all;
animals don't like large groups of shrieking humans and tour groups will absolutely contain many shrieking humans;
you can linger when the Everglades animals are around and move on if they are absent – not possible on a tour schedule;
is there anything more fun than a self-drive through Everglades National Park in a convertible?
you can stop for photos (and bathroom breaks and snacks) when you want;
there are plenty of ranger tours you can hop on to still get the local knowledge;
choose your own lunch stops and locations;
I'd recommend staying overnight in the Everglades – and in doing so contribute to the local economy;
if you do linger for the night, you get epic sunrise and sunset opportunities;
enjoy nature as it was intended – peacefully and slowly without being part of mass tourism;
it's probably cheaper; and
it's not that difficult to take your own Everglades tour.
Related Articles:
Share it on Pinterest.