Born in 1564, William Shakespeare wrote just shy of 1 million words during his relatively short (52 year) life, yet amongst them are some of the most well known and often quoted words in the world. Some 500 hundred years after his death, his work is still performed both at The Globe Theatre in London and around the globe. Want to know more about this famous writer? There's no better place to do it than in the place of his birth, Stratford-upon-Avon.
Located in the county of Warwickshire, just over 100 miles from London, the beautiful and well-preserved Tudor town of Stratford-upon-Avon is a great place for a weekend away or day trip from the city. In this guide I'll share the best things to do in Stratford-upon-Avon. You don't need to be a Shakespeare nerd to enjoy a visit. It's a beautiful place to wander around and just absorb the thick history of this market town.
At the end, I've included a map of Stratford-upon-Avon featuring all the places in this article, as well as hotel, restaurant and parking suggestions, how to get to Stratford-upon-Avon from London and a history cheat sheet so you know your Tudors from your Jacobeans. But first, here are the best things to do in Stratford-upon-Avon.
1. Visit Shakespeare's Birthplace
William Shakespeare was born into a family of modest wealth. His father, John Shakespeare, was a glove maker who went on to become Mayor of Stratford, while his mother, Mary Arden, was from a prominent Warwickshire farming family. So, by standards at the time, Shakespeare's birthplace is a pretty sweet pad (I think he'd forgive my modern colloquialism). And that's evident when you wander around the two-storied half-timbered house on Henley Street.
Of course, today, the house is a museum, managed by the Shakespeare Birthplace Trust and is exceptionally well run with traditional furnishings and free experts inside ready to explain a little about life in the 1500s.
Don't miss: The First Folio, one of the few remaining first editions of the first collection of Shakespeare's work, published in 1623. You can find another copy at the V&A Museum in London.
Tip: don't miss the statue of Shakespeare on Henley Street, near Shakespeare's birthplace.
How to buy tickets for Shakespeare's Story
If you want to visit Shakespeare's Birthplace, you have to book in advance online and must select a dedicated time slot for Shakespeare's Birthplace. While you might be able to buy them online on the day, book ahead if you're visiting over peak periods like summer.
A single ticket to Shakespeare's Birthplace is £20. But for just £26.50, you can get a combination ticket (called Shakespeare's Story) that also includes New Place (Shakespeare's home as an adult) and Anne Hathaway's Cottage (Shakespeare's wife, not the 21st century actress). The combination ticket is excellent value since New Place and Anne's cottage are £15 entry each, saving you nearly £25. There is no timed entry for New Place and Anne Hathaway's cottage.
I booked direct and the ticket was a bit fiddly on my phone – a pdf document with 3 QR codes. Instead, I suggest buying on Get Your Guide – the tickets are cheaper (probably because the official site tacks on a small donation), you can cancel up to 24 hrs before, and they have a great app for mobile tickets. Otherwise you can just buy tickets for Shakespeare's Birthplace.
2. Wander the gardens of New Place
If you've got the Shakespeare's Story ticket, the next obvious stop on your list is New Place. This grand plot is the house that Shakespeare bought in his 30's, presumably off the back of his success as a playwright and part owner of theatres in London. At the time, it is thought to have been the second largest home in Stratford-upon-Avon. It's also Shakespeare's last place of dwelling since he died at New Place in 1616.
You may notice I've titled this as 'wander the gardens' – that's because the house no longer exists in its original form. The last owner pulled the house down in 1759 because he was sick of tourists poking their noses against the window. Today, there is a museum on what was once the neighbouring property, Nash House, which has been styled as the house might have been in Shakespeare's day. But the real treat of New Place is the elaborate gardens which were perfect on a mid-September day when I visited. Don't miss: the knot gardens – a sunken sculpted garden packed with english herbs, plants and flowers.
New Place is included in your Shakespeare's Story Ticket.
Tip: there are plenty of free guides at each of the main Shakespeare properties but if the crowds are too thick or you prefer to explore on your own, there are lots of QR codes around that will open into video descriptions of the sights. Take headphones.
3. Use a quill at Shakespeare's Schoolroom & Guildhall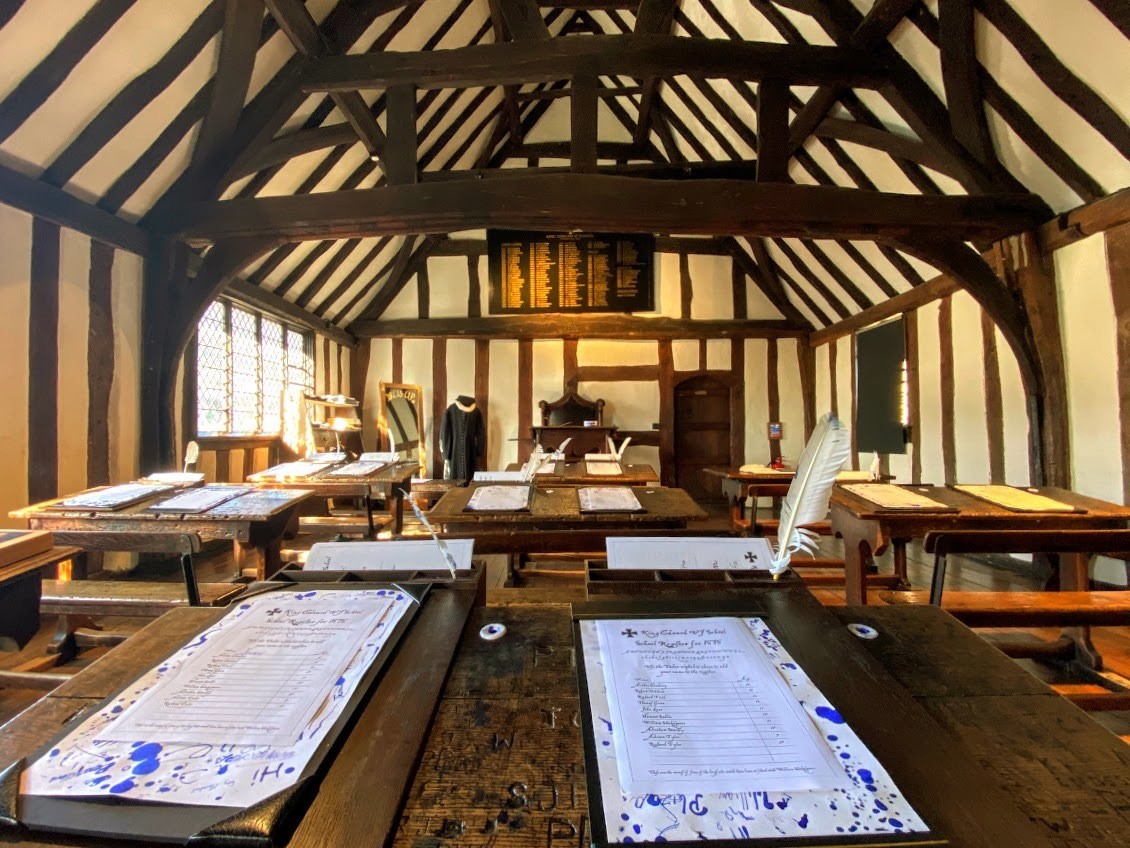 On the same street as New Place is the Grammar School that Shakespeare attended. For me, this was actually the highlight of all of the Shakespeare locations I visited when I was in Stratford-upon-Avon, probably because it was the most interactive. On the ground floor, there are guides who will talk you through what school life was like for Shakespeare, followed by a short film (around 10 mins) giving a little more detail. Upstairs is where the real fun begins – you get to sit in the same classroom where Shakespeare sat, with a school Master who gives a very comedic lesson on Shakespeare's schooling. Afterwards, have a go at writing with a quill and ink – not as easy as it looks. Remarkably, this 16th century school is still an active grammar school for local students.
Tickets: you can usually buy tickets on the day. Otherwise, you can book Guildhall Tickets online in advance.
If nothing else, take a walk past the outside – the school (which was once a Guildhall) is a stunning black and white Tudor building that spans along the street.
4. See Shakespeare's grave at Holy Trinity Church
After New Place, it makes sense to carry on your walk into Old Town and on to Holy Trinity Church where Shakespeare is buried. The church, often known as Shakespeare's church, is beautiful and historic in its own right. It's the oldest building in Stratford-upon-Avon and is located on the site of a former Saxon monastery. The current building dates to the 1400s and is the place where Shakespeare was baptised, worshiped and got married. Shakespeare's grave is located in the church's chancel. Perhaps more striking is his funerary monument. Unfortunately, I visited on the rare occasion when the chancel was closed so I'll have to return. The church and chancel are free to enter.
5. Visit Hall's Croft
On the way to Holy Trinity Church, passing from New Place, through Old Town, you'll come across Hall's Croft. Another example of 16th century Tudor architecture, Hall's Croft was the home of Shakespeare's daughter, Susanna and her husband, Dr John Hall. As well as exhibits of 16th and 17th century Jacobean furnishings, the walled garden is a highlight as it contains many medicinal plants that Dr Hall likely used in his practice. Susanna and John moved to New Place after Shakespeare's death. Note: Hall's Croft closed (I believe during Covid 19) and has yet to reopen years later. Please leave a comment below if it's opened since my visit.
6. Take the City Sightseeing Bus
While most of the sights in Stratford-upon-Avon are within walking distance, the City Sightseeing Bus route includes two stops that are further out of Stratford-upon-Avon. First is Anne Hathaways Cottage which is a 30 minute walk from the centre. I did the walk and it's a winding pathway through fields and residential areas. Most people either drove or took the sightseeing bus. The second 'out of town' stop is Mary Arden's farm is actually in nearby Wilmcote and is over 3 miles (5km) and not walkable unless you want to take a chance walking on a busy A-road. Instead, the bus will get you there in around 15 minutes. Add in the wonderful commentary and history that comes with this hop-on-hop-off bus and it's a great option. Here you can check out the route and pre-book tickets (cheaper than paying on the day).
7. Enjoy Anne Hathaway's Cottage
Also part of the Shakespeare's Story ticket, Anne Hathaway's cottage was an absolute highlight of my time in Stratford-upon-Avon. Anne Hathaway was Shakespeare's wife and her family's cottage is one of the most beautiful and cutest things you will see during your visit to the town. It really is picture perfect, with very knowledgeable guides scattered around to bring the cottage to life. It is located a little further out of town. You can either take a 30 minute walk, drive (there is paid parking at the cottage) or book tickets on the City Sightseeing bus. The gardens are a delight to walk around if you have the time.
Tip: if you do decide to walk, ask for a map at Shakespeare's birthplace – it will give you a scenic route to the cottage including some great directions. Note to ladies visiting on their own, a lot of the pathways can feel a little isolated and although I was fine doing the walk alone, I did have one eye over my shoulder. You may feel more comfortable taking a the sightseeing bus, car or taxi, especially in dark winter months.
8. Go to the theatre
Having spent so much time finding out about the life and history of Shakespeare, the next obvious thing to do – or perhaps the first thing on your list, is to see a live performance of one of Shakespeare's plays. Unsurprisingly, there are several theatres in Stratford-upon-Avon, so you are likely to have a choice of what to see. The Royal Shakespeare Company theatre is the main theatre in town and is your first port of call if you want to watch a play by Shakespeare. If you're just generally interested in seeing a play, there are several other theatres, often featuring non-Shakespeare plays or contemporary twists, on offer. Here are the main theatres to have a look at.
Swan Theatre (part of RSC, above)
Tip: the style of playhouse and performance can vary wildly from grand professional performances to more intimate, local amateur dramatics. Do your research. Most please run for a short period. Book ahead for weekends.
9. Take a canal boat trip on the River Avon
If you've never been on a canal boat, I'd recommend adding it to your list in Stratford-upon-Avon. The English canal network weaves its way throughout the country and there's an entire community of canalboat owners who either live on their boats or spend wonderful weekends traversing the canals and seeing the country that way. Taking a canal boat trip on the river Avon – which is right within the city centre – is an excellent way to get an insight into riverboat life. As well as sightseeing, most canal tours will show you how the complicated lock system (controlling the flow of water into locks to go up or down 'hill' in a boat).
Canal & River Tours is 'Stratfords only canal and river boat trip'. You can either book on the day or book direct in advance with Canal & River Tours. Meanwhile, check out the Countess of Evesham is an elegant restaurant canal boat, offering the chance to dine on the river.
10. Wander Bancroft Gardens and the Riverside
Even if you don't go on a canal boat tour, do take a wander around Stratford-upon-Avon Riverside. The area known as Bancroft Gardens, with beautifully tended lawns and gardens next to the river, make this area a beautiful place for a picnic or coffee. Don't miss the Gower Memorial, an elaborate statue paying homage to the works of Shakespeare. Also popular, are the sundial, Swan Fountain and The Stratford and Moreton Tramway.
11. Enjoy afternoon tea
If you think there are a lot of theatres in the town, wait until you see the number of cafes offering afternoon tea. It makes it pretty hard to resist and, why would you? From homely to grand to 1940s themed, here are some of the most popular afternoon teas in Stratford-upon-Avon.
Check out Afternoon Tea or Cream Tea for a longer list.
12. Shop at Rother Street Market
Stratford-upon-Avon it a market town (a town in the UK where markets are regularly held), so it should be no surprise to find that there are markets to visit. The most regular market is held on Fridays and Saturdays on Rother Street. You'll find a mix of handicrafts, food stalls and antiques. I managed not to buy anything but it was a nice stroll. There is also a Sunday market called Upmarket with more luxury goods on offer. Sadly I wasn't in town on Sunday so I didn't get to visit. If you're looking for a Christmas market in the UK, Stratford-upon-Avon is a great town to visit – all Tudor buildings, twinkly lights and bustling shoppers.
13. Explore the MAD Museum
The mechanical art and design museum is on the same street – Henley Street – as Shakespeare's birthplace, making it an easy place to pop in while you're in the town. With lots of interactive exhibits, it's a good place to occupy the kids if they can't wrap their heads around everything Shakespeare. You can book Mad Museum tickets direct in advance. Booking ahead is essential in school holidays.
14. Shop British High Street Brands
I'm not much of a shopper and, being from the UK, I was familiar with many of the brands dotted around Stratford-upon-Avon. Yet, still I was lured into a little bit of shopping while I was there. I don't know whether it was the buildings housing the shops or the particular collection of very British brands, but it was one of the rare occasions where I actually enjoyed a spot of shopping. Here are some great British brands to check out in Stratford-upon-Avon if you're there to shop.
Waterstone's and WHSmith for books
Lush and Body Shop – for bath and beauty items
Fat Face and Boden – for clothing
White Company – for luxury homewear
Whittards and M&S – for tea, coffee and food items
15. Photograph all the Tudor buildings
You could honestly spend your time in Stratford-upon-Avon just wandering the quaint streets and photographing all of the Tudor buildings. It's free and there's something to be said for simply immersing yourself in the atmosphere of the town rather than dashing from sight to sight. Stratford-upon-Avon is relatively small and very walkable – no need for a map if this is your activity for the weekend.
16. Visit Mary Arden's farm
Mary Arden's farm is often listed as one of the highlights of a visit to Stratford-Upon-Avon, even compared to Shakespeare's Birthplace, so it's worth putting it on your list while you're in town. Mary Arden was Shakespeare's mother and Mary Arden's Farm is her family home before she married and moved into the centre of Stratford-Upon-Avon. Today, the farm is maintained to reflect what a working Tudor farm would have been like. It's a little out of the town, in Wilmcote but the City Sightseeing Bus includes the farm on its stops, if you don't have a car. Do check that the farm is open: It was closed during my visit, so I'm glad I checked that before I journeyed there. You can find out more about Mary Arden's Farm and opening times.
17. Take a ghost tour
I was quite the scaredy-cat when I was in Stratford and didn't hop on a ghost tour – probably because the one I took in Key West freaked me out. But if you're braver than me, the ghost tours I saw did look like really good fun. I'm sure there aren't any real ghosts, or at least mostly sure. This Walking Tour will walk you through 2,000 years of murder, torture, terror, and plague. You might need a little Prosecco cocktail before you go. Enjoy, you brave, brave things.
---
Where To Stay
Looking for the best Stratford-upon-Avon hotels. Here are the top picks from luxury to budget.
Where To Eat & Drink
And if you're looking for some great places to eat, here are some of my suggestions.
Old Thatch Tavern – the oldest pub in Stratford-upon-Avon, dating back to 1470. I had a decent meal in a wonderful setting.
The Garrick – I only got to poke a nose in here, it was so busy. Also claims to be the oldest pub!
Boston Tea Party is the place to go for a face-filling breakfast. Extremely well located on Henley Street, steps from Shakespeare's birthplace.
Arcle – on Henley Street, Arcle is great for coffee, breakfast and lunches. Service was great and there was plenty of seating.
Box Brownie – best coffee in Stratford-upon-Avon. If there was signage for this cafe, I missed it so you'll need a keen eye to find it (on Henley Street – see map below).
Dirty Duck – a popular pub on the riverfront. Used to be known as The Black Swan.
Visiting alone? Check out my guide to 21 Tips for Eating Out Alone – From A Frequent Solo Diner.
Where to Park
There was actually a decent amount of parking for such a small town. Pricing seems reasonable standardised so just pick the car park that's closest to your hotel (most central hotels don't have free parking included as the town is small).
Arden Street Car Park – I parked here. It's an open-air, street-level car park that's a 5 minute walk to Henley Street and, vitally (for me and my Fiat 500E vrooom), had electric charging points. £12 for 24 hours, £20 for 72 hours. You can pay by app.
Bridegway multi-storey car park – a popular multi-storey car park in the centre.
How to get to Stratford-upon-Avon from London
It's super easy to get to Stratford-upon-Avon from London by train. Crucially, Stratford-upon-Avon's train station is right in the centre of the city. The trains depart from London Marylebone, takes around 2hrs with only one change at either Leamington Spa or Dorridge. Going through Leamington Spa makes the trip quicker by about 15 mins. It really does pay to book in advance because one-way tickets can range from £12 (book far in advance) versus around £35 booking nearer the time. I use Trainline to plan routes and buy tickets. It avoids queuing for tickets on the day, there's no fee (or just 99p), you usually get a mobile ticket and they will even process a refund for you (without you asking) if the train is delayed.
While you're in London, you might like my guides: Where to stay in London – England | How To Visit The Tower of London | 24 Things To Do Around Kings Cross St Pancras – London
And for a day trip from London, How To Visit The Bombay Sapphire Gin Distillery
Books to help plan your trip
Shakespeare Books: I read a lot and reading topical travel books before (during and after) a trip helps me really immerse myself in a place. For this trip I read the very digestible guide to Shakespeare by Bill Bryson. At only 224 pages, it was very easy going (many books on Shakespeare lean towards dense and dry). It also made more sense of what I saw in Stratford-upon-Avon. You can, of course, buy many of Shakespeare's plays and sonnets separately or even his Complete Works and it's great if you want a keepsake. But if you want to be budget savvy, you can download the lot for free on Kindle since his work is out of copyright.
Travel Guide: I planned my trip using my Lonely Planet guide to Great Britain.
Historic terminology – cheat's guide
Want to get to grips with the historic terminology you might come across in Stratford-upon-Avon? Here's a cheat's guide:
Stratford-upon-Avon map
I've created a Stratford Upon Avon Map in Google Maps including all the places featured in this article.
Related Articles:
Share it on Pinterest.