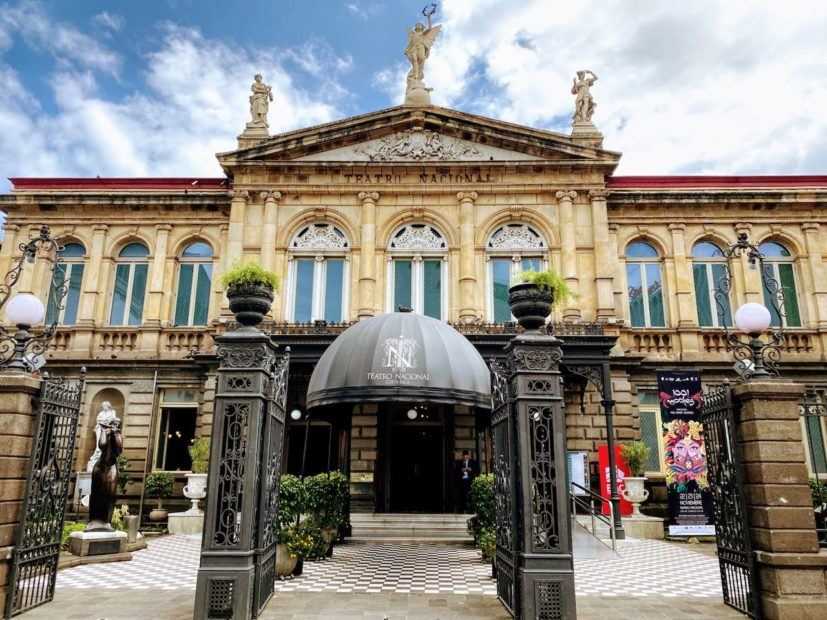 Most people shoot through San Jose, the capital of Costa Rica and I get it – with sprawling concrete and growling traffic, it's a far cry from the rainforests and beaches you came to Central America to see. And if you're on a short trip, there are definitely better places to visit in Costa Rica's nature-packed country – Manuel Antonio, Monteverde and La Fortuna are three of my favourite places just to start with.
However, don't be too quick to write off Costa Rica's capital. There's enough to occupy a night or even two and there isn't a better place to get under the skin of Tico (Costa Rican) life than San Jose.
Whether San Jose is on your itinerary because of flight scheduling or you're genuinely intrigued, in this post I'll share my favourite things to do in San Jose Costa Rica so you can wring as much fun and culture out of the city on a short visit. Who knows, like me, you might be back for more.
I've included a map at the end of this post so you can plot your route to help you explore San Jose most efficiently. I've also included the Spanish names in case you're navigating using a local printed map you've grabbed from your hotel.
1. Shop at Central Market
A stop at Central Market is a must if you want a quick injection of local life. And, in fact, if you have a very short amount of time, I'd say put this at the top of your list.
What to expect? Central Market has grown to accommodate different kinds of customers. It is still very much a functioning local market (think tropical fruit, local veg, meat, fish and spices). However, with a regular supply of tourists, there are plenty of souvenirs on sale too.
As its name suggests, Central Market is pretty central, a short walk from the main sights in the city. Check out my map at the end of this post for where to find Central Market.
My favourite part is the many food stalls where you can sit or get a take-away order of the local food. Intimidated? Empanadas are an easy place to start (and an easy word to say) as are the exotic fruits.
In Spanish: Mercado Central. Tip: I loved the casual local markets in the beach town of Puerto Viejo.
2. Understand Costa Rica at the Jade Museum
This interactive museum is part display of Jade, a stone native to Costa Rica, and part walk through of Pre-Colombian tribal life. Although the Gold Museum regularly pops up at the top of the list of the best museums in the city, I preferred the Jade Museum. Probably because it was more interactive and informative.
If you have time for only one museum, I'd suggest the Jade Museum. If you have two visits to San Jose (when you land and when you leave), definitely visit this one first as it explains more about Costa Rican culture.
In Spanish: Museo de Jade.
3. Be dazzled at the Gold Museum
More commonly visited than the Jade Museum, the Pre-Colombian Gold Museum is a museums of lots of…well, gold. For me it was a bit static with lots of similar displays. As I've said, if you only have time for one museum, go to the Jade Museum. However, all that gold is pretty impressive so you won't be disappointed.
Quick tip: if time is your goal and you want to visit one museum, the Gold Museum is less immersive so you can probably race around it a bit quicker.
In Spanish: Museo del Oro Colombino (part of Museo del Banco Central).
4. Admire the beauty of the National Theatre
This is a very quick actuvuty because it's basically just a stroll past. What it does give you is a different view of San Jose, which is very often depicted in concrete block architecture. The National Theatre, by contrast has a stunning neoclassical frontage with grand columns flanked by palm trees.
If you want a photo of Costa Rica's capital that says 'it's not as ugly as you think', this is the place to get it. (See main image above).
And if you want even more, you can have a look inside and there might even be a performance on while you're there.
In Spanish: Teatro Nacional.
If the National Theatre surprised you enough to make you want to uncover the other bits of architectural gold in San Jose, here are a few of the other highlights to track down.
Correos Telegraphos – i.e. the old post office building. I don't know why this beautiful building near Central Market doesn't make it onto most itineraries but it should.
Casa Amarilla – translated as the yellow house, this bright yellow mansion with a big orange roof is easy to spot.
Catedral Metropolitana (Metropolitan Cathedral) – if you've not been to or at least passed a cathedral, have you even been to Latin America?
Museo Nacional de Costa Rica – Costa Rica's National Museum is located really close to the jade and gold museums, but this museum has the exterior edge in that it has photogenic turrets. Go on, you know you want to.
5. See the San Jose sign in Cultural Plaza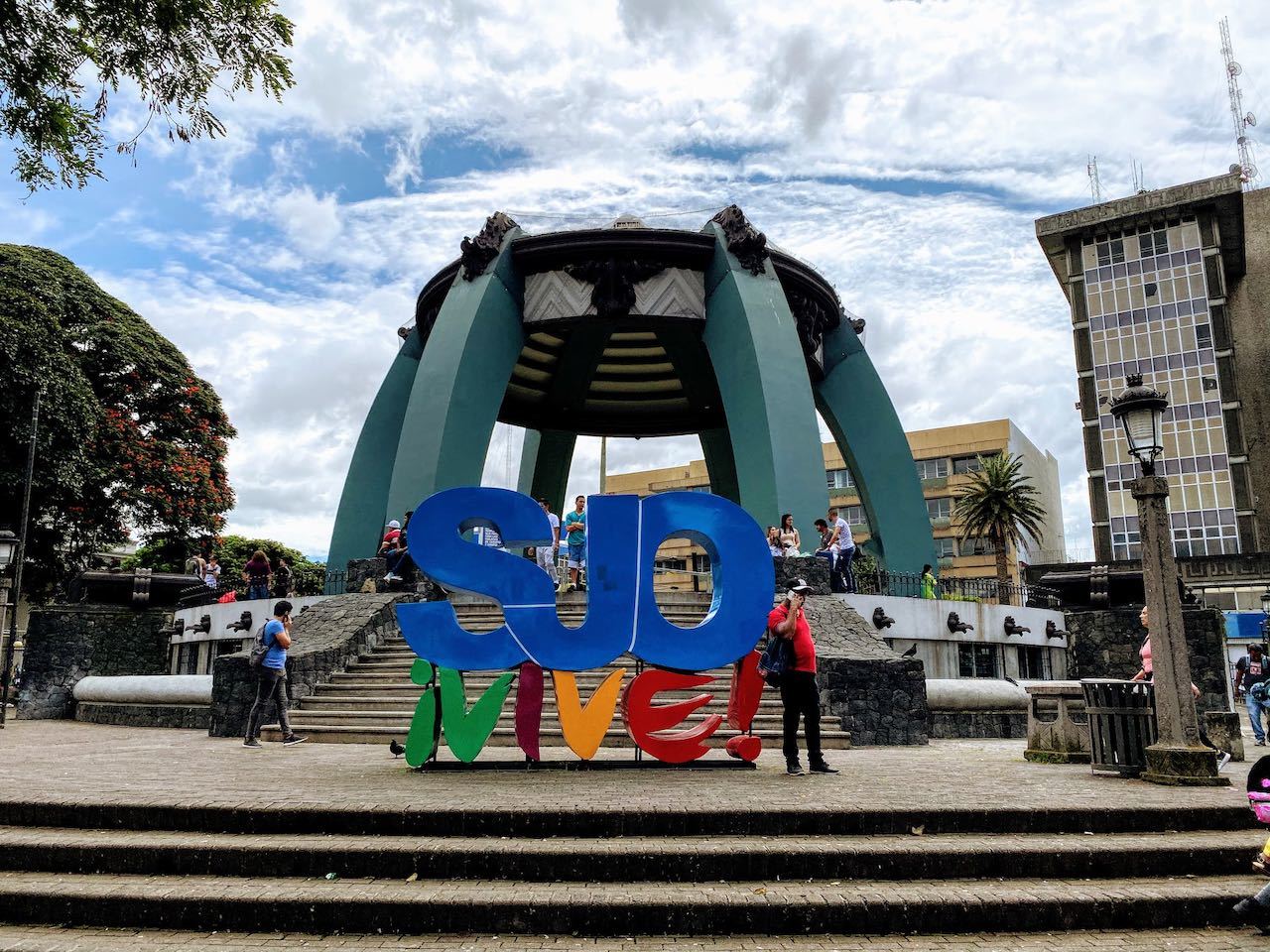 I love a big city sign (and not just because it's fun to see people in all their individual photo poses). The bubbly San Juan sign is located in Plaza de la Cultural. Here, you'll also find the Jade and Gold museums and Central Avenue. You're also a short walk from Central Market so it's a great hub spot.
In Spanish: Plaza de la Cultura
6. Catch local life and home comforts on Central Avenue
I'm not much of a shopper and seeing big international brands doesn't inspire me after I've sat on a plane for half a day. However, if you want a Starbuck fix or the comforts of a Big Mac, this is the place to find it.
But that's not all that's on offer – Central Avenue is great for people watching and the chains are interspersed with local eateries adding some cultural context.
Cultural moment: get the earplugs ready. The shops in San Jose like to attract customers with very loud music pumping out on old, crackling speakers. If you're really lucky, there will be someone yelling into a microphone.
In Spanish: Avenida Central. In Spanish: Starbucks (see what I did there?)
7. See the dinosaurs at the children's museum
If you've got kids with you in San Jose (or not!), the dinosaurs and other exhibits inside the children's museum (Museo de Los Niños) will pass the time. Otherwise, the castle-themed museum is fun for photos and has a great hilltop location with views over the city.
In Spanish: Museo de los Niños.
8. Catch your breath in Metropolitan Park
If you're in San Jose under protest (bad flight timing and there's no way to escape a stay in the city), why not go and see the city's greenery? It's been dubbed the Central Park of San Jose and is the place to be if you want to breathe air that's not thick with traffic fumes. Better than sitting in your hotel room all afternoon, right? Also, take an empanada – that usually improves most experiences.
Located about 1km from Central market, you can walk to the park. However, if you're unfamiliar with the city or jet-lagged, just grab an Uber or taxi.
In Spanish: Parque Metropolitain La Sabana.
9. Dine at a soda
Wait? What? Let me explain. Soda is a word you'll meet a lot in Costa Rica so you may as well get acquainted early. Also, San Jose has some of the tastiest, most authentic and cheapest sodas in Costa Rica. What is a soda? Basically a locally-run restaurant. It's not a place to sit and get coke floats or other sugary drinks (though drinks are, of course, available).
Every post on the best sodas in San Jose will send you to Soda Tapia. I preferred a different soda – it was the oldest in the city when I visited – but sadly it is now closed for good. So, head to Soda Tapia instead.
What to order when you get to a soda? Well, order what you want but the popular local choice (and great value option) is a casado. Casado is a bulging plate typically comprising a choice of chicken, pork, beef or fish, accompanied with sides of rice, salad, beans and plantain or fried banana. I usually manage to get two meals out of one plate making it even better value. Swap your protein for veggies if you don't eat meat.
10. Enjoy the nightlife in Barrio Escalante
You don't have to spend your evening tucked inside your hotel. San Jose has a great nightlife and Barrio Escalante is a great place to enjoy it. With gastro pubs and craft beer, it's easy to think you're in Manhattan in this swanky, trendy part of Costa Rica's capital. I ate and drank at Aguizotes Gastro Pub, which was great.
It felt very safe in Barrio Escalante but do get a taxi or Uber there and back as the surrounding neighbourhoods aren't good for a late-night drunk stroll home.
11. Take a guided tour of San Jose
Whether it's your first time in Central America or family and friends have terrified you with tales about San Jose being a horror-show of dangers, it's tempting to stay in your hotel room. An alternative is to take a local guide for the day or half a day. Not only will they navigate you around the city safely, easing your nerves, they often know bits of the city that no guide book (or Costa Rica travel blog) does.
Check out my list of the best tours below.
Night City Tour and Dinner – whether you're busy during the day or a little bit nervous of venturing out for dinner by yourself, this tour and dinner combo tour has you covered. You'll see the main highlights like the National Theatre and the price of your dinner is included.
Lonely Planet Experience: Food Tour – speaking of food, taking a food tour is one of my favourite ways to explore a new country and this tour is packed with culture (walking tour, central market, a local mask masking visit and a trip to the old part of the city) as well as food.
Food and Sightseeing Tour – I like that this tour is affordable and 'certified', meaning someone from the tour website has been, tried it and certified it as authentic and good enough to earn a certification.
Food and Culture Small Group Night Tour – Markets, monuments and, of course, dinner are on offer in this small-group tour. Oh, and three glasses of wine are included, so that's very nice.
Tip: Pack some good walking shoes as well as a refillable water bottle. Here's my full Costa Rica Packing List.
12. Go on a day trip from San Jose
If you're still not convinced about spending time in San Jose, why not leave the city for the day? There are some very cool day trips you can take from the city. If you're in the city for work or study, these can also be a great option if you've not got any other chance to explore the rest of the country.
There are some excellent one-day excursions to some of Costa Rica's highlights. You can expect a long day but if you can't otherwise cram these favourite spots into your itinerary for a few night, you can still visit on a day trip from San Jose.
Arenal Volcano, Hot Springs and Zip Lining – Zip lining was one of the best things I did in Costa Rica (in fact, in all of my travels to nearly 70 countries). There is an alternative option of a rainforest walk if zip-lining isn't for you. Arenal Town is both staggering with a volcano towering over it but also very cute, and all of this is without mentioning the hot springs.
Manuel Antonio National Park – Manuel Antonio National Park is teeming with wildlife from the super slow but ultra adorable sloths to some pretty intelligent monkeys (hide your snacks). See the park with a guide and you'll spot things you'd never see on your own. At the end of it all, take a short stroll to a wild beach only accessible through the park.
Monteverde Hanging Bridges – La Fortuna, Manuel Antonio and Monteverde are three of the most popular things to do on any visit to Costa Rica so you won't go wrong choosing any (or all!) of them for a day trip. The hanging bridges are another quintessentially Costa Rican experience and were right up there after the zip lining on my most fun experiences in the country.
If you're looking to add to your itinerary, also check out: Tortuguero National Park | Cahuita | Santa Teresa
---
Where to stay in San Jose
There are (probably) hundreds of hotels in San Jose. So many, it can be overwhelming. That's why I'm just giving you a small list. A combination of places I've stayed and the best hotels in the city.
Exe Hotel – you can't beat this place for location – a safe and short walk to Plaza de La Cultura (where you'll find the museums and lots of cafes and restaurants), and Central Market. If you're staying a night of two, I'd recommend Exe.
Gran Hotel Curio Collection – if you want a blend of familiarity and luxury, Hilton's Curio Collection is one of the best hotels in the capital. It has a wonderful location overlooking the National Theatre.
Stray Cat Hostel – great vibe, great rooms and, of course, a stray cat that wanders around. There are a few local sodas (restaurants) nearby if you don't want to walk the 15 minutes into the centre at night. As well as the hostel, there is a sister hotel over the road if you prefer to sleep more privately than in a dorm.
Is San Jose Costa Rica safe to visit?
Sure, San Jose can be grimy, ugly and traffic choked in parts. Ok, in most parts. But that doesn't mean it's flat-out dangerous. It can be hard to properly quantify safety – there are crime stats and a very 'handy' list of the cities with the highest rates of homicides in the world. And Costa Rica, let alone San Jose, doesn't feature on the list once (meanwhile four cities in the USA are listed).
That doesn't mean you're free from risk of other crimes like petty theft and muggings. In that respect, I would say exercise the same caution you would in all big cities – don't roam around alone in unfamiliar areas at night. Take licensed taxis or Uber (I've written about Uber safety here) at night and don't flash your cash. In any case, Costa Rican buses can be slow.
I had an entirely safe stay in San Jose and all of Costa Rica as a solo female traveller and believe you can too if you stay street-smart.
If you are worried, take a guided tour (suggestions above). Sitting in your hotel or hostel, too scared to explore isn't fun and or necessary.
Travelling solo? You might like my posts about feeling lonely when you're travelling alone and how to dine out solo.
Map of things to do in San Jose
You can find my Google map of the places mentioned in this post.
Like this, share it on Pinterest.