Puglia has much to boast about: skirted by both the Adriatic and Ionian seas, the heel of Italy's boot is a dichotomy of flat, sandy coastal lands and a hilly interior, scattered with olive trees. A pioneer of the slow food movement, where the simple life dominates, Puglia is the real dolce vita; yet it remains relatively untrampled by international tourists.
In this guide, I'll introduce you to a part of Italy you may not have met before and by the end of this article, I'm sure you'll be adding Puglia to your Italy bucket list. I've also included a Google Map at the end with each of the destinations included. The list is broadly organised by location so you can use it to plan your Puglia itinerary, heading southeast from Bari and travelling in a clockwise loop.
1. Experience the two sides of Bari
Bari is the capital of the Puglia region and a popular starting point for most tourists, given that it's home to the largest international Puglia airport. It's also a city with two very different sides; the modern Murat district and the older Barivecchia.
The Murat district is the newer part of the city which is home to the major shopping and entertainment district, as well as several elegant 19th-century palaces such as the Teatro Petruzzelli, Teatro Piccinni and Palazzo Fizzarotti.
But the most fascinating part of Bari has to be the maze-like old town of Barivecchia which stretches along the Adriatic Sea, the longest seafront in all of Italy, with many important historic buildings including the grand Castello Svevo, Basilica San Nicola and Romanesque Basilica Cattedrale di San Sabino.
The best way to see the city is to book a walking tour of Bari. Alternatively, you can book a Street Food Tour in Bari or even take an orecchiette pasta-making class (pasta-making classes can be very expensive in Italy so, at under €35, this is amazing value).
2. Celebrate Carnival in Putignano
A trip to the lesser-known city of Putignano is ideal during the winter thanks to its annual Carnival.
Dating all the way back to 1394, not only is Putignano Carnival the oldest of its kind in Europe but it's also one of the longest-running carnivals in the world. Starting with the 'Propaggini' (poetry reading) on December 26th, the core of the Carnival celebrations (and the best time to visit) occurs between late January and Shrove Tuesday in February.
Each Thursday of Carnival sees Putignano come alive with masked parties and festivities, while on the last three Sundays of the Carnival, a procession of huge satirical papier-mache floats parade through the city's streets, accompanied by live music, street entertainers and food stalls. All ends on Shrove Tuesday with a 'funeral' procession in which a paper-mache sacrificial pig is led to Putignano's main Piazza by masked 'priests' where it is ritually burned.
3. Enjoy crystal clear water at Cala Porto, Polignano a Mare
Coastal Polignano a Mare is most famous for the picturesque Cala Porto, a small pebble beach with crystal clear emerald waters hidden gracefully below the city's limestone cliffs and whitewashed houses. Although it is both small and pebbled, thanks to the water, Cala Porto is one of the best beaches in the region
4. Dine in a cave in Polignano a Mare
While most people visit Polignano a Mare for Cala Porto, one of Puglia's most popular destinations also has another hidden secret – Grotta Palazzese. Used as a venue for hosting extravagant banquets and parties since the 1700s, the magical Grotta Palazzese Restaurant is located in a natural cave carved into the cliff face with spectacular views over the sea below.
Whilst it's not one for budget travellers (it's around €200 per person), the elegant and dimly lit Grotta Palazzese serves fantastic 3 and 4-course set menus and is one of the most romantic and exclusive restaurants in Puglia, if not the whole of Italy.
How to do it: Be sure to pre-book your table in advance online as it books quickly. The restaurant has a formal dress code so no shorts or sandals. For those seeking ultimate luxury, you can also book an overnight stay in the lavish Grotta Palazzese Hotel – one of the best hotels in Puglia. Prefer to explore by boat? Book this Polignano a Mare Boat Cave Tour with Aperitif.
5. Enjoy the beach in Monopoli
Often overlooked by international tourists, Monopoli is Puglia's 'Seaside City' located close to Bari and is a popular summer destination amongst Puglian locals.
With its small historic centre filled with alfresco cafes and restaurants, a harbour dotted with traditional blue and red fishing boats, and a long stretch of coastline littered with small, hidden coves, beautiful sandy beaches and clear turquoise waters, Monopoli is perfect if you want to completely switch off and soak up the sun on a hot summer's day. It's also the place to dine on seafood so fresh it practically walks from the water onto your plate.
How to do it: If you're limited on time, stick to Cala Porta Vecchia, Monopoli's most central sandy beach with crystal clear waters right next to the city's sixteenth-century fortified walls. If you've got more time to spare, continue along the coast to the likes of Cala Paradiso and Lido Colonia, or even all the way up to Porto Ghiacciolo and Lido Santo Stefano which overlook historic Castello di Santo Stefano. I also took a boat trip while I was there, which is a wonderful way to spend half a day, enjoying the sea breeze. As an alternative, you can book a walking tour of Monopoli that will introduce you to the city's legends (and includes some local food recommendations).
6. Stay in a trulli in Alberobello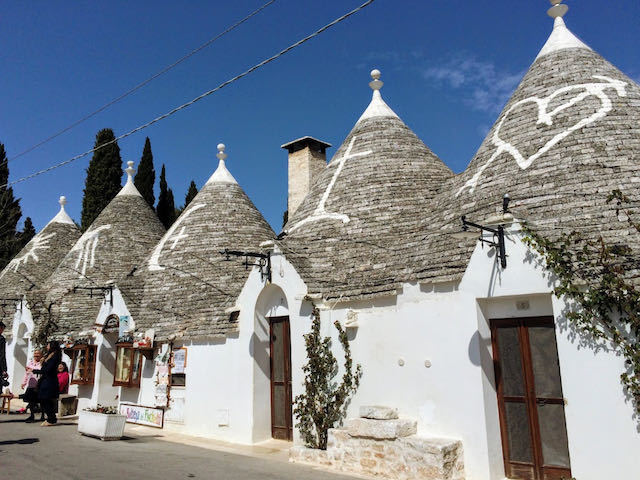 Declared a UNESCO World Heritage site in 1996, Alberobello is known for its high concentration of trulli; distinctive mortarless limestone houses with domed roofs that are symbolic of the surrounding Valle d'Itria. Puglia's trulli date back to the 16th century and were designed to be easily dismantled in the event of a royal inspection in order to avoid the region's rulers paying property taxes to the King.
No matter what time of year you visit, the historic centre of Alberobello is almost guaranteed to be busy, being one of the most popular places in Southern Italy. In order to really see the best of Alberobello, try staying overnight. Not only can you experience staying in a trulli, but you'll also be able to wander through the town during the quieter evening when the whole place is beautifully lit up with little rows of fairy lights, and again in the glow of the early morning sun before the hoards of day trippers descend upon the small town. It's definitely one of the best towns to stay.
How to do it: Book your overnight stay with Trulli e Puglia who offers charming and spacious private trullis right in the historic centre. A great way to explore is on this Alberobello walking tour (which includes olive oil tasting). Fun fact: staying overnight in a trulli in Puglia took me back to that time I lived in a cave for 3 months in the Loire Valley, France.
7. Taste Primitivo wine in Alberobello
Primitivo is a Puglia wine you've probably never heard of but then Italy does tend to keep its best wines to itself (case in point: Italy's premium Prosecco doesn't make it onto supermarket shelves. You can read about my trip to Prosecco here.) A deep, intense red wine, thick with tannins, Primitivo is lightened by the natural sweetness of the red grapes grown in the Puglia region. While it's possible to taste Primitivo throughout Puglia, I did a great, informal tasting in Enoteca Tholos in Alberobello. Bonus: Primitivo Puglia has recently become available in some UK supermarkets.
8. Explore the caves of Grotte di Castellana
Something which doesn't always make it onto every list is one of the region's most unique and interesting attractions – the Grotte di Castellana (Caves of Castellana).
Located in the town of the same name, just a short distance from Alberobello in the Valle d'Itria, Grotte di Castellana is a 90 million-year-old karstic cave system running 60 meters below ground. The system is made up of a series of large canyons and caves filled with incredible formations such as stalactites, stalagmites, concretions and fossils. Grotte di Castellana is one of Puglia's most amazing natural wonders and very different from the historic port towns and beautiful sandy Puglia beaches the region is more often associated with.
Grotte di Castellana can be visited on a guided tour down a 3km long pathway with the correct safety equipment. Full access tickets are €18 per person and can be purchased on their website. This includes access to the on-site Franco Anelli Speleological Museum.
9. Experience an authentic Masseria stay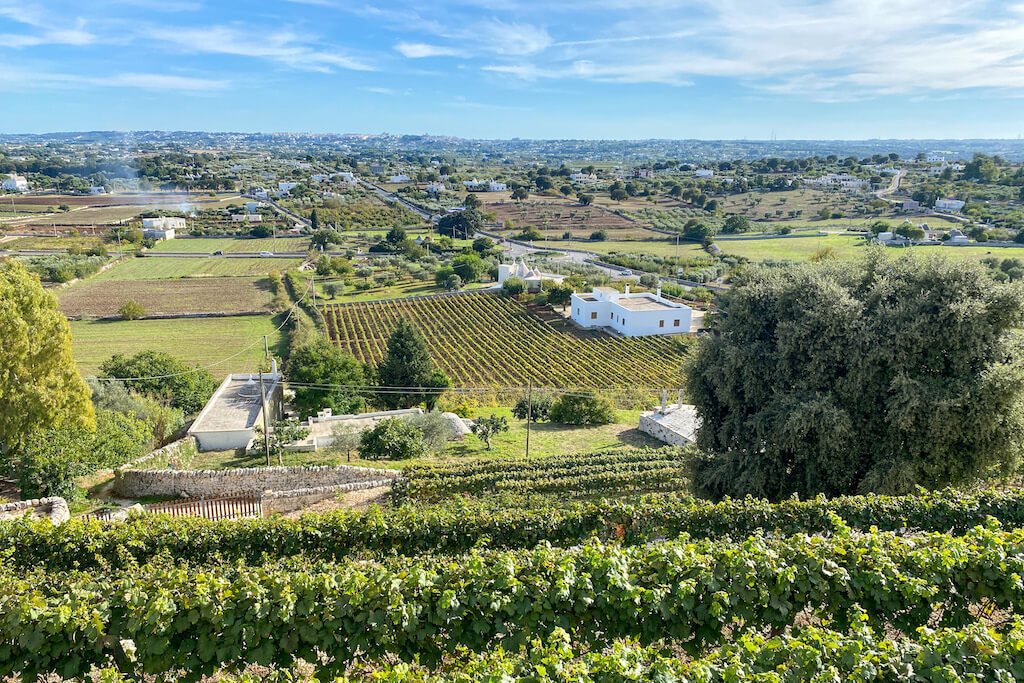 One of the best things about exploring Puglia by car is that you can leave the bigger cities and tourist attractions and head out to relax in the region's beautiful countryside for a couple of days.
A traditional Masseria stay is a must do for those who love authentic local travel experiences. A Masseria is a traditional southern Italian farmhouse which usually dates back to the sixteenth or seventeenth century and sits within a larger country estate. While most Masseria were originally used for practical purposes, many have now been converted into luxurious agriturismo hotels and charming B&B's. Masserias are some of the most beautiful places to stay in Puglia.
A Masseria is so much more than just accommodation, with most offering tours of their land and the working farms, tastings of their products including Puglia olive oil, wines and cheeses, and even home-cooked dinners enjoyed alongside your hosts and other guests.
How to do it: I personally stayed in the sublime 5-star Masseria Torre Coccaro, close to Fasano. It's one of the best things I did in Puglia and is highly recommended if you're in the region for some luxury R&R. It's not cheap but is worth it. Prices start at €304 a night and rise to €2,200 a night. You can book on Booking.com (where you can usually get a reduced price compared to booking direct – same is true for most hotels).
Alternatively, check out the beautiful Masseria Il Frantoio just a 10 minute drive from Ostuni, or Masseria Rosa Trulli Relais which features traditional trulli close to Alberobello.
10. Enjoy fewer tourists in Fasano & Savelttri
Whether you're staying in nearby Masseria Torre Coccaro or you're simply in the area, the old town of Fasano and nearby coastal Savelttri is worth a quick stop. Explore, grab an espresso, have gelato and just enjoy these quieter, less-touristed places in Puglia. If you want to learn how to order coffee in Italy (it's more complicated than you think) here's my Italian coffee guide.
11. Dine at the meat markets in Cisternino
Cisternino has been listed as one of the most beautiful small towns in Italy. With its white-washed buildings, there are plenty of the kind of regional sights you'll come to recognise: churches, towers and piazzas. But Cisternino has another quirky offering – the town's macelleria, meat markets. A kind of street food, pick your meat and your butcher will cook it while you watch and wait.
12. Visit the White City of Ostuni
Known as Puglia's White City due to its whitewashed old town, Ostuni is an enchanting labyrinth of steep staircases, narrow alleyways and small squares perched on three hills in the Itria Valley.
Throw on your walking boots and traverse the city's old Medieval streets lined with small shops selling colourful crafts, and charming cafes precariously sat on the edge of sloping stairwells. While the city can get particularly crowded with both tourists and locals during peak times, Ostuni's vibrant and exciting atmosphere is like no other you'll experience in all of Puglia.
Admire the fifteenth-century Romanesque-Gothic Cathedral, step inside the fascinating Museum of pre-classical civilization of Southern Murgia, grab an aperitivo in the large Piazza della Liberta, then finally take a sunset stroll along the city's defensive walls with amazing panoramic views over the surrounding countryside. If you want to taste the local delights, book this Olive Oil Tasting Tour in Ostuni.
13. See the striped Santa Maria del Casale church in Brindisi
Brindisi is another port city in Puglia. The striped exterior of Santa Maria del Casale church looks like it's been picked up from Sienna and dropped in Brindisi. If you're not visiting Tuscany or Florence on this trip, Santa Maria del Casale is a good place to see the white and rose-patterned church exterior seen further north. Brindisi also has a port, lido (beach), park and museums to explore. As home to Puglia's other international airport, it's a good place to start or end your trip.
14. Admire the Baroque masterpieces of Lecce
Also known as Florence of the South due to its many striking Baroque buildings – yes, Puglian cities have a lot of nicknames – Lecce is the main city on Puglia's Salento peninsula.
Located inland, the best thing to do in Lecce is to wander around and take in its many architectural masterpieces, including the impressive Cathedral of Maria Santissima and other buildings of Piazza del Duomo, the intricate facade of Basilica di Santa Croce and the unusual Church of Saints Nicolò and Cataldo. Plus don't forget to visit the city's unusual sunken Roman Amphitheater, which still hosts a series of concerts, shows, opera, plays and ballets. Speaking of Roman amphitheatres, here's my guide to the Best Things To Do In Rome (with Insider Tips).
One of the best ways to understand the architecture of Lecce is to let a guide show you around. This Baroque Architecture and Underground Walking Tour will take you around the highlights.
15. Relax in the coastal town of Gallipoli
Gallipoli is probably the best-known town on the western coast of Puglia's Salento peninsula, and with a name which translates to Beautiful City (in Greek) it's definitely somewhere not to miss.
The city's old town sits on a tiny limestone island connected to the mainland by a 16th-century bridge and surrounded by defensive walls dating back to the 14th century. Much like Monopoli, Gallipoli is another popular seaside summer escape for Italian holidaymakers, with its relaxed atmosphere, vibrant nightlife scene and long surrounding coastline which is home to some of the best beaches in Puglia.
16. Take a dairy tour in Martina Franca
Say Martina Franca and my brain thinks: food. Yes, bustling Martina Franca has a stunning Ducal Palace and a winding old town but it was the cheese, cured meats, coffees and cakes that left a lasting impression on me. I visited a dairy farm to watch some local cheese making in action and, of course, there was a tasting at the end. I swear I had the best burrata in Puglia (and Italy). Also, don't miss the local speciality, Capocollo – a large, marbled cured meat that melts on the tongue. Being an absolute piggy, after stuffing my face with cheese and meats, I headed into Martina Franca for coffee and cake at the beautiful and historic Caffe Tripoli.
How to do it: You can book a masseria dairy tour here. Also, make sure you visit the Ducal Palace with its colourful mural interior.
17. Explore octagonal Castel del Monte
Meaning castle of the mountain, Castel del Monte is perched on a hill near the city of Andria. It's worth a stop if you're travelling south from Trani to Altamura. What's especially striking about Castel del Monte is its octagonal shape with each side punctuated by a tower. The castle was built in the 13th century under the order of King Federick II and was used as the city's fortress as well as a hunting lodge. It's possible to go inside the castle if you book tickets. Or if you prefer, you can book a guided tour of Castel del Monte. And if you linger in the area, check out the locally produced Castel Del Monte Puglia wine in a choice of red, white or rosé.
18. Taste famous Altamura bread fresh from the oven
Despite having the obligatory grand cathedral that you come to expect on any tour of Italy, Altamura's cathedral is not its main claim to fame. What it? Altamura bread! You'll find Altamura bread makes an appearance throughout Puglia but here you can try a loaf from a bakery, fresh out of the oven. Who doesn't want to travel to a place just to try the bread?
19. Enjoy the slow food movement in Trani
Poetically titled the pearl of Puglia you'll quickly agree with the name when you explore Trani. The most compelling sight is Trani Cathedral teetering on the brink of the land, overlooking the deep blue of the Adriatic sea. The city was once home to one of Italy's largest Jewish communities and dates back to the 9th century; evident in the medieval maze of streets. Yet, Trani has grown up in recent years, building on its already impressive history and status. Today, wander the seafront and you'll find the port is home to luxury yachts. And where there are luxury yachts, fine dining follows. However, Trani has taken its dining clientele in a traditional direction, becoming one of Italy's Slow Food Movement cities. In Trani, you'll find a focus on fresh, local products and the benefits can be found in every bite.
What to see in Trani: don't miss the 13th-century fort, Trani cathedral, the harbour and the food. If you want to explore with a local, you can book a walking tour of Trani with olive oil tasting.
20. Make the most of the regional Puglian food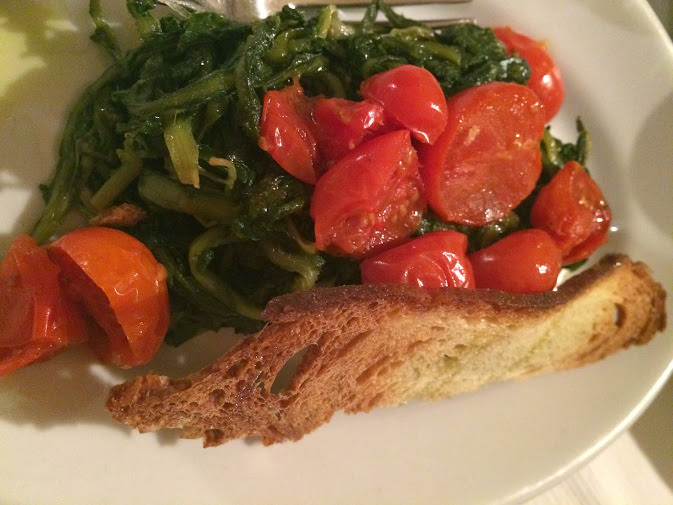 From the ear-shaped orecchiette pasta, which is so popular that there's an entire street in Bari dedicated to the making of it, to drool-worthy focaccia and some of the freshest and most delicious vegetables you'll ever taste, Puglia has its own unique cuisine which is so much more than the typical pizza and pasta tourists often generalise to the whole of Italy.
Plus, between the already slow pace of life in southern Italy and the unbelievable passion which goes into the making of the food, eating in Puglia is considerably more than just refuelling; it's one of the most important events of the day when friends and families come together to enjoy Puglia's mouth-watering fare together.
Sitting down for a traditional four-course meal accompanied by some local Primitivo wine at a bustling osteria is a must at least once. And if you get the opportunity to do a tasting of the local olive oils, cheeses or wines, be sure to do it! I guarantee it'll be one of the highlights of your entire trip.
How to do it: For a more detailed rundown of what to eat in Puglia and recommended Puglia restaurants, check out my full article on the 20 Puglia Foods You Must Eat.
Map of Things to Do in Puglia
Here's my map of the locations, hotels and restaurants listed in this post. I've got some additional restaurants in there too, from my regional Puglian food post. You can save the map offline and create a copy to add your own places. Click here to open this map in Google Maps.
Travel Information
Where is Puglia Italy? Puglia, also known as Apulia, is a province located on the south-eastern tip of Italy, sometimes referred to as Italy's heel because of the country's boot-like shape. It is bordered by the Adriatic Sea to the east, the Ionian Sea to the southeast and the Gulf of Taranto and the Strait of Otranto to the south.
How to get to Puglia: There are two main international Puglia airports; Karol Wojtyla Airport in Bari and the Airport of Salento in Brindisi.
The port of Bari can also be reached by ferry from countries including Albania, Croatia, Montenegro, Greece and several Greek islands.
How to travel in Puglia: There are far too many beautiful destinations and fantastic things to do in Puglia to spend your entire time in one place, therefore the best way to experience the best of this amazing region is on a road trip. While public transport is available, it can be unpredictable, not every town and attraction is well connected, and some of them aren't accessible at all.
That's my guide to the best things to do in Puglia, Italy. Got any questions or tips, let me know in the comments below.
Related Articles: