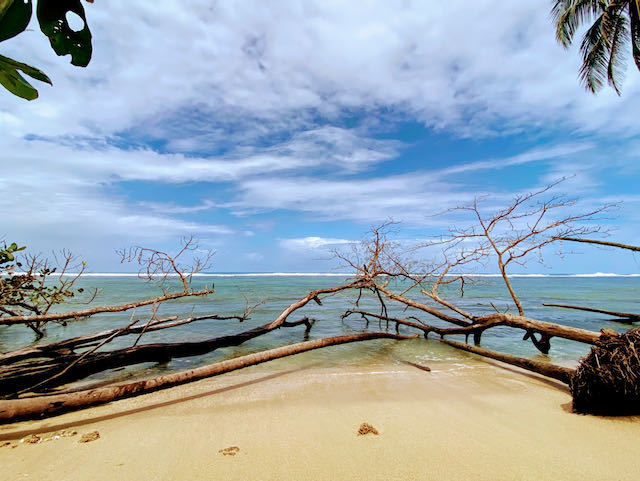 Is Cahuita in Costa Rica the new Puerto Viejo? I have the advantage of having visited the once sleepy Caribbean coastal town of Puerto Viejo over 10 years ago when the streets were sandy and sloths lumbered around the place like it was still their own. While I still love Puerto Viejo a decade on, it's certainly expanded out of it's former shell and developed in a way you'd no longer call it sleepy. So, if you are looking for the laid back local vibe, what do you do?
Answer, head to Cahuita. Just half an hour away from Puerto Viejo, Cahuita is part of the string of beaches that make up this part of Costa Rica's Caribbean coast and for now there are more locals than tourists in this laid-back town.
In this guide I'll share the best things to do in Cahuita including what to do, where to eat, where to sleep and how to get to Cahuita from Puerto Viejo. It's worth saying that it's easily possible to visit Cahuita as a day trip from Puerto Viejo. If you're on a short trip it's only 20 mins away by car, 30 by bus from Puerto Viejo so just go for the day. You can find my guide to Puerto Viejo.
Go wildlife spotting in Cahuita National Park
By far the best thing to do in Cahuita is visit the national park. What beautiful about it is the beach-front trails. Every now and then you pop out of the park onto wild beach like the one above. After weeks in Costa Rica, I approached the park more as a trail to walk than wildlife spotting, and I didn't take a guide for that reason. I definitely saw guides in deep 'point and look' poses with their customers so there is an abundance of wildlife to be seen. Even without a guide I saw some capuchin monkeys and some black furry animals with long tails that I wasn't able to identify (yes, a guide would have helped).
Walk the trails in Cahuita National Park
As mentioned above, walking the trail was my goal in Cahuita national park. It's useful to know that the trail is one way (about 8km/5miles). Therefore you have to either plan to walk the trail twice, there and back (16km/10miles) or some portion of it. Otherwise, you can walk to the end – Punta Vargas – and catch a bus or taxi back to the town. I had planned to walk both ways but due to my own sloth-like inability to get myself into gear in time, I didn't have time. Oh, that's another thing – the national park closes at 4pm so you have to make sure you're in and out by then. You'll find both black and white sand beaches along the trail in the park.
Go snorkelling or shipwreck diving
I didn't have time to do any snorkelling (and I'm not able to dive due to ear issues) but this is a popular thing to do in Cahuita. And I imagine it's an enjoyable activity because there will be far fewer crowds in Cahuita than elsewhere. If you have been snorkelling or diving here, leave a comment and let me (other readers) know if you have any recommendations.
Chill out on the black sand beaches
Did I mention I can be a sloth? So, I may not have found time to go snorkelling but I most certainly did find time to sit on the black sand beach and enjoy an ice cream watching the waves roll in. There is a swatch of beach near the entrance to Cahuita National Park and, of course, throughout the park, but a 5 minute stroll away you'll find Playa Negra which is one of the most beautiful black sand beaches in Costa Rica. Best of all, it's wonderfully uncrowded. This is one of the most peaceful activities in Cahuita.
Enjoyed the laid back life
Cahuita feels like one of those towns that's on the brink of becoming a tourist hotspot. Amongst the sodas (local eateries), swanky cafes selling fresh juices and lattes and gourmet eateries have started to pop up. It feels inevitable that tourism will push out of Puerto Viejo and expand into this neighbouring coastal spot. Yet the feeling is still overwhelmingly that of a small, laid-back town. For now. I was glad I stayed for a few nights. And I'd definitely suggest visiting sooner rather than later if you're looking for a spot to stop and relax.
Explore Cahuita's local restaurants
Food leans more towards the traditional soda in Cahuita but I was intrigued to try at least one international restaurant and one of the 'fancy' coffee shops that had popped up. I was impressed on both counts. Dining in Cahuita definitely had a more relaxed mood about it though most of the places were full most nights so go early if you see a place you especially want to try. Here are the places I enjoyed during my stay in Cahuita.
El Rinco del Amor – a soda, and the best (local) food I had in Cahuita.
Cocorico Pizzeria – a pretty decent pizza (accepting you're in Costa Rica not Italy)
Aroma Coffee Bar & Restaurant – this is the spot for good coffee, breakfasts and lunches.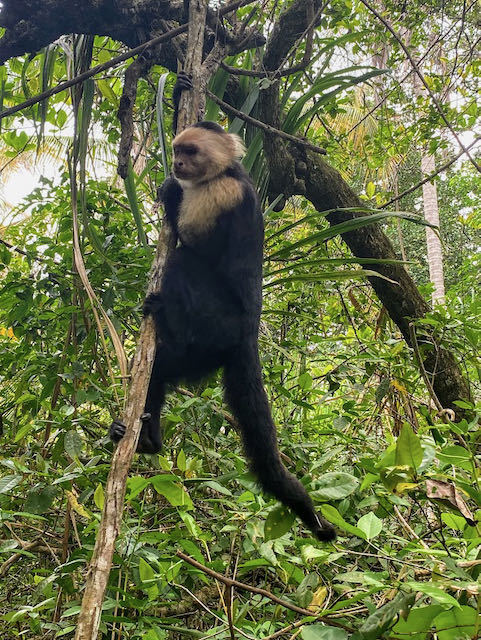 Capuchin monkey seen in Cahuita National Park
Stay overnight in Cahuita
Yes, it's possible to visit Cahuita fro Puerto Viejo just for the day. However, the beauty of Cahuita is its lack of crowds. When the day-trippers have left the National Park, it's nice to head out into the balmy night, find a bar or restaurant and have a beer and bite with the locals, then wander the short distance back to your hotel or guesthouse. It's not difficult to find accommodation in Cahuita.
I stayed at Cabinas Palmer Makanda. A friend recommended this place to me and I'd definitely recommend it for location as well as the ultra-friendly family who run the place. They do have dorms but the rooms were very cramped and hot. I stayed in a private room and, although basic, it was clean and had a lovely terrace complete with hammock.
If you are looking for a dorm bed, you can find hostels in Cahuita on Hostelworld here.
If you're looking for alternative hotels, rentals and rooms in Cahuita, you can find them on Booking.com here.
Take the bus from Puerto Viejo to Cahuita
Ok, this probably should have been first on the list in terms of practicalities but I've popped it at the end (because the National Park is way more interesting for starting this article). If you're driving to Cahuita, you don't need tips from me on how to navigate – pop it into Google maps and you're away. Because Cahuita is smaller and less crowded than Puerto Viejo, parking should be easier. Many guesthouses have free parking available.
If you're catching the bus from Puerto Viejo to Cahuita, that's a super simple option also. The journey takes around 30 minutes and costs approximately $1.50 one-way. The bus you need runs in the direction of Limon via Cahuita. The main bus runs hourly at half past the hour e.g. 7:30, 8:30 etc. But there is a second route that runs on the hour for part of the day. So, buses potentially run every 30 minutes with some gaps on this second service. I've got a (bad) picture of the bus timetable above.
The bus leaves from the bus stop where Avenida 69 meets the beach road. Puerto Viejo is small and you'll find it. Don't confuse it with the MEPE station shown on Google Maps. This is the intercity bus direct to San Jose or Limon (can someone correct me if the Cahuita bus does stop there, but I don't think it does).
My main tip is to get there 10 minutes or so in advance. You have to buy your ticket from the small ticket office on the other side of the road. You can't pay on the bus. Then, it's Cahuita-bound. I hope you enjoy this small slice of Costa Rica as much as I did.
So, that's my guide to things to do in Cahuita. If you've got any questions or suggestions, let me know in the comments below.
Related Articles