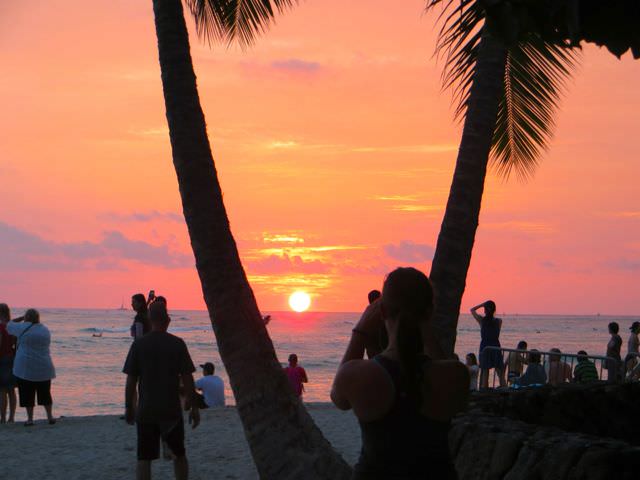 In this guide, I'll give you my 10 top things to do in Oahu. I was a bit overwhelmed researching things to do in Hawaii because almost every article I read told me to swim with sharks, surf the Triple Crown (pro surf championship) or take pre-sunrise hikes up steep inclines. (In fact, it took me a while to figure out the different names of the Hawaiian islands and which Hawaiian islands to visit.)
It all sounds admirable and boast-worthy. But what if you're more of a sit on Waikiki beach with a shave ice kind of person? Don't get me wrong; I did some adventurous stuff – I hiked up Diamond Head and I finally gathered the courage to do a skydive over the north shore. Mainly, I focused on seeing the main highlights in Oahu.
In this post, I'll share those with you. At the bottom, I have an additional list if you want to see more or do more. There's nothing wrong with spending your vacay eating shave-ice. I wouldn't like to share it with a shark anyway.
1. Visit famous Waikiki Beach
If not THE most famous beach in the world, Waikiki is definitely in the running for the prize. This is why Waikiki beach is number 1 on my list. I'll be honest, as beaches go, there are better beaches – try the west coast of Oahu. Yet, that didn't stop me galloping like a small child to dig my toes into an (overcrowded) patch of this iconic beach's sand. It's a great, low-effort spot to sunbathe, right within Waikiki, fronted by the boardwalk and within steps of bars and restaurants when you want refreshments.
If you don't want to spend the day lying on the beach, there are tonnes of beach activities, like stand-up paddleboarding or boating. Again, there are quieter beaches to enjoy these activities in Hawaii, but you can't beat the convenience of the beach. For me, Waikiki beach is most beautiful at sunset. There aren't many places in the world where the sunset is so fantastic that people look up from their cameras and phones and applaud nature's performance.
Don't miss the Duke Kahanamoku Statue just in front of Waikiki Beach. I say don't miss it; it would be hard to miss it since it's a 9ft bronze sculpture of the man famed as the father of international surfing.
Tip: Looking for cheap hotels in Waikiki? Consider booking a private room in a hostel in Hawaii. There are some excellent choices at great prices just a block or two from the beach in Waikiki.
2. Catch the Waikiki Trolley
Ever since I bust my knee in the British Virgin Islands (cue: surgery), I've become a massive fan of the Hop on Hop off buses that offer city sightseeing around the world. They're one of the best ways to get the lay of the land in a new place, and – yay – there is a Hop-on-Hop-off bus in Waikiki. Ok, it's called a Trolley, which just makes it cuter.
The Waikiki Trolley offers three sightseeing routes. The Red Line covers the city art district and will take you into downtown Honolulu. The Pink Line is the Ala Moana Shuttle and primarily connects the hotels within Waikiki – ideal if your hotel is a bit out of the centre. The Blue Line is the Ocean Diamond Head Route. If you're in Waikiki for a few days, multi-day passes are likely to be a good deal. You can book tickets here.
Top Tip: If you're going to do any sightseeing, check out the Go City Pass. You get free entry to 40 attractions, including Pearl Harbor, a catamaran sail, guided hikes, tours and the Polynesian Cultural Centre.
3. Pay your respects at Pearl Harbor Memorial
If you're in Hawaii on romantic business, then a trip to Pearl Harbor may not be the top of your list. Still, this memorial's historical significance and poignancy make it worth dragging your sun-drenched butt from the beach for half a day. It's one of the most educational and culturally important activities.
Since I spent three months in Hawaii, I kept to a tight budget, which is how I figured out how to visit Pearl Harbor without a tour and how to take the local bus. If you're short on time or prefer a guided tour of Pearl Harbor, check out this Pearl Harbor tour. It includes pick-up in Waikiki. Otherwise, you can book standard Pearl Harbor entry tickets here. I explain all about visiting Peal Harbor in my two guides: How to Visit Pearl Harbor and Things To Do In Pearl Harbor.
4. Hike up to the Diamond Head crater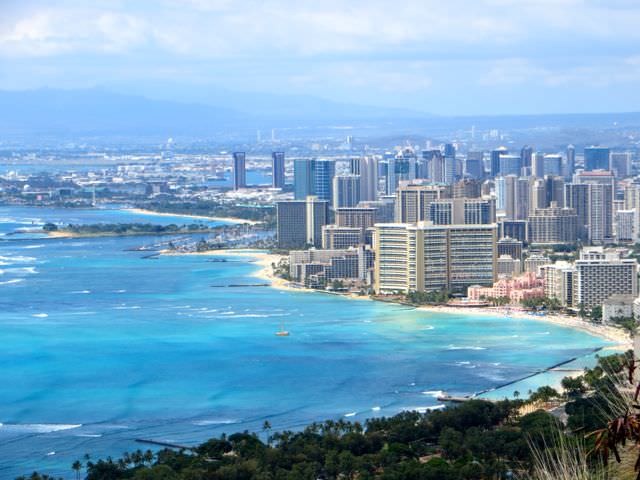 Dominating the right side of Waikiki beach (with your back to the waves), the volcanic tuff cone of Diamond Head is perfect for walking off too much loco moco and offers some of the best views of Waikiki without a helicopter (tip, save your helicopter tour for Kauai's Napali coast). It's not as difficult as it might sound, even if you're not all that fit. 
You can hike up Diamond Head on your own steam, and I'd recommend it. I was a bit silly and decided to start the walk from Waikiki. It involved a lot of map reading to find the trailhead, but the route up Diamond Head was clear as day. If you don't want to go it alone, you can take a guided tour. I did this with other hikes in Hawaii, and it enriched the experience, knowing a bit about the route and local sights. Plus, you'll get driven to the trailhead and returned to your hotel afterwards. You can book a guided tour to Diamond Head here – this is by far one of the most popular tours and gets impressive reviews.
Is Diamond Head a challenging hike? The climb is 760 feet/228 metres with good, steady stairs and a well-paved trail. There's even a 'quick-and-hard' or 'slower-but-easier' choice of routes. I'd therefore say it's one of the more accessible hikes and is also family-friendly – the kids are likely to race you to the top. You can read about my hike up Diamond Head (and see pictures of the trail).
Love volcanoes? Consider adding Haleakala volcano on Maui and Volcanoes National Park on Big Island to your Hawaii itinerary. Or what about visiting green sands beach on Big Island (created from volcanic olivine crystals).
5. Surf, skydive or eat shrimp on the North Shore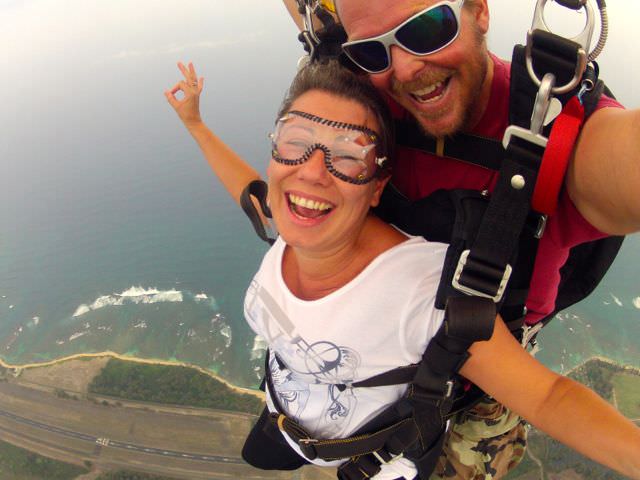 Wave sliding, as surfing was once known, was born in Hawaii, and its popularity hasn't ended. North Shore, with its big waves, especially during winter, is the place to be if you want to watch the experts at play. The waves here were bikini-stealing-aggressive, so definitely not for amateurs like me, but I could sit and watch this fantastic, sporty art all day long. Splash! If you want to see some epic surfing, or do some epic surfing, get to the famous Banzai Pipeline at Ehukai Beach Park. If you're there between mid-November and mid-December, the famous Trip Crown of Surfing event takes place where you can see the world's best surfers riding the waves.
North Shore is also one of the best places to skydive. You can read about my Skydive over North shore and how to do it. Want some adventure but prefer to be at least a little bit tethered to Mother Earth? Try a zip-line adventure over North Shore. If that all adrenaline feels a bit much, go for the shrimp trucks, which serve up some of the best food, or explore the beaches – they're less crowded than Waikiki.
Getting to North Shore is pretty simple, especially if you have a car. I took public transport, and it was easy enough but took a long time. Otherwise, this tour from Waikiki will take you to North Shore, get you some views of the surf-famous pipeline and even throw in a trip to a shrimp shack.
6. Explore Downtown Honolulu
Can I get technical for a minute? Oh, go on, please? Honolulu is the capital of Oahu. I make the point because many articles about Oahu will talk about Honolulu as if it's the entire island. It's not. It is a city with a distinct vibe, packed with arts, culture, restaurants and myriad things to do. It's not Waikiki or north shore, nor the beaches of the west. It's Honolulu, and it's worth a day so you can see the sights. Not least because many of these sights are the icons you'll so often see on TV. Hawaii 5-0, anyone?
Here's a quick sum-up of the main things to do in Honolulu. The Waikiki Trolley Red Line will take you past a few of the main sights, and you can hop on and off to explore more.
Iolani Palace – where Hawaii's Royal Family lived, back when the islands had a monarchy.
King Kamehameha Statue – an 18ft bronze statue of the King who unified the Hawaiian islands in the 1800s. Located in front of Iolani Palace.
Hawaii State Capitol Building – the official state house of Hawaii, dating from the late 60s.
Chinatown – one of the coolest places in downtown Honolulu filled with art, cafes, vintage clothes stores, bars and nightclubs.
Aloha Tower – opened in 1926, this now-retired lighthouse is an iconic image of Hawaii. There's a great observation deck.
Ala Moana Beach Park – on one side, the Ala Moana shopping mall; on the other the beach – great at sunset.
Hawaii State Art Museum – an old Spanish Colonial, former YMCA stacked with Hawaiian art.
Kawaiaha'o Church – the oldest Christian church in Oahu, which is made out of slabs of coral. An interesting twist on the New England style gothic church.
7. Take a circle-island tour
Still unsure what to do or how to pack it all in? Why not start with this wildly popular Circle Island tour which will take you on a full-day tour around Oahu, showing you the islands best sights, including Diamond Head, bays, coves, waterfalls and the Dole Plantation. This is idealif you're only on the island for a day or two before flying on to one of the other Hawaiian islands.
8. Snorkel at Hanauma Bay
Made famous in Elvis' Blue Hawaii, stunning Hanauma Bay is teeming with fish, offering some of the best snorkelling in Oahu. You might even get lucky and spot sea turtles. It's a great thing to do with kids and is just 30 minutes away from Waikiki. The slight snag is it's very popular, so go early in the morning if you want a parking spot. Alternatively, you can take a tour. 
9. Visit the Dole Plantation
Go to a pineapple plantation, am I serious? Absolutely. Sure, you'll be paying tourist-top-dollar if you buy a pineapple from the famous Dole Plantation, but there's a lot to do there. Somewhere along the way, this functional pineapple plantation started adding tourist attractions, and it doesn't seem to have stopped. Visiting the plantation is free, as are some activities like chocolate making and pineapple cutting. Some of the highlights have a small fee. If you're game, try the world's largest maze (or at least it was when it opened in 2008). I don't know if it still holds the title, but it's undeniably huge at about 2.5 miles of paths that merit an app. Reward yourself with a frozen pineapple whip once you escape. There's also a vintage train tour and a plantation garden tour. Perfect for kids. Find out more at Dole Plantation. Got a taste for the exotic? Check out my guide: 18 Hawaiian Fruits For A Taste of The Tropics.
10. Visit a Luau
Luaus may be a bit touristy, but an evening of cultural entertainment, an extensive buffet and free Mai Tai? Why not? As for the best Luau in Oahu, there are plenty of choices. Two of the most popular are the Ali'i Luau at the Polynesian Cultural Centre which includes an all-you-can-eat buffet and performance. Otherwise, check out the Luau at Paradise Cove, including a buffet and performance. Be warned, most Luau's pack the people in, but that can be part of the fun.
More top things to do
If you have more time or want to explore beyond the top 10 things to do in Oahu on this list, here are some more options.
Hike to Manoa Falls – this is the next most popular option after Diamond Head if you want to go hiking. The falls are close to Waikiki and are one of the best in Oahu.
Makapui Point Lighthouse – there's a good walking trail and photo opps.
Ho'omaluhia Botanical Garden – free admission, great for kids.
Stairway to Heaven – be warned this is a a challenging hike. It's popular to go in the dark to arrive for sunrise. Crazy people!
Koko Crater – another hard, steep hike that will have you huffing and puffing but it's worth the views.
Halona Blowhole – east of Waikiki, this is great fun to watch, especially with kids.
Kailua Beach – this is an off-shore beach that you can kayak to. Perfect if kayaking is on your list of things to do in Oahu.
Wai'anea Coast – go beach hopping along the west coast of Hawaii. This is where you'll find some of the best beaches on the island.
Whale watching – it's seasonal only, in winter.