Milos is a natural wonder. Geologically speaking, this Greek island is the tip of a sunken volcano and, similar to Santorini, this gives Milos a dramatic coastline as well as a fascinating mining history.
Until relatively recently, Milos was one of Greece's better kept secrets but the tourists are slowly arriving. Milos is a Greek Island you must see; and one you must see sooner rather than later. In this guide I'll share everything you need to know to visit Milos.
The Best Beaches
The island of Milos is tiny – just over 150 square kilometres – and that makes its 70 beaches all the more impressive. At times, Milos feels like it's all coastline, which is a blessing for beach lovers. Yet, Milos' beaches are not a mundane chain of golden sand. Thanks to its volcanic nature, you can expect beaches that feel out of this world. Here are the most popular beaches to visit in Milos. If you only have a day to explore, make these your priority.
Sarakaniko Beach
A Greek lady told me to visit this beach long before I reached Milos so it was high on my list and did not disappoint. In fact, I'd say this was my favourite beach. Famous for its lunar-white rocks that twist in a way that would make Salvador Dali proud, you're left not quite sure whether to swim in the sea, lie on the small spots of volcanic sand, explore the caves or just stand, watching in awe. There are some epic jumping off fairly high (but apparently survivable) cliffs into the sea – if you dare.
Papafragas Beach
Papafragaz Beach was my next favourite beach after Sarakaniko. Two steep walls of volcanic pocked rock provide great shelter for the channel of clear water and smooth sandy beach. Swim out and you'll find caves to swim in. Otherwise, enjoy this calm, secluded spot that doesn't draw half the visitors of the more famous Sarakoniko (but is every bit as dramatic in its own way).
Firopotamos Beach
I confess to visiting Firopotamos Beach purely because of the name and on this occasion I was a bit disappointed. Yes, the curved bay was beautiful but the beach was packed (in June). Perhaps I was hangry – I'd had a failed attempt at lunch in Mandrakia and the tiny beach bar at Firopotamos was so thick with flies, I decided to take my furious stomach all the way back to Adamas for food. If you visit, go early or outside peak season and plan lunch elsewhere.
Paliochori Beach
Paliochori Beach is one of the few beaches on the south coast of Milos that you can reach by road from Adamas. It offers a wide, golden sandy beach set against a backdrop of red, white and sand striped cliff-face. There are good facilities including bars and water sports. As one of the more organised beaches on the island, it's a great spot if you really want to stop for the day.
Firiplaka Beach
Another southern coast beach that shares many of the colours of Paleochori Beach but comes with the added feature of a dramatic rock cast out in the sea. Firiplaka beach is less touristic than Paleochori and you may find nudes sunbathing here. It's pretty easy to reach with a decent access road and is very good for beach hopping with neighbouring Tsigrado Beach.
Tsigrado Beach
Tsigrado Beach is another beach to visit if you're after an adventure. To reach it, you're best walking from Firiplaka. You have to descend to the beach by a walkway. Yes, there's a wooden ladder and rope to help you down. No, there's no easier way. There are also no organised facilities on this beach. All those things made it more appealing to me since the harder-to-reach beaches tend to have the most seclusion.
Kleftiko Beach and Bay
An old pirates' haunt with dramatic white rock sea arches and formations towering out of the bay and crystal-clear waters, it's easy to see why Kleftiko Bay is the postcard picture of Milos. Kleftico Beach is one of the best spots on the island to wiggle your feet in the sand and take in the views that are drawing visitors to its shores. The slight downside is that you have to take a boat tour to get to Kleftiko Beach and bay (the roads are impassable by rental car), but that's not really a downside, is it? The best way to get there is on a full-day tour, which will also take you to some of the other highlights along the coast of Milos.
Love beaches and snorkelling? Check out this fantastic guide to the Best Snorkelling spots in Greece.
---
The Best Things to Do in Milos
Want to explore more deeply on Milos? Here are the island highlights and the best things to do.
Go beach hopping
Beach hopping around Milos is by far one of the most popular activities on the island and can easily consume several days. I've already covered the best beaches on Milos in the section above, so scroll back up if that's your plan on Milos. If you only have time to explore one beach on Milos, my favourite was Sarakaniko Beach, which is easy to reach by car.
Take a boat tour around Milos
There are two main ways to explore Milos – by wheels (car, ATV, bus, scooter) or by boat. And since Milos is known for its dramatic volcanic topography and cliffs, stunning beaches, crystal clear water and perfect snorkelling spots, taking a boat trip is one of the best ways to enjoy Milos. In summer, it's best to book in advance.
Not all boat tours are the same so check the itinerary. Some of the most popular options include:
Sykia Caves – the largest sea caves on Milos.
Arkoudes rocks – spiky rocks rising from the sea.
Gerakas Bay – dramatic rock formations and great swimming.
Polyaigos Island – an uninhabited island off the coast of Milos.
Cape Vani – Milos' first metal mine (they mined manganese, fundamental for steel making).
This full-day boat tour of Milos is one of the most popular and includes lunch and an open bar. Two other great bout tours include Kleftiko Sailing Cruise with Snorkelling and Milos and Polyaigos Island.
Enjoy Adamas
While not the top spot on the island, Adamas is likely to be your first stop in Milos since this port town is where the Greek ferries arrive. And it's an alluring first stop complete with whitewashed buildings, a blue-domed church and a smattering of cafes, restaurants and bars. If you did nothing else in Milos, you have enough to occupy you within Adamas, with beaches flanking the sides of the small town. But you really should leave Adamas because the best of the sights lie elsewhere. The good news is, Adamas is perfectly set up for your needs – you can rent a car, book a tour bus or boat trip.
Are Adamas and Adamantas the same? You may see both Adamas and Adamantas referred to when you read about Milos. The two names are used interchangeably. So, in short – yes, they're the same.
Explore Milos' Mining Museum
If you have a sneaky feeling that Milos sounds a little familiar, you're probably right. The island is famous for providing the stone that was used to carve the exquisite Venus de Milo statue (now in the Louvre in Paris). While the ancient milky white stone used to depict Aphrodite in the Venus de Milo is perhaps the most famous stone of the island, the original stone mined from Milos was obsidian – volcanic glass. Mining on Milos goes back to 7000 BCE and you can find out more at the Milos Mining Museum in Adamas.
Watch the sunset in Plaka
Plaka is a treasure trove of white Cycladic houses and meandering streets that will make you feel like you're exploring a labyrinth. While Plaka makes for a great spot to visit all day long, the real magic happens at dusk. Find a spot with sea views and settle in to watch the sunset. One of the most romantic spots is the remains of the old Venetian castle. It can get busy during peak summer months but it's not nearly as frantic as trying to see the sunset on Santorini.
Find the Trypiti windmills
The small village of Trypiti has two things that draw the tourists to its streets – this is the place to go if you want to see the famous windmills that dot the shores of many of the Cycladic islands. But that's not the main highlight – that title belongs to the nearby catacombs.
Visit the Christian Catacombs
Dating back to around the 1st century, the Christian Catacombs are an important site on Milos. As well as being a place to bury the dead, the catacombs were a refuge and place of worship at a time when Roman persecution of Christians was rife. There are three catacombs, and they might feel a bit claustrophobic. If you don't want to go in, instead seek out the plaque (located between the catacombs and the ancient theatre (below) that marks the spot where the Venus de Milo was found. Today, you have to head to the Louvre in Paris if you want to see her in person but there is a replica of her in the nearby Archaeological Museum.
See the Ancient Roman Theatre of Milos
In 1735, a theatre from the Roman period was discovered close to Trypiti. It's thought that the ancient theatre of Melos (the citizens of the island at the time), once held up to 8,000 people. Although only a small portion of the theatre has been excavated, and to the non-expert like me, it looks like a pile of rubbled steps (sorry, archaeologists), it's worth a look if you're visiting the Christian catacombs.
Feel like a local in Pollonia Fishing Village
I couldn't resist jumping into the water the second I saw Pollonia, it was that clear. With a wide swathe of sand and a curve of restaurants and cafes dotting the shoreline, this small fishing village is a great place for a quick stop, a bite to eat or an evening out. Just don't let this beach suck you in for too long. There are more dramatic beaches to explore.
See the colourful syrmata fishing houses in Ancient Klima
I sailed past Klima but you can also visit up close. Either way, you'll be rewarded with views of the local Syrmata houses. Brightly coloured so each fisherman can recognise his house when sailing home, these unique houses dot Milos and are a must-see during your visit. What's unique about Syrmata? Well, the downstairs is used to house the fishing boats while the living space sits within the floor above. Most of the Symata are still in use today. It is possible to rent these houses if you're looking for an unusual place to stay on the island.
Dine in Mandrakia Fishing Village
I made a beeline to Madrakia for a late lunch rather than the beach because I'd been told that Medusa cafe was the place to dine. With fresh squid hanging to dry in the sun, I was salivating to the point of tears. And then I saw the crowds. I hadn't been the only one who'd heard this was the place to lunch. Even after 2 pm, there was a 1hr wait and my stomach couldn't take it. Sadly, this ultra-popular cafe doesn't take bookings so try going early or extra late. The main draw of Madrakia is the traditional syrmata fishing houses.
---
Where to eat & drink
Traditional Greek food is reason enough to visit Greece and with Milos only popping onto the tourist radar in recent years, traditional food is still very much on the menu. Here's a selection of the best places to eat and drink in Milos. Milos isn't a party island like Mykonos or Ios so expect a more chilled bar vibe.
Medusa – fresh seafood and squid in Mandrakia – ultra-popular so expect a wait
O! Hamos! Tavern – family restaurant that draws crowds even though it's outside Adamas
Armenaki – traditional Greek food and warm service in central Pollonia
Astakas Cafe – white tables on the sand in Klima near the fisherman's houses. Great for fresh fish.
Enalion – popular for seafood in Pollonia
Rifaki – sea views, great for breakfast in Pollonoia port
Gyros of Milos – excellent place to get a budget-friendly gyros in Adamas
Utopia Caffe – sit on the terrace and watch the sunset in Plaka. Booking is essential
Akri Bar – head here if you want an upbeat bar. Expect DJs after sunset. In Adamantas.
Cactus Cafe Bar – beachfront coffee in Pollonia
---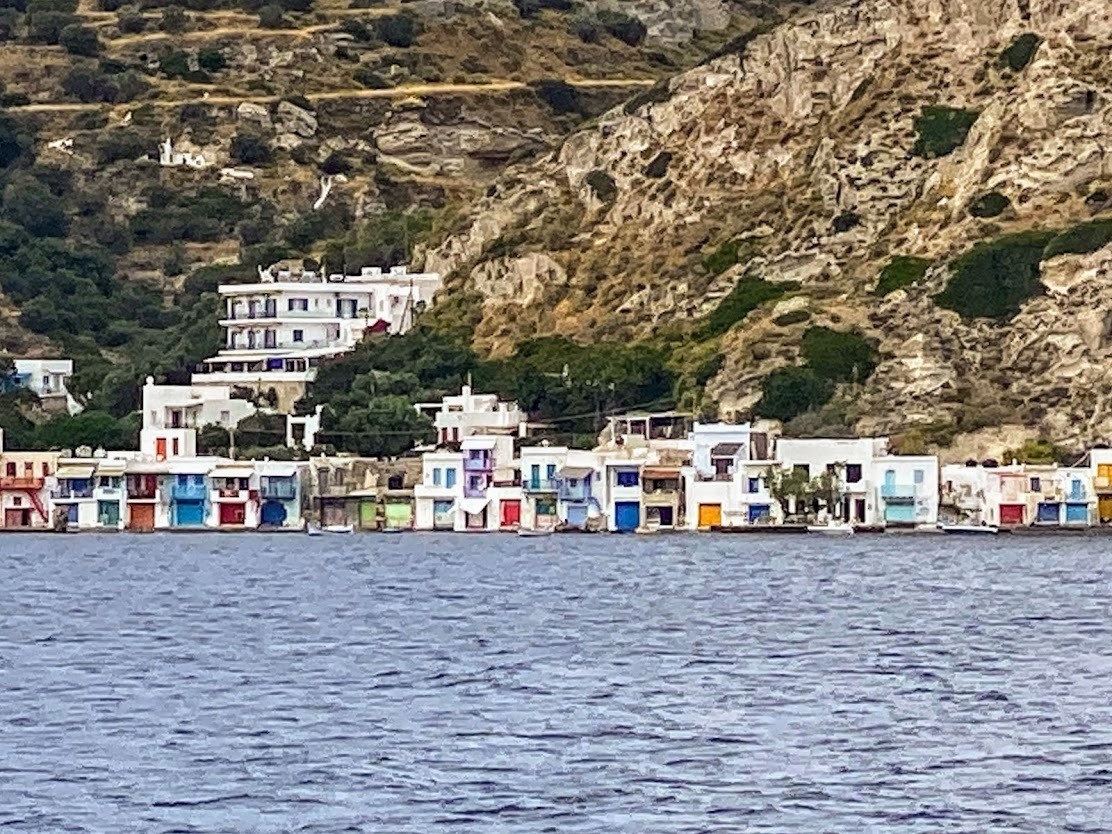 Where to Stay
Here are the most popular areas to stay, together with links so you can check out the best hotels, rentals and accommodation.
---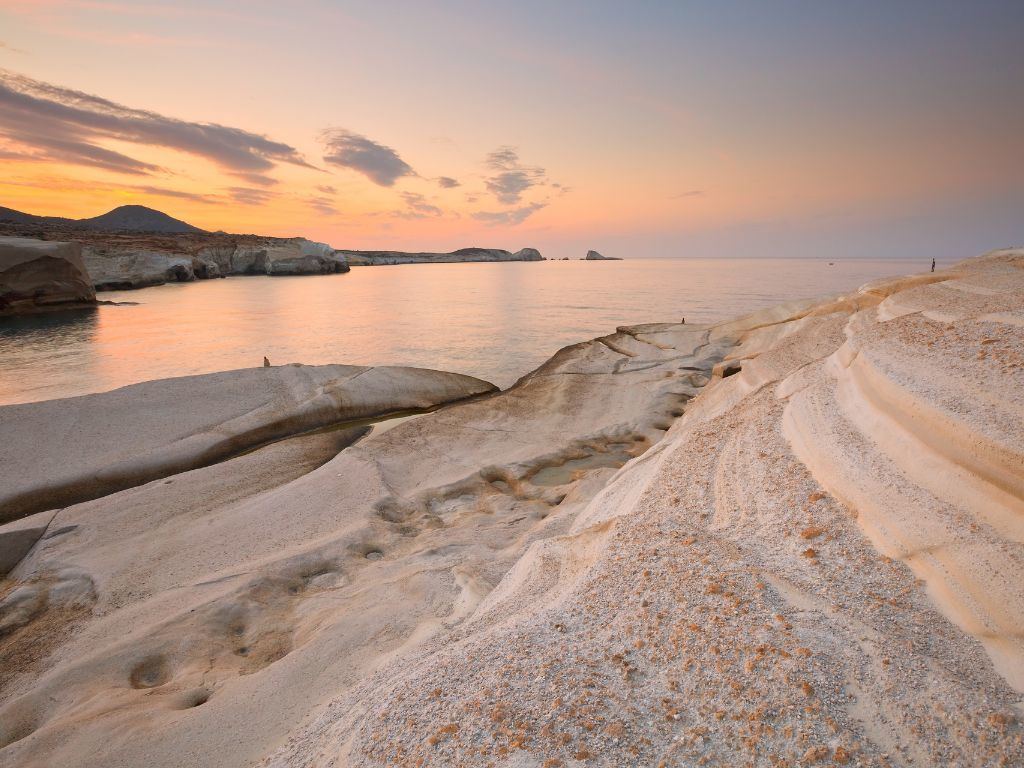 When is the best time to visit Milos?
Located in the northern hemisphere, Milos has its summer broadly from mid-June to mid-September. When to visit Milos will be a personal preference. Personally, I'm a big fan of shoulder season travel – the months that are either side of peak season. Typically, there are fewer people, and you have more chance of getting travel deals but the weather is still usually pretty good. Here's what you can expect in each season.
April to June (Spring Shoulder Season) – Temperature approx. 16˚C to 24˚C – fewer tourists compared to the summer season, the potential for either travel deals or, at least, better availability of popular accommodation. Be prepared – the sea temperature will be bracing, not having yet warmed up after winter. Keep an eye on Easter dates as this will increase tourist numbers. I visited in June and it felt perfect, even if those first moments in the water took my breath away. Tip: pack a long-sleeved swim top.
July to August (Peak Summer Season) – Temperature approx. 25˚C to 27˚C – by far the most popular time to visit, meaning far greater crowds. Not only is the weather the hottest, peaking in August, but it also corresponds with the school holidays (in the northern hemisphere). Availability can be more of a challenge (book well in advance) and prices may rise to reflect that. You may also struggle to get into some of the more popular restaurants. Still, Greece in summer is magical with the least rain and the sea temperature is just perfect.
September to October (Fall Shoulder season) – Temperature approx. 21˚C to 25˚C – if I had to choose between spring or fall shoulder season, I'd choose fall. You get all the benefits of visiting outside the peak summer season but with the added bonus of the temperatures, including the sea temperature, being much kinder. As with spring, keep an eye out for the October half-term school holiday when tourism will peak slightly.
November to March (Winter season) – Temperature approx. 14˚C to 19˚C – If you're looking to visit during the winter season, I'd definitely book for November or March. December and January are the coldest and wettest months, and Milos with its beaches and boat trips is an island that is best enjoyed with at least a bit of sun. Plus, at around 15 degrees celsius, it takes a brave person to get into the winter sea.
Go here if you want to read more about Milos' weather.
---
How to get to Milos
Milos is in the Aegean Sea and is part of the Cyclades islands. In fact, it's the southernmost Cyclades island, 188 km from Athens. That said, it's very easy to get to Milos. Here are the best ways.
Closest airport to Milos
Milos does have a small airport on the island, with daily flights to and from Athens. There are three airlines to choose from: Aegean, Olympic and Sky Express. You can only fly to Milos from Athens, no other islands in Greece or international destinations visit Milos. While the flight time is only 40 minutes, add the standard few hours to get through the airports and it can be as quick or not much longer to take the ferry. Plus, you'll be helping the environment and catching sea views on the way. I use Skyscanner to check and book flights.
Ferry to Milos from Athens to Milos
Taking the ferry to Milos is a beautiful way to travel. The route with the most services is from Athens to Milos. Taking the fast ferries, you can get there in around 2 hrs 40 to 3 hrs 45. I love Direct Ferries for checking schedules, times and prices. Tip: the port in Athens is called Piraeus.
Ferry to Milos from other Greek Islands
If you're island hopping, it's possible to reach Milos direct from several other Greek Islands. The most popular routes to Milos are from Santorini, Mykonos, Naxos, Paros, Ios and Syros. Again, use Direct Ferries to check the route. You'll find that there are fewer ferries than from Athens so plan ahead.
Greek cruise
Milos was on my Greek cruise itinerary. I took a 7-day cruise from Athens on a luxury tall sail ship with Running on Waves, and highly recommend it. I subsequently took their Greek Yoga Cruise around the Peloponnese Peninsula, also highly recommended.
---
How to get around Milos
If you only have one day in Milos, you need to decide what kind of day you want because only part of the island can be reached by car. The rest is best explored by boat on a day trip. If you have multiple days, you'll want to explore by both road and boat. Here are tips for getting around Milos.
By Car, ATV or Moped
Milos is tiny but there are lots to see, so you're better off hiring a car or other set of wheels. ATVs and Moped/motorbikes can be fun alternatives to car rental. Here are some tips for exploring Milos by car and road.
The main road out of Adamas will take you to the northeast corner of Milos. From there, it's easy to beach hop in a westerly direction before circling back to Adamas.
I'd highly recommend booking your car online in advance. I like Rental Cars. The 'turn up and book' method that I went for ended up chewing through too much time.
You will need your driving licence to pick up the car.
There is a fuel station in Adamas for refuelling when you get back after your day exploring.
The island is tiny so most sights are no more than 10 to 15 minutes drive away, making it easy to drive in Milos.
Build in time for parking as things can get busy.
The roads are steep, thin and winding so take it slowly – there's no hurry.
By Public Transport
There is a public bus system on Milos and it is the cheapest way to get around. However, there is often an hour or more between buses. So, it will only be a good option if you have a lot of time or only want to explore a few places. If you're there for several days, it will work better. Check the Milos bus timetable here.
By Boat
A large part of Milos is impossible to reach by road, making a boat trip your best option. And, as the dramatic volcanic sea cliffs are one of the highlights of Milos, it's a great way to explore. I've written above about the different sights you might see on a full-day tour so do compare itineraries according to your interests (e.g. snorkelling versus geology). Choose this one if you're looking for a good all-round boat tour of Milos.
---
Map of Milos
Here is my map of Milos, featuring all the locations in this article.
So, that's my guide to the beautiful Greek island of Milos. Got any questions or suggestions, let me know in the comments below.
Related Articles: