With psychedelic rainbow eucalyptus trees, fresh-baked banana bread, moonscape volcanic craters and the opportunity to listen to the eerie sound of humpback whales singing, it is safe to say that Maui is one of the most surreal of all the Hawaiian islands. That's why I'm so keen to encourage people off their beach loungers and out to explore the things that make Maui so special.
If you do escape the manicured boundary of your resort, even if only for a while, you'll find that Maui is bursting with sights to show you. In this article, I'll share with you the best things to do in Maui.
Related: Which Hawaiian Island is the Best to Visit? Quick Guide
1. Drive the Road to Hana
"The most beautiful drive in the world" -it's quite the claim and I'm confident it could be true. Waterfalls to swim in, Pacific ocean panoramas at the end of tumbling coastal cliffs, those trippy rainbow eucalyptus trees and a distinct 1960's vibe lingering around the organic banana bread and coconut shrimp shacks, its only travel sickness from the unrelenting hairpin bends that will stop you doing this drive again…and again and again.
Funnily enough, I didn't actually drive the Road to Hana – I took a guided tour. Why? Being a passenger is way more fun than map reading, route researching and not being able to take pictures along the way. Of course, you can drive it yourself (this is a great self-drive guide) but tours will get you to the most amount of stops/viewpoints in a day, and that's the way I'd recommend doing the Road to Hana. I suggest this Road to Hana Full Day Tour.
2. Hike Haleakala National Park
Made most famous when Arnie (Schwarzenegger) rolled down the slope that represented Mars in the movie Total Recall, the day-long walk into the crater and back up the switchbacks of the volcano face of Haleakala is an experience you won't forget quickly – especially not after photographing the unearthly-looking silver plants you'll see along the way. And being able to watch the sun set above the clouds after the hike is the kind of finale you come to expect on Maui.
I took a tour and, unlike the Road to Hana or the hike up Diamond Head on Oahu which you can easily do alone, hiking in Haleakala is an activity where I'd recommend a guide. Exploring the crater floor then slinking up the switchbacks to return to the top definitely needs an expert eye. I booked locally and it was pretty cheap (sorry – I didn't make a note of the tour company) but if you do want to book ahead, try this hike. The hike took several hours and requires a head for heights and sheer drops. The reward was seeing the sunset at the end of the hike.
Don't want to do the hike but do want to see the sunset or sunrise?
3. Visit Haleakala for sunrise or sunset
If you prefer to swerve the hike and visit Haleakala via car, it's easily done. Sunrise and sunset are the best times to go. You can plan your trip on the NPS website – don't forget to book your sunrise or sunset spot. You can book up to 60 days ahead. The other option is to take a tour for sunrise. No hike involved but you still get the spectacular views – this fantastic Haleakala tour includes transport, sunrise, a locally guided tour of the park and breakfast.
And if you love volcanoes, make sure you add Volcanoes National Park and green sand beach (created by a volcano) on Big Island to your trip around the Hawaiian Islands.
4. Snorkel around Molokini crater
Many of Hawaii's best sights are found in the water so it's worth getting into the Pacific Ocean at least once. And my suggestion is to take a snorkelling tour around Molokini. Personally, I can't scuba dive (ear issues) so a day in a snorkel mask is the closest I can get. However, that is good enough, especially when you're snorkelling around Molokini crater – a half submerged volcano crater off the coast of Maui. Most snorkelling tours will also take you to Turtle Town, a spot so-named because it is teaming with green sea turtles. You can try this small group snorkelling tour of Molokini and Turtle Town.
If you're looking for more local snorkelling without a tour, head to Black Rock, a popular off-shore snorkelling spot created from past lava flow.
5. Go whale watching
One of my main reasons for visiting Hawaii was the chance to see whales in their natural habitat as they migrated to the warm winter waters of paradise, and I wasn't disappointed. Watching the mass of a whale under the water followed by the flick of a tail and water spouting into the air from a blow-hole, completed my trip to Hawaii.
Unless you've packed your own boat, you're going to need a tour to go whale watching. My tip – book for the first day you're in town and keep booking. That way, if seeing whales is at the top of your list, you can keep rebooking on the next day's tour until you do see them. This is the whale watching tour I took by the Whale Foundation and I'd highly recommend it.
6. Explore Lahaina Whaling Town
There was something so gentle and inviting about Lahaina that I ended up hanging around here for a couple of weeks. Packed with restaurants, cafes, art galleries and independent shops, the town has grown beyond its history as a former whaling town into an attractive modern town. There's still plenty of history too, with many museums dedicated to the whaling activities that helped the town prosper. Fun fact: Herman Melville, author of Moby Dick spent time in Lahaina. I found Lahaina a great base for my time in Maui. If you're just passing through, head to Front Street for the main sights.
Lahaina Wild Fires: as you may have seen in the media, wild fires have destroyed much of Lahaina. I'm heartbroken – this was one of my favourite spots on Maui. I'm sure there will be efforts to rebuild. Please check locally to keep up to date on what is open. Update Nov 23 – phase 1 of reopening the west coast resorts is underway and you can revisit. But please check facilities and services suit your needs.
7. Explore ʻĪao Valley
ʻĪao Valley State Park is a must-see on your Maui trip. Thanks to its natural environment and history, this peaceful 4,000-acre, 10-mile long park has become one of the most famous and most recognisable tourist spots in Maui. Most famous is the green-mantled rock, ʻĪao Needle, which was naturally formed by erosion and soars 1,200-foot skyward. Located in Central Maui just west of Wailuku, ʻĪao valley and state park is an ideal attraction for easy hiking and sightseeing.
8. Windsurf on Hookipa Beach
Reputed to be the windiest place on earth, there's a reason Hookipa Beach attracts the world's best windsurfers. And you thought Hawaii was just about the surf (I did too)? It's not an activity I've tried (yet) and Hookipa isn't for beginners but if you want to catch the experts in action, here's the place to do it. Windsurfing is a year-round activity on Hookipa so just stroll on up and watch.
9. Visit Wai'anapanapa black sand beach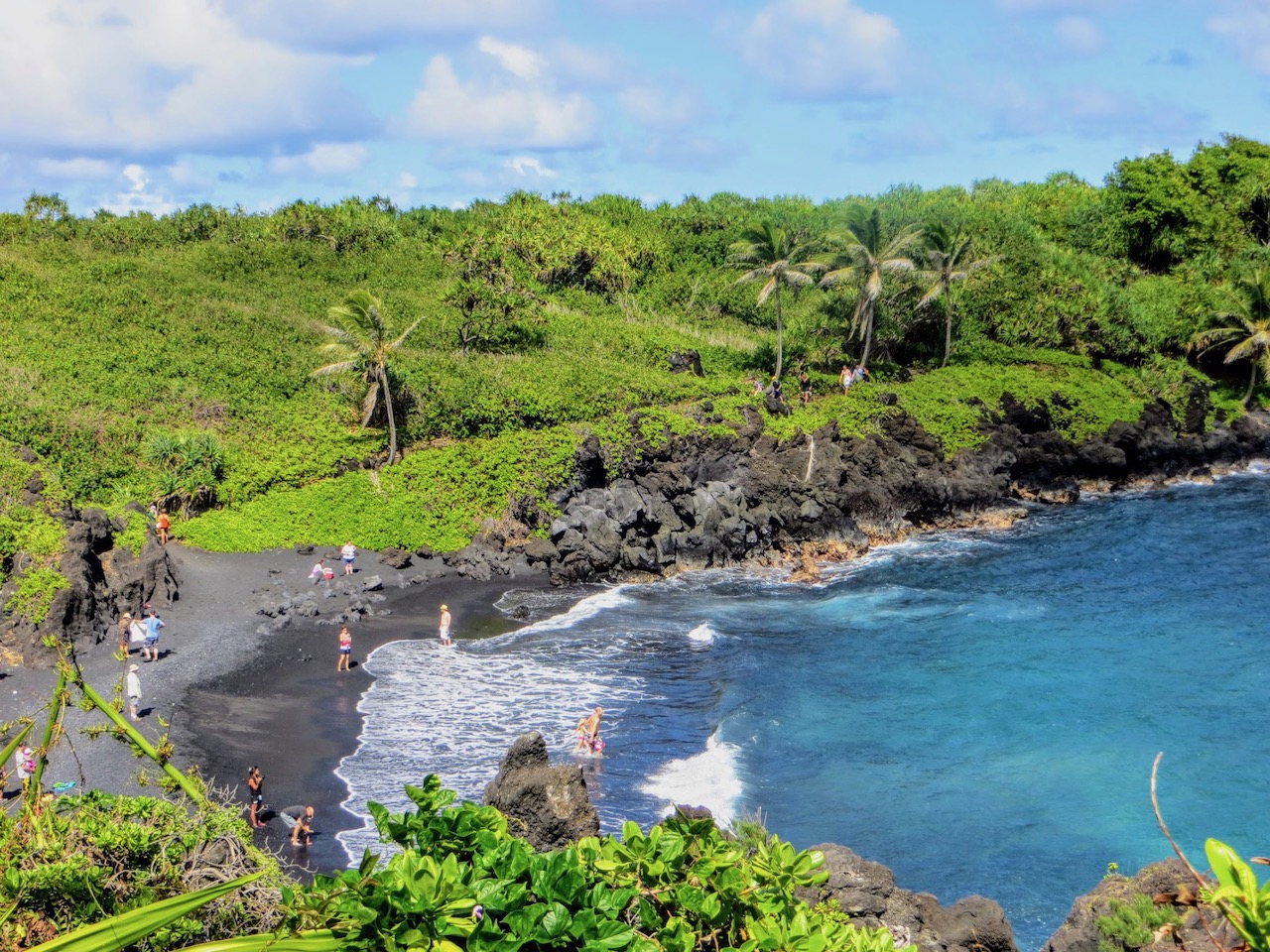 Most people want to visit a black sand beach when they're in Maui and if so, Waianapanapa is the place to go. Yet, Waianapanapa is more than just a black sand beach (in Hawaiian, it means glistening waters). Forming part of Waianapanapa State Park, this 122-acre park boasts a natural stone arch, a native hala forest, a blowhole, sea stacks, stunning lava rock formations, anchialine pools, subterranean caves and a bird sanctuary. Oh, and the black sand beach, of course.
10. Hike to Red Sand Beach – Kaihalulu Beach
Red Sand Beach (or Kaihalulu Beach) is a beach that requires a bit of effort to get to. Known also Secret Beach, it can be a bit of a challenge to find. Add to that the tricky to navigate trail and the challenging hiking onto the beach, but once you make it, you're rewarded with the stunning drama of red sand beach. Yes, all Maui beaches seem to be amazing, but this red beach is a perfect piece of tucked-away paradise that is one of the best beaches in Maui.
For more accessible beaches, try Little Beach and Big Beach – they're connected by a trail making them easy to visit together. Do be aware that Little Beach is 'clothing optional' and is also usually very busy. Meanwhile, Big Beach (Makena Beach) is big, wide and beautiful. As for other beaches on Maui, Sugar Beach is perfect if you're looking for a long beach stroll, and Baby Beach is great for families because of the calmer water.
11. Bathe in the 7 Sacred Pools – Ohe'o Gulch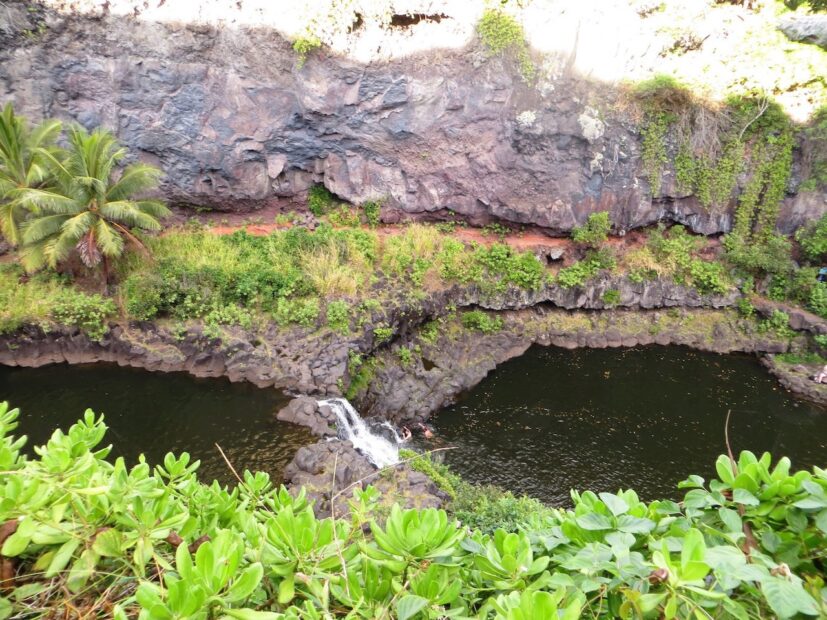 The pools of Ohe'o Gulch are the most popular attraction on the east side of Maui. Located in Haleakala National Park, the Name Ohe'o means something special and you're not likely to disagree. Ohe'o Gulch is made up of Seven Sacred Pools in a stepped formation with waterfalls cascading between them. The pools are part of a stream that form a mesmerising flow from the mountains to the Pacific Ocean. You can reach the pools by taking the Kuloa Point Trail. The pools are dangerous to swim in so it's best to keep Ohe'o Gulch as a photo opp.
12. Explore the rainforest
Maui's North Shore has the perfect tropical conditions for cultivating vast swathes of rainforest so if you've never stepped foot inside the lush humidity of wild and abundant nature, Maui is the place to do it. Having visited several rainforests around the world, I'd recommend going with a guide. Their trained eye will help you spot local wildlife and understand the complex ecosystem of a rainforest. They'll also help you tread where you're supposed to without doing any harm to nature's wonders.
This Rainforest and Waterfall tour is great for family bonding – you'll take a hike through the rainforest to two waterfalls where you can swim and jump into the water. Otherwise, experience a picnic lunch by the waterfalls as well as rainforest hiking on this Waterfall and Rainforest Hiking Tour.
13. Skip through lavender fields
Maui has a lavender farm? That was my first thought too – lavender was always something I associated with France. Yet, Maui can offer you immersion in perfectly purple lavender fields. Maui's lavender Farm, also known as the Ali'i Kula Farm, is set across 13.5-acres and resides at an elevation of around 4000 feet. The farm has twenty different varieties of lavender. Lavender is, of course, seasonal so you will see most blooms in summertime (July and August) but the farm grows almost ten varieties of lavender that are in bloom year-round.
14. Visit Maui's Botanical Gardens
Maui's is bursting with fertility so it's no surprise the island has a choice of botanical gardens. Two of the best are Kula Botanical Gardens and Maui Nui Botanical Gardens. Kula Botanical Gardens covers 8-acres and was Maui's first public garden. What makes it special is its location on the slopes of Haleakala Volcano. Meanwhile, Maui Nui Botanical Gardens expands across 7-acres and focuses on preserving native and Polynesian plant species. It's a great place to find out more about Hawaiian history and culture.
Speaking of Hawaiian culture, you might like my guides: Things To Do In Pearl Harbor and How To Visit Pearl Harbor – Tickets, Tours & Tips. If you like the green side of Maui, consider adding Kauai to your Hawaiian itinerary.
15. Take a tour of Maui Gold Pineapple Plantation
Did you know that pineapple was a global symbol of hospitality is the early Americas and due to its scarcity and value, it was an honour to be served pineapple as a guest. So, if you're really looking for special treatment in Maui, skip the spa and head to Maui Gold Pineapple Plantation.
Maui is considered to be one of the best pineapple-growing regions in the world with Maui Gold often taking the top spot for best pineapple (gold pineapples are renowned for being the sweetest). That's why it's worth visiting the plantation in person – food never tastes better than in does when you eat it in its place of origin. At Maui Gold, you will see the fields where the golden pineapple grow, and if they're in season, you'll even be able to pick a few. Of course, no visit to a pineapple farm would be complete without tasting the most delicious pineapple in Hawaii, and you can take a box away with you, too. If you are a pineapple fanatic and want to know more while you're in Maui, you can visit a working farm on this Pineapple Tour.
Tip: More than once I've sidled up to one of the kitchen staff at my hotel and presented them with a pineapple and asked if they wouldn't mind chopping it for me. I'm always rewarded with a wonderfully sliced plate of fresh Hawaiian fruit in return. If you're in a rental or hostel in Hawaii, you'll likely have a kitchen to do it yourself.
16. Sit under the Lahaina Banyan tree
I spent a morning sitting under the shade of the Lahaina banyan tree, sipping a coffee and reading a book without really knowing the significance of this beautiful sprawling Banyan. Planted on April 24, 1873 as a gift to celebrate the 50th anniversary of the first American Protestant Mission, the tree has been re-sowing its roots ever since. Located in front of the Courthouse, the Banyan tree, as Banyan trees are prone to, has spread its aerial roots to cover nearly two acres, with new branches and trees popping up across and filling the space. It's the largest Banyan tree in the USA and the area has since been renamed Banyan Tree Park. This 8-foot tall twirling maze of branches is quite the sight to behold. And an excellent spot to take some shade with a coffee or a shave ice.
17. Enjoy Maui's foodie side
Speaking of coffee and shave ice, you really should put full focus on the food in Maui. Hawaiian cuisine is a medley of local flavours as well as international influences and often the best foods are found in the simplest products. At the very least don't miss Maui's banana bread (buy it in the morning and pack it for your Road to Hana road trip), fresh coconuts, Maui Gold pineapples, coffee, beer, and poke bowls. If you're looking for somewhere iconic to try Maui's foodie side, check out Mama's Fish House (so iconic they typically book 3-6 months in advance) and Ulunai's Shave Ice (no booking but you'll probably have to queue).
18. Zipline over Maui
Looking for some adventure in Maui? Then try out one of the ziplines. I did my first zipline over the cloud forest in Costa Rica and I've been addicted ever since. Some tours combine ziplining with other activities so it's a good way to press a few things into the same day. If you want to go solo (without a tour), there are two main zipline companies to choose from – NorthShore Zip which has seven ziplines and Skyline which has five ziplines in Haleakala National Park. If you prefer to take a tour that includes ziplining, here are two of the most popular 7 Zip Lines and WWII Museum and Haleakala 5-Line Zipline Adventure. Really want an adrenaline rush? I did a skydive over Oahu's north shore – one for the memory books.
19. Take a helicopter tour over Maui
While flying over a part of Maui by zipline is going to get your adrenaline pumping, I don't think anything compares with seeing the island higher up on a helicopter tour. Of course, it's going to push your budget more but if you're on the trip of a lifetime, why not? This Rainforest Helicopter Tour with Landing combines a flight over the rainforest with 30 minutes in the rainforest to explore by foot. You also get the dramatic coastal, shoreline panoramic views. Otherwise, this Maui and Molokai Scenic Helicopter Flight will take you over both islands as well as the rainforest and includes more time in the sky.
20. Experience a luau
Heard of a luau but not sure what one is? Luau is a traditional Hawaiian celebration typically combining food, drink and entertainment. Luau festivals are very special experience in Hawaii and I'd highly recommend joining one of the many Luau's hosted for tourists. As well as a delicious feast, typically including kalua pig (cooked in a pit in the ground), you'll likely experience hula dancing and many other cultural Hawaiian traditions. The Old Lahaian Luau is one of the most authentic you'll find while the Drums of the Pacific Luau at the Hyatt Regency dubs itself the most exciting Luau on Maui. And this Myths of Maui Luau offers a farm-to-table experience.
21. Relax on a sunset dinner cruise
I've probably worn you out with all of these suggestions (though hopefully the happy kind of tired you get when you've spent your time doing wonderful things). So, as a reward to yourself, book onto a sunset dinner cruise. Sit back, sip a cocktail and enjoy the sun setting over one of the most beautiful islands in the world. Here are two of the most popular sunset dinner cruises around Maui: Deluxe Sunset Sail from Lahaina and Sunset Dinner Cruise from Lahaina Harbor.
22. Day trip to Lanai
Lanai is a tiny island that can be reached off the coast of Maui. And the it has the rare feature in Hawaii that you can take a ferry between the islands of Maui and Lanai. That makes it perfect for a day trip. How to do it? There is a daily ferry from Lahaina on the west coast of Maui that arrives in Lanai harbour. The official ferry company is Expeditions and you can book online. The ticket costs $30 one-way. However, do some planning and either hire a 4-wheel drive for the day so you can explore (its rugged on Lanai). Otherwise, you can walk to Hulupoe beach and spend the day there. Whatever you do, don't miss the last ferry back. There is very limited accommodation on Lanai (two Four Seasons resorts). Tip: don't get confused. Lahaina (Maui) and Lanai (Lanai island) are similar words at first glance. If you're looking for tours and hotels, pay attention.
That's my guide to the best things to do in Maui. Got any comments, questions or suggestions? Drop me a message in the comments below.
Related Articles: