The light woke me. I blinked, looked out of the bus window and smiled as I saw slithers of golden beach and aqua ocean glinting beyond the shade of the trees.
This is the Costa Rica I came for.
Even the air had changed.
I wasn't in San Jose anymore.
Manuel Antonio is one of the highlights of any visit to Costa Rica and it's earned its spot there. This coastal attraction offers the perfect Costa Rican blend of nature and beaches.
In this guide, I'll give you a quick run down of the best things to do in Manuel Antonio. This should keep you busy for a two or three night stay in the area. You might also like Your Ultimate Guide to Travel in Costa Rica.
Good to know: you might hear Manuel Antonio and Quepos used together. While a local geography expert might disagree with me, for tourist purposes, Manuel Antonio is the name of the broader area, beaches and national park while Quepos is the small town up in the hills. If you want to be close to the national park, base yourself in Manuel Antonio where there are great hotels, cafes, restaurants and bars. You can walk from Manuel Antonio town to the beach and the National Park so it's a great base in the area.
1. Spot sloths in Manuel Antonio National Park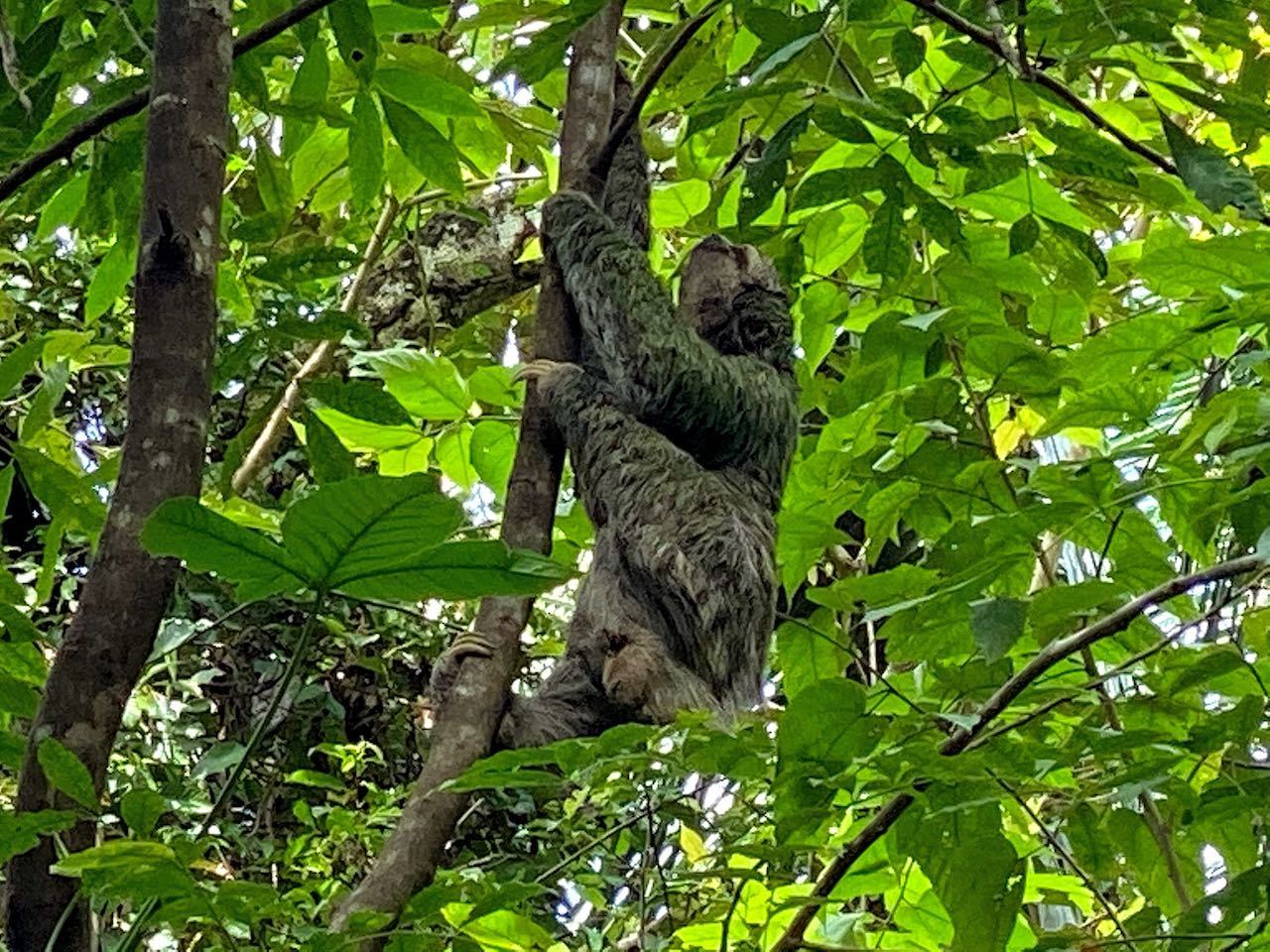 If you do only one thing in Manuel Antonio, it has to be a visit to the National Park. I don't know about you, but I was there to see the slow, lumbering sloths and I wasn't disappointed. But sloths are most certainly not the only wildlife in Manuel Antonio National Park. Other popular sightings include capuchin monkeys, iguanas and more bird species than you can count.
Since it's walking distance from Quepos, you can take yourself to Manuel Antonio National Park, Although I almost always recommend going wildlife spotting with a guide, this park is pretty busy and filled with guides and groups. For that reason, it's one of the few times I think it's ok to go without a guide. All you need to do is find a guide pointing upwards and follow your gaze where they point.
If you are going to hire a tour guide, consider going on a night tour. Though not in the national park, you'll still be wildlife spotting, but in the dark, when a lot more wildlife is active. You can book a night tour.
If you like wildlife, consider adding Tortuguero National Park to your list of places to visit in Costa Rica.
2. Walk the nature trails in Manuel Antonio National Park
There are a number of nature trails and walks in the park and many of them are accessible, which is wonderful.
It's pretty hard to get lost in the park so personally I suggest having a wander and go where your feet take you. If you want something more structured, these are a few of the most popular trails in Manuel Antonio National Park.
Perezosos Trail (Sloth Trail) – popular for obvious reasons, the sloth trail promises the best chance of spotting sloths. And it didn't disappoint when I was there.
Main trail – this runs parallel to the sloth trail and is a good option if you don't want to walk in and out on the same trail.
Mangrove Trail will take you through the mangroves (though on an established trail, not through the actual mangroves).
Manuel Antonio and Espadilla Sur are both trails that will give you sea and beach views.
Cathedral point – a slightly longer trail that takes you out onto a small island area for great sea views.
Universal Trail – this is an accessible trail with a good wooden pathway and braille in places.
3. Visit the beaches in Manuel Antonio
How does a walk in the national park followed by a swim at the beach sound for a day in Manuel Antonio? With two beaches hidden inside Manuel Antonio National Park, you can do just that. And when your park entry ticket has expired, you can always visit the beach that fronts Manuel Antonio town.
Espadilla Beach is the main beach in Manuel Antonio. It's an expansive stretch and a great place to chill out. The water can be a bit aggressive so it's not ideal for swimming but is good for some whitewater surfing.
Espadilla Sur Beach is located inside Manuel Antonio National Park and is a very welcome surprise after walking the main trail in the park. The water here is much calmer for swimming (though beware the riptides).
Manuel Antonio Beach is also within the national park, on the opposite side of Cathedral Point. The beach is reached by walking the Cathedral Point trail, making it more remote and less busy. Take provisions if you're going to spent time there as there are no facilities near this fantastic hidden beach.
4. Watch the sunset over Espadilla Beach
The sunsets on Costa Rica's Pacific coast are some of my favourite in the world offering a hot, fiery orange glow as the sun sinks behind the horizon. And what's especially beautiful about the sunset in Manuel Antonio is how little effort is required to see it.
Sit on the beach, grab a spot in a beach bar, or if your room has a view, sit on your balcony and enjoy one of nature's finest offerings. And if you like sunsets, head to La Fortuna – the sun setting behind Arenal Volcano is magical.
5. Explore Manuel Antonio town
Sure, Manuel Antonio town seems to have grown up to support the tourists who come through here but that also means there are some excellent choices for souvenir shopping as well as cafes, restaurants and bars.
I personally enjoyed Bar Las Gemelas. The food was excellent, the staff super-friendly and you get sea views. I'm not much for shopping but I'd recommend you keep your arts and crafts shopping until after sunset when the air is cooler.
Want to escape the heat? A few days in the mountains of Monteverde can be a retreat.
6. Take surf lessons in Manuel Antonio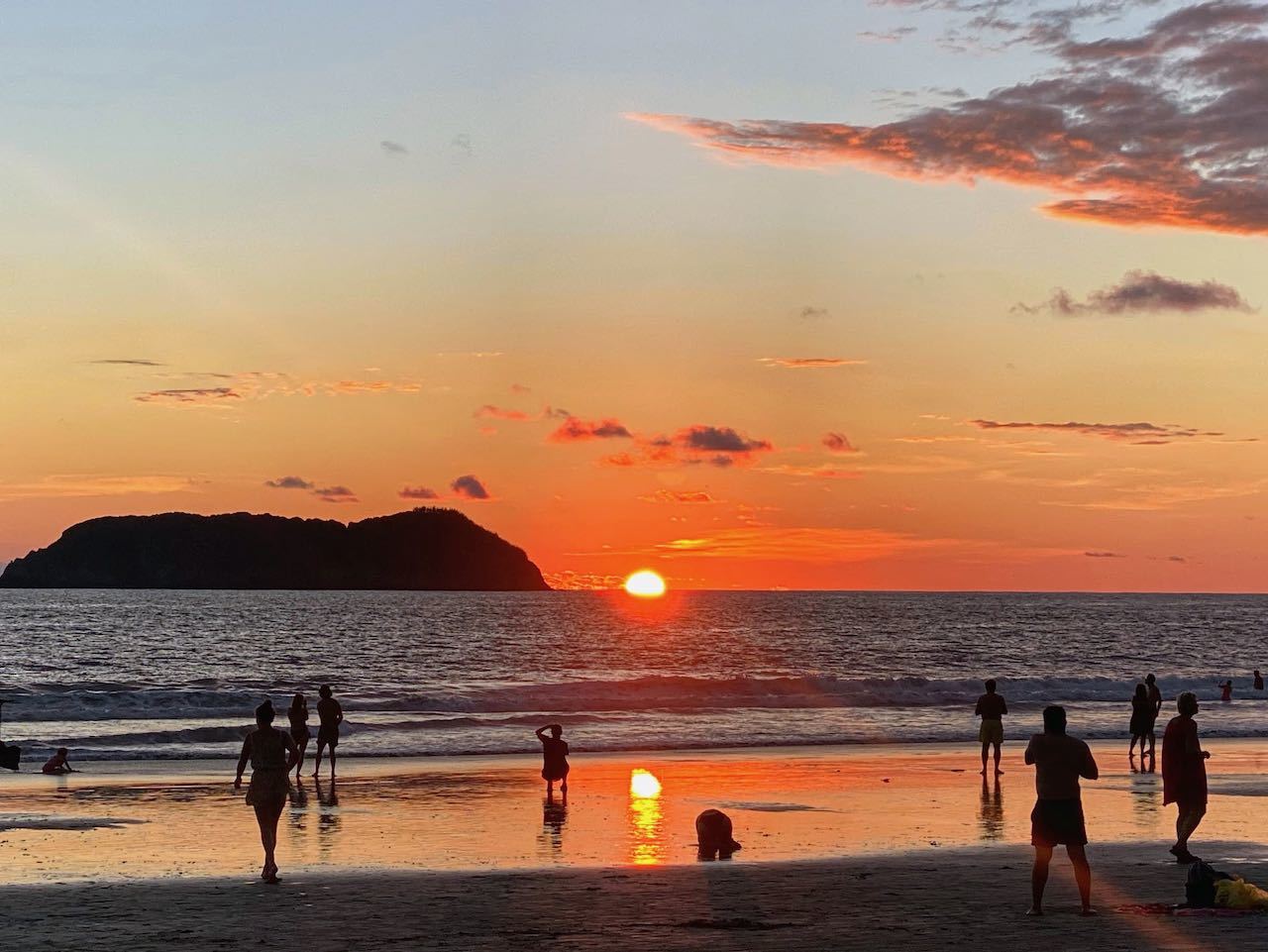 While Manuel Antonio isn't the best place to surf in Costa Rica, it does have some fun breach breaks that are perfect for beginners.
You can book lessons in advance online but the better thing to do is turn up and speak to one of the local surf instructors at the beach. You'll also be able to make a better plan based on the weather and the waves when you visit. If you do prefer to book ahead, this surf school is popular.
7. Head up the coast to Jaco
Jaco is the competing option along this stretch of Costa Rica's Pacific coast – it's also a beach town and offers reasonable access to Manuel Antonio National park, being only an hour away.
You might want to prioritised Manuel Antonio for the park but if beaches and surf are your jam, you might prefer Jaco. The good news is, you can travel between the two pretty easily.
The public bus travels along the main beach road in Manuel Antonio to Jaco and the journey takes about 1 hour each way. You can plan your route here. If you have a car, even easier.
8. Take a catamaran booze cruise
If you want an afternoon kicking back with an ever replenishing rum cocktail in your hand, take a catamaran booze cruise. Ok, strictly they're promoted as sunset cruises but we all know that's not the real draw.
Shop around to find one that suits you. The cruise I went on was nice and relatively sedate (I'm getting old) with a beautifully clean boat and excellent crewe. The price included a very good plate of food to keep the customers from turning sloppy, as well as plenty of fresh, tropical fruit (and punch, of course). This is the Catamarn tour I took, which I highly recommend.
9. Dine in a Cold War Plane
There's a long and intriguing history around the CIA/Iran Contra plane that has been turned into El Avion pub and restaurant in Manuel Antonio. These days, it's the sale of seafood dishes that keep customers flocking to this plane-turned-restaurant. Whether you're there for the history or the food (or both), it will be memory-making.
Go for sunset and stay for dinner – located opposite the beach and with a viewing deck, it's a great spot for a sunset cocktail. While most of the dining takes place outside the plane and the seating area is large, I'd recommend booking because El Avion is popular and takes group bookings. Don't forget the all-important photo in the cockpit.
10. Sleep in a container hotel
I've slept in a lot of hotels – no, not the prelude to a humble brag, more that they all start to seem the same after a while. And then you check into a container hotel. El Faro in Manuel Antonio is quirky, well located and has floor to ceiling windows with staggering sea views. I'd definitely recommend putting it on your list of where to stay in Costa Rica.
How to do it: You can find out more and book El Faro. I have a bit more detail about the hotel in my where to stay in Manuel Antonio section below. Including a picture of the infinity pool.
11. Take a day trip to Tortuga Island
A blue flag beach, this island off the coast of Puntarenas offers some stunning white sands and if you have a day kicking around, it's worth exploring. But expect a long day, reasonably high costs and the snorkelling is no better than you get on a local catamaran cruise. Perhaps one to look into if you have spare time in Manuel Antonio rather than making it a priority.
Love beaches? Add Puerto Viejo and Santa Teresa to your list. You also can day trip to Tortuga Island from Santa Teresa.
12. Go Sports Fishing
This area of Costa Rica is reputed for its sports fishing. I can wield a rod and more than once I've dined on fresh fish caught from a boat – is there anything finer? And sports finishing is the next level up so if you're looking for an alternative day out in Manuel Antonio, add this to your list.
Tips for visiting Manuel Antonio National Park
Do you need a guide in Manuel Antonio National Park? I took both guided and self-guided tours in Costa Rica and I am very pro-guide because, with a guide, I always saw significantly more. However, if there is one park where I think you can skip the guide, it's here. This is because, kind of unfortunately, this park is very popular so all you need to do is find the closest groups of tourists looking up and follow suit.
Take binoculars – one of the best things I bought for my trip to Costa Rica was a cheap (under $20) pair of binoculars. They were super light, easy to sling in a bag and made it much easier to see the wildlife, which is often hiding that bit too far (pesky toucans liking all that privacy). These are my binoculars.
Go early – especially if your base is Manuel Antonio, you're in the perfect location to get there before the tour buses roll in. And they do roll in.
Don't take food inside – no, it's not a ruse to get you to eat at the cafe in the park, it's because those damn monkeys can open a backpack zip faster than a pickpocket on the Subway in New York. Lost your chocolate bar? Check out the monkey in the trees enjoying a snack. And yes, he's probably wearing your sunglasses and hat.
No selfies with the animals – Costa Rica has recently launched a huge campaign with the hashtag #stopanimalselfies Human interaction with the animals is bad for them and therefore discouraged. Be a good tourist. I loved the selfie opportunity at San Jose International Airport where you can pose with a stuffed sloth to your hearts' content.
Don't forget your swimsuit – there are a couple of hidden beaches inside Manuel Antonio National Park so make sure you wear your swimsuit and pack a sarong or quick-dry towel to dry off after your swim (this is my quick dry towel).
Sandals/flip-flops should be fine – I walked the sloth trail and the mangrove trail and did it in flip-flops. Normally in a park or forest I'd have my trail runners on but the trails were well cleared and a local guide (rightly) recommended flip-flops for this visit, to make the beach stop easier. Here's my favourite travel shoes, by type, if you're interested.
Here's my Costa Rica Packing List. And if you like beach-front National parks, add Cahuita to your itinerary.
Where to stay in Manuel Antonio
I stayed in Manuel Antonio town in a container hotel and definitely recommend it for its quirkiness. I have a couple more recommendations below. When you do search, keep in mind that some of the hotels in Manuel Antonio meander up into the hills and away from the beach, and may be too far to walk to bars and restaurants.
El Faro – The rooms are a bit snug but considering you're inside a long, narrow container, they're really well laid out with a bed fronting the floor to ceiling window followed by a kitchenette and a bathroom at the back. The breakfast was excellent and that floor to ceiling window – out to sea and serving sunsets daily. I'd highly recommend El Faro for location and experience.
Makanda By The Sea – Expect suites, lofts and villas at this 5-star adult-only hotel in Manuel Antonio. If you're after luxury hotels in Costa Rica, this is going to provide it. Risk: you may not want to leave the hotel to explore nearby.
Millennium Manuel Antonio – if El Faro is fully booked (it's popular) and Makanda is outside your budget, Millennium is another extremely popular hotel in Manuel Antonio. Located with views of the Manuel Antonio National Park (yep, you're that close), you're in a great spot and the rooms are bright and clean.
Selina Manuel Antonio (Hostel) – Located in a forest area, Selina is a bit far from the beach to walk but there is a pool on-site as well as a communal kitchen, restaurant and bar. Selina is a hostel chain you'll see throughout Central America and has varying standards but this one gets decent reviews. There are private and dorm rooms available.
You might also like: Tips For Your First Time Stay In A Hostel
Want more?
Like this? Share it on Pinterest.