London is one of the most popular tourist destinations in the world, from people taking day trips from other parts of the British Isles, to those flying all the way from the other side of the planet to visit one of the world's most diverse, beautiful and exciting cities.
Between its charming medieval streets seeping with history and the modern glass skyscrapers above, there's probably enough going on in the capital to write an article on the 500 top things to do in London. However, to leave a little spontaneity to your trip, I've narrowed it down the 50 best things to do in London England.
By the way, here's my list of the Where To Stay In London in case you're still researching the best areas in London and accommodation recommendations.
This post is split into five sections; the most iconic things to do in London, historic things to do in London, fun things to do in London with kids, and finally the top museums and the top markets you need to visit in London.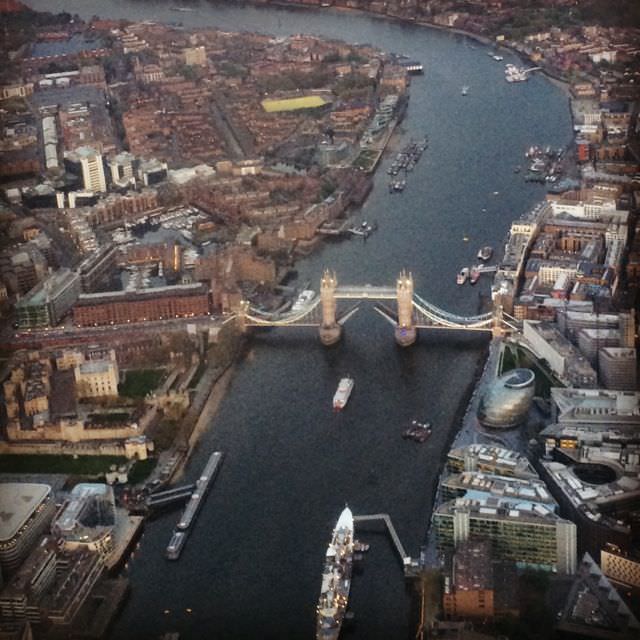 If you only have a short stop in London, start with these 10 best things to do in London.
10 Iconic Things To Do In London
1. Take a trip on the London Eye
Officially opened in 2000, the London Eye was the world's largest Ferris wheel at the time and, despite now being overtaken, it has remained an important symbol of the British capital. Sat centrally on London's South Bank, you can take a 30 minute ride in one of the wheel's 32 capsules to get some amazing views across the London skyline. The London Eye's main purpose is definitely a tourist attraction but it is one of the most iconic things to do in London so you can't miss it.
How to do it: Book ahead as it's always busy. You can buy official tickets here.
2. Snap a pic with Big Ben & the Palace of Westminster
Another one of the most iconic landmarks in London you have to visit is the clock tower known as Big Ben. However, did you know that Big Ben is actually the name of the large bell sitting inside, whilst the tower itself is actually called the Elizabeth Tower?
The tower sits on the north end of the Palace of Westminster which serves as the meeting place for both the House of Commons and the House of Lords. The impressive Gothic Revival style building is best viewed from a short distance away on Westminster Bridge.
How to do it: Westminster Tube Station is closest. Big Ben is sign-posted from there. You can find out more about Big Ben here.
3. Visit the King at Buckingham Palace
Any trip to the capital isn't complete without exploring royal London, the most important landmark of which is Buckingham Palace, the home of King Charles. Visit the majestic palace around 10:30am to watch the historic ceremony known as the Changing of the Guards in which the current patrol of King's Guards is replaced by the new patrol while accompanied by a full marching band.
While most of the interior of the palace is closed off to the public, you can visit the State Rooms, the Queen's Gallery and the Royal Mews, where the State Coaches and royal horses are kept.
How to do it:
There are three attractions to see and you will need three separate tickets (if you ever wondered how the King can afford his electricity bill, there's part of your answer).
You can book tickets to see Bucking Palace here:
4. Take a walk over iconic Tower Bridge
While there are numerous impressive bridges crossing the Thames River in London, none are quite as iconic as Tower Bridge. The historic suspension bridge next to the Tower of London dates back to the late 1800s and is often raised to allow tall ships to pass underneath.
While crossing the bridge by foot or vehicle is completely free, you can also pay to take the upper walkway (33 metres above road level) and watch the bridge below through its glass floor.
5. Admire the architecture of St Paul's Cathedral
St Pauls Cathedral is a large Anglican cathedral sitting on Ludgate Hill, the highest point of the City of London. Its iconic dome (designed by Sir Christopher Wren) has dominated the London skyline for over 300 years. Not only is the Cathedral the most majestic in the city from the outside, but if you have to book tickets if you want to see the impressive interior.
How to do it:
Highlights inside St Paul's include walking over 500 steps to the top of the dome and into the Whispering Gallery. Go higher still for the Stone Gallery and then the Golden Gallery. Also popular is the crypts where you will find the tombs of Admiral Lord Nelson, the Duke of Wellington and Sir Christopher Wren.
You can book entry tickets for St Paul's here.
6. Sit by the fountains in Trafalgar Square
Take a wander around Trafalgar Square, central London's famous pedestrianised square which is home to important landmarks including the National Gallery, Nelson's Column and its four bronze lions, and two large fountains which are popular spots to sit and enjoy the spray of the water on a hot day in the city centre.
How to do it: The nearest Tube station is Charring Cross (but you can easily walk from other nearby stations). Just don't plan a picnic here. The birds own this patch and therefore believe any food bought into Trafalgar Square belong to them. They will take it by force.
7. Buy last minute theatre tickets in Leicester Square
Just a couple of minutes around the corner from Trafalgar Square in the heart of London's West End you'll also find Leicester Square. Leicester Square is the city's real entertainment hub, with several flagship cinemas where you might even stumble across a red carpet premiere if you're lucky, a couple of flashy casinos, numerous large chain restaurants and – most importantly – TXT's booth where you can get last-minute theatre tickets for bargain prices. A night at the theatre is definitely one of the top things to do in London in the evening.
How to do it: There are various sites online where you can buy last minute tickets but a) beware touts/illegitimate websites and b) standing in line and going to see what's available is half the fun of last-minute cheap tickets.
8. Grab lunch in Covent Garden
Also located close by in the West End is popular Covent Garden, a charming piazza centred around the Apple Market in the middle (now home to an arts and crafts market), with many restaurants with alfresco dining, bars, pubs and plenty of well-known and independent shops.
How to do it: There is so much choice in Covent Garden, I'd recommend following your appetite and your nose.
9. See the city from the top of a skyscraper
London's highest garden – The Sky Garden in the City of London
You can't visit London without climbing to the top of one of its amazing skyscrapers and seeing the city from above, and luckily there's plenty of options to pick from.
How to do it:
The View from The Shard – Visit the highest public viewing platform in London on levels 69-73 of the capital's tallest building. Admission can be a little on the pricey side but it is a very iconic thing to do in London. You can book tickets here.
The Sky Garden – Take a wander around London's 'highest public garden' on the 43rd floor of the Walkie Talkie building. It's completely free to visit (making it my top recommendation), you just need to book a date and time slot in advance. There are also a couple of restaurants and a bar inside if you want to visit for dinner or/and a drink.
10. Go for Afternoon Tea in London
When it comes to both beautiful and unique places to enjoy afternoon tea, London certainly doesn't fall short, from full 5* luxury at The Ritz London Afternoon Tea and the city's other high-end hotel restaurants, to more unusual and quirky options.
How to do it:
There are so many afternoon teas to choose from. Here are a few suggestions.
You can book tea at the Ritz here.
Try afternoon tea on a red London bus here.
And you can have afternoon tea cruising down the River Thames here.
The last afternoon tea I had was at the Langham Hotel. You can read about it (and see pictures of the tea) here.
---
10 Historic Things to do in London
The view of Tower Bridge from the ground of the Tower of London
11. Take a tour of the Tower of London with a real Yeoman Warder
If history is your thing, don't miss a visit to the Tower of London. Dating back to 1066, the tower has been used over the years as a fortress, royal residence and even a prison, and has been home to the royal Crown Jewels since the 3rd century AD. Now it is a popular tourist attraction and one of the most popular places to visit in London, with tours taken by real Yeoman Warders – the traditionally dressed ceremonial guardians of the Tower.
How to do it: You can book tickets for the Tower of London here.
If you want to know more about how to plan a visit to the Tower of London, I've written about it here.
12. See where royal coronations are held at Westminster Abbey
If you watched the royal wedding between Prince William and Catherine back in 2011, then you'll recognise large gothic-style Westminster Abbey as the location of the elaborate royal ceremony. In fact, the Abbey has played host to many royal weddings across the years and has also been the location of the coronation of every single King and Queen since William the Conqueror in 1066.
How to do it: You can book tickets to visit Westminster Abbey here.
13. Learn about England's role in WWII at Churchill's War Rooms
Visit the historic underground complex that housed a British government command centre throughout the Second World War, and the wartime bunker which sheltered Winston Churchill and his staff. As well as the preserved War Rooms you can also visit the Churchill Museum, a biographical museum exploring the life of Churchill himself.
How to do it: You can find out more about how to visit the Churchill War Rooms here.
14. Sit in peace at the ruins of St Dunstan's in the East
St Dunstan's in the East is a real historic hidden attraction in the capital. Although it's nestled right in the middle of many of the most iconic sites in London, it is far less visited. The church was originally built in 1100, severely damaged by the great fire of London in 1666, rebuilt and added to by famous architect Sir Christopher Wren then finally damaged again during the WWII Blitz. The ruins of the church are now a peaceful public garden and a lovely place to escape the hustle and bustle of the surrounding city.
How to do it: You can find out how to visit St Dunstan's church here.
15. Walk in the childhood steps of Queen Victoria at Kensington Palace
Kensington Palace is a historic royal residence set within Kensington Gardens, the park on the west edge of larger and better-known Hyde Park. Whilst there are some buildings on the site which still house the younger residents of the royal family (Will, Kate and their three children currently live in one of the homes), many areas of the main palace are open for the public to visit, including the very rooms in which Queen Victoria was born and raised.
How to do it: You can book tickets to visit Kensington Palace here.
16. See a play at Shakespeare's Globe
While London's modern Shakespeare's Globe may not be the exact Elizabethan playhouse for which playwright William Shakespeare wrote his now world-famous plays, it is a realistic replica just around the corner from the original which unfortunately was demolished in 1644. The new Globe Theatre isn't just an important historic landmark in London, it is also a working theatre which you can visit by day for a guided tour or by night to see a Shakespearean play in the spot where it all began.
How to do it: Book tickets or plan a visit to Shakespeare's Globe here. You might also like my guide to visiting Shakespeare's Birthplace: 17 Best Things To Do In Stratford-upon-Avon – England
If you want to explore the historic South Bank in more detail, see my post about what to see in South Bank.
17. Take a stroll around The Old Royal Naval College in Greenwich
A day trip to Greenwich has long been one of my favourite things to do in London, with the neighbourhood's interesting maritime history and mesmerising architecture. You can take a stroll around the grand classical buildings of the Old Royal Naval College, visit the historic Kings's House, stand on the Prime Meridian Line (where east meets west) and jump on board the restored 19th-century ship known as the Cutty Sark, plus plenty more.
And you can book tickets for visiting the Cutty Sark. 
Greenwich's Old Royal Naval College
18. Learn about King Henry VIII at Hampton Court Palace
Located in the Borough of Richmond upon Thames, Hampton Court Palace is an impressive royal palace dating all the way back to the 16th century and was among the most favoured residences of one of England's most notorious rulers, King Henry VIII. Today the palace is one of London's most popular tourist attractions, with untouched rooms which take you on a walk through the building's fascinating history and sprawling gardens which include the oldest surviving hedge maze in Britain.
Hampton Court Palace is about 35 minutes by train from London Waterloo Station (on Southwest Trains). The palace is a five-minute walk from the station. I'd recommend lingering around Hampton Court because it's a very pretty place to visit.
You can plan your train journey using Trainline. (This is my favourite UK train website. Download the app for mobile tickets. They'll even give you an automatic refund if your train is too late).
19. Re-imagine London's Roman Amphitheatre
Another of the city's real hidden sights, London's Roman Amphitheatre is the visible remains of an amphitheatre constructed in 70AD, sitting beneath the Guildhall Art Gallery complex. While the remains aren't that significant, the innovative displays and reconstructions are worth the visit alone for history buffs.
20. Step back in time at Dennis Severs' House
Dennis Severs' House in East London is a self-labelled "still-life drama". Created by the previous owner Dennis Sever, the inside of the house is a historical re-imagination of what life would have been like for a family of Huguenot silk weavers during the 18th century. An immersive and interesting step back in time to experience life in historic London.
---
10 Fun Things to Do in London with Kids
Keeping the kids (or kids at heart) entertained in London is, thankfully a breeze. Here are some of the most fun things to do in London with kids.
21. Enter the magical world of Harry Potter at Warner Brothers Studio
Without a doubt, one of the top things to do in London for Harry Potter Fans, the Warner Brothers Studio Tour takes you on an immersive journey into the making of Harry Potter, with behind-the-scenes glimpses at the real sets where the movies were filmed, as well as the props, costumes, special effects and plenty more.
How to do it:
While often referred to as Harry Potter World London, the Warner Brothers Studio is actually located just north of London close to the town of Watford, however, this isn't a huge problem if you book a tour because entrance tickets come with transfers to and from central London.
Book a tour of Harry Potter World at Warner Brothers Studio here (transfers included).
If you want to book direct, you need to plan months (or longer) ahead because tickets are popular and therefore scarce.
Harry Potter fan and want to stay in London? Check out this Harry Potter guided London walking tour.
And don't forget to check out Platform 9 3/4 at Kings Cross Station – find out how in my post about things to do near Kings Cross Station.
22. Snap photos with celebs at Madame Tussauds
Pop by Madame Tussauds London to snap some photos with life-size wax replicas of famous celebrities and iconic persons, such as British Royals including Queen Elizabeth II and Will and Kate, English sporting legends David Beckham, Jessica Ennis-Hill and Tom Daley, and film stars from across the years including Audry Hepburn, Kate Winslet and Daniel Craig.
How to do it: You can book tickets for Madame Tussauds here.
23. Take flight on the Emirates Air Line Cable Car
Crossing the Thames River in a cable car will have the kids hopping with excitement. Plus, with the cars arriving every 30 seconds, you're not going to have to deal with impatient young ones. The ride across the Thames takes 10 minutes and you'll take in views of the 02 Arena as well as Greenwich.
How to do it: Emirates Air Line Cable Car is operated by Transport for London (the same people who run the Tube) and you can buy tickets here.
You can save money buying a combo cable car and Thames Clipper (boat ride) ticket here.
London Travel Tip: Speaking of combo tickets and saving money, with this attraction pass you can see 5 attractions in London for one money-saving price (including Shrek's Adventure and the London Eye).
24. Have a boat day with a city cruise, the Cutty Sark and the Golden Hinde
The Thames is a dominating factor in the city, weaving its way through the heart of the city. And with many of the city's best attractions fronting onto or visible from the Thames (Big Ben, St Paul's, The London Eye and Tower of London to name a few), cruising down the Thames can be a great way to pack in some sightseeing while saving little legs that tire easily.
How to do it: Book tickets for the Westminster to Greenwich London River Cruise here(this takes you through the best bits of the Thames).
Got kids who love boats? Add on a visit to the Cutty Sark in Greenwich (tickets here) and the Golden Hinde (tickets here).
25. Slide down the ArcelorMittal Orbit
The ArcelorMittal Orbit is a 114.5-metre-high sculpture in the Queen Elizabeth Olympic Park in Stratford. During the London Olympics, the unusual-looking sculpture was used as an observation tower, however, now it is home to the world's longest and tallest tunnel slide and the UK's highest free-fall abseil. Certainly one of the more unique things to do in London.
26. Spot the deer in Richmond Park
There are many great parks in London to enjoy on a sunny day, but Richmond Park is the biggest and, many would say, the prettiest of them all. Opened in the 17th century as a deer park, the large green space is still as important as ever for wildlife conservation. Take a stroll or a bike ride around Richmond Park and keep an eye out for the many deer, rabbits, badgers, birds and other animal species who call the park their home.
How to do it: About 15km outside London you can either take the train from London Waterloo (Southwest trains) or catch the District Line to Richmond Tube Station. From there, you'll need to take a taxi/uber or bus. You can plan your trip here.
27. Take a hop on hop off London bus tour
There are plenty of tours you can take in the capital, from free walking tours to themed tours, but for those who want a little more independence when exploring London, the hop-on hop off London bus is a great way to see the city. Jump on and off at stops all across the capital then enjoy sitting on the open-top bus to see the sites of London as you go.
How to do it: You can book tickets for the London hop-on hop-off sightseeing bus here. This is one of the first things I do in most new cities to understand the layout, get an overview of the top attractions and often your ticket comes with a reduced entry for some sights.
Prefer being on the water? You can also take a hop-on hop-off sightseeing cruise along the Thames.
28. Have a photoshoot inside the Lego Store
Leicester Square in London's West End is home to a number of large flagship stores which are a must-visit in London, including the Lego Store.
The Lego Store is a two-storey Heaven of lego. Not only will you find more Lego sets than you can imagine, there is a full-sized Lego London tube carriage you can sit inside for photos, large Lego sculptures of the Queen and William Shakespeare, and an impressive two-storey tall Lego Big Ben.
How to do it: You can find out more about visiting the Lego Store here.
29. Buy personalised sweets at M&M World
Opposite the Lego Store in Leicester Square is M&M world London – the world's largest sweet shop. Spread over 4 floors, the colourful store includes life-sized sculptures of the brand's famous characters, the world's biggest chocolate wall and even a photo booth where you can get your photo printed onto M&Ms. Oh, and you can buy every imaginable type of M&M too.
30. Be immersed in the city's dark past at the London Dungeons
Take a step back in time to some of the capital's most gory and frightening historical events in the immersive world of the London Dungeons, with live actors, special effects and plenty of dark humour. This scary London attraction is only for the particularly brave.
How to do it: You can book tickets to the London Dungeon's here.
Want to have a beer in an old debtor's prison cell, you can do that in one of my favourite pubs in South Bank. Find out more in my South Bank post here.
---
10 Best Museums to Visit in London
Natural History Museum in South Kensington
Did you know, the majority of London museums don't charging an admission fee, making a trip to the museum one of the top free things to do in London. Here's 10 of the best museums to visit in London.
31. British Museum
Founded in 1753, the British Museum was the first national museum in the world to cover all fields of human knowledge. To this day, it is still one of the most popular museums in London, with a permanent collection of over eight million artefacts spanning two million years of human history, art and culture. Personally, one of my favourite things about the British Museum is that it's centred around the largest and most visually appealing covered public square in Europe.
32. Natural History Museum
Going for a day out in South Kensington is, without doubt, one of the top things to do in London for museum lovers, with the area being home to three of London's best museums.
The first of these is the Natural History Museum which is dedicated to the study of life and earth science. The museum's two main highlights have to be its impressive interior and exterior architecture which have become somewhat symbolic of London, as well as the dinosaur exhibition with a huge animatronic T-Rex which both kids and adults can't help but love.
How to do it: You can find out more about how to visit the Natural History Museum here.
33. Science Museum
The second of South Kensington's free museums is the Science Museum, which explores various aspects of science and human achievement and has many interesting items in its collection including the Apollo 10 command capsule.
How to do it: You can find out more about how to visit the Science Museum here.
34. V&A Museum
Lastly in South Kensington is the V&A (Victoria and Albert) museum which is the world's leading museum of art and design and is one of the largest art museums in the world.
How to do it: You can find out more about how to visit the V&A Museum here.
35. TATE Modern
Located on the south bank of the River Thames inside the former Bankside Power Station is the TATE Modern, Britain's national gallery of international modern and contemporary art, with works from artists such as Picasso, DalÍ­ and Warhol. Plus, the museums 10th-floor viewing platform is worth the visit alone, with panoramic views over the city and Thames River.
How to do it: You can find out more about how to visit the TATE Modern here.
36. TATE Britain
Another member of the British TATE group is the TATE Britain down in Pimlico. Older than its larger brother, TATE Modern, the TATE Britain is dedicated specifically to historical and contemporary British art.
How to do it: You can find out more about how to visit TATE Britain here.
Tip for visiting London's museums: most will have a 'what's on' guide that features the highlights/most famous pieces on display. It's an efficient way of fitting several museum visits into one trip.
37. Museum of London
The Museum of London is one of the only museums in the capital dedicated solely to the city itself. The museum has nine galleries documenting the history of London from prehistoric times to the modern-day, with stories from many previous residents from across the years.
How to do it: You can find out more about how to visit the Museum of London here.
38. London Transport Museum
One of the few museums in London you do have to pay for, the London Transport Museum is still one of the coolest museums in the capital and certainly worth visiting if you don't mind paying the admission fee. Tucked away in the corner of Covent Garden, the fascinating museum explores the strong link between the growth of public transport and the growth of London over the last 200 years.
How to do it: You can find out more about how to visit the London Transport Museum here.
The National Gallery in Trafalgar Square London
39. National Gallery
The impressive National Gallery building sits on the edge of Trafalgar Square and is one of the UK's most important art galleries, with thousands of works dating from the mid-13th century to 1900. A must-visit in central London, even just for a quick browse of the most iconic pieces from the likes of Monet and Van Gogh.
How to do it: You can find out more about how to visit the National Gallery here.
40. British Library
The British Library is the largest national library in the world, with millions of items in its collection. What's even cooler is that the library has its own public gallery where visitors can view some of its most significant items, including the Magna Carta, original writings from both Charles Dickens, The Beatles, Shakespeare and plenty more.
If you're close to the British Library, there is lots to do nearby like visit Charles Dickens' home. Find out more in my post about Things To Do Near Kings Cross.
---
10 Best Markets to Visit in London
Camden Market
Another of the best free things to do in London is to take a stroll around the city's many markets. Well, they're free until you start treating yourself to food, clothes, gifts and just about everything else you lay eyes on. Just double check opening days and hours before you visit.
41. Borough Market
Borough Market is one of the capital's largest and oldest food markets and definitely one of the best places to visit in London for foodies. Traders sell everything from fresh local produce to international artisan goods such as cheeses, pastries, preserves, wines and more. Plus there are also plenty of stalls on-site serving delicious international street food, making Borough Market one of the best places in London to grab a tasty lunch on the go.
How to do it: Find out what's on at Borough Market and how to visit here. Do be aware that Borough Market is closed on Sundays.
42. Maltby Street Market
Located just around the corner from larger and better known Borough Market, Maltby Street is another great international street food market hidden underneath 19th-century railway arches and a particular favourite with London locals. Unlike most of the other top markets in London, Maltby Street is only open on weekends.
How to do it: Find out what's on at Maltby Street Market and how to visit here.
43. Camden Market
While often referred to as just one singular entity, north London's popular Camden Market is actually made up of several different markets.
How to do it:
44. Spitalfields Market
The large Spitalfields Market is comprised of two main sections; Old Spitalfields Market, a quirky covered market with plenty of fashion and food traders housed inside one of the best surviving Victorian Market Halls in the capital, and Spitalfield's Traders Market, which homes a range of independent traders selling unique, artisan and hand-crafted goods.
How to do it: Find out what's on at Old Spitalfields Old Market here and Spitalfield's Traders Market here.
45. Columbia Road Flower Market
Certainly one of the prettiest places to visit in London, Columbia Road Flower Market is a beautiful street market in Bethnal Green every Sunday which sells colourful flowers and a whole array of plants and greenery for your home and garden. Columbia Road is the biggest and best flower market London has to offer.
How to do it: Find out how to visit Colombia Road Flower Market here. Remember: it's only open on Sundays, which can make it pretty hectic in good weather. Turn up towards closing time (1:30-2pm) to grab a bargain.
46. Portobello Road Market
An antique store in Portobello Road Market
Located on a colourful and picturesque street in Notting Hill, an area of London made famous by the film with the same name, you'll find Portobello Road Market. As the world's largest antiques market, you're almost guaranteed to find some hidden treasures in the numerous shops and stalls. Even if you're not into antique hunting, the market has plenty of bric-a-brac, clothing and food stalls as well.
And while you're in Portobello Road, why not learn how to make you very own brand of gin at the Portobello Star Pub's Ginstitute.You can read about my gin tasting and making experience. 
And seeing as we're on the topic of gin, why not take a day trip out to the Bombay Sapphire Gin Distillery find out how to visit in my post. 
47. Greenwich Market
London's only historic market set in a World Heritage Site, Greenwich Market is a lovely little spot to grab lunch to go or shop for antiques and artisanal goods from local traders while on a day out in the beautiful and historic south-eastern neighbourhood of Greenwich.
How to do it: You can plan your visit to Greenwich Market here. 
48. Truman's Markets
The Old Trueman Brewery on Brick Lane in East London is home to a number of small markets, some of which are permanent and other of which change throughout the week, month and year. From the vintage clothes of Brick Lane Market and unusual accessories of Backyard Market to the tasty street food at Ely's Yard, there's plenty going on at Truman's Markets at all times.
How to do it: You can plan your visit to Truman's Market here.
49. Broadway Market
Broadway Market is a busy outdoor Victorian street market which takes place every Saturday in Hackney in North London. The market traders at this popular local hot spot sell everything from groceries and street food to homeware and planets.
How to do it: You can plan your visit to Broadway Market here. Why not do as the locals – grab some street food, pop into one of the small grocery shops for a can of gin and tonic (yes it's a thing) and have an impromptu picnic is nearby London Fields park.
50. Covent Garden Markets
While Covent Garden often appears on lists of the top things to do in London, the Covent Garden Markets are rarely mentioned, which is odd given the area's history as a market. Covent Garden was home to a world-famous fruit and veg market until 1974 when it was relocated to Nine Elms after growing too large. However, two small markets do remain in Covent Garden still; the central Apple Market, filled with handmade goods, arts and crafts, and the Jubilee Market, with all sorts of bits and bobs from tourist souvenirs to clothing and more. There's also East Colonnade Market.
How to do it: Head to Covent Garden and keep an eye out for both Apple and Jubilee Markets.
---
Best London Tours
A bit overwhelmed by all of the above? Why not start off with a short tour to introduce you to some of the city. Here are a few London Tours to get you started:
London's Palaces and Parliament Walking Tour

– a walking tour through Westminster taking in sites including Buckingham Palace, Westminster Abbey, the House of Parliament and plenty more.

Morning Bike Tour

– cycle around central London and see the city's top sites with an experienced guide.

Old City Walking Tour – wander around the historic city of London and see important London landmarks such as St. Paul's Cathedral and the Tower of London while hearing stories of the the blitz, great fire, plague and more.
So, that's my guide to the 50 best things to do in London. If you've got any questions, or suggested things to add to the list, let me know in the comments below.
Related Articles:
Like this guide to the best things to do in London, share it on Pinterest…