I don't know about you, but if I stumbled upon an island where the beach was scattered with bones, I'd be doing an about turn, pronto. But it was 16th not the 21st century and Ponce de Leon was more brave (or foolish?) than I am. And thus Key West was discovered*. (* I'm not a big fan of this idea of islands being 'discovered' when there are already natives going about their daily lives, but it's the word that's most commonly thrown around so I'll rudely throw it around too).
The bones on the beach are relevant because that's how Key West got its name – Cayo Oueso is Spanish for 'bone island' and over time the pronunciation has been bludgeoned into its present day Key West. (Still fixed on the scattered bones thing? Don't worry – it was the native burial ritual, leaving the dead on the beach and in the hands of nature; there wasn't some Netflix-worthy massacre). The bones are long buried but I'm sharing this piece of history so you can realise that Key West is much more than a party island. Key West's history is filled with pirates, shipwrecks, and rum runners. It's no wonder it has attracted so many creative people over the years (most famously, Earnest Hemingway).
I've just completed my 4th visit to Key West and, although I've spent my fair share of time in the bars on famous Duval Street, I've dug deeper and uncovered many of the small but otherwise-fascinatingly-formed sights. What follows is my guide to the 75 best things to do in Key West. It's unlikely you'll fit them all into one trip so mix and match according to the kind of trip you want. Or just slate in several return visits. Key West deserves it.
75 Best Things To Do in Key West
I've put this list of what to do in Key West into some sort of order with tips for getting around Key West, Key West's most southern everything, free things to do in Key West, my favourite cultural things to do on the island, some water-based activities, where to eat in Key West and the best places to stay in Key West (IMO). I have a whole smattering of the best bars in Key West as well as (IMO) the best place for key lime pie in Key West. Enjoy.
Getting around Key West
It's barely 5 square miles (20 square km) and most of the sights are conveniently located around Key West's old town but there are still several ways to explore the island. Start with a…
1. Drive down Highway 1 with the wind in your hair
You can get to Key West by plane, boat or shuttle but by far the best way is to drive down Highway 1. Ideally in a cabriolet/convertible. I highly recommend a Mustang. Yes, your car choice screams 'tourist' but so what – you're are on vacation, right? If you are making a list of what to do in Key West, start the list right with a stylish arrival.
How to do it: I have a whole post dedicated to the 21 Best Things To Do in The Florida Keys.
For car hire, I usually rent from Sixt from Miami airport. Good prices, nice staff and they've never tried to tag on any unnecessary insurance extras or found scratches that didn't exist (or did exist, eek) when I returned the car.
Key West Travel Tip: You don't really need a car in Key West if you're staying in the old town but if you do have one, there is plenty of free parking – just stick to the marked bays and avoid the ones with 'residents' written on them.
Heading to Miami? Here's my list of 40 Cheap Things To Do in Miami
2. Take the Key West Old Town Trolley
The Key West Old Town trolley is my favourite thing to recommend for first timers in Key West and is the closest thing you're going to get to a hop-on hop-off in Key West. In under two hours you'll be given a complete tour of the island together with plenty of hop-on-hop-off opportunities. It's the ideal way to get oriented and decide what you want to see during your time on the island. You'll get a bunch of history as well as plenty of bar and restaurant recommendations.
How to do it: You can find out more and book tickets here – Get Your Guide (my favourite tour booking site) or Viator.
Key West Travel Tip: Includes free entry to the Sails and Rails Museum and the Hemingway Rum Distillery.
2. Take the Conch Train Tour
You're unlikely to want to do the Trolley and the train in the same trip and by all objective measures the trolley is better (more stops, more information, more discounts) but I LOVE the train. It's cute and playful and ideal if you don't have much time. My friend told me trains were for kids so I waited until I visited the Keys with my dad when technically (at 43 years old) I was a kid.
How to do it: You can book tickets here on Get Your Guide or here on Viator.
4. Take the free Duval Loop
Not much for walking? Take the free Duval loop. It does a small but useful loop around the streets that parallel Duval Street and is a good, free way of orienting yourself.
How to do it: You can find out more about the Duval Loop here.
5. Get around Key West by golf buggy
Not wanting to give up your precious free-parking spot or arrived by air? There is probably nothing more 'Key West' than zipping around by golf buggy. Don't worry, the drivers are very chilled out and you're unlikely to get beeped let alone squashed by a larger vehicle.
How to do it: You can find out about buggy rentals here. Or just book when you get there.
Southernmost Key West
6. Rise early for a picture at the Southernmost Point Key West
It's hard to tell whether there are more 'Hemingway was here' or 'Southernmost bakery/hotel/gift shop' signs in Key West but either way you'll quickly come to know that Key West is the southernmost point of the USA. And there's a big buoy to prove it. This will no doubt be on every list of what to do in Key West.
How to do it: if you want a picture next to the buoy or a picture without anyone else next to the buoy, you either have to get up hellishly early (like I did), or stand in a photo line for 20 minutes (I refused to), or visit back in 2010 when the photo line wasn't a thing. I do accept that this last option might be a touch difficult.
If you want to take a walking tour of Key West that includes the Southernmost Point, you can book here.
7. Stay at the Southernmost House
If you're loving the southernmost groove and are looking for places to stay in Key West, go all in and stay at the Southernmost House. I've not stayed here but it looks very cute. If you don't fancy staying here, it's a good alternative photo spot if the buoy is overrun with people.
How to do it: You can check prices and reviews of the Southernmost hotel here.
8. Check out (but don't steal) the Mile 0 Sign
Reputed to be the most stolen sign in Key West, the Mile 0 marker sign marks the end of Highway 1 and tops all the lists for iconic Key West things to do. And, yes, you guessed it, it's the end of the Southernmost highway in the USA. It's also believed to be the most photographed road sign in the US so you can do that instead of trying to pry it off its post.
How to do it: you'll find the marker on 501 Whitehead street.
9. Go Cuban at Cuban Coffee Queen
Not only is Key West the southernmost point of the USA, it's only 90 miles away from Cuba. In fact, stood at the southernmost point, you're closer to Cuba than mainland USA. And don't you know it. Cuban cigars, Cuban sandwiches, Cuban rum and Cuban music, it's sometimes hard to imagine you're not in Cuba – and that's not something to complain about. My favourite Cuban activity is sucking down as many Cuban coffees as I can lay my mitts on.
How to do it: Cuban Coffee Queen is by far the best Cuban coffee you'll get in Key West. And I'm not prepared to get into a fight about it 🙂 Order a cafe con leche to get the authentic taste. You can check the locations here.
10. Try Cuban cuisine (but don't blame me)
Whether it's the famous Cuban sandwich or a take on the chicken, rice and beans dish that's endemic in Cuba, it's worth giving Cuban food a go. Personally, having spent over a month in Cuba across two trips, I can firmly say I'm not a fan of Cuban cuisine but don't let me sway you.
How to do it: I don't have any recommendations for you except that if you're curious but don't want to waste a whole meal, try the Cuban sandwich (shared with a friend?) at Cuban Coffee Queen.
Related posts: You can check out the posts I wrote about my trips to Cuba here.
Free Cultural Things To Do In Key West
One of the things I love about Key West is the cultural buildings littered about the island. Without spending a cent, it's easy to spend a day wandering around old town Key West, taking pictures of one historic building, famous location or Key West sight after another. Here are my favourites.
11. Visit the Oldest House in Key West
While there is a fee if you want to go inside, for many people, a picture of the front of Key West's oldest house is enough.
How to do it: You'll find Key West's Oldest House on 322 Duval Street. You can find out more, including tours of the house here.
12. Take the Key West Historic Seaport Walk
I love talking a stroll along Key West's historic seaport. With a meandering boardwalk to follow, it's a great spot for watching the fishing boats come in. There's always pelicans hanging around, hoping to score a bite and the area is full of waterside bars and restaurants. It's perfect at sunset and is lit up at night. If you're sick of Duval Street but want an area with a bit of buzz, this is the place to be.
How to do it: You can find out more about what's there and what's on here.
Key West Travel Tip: Don't miss the Western Union Schooner – the official flagship of Florida, which is berthed right here at the seaport.
13. Explore the Key West Cemetery
Not your average cemetery, the Key West Cemetery is unusual in a few respects. First, it's above ground (lesson learned after a hurricane washed all of the bodies out of their graves). Second, it's full of gravestones that feature cracking one-liners and creative shapes (conch shell, anyone?). My favourite is the gravestone that says: 'I told you I was sick'. Oh, and there are some locally famous people buried there, too, like Sloppy Joe. There's even tales of grave robbing (bodies, not just things).
How to do it: Find out more about the cemetery in this article by Atlas Obscura.
Want to do something fun? Try this scavenger hunt that will take you through the cemetery.
14. Check out the Kapok tree at the Monroe County Courthouse
As well as being a book nerd, I'm also a reformed lawyer, so courthouses hold particular interest for me. For most visitors to Key West, it's not the courthouse building (pretty as it is) that is photo worthy, but the gigantic kapok tree that sits outside.
How to do it: You'll find the kapok tree on Fleming Street, a short walk from popular Mallory Square (more on that below). I recommend taking a picture of yourself in front of the tree to give some perspective.
Travel Life tip: don't do anything that will make you see the inside of the courthouse. Reference above: don't steal 'mile 0 sign'.
15. See the Birthplace of PanAm
Once upon a time, Pan Am was the USA's largest airline and it's first office was in Key West. An understated building on a quiet street, you could walk by if you were not looking for it. In 1927 the first Pan Am flight flew from Key West to Cuba (back when that was possible). Today, you probably won't be surprised to hear that the building is a microbrewery.
How to do it: Take a picture of the sign out front or stop in for a beer. More details here.
16. Wander the art galleries
If there's one thing Key West is not short on, it's creativity so it's no surprise the island has myriad art galleries to explore. From big names like Peter Lik, with his photography gallery on Duval Street to the smaller, local art galleries on the side-streets, it's easy to get a free-slice of artistic life without paying a single museum fee.
How to do it: You can find a list of the top Key West art galleries here.
17. Pay Your Respects at the Key West AIDS memorial
Etched on Zimbabwe granite, the Key West AIDS memorial is a tribute to the people who have died of AIDS who lived in and loved the Florida Keys. Each year there is a commemorative ceremony and candlelit march.
How to do it: You can find out more on the official website here.
18. Count the Key West roosters
Key West's Roosters are so famous they've made it onto t-shirts. The locals have a love-hate relationship with them but either way, being federally protected (it'll cost you $500 if you kill one) they're here to stay.
Key West Travel Tip: while we're on the subject of things not to do in Key West, don't go collecting conch on the beach. It's illegal to take a live Queen conch shell and this woman, who collected 40, ended up in the clink. I've been in the Clink myself before, but that was for a different reason.
19. See the sunset from Mallory Square
Look inland and you have street performers and musicians plucking out a tune, but the real highlight of Mallory Square is the sunset.
How to do it: You could park yourself in one of the many sunset bars (but get there early). Otherwise, pull up a pew on the conveniently located wall and watch the sun set over the most southern island in the USA.
20. People Watch on Duval Street
I've got more on Duval Street below but if the nightlife or bar hopping isn't your thing, at least take a stroll down this crazy street – it really is a must do in Key West. The first time I stepped onto Duval, I saw a woman in drunk tears accusing her husband that he didn't love her because he wouldn't buy her a slice of pizza. The guy shrugged and handed her a rapidly purchased slice. It was 11 a.m.
How to do it: I don't think this one needs instruction? The best thing I can compare Duval Street to is Bourbon Street in New Orleans. You can check out my post about New Orleans here.
Museums And Cultural Things to Do in Key West
The best way to describe Key West's museum and cultural scene is small but perfectly formed. Most museums can be visited within an hour which mean you can jam a few into one day. If you do plan to see a few, buy the Trolley Ticket – it allows you to graft on packages to your base price, giving you discounts of other Key West tours and museums on the island.
21. Hit up Hemingway House
You're going to hear a lot about Earnest Hemingway in Key West considering he lived there for 8 years so you may as well visit his home. I'm a book nerd so visiting Hemingway House Key West was right up my street. Even if you're more of a Netflix kind of person, it's still worth a visit just to see the urinal-turned-water feature and the six-toed cats. Yes, both of these things are real.
How to do it: You can find out more and book tickets here. Want to read some Hemingway to get you in the mood, click here.
22. Climb the Key West Lighthouse
It wasn't until my 4th visit to Key West that I organised myself to climb up the lighthouse. Honestly, the view from the top rubbed a bit of shine off my notion that Key West is a cutesy town. From the top, you see the island sprawl and it isn't that pretty. However, it's still worth a visit. Key West and the surrounding islands are so low lying, they were hazardous for ships so the lighthouse was vital to the island for many years. Stop into the keepers house for more information on what lighthouse life was like.
How to do it: You can find out details here. The climb is up 88 stairs and gives you a 6 mile view. And no, you can't see Cuba from the top.
Interesting fact: The Key West lighthouse is a bit unique as it's not on the coast. The original lighthouse was wiped out in a hurricane so the replacement was built further inland.
23. Visit Custom House for an overview of Key West
If you visit just one museum after Hemingway House, make it Custom House. For me, a museum nerd, this was one of the best things to do in Key West. With exhibitions covering the ship wrecks, pirates, the Civil War, treasure hunting and the art and literary scene, you'll get the best overview of the threads of Key West life over the ages.
How to do it: You can find out more on the Custom House website here.
24. See 50o Years of History at the Sails to Rails Museum
If you want an insight into how unique Key West is, visit the Sails to Rails museum. There are two themes – 500 years of maritime history including big sail boats but also Henry Flagler's epic building of the overseas highway which connected Florida with Key West by train. At one point, it was possible to book a ticket all the way from New York to Cuba via a combo of the train and ferry. Sadly, a hurricane hit the rail bridge and it was never rebuilt – you will drive past it on the way down to the Keys so keep an eye out.
How to do it: You can find out more about the Sails to Rails Museum here. This museum is included with your Trolley ticket.
25. Learn about treasure hunting at the Mel Fisher maritime museum
All I need to say is that Mel Hunter, after a lifetime of searching, struck gold (literally) when he and his treasure hunting team recovered nearly half a billion (yes, billion) dollar's worth of sunken treasure when they finally found the Spanish Galleon Atocha. Laden with gold, silver and emeralds, it's an amazing story that's well captured in this museum. Got some gold burning a hole in your pocket? There's a store where you can buy some of the recovered treasure.
How to do it: You can find out more here.
26. Visit the Truman Little White House
I was museum-ed out by the time I got to the Truman Little White House and the scheduled tour had just left so I ended up skipping this. However, it looked impressive. It's still in active use and has seen lots of presidents (USA and overseas) visit. Make sure you check the schedule before you go to see the tour times.
How to do it: You can find out more here.
27. Tennessee Williams Museum
After missing the Little White House tour, I trotted over to the Tennessee Williams Museum and was delighted with this one-room whirlwind introduction to the life of the man who wrote so many famous screenplays (A Streetcar Named Desire is probably the work you're most familiar with). It's probably not the most famous of the things to do in Key West but it ended up being one of my favourites.
How to do it: Check out the official website here. If you visit here and Custom House museum, you get a discount.
28. Take a ghost tour
Death, disease and hurricanes litter the history books of this tiny island so it's no surprise that ghost hunters abound in Key West and taking a shot tour is one of the top Key West attractions. Looking to save my liver from another night on Duval Street, I decided to book a ghost tour. In fact, I've tried two ghost tours on the island (two visits with two people) and here are the tours I tried and would recommend:
How to do it:
Ghost and Gravestones – if you're not in the slightest bit a believer, this is the tour for you. It's a fun history of the macabre side of Key West that involves stories of stolen corpses and haunted dolls. A visit to the Shipwreck Museum and East Martello Museum to visit Robert the Doll are included. You get driven round in a open sided vehicle which allows drunk people to heckle you. Heckle back. You can book here (Get Your Guide) or here (Viator).
Key West Ghosts and Mysteries Tour– this is a walking tour and quite a bit more serious. Probably too serious for me but if you're a believer and want to visit purportedly haunted spots and maybe get a picture of a ghost in action, this is the tour for you. You can book here.
There is also a haunted pub-craw which you can book on Viator or Get Your Guide.
29. See Robert the Doll at East Martello museum
I may not be a believer but I also don't want to tempt fate – legend has it that Key West contains a haunted doll (a little like the Annabelle doll story). In fact, the Chucky movies are believed to be based on the doll that now lives in a glass case at the East Martello Museum. If you believe the stories, don't take a picture without requesting permission (don't even google Robert, for that matter). It's up to you. I took a respectful, squinted look out of one eye. No pictures. Just in case. You know.
How to do it: unless you have a car with you, the museum is a bit tough to get to but is included on the Ghost and Gravestones Tour. You can find out more here.
30. Shipwreck museum
The Shipwreck museum tells you the history of wreckers on the island since the 1800s and I accidentally visited twice. The first time because the wooden building screamed 'pirates, ahoy' and the second time at night because it was included in my the Ghost and Gravestones tour. The day visit was great for views from the shipwrecking platform (where lookouts would scan the horizon for wrecked ships they could loot). The night tour was good for being a bit spooky. What I did find out (2nd visit) is that the silver I tried to pick up (1st visit) was apparently cursed. A few weeks later, I got dengue fever. Coincidence?
How to do it: You can find out more here.
Key West Travel tip: This is one of the best things to do in Key West with kids. Ask my dad, he took me and it keep me quiet for a good hour.
Water Based Things to Do in Key West
One thing that surprises a lot of visitors to Key West is the absence of beautiful beaches. Most of them are man-made but that's not to say you can't enjoy Key West's Caribbean vibes. You just need to go offshore on a day trip. Here's some of the best options.
31. Day trip to the Dry Tortugas
I've tried and failed to do this many times because I'm not good at booking ahead and the ferry that goes out to the Dry Tortugas is popular. However, if you are planning ahead and booking some Key West excursions, put this at the top of your list. You get a full day of adventuring with a visit to Fort Zachary as well as time to snorkel.
How to do it: You can book a trip to the Dry Tortugas Key West here.
32. Go on a snorkelling trip
Is there anything better than being face down in aqua coloured waters? What Key West lacks in golden sands, it makes up for with beautiful waters so go ahead and book some water-based Key West activities.
How to do it: You can book Key West snorkelling tours here:
Key West Double Dip: 2-Stop Reef Snorkeling Trip
Key West Florida Reef Half-Day Snorkeling Excursion
Half-Day Cruise with Kayaking and Snorkeling
33. Take a Tiki Hut sunset cruise
'We're going on a tiki hut sunset cruise,' the couple explained to me and it took a minute (and further questions) for me to connect the dots. Sure, I knew what a tiki hut was. And I'd been on many sunset cruises. But a tiki hut that floats and does a sunset cruise? That was definitely new to me. And, it's possible in Key West. I have yet to try it but it looks amazing and surely has to be one of the most fun things to do in Key West?
How to do it: You can book tickets here.
34. Explore the Key West beaches
If you do want to have a beach day in Key West and have set your expectations (no reams of golden sands), there are a few Key West beaches to chose from.
How to do it: The best beach in Key West depends what you're after. Siminton beach is the closest beach to old town Key West and is walkable. Otherwise check out Higgs Beach or Smathers Beach. Fort Zachery beach is great for a combination of history, walking trails and a great sunset beach spot. Find out more here.
35. Go fishing in Key West
A wander around the restaurants in Key West will tell you that fish is bountiful in these 'ere parts. Best (financially) if there are a group of you – charter a boat and go fishing for the day. Your skipper will likely cleave up anything you catch and they'll have connections with the local restaurants to cook what you bring back.
How to do it: You can book a fishing excursion here (this is a brilliant price if you ask me) or just wander down by the docks and negotiate a price.
What and Where to Eat in Key West
If there's one thing I've done a lot of in Key West, it's eat. From conch fritters to Key Lime pie to an abundance of fresh seafood and fish, here's a list of some of my favourite places to eat as well as a few recommendations from other people. In no particular order…
36. La Grignotte for breakfast
A great choice of carb-loading but also healthy breakfasts with coffee aplenty and fresh juices, it's a good way to fortify yourself for the day.
Find out more: La Grignotte website.
37. Kermits for key lime pies
I've tried several key lime pies and Kermits is my stand-out winner. If you want to try an alternative, my runner up is: Key Lime Pie Bakery. To mix it up, try key lime pie, frozen and dipped in chocolate – available from Sugars. Find out more: Kermits Website.
38. Mallory Square for street food snacks
Grab a box of something deep fried (conch fritters?), pour a beer into a plastic cup and go and see the sunset while you sip and feast. Find out more: Mallory Square website.
39. Pepe's Cafe for the specials and dining with locals
Dine at the bar. Chat with the locals. Eat the specials (they know what sells and they sell it cheap). Pepe's is an authentic Key West eatery. They've been serving since 1909; the year, not the time. However, turn up at 9 a.m. and the liquor bar is doing business like it's 5 minutes from closing. Find out more: Pepe's Cafe Website.
40. Harpoon Harry's for diner dining
Round the corner from Pepe's is Harpoon Harry's, another local haunt. You might not get the best quality food but it's ultra cheap and offers a proper 1950s diner experience with booths and bar dining to boot. Very friendly staff. Find out more: Harpoon Harry's Website.
41. Half Shell Raw Bar for catch of the day
The fish here is so fresh even the pigeons hang around hoping to catch a bite (the wait staff spend half their time chasing them away). I tried the hogfish and it was perfectly cooked. Don't worry if you see dolphin on the menu, it's what they call mahi mahi in Key West. Find out more: Half Shell Raw Bar Website.
42. Commodore Waterfront for happy hour bites
A real insider tip for Key West is to dine near the historic waterfront during happy hour (usually around 4 p.m. to 6 p.m.) when you'll get 50% off a good range of small plates. I had a 1/2 lb of peel and eat shrimp plus lobster bisque for $12. It's a great, cheap way to get a seafood or oyster fix. I chose Commodore because it was a large place and could seat me (happy hour is popular) but all the waterfront eateries have an offer on. Find out more: Commodore Waterfront Website.
I tried to eat at Turtle Krawl but they didn't like that I was a solo diner and would only give me a spot in the back despite having lots of sea view seats available. Boo. Hiss. I took my business elsewhere.
If you want tips for eating out as a solo diner, see my guide here.
43. Sloppy Joe's tap room for a chilled bite with beer
Want a bite without the frenetic noise of Duval Street? Pop into Sloppy Joe's Tap Room. Same great beer and service but in a slightly more sophisticated surrounding just off Duval Street. Find out more: Sloppy Joe's Website.
44. Alonzo's Oyster Bar for oysters (and lobster roll)
I've swerved oysters since I got food poisoning that time in Loch Fyne in Scotland but they looked good and if my lobster roll was anything to go by, Alonzos is a good oyster choice. Find out more: Alonzo's Oyster Bar Website.
45. Curry Mansion (Hard Rock) for historic house dining
I'm not going to recommend a Hard Rock Cafe very often (ever?) but you do get the chance to dine in the beautiful surrounding of the historic Curry Mansion (which is also reputed to be haunted). It's also one of the few eateries open late on Duval, without having to eat something from a street vendor. Find out more: Hard Rock Cafe Website.
46. Dirty Pig for BBQ
This place was recommended to me but I was so busy working my way through the fish and seafood menus in Key West that I didn't have time to try it. I'm including it in case you want a meat fix. Let me know if it's good. Find out more: Dirty Pig Website.
47. Fogarty's for fish tacos
Right on Duval Street with an outdoor patio, Fogarty's is a great spot for people watching while you eat. Unlike many of the bar-eateries on Duval, you get a proper seat and won't feel jostled or rushed. You're supposed to eat the tacos. I went rogue and ordered the fish plate, which was lovely. Find out more: Fogarty's Website.
48. Pinchers for cheese and crab dip
I spent a fun birthday here gorging on their famous cheese and crab dip (sounds disgusting but completely works) washed down with a couple of cold beers. They have all manner of selfish and deep-fried fishy foods but I was full just from the endless chips that flowed with the huge vat of dip. Find out more: Pinchers Website.
49. Peppers for chilli tasting
Not so much an eatery but with scores of different chilli sauces at various intensities on the scorville scale, it's a fun way to spend 15 minutes to challenge your chilli tolerance. The staff will temper the chilli to your tastebuds so don't be too scared. Find out more: Peppers Website.
50. Antonia's for Italian food
When in Rome….or Key West, and craving Italian food, go to Antonio's. I'm seriously picky about Italian cuisine (what with me running my own tour business in the Prosecco region of Italy) and this was the best Italian food I found in Key West. Find out more: Antonia's Restaurant Website.
51. Amigos Tortilla Bar for tacos
I visited this place about 10 years ago when it was newly opened and I'm pleased to see it is still going. It's no longer serving the famous square tacos, but the round ones are still pretty good. And this from the girl who has eaten her way from coast to coast in Mexico. Find out more: Amigos website.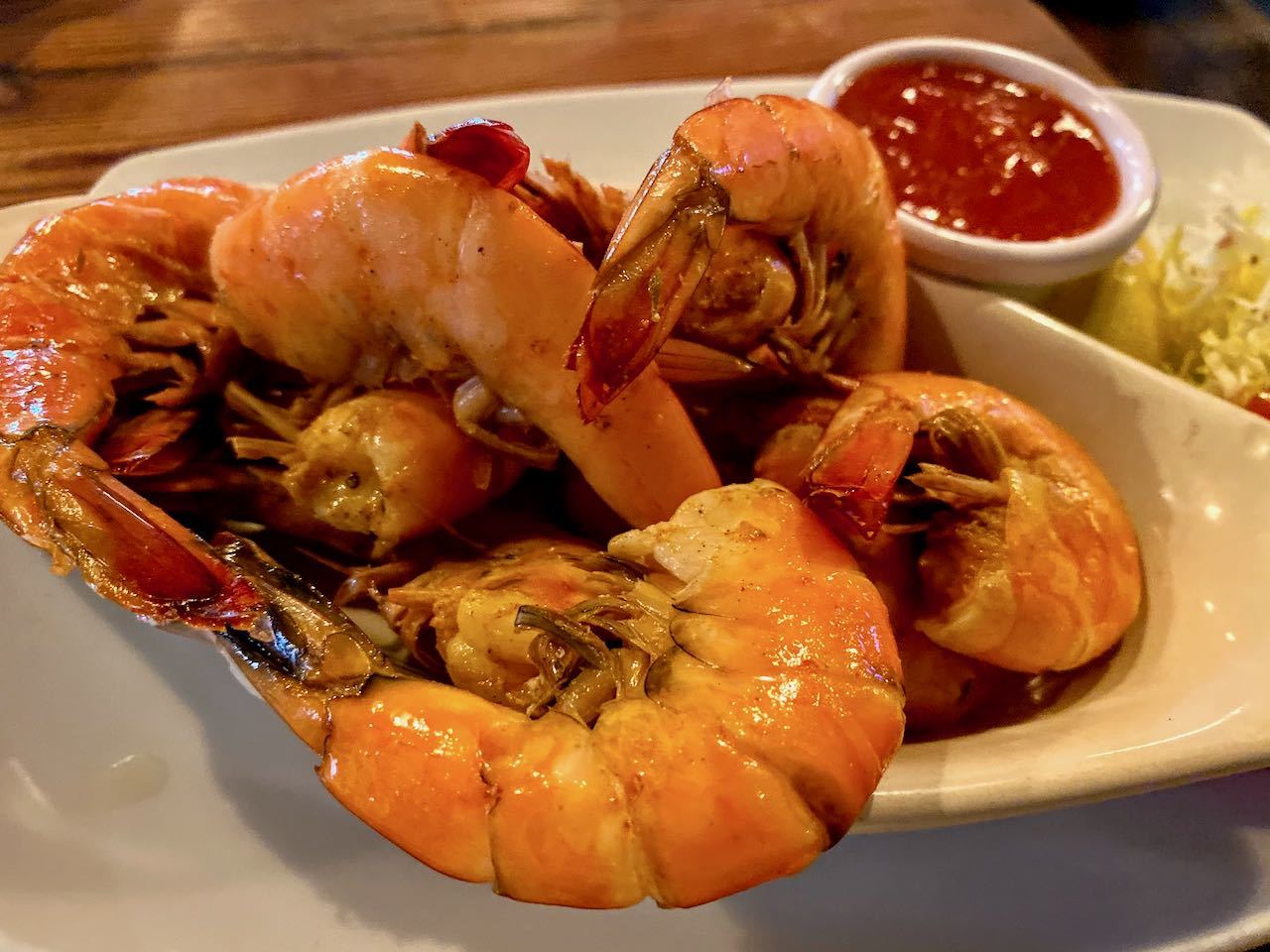 52. Salsa Loca for legit Mexican food
I wouldn't have found this place if I wasn't pretending to my dad that I totally knew where I was going. Anyway, we ended up here and dined on very authentic Mexican food at surprisingly good prices. A real find, tucked off Duval Street with very nice staff (that served us even though it was closing time).
53. Cuban Coffee Queen for Cafe Con Leche
Serving some of the best coffee in the world (IMO), Cuban Coffee Queen is a must stop in Key West. Don't be a gringo – order the cafe con leche or don't order at all. Find out more: Cuban Coffee Queen Website.
Tip: Visit the one at the end of Margaret Street and you can grab a picture in front of the Key West sign while you wait for your brew.
54. Cuban Coffee Queen for Cuban Sandwich
I'm not a fan of Cuban food (spent too much time in Cuba) but if you forced me to eat the stuff, I'd be going to Cuban Coffee Queen for a Cuban sandwich. Beyond that, I'd be heading to Calle Ocho in Miami but that's too far to drive. Find out more: Cuban Coffee Queen Website.
55. Fisherman's Cafe for lobster tacos and quick bites
If you want a quick bite, head to Fisherman's Cafe, a small hole in the wall eatery that serves up large lunch portions at good prices. I had the lobster tacos (not bad considering I don't think you should batter lobster). The food was fresh, quick and tasty. Find out more: Fisherman's Cafe Website.
56. Blackfin Bistro for fine(r) dining
Whenever someone French recommends a restaurant, I take it seriously. I didn't get around to eating here but it looked like a good spot for some fine(r) dining on Duval with a good wine list. Find out more: Blackfin Bistro Website.
57. Bagatelle for brunch
Serving brunch seven days a week and with prime people-watching on Duval, Bagatelle is so popular it won the open table Diner's Choice Award. If you can't get a spot for brunch, they have a good range of fish and meat options for dinner. Find out more: Bagatelle Website.
58. Date & Thyme Organic Cafe for nutrients
Abundant booze and bedlam can really slam your body so if you want to feed yourself some nutrients, visit Date & Thyme. They will let you off-menu order juices and smoothies (I know, I'm picky) and their sandwiches are divine (Asian tuna: recommended). Find out more: Date & Thyme Website.
59. Fausto's Food Palace for supermarket shopping
Forgotten what fruit and vegetables look like? Get to Fausto's. An upscale supermarket, you won't find much pre-prepared food but if you have access to a kitchen or just want to refamiliarise yourself with whole foods, this is the place to do it. Find out more: Fausto's Website.
60. Take a Key West food tour
I was so caught up in my own self-guided food tour that it wasn't until another tourist recommended this to me that I thought 'oh yeah, that would be a good idea'. Anyway, here are a few Key West tours focusing on food. Let me know if you try them.
Small-Group Key West Food Tasting and Cultural Walking Tour
Seafood Lover's Food Tasting and Cultural Walking Tour
Where to drink in Key West
With a history of rum running, a complete refusal to adhere to the Prohibition and attracting unquenchables like Hemingway, you shouldn't be surprised to hear that Key West has a bar or two. What follows is a mix of the most famous bars in Key West. Many of them are on or near touristy Duval Street but I've figured you're in town to see the main Key West attractions and that's what these are. In no particular order:
61. Captain Tony's Saloon for the oldest bar
We may as well start with Key West's oldest bar. If you want to sip a beer in an historic institution, get to Captain Tony's Saloon. Find out more: Captain Tony's Saloon Website.
62. Sloppy Joe's for late night dancing
Live music with great service, at Sloppy Joe's a dance floor is set up from 9:30 p.m. so those still standing can practice their dance moves. If you want to party late, you'll probably find your way here. Find out more: Sloppy Joe's Website.
Fun fact: this was a popular spot for old Hemingway (though I suspect most of the bars in Key West were).
63. Green Parrot for a local vibe
Despite being so close to Duval, Green Parrot has a more local vibe and is perfect if you want a chilled beer in a chilled atmosphere. Also, it's over 100 years old so it must be doing something good. Find out more: Green Parrot Website.
Fun fact: Green Parrot used to function as the island's morgue and was also once the ice house.
64. El Maison de Pepe for sundowners
A Mallory Square institution for drinks at sunset. There's Cuban food and therefore accompanying mojitos. Not to be confused with Pepe's Cafe, recommended above. Find out more: El Meson De Pepe's Website.
65. Hog's Breathe Saloon for outdoor drinking
You'll find live music (which you're probably coming to expect in Key West, right?) but what I like most is the ability to spill out onto the front yard area when the risk of getting someone else's elbow in your beer becomes too high. Find out more: Hog's Breath Saloon Website.
66. Bull & Whistle for a sports bar vibe
Bull & Whistle has a choice of drinking floors – stay downstairs for quick access to Duval Street or head upstairs for a sports bar feel with darts and a pool table. Just don't go too many floors up unless you intend to go al fresco…
67. The Garden of Eden for naked drinking
Yep, you read that right. Clothing optional Key West is delivered in the form of The Garden of Eden bar. It's a nudist bar at the very top of the Bull & Whistle. You can stay clothed but that does put you firmly in the category of voyeur. Be respectful: no pictures. Find out more: Garden of Eden Website.
68. Hemingway Rum Distillery for rum tasting
Not a bar as such but included with your Key West Trolley ticket or Conch Train ticket. You'll get a quick intro to rum making followed by a few tastings of the Hemingway rum brand (named in his honour not by him). Find out more: Hemingway Rum Distillery Website.
Alternative rum tasting: Key West First Legal Rum Distillery for more rum tasting. You might visit here if this distillery is included in your sightseeing ticket instead of the Hemingway or distillery. Or, if you really like rum.
69. The Smallest Bar for a cosy drink
If there's 10 of you, you'll pack the place out and only 3 of you will get a seat. It's slap-bang on Duval and worth a stop though do move on after a drink to let others give it a try. Find out more: Smallest Bar Website.
70. Jimmy Buffet's Original Margaritaville for Buffet fans
I had to Google who Jimmy Buffet was (thought it was a brand of buffet-style dining) so it's no surprise that I haven't actually visited this place. However, for Buffet fans, I believe this place is a big deal. Find out more: Jimmy Buffet's Website.
71. Waterfront Brewery for craft brew flights
Want to taste rather than throw back your beer? Pick a sea view table at the Waterfront brewery and order one of their craft beer tasting flights. Find out more: Waterfront Brewery Website.
72. Lucy's Retired Surfer's Bar for scorpion shots
Key West is full of crazy shit and this is just another activity to add to the list. You won't find me doing a shot of booze that contains a scorpion chaser but people do. I'd recommend watching some other fools do it rather than trying it yourself. Find out more: Lucy's Retired Surfers Bar Website.
73. Willy T's for a dollar bar experience
Dollar bars ply the overseas highway – bars where the walls and ceilings are adorned with dollar bills. Scrawl your name on a bill and mark your trip with a memory that will add to the look and feel of Willy T's. Find out more: Willie T's Website.
74. 801 Bourbon Bar for a drag show
I love the ladies at this bar and if you've never seen a drag show before (or have and want to go again), this is one of the most popular places to do it, right on Duval. The show happens twice a night. Get there early to enjoy happy hour and get a good seat. Find out more: 801 Bourbon Bar Website.
Alternative: La Te Da Key West also has a nightly cabaret show. This one isn't for the shy, retiring type.
75. Take a Key West pub crawl
Can't be arsed to plan your own night? Take a Key West pub crawl and let an experienced guide show you a good time. The theme seems to be a side of (other-worldly) spirits, which will add to the fun.
How to do it: You can book a haunted pub-craw on Viator or Get Your Guide.
Where to Stay in Key West
You won't be short of beautiful choices for where to stay in Key West but don't expect those beautiful choices to come cheap. I lean towards budget accommodation and even a dorm room will set you back around $60-$70 a night. For a basic apartment rental, I paid $150 a night with a friend. The best hotels in Key West are going to cost a pretty penny. The upside is that even though you pay a bit more, the quality is very good. Here are the places I have stayed and some alternatives that look good/are quirky:
NYAH Key West – short for Not Your Average Hotel, NYAH Key West has 4 pools with different temperatures, a mix of dorm and private rooms and is a very short walk to Duval. This is my go-to in Key West and as cheap hotels in Key West go, I don't think you are going to find much better.
Hyatt Centric – you can't beat this spot for a blend of location and well-know brand. If you're not a boutique hotel fan (they can be hit and miss), check in here.
Southernmost Sanctuary – I had a very enjoyable stay here (probably given I was sleeping in the double bed not on the sofa bed, which my friend graciously took). For the price, it was one of the cheaper apartment stays in Key West. Very close to Southernmost…everything.
La Concha Hotel – feeling brave? As Key West hotels go, this one promises a different experience – it's reputed to be haunted. I've not stayed here but it is very centrally located if you want the back of your neck ticked (and not by your travel mate).
Southernmost House – this one wins for location and claim to fame. If you stay here, let me know what it's like. It's always been out of my price range.
Key West Travel Information
How to get to Key West
By car – I always rent from Miami airport with Sixt. Great prices. No hassle. Easy pick-up and return.
Shuttle service from Miami to Key West – if you don't plan on exploring the rest of the Keys, you don't really need a car. There are several shuttle options. I've tried a couple and, to be honest, they all come with various (service-based) complaints. Also, prices bounce around a bit. For that reason, I'd recommend you read the reviews and see what's coming out top when you book.
Fly – Key West has an airport (Key West International airport, to be precise) if you're flying from within the USA. Key West airport is 3 miles from Duval Street. You can search for flights here.
Greyhound Bus – if you really want to shoestring it, the Greyhound bus is the cheapest option. The only downside is it drops you at the airport so what you save in bus fare you might end up spending on a taxi into the old town.
Best Time To Visit Key West
It may look like a year-round destination thanks to the location edging the Caribbean but Key West weather is more tricky than that. Not only does it get hit by hurricanes, it isn't all that warm in winter. If you can, avoid June to October (with the September being the most risky for hurricane).
December to February can be a bit chilly – I was most recently there in January and there were grey skies, smatterings of rain and a breeze strong enough to need a jumper.
The best time to visit is between March and May. October and November are also decent enough shoulder season months.
So, that's my guide to 75 Things To Do In Key West. Got any questions or anything to add? Let me know in the comments below.
Want more? Here are some of my popular posts if you're planning a trip to the USA
21 Best Things To Do In New Orleans
40 Cheap Things To Do In Miami
21 Best Things To Do In Florida Keys
Best Things To Do In The Everglades
3 Days in San Diego – What To See and Do
3 Days in Washington DC – What To See and Do
How To Spend One Day At The Grand Canyon
What and Where To Eat in New Orleans
How To Visit The Statue of Liberty – Ultimate Guide
From Buffalo to Niagara Falls for Only $5
How To Visit Pearl Harbour for only $5
Which Hawaiian Island To Visit
What To Do In Detroit – The City's Pretty Parts
Where Is The Best Chicago Deep Dish in Chicago?
Blog posts to help you plan your trip
The Only Packing List You'll Ever Need (with printable checklist)
15 Long Haul Flight Essentials: What to Take Onboard
Travel Insurance: Don't get Screwed by the Small Print
Like this list of 75 Things To Do In Key West? Share it on Pinterest…