Why Kauai? In short, adrenaline…and peace in equal proportions. Whilst it may be known as the Garden Island, Kauai is like no garden I've ever visited in my native England. The island may be a 5 million year old dormant volcano (what?) but its unique and diverse topography will find you scrabbling for your hiking boots, snorkelling mask or kayak paddle all in the same breath. If you're less keen on activity, you can still take a boat, helicopter or car to explore things more leisurely.
In this guide I will share with you the best things to do in Kauai. Want to understand more about the islands, check out my Guide to The Hawaiian Islands – Maps, Names & Facts.
1. See the staggering Napali Coast
I conquered my cliff-edge fear to take in the sight of the Napali coast and I don't regret it. This 17-mile stretch of green-cloaked cliffs and inversely dramatic valleys is one of the most photographed sights in the whole of Hawaii. Only the toughest trekkers tackle the entire trail but sea-level sailings at sunset are a popular alternative. I hiked a small part of the trail independently without a tour, which is easy enough but if you really want to get the best view, get in a plane. You can book a sightseeing tour of Kauai that takes in the coast and the canyon (below).
If hiking is on your list for the Hawaiian Islands, I highly recommend the hike up Diamond Head on Oahu, hiking through the crater in Volcanoes National Park on Big Island, hiking to green sand beach on Big Island, and the mammoth hike through Haleakala on Maui.
2. Take a scenic flight over Kauai
With so much dramatic topography, Kauai is one of those islands that's arguably best seen by air. And I don't mean the brief glimpse you might be afforded when you're coming into land at Kauai airport. I mean a proper, dedicated sightseeing tour by plane or helicopter over the islands. Not all tours are equal so check what's included, especially flight time and sights you'll see. This scenic flight tour lasts an hour and includes Waimea Canyon, Napali Coast, crescent beaches and tumbling waterfalls. More extravagant (read: expensive) but including famous Manawaiopuna Falls – the waterfalls from Jurrasic Park – you can take a helicopter tour which includes landing at the falls and in Waimea Canyon.
Jurassic Park Filming Locations: speaking of Jurassic Park, much of it was filmed on Kuaui. If you want to explore this side of the island, here's a list of the filming locations.
Really want an adrenaline rush? Consider doing a skydive over Oahu's north shore.
3. Take a sunset boat trip
Not one for heights, there is another way to get a different panorama of the Napali coast – by boat. In fact, even if you've soared over Kauai by plane, seeing the island with the wind in your hair offers a different and complementary experience. Sunset is one of the most popular times to take a sail, when the sun is glancing off the island and you can enjoy the scenery with a cocktail in hand. This sunset boat tour sails past the Napali coast before dropping anchor for a sunset dinner.
4. Compare Waimea Canyon to the Grand Canyon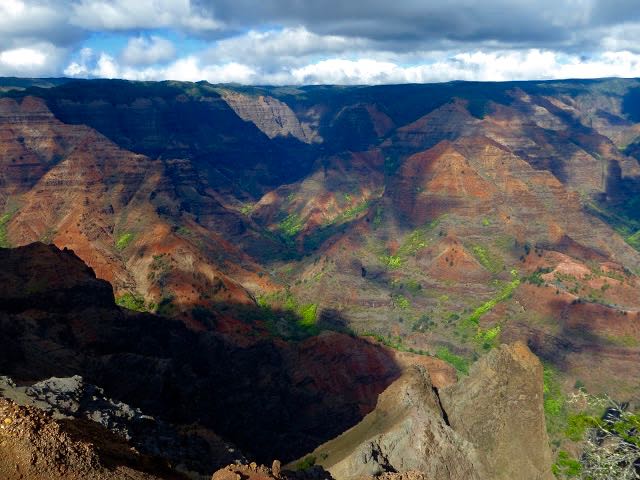 Waimea Canyon has been compared to the Grand Canyon in Arizona and although this Pacific-side gorge is not as vast, it's definitely more colourful, photogenic and, perhaps most importantly, thinner tourist crowds make it way more peaceful. I visited independently by car, but flying over the canyon would be amazing.
5. Kayak the Wailua River
For all of the Ocean that surrounds Hawaii, there is very little by way of navigable inland water, which is part of what makes the Wailua River feel so special. That and the fact there is so much to explore – waterfalls, fern grottos and swimming holes to jump into. I was so keen to see them all that my arms ached for days after kayaking this patch of water. I simply borrowed a kayak from the guesthouse where I was staying but in hindsight, a tour would have been good because I could have combined the day with some hiking. Prefer not to kayak? You can take a tour that includes a River Cruise to Fern Grotto. More on Fern Grotto below.
6. Go beach hopping
So many beaches and so little time, that's how I felt on Kauai. How to choose between them? Unlike Big Island where I was adamant I needed to see the rare Green Sand Beach, I simply visited the beaches that were conveniently located near where I was at the time. But if you want a more dedicated plan, here are some of the best beaches in Kauai to add to your itinerary:
Hanalei Bay – around two miles of beach backed by mountains, Hanalei Bay is often considered one of the best beaches in the world let alone Kauai.
Tunnels Beach – perfect for close to shore snorkelling.
Glass Beach – near the industrial Port Allen, glass beach is a beach formed by nature turning discarded glass into fine, small glass pebbles.
Secret Beach – sadly not all that secret but it's big enough to handle its visitors. There is a small hike to get there.
Shipwreck Beach – great for boogie boarding and surfing, Shipwreck beach is near the Grand Hyatt hotel. There used to be a small wooden boat here, hence the name, but it's long gone.
Poipu beach – a white sand beach, but the real attraction is the chance of seeing seals and turtles lolling on the sand.
Hideaway beach – be prepared for a bit of a scramble on a dirt trail to get there but when you arrive you'll be rewarded with calm aqua-coloured water.
Kekaha Beach – good for surfing with a wide swatch of sand for sunbathing if surfing ain't your thang.
Kiahuna Beach – technically part of Poipu beach, Kiahuna beach is a lovely spot located by the Sheraton hotel.
Tip: Finding the hotels in Hawaii painfully expensive? Consider booking a private room in a hostel in Hawaii. They're usually much cheaper and they're great quality in Hawaii.
7. Enjoy a Luau
From Hula dancers to fire twirlers, to the traditional kalua pig and local storytelling about the Hawaiian culture, enjoying a luau is likely to be one of the richest things to do when you're in Hawaii and Kuaui. One of the most popular and highly rated on Kauai is Luau Kalamaku, which includes a lavish buffet, fire dancing and a traditional Imu ceremony; an Imu ceremony is a demonstration of the cooking process where the kalua pig is uncovered from the pit oven in the ground.
Want to learn more about Hawaiian culture? Check out my guides to Things To Do In Pearl Harbor and How To Visit Pearl Harbor – Tickets, Tours & Tips.
8. Go searching for Kauai's waterfalls
It feels like there are as many waterfalls on Kauai as there are beaches and hiking trails. Whether that's true or not, you have a good pick of many of waterfalls, all stunning in their own way. Here are some of the most popular waterfalls in Kauai.
Waipo'o Falls – if you're looking for a staggering, jaw-dropping waterfall, 800ft Waipo'o Falls should do it. Even better, you can view it pretty easily since it's located near Waimea Canyon. This was my favourite waterfall in Kauai.
Wailua Falls – easy to spot (even from the road if you're pressed for time), this 100ft waterfall is one of the most dramatic. Mornings make for good rainbows.
Secret Falls – otherwise known as Uluwehi Falls, you're going to have to hike to these falls after a river ride so it's best done on a tour.
Mount Wai'aleale Falls – I'll start by saying you need a flight to see these falls but if you find it on your itinerary, you're in for a treat. They're known as the 'wall of tears' (on account of the separate ribbons of water). Sadly I've not seen them with my own eyes.
Manawaiopuna Falls (aka Jurassic Park Falls) – as plummeting waterfalls go, Jurassic Park falls is a 'mere' 400ft but it's the remote location that adds the drama. And that remoteness – only reachable by helicopter. This helicopter tour will take you.
Ho'opi'i Falls – not the most dramatic falls at around 15 feet, the beauty is the trail to get there and the ability to swim in the falls.
Hanakapi'ai Falls – if you want waterfalls that require a challenging trek, this is the waterfall for you – I've got more details under hiking below.
9. Explore Kauai's Hiking trails
Ready to burn off your luau buffet? Kuaui offers plenty of hiking opportunities. I mean, you only need to think about the peaks and valleys of the garden isle to know if was made for walking. There are so many beautiful hikes to enjoy on Kauai. Here are some of the most popular to get you started.
Koke'e State Park – several dedicated trails through mountains and across wildflower fields. Great for bird-spotting.
Maha'ulepu Heritage Trail – this is a fairly easy coast-side hike that starts at Shipwreck Beach.
Kalalau Trail – an 11-mile trail each way that will take you along the Napali Coast. It can be dangerous so plan your route.
Sleeping Giant – Nounou Mountain is (supposed to look like) a giant sleeping. Even if you can't see it, there is a reasonably easy trail up the mountain that takes a few hours.
Hanakapi'ai Falls – technically part of the Kalalau Trail, you can walk the first part to the waterfalls if you don't fancy the entire trek but want a challenging hike.
10. Drive through the Tree Tunnel
A one-mile stretch of trees that are close enough to form a beautiful canopy over the road, this short drive is one of the most famous on Kauai and definitely a lovely way to immerse yourself in nature without getting out of the car. And great for anyone with accessibility needs. If you want the address for your GPS it's 520 Maluhia Rd, Koloa, HI 96756.
Love a beautiful drive? Head to Maui for the winding drive along the Road to Hana.
11. Visit the Spouting Horn Blowhole
If you ever wondered whether Mother Nature has a playful sense of humor, visit a blowhole and you'll know for sure that she does. I honestly could have stood there all day watching water being blown into the air at Spouting Horn Blowhole. Sadly, my travelling pals got hungry. Boo. The water can go as high as 50 feet but it's the haunting sounds the water makes that captivated me. Definitely one for the kids (or your inner kid).
12. Get an adrenaline hit
The adrenaline hits just keep coming on Kauai, if you want them. Whatever your pleasure, you can probably find it. Here are a few suggestions with activity and tour links if you want to find out more.
Go ziplining at Skyline Eco-Adventures.
Take a surf lesson.
Enjoy a day of mountain tubing.
Check out the tide pools – Be careful, kids. Queen's Bath is popular but tidepools are a place where nature shows her force and people have died in the tide pools at Queen's Bath. You might want to make this a spectator sport?
Skydive over Kauai. (I did a skydive over Oahu – best experience ever.)
13. Visit the National Tropical Botanical Gardens (Allerton Gardens)
Kauai, unsurprisingly, has a few tropical gardens you can visit but the Allerton Gardens are one of the most impressive. Transformed by a Hawaiian Queen into its present-day paradise, you'll find rainforest trees, a bamboo grove, tropical Hawaiian fruit trees and many native plants and flora. Great for everyone but especially good for accessibility and kids. You can take a guided tour or wander around by yourself. More info on the Allerton Gardens website.
14. Check out the Kilauea Lighthouse
As well as the 52-foot beautiful lighthouse (does anybody else love lighthouses?), this area on Kīlauea Point has been designated as a wildlife refuge. If you're looking for rare birds, this is one of the few spots where you might see Red-footed boobies and Laysan albatross. Off the coast, keep your eyes peeled for seals, green turtles and, in winter, migrating whales.
15. Take a boat to Fern Grotto
I love a grotto, there's something so magical about the combination of rockface, worn away by water and the plants that stubbornly manage to grow there. And Kauai's Fern Grotto is every bit as magical as you might imagine. Reachable only by boat on the Wailua River, Fern Grotto is rich with hanging ferns, tropical plants and the cooling spray of waterfalls. You can book a boat tour to Fern Grotto. As well as the grotto, on this full-day tour you get to see Kilauea Lighthouse, Sleeping Giant, beaches, mountains, taro fields, plantations and more.
16. Meditate at Kauai's Hindu Monastery
While this Hindu Monastery isn't likely to feature on many lists of Kauai's highlights, a morning of meditation at this retreat up in the hills near Wailua was one my most memorable on the islands. If sitting and "ohmmm"-ing isn't enough to make you visit, the Monastery also happens to be home to the world's largest six-pointed quartz crystal, which is over 50 million years old. Kind of impressive, right? You might be interested in that time I took a 100-hour silent meditation retreat in India.
That's my guide to the best things to do in Kauai, Hawaii. If you've got any tips, suggestions or questions, let me know in the comments below.