Johannesburg defies all logic. And, had a meteorite not struck in the region 2020 million years ago, encouraging gold up to depths that could be mined, the city probably never would have existed.
At 1,700 feet above sea level and with no natural water source, Johannesburg contains none of the natural or geographical infrastructure that helps a city thrive and survive. Yet, it has done both those things, making it one of the world's largest cities not on a coastline.
However, the sad reality is that where there is gold there is outside interest and it didn't take long for the battle for wealth to culminate in oppression. In the face of global economic depression, that foundation of discrimination was codified to the point that by the 1950s, the South African Government had implemented one of the worst examples of institutional racism in world history.
Apartheid persisted for 50 years and although the system became illegal in 1994, modern Johannesburg seems to wear more of its scars from this period of segregation than it does from the prosperity that was dug from the ground.
Yet, despite the atrocities, Johannesburg has reformed, regrouped and continues, against the odds, to thrive. It's a gritty city, for sure, and most visitors consider that reason enough to bounce in and bounce out, spending less than 24 hours in the city. But it deserves more. A whole lot more.
I spent a total of six nights in Johannesburg split over two visits during the same month-long trip to South Africa and I would happily have explored for longer. Yes, it can be a tough city and yes, its history is confronting but stay long enough to get under its skin and Johannesburg will reward you with an understanding of the very fabric that makes South Africa what it is today.
Here's a list of my favourite things to do in Johannesburg. You can cram most of these into a two-night stay, three nights if you want to go and explore the cradle of humankind (which I'd highly recommend). Below, I have written about whether Johannesburg is safe to visit as well as how to stay safe in the city. I've also got recommendations for where to stay in Johannesburg and where to eat. There are some fine choices for both in the city.
1. City Sightseeing Bus
I became a huge fan of the hop on hop off city sightseeing tour buses after I had ligament surgery on my knee a few years ago. Back then, the buses were essential in helping me explore a city. Now, I enjoy the buses because they're so informative and also help you get a quick grasp of a city's layout. And, in cities like Johannesburg, where you may not be comfortable wandering around alone (and you shouldn't wander alone unless you have specific details of which streets are safe to walk), they have the added benefit of helping you see the city without the risk.
I recommend taking the hop on hop off Johannesburg bus as your first activity in the city. Not only is it an easy thing to do in Johannesburg if you're tired or jet-lagged, but it's also good for giving you the lay of the land. This company is also fantastic at serving up a good wedge of local history and culture in a fun way and I confess I'm a bit of a fan of the local music they play in the background of the audio guides.
You can check prices on the official hop on hop off Johannesburg bus website here. It is cheaper to book online than pay on the day.
Tip: If you're in the city for a couple of days, buy the multi-day pass. The bus stops at most of the sights mentioned on this list so it's a great way to sightsee in Johannesburg.
2. Apartheid Museum
If you only have time for one activity in Johannesburg, make it the Apartheid Museum. I don't want to 'spoil' the experience but when you arrive, you're randomly assigned a 'black' or 'white' ticket and you can only enter the museum according to your classification. Within just a few minutes, this museum gave me more of a glimpse of what apartheid might have been like than any book I've ever read.
Make sure you have a few hours to properly appreciate the complicated and very recent history of South Africa.
You can't book tickets in advance but you don't need to.  The museum is open every day and you can find out more on the official website here. Generally, I wouldn't advise taking a tour. However, this was (unfortunately) one of the worst laid-out museums I've ever visited. The commentary and exhibits don't run chronologically and halfway through I was flat-out confused and wished I had a guide. You can book a tour here. I wish I had.
Tip: The Apartheid Museum is a stop on the hop-on hop-off Johannesburg bus.
3. Cradle of Humankind Day Trip
'Find out about stones and bones' is possibly the worst way to market what is such a significant UNESCO World Heritage Site (sorry, Cradle of Humankind website). Although it's located about an hour and a half's drive out of the city of Johannesburg, in the surrounding region of Gauteng, it is one of the best day trips from Johannesburg.
Known as the birthplace of humanity, this is where fossils of some of the world's earliest life forms have been found including Mrs Ples and Littlefoot, hominids over 2 million years old that were early ancestors of the human race. There are two main sights to visit: Sterkfontein caves and Marpoeng. The former is the location where Mrs Ples and Littlefoot were found, and you're able to explore down inside the caves. Marpoeng is the visitor's centre which walks you through an interactive description of how the world began.
How to do it: If you have a car, you can drive there and take the guided tours at both the caves and the visitor's centre. Do use GPS as it's not a straight shot up the motorway. If you don't have a car (I didn't), you can book a tour (this tour offers The Cradle of Humankind and a Lion Safari in one day). I booked through Get Your Guide. The tour I booked was a tiny bit more expensive but they were able to accommodate one traveller booking last minute. The guide/driver was excellent.
Tip: wear good footwear and pack a jacket – you'll head into the cave where it's rocky and cold.
4. SAB World of Beer
South African Breweries has got some history (it was founded in 1895) and I bet you a beer that if you've ever sipped a beer, you've probably tasted something brewed by SAB. Recently bought out by a European company, SAB and its new owners are, together, the breweries behind over 200 brands including Miller, Castle, Budweiser, Stella Artois, Corona, Becks and, my personal favourite, Mexico's Modelo Especial.
Besides the brands, the tour will take you through the history of beer in South Africa and the impact is has had culturally, socially and economically.
5. Top of Africa at the Carlton Centre
Welcome to the top of Africa. This 50-story building in downtown Johannesburg will give you 360 panoramas of the dense city below. It also happens to be the tallest building in Africa, hence the nickname, the top of Africa. At 223 metres high, it doesn't quite make it onto the list of the top 100 tallest skyscrapers but it's the tallest structure you're going to see in South Africa.
Once upon a time, it was home to the prestigious Carlton Hotel which had a guest list that included Mick Jagger and Margaret Thatcher (though probably not in the same room at the same time – I'm not here to start rumours). Sadly, the hotel closed during the turbulence in the 1990s and hasn't been re-opened since. Strikes me as a great investment opportunity if you have the cash.
How to do it: You have to buy a ticket to access the viewing level but it's only 15 rand per person. The platform is open daily but only during the daytime so get there before 6 pm (earlier at the weekend).
Tip: The Carlton Centre is on the hop-on hop-off Johannesburg bus route. I gather it's not so safe to wander alone here as the hop-on bus people offer an escort from the bus stop to the Carlton Centre and back to the bus. Otherwise, take an Uber up to the door.
6. Gandhi Statue
Did you know that Gandhi worked in Johannesburg as a lawyer? In fact, it was a train journey to Pretoria, when Gandhi was asked to move into a lower class carriage because of his skin colour, that sparked his interest in fighting for political injustice.
Johannesburg has a square dedicated to him, Gandhi Square, where you can find a statue of this famous Indian peacemaker.
7. Gold Reef City
More theme park than one of the historical Johannesburg attractions, Gold Reef City is loosely based on the area's gold rush past. It is one of the most fun activities in the city, especially if you don't want history overload or want to explore the city's past beyond Apartheid.
How to do it: Gold Reef City is only open for half of the week from Wednesday to Sunday.
Tip: It is on the hop-on hop-off Johannesburg bus route and is just across the road from the Apartheid Museum. Plan it right and you can combine both of these activities into one morning or afternoon.
Want to take a tour? This tour combines a tour of Johannesburg and a visit to Gold Reef City.
8. Township tour
That heading should read: Take a Township Tour – Maybe.
Township tours are popular in Johannesburg and elsewhere in South Africa. Slum tourism is a controversial topic and researching it from the perspective of responsible tourism, I long ago decided it was not something I wanted to participate in.
I know there are arguments that it brings money to the local community but unless you intend to buy local crafts and can be certain where the tour company's money goes (into the tour company's pockets or back into the community?), my instinct tells me that, on a very basic level, it's not a very nice thing to do. I would not want some billionaire wading through my apartment, nudging his wife, and taking pictures of the (comparatively) poor state I live in ("Ooh, look where she sleeps"). I don't want to do that to other people.
You can find out more about slum tourism in South Africa to help you make an informed decision.
9. Constitution Hill
Constitution Hill is where old and new collide. Historically, the hill is still home to a 19th-century fort. In recent history, that fort was used as a prison to hold famous activists like Nelson Mandella and Gandhi. Today, it's home to South Africa's new Constitutional Court.
The hill is 'free to enter' and can be visited daily but some of the sights are open only part of the day so check before you visit.
Tip: You can visit the hill for free (it's also a stop on the hop-on hop-off Johannesburg bus route) but you will gain a richer understanding if you take a guided tour. This tour covers both the Apartheid Museum and the Hill. This tour is better value than the tour of just the Apartheid museum if you plan to visit both.
10. Maboneng for urban regeneration
Perhaps because I stayed here during my two stops in Johannesburg, this was one of my favourite areas of the city. As well as being somewhat secluded, thanks to security patrolled streets, it's the one place in the city I felt comfortable walking out alone at night to visit the many bars and restaurants in the area. As well as tourists, Mabnoeng attracts locals to its small but sufficiently eclectic range of art galleries, urban markets, cafes and eateries.
If you're looking for street art in Johannesburg, you'll find it in abundance in Maboneng.
If you're not staying in the area, take an Uber ride to Maboneng. Ask them to drop you at 12 Decades Art Hotel and explore from there. Otherwise, most walking tours will take you to the area (see below).
Tip: Be careful. Although Fox and Main Street are considered safe to visit, Commissioner Street, which is one street over, should be avoided even during the daytime, unless you're with a local guide. On a more positive note, there is an independent small cinema on Fox Street with a nightly-changing movie schedule.
11. Braamfontein
Every city has its hipster enclave and in Jo'burg, you'll find it in Braamfontein. Having the Wits University campus at its nucleus probably helps. If you're looking for a fancy coffee shop or deli sandwich, this is where you'll find it.
The city hop-on and hop-off Johannesburg bus cuts right through the heart of Braamfontein. Otherwise, Uber will get you there.
12. Collector's Treasury – Africa's Largest Book Store
Housing over 1 million rare and used books, there was barely a path of floor that wasn't littered or piled with books at Collector's Treasury. Not only is it the best bookstore in Johannesburg, it's the biggest book collection in Africa and I wasn't sure if the idea of getting lost in this bookstore was the stuff of dreams or nightmares. Probably a bit of both. Still, I could have spent several days…weeks…ok, probably months, exploring this collection. After I'd organised it alphabetically, of course.
Not into books? There's a phenomenal collection of vinyl to thumb through.
How to do it: I visited on a city walking tour (see below). Otherwise, take an Uber. Find out more here.
13. City walking tour
I don't know about you but using Uber and the hop-on hop-off Johannesburg bus to get around doesn't quite give the same experience as seeing a city by foot. The challenge in Johannesburg is the risk of making a left turn down mugger's alley. Taking a local walking tour is the perfect solution. As well as getting to see the city safely, you will also be able to explore the streets and see Johannesburg through the eyes of a local.
I booked through Curiocity Backpackers (details here). You don't need to stay there to book.  Alternatively, you can book a city walking tour through Get Your Guide here.
14. Johannesburg's food scene
As I was located in Maboneng, I ate most of my meals in this area and would highly recommend the following spots:
Little Addis Cafe – the first restaurant I tried in South Africa was actually an Ethiopian restaurant but it was delicious despite not being the local food I'd set out to find. Also: great tea, and beautiful service (including a hand washing bowl at the table).
Pata Pata – very popular but always accommodating, Pata Pata serves up great local dishes as well as your usual burgers, sandwiches and salads. Great for lunch or dinner.
Che Argentine Grill – beef is big in South Africa and I wanted to dine here but they pulled the old 'can't seat a solo diner' stunt which p!ssed me off. Still, it seemed popular. Book ahead if you're going alone.
Soul Souvlaki – Souvlaki in Johannesburg? Yep, and it tasted darn good too. Served from a food truck with the option to sit in (not in the truck). Cooked fresh right before your eyes. I took mine on the sightseeing bus because what's a bus adventure without snacks?
Bar Revo – a tiny spot with way too loud music booming out bad speakers but you can't beat the people watching over a beer.
---
Where to stay in Johannesburg
Curiocity Backpackers is located on a safe street in Maboneng within walking distance of plenty of bars and restaurants. Dorms and private rooms are available and the hostel has an on-site bar.
12 Decades Arts Hotel: If you prefer a quieter vibe, the 12 Decades Arts hotel also offers well-priced accommodation in a creative space just down the street. All the rooms are 'penthouse' and differently themed. I had a beautiful 1920s-themed room with furniture to match. All in, it was one of the nicest hostel rooms I stayed in during my month in South Africa.
The Residence Boutique Hotel – rated number one in Johannesburg on TripAdvisor, I don't think this luxury hotel gets any bad reviews. Probably why it's also been rated the Reader's Choice. Top-end luxury in an upscale neighbourhood. If you want the best hotel in Johannesburg, book here.
Monarch Hotel – if you're looking for boutique luxury and elegance in the Rosebank area that's a bit cheaper than the Residence (about half the price) but still gets excellent reviews, try Monarch Hotel near Rosebank Mall.
Premier Hotel (airport hotel) I could barely keep my eyes open when I stepped off the plane so I checked into an airport hotel for the night just to get some shut-eye. I chose the Premier Hotel thanks to its proximity to the airport and free airport shuttle. My room was clean and spacious and they served a comprehensive breakfast (I love an egg station!). There was also a nice patio to sip a drink and acclimatise to Joburg's altitude.
I also spent a night at the Aviator Hotel before a flight to Victoria Falls in Zimbabwe. It's cheaper than the Premier Hotel and although the hotel has a cool, vintage airport theme going on, you need earplugs because the rooms are not well sound-proofed and you're right under the flight path. If you're there for some solid shut-eye, I'd recommend spending a bit extra for the Premier Hotel.
Is Johannesburg safe to visit for tourists?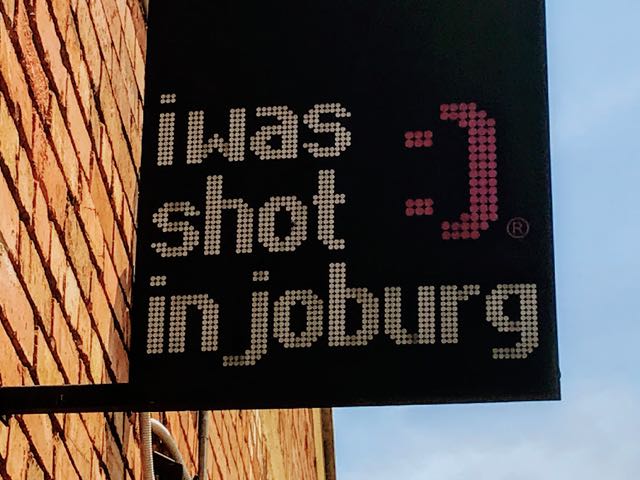 Before asking about things to do, most visitors will want to know if the city is safe to visit. I don't blame them. Crime rates in Johannesburg used to be off the charts.
However, these days, Johannesburg doesn't even bag itself a spot on the infamous list of the 50 most dangerous cities in the world (by homicide rate). Cape Town, on the other hand – a seemingly much more popular destination on tourist itineraries, comes in at number 13.
It's long been reported that levels of fear outweigh levels of risk in Johannesburg, and that was my enduring sense during my time in the city. Although I didn't stroll out alone after dark other than in Maboneng, I didn't feel unsafe at any point in the city. And all the 'I've been robbed' stories that I heard from other travellers while I was in South Africa? They all happened in other locations (Durban and Cape Town).
How to stay safe in Johannesburg
I spent six nights in the city as a solo female traveler and I didn't encounter a single spot of bother. Here's what I did, that kept me safe:
Use Uber – the app-led taxi service is both cheap and runs well in the city (better than in London!). I never had to wait more than a few minutes and with all rides GPS tracked and the app telling you the car registration number, I felt a lot safer than I would have done taking a regular taxi. Uber is cheaper too. Do make sure you download the app before you travel. Use the code jof22 is you're a new user and want up to $15 off your first ride.
Buy a Vodacom SIM at the airport. There is a Vodacom shop in arrivals at O.R. Tambo Airport and the transaction took less than 10 minutes. The staff will do the set-up for you, and it means you have access to all the important travel apps like Uber and maps and calls in an emergency. I recommend Vodacom because they have the best coverage in South Africa. Just make sure your phone isn't locked to a network at home.
Ask locally where is safe. You will often be told on a street-by-street basis where is and is not safe.
Follow the advice! Might sound obvious but mark the don't go areas on a map and stick to it.
Use the hop-on hop-off Johannesburg bus for your city-based sightseeing – they cover the major locations that you're going to want to see in the city.
Take organised Johannesburg tours. I'm a big fan of Do-It-Yourself travel but in a city where safety can change from corner to corner, spending some cash on tours can help you explore more with greater peace of mind.
Related Articles:
Like this? Share it on Pinterest.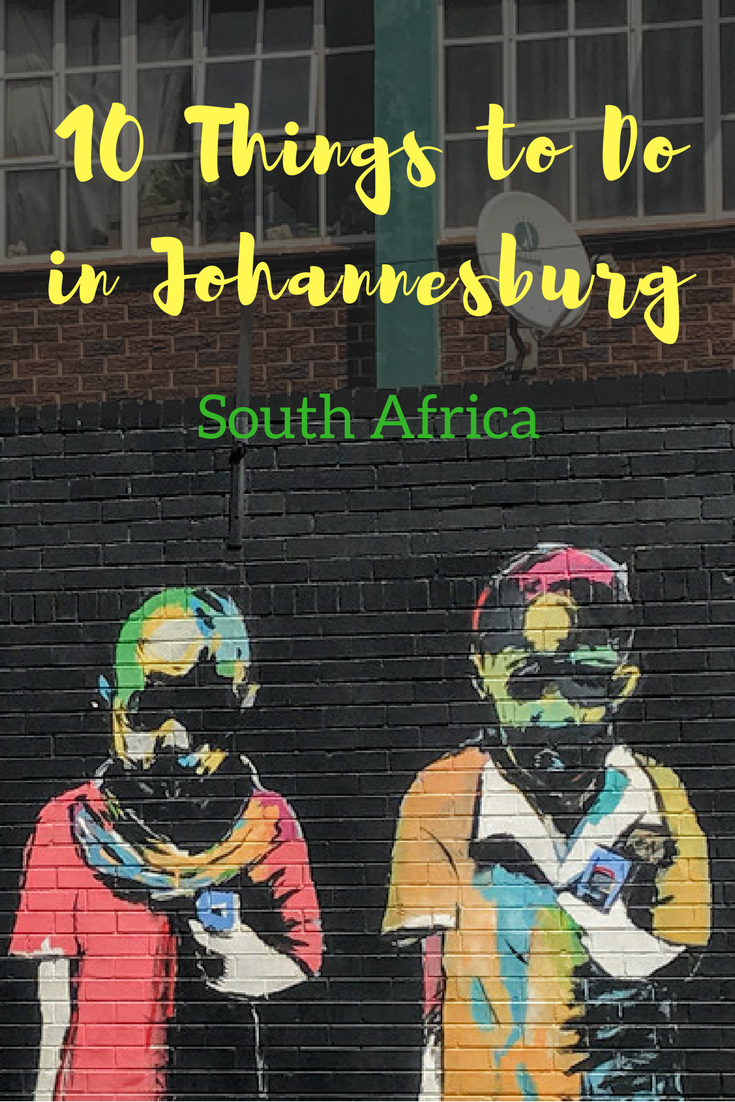 Image credit: Constitution Hill