"I'm not interested in visiting Dubai."
I've heard this a lot. In fact, I've even said it. Despite Dubai being a comparatively short hop from the UK, or a good layover en-route to Asia, I've spent years almost going out of my way to avoid this Middle Eastern Emirate. However, when I made a wonderful new travel friend (in Cape Town) and found out that she lived in Dubai , I added Dubai to my travel list.
Like many solo female travellers, I was a bit nervous about visiting. I'd read myriad scare stories online and although years of lone travel have taught me that the Internet and the real world are typically very different places, I was still apprehensive given the Middle East is a region I'm less familiar with compared to the likes of Latin America, Africa and Asia.
But I didn't let these stories deter me. I knew that I'd have a friend to call on in Dubai and, as luck would have it, I had another female friend who was keen to travel with me, so at least I'd have company if I ended up in prison, right?
None of those worries came to pass and Dubai exceeded my expectations in every way. So much so, I left Dubai with a promise that I'll be back. And I will.
I've written two posts about Dubai – this one where I cover the best things to do in Dubai.
Then, assuming you have many of the same questions and worries as I had – is Dubai safe, what can you wear in Dubai, what are the main laws to know about, what about drinking in Dubai? I've I've written a separate post: Is Dubai Safe – local laws and what to wear. 
What follows is a list of suggestions to help you get the most out of Dubai and see the sights in the best way.
Now, in no particular order…
1. Don't watch the Dubai Fountains from the ground, see them from the Burj Khalifa instead
Watching the Dubai Fountains and ascending the Burj Khalifa (the world's tallest building) are on pretty much every list of things to do in the city so you're going to want to tick both of these off your Dubai sightseeing even if you're just on a Dubai layover. And the good (and little known) news is that you can do both of these activities at once. Of course, I didn't realise this at first. I just wandered towards the fountains at night. From a standing position, I got a really good view of many heads and selfie sticks. A bit further away, at a terraced restaurant with average food, I got a slightly better view – but those people were still in the panorama.
A few days later, I booked tickets to go up the Burj Khalifa. From that grand vantage point, I saw a small number of people looking out of a particular window, transfixed.
"What's happening," my inner curious cat enquired.
"The fountains are about to start." And that's how I came to get what is certainly the best view of the Dubai Fountains. See my video above.
Try as I did, I could not get the official Burj Khalifa booking website to work. I was in Dubai at the time so maybe it was a wi-fi issue but as well as several confusing attempts to up-sell me a bunch of unnecessary extras, the website kept timing out. In the end, I booked through Get Your Guide. The price was the same (141 Dirham), the confirmation was instant, the bar code easily scanned on arrival and the whole experience was a lot simpler.
You can book with Burj Khalifa with Get Your Guide.
Or you can chance your arm with the official Burj Khalifa site.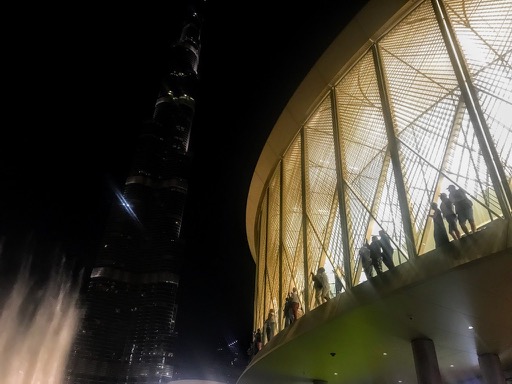 Tips:
The fountains dance at half past and on the hour from 6 p.m. until 11 p.m. There are two daytime displays at 1 p.m. and 1:30 p.m. (1:30 p.m. and 2 p.m. Fridays).
If you can't coincide your Burj Khalifa visit, the second best spot for seeing the fountains is the viewing windows within the Apple Store inside Dubai Mall. It's free to go in – just enter the store and you'll see the windows, complete with security guards and a line. There is a very limited number of spots so go about 15-20 minutes in advance.
The fountains are best seen at night.
IMO, the Burj Khalifa is one of those rare, large buildings that actually looks better by day (complete contrast to the Petronas Towers in Kuala Lumpur). Probably because the Burj Khalifa doesn't have a huge amount of evening lighting. So, if you can, see it both in the day or by night. That said, it's so tall that you can see it from almost every spot in Dubai. And probably the moon…if you ever happen go there on holiday.
As well as the fountains, the Burj Khalifa has it's own light show where lights dance up and down the building. The times are a bit harder to follow – they dance hourly from Sunday to Wednesday from 7.45 p.m. to 10.45 p.m. From Thursday to Saturday, they dance every 30 minutes between the same hours.
Booking tickets for the Burj Khalifa, the viewing platforms are on levels 124 and 125 with stairs in between. Peak booking hours (increased ticket price) is 4:00 p.m. to 6:30 p.m.
2. Don't hold out for ladies' night, go all out with Friday brunch instead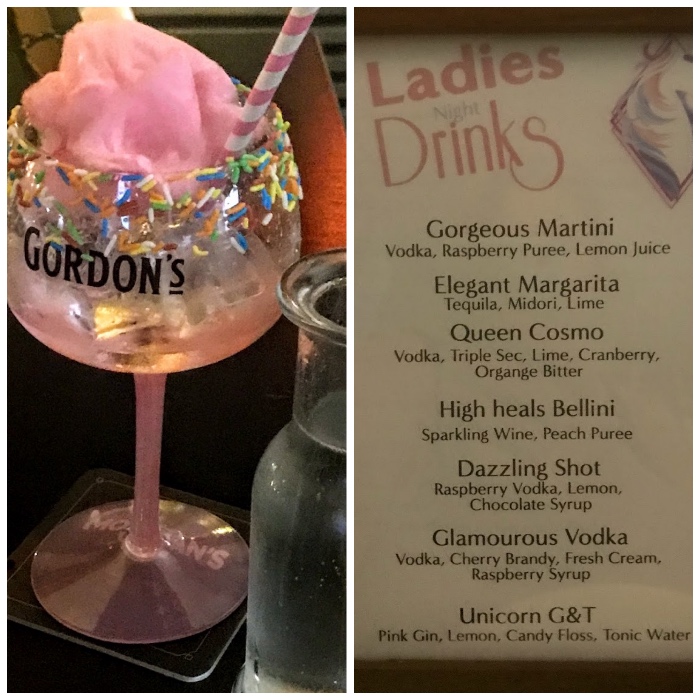 Ladies night is a thing in Dubai. What is it? Free drinks for women. It sounds wonderful and there is a large part of me that says, 'Yay, free drinks'. But there's another part of me that shrivels at the idea that in 2019 women are still being plied with booze in order to attract men into bars. But feminism aside, in a country where female rights can be close to non-existent, it strikes me as a dangerous game for foreign women, especially given the free drinks can be unlimited or so many in number that even the most experienced drinker (I do run a wine website, you know) can acquire a slur.
What to do instead? Treat yourself to one of Dubai's epic Friday brunches. Hotels around the city lay on a feast on Friday afternoons and it has to be one of the most social occasions on the Dubai weekly calendar. The downside is that the majority of the diners are tourists or ex-pats but on the plus side, there is a better ratio of women to men and the whole experience felt a lot less predatory (unless you're an actual piece of meat, on a BBQ – men and women alike were coveting those rumps). Bonus: even if you do decide to let your hair down and have a few shandies, you'll be scarfing down enough food to keep you upright.
Not known for doing things by halves, I booked the Friday brunch at Al Qasar, Madinat Jumeirah. It was expensive by the time I tacked on the unlimited Champagne upgrade, coming to 675 Dirham (around £140 /$185). It's 475 Dirhams if you go for the no-alcohol option.
Was it worth it? Yes and no. Yes for the location – stroll out to the beach for views of the Burj al Arab at sunset? Yes for the Champagne – it was literally free-flowing Moet and Chandon and Veuve Clicquot. No for the food – sorry, Al Qasar but many of the main meal dishes were dry and chewy. That said, I did eat my money's worth in shellfish, sushi, divine European cheese and I even scored some foie gras (no, I'm not vegan or anything remotely close). When looking at prices, keep in mind that all food is expensive in Dubai.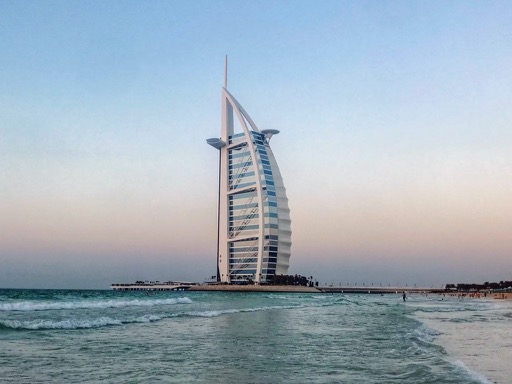 Tips:
Book your table ahead of time. There isn't a booking form for Al Qasar but I emailed the hotel and they reserved a spot for me. I did this about a week beforehand.
If you have a choice, I'd highly recommend dining inside, under the air-conditioning – your drinks stay cooler and your food doesn't crisp under the sun. Also, sweaty cleavage while dining? No, thanks.
Pack something that passes as nice. I wore my favourite red travel dress (read: stretchy waistband) but there were ladies dressed as though they were attending a Royal wedding.
Feel free to refuse the warm Prosecco served on arrival. I'm absolutely a Prosecco snob and I'd paid for the Champagne package. I had to ask twice to get my upgrade but the Champagne cork was eventually popped.
3. Don't follow the herd into the desert, have a Prosecco breakfast camel safari instead
One of the best things I did was head into the desert on a camel safari. The next best thing I did was take the advice of my local friend and booked a slightly more expensive tour. Of course, having minor (read: major) control issues, especially when it comes to booking travel, I researched all of the alternatives first. And here's what I found – there are dozens of seemingly different desert safaris that you can book in Dubai but ultimately they are all the same tour that end up in the same spot. That spot happens to be a faux Bedouin camp complete with tourist souvenir stores, mass-produced meals and endless opportunities to up-sell extras.
I'm not a big fan of coach-sized tourism at the best of times. Take that into what should be a serene space (the desert) and I'm opting out. Also, while most of these group tours seem good on the face of it – a day of camel riding, dune bashing, henna painting, buggy driving, look closer and you'll see it's like gym circuits – a quick taster before you're shuffled on. Want to do more? You have to pay more.
Instead, I booked one activity – a calm camel ride through the desert, ending at an oasis where we ate a breakfast of fresh pastries, coffee, juice, fruit and a glass of Prosecco. We were driven to the private section of the desert in a private 4×4 vehicle. There, we joined one other 'group' (a family of three) and together had a wonderful, peaceful saunter through the desert.
I booked the Camel Trekking tour with Arabian Adventures.
If you want to compare and contrast, you can see the larger group Desert Safari Tours. For around £10/$15 more, I'd say the Arabian Adventure is worth the extra cost. (Though some people can't resist the dune bashing – if that's you, the tour above will be brilliant).
Tips:
Don't worry about weighing your bag down with water for the safari – with Arabian Adventures it was unlimited and, best of all, was kept chilled.
Wear trousers and something to cover your shoulders – this isn't for decency purposes, it's for a more comfortable camel ride under the desert sunshine.
I always opt for a sports bra whenever I'm on a camel…all that jigging around.
4. Don't just see one Emirate, visit Abu Dhabi as well
We're all familiar with the United Arab Emirates as a concept and we know that Dubai is part of the UAE but how many of us know much more than that? Confession: I didn't. If you want to know, there are seven Emirates. Abu Dhabi serves as the capital with Dubai, Ajman, Fujairah, Ras Al Khaimah, Sharjah and Umm Al Quwain making up the other Emirates. And the beauty of this federation is that you can easily cross the border and experience what feels like an entirely different country without getting your passport out of your pocket.
I took a day trip from Dubai. Sadly, it turned out to be a big coach affair (despite booking with Arabian Adventures). However, compared to the other tours I looked at online it was still a good choice. I chose a tour that focused on two highlights of Abu Dhabi rather than one whirlwind 'take your photos from your coach seat' tour of them all. What's the point in sailing past the Abu Dhabi Louvre and not going inside? But it wasn't the Louvre that appealed to me, it was the Sheikh Zayed Grand Mosque and Ferrari World for a chance to ride on the world's fastest roller coaster.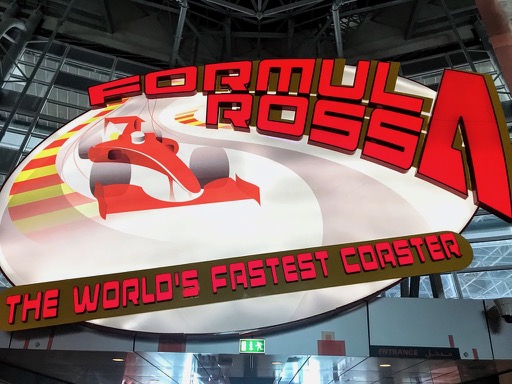 I booked the Abu Dhabi Mosque and Ferrari World tour with Arabian Adventures.
On the same tour, you can swap out the Ferrari World part for either the Louvre, Warner Bros or Yas Mall. The price differs depending which element you choose.
Tips:
Do dress conservatively in Abu Dhabi – what works in Dubai won't pass muster in this more conservative country. You don't need to wear full local dress outside the Mosque but I saw one girl refused entry into Ferrari World for having butt-skimming shorts on. Kindly, the staff leant her a scarf to tie around her waist. I wore long trousers and a t-shirt, and was fine in that outfit outside the mosque.
Don't let the clothing rules put you off. If nothing else, going on the world's fastest roller coaster makes the trip absolutely worthwhile.
5. Don't shop in Dubai Mall, see the souks instead
I loathe shopping at the best of times so the idea of stepping inside the world's largest shopping mall, Dubai Mall, nearly induced a panic attack. But still, I did it (kind of had to given it's right next to the Burj Khalifa and that's how you get into the building) and it made me realise – if you have been in one shopping mall, you really have been in them all. Sure, this one contains an ice rink and the world's largest (that's a theme in the Emirates – biggest, fastest, best) indoor ski-slope but the cultural interest ends there.
Conversely, head to the souks in Old Dubai and you'll get a feel for what Dubai once was like. Small alleys, crowded shops and a level of hustle and bustle that is familiar in every souk, if you find yourself complaining that Dubai is a bit fake and bland, get to Old Dubai pronto.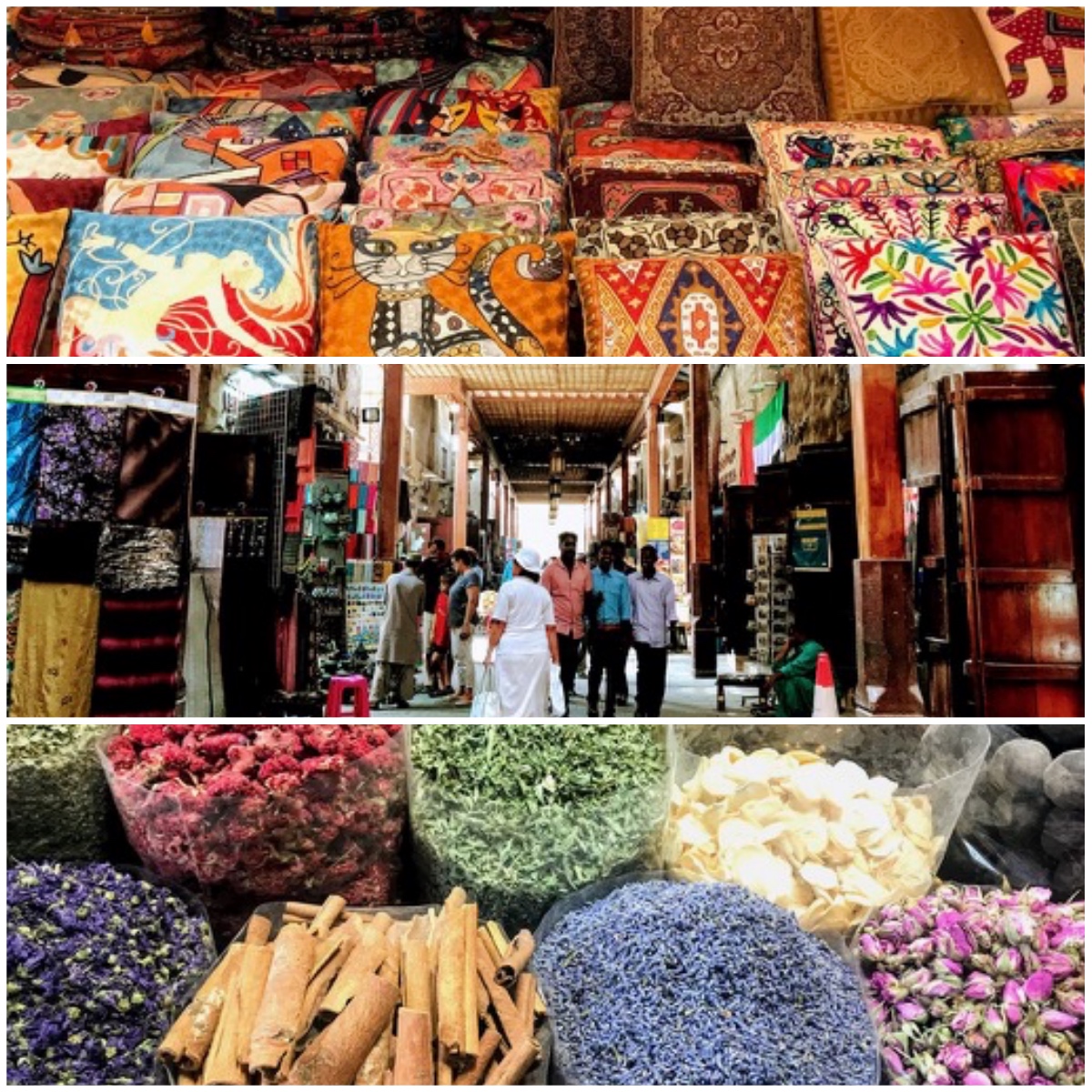 There are two main souks in Dubai – the spice souk and the gold souk. You can reach them by taxi or abra – a local water taxi.
Bit nervous about going alone? This cultural walking tour of old Dubai includes souks and street food.
Tips:
There is a bend towards tourism in the souks so I wouldn't vouch for the authenticity of the tourist packaged spices but it does make for an interesting wander.
Souks can be intimidating places with stall holders hollering to try and get your business. Just a polite smile and no thank you is the way to handle it if you don't want to shop. Or just pop your headphones in. That works, too.
Haggle. Typically, souk sellers start at more than double the selling price so make your opening offer about 1/3 of that price. And have fun from there. Keeping your cool and holding a smile is the best way to haggle.
Where is Old Dubai?
Old Dubai is a bit of a misnomer. It actually means the Bur Dubai and Deira districts of Dubai. The two areas are located in the north of the city, back towards the airport, and are cleaved up with Dubai Creek in between.
On the one side, Deira, you have the souks. On the other side, Bur Dubai, you have the Al Fahidi Historical District. And to best experience old Dubai, I'd recommend hopping an abra (local water taxi) across the Creek. More on that below.
6. Don't go on an evening river cruise on Dubai Creek, hop an abra instead
Staying in Dubai Creek, I was determined to spend at least some time on the creek. The problem was, most of the boat cruises were fashioned for tourism and included a buffet. Call me spoilt or entitled or just damn lazy but if I'm paying for food, I don't want to have to stand up to go and get it. Also, I'm not to be trusted at buffets – more than once I've returned to my table with a plate of bolognese, curry and meringue. (Exception: luxury buffets where I DO want to help myself because there's no way the serving staff would let me eat that much lobster in one sitting). All of that is to say, I didn't fancy an evening dinner cruise on the Creek.
The good news is that there are local boats – abra – that ply the waterways and for just 1 Dirham, you can hop on and explore the creek the local way. Not a bit of spag bol in sight.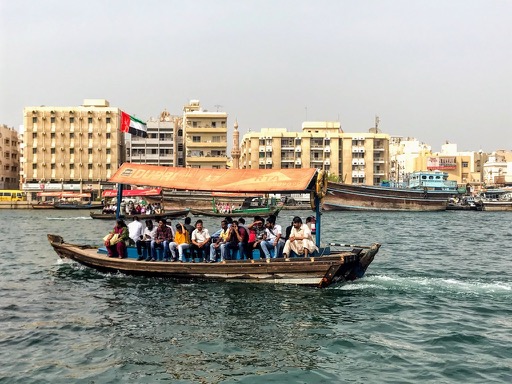 You can find out more about Dubai and taking Abras. The easiest route for tourists is to travel across the Creek from Bur Dubai Abra Station (for Al Fahidi Historical District) to Deira Old Souk Abra Station (just outside the souks).
Tips:
A good itinerary is to have breakfast in Bur Dubai (recommendation below), walk around Al Fahidi, hop an abra across the Creek and explore the souks.
Have change ready – you pay on the boat in cash.
Try to just say abra, without thinking abracadabra
7. Don't breakfast in your hotel, visit Arabian Tea House for an authentic breakfast instead
This from the girl who can spend half a day lingering over breakfast in her hotel (4 coffees and a morning of writing, yes please), I'd still recommend stepping out for breakfast at least once in Dubai. And if you do, you absolutely have to go to Arabian Tea House.
I really do owe my local friend a drink for all these wonderful recommendations because she is the one who introduced me to this whimsical spot that serves up the best breakfast plates. Sit out on the terrace surrounded by white billowing coverings and turquoise decor and you'll be ordering coffee after coffee just to be able to stay.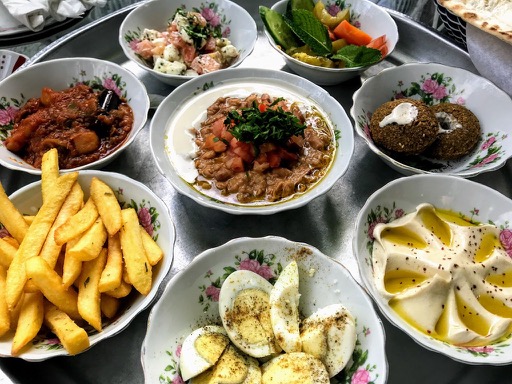 Arabian Tea House is located in the Al Fahidi Historic District and can be reached by taxi.
Tips:
I later found out that Arabian Tea House is featured in my Pocket Dubai Lonely Planet Guide (a good, cheap guidebook that's worth a buy, especially if you're on a short trip). Usually, being featured in Lonely Planet makes a place overrun with tourists but that doesn't seem to have happened here (yet?) meaning you can still have a very local experience at this wonderful place.
Build in time to wander through the Al Fahidi Historic District where the tea house is located (see below). In fact, if you start here for breakfast, you can spend the morning/day in the oldest part of Dubai – take a boat and visit the souks across the Creek.
The breakfast trays are ginormous. We ordered one between three girlies and still had plenty left. Best to order small and add more if you're still hungry.
8. Don't convince yourself Dubai has no culture, visit the Al Fahidi Historic District instead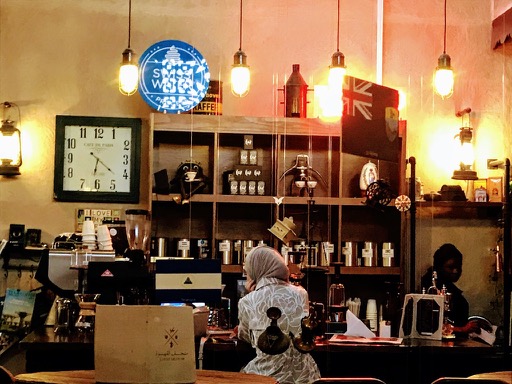 Old Dubai was, hands down, my favourite part of the city. For me, spending the best part of a day on a plane to see Starbucks isn't why I travel. Exploring a country's culture is what pulls me up at dawn and makes me subject myself to airport pat downs. I want to see what other, different things exist in the world. The problem with Dubai is that most of those differences have been concreted over. Want to see the extent to which Dubai has changed over the years, check out this fascinating time lapse of Dubai over the years.
For me, it's sad to see. But there is still a hint of old Dubai left and you're going to find it in Al Fahidi Historic District. Admittedly, this is a restored heritage area and I'm not pretending that the hipster-esque arts and craft stores are traditional but for most tourists, this is the closest you'll come to stepping back in Dubai time.
As well as wandering through the labyrinth of streets, I particularly enjoyed the Coffee Museum (arabica, anyone?). Also, a new art studio, gallery and space had just opened its doors. There was a distinct Frida Kahlo feel to the artwork, which I loved all on its own but to find out that the gallery exclusively featured the work of 'adults with special needs artists (known as 'the determined ones'), made me love Mawaheb – Beautiful People even more.
Tip: Try to coincide your Coffee Museum visit with one of their tours. I didn't and ended up ordering a coffee upstairs. It was alright but the tour (and the included coffee) looked much better.
9. Don't shell out for private beaches, use the public beaches instead
Beaches are a bit of a curious beast in Dubai. Most of the good stretches are monopolised by the high-end hotels and although I stayed in a lovely hotel with a rooftop pool, it wasn't beach front. Which meant that when I did want to feel the warmth of the sun on my skin (in November, having just left the cold of the UK), I had to find a beach spot.
Under the guidance of my local friend, I tried both a local beach and a private beach (most hotels will let you pay to enter and use their beach facilities). The downside: like much of Dubai, the entry fees are high. I paid to enter the beach at Jumeriah at The Palm because, well, The famous Palm. And, d'you know what, for 370 Dirham (about £75/$100), it just didn't seem worth it. Yes, the views were nice and it was comfortable having a lounger but when there's a free access public beach down the road, I can think of better things to spend £75 on.
You can find out about Jumeriah's Day Pass here.
If you prefer free, public beaches, I visited La Mer. It cost me zip and the beach is skirted by an outdoor mall with lots of dining options. You can find out about La Mer and its wonderful facilities.
Tips:
I'm a sarong on the sand kind of girl but there are loungers available if you prefer. Although pricey, at 115 Dirham (around £25 /$30) they're still cheaper than paying for entry into one of the private beaches.
If you do pay to go to a private beaches, check out the spa services. I at least managed to grab a nice sauna and shower after the beach. I probably should have tried the gym to counteract my doughnut snacking but, hey, I was on holiday.
10. Don't visit the Palm Jumeriah, see it by air instead
As I've mentioned above, when I did visit one of Dubai's private beaches, I opted for The Palm because who doesn't want to see that iconic part of Dubai up close. The problem is, close-up it doesn't look like much at all. In fact, my friend had to point out that the finger of houses opposite the beach was one of the palms. Oh, I thought, deeply disappointed. I don't know why I thought I'd be able to have a wander around and get some imagery of the palm shaped lay out. In reality, The Palm is so large and spanning that the only way to really see it is from the air. And with that knowledge, I do wish I'd planned (and budgeted) ahead to do a ski-dive over the area. Hey ho. Next time. And in the meantime, you can learn from my mistake.
You can book a sky-dive over The Palm with Skydive Dubai.
Don't fancy jumping out of a plane? You can take a helicopter ride over Dubai instead. It's also way cheaper than the skydive. 
Prefer to stay on the ground? You can just watch this video of a skydive over The Palm.
Tips: Never done a sky-dive before? You can read about my sky-diving experience in Hawaii.
How to get around Dubai
Dubai is sprawling and taxis are expensive…but the small metro system is very slow. Travelling with a friend, we stuck to taxis. However, there is a Hop On Hop Off sightseeing bus that will get you around the city very cheaply. I've taken these buses in lots of cities and can highly recommend them. You can check the Dubai bus route and prices.
As for Uber, it does exist in Dubai but – and this was a first for me – it's actually more expensive than local taxis.
Share it on Pinterest…