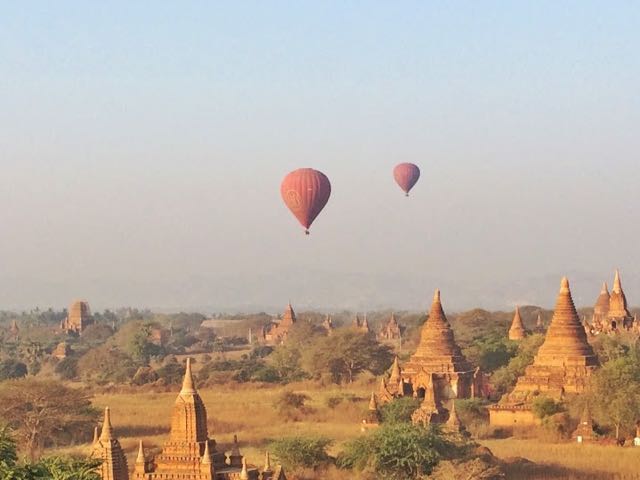 Once upon a time, Bagan was under a siege of development. Between the 11th and 13th centuries over 10,000 temples, pagodas and monastaries were built in the city.
Today, around 2,000 of them still exist; all crammed into a 13 by 8 kilometres area that has become the Bagan Archeological Zone.
So, it's safe to say, you're going to see some temples in Bagan – whether you want to or not.
Times change: Since writing this guide, the political situation has changed in Myanmar. Some adventurous travellers are still visiting, so I'm keeping these guides online. Also, in the hope Myanmar will open once more. If you do visit, check your government's travel advice (it can impact your travel insurance) as well as local advice.
Of course, that's the major reason most tourists in Myanmar visit this staggering ancient city, but seeing the temples isn't the only activity on offer. As well as the temples and a host of activities for when you're all templed out, here's my list of the best…
See the sunrise over Bagan
Don't shake your head in too much dismay but I'm not a sunrise kinda girl. Unless I'm heading home and happen to catch it coming up after a night dancing on the beach, I struggle to rouse myself into a sufficiently woken state to truly appreciate the sun breaking the dawn.
And my experience was no different in Bagan – dragging myself from between the sheets before 5 a.m. was as painful as ever. But then something magical happened.
Perched on top of one of Bagan's quieter temples, I watched as a ball of bright red fire shimmered up over the horizon. Fierce and imposing, the sunrise in Bagan is other-worldly and for a few seconds, it caught my breathe; every bit of my body, suddenly alive.
Of all the things to do, sunrise should be top of your list.
You have an almost binary choice when it comes to picking a temple to see the sunrise in Bagan – best views but coach loads of tourists or a handful of people but with less impressive views.
After receiving more than one elbow in the face at Angkor Wat, I opted for the latter, which resulted in the picture above: a beautiful, unimpeded view of the sunrise in near silence (there were around 10 people at the temple with me). However, as you can see from the picture, I didn't have the same panorama of temples as you get elsewhere.
If you want the best spot and trust yourself not to push other tourists off the top of the temple, the place with the best views is Shwesandaw temple. Although I didn't visit at sunrise, the second picture above will give you an idea of the panoramas on offer and why this temple is so popular for sunrise.
Top tips for seeing the sunrise in Bagan: The best thing to do is ask your guide for their recommendation – the locals know these temples inside out so tell them what you're after (panoramas of silence or something in between).
If you don't have a great first attempt, you can always try again the next morning (assuming you're staying in Bagan for more than one night).
For those of you who arrive on a night bus, use your first morning to see the sunrise. It's unlikely you'll be able to check into your accommodation anyway and you're already awake – double bonus. Try to plan this before you get to Bagan so you have a driver/guide ready for when you arrive. You can always haggle with the drivers at the bus station but make sure you know where you want to go and how much you should pay compared to booking a tour through your accommodation.
I stayed at Ostello Bello and they had an e-Bike sunrise tour each day for both existing guests and those who just arrived by bus.
Learn the difference between a pagoda, a stupa and a temple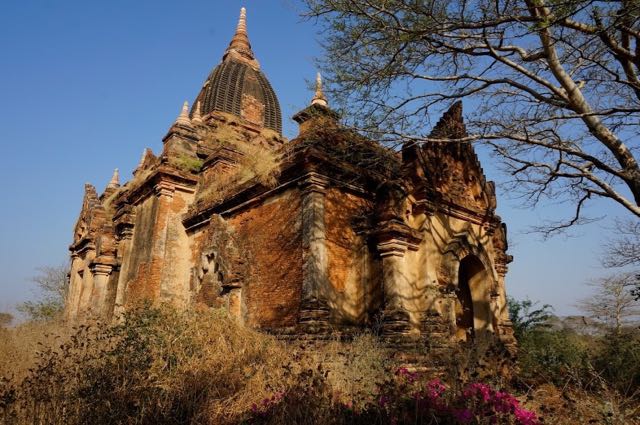 Before you get into your exploration of Bagan, it's worth understanding the difference between a pagods, stupa and temple. I asked my guide and here's what she told me:
Pagoda is a generic term for a stupa or a temple.
Stupas are pagodas that you can go around but you generally can't go into – because there is no entrance. Shwedagon Pagoda in Yangon is a good example a stupa.
Temples are pagodas that you can go inside and typically they have four entrances and exists located north, south, east and west with a Buddha at each entrance.
Because it's confusing (for my tiny brain) I'm probably going to use these words interchangeably in this article.
Here for Myanmar travel inspiration?
Check out my videos – a day on Inle lake…
And taking the boat from Bagan to Mandalay…
Take a hot-air balloon ride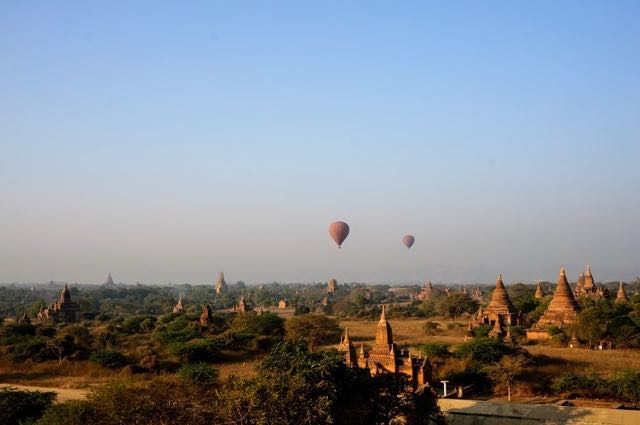 Seeing the balloons rise over the temples at sunrise is a magical experience.
There are several hot air balloon companies to choose from and I'd recommend doing your research before you go – here's a link to Tripadvisor where you can read reviews about the main companies offering hot air balloons in Bagan.
Be aware that if the weather conditions aren't right, your balloon ride could be cancelled so book it at the beginning of your trip to give you time to re-book if your ride is called off.
In terms of price, get saving because the ride will cost you hundreds of dollars. But apparently it's completely worth the cost.
If you're looking for my list of 10 experiences everyone should have once in their lifetime, you'll find it here.
Looking for a travel guidebook? I used this one by Lonely Planet
Explore the many, many, many pagodas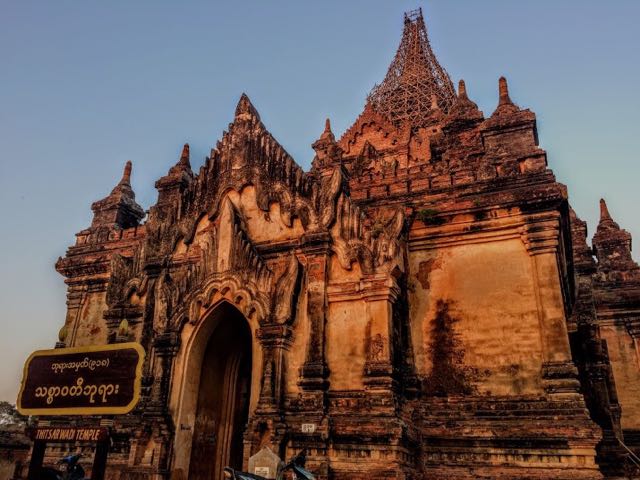 I saw almost 20 pagodas during my one day of sightseeing and, to be honest, it was a few too many. In fact, at one point during the afternoon, I gave my guide the slip and found a hiding space around the back of one temple where I could grab a sit down for 10 minutes. Very grown up of me, I know.
In terms of which pagodas to see, obviously you'll want to see the main, larger ones but I'd also recommend exploring some of the smaller, less commonly visited pagodas where there won't be as many tourists (it is possible in a city of over 2,000 temples).
I've cover in another post a list of the pagodas to visit (both the popular and more deserted ones) together with a map of where they are: The Best Bagan Pagodas – Which Ones to See
The are a few options for seeing Bagan. Here they are:
By foot and pedal bike
"Everywhere is within walking distance if you have the time" as the saying goes but the consensus from everyone I spoke to who tried to explore Bagan's pagodas by foot or bike is: don't. They are too spaced out, the temperature is too hot and the air is too dusty.
If you do want to take a bike trip while you're in Bagan, you'll find a list of tours you can book ahead here.
By e-Bike
Your cheapest and one of the most popular options for getting around Bagan is e-Bike. Similar to a moped but powered by electricity, not gas, you'll be able to zip between pagodas no problem. The cost is around $7 a day. Just a few things to be aware of:
make sure you're comfortable riding an e-Bike on dusty roads. I saw more than one case of road rash
take something to cover your mouth from the dust – these bandanas will work
download a map so you have free GPS to help you get around
don't forget to make sure your bike is charged if you take it for a few days (I have a travel friend who can give you tell you her first hand experience of why that's important)
While it's possible to go off on your own to explore, I'd recommend taking an e-Bike tour because you have the benefit of following a guide to the best spots. Ostello Bello offers e-Bike tours for guest. You can check reviews and prices here.
Horse and carriage
As romantic as they look and as abundant as they are, travelling by horse and carriage is cruel to the horses. If you're considering this mode of transport, read this first.
By car
Thanks to recent knee surgery, I decided to hire a car and driver to explore. At $35 for the day, it's quite a lot more expensive than an e-Bike but I'd highly recommend it. Why?
I didn't have to deal with the heat and dust – thank you a/c
I was able to travel out further than most e-Bikes bothered to go
If your driver has decent English, you also have a local guide. As it turned out, my driver spoke no English so he bought his daughter along and she was training to be a tour guide so that was a bonus (tour guides can be hired in addition to the car/driver but cost an extra $40)
Since returning from Bagan, I've noticed that it's possible to pre-book a driver on Get Your Guide and, in some cases, the prices is cheaper than I paid booking in Bagan. This comes with the advantage of being able to read other customer's reviews rather than going on the whim of the recommendation of the desk staff at your hotel the day you book.
You can see the full list of Bagan tours on Get Your Guide here.
Expect to pay a tourist tax…ahem… 'entry fee' for Bagan – this fee is charged to all foreigners and there's no getting around it. It's $20 and will be collected as you enter the archeological zone.
Don't miss the temples by the river
The closer to the river I got, the thinner the crowds became, which was pleasant in itself. Not only that, the pagodas by the river offered a different backdrop and made for a welcome break from the same brown structures that had started to wear on my eyes. Add Bu Paya temple to your itinerary.
Spend some time chatting to the local people
When people ask me about Myanmar and what it was like, the stories I tend to tell are the ones that involved chatting with the locals. In a country where tourists are still a rare(ish) revelation, you'll lose count of the number of times you will get stopped for a chat.
Most memorable in Bagan was the time I spent with a group of young children who'd hand drawn postcards that they were trying to sell. Gravitating from their makeshift homes to practice their hard sell on me, I sat down, pulled out a notebook and, instead of handing over cash for their 'original Picasso' pictures, I spent time drawing with them. Leaving each of them with a hand-drawn gift from the 'foreign lady', by the time I got back to the car and my driver, I had a troop of followers waving goodbye. In just 15 minutes I'd turned what could have been an aggressive 'buy'/'no' exchange into something much more rewarding for all of us.
If you're a chatty, outgoing person, you won't find it difficult to strike up a conversation with any random local you can find. However, do be aware that not all Burmese people speak English, so you might need to give this method a few tries.
Visit the local market
There's rarely a more colourful and vibrant spot than a local market and the one I visited in Bagan was no different. I was the only tourist there at the time, much to the delight of the local ladies – one of them took my handed and treated me to a make-over by applying the local thanakha paste to my face. When you're tired of temples, this is a great alternative.
The local market is in Nyuang U. I got my driver to take me as a way to break up the day seeing temples. Alternatively, you could just swing by on your e-Bike. Here's a Google Maps link to the GPS location of the market I went to.
You can read more about the white thanahka faces of the Burmese people here.
Eat the local food
Just kidding. The local food is up there with the Philippines as having some of the worst cuisine in the world, IMO. But, ok, I suppose you should try it so you can draw your own conclusions. But: you have been warned.
My guide recommended a local restaurant on my tour and the highlight was paying the bill and knowing that the meal was over, so I'm not going to recommend it.
However, I did eat some pretty decent local food at Delicious so I'd suggest giving some local dishes as try at this locally owned restaurant. It also had some of the best prices in Myanmar, let alone Bagan. Read reviews and find directions here.
Get an international food fix
And, if the local food isn't for you, don't worry – there are plenty of international food options.
Despite the unimaginative name, I had a great pizza at La Pizza – proper dough and a wood fire oven. Read reviews and find directions here.
I also had wonderful veggie food (above) at The Moon (2) Be Kind To Animals. Again, the quality of the restaurant name does not reflect the quality of the food. Read reviews and find directions here.
Go shopping for lacquerware
I'd honestly rather gaze at my navel for an hour than go shopping for items other than essentials. At the very most, I might go souvenir shopping about once every 3 years of travel (ask my family and friends). However, I have been told more than once that this isn't normal and that plenty of people do like to go shopping (why? why? why?). Anyway, if that's you, the thing to buy in Bagan is lacquerware. It's so popular, there's even a museum dedicated to this handicraft if you're really into it. Read reviews of the best lacquerware shops and activities here.
Hike Mount Popa
Beyond the expected sights, a visit to Mount Popa is another magical experience.
You can take a taxi to Mount Popa or if you prefer, you can take a tour including a guide and lunch. Check details, reviews and tour prices on Tripadvisor here.
See the sunset over Bagan
I'm much more of a sunset person and, just like it's rising counterpart, there's the same toss-up between quiet without the superlative panoramas or the busy but splendid views. Once again, I opted for the less-crowded experience, but the surrounding views were not as impressive – see photo above.
Shwesandaw Pagoda is also one of the most popular spots for sunset – just pop around to the opposite side from sun rise. Sadly, the crowds are no thinner around the other side.
If you're looking for a less crowded option, I believe North Guni is a decent compromise if you are able to manage the vertigo and climb.
You can read more about the best spots for sunsets here.
You can read more about the best sunrise and sunset spots here.
See the sunset by boat
Whether you're sick of pagodas or crowds or both…or maybe you have an evening spare and want to see something different, why not get onto the river and see the sun set from there.
You can take a taxi or e-Bike to the river and negotiate a boat from there. Otherwise, Urban Adventures offers a Bagan by Boat Sunset Cruise. You can find out more and check tour prices here.
Don't forget to relax
It's easy to burn out in Bagan – the city is so full of activities and things to do that most people forget to build in some downtime. Before you get there, decide on the things that you really don't want to miss and focus on those. Then, the rest of the time, sit back and enjoy.
If it were possible to get a college degree in relaxation, I think I'd graduate with first-class honours. Instead, I'll just have to share some ideas here:
have a massage
find a pool and take a mid-day swim
write postcards while taking shade from the Burmese sun
read a book (Burmese Days by George Orwell might make you feel less guilty about doing nothing)
find a spot for tea
swing in a hammock
eat cake (this should be on every itinerary every day in every country you visit, btw)
stop by Ostello Bello for happy hour
I'm still an old school lover of sending postcards. If you follow me on Facebook, I send them to my readers from time to time.
---
Where to stay in Bagan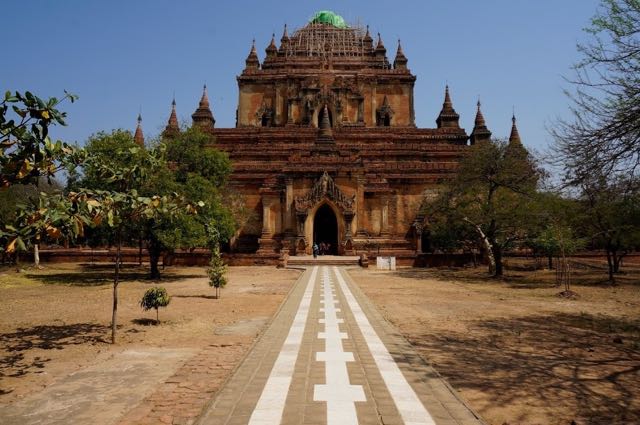 There are 3 main areas to stay in Bagan – New Bagan, Old Bagan and Nyaung U. If you want to slap a price tag on them for the sake of convenience you could say that Old Bagan is best for budget, New Bagan is mid-range and Nyaung U has more luxury offerings.
Budget: Ostello Bello, Bagan: An Italian chain, I've stayed in the Ostello Bello in Milan more than once and they've definitely exported their high quality offering to Myanmar. Favourite bits – the myriad temple seeing tours they offer, the day beds available when you stumble off a night bus and can't check in until 2 p.m, the social scene – it's great for meeting people if you're a solo traveller. Ostello Bello is located in New Bagan. Dorms and private rooms are available. Click here for latest prices and reviews.
Mid-Range: The Hotel at Tharabar Gate: Located in Old Bagan, this hotel wins for location and there is also a tour desk if you want some help planning your sightseeing in Bagan. Click here for latest prices.
Luxury: Bagan Lodge: After a day of hot and dusty sightseeing, you'll welcome access to a pool – and Bagan Lodge has two of them, together with a spa and a shaded terrace off your room. Speaking of the rooms – closer to suites than hotel rooms. If you're after an oasis in Bagan, this place is it. Bagan Lodge is located in New Bagan. Click here for latest prices.
Related articles:
Like this? Share it on Pinterest…
Image credits: Lacquerware, Mount Popa