I love Mexico. And I hate that is has such a bad reputation. I find this reputation is far worse in the USA and Canada compared to Europe. I'm kind of thankful for that because in the UK I'm not flooded by bad news stories that might have scared me off visiting. Instead, I did some specific travel research on safety, as I would for every country I visit. And then I went. Many times. In this article I will share the safest places in Mexico for tourists to visit. This is based on crime data as well as my own experience of the places I've visited and how I felt there. For context, I'm a 5ft woman who mostly travelled solo in Mexico. I've also written a guide to common safety risks in Mexico and how to avoid them.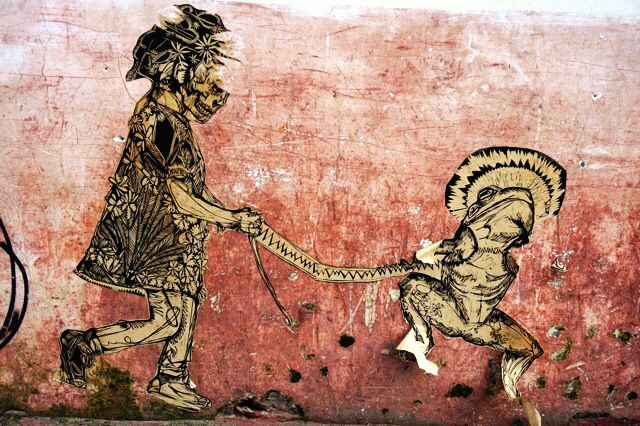 First, where I've been in Mexico: After nearly a year in the country (across three trips) I have visited 11 of Mexico's 31 states including a the vast majority of the areas that tourists tend to visit, or want to visit, in Mexico.
I've stayed on the Caribbean coast of the Yucatan Peninsula including at the beach towns of Playa del Carmen and Cancun, explored Yucatan State in the north of the peninsula, driven the whole of Baja California, I've visited colonial cities like Oaxaca, I've hit up surf towns like Puerto Escondido, I've taken the train through Copper Canyon, which includes starting and ending your trip in two of the main cartel states, and during each of my trips I've visited Mexico City.
Specifically, I've been to:
Baja California: Tijuana
Baja Sur: Cabo San Lucas, San Juan de Cabo, La Paz (road trip from San Diego to Cabo)
Chiapas: San Cristobal, Palenque
Chihuahua: Chihuahua City and Copper Canyon
Colima: Colima City and Manzanillo beach
Jalisco: Guadalajara, Tequila
Mexico: Mexico City, Teotihuacan
Sinaloa: Los Mochis and Copper Canyon
Oaxaca: Oaxaca, Puerto Escondido
Quintana Roo: Cancun, Playa del Carmen, Isla Mujeres, Cozumel, Tulum, Isla Holbox, Akumal
Yucatán State: Mérida
I'm not going to serve you anything sugar coated. If I felt like there were risks, I'll tell you – in fact, for each place I'm going to explain the worst thing that happened while I was there.
Why I look at current international travel advice from TWO countries
Being from the UK, it's standard practice for me to check the UK Government travel advice before I take a trip to a potentially unsafe destination. And I do that every time I visit Mexico. However, I also look at what the US Government has to say.
Why?
Well, two reasons. First, the USA, being that bit closer and more heavily invested in the safety related to it's bordering country, tends to give more detailed advice about Mexico i.e. on a state by state basis compared to the UK.
Second, it's not uncommon for two countries to have slight differences in opinion/attitudes towards risk when a situation is unfolding in a country. Events in Egypt were a good example – the UK and German Governments have had different views on holiday travel to Egypt in recent years, so it pays to look at the advice from more than one source. If both Governments give a "hell-no-don't-go" safety assessment, I'm much more likely to follow that advice. If the advice differs, I'll dig deeper.
If you want to triple and quadruple check if Mexico is safe, here is the Government travel advice from Canada.
In alphabetical order, here are the states I've been to in Mexico, the specific destinations I visited and my experience while I was there.
A word on individual experiences
In every country around the world it's possible for two people to have different experiences in exactly the same place. So, while I may have had a safe visit to many places in Mexico (and in some places I ran into some less than safe moments), ultimately, everyone's experience can differ and there is no escaping the phenomenon of being in the wrong place at the wrong time.
UK Gov Travel advice on drug-related violence and tourist resorts
Instead of listing this advice under each state, I'll list it just once here. The UK Government offers the following advice on the topic of drug-related violence:
"Drug-related violence is a particular problem in the northern states of Sonora, Chihuahua, Coahuila, Nuevo Leon, Tamaulipas, Sinaloa and Durango, and also in Guerrero, Jalisco, Michoacán and Nayarit. Armed clashes between security forces and drug groups can occur at any time without warning. You should exercise extreme caution outside of tourist areas in all of these states."
And on a more positive note:
"The Mexican government makes efforts to protect major tourist destinations like Cancun, Playa del Carmen, Cozumel, Los Cabos and Puerto Vallarta and these areas have not seen the levels of drug-related violence and crime experienced elsewhere"
Tijuana & Ensenada – Baja California Norte
Where I went: Tijuana & and road trip from San Diego to Baja Sur
Travel advice:
UK: no travel warnings are given for Tijuana and, interestingly, drug-related violence is not noted as a particular problem in this state.
USA: In 2013, homicide rates in Tijuana and Rosarito increased 48 percent and 67 percent compared to the previous year, according to the Baja State Secretariat for Public Security, and both cities experienced further increases in homicide rates during the first half of 2014. While most of these homicides appeared to be targeted criminal organization assassinations, turf battles between criminal groups have resulted in violent crime in areas frequented by U.S. citizens. Shooting incidents, in which innocent bystanders have been injured, have occurred during daylight hours.
How was it: I crossed into Tijuana packing my biggest (mental) bag of street smarts and was taken entirely by surprise. The nightlife was tame, the streets felt incredibly safe and the locals I met were utterly helpful with local craft-brew and restaurant suggestions. I absolutely got the impression that the locals were glad to see some tourists.
Worst thing that happened: I did get a bit of hassle from street vendors during the day – nothing a polite "no, gracias" didn't solve. Also, a shifty bait and switch incident occurred in one bar where the drinks that were "included" in the cover charge rapidly changed from a free spirit and mixer to a free small beer when I got inside the bar.
Travel tips:
Stick to Zona Centro and Avenida Revolucion, the main tourist area.
Cross the border during the middle of the day.
Make sure you pick had a safe hotel in the tourist area.
If found wikitravel with it's overview of the different zones helpful when planning my trip to Tijuana
I stayed at Aqua Rio Hotel (around $25 a night) and would highly recommend it. The place was very close to the nightlife, could be booked online and felt very secure (many hotels in Tijuana run a "by the hour" rental service and others are known for robbing their guests). I happened to meet the manager while I was there and he seemed nice and, importantly, legit and trustworthy!
Update: since writing this post, I've returned to TJ and spent much more time there. You can read my guide to Visiting Tijuana from San Diego and my guide to 20 Fun Things To Do In Tijuana.
La Paz & Cabo San Lucas – Baja California Sur
Where I went: La Paz, Cabo San Lucas and San Jose del Cabo
Travel advice:
UK: The Mexican Government makes efforts to protect tourist destinations like this one and this area has not seen the levels of drug-related violence and crime experienced elsewhere.
USA: Cabo San Lucas and La Paz are major cities/travel destinations in the state of Southern Baja California – No advisory is in effect.
How was it:
As the safest state in Mexico, I wasn't expecting much by way of trouble in Baja Sur and I'm pleased to say that my experience was entirely trouble-free.
La Paz is largely a family holiday/vacation destination for Mexicans. At night the beachfront (malecón) was filled with families strolling and couples rollerblading. I felt completely safe walking along the beachfront alone every night after dinner and overall La Paz turned out to be one of my favourite places in all of Mexico – I went for 3 days and stayed for more than a week. I arrived there by ferry from Topolobampo on the mainland.
Cabos San Lucas was so Americanized (they accept dollars and have a whole bunch of US food chains there), I had cause to wonder if I'd somehow inadvertently crossed the border. The only risks were self-imposed – sun stroke and hangovers.
Worst thing that happened:
My travel budget was the only thing that was hurt during my stay in Los Cabos (La Paz was much more affordable).
Travel tips:
If you're on a budget, limit your time in Los Cabos.
Update: I've taken a top to toe drive down Baja California including some wine tasting in Ensenada and swimming with Sea Lions near La Paz. I went with a friend from North America who was nervous about the trip, based on horror stories he'd been fed by family and friends. Outcome: one of the best trips I've taken.
Related guides:
San Cristóbal & Palenque – Chiapas
Where I went: San Cristóbal and Palenque
Travel advice:
UK: Outbursts of politically-motivated violence also occur from time to time in certain parts of the country, particularly in the southern states of Chiapas, Guerrero and Oaxaca.
USA: No advisory is in effect.
How was it:
I didn't see a single Zapatista rebel while I was in San Cristobal and I wasn't surprised given the uprising was 20 years ago and most of the activity these days, such that it exists, seems to be concentrated in the indigenous villages outside of the centre. As such, I felt safe the entire time in San Cristóbal, including walking around the historic centre alone at night. Sure, there might be the teeniest chance that another rebellion will kick-off while you're there, but you're not the subject of the battle.
I didn't get out much while I was in Palenque because I was sick with what I suspected was malaria, so I can't comment too much. However, I did feel safe during my short period of wellness. Downtown Palenque is pretty ugly but apart from the car fumes, it seemed safe enough.
There are concerns about hijacked buses, particularly at night in a lot of areas of Mexico, including in Chiapas but there are a lot of road-blocks and military checks to counteract the risk.
Worst thing that happened:
Watching a six-year-old boy (who'd been sent out to sell handicrafts) watching the Lion King at 11pm through the window of an electrical store. Youth isn't something the local children get to enjoy for too long in San Cristóbal.
Travel tips:
If you're worried about highway robbery, take day buses or if you're covering a long distance, it's often as cost-effective to fly.
Be alert in San Critóbal and steer clear of any protests.
Don't photograph indigenous people without their permission (which you're unlikely to get – I asked many times and was refused without exception).
Copper Canyon – Chihuahua
Where I went: Chihuahua City and Copper Canyon (Creel, Divisadero)
Travel advice:
UK: Drug related violence is a particular problem in this state.
USA: Exercise caution in traveling to the business and shopping districts in the northeast section of Ciudad Juarez and its major industrial parks, and the central downtown section and major industrial parks in Chihuahua City. U.S. citizens should defer non-essential travel to other areas of these cities and anywhere else in the state of Chihuahua and travel during daylight hours between cities.
Crime and violence remain serious problems throughout the state of Chihuahua, particularly in the southern portion of the state and in the Sierra Mountains, including Copper Canyon. U.S. citizens do not, however, appear to be targeted based on their nationality.
How was it:
I was in Chihuahua to catch the Copper Canyon train but instead of breezing through, I took a few days to explore the city. There were not many tourists in Chihuahua – I didn't see a single other gringo during my stay – and that seemed to make the locals all the more welcoming rather than suspicious, which flew in the face of my expectations.
People in Chihuahua went out of their way to help me with directions and food ordering (picking the right burrito is very important). I didn't explore much late at night because I was being cautious of the travel advice but I walked around during the day with my camera and iPhone out without any concern.
On the Copper Canyon route, I chose two very safe places to stay – Divisadero and Creel. I avoided the places where there are some safety warnings (due to drug gangs) e.g. Batopilas. Creel felt incredibly safe and Divisadero is little more than a train stop with a hotel with a view so not many people were around.
Worst thing that happened:
It felt like the taxi drivers were the biggest criminals in Chihuahua and I got severely ripped off with every single taxi I took. The drivers point-blank will not negotiate and they're brutal in their pricing.
Travel tips:
Stay in a centrally located hotel in Chihuahua.
Stick to the historic centre and limit your sightseeing to daytime hours.
If you're really worried about Chihuahua, limit your stay to one night and leave for the Copper Canyon the next day (get your hotel to arrange a taxi to the train station for you).
If you'd rather skip an overnight stay in Chihuahua altogether, fly in and then take a bus and start your Copper Canyon trip in Creel.
In Chihuahua I stayed at Ibis. Otherwise, Quality Inn and Hotel Plaza are a bit more expensive but have even better locations in the very centre.
You can read about my trip on the Copper Canyon – what to see in the Copper Canyon – and how to plan your Copper Canyon trip.
A word on Ciudad Juarez
Located within the state of Chihuahua, here's the advice from each of the UK and USA on Ciudad Juarez:
UK: The FCO no longer advise against all but essential travel to Ciudad Juarez. You should, however, take care, travel during daylight, inform relatives or friends of your travel plans and use reputable hotels only.
USA: Although homicide rates in Ciudad Juarez have decreased markedly from a peak several years ago, the city still has one of the highest homicide rates in Mexico.
I was seriously contemplating crossing into the USA via Ciudad Juarez and was reasonably comfortable with my decision to go there. However, my route after the Copper Canyon naturally spat me out closer to the Baja Peninsula. If/when I do make it to Ciudad Juareze, I'll update this article.
Colima City
Where I went: Colima City and Manzanillo beach
Travel advice:
UK: No travel warning given.
USA: Defer non-essential travel to the areas of the state of Colima that border the state of Michoacán, including the city of Tecoman. The security situation along the Michoacán border continues to be the most unstable in the state, with gun battles occurring between rival criminal groups and with Mexican authorities. Intercity travel at night is not recommended.
How was it:
I had no problems in either Colima or Manzanillo. However, I was the only gringo for miles around and I was with a local, so it's hard to give an objective view. That said, there wasn't a huge amount of tourist attractions in Colima – the city has a nice centre and a cute park with a lake but otherwise operates on a functional grid system that reminded me a lot of Phoenix.
The beaches were nice but were too harsh for swimming – so you're average traveller is unlikely to want or need to visit the beaches in this state.
The worst thing that happened:
My flip-flops got swept away by a pretty fierce wave at the beach. Gutted.
Travel tips:
You'll probably want to a local friend or decent Spanish to get by in this state.
Beware of the strong waves and currents in this area.
Guadalajara & Tequila – Jalisco
Where I went: Guadalajara and a trip to Tequila
Travel advice:
UK: Drug related violence is a particular problem in this state.
USA: Defer non-essential travel to areas of the state that border the states of Michoacán and Zacatecas. The security situation along the Michoacán and Zacatecas borders continues to be unstable and gun battles between criminal groups and authorities occur. Concerns include roadblocks placed by individuals posing as police or military personnel and recent gun battles between rival criminal organizations involving automatic weapons. You should exercise caution in rural areas and when using secondary highways, particularly along the northern border of the state. Except for the areas of the state that border Michoacán, there is no advisory in effect for daytime travel within major population centers or major highways in the state of Jalisco. Intercity travel at night is not recommended. There is no recommendation against travel to Guadalajara and Puerto Vallarta. There is also no recommendation against travel on principal highways in Jalisco between Guadalajara including the portions that cross into the southern portions of the state of Nayarit
How was it:
I went to Guadalajara for a weekend and stayed for weeks. I wandered aimlessly around the city and got lost plenty of times and I explored the nightlife. However, I had my wits about me a few times as certain areas were dense with people (and ripe for pick-pocketing) and a few streets had groups of guys handing around on them – probably innocuous, but my instincts always made me turn and walk the other way. Also, I always went out with travel friends and I'm not sure I'd stray too far alone at night.
I took a day tour to the town of Tequila and had no concerns or issues (other than the obvious hangover the following day)
Worst thing that happened:
Ok, brace yourself – a few bad things happened (to other people) while I was there.
A guy in my hostel got drugged in a club and woke up in the back of a taxi without most of his clothes. On the plus side (?!) they did deliver him back to his hostel without injury and he later found his wallet tossed outside – minus his money but complete with everything else.
And…there was…errr…a bit of an armed robbery at my hostel while I was there. Ok, calm down (mum). I wasn't even aware of it until the next day. The hostel was having "tequila" night. Meanwhile, someone forgot to properly close the door. In walked an armed guy. He demanded money. The staff gave it to him. He left. Nobody was any the wiser.
Travel tips:
Watch your drink if you're out at night.
Make sure you explore the nightlife with friends and you watch each others' backs.
Take out little by way of money, valuables and bank cards.
Stay in a place that has good security and always make sure the door to your accommodation is closed behind you.
You can read about my time here in: How to drink Tequila like a Mexican. Want some dutch courage before visiting? How about: 8 Tequila Cocktails To Make At Home
Mexico City
Where I went: I've visited most of the main areas that tourists will want to visit – the historic centre, Chapultapec, Coyoacán, Condesa and Roma, and Tiotihucan
Frommers has a good guide to the various areas in Mexico City.
Travel advice:
UK: Passengers have been robbed and assaulted by unlicensed taxi drivers including in Mexico City. In Mexico City, use the better regulated 'sitio' taxis from authorised cab ranks. At airports, use only authorised pre-paid airport taxi services.
Women travelling on their own should be particularly alert when travelling on public transport. There have been incidents of rape on urban buses ('micros') on routes in the south of Mexico City. Most attacks have occurred early in the morning or late at night. Several serious sexual offences have also occurred in tourist areas outside of Mexico City. Take care even in areas close to hotels, and especially after dark.
USA: No advisory is in effect for Mexico City or nearby Puebla.
For the greater metropolitan state of Mexico City: Defer non-essential travel to the municipalities of Coacalco, Ecatepec, Nezahualcoyotl, La Paz, Valle del Chalco, Solidaridad, Chalco, and Ixtapaluca, which are eastern portions of the greater Mexico City metropolitan area, located just to the east of the Federal District of Mexico and Benito Juarez airport, unless traveling directly through the areas on major thoroughfares. These areas have seen high rates of crime and insecurity. You should also defer non-essential travel on any roads between Santa Marta in the southeast portion of the state and Huitzilac in the state of Morelos, including the Lagunas de Zempoala National Park and surrounding areas.
How was it:
The first time I visited Mexico City I was like a rabbit in the headlights, in complete fear that something bad would happen – after all, so may people had told me that I'd be raped, robbed and shot (and not necessarily in that order) if I visited Mexico's capital. However, after several visits to the city, I can honestly say that DF (as it's know to the locals) is one of my favourite places in Mexico.
Sure, you shouldn't take yourself down a dark, quiet street on your own late at night, I'm generally cautious with my camera when I'm there (as I am in all big cities) and the street taxis should be absolutely avoided, but I have taken myself for dinner alone late at night in the historic centre and strolled home happily.
Worst thing that happened:
I sat in blind panic for an entire 20 minutes in a street taxi coming home from a bar one night. Although the driver didn't do anything bad (apart from over charge me), it was a pretty nerve-wracking ride and not one I will repeat soon.
Travel tips:
Oaxaca & Puerto Escondido
Where I went: Oaxaca City and Puerto Escondido
Travel advice:
UK: Outbursts of politically-motivated violence also occur from time to time in certain parts of the country, particularly in the southern states of Chiapas, Guerrero and Oaxaca.
USA: No advisory is in effect.
How was it:
I was relatively new to Mexico when I visited Oaxaca and my hostel was a 10-minute walk down a fairly quiet street to the historic centre. For those reasons, I spent a large amount of time feeling nervous in Oaxaca. In hindsight, it was completely due to my anxiety and nothing to do with anything that happened during my visit.
I was also pretty nervous turning up in Puerto Escondido. Despite visiting three years after my first trip to Mexico and being much more confident as a traveller, a travel blogger friend had been robbed at gun point on the beach just a few months earlier. As a result, I nearly passed Puerto Escondido by.
However, after taking advice about where to go and where not to, I ended up having an amazing stay in Puerto Escondido – it was another place I went for three days and ended up staying for weeks (I even learned how to make real guacamole), and, overall, I felt safe…enough…
The worst thing that happened:
Obviously, there's the story of my travel blogger friend who got held up at gunpoint (you can read about that here).
A travel friend had her drink spiked in Puerto Escondido and a local guy was about to take her home (his home, not hers) when we spotted her.
Another travel friend got robbed coming back from the local shop after dark, also in Puerto Escondido, but out in a residential district.
And another travel friends ran into some more unusual trouble – he had a reaction that caused his mouth and throat to swell up when he tried the deep-fried grasshoppers that are so popular in Oaxaca.
Travel tips:
If you've not reached a stage of travel confidence, I'd recommend choosing a place to stay right in the heart of the historic centre of Oaxaca.
In Puerto Escondido avoid going to The Point early in the morning or late at night.
Be super careful with your drink and make sure you go out with friends who can keep an eye on you.
Have some anti-histamines on you if you plan to dine on grasshopper…and perhaps know where the nearest hospital is!
Cancun, Playa Del Carmen & Tulum – Quintana Roo
Where I went: Cancun, Playa del Carmen, Isla Mujeres, Tulum, Cozumel, Isla Holbox, Akumal
Travel advice:
UK: "The Mexican Government makes efforts to protect tourist destinations like this one and this area has not seen the levels of drug-related violence and crime experienced elsewhere.
USA: No advisory is in effect.
How was it:
I don't have the slightest hesitation recommending Quintana Roo as a safe travel destination in Mexico. In fact, I've been to less safe places in Europe and the USA.
The worst thing that happened:
I slipped down the steps of a hot tub in Cancun and badly bruised myself.
Travel tips:
If you're going in a hot-tub with steps, remember, wood and water don't mix!
Los Mochis – Sinaloa
Where I went: Los Mochis
Travel advice:
UK: Drug related violence is a particular problem in this state.
USA: Defer non-essential travel to the state of Sinaloa except the city of Mazatlan, where you should exercise caution, particularly late at night and in the early morning. One of Mexico's most powerful criminal organizations is based in the state of Sinaloa, and violent crime rates remain high in many parts of the state. Travel off the toll roads in remote areas of Sinaloa is especially dangerous and should be avoided. We recommend that any travel in Mazatlan be limited to Zona Dorada and the historic town center, as well as direct routes to/from these locations and the airport.
How was it:
Sinaloa is one of the "drug cartel" states and I freaked myself out with paranoia while I was in Los Mochis. I was there because Los Mochis was the last stop on the Copper Canyon route and I stayed in the city two nights to catch up on work after several days with intermittent wi-fi.
Even though I wound myself up into a state of twitchiness, nothing bad actually happened and the people I met were actually really nice and helpful. But reading about the infamous month where 142 people were killed in August 2011 did little to settle my imagination or my nerves.
That said, the town holds very little for tourists. Apart from a main square, which is twee, this is another functional town that's best skipped or given no more than a night's stay.
Worst thing that happened:
(Apart from freaking myself out) I realised that they have their own heat scale in Sinaloa and even with my fierce chilli tolerance, I sniffed, hiccupped and spluttered my way through my spicy chicken with spicy sauce and did, for at least 3 minutes, contemplate the possibility that I might die.
Oh, and the taxi drivers are as criminal here as in Chihuahua. After negotiating a $40MXN ride in a shared taxi, the driver later changed the price to $50MXN and swore blind I'd misunderstood him. I know my numbers in Spanish and he only decided to up the price when I handed over a $50MXN note.
Travel tips:
If you're concerned, minimise your stay in the city. Two nights felt like way too much, even with a busy work schedule to catch up on.
Limit your exploration to the main centre.
Stay in a well-located hotel.
Plan the end of your Copper Canyon trip – arriving after 11pm into Los Mochis you won't be able to catch the ferry to the Baja Peninsula but you might be able to catch a bus out of town.
Take the right money/change for your taxis and write the numbers down on a piece of paper before you get in to avoid post-trip inflation.
If you want to avoid Los Mochis altogether, end your Copper Canyon trip in El Fuerte.
I stayed at Hotel Fenix. It felt very safe, was across the road from an OXXO (Mexican version of 7-Eleven), had a restaurant attached and came with a 2pm check-out (handy if you're taking the night ferry to La Paz).
Mérida – Yucatán
Where I went: Mérida
Travel advice:
UK: No advisory is in effect.
USA: No advisory is in effect.
How was it:
Mérida is a hard-working town and there's nothing particularly sparkly about it…until you start to chat to the locals, eat the food and take in the live music in the square each night. I felt safe wielding my camera and walking alone at night around the main square. I didn't and wouldn't head to the market area alone after dark…but there'd be no reason to unless you're looking for trouble.
Worst thing that happened:
I got lost around the market area during the day and was paranoid I was going to a) be pickpocketed and b) never find my way back. Neither happened.
Travel tips:
Stick to the historic centre at night.
So, that's my state by state analysis of safety in Mexico.
Fear is uniquely individual and I accept that the above stats may put a good number of you off visiting Mexico (even within the context of Mexico's size and given that much of the trouble is concentrated in states you're unlikely to visit).
If that's the case, fair enough. The point of leisure travel is to enjoy yourself and if you're not going to be able to relax through fear of something bad happening, then you're better off going somewhere else (Spain, Italy and Hawaii are good, safe alternative). At least you've done some research before making an informed decision.
However, the reality is that tourism numbers are high in Mexico and, most importantly, the majority of tourist – myself included – visit Mexico without experiencing any trouble.
---
Travel insurance for Mexico
The last time I used my travel insurance was in Mexico but it was for dengue fever. The most important point was that I had insurance as I racked up over $2,000 in costs (changing a cruise plan is not cheap). If you are planning to go to Mexico (or anywhere outside your home country), I highly recommend travel insurance.
Get a quote from World Nomads here
Not sure whether you need travel insurance? Check out my related posts:
10 Times You'll Realise the Importance of Travel Insurance
What Does Travel Insurance Cover (and What is Excluded)?
A small disclaimer: Crime in Mexico is a complicated subject with a lot of data from myriad sources. I'm no expert on the topic. I've pulled together this article based on the best information and most reliable sources I've been able to find. My aim is to inform people about Mexico. If you have conflicting or more relevant information that I have missed, please send it to me and I'll happily update this article.
Related Articles