The Ginstitute has been on my radar (gindar?) for a while. In fact, I listed it as one of the things I wanted to try in London. It took me a few years to get around to it (these things can't be rushed) but with a friend's big birthday coming up – the kind that ends in a zero – it seemed like the perfect opportunity to give the Ginstitute a try.
What is the Ginstitute?
For those not in the know, the Ginstitute is a gin experience put together by the savvy folks at the Portobello Star Pub in London. The three-hour experience culminates in you crafting your very own recipe of gin and at the end of the experience you walk away (probably with a little stagger) with a full bottle of your handcrafted booze to show off to your friends and family at home.
Best of all, your personal recipe is kept on file at the Ginstitute and you can re-order a bottle any time you like (cost: £35 for a 70cl bottle).
How much does it cost?
Ticket Cost: The current price to attend the Ginstitute is £110 per ticket (around $170). It cost £100 when I booked a few months ago but in the last month the Ginstitute has redone its website (it's looking very snazzy) and they took the opportunity to increase the price.
Postage & Packaging: What the website didn't mention when I booked is that you have to make payment through Paypal and there's a non-optional postage & package fee of £3.99. Given your tickets comes by normal post, my suspicion is that the £3.99 is built-in to cover Paypal's fees (as a freelance writer I'm only too familiar with Paypal's fees). It would be nice (and, er, more legal) if they made these fees known upfront on its website. After all, isn't that why the low-cost airlines now have to disclose any additional fees if you're paying by credit as opposed to debit card?
All that said, as the website has been redone since I ordered, I don't know if you still have to pay by Paypal or what the fees are so the situation might have been fixed – I'd be grateful for an update if anyone's booked since July.
Buying from overseas: I'm afraid I've no idea what the deal is if you book a session while you're overseas for an upcoming trip and want the tickets sent outside the UK – if you've done this, let me know how it went.
Is it worth the cost?
I'll go into more detail about what the day involves below and you'll see that I did find a number of shortcomings with the experience. However, in terms of value for money, I'd say the day is absolutely worth the cost. In fact, I think they could get away with an even higher price – as much as £150 – but shhhhh, don't tell them I said that!
As well as the Ginstitute experience, which lasts for 3 hours, your £110 ticket includes:
A gin and tonic in the bar on arrival
A Tom Collins during the first part of the experience (History of Gin)
A second gin and tonic during the second part of the experience (the Still Room)
A martini when you're back in the bar before departure
A 70cl bottle of your own blend of gin to take home
A 70cl bottle of the Portobello Star's blend of gin to take home
That's a lot of gin and a lot of experience for just £110 in one of the most expensive cities in the world. And, if you're from the lovely United States of America, you'll be pleasantly surprised to know that's the final price – there are no extras for tax or tips required!
Where is the gin making? The Portobello Star Pub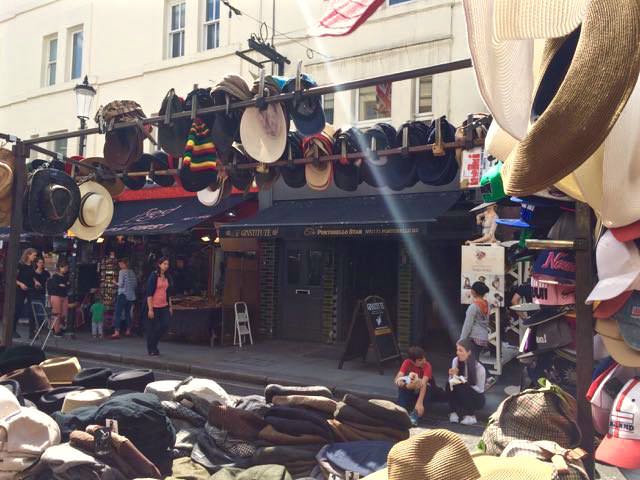 The Ginsitute is run by the Portobello Star pub in Notting Hill, on Portobello Road – the same road where the famous Portobello market is held. Unless you were going to the Ginstitute or desperately parched following a trip to the market, you probably wouldn't step inside the Portobello Star because it's dark inside and looks like an old man's boozer. However, that's a shame, because the cocktail menu is fantastic and, if nothing else, a real hoot to read – Slutty Mermaid, anyone?
I've not tried the food in the Portobello Star. I did consider it for lunch as a stomach-liner before the gin making session but the menu is mainly pies or sandwiches, neither of which appealed for the activity that was going to follow (see below for where I did end up eating).
In terms of the Ginstitute, your arrival drink (gin and tonic) and departure martini are both served in the Portobello Star's cosy bar. The rest of the experience is held across the upper two floors in the bars mock Gin Palace Room and then in the Still Room where the real magic takes place.
---
What does the experience include?
There's a lot of information about the experience on the Ginstitute website, so if you're looking for the full details, you'll find it here. What follows is my experience of the day.
Gin on arrival
You're advised to arrive "in plenty of time" before your session. This gives you time to let the bar staff know you're there for the Ginsitute experience and also to work your way through a gin & tonic – don't rely on taking it with you for the start of the session because there will be Tom Collins waiting for you when you head upstairs.
I arrived about 20 minutes before the start and that was just about enough time. We didn't head upstairs to start the experience until about 10-15 minutes after the 2pm start time. No reason was given but I didn't really care because I had a gin in my hand.
A class on the History of Gin
The first real part of the experience starts when the group is taken upstairs to the mock Gin Palace. Presented with a Tom Collins, you sit for about an hour while the gin master/instructor talks you through the history of gin around the world and in the UK.
I personally found this part of the session fascinating, particularly hearing about the Gin Craze in London, the transition in popularity from gin to vodka and then the resurgence of gin as an upscale drink through to today, where there's a lot of creativity going on in the 21st Century gin scene.
My friend, however, found an hour of history a bit too much, especially when you're doing more sitting and listening than interacting, which was a fair point and unless you're a history nerd you'll probably wish this part of the session is over with sooner than it is.
Like history? Check out my guide to visiting Shakespeare's Birthplace: 17 Best Things To Do In Stratford-upon-Avon – England
What was particularly cool was the paraphernalia kept inside the room from original cocktail books to old gin bottles to replica Gin Palace mirrors and decoration. There was a bit of a soft sell of some of the Ginstitute merchandise, but nothing excessive.
What wasn't so good: As interesting as the history presentation was, with a good dose of humour, I became increasingly disappointed during the session as I realised there really wasn't much scope for questions. The instructor clearly had his patter and didn't like to deviate from it. I understand that keeping to time is important but when my friend made a move to leave the room to visit the ladies, she was asked (in the kind of voice you know isn't a request) if she could hold on 5 more minutes when the presentation would end. Likewise, my second question was put on pause (I was only brave enough to ask two) until we got upstairs to the Still Room.
Learning about the gin botanicals in the Still Room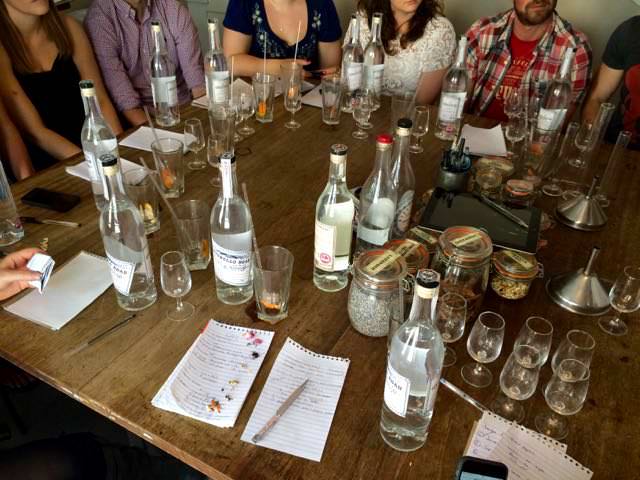 Unlike the mock Gin Palace room, which was windowless and wonderfully oppressive with dark wood panelling and etched mirrors, the still room was white, bright and airy (literally airy – I had a stool next to the open window and was mildly concerned that with another gin I'd topple backwards out of it – fortunately, it didn't come to pass).
It's in the Still Room that the gin crafting part of the session begins and the group is sat on stools around a large square table that will, very quickly, become littered with glasses.
By far the most interesting part of the day, for the next two-ish hours you're talked through the different botanicals that make up gin and how adding different percentages of each is what makes the difference to the end taste.
This part of the session is where you get to smell each of the botanicals in their dried-botanical form and also taste them in their pure distilled form. As well as the usual suspects of juniper, black pepper and coriander, there was lavender and even Yorkshire tea distilled for you to taste (the instructor who took our session was a Yorkshireman).
Once you've learned about the different categories of botanicals that make up gin and have chosen your favourites, that's when the blending begins.
Gin fans should definitely add a day trip from London to visit the Bombay Sapphire distillery.
Blending your own gin
Before I attended the Ginstitute I was baffled as to how we would make our own blend of gin – surely distilling gin took more than a few hours on a Friday afternoon?
The solution offered by the Ginstitute was a smart one: they have pre-distilled each of the botanicals is their pure form and together with the base booze, your blend of gin is created by combining certain percentages of each of your chosen botanicals. Voila, your gin is created.
What wasn't so good: Sadly, the instructor's preference for lecturing over immersive experience continued into the Still Room. Provided with a pen and paper, we spent most of the time in the still room listening and taking notes. Sure, there was a good bit of sniffing and sipping but what didn't happen and what I'd expect to happen was we didn't blend a single thing!
Having chosen our preferred style of gin (spicy, citrus heavy, dry, good for martini), the blending was done by the instructor with the help of his two very nice gin elves (bar staff from downstairs). Of course, in order to craft something drinkable, I completely understand and was grateful for the fact that the gin instructor took responsibility for choosing the relevant percentages of each botanical to make up the final bottle (after all, he is the guy who crafted the Portobello Star blend of gin which you can now find in bars all over London).
However, if the final product was being produced by the instructor, I couldn't really see the point of spending over an hour taking notes about the kind of percentages you might put into the bottle of gin that you never get to make. Wouldn't that time have been better (read: more enjoyably) spent letting us play with a few blend, if only to reinforce the need for the blending of our final bottle to be handed over to the experts? A pre-printed sheet of information about the botanicals would have made the lecturing easier and, let's be honest, who (apart from the instructor) thinks it's a good idea to give a group of gin-infused people a noting-taking task?
The time in the Still Room felt very much like I was on a professional master blending gin course where a final exam (in written not drinking form) was imminent. There was little time or scope for chat or laughter among the group and when my (by that point gin-addled) brain missed what the instructor said and I asked him to repeat it, his indignation at having to say the same thing twice took me straight back to chemistry classes when I was 14 years old (I was paying attention, Sir. Honest, I wasn't swapping notes with Martin Henderson at the back of the class).
That said, as the gins were blended for each person in the group, it was fascinating to see how 12 different people could create 12 entirely different drink. And, hats off to the instructor, there wasn't a bad one among them.
Branding your own gin
Yes, yes, I know I'm a 'creative' person (or so I like to think), but that only made it more disappointing when we were each given the task of coming up with a brand name for our blend of gin and I didn't have a single slice of creative flair.
Off the cuff and half-cut is usually a zone that produces an excess of creativity in me but on this day I had nothing. Zero. Zip. Nada. Consequently, my gin is labelled the very original "Jo's Gin". Sigh. *shakes head at self*
If you don't want to suffer the same fate, get thinking about your gin name the second you book your session. Or come to me – I obviously have tonnes of ideas for gin names now.
A final gin before you stagger home
Clutching a piece of paper containing your personal gin recipe in one hand and a bottle of your own booze in the other, we trooped downstairs (grateful to the wall for support) for a martini (because that's exactly what we needed at that stage – more booze). We were also presented with a goody bag containing a bottle of Portobello Star gin and a small bottle of tonic water.
---
Overall review of the day
Despite some of my criticism's above, I'd still say that this was one of the best experiences I've had in London. Ever.
At the end of the session, I asked at the bar and found out that the Ginstitute sessions are help by different instructors. So, there's every chance that the other teachers are less serious and more fun. I'd like to hope so because the concept is fantastic, the end product tasted brilliant and it's a novel gift idea offering amazing value for money. With an experience that's already extraordinarily good, having the scope to make the sessions less instructive and more interactive and fun, could push the Ginstitute onto an even greater gin making level.
Where to eat before you make gin
I struggled for a long time about where to eat as a stomach-liner beforehand. Knowing that I'd be needing my taste buds on full, untainted form, I couldn't eat any of my favourite foods because their flavours are too strong (Indiana, Mexican, garlicky Italian).
After a lot of deliberation (and a bit of advice from a travel friend), I settled on sushi and dim sum. Served at E&O, a few minutes walk from the Portobello Star, the food was an excellent choice for pre-gin making and also happened to be of great quality. The service was sufficiently poor that I had to leave my table and break-up the pack of waiters and staff more than once to order food and a drink, but it was 12pm, so maybe they were not on full-form yet. Plus, the food was good enough to make up for it…as were the pomegranate margaritas – hey, it was always going to be a booze filled day!
When are the sessions held?
The Ginstitute experience runs daily from Monday to Saturday.
From Tuesday to Thursday there are sessions at either 2pm or 7pm. Whether the session is held at 2pm or 7pm is decided based on the first booking made for that date.
On Fridays sessions happen at 2pm and 7pm.
On Saturdays there are three sessions at 11am, 2pm and 7pm.
Sessions last approximately 3 hours.
I attended the 2pm session on a Friday, which felt perfectly timed – I sandwiched the session between lunch and a (sobering) early dinner (when I did get some garlicky Italian food).
If you are hoping to go on a Saturday, you best plan ahead. I booked in June and the closest available Saturday was in October.
There is a maximum group size of 12.
The booking process
The booking process isn't exactly streamlined – you currently have to submit a request to the peeps at the Portobello Star via their booking form and, in my experience, what followed was several emails that involved a lot of decision making by me about available dates and times.
On the one hand, it would be nice to be able to see the available sessions online and book. On the other hand, it's nice to have some human interaction in the booking process and the lady I messaged was both prompt and helpful in trying to help me book the right time and date.
Giving the Ginstitute as a gift
As I've mentioned, I bought my Ginstitute tickets as a gift for a friend. I arranged a date with her in advance and bought the tickets for that date. However, it's also possible to go ahead and buy tickets as a gift and let the person you give the gift to contact the Ginstitute to pick their preferred date.
Although lacking a swish gift envelope, the tickets were beautifully crafted with gold, embossed lettering on large, thick, white card. Pop it in a gift box and you're definitely going to impress someone.
I'd show you a picture of my ticket but it was mysteriously misplaced – nothing to do with the quantity of gin consumed, I'm sure.
---
Where to stay in London
I had the luxury of an Uber back to my friend's house to sleep off the gin but if you're looking for a bed for the night in the city, my two recommendations (both of which I've stayed at) are:
On a budget: Clink 78 is a hostel in a converted courthouse complete with original prison cell rooms (you can read my experience of staying there here).
Affordable hotel in Westminster: well-sized and in a great location, Park Plaza usually has enough rooms going spare to be able to offer a deal. You can compare prices through Tripadvisor.
Otherwise, I have a full guide to Where to stay in London England.
Want to take a gamble? Check out Priceline's Express Deals. I've had discounts over 50% (almost £65/$100 saved a night) using this site.
You can find out more about how to get great deals in my related article: How to Book Cheap Hotels (Using Priceline Express Deals).
Best gin blends to try before you make your own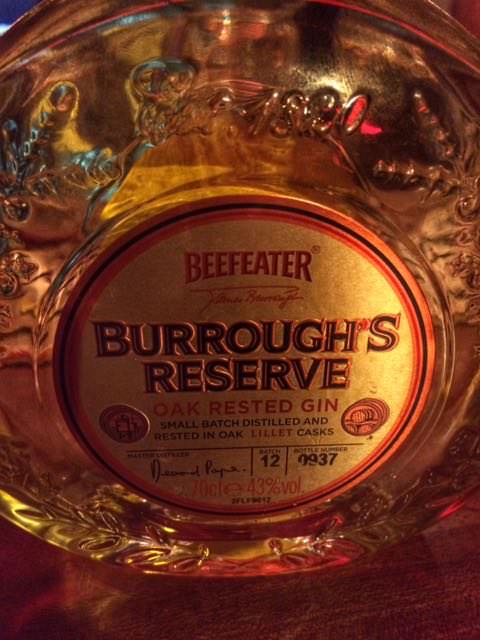 If you're not off to the Ginstitute just yet but are interested in trying some different gins, below are some of my current favourite. I've been spending a lot (rad: too much) time in London's trendy East End working my way through the ever expanding gin brands on offer and these gins are a good place to start if you're looking to break out of your Bombay Sapphire habit.
Butler's like no other gin I've tasted, there's something so exotic about Butler's – just imagine if the Thai people had crafted a gin, this would be it. Packed with lemongrass and cardamom, even the colour is wonderfully different.
Monkey 47 – this isn't what I'd call a starter gin because it has a pretty strong flavour that people new to gin aren't too keen on. However, if you're looking for something distinctive, give Monkey 47 a go. It's a German gin from the Black Forest and if you're interested, the distinctiveness comes from cranberries.
Beefeater Burrough's Reserve (Oak rested gin) – well I never, an oak rested gin?! Very rare in the gin world but beautifully executed – I suspect this started out as an experiment that went well enough to put it on bar shelves. Beware: it's not cheap but who cares, its worth every penny.
Sipsmiths – this gin is starting to feel a bit old hat. In fact, it's so ubiquitous it's even available in some Duty Free shops. However, that doesn't stop me loving this brand which was responsible for the first copper still to open in London in over a century and, in my mind, can take a lot of credit for the recent return of mother's ruin to our bars. Yay, Sipsmiths!
Portobello Road No. 171 Gin – the very gin crafted by the gin master at the Ginstitute, you're going to love this gin if you're into strong citrus flavours. Best served with a twist of orange peel.
Beefeater Crown Jewel – I know what you're thinking – two Beefeater gins on the same list and I get it – I wouldn't order ordinary Beefeater if it was the last gin in the bar, but Crown Jewel is different. Crafted in the 1990s aimed at premium purchasers, sadly, Crown Jewel has since been discontinued so instead of picking it up for under £30 a bottle you're looking at a hefty price tag, which is a shame because I love this stuff. If you can find a dusty bottle of this in a clearance bin, buy it…and invite me over. I'll bring the lime.
Hendricks –  yes, I know most of you will have had Hendricks up to your eyeballs, but on the off-chance I manage to introduce just one person to this beautiful Scottish gin, I've done good work. Flavoured with cucumber and best served with a slice of the same in the glass, Hendricks has got summer written all over it…kind of interesting given the abject lack of sun in Scotland! Hendricks is also great in an elderflower martini (Hendricks, muddled cucumber and St Germain elderflower liquor will do it).
If you've already tasted all of these, then you've done good work. But how many gins have you actually tried? There over 700 gins to work your way through here.
Have you been to the Ginstitute? What was your experience like? Let me know in the comments below.
Related Articles: