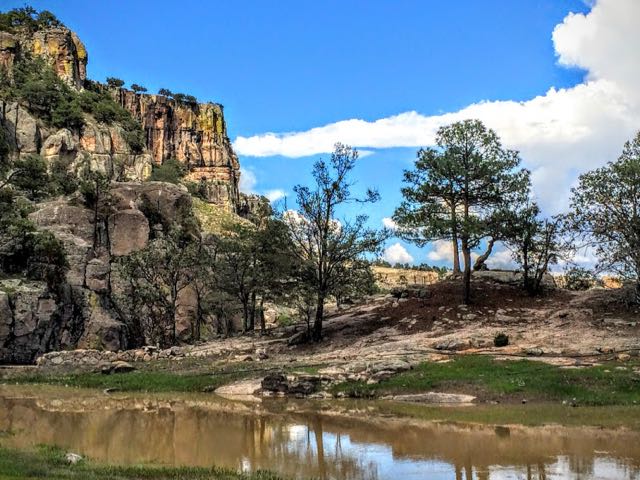 Depending on the metrics you use, the Copper Canyon in Mexico is either four or seven times larger than the Grand Canyon in the USA. But that difference between four and seven times hardly seems relevant – you just need to grasp that the Copper Canyon is immense and, if you take the train through it, it's likely to be one of the best trips you take in your life.
After several trips to Mexico, I finally made it far enough north to explore the Copper Canyon or Barranca del Cobre as it's known in Spanish. I travelled both independently (without a tour or guide) and solo. What follows is the trip planning information I wish I'd had when I was organising my trip.
From booking tickets to choosing the class of train to stopping over and which direction to travel, this guide should give you everything you need to plan your trip through Mexico's superlative Copper Canyon.
Here's my guide to the best things to do in Copper Canyon including activities, where to stay and restaurants.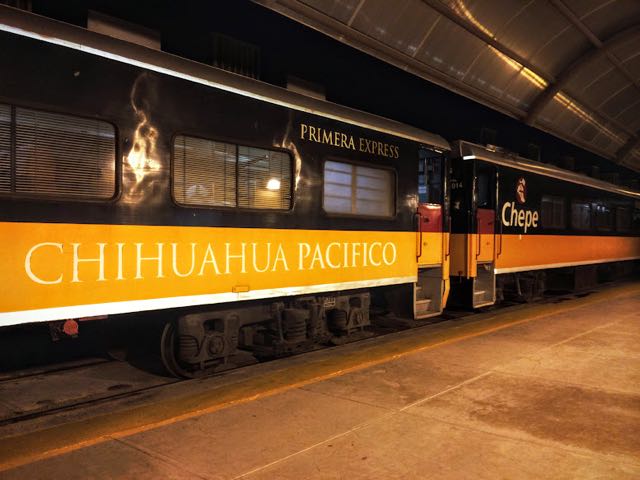 Chepe Express and Chepe Regional
There have been some reasonably big changes to the Copper Canyon Train since I took it. The most notable being that the train has been turned into a tourist route with two trains – Chepe Express (for tourists) and Chepe Regional (for locals). The advantage is, you can now book online. The schedule has changed a little compared to what I've written below. I will do a more detailed rewrite of this post but check the timetable before you book.
The other major change is that the tourist Chepe Express train now starts at Creel, not Chihuahua. And during Covid, tourists were not allowed to use the regional, which caused a problem if you landed in Chihuahua and were not travelling with a tour company. However, I'm pleased to report that the route has re-opened so you simply book on the Chepe Regional from Chihuahua to Creel then pick up the Chepe Express from there. To find the most up to date info on the schedule and to book online, check out the official Copper Canyon – Chepe Express – website, which also includes info on Chepe Regional.
Do I need to take a tour?
Let's start with the most obvious question first – do you need to take a tour?
In a word, no. There is no local requirement to be accompanied by a guide through the Copper Canyon but many people do choose the guided option.
In my experience, the main reasons people opt for a tour of the Copper Canyon is two-fold: they either want a greater sense of safety, or don't want to have to plan their own trip. If that's you, there are plenty of tour companies out there.
I looked into the cost of taking a tour when I was planning my trip but in the end it came down to cost and, more than that – value for money. The price for a tour was idling around $1000 for the itinerary I was interested in but after several years of planning my own trips for much less money, I was confident I could do the same journey for at least half the price (and I did – more on that below).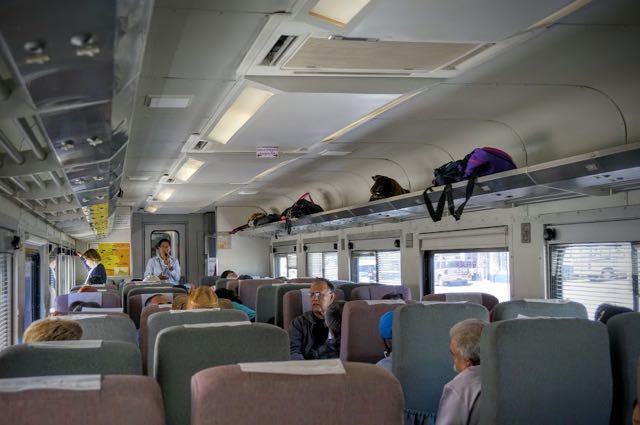 If you do want to take a tour, I should mention that based on what I saw on the train, most of the tours seemed to be filled with retired Mexicans, so keep that in mind if that's not your preferred age group or your Spanish is limited.
If you'd rather plan your own trip through the Copper Canyon rather than take a tour, read on.
What's this El Chepe I keep reading about?
The official, Spanish name for the Copper Canyon Railway is Ferrocarril Chihuahua Pacífico (Chihuahua Pacific Railway if you want that in English). However, you'll frequently see it referred to as El Chepe – which is a more informal name derived from the shortening and combining of Chihuahua and Pacific.
Which is the best direction to travel?
The next decision I made when I was planning my trip was the direction of travel.
The Copper Canyon railway has two terminal points – Chihuahua and Los Mochis. You can see them on the map here:
Los Mochis sits south-west of Chihuahua and a lot of research told me that this was the better starting point. Why? It's a case of timing – the most dramatic scenery sits closer to Los Mochis and if you take the slower train during winter time, when things get darker quicker, you usually end up missing some of the best sights.
Fortunately, I did the journey during late summer and I also took the faster, first class train, so the direction of travel didn't matter that much. Consequently, I chose to start my trip in Chihuahua and end in Los Mochis. From there I was able to take a night ferry over to the Baja Peninsula.
Should I get a single or return ticket?
The train company only offers a single ticket so if you want to take a round-trip, you simply buy two singles – there is no discount for travelling return.
Whether you want to go one-way or do the return trip will largely depend on your travel itinerary. I personally combined my trip with a larger trip that took me from Mexico's east coast in Cancun to the West Coast in the Baja Peninsula (a journey that took months and one I'd certainly recommend). However, even if I didn't do that, I'd probably have only travelled one-way because I'd prefer to see something new rather than traversing the 600+ kilometres in reverse.
That said, do plan your onward journey. Although both Chihuahua and Los Mochis have a local airport, only Chihuahua offers flights outside Mexico (into the USA).
At the time of writing, here's where you can get to from each location.
I'd recommend that you check up to date details on Skyscanner.
Should I get a first or second-class ticket?
Most train journeys feature one train that has both first and second-class carriages but that's not how the Copper Canyon train system works. Instead, you have entirely separate trains:
Primera Express (let's call it first-class); and
Clase Ecónomica (let's call it second-class).
Here are a few of the similarities and differences between the two classes:
Both trains depart at 6 a.m. (it's also the same start time from Chihuahua and Los Mochis).
The second-class train journey takes just over an hour more, which means it might be nightfall when you pass through some of the best scenery (most likely if you travel from Chihuahua to Los Mochis in winter).
The first-class train runs daily compared to the second-class train which runs only three times a week (schedule details below).
The second-class train makes 16 stops (including the two terminals) compared to 13 stops on the first-class train, skipping past La Junta, Loreto, Sufragio. These 'missed' stops don't tend to be on most tourists' itineraries.
You'll get air conditioning, heating, reclining seats and toilets on both trains. Above is a picture of the toilets – keeping in mind it's on a train, it's not bad – it flushed and was kept reasonably clean.
In case it bothers you, the seats don't have a back or seat tray table or power outlets.
The first-class train has a dining cart with an a la cart menu and bar on board and you can order full meals. The second-class train has only a snack bar serving fast food. Food and drinks are not includes in your ticket price on either train. (More on the food situation below).
The train quality (comfort and size of the seats) will be slightly better on the first-class train, but the second class train is good enough for most people and the first-class train wasn't sufficiently plush to justify being nearly twice the price for a ticket.
There is a porter on every train to help you with your luggage. Their level of helpfulness can vary greatly.
As I've mentioned, I opted for the first-class train, mainly due to my direction of travel. I should point out that although the first-class train was decent enough (and downright luxurious compared to some of the transport I've taken in neighbouring Latin America), you'd do well to expect something closer to 1970s luxury than 21st-century swish.
If you're on a longer Mexico trip, you might be interested in my post about taking the Baja Ferry between Topolobampo (for Copper Canyon) and La Paz. (Baja California)
How much does the Copper Canyon train cost?
Tickets are priced on a sliding scale so if you only travel part of the way, you only pay part of the cost. Full details of the prices are below.
As an indication, if you travel from one terminal station to the other, the ticket price is MXN$1,767 (second-class) versus MXN$2,979 (first-class).
In US dollars, that's around $95 versus $160. So, around a $65 difference between the ticket prices.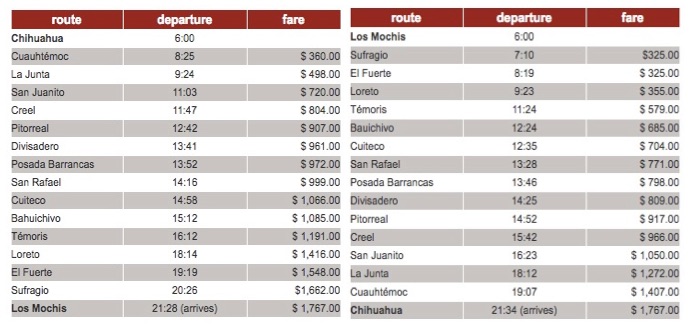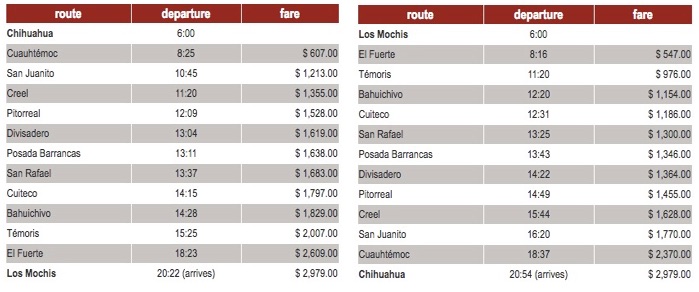 You can check up to date prices here.
What is the train schedule?
You can find the full and up-to-date train schedule below. The first-class train runs every day (including Sunday) while the second-class train runs:
Monday, Thursday and Saturday from Chihuahua to Los Mochis
Tuesday, Friday and Sunday from Los Mochis to Chihuahua.
The train schedules are the same each day – there isn't a reduced or altered schedule at the weekend or during holidays.
However, bear in mind that this isn't Japan or Switzerland – trains can and do run up to hours late and, in my experience, they will sometimes even leave a few minutes early, an event that usually coincides with you running a few minutes late. Murphy's Law.
You can check the up to date schedule here.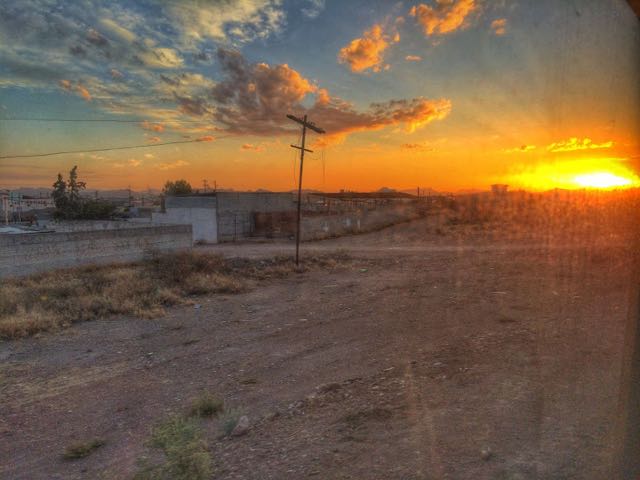 Do I need to book tickets in advance?
Although it's possible to buy on the day tickets at some (but not all) stations along the route, I'd highly recommend booking in advance. There is no fee for doing so and it will give you the comfort of knowing you have secured a seat on the train on the day that you'd like.
How far in advance should I book?
All the online advice suggests that you book a month or more in advance. I booked around one week before and had no problem getting a ticket (in fact, my train was only around 40% full). However, don't bank on this, particularly if you're travelling around popular periods like Christmas and Easter.
Can I book my train ticket online?
Update April 2018: A reader has contacted me to advise that she was not able to book ahead using a credit card.
The reservation email address has changed to: chepereservaciones@ferromex.mx
Emailing there, she was sent a link to pay be credit card. She did that and reserved her ticket. She travelled in March 2018. I'd love to hear from others if you have any experience with booking any paying online.
It's not possible to book your tickets through the official El Chepe website but there is a telephone number you can call. Alternatively, you can book via email using the following address:
chepereservaciones@ferromex.mx
Although I know enough Spanish to book train tickets by phone, I decided to book by email so I would at least have written confirmation of my tickets.
If you're not fluent in Spanish, you can either put your request through Google translate or, if you're not confident with that option, send a short, clear email asking if you can book tickets via email in English – the train company does have some English speakers available to help.
If you do find a tour company that will sell you just a ticket, shop around – you're most likely paying an admin fee and these will no doubt vary.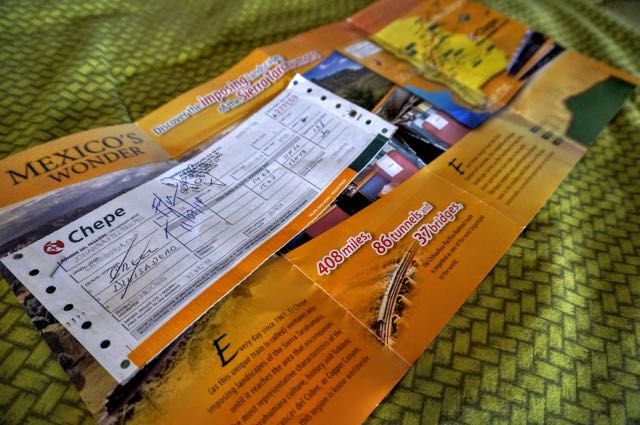 How do I pay for my tickets?
I paid for my tickets in cash. I don't recall if you could pay by Visa or other credit cards though, as with much of Mexico outside the resort areas, I wouldn't count on it.
Update January 2017: I've had a few follow-up questions about whether it's possible to pay by credit card. I've since dug through my old emails (thankfully I'm an information hoarder) and I found one of my emails with the el Chepe staff in which they said:
"We only take cash for payment." This was sent in 2014. I can't imagine the situation has changed as Mexico is predominantly a cash country but if you have paid by credit card, let me know in the comments below.
Update April 2018: A reader has indeed contacted me to say that she was able to pay in advance by credit card. She did this by emailing the reservations email (chepereservaciones@ferromex.mx). She was then sent a link to pay by credit card. I'd love to hear if anyone else has paid by credit card so I can figure out whether this is a permanent change or a trial.
How do I collect my tickets?
You collect your tickets from the departure station. If you're collecting them on the day of travel (I did), you should be at the station 30 minutes before departure to give enough time. There wasn't a queue when I turned up but having stood in line to collect tickets for other modes of transport in Mexico, I can see why they recommend you build in some time.
How do I book a multi-stop route?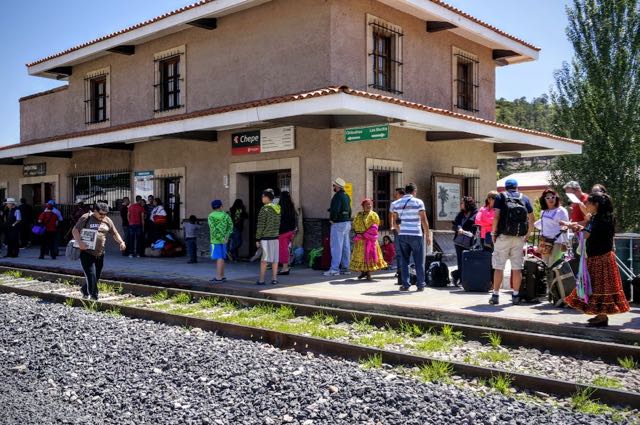 While it is possible to travel from end to end in one day, most people will want to take a couple of stops along the route. If that's what you're doing, you need to make it clear that you will be shopping over when you book so that you have a reserved spot on each train on the days that you travel.
I put the details in my booking email. So, for example:
Chihuahua – depart 29 April 2017
Creel – depart 1 May 2017
Divisidero – depart 3 May 2017
The ticket price remains the same regardless of how many stops you make and I even made a few changes to my itinerary (I changed both the destination and dates) before collecting my ticket and wasn't charged any administration fee. I simply made the change requests via the same email I used to book my tickets and it seemed that the person I dealt with by email was the same person sat behind the desk in the train station when I collected my tickets on the day.
How many days do I need to explore the Copper Canyon?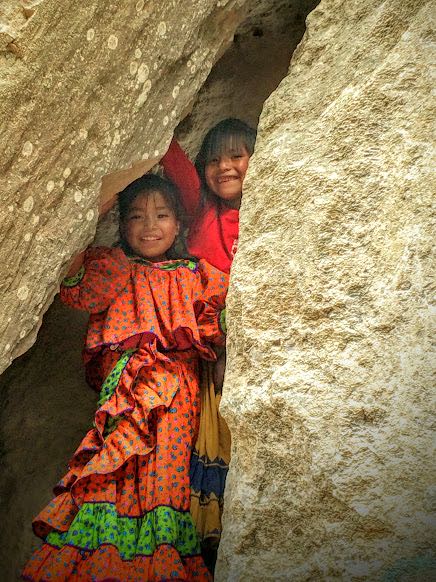 The train journey covers 653 km from end to end and it's worth spending at least 2-3 days to cover the distance.
I made two stops, spending two nights in Creel and one night in Divisidero. This was in addition to spending a couple of nights in each of the terminal destinations of Chihuahua and Los Mochis. My trip was, in total, 7 nights and with the benefit of experience, I'd have cut short my nights at the terminal destinations and added another 2-night stop along the route.
I cover in this article details about where to stop along the way and what to see and do while you're exploring the Copper Canyon.
Is there space for luggage on the train?
There's plenty of luggage space on the train as well as overhead luggage storage that could fit a backpack up to 50 litres, maybe 65 litres at a push. However, try to pack as lightly as you can if you're travelling in peak season – all those hard-sided suitcases take up space pretty quickly.
You might want to check out my article about the best luggage options for travelling.
Is there wi-fi or mobile data along the way?
Even with a Mexican data SIM, there was practically zero mobile data along the route. I did, however, managed to rustle up enough wi-fi for emails and message checking from cafes and my accommodation when I stopped.
What about food along the route?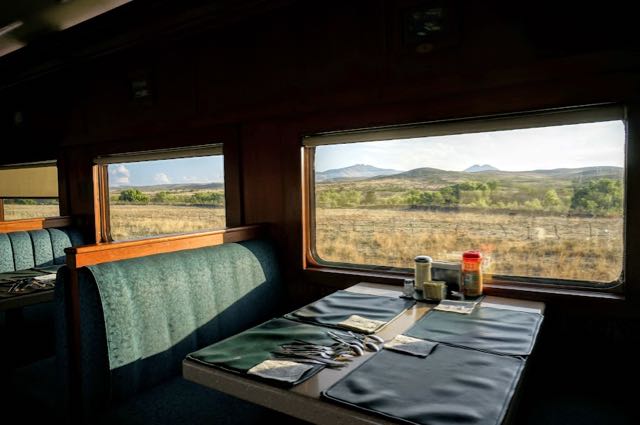 One of my favourite parts of exploring Mexico is the street food. It's readily available, highly affordable and quite often the best and freshest food there is to eat. And, like elsewhere in Mexico, the street food was consistently the best option for dining while I was in the Copper Canyon.
You don't have to look very far to find street food options along the Copper Canyon route. There are usually some vendors on the platform at the major station stops, though do check you have enough time to jump off and back on the train each time. You can also find them within the towns along the way.
There are also many small informal restaurants along the route that serve a similar quality of food as you'll find at a stall but with the advantage of having tables and seating.
In addition to the street food/local restaurants, I ate once in my hotel (Divisidero – for the views) and once on the train (for the experience). In both cases, the food wasn't anything to write home (or on this blog) about but it was perfectly edible and, most important of all, didn't make me sick – quite the blessing on a long train journey.
Can I take my own food on the train?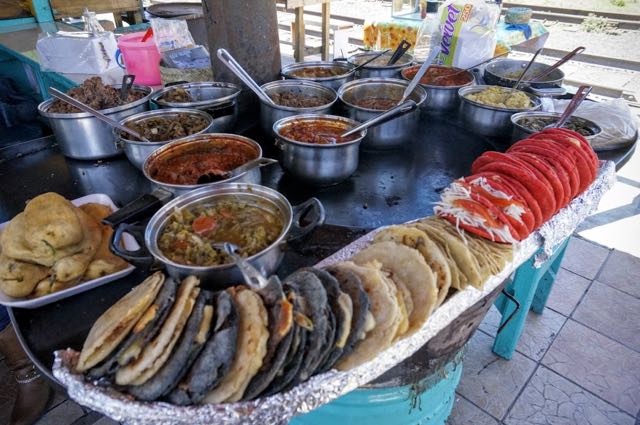 You can take your own food onboard the train and, in fact, I'd recommend it because the food on the train was the unfortunately combination of (relatively) high prices and mediocre quality. Also, the train journey is long, so stock up on drinks and snacks.
The best food I ate was from the gourdita sellers at Divisidero train station (picture above) – please have one for me if you go there.
How about getting cash?
I wouldn't recommend relying on Visa or other credit cards while you're in the Copper Canyon. Instead, take as much cash as you think you'll need (more details on budgeting below). The best opportunities for getting hold of cash from an ATM will be in Chihuahua, Los Mochis and El Fuerte (one stop before Los Mochis).
What's the best time of year to take the train?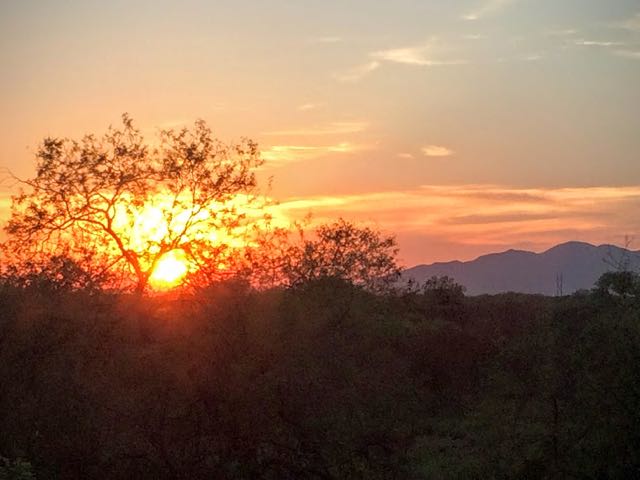 Spring and autumn are the best times to visit because you will escape the weather extremes of summer and winter. I travelled in late summer and the temperature was great.
Don't forget that in a canyon altitude will affect the temperature just as much as the seasons. So, even in the warmest climate it's possible to find relief by heading higher up the canyon and vice versa in winter.
What should I pack?
What t0 pack is an article in itself but generally I'd take clothes for exploring (comfortable shoes with good grip) and lots of layers. The train was freaking freezing, courtesy of over zealous air-conditioning – take a fleece or jumper and something to cover your legs if you're in shorts.
You might want to check out my list of 10 Travel Essentials I Wouldn't Travel Without.
What about travelling alone – could I? Should I?
I travelled the full length of the Copper Canyon on my own and I'm a five-foot tall, non-native Spanish speaking woman. Therefore, if I can do it, I'm confident most people can. However, I only met one other solo traveller during my trip so it can get lonely if you don't have enough Spanish to strike up a conversation with the locals or other travellers (most of whom were Mexican).
The only other thing that bothered me as a solo traveller was the group mentality surrounding the various activities offered to visitors – some of these were off-limits unless you could produce a group of four or more to collectively cover the cost of hiring relevant transport or a tour guide for the day. I was able to do enough exploring and find some larger groups to join so it didn't prove to be too much of a problem but it did limit my choice.
Is it safe to travel through the Copper Canyon?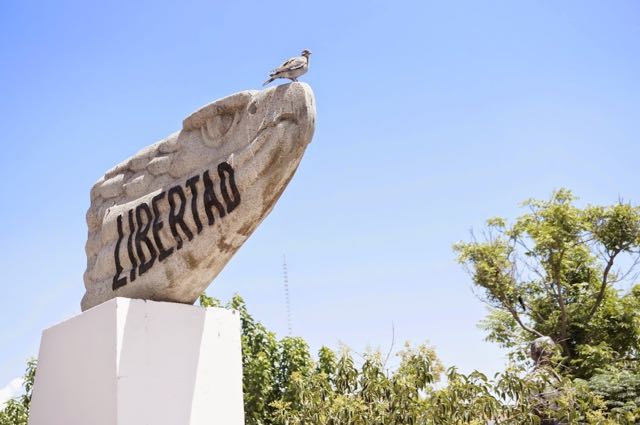 Having travelled through nearly half of Mexico's states, I have a decent feel for the safety concerns in the country and I've written about Mexican travel safety here. You might also like: The Safest Places in Mexico For Tourists To Visit.
In those articles, the main point I make is that safety differs vastly within Mexico according to the location and state you're travelling within (as well as what you do while you're there, obviously – go and do a shady deal with some narcos and I can't promise you'll walk away unharmed/alive).
I also point out that most of the crime statistics that tumble out of Mexico are concentrated in the states where the drug cartels operate and, provided you stay out of those areas, you stand a much better chance of having a trouble-free trip.
However, if you have done your research, you'll know that, generally, the cartel problems are more prevalent in the north of Mexico and the Copper Canyon route starts in one state where drug wars are prevalent (Juarez) and ends in another (Sinaloa).
This fact was most certainly on my mind when I made the decision to go through the area. However, I had read that while you're on the train, you're highly unlikely to experience any issues and, like most places in Mexico, the drug wars rarely target tourists. So, unless you're unlucky enough to be in the wrong place at the wrong time (or go wandering off the regular routes), you should be ok.
As for my own experience, I had a zero-trouble trip.
Armed guards rode the train; I felt incredibly safe exploring Chihuahua during the day – in fact, the locals were supremely helpful: one lady walked me to the Cathedral and another showed me the way to her favourite street food place and told me what to order. I didn't go wandering alone at night in any of the destinations and that suited me just fine.
What about Los Mochis?
I absolutely freaked myself out about being in Los Mochis.
The reality is that Los Mochis is one of those local places in Mexico where most tourists simply don't go (I realised that most Copper Canyon tourists end their trip at El Fuerte). I suspect that, despite being in Sinaloa, tourists avoid it because it's not very pretty rather than due to safety concerns.
However, after arriving late at night and struggling to initially find onward transport to my hotel, I then did the stupidest thing – I started to Google all the bad things that have happened in Sinaloa (yes, I searched the whole state, not the city) since forever. Good enough, the internet spewed up all sorts of horror stories. It was a bit like googling a paper cut and suddenly convincing yourself you have a brain tumour and I almost made myself too nervous to leave my hotel room.
I did eventually force myself to go exploring (by daylight) and I didn't experience any trouble (apart from consuming a near-death amount of chilli) but, still, I was relieved when I finally caught my ferry out of there.
Did you know you can easily reach Baja California from Los Mochis? If you are considering a Baja California Road trip, here are my related guides:
Budget and costs
Budget is always a tricky one to cover because costs can vary so widely from person to person depending on your comfort requirements, how you get around, whether you like to imbibe a bit of alcohol or whether you can't pass a shop without picking up a souvenir.
What I can do is give you an idea of what I spent and general costs. Fortunately, the Copper Canyon doesn't attract as many foreign tourists as the likes of Baja and Cancun – it's positively barren of visitors by comparison – and while the local visitors/natural attraction have helped push prices upwards, prices are still on the low side for Mexico.
For simplicity, I've converted the currency into US dollars – don't let that fool you into thinking you can spend dollars in the Copper Canyon.
I've not included the cost of my stay in either Chihuahua or Los Mochis, though the main costs were food (similar to the prices below) and a room at around $40 per night.
Train – as mentioned, I bought a first-class ticket and travelled one-way only $160
Accommodation – the most I paid for a hotel was $86 a night, overlooking the canyon, and the least I paid was $22.
Tour – I took one day-long tour in Creel that cost $15.
Food costs – street food cost around $2-3; local restaurant/train food around $5-7; hotel dinner overlooking the canyon around $10-15.
In total, including my train ticket, accommodation and food, I spend around $300-$350 while I was in the Copper Canyon. A huge saving on the approximately $1,000 price I'd been quoted for a tour and even if I'd upgraded to a more plush hotel in Creel, I'd have still made a huge saving.
You might like to read my article about how to set a travel budget.
How to plan your trip
I used the Mexico Lonely Planet to plan most of my trip through Mexico, including to the Copper Canyon.
Don't forget, if you want to follow my (highly affordable) Copper Canyon itinerary, together with where I went, where I stayed, where I ate and what I saw, you can find it here.
Related Articles:
---
Like this? Share it on Pinterest…